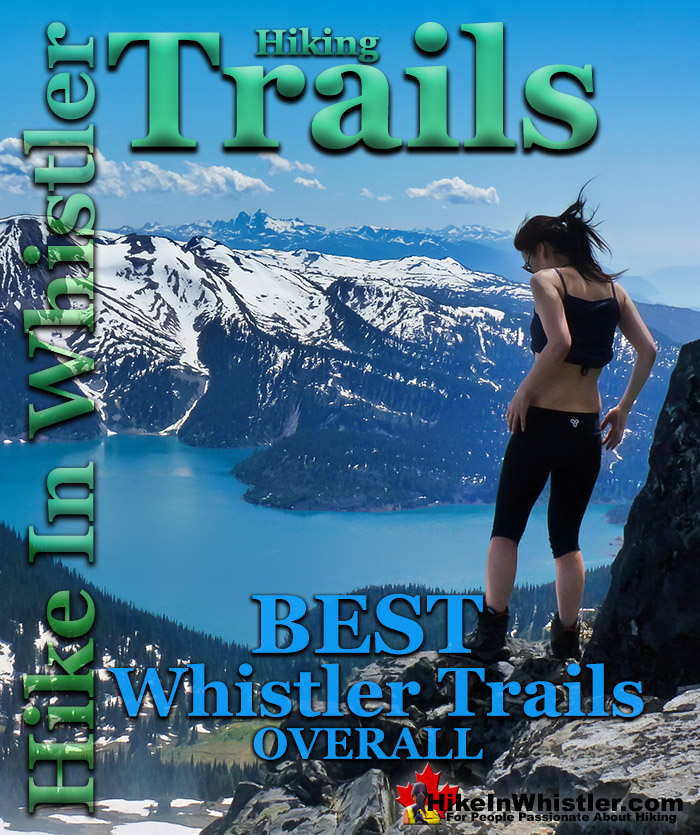 There are several hiking trails in Whistler and Garibaldi Park that could be considered the best for various reasons.  Black Tusk for its incredibly surreal geologically formed structure and location in the midst of a bonanza of Garibaldi Provincial Park attractions.  
Whistler & Garibaldi Hiking

Alexander Falls  

Ancient Cedars  

Black Tusk  

Blackcomb Mountain  

Brandywine Falls  

Brandywine Meadows  

Brew Lake  

Callaghan Lake  

Cheakamus Lake  

Cheakamus River  

Cirque Lake 

Flank Trail 

Garibaldi Lake 

Garibaldi Park 

Helm Creek  

Jane Lakes 

Joffre Lakes  

Keyhole Hot Springs  

Logger's Lake  

Madeley Lake  

Meager Hot Springs 

Nairn Falls  

Newt Lake 

Panorama Ridge 

Parkhurst Ghost Town 

Rainbow Falls  

Rainbow Lake 

Ring Lake  

Russet Lake  

Sea to Sky Trail 

Skookumchuck Hot Springs  

Sloquet Hot Springs 

Sproatt East 

Sproatt West  

Taylor Meadows  

Train Wreck  

Wedgemount Lake  

Whistler Mountain

January 

February 

March 

April 

May 

June 

July 

August 

September 

October 

November 

December
Panorama Ridge, separated from Black Tusk by a glacier carved valley has Garibaldi Lake laying in the valley below it and ringed by jagged and snowy mountains.  The impossibly vivid, glacier coloured water is best viewed from this high ridge vantage point.  Not very far away, and still in Garibaldi Provincial Park is another one of Whistler's best hiking trails.  Russet Lake is located at the end of the Musical Bumps that extend from Whistler Mountain.  Each of the Musical Bumps is a peak of the ridge that stretches from Whistler Mountain, parallel to Cheakamus Lake and ends where the Spearhead Range and the Fitzsimmons Range meet.  Separated by Fitzsimmons Creek these two mountain ranges are largely defined as the Blackcomb Mountain side(Spearhead Range) and the Whistler Mountain side(Fitzsimmons Range).  Russet Lake is home to one of Garibaldi Park's campgrounds and an incredible place to see.  Interestingly, Russet Lake itself is the most unremarkable sight in the area.  The Fissile, the red, pyramid shaped mountain is adjacent to Russet Lake and visible from many vantage points in Whistler.  Looking down from the old Russet Lake hut you get a beautiful view of Overlord Glacier which pours down from Overlord Mountain next to The Fissile.  To find an impressive and easily accessible glacier, the Wedge Glacier at Wedgemount Lake is hard to beat.  Wedge Mountain is the mountain that rises across the valley from Blackcomb Mountain, and Wedge Glacier fills the sloping valley that extends to Wedgemount Lake.  Another brilliant turquoise coloured lake, Wedgemount Lake is another hiking destination in Whistler that can be argued to be the best.  With its brightly coloured lake framed by jagged, dark mountains and the mighty Wedge Glacier rising up to the highest Mountain in the Garibaldi Ranges, Wedge Mountain.  It is a tough, steep, though short 7 kilometre hike that takes you to a wild, hostile, boulder strewn valley that gives you the feeling of being barricaded from the world.  The brutal looking, truck sized boulders laying in the valley and massive, steep and crumbling mountains across Wedgemount Lake have a strange menacing and beautiful feeling about them.  Sitting in a valley that is both brutally hostile looking and breathtakingly beautiful is an exhilarating place to experience.
Cirque Lake - Best Whistler Hiking

Cirque Lake is a wild and beautiful lake that hides high above and beyond Callaghan Lake in Callaghan Lake Provincial Park.  What makes Cirque Lake special among the other sensationally beautiful lakes in the Whistler area is both its location and geologically formed shape.  It sits high above Callaghan Lake, which itself is a gorgeous, mountain lake.  The remoteness of Callaghan Lake is a bit of a mirage due to the fact that you can drive right to it!  Callaghan Lake is accessible via an 8 kilometre weather battered and very potholed forest service road. The entire road is cratered with deep potholes, cut by frequent cross-ditches, and more recently a small section collapsing into the valley below. This logging road begins high up in the Callaghan Valley, which itself is largely overlooked by travellers to Whistler. The Callaghan Valley is home to quite a few natural and man-made attractions. Brandywine Meadows, Alexander Falls, Northair Mine and Mount Sproatt are all found in the valley. Recently, the 2010 Olympic Games produced the largest man-made attraction in Callaghan Valley, Whistler Olympic Park. Though Cirque Lake is tremendously far into the wilderness, the amount of hiking required to reach it is effectively less than two kilometres.  Another two kilometres of canoeing is required to reach the trailhead at the far end of Callaghan Lake. But for such an enchantingly beautiful, mountain lake, the exertion to reach it is remarkably little. The other attribute of Cirque Lake that makes it special, is its cirque structure. From the moment you catch sight of Cirque Lake, the abruptly steep sides all around give you the humbling feeling that you are inside a volcano. A volcano filled with emerald water and ringed by grassy meadows and crumbling, near vertical cliffs. Where you stand, at the entrance to the cirque, is not far from the only water channel out of the cirque. An ever narrowing gap in the cliffs spills water down one cliff after another until reaching Callaghan Lake just 1.4 kilometres away.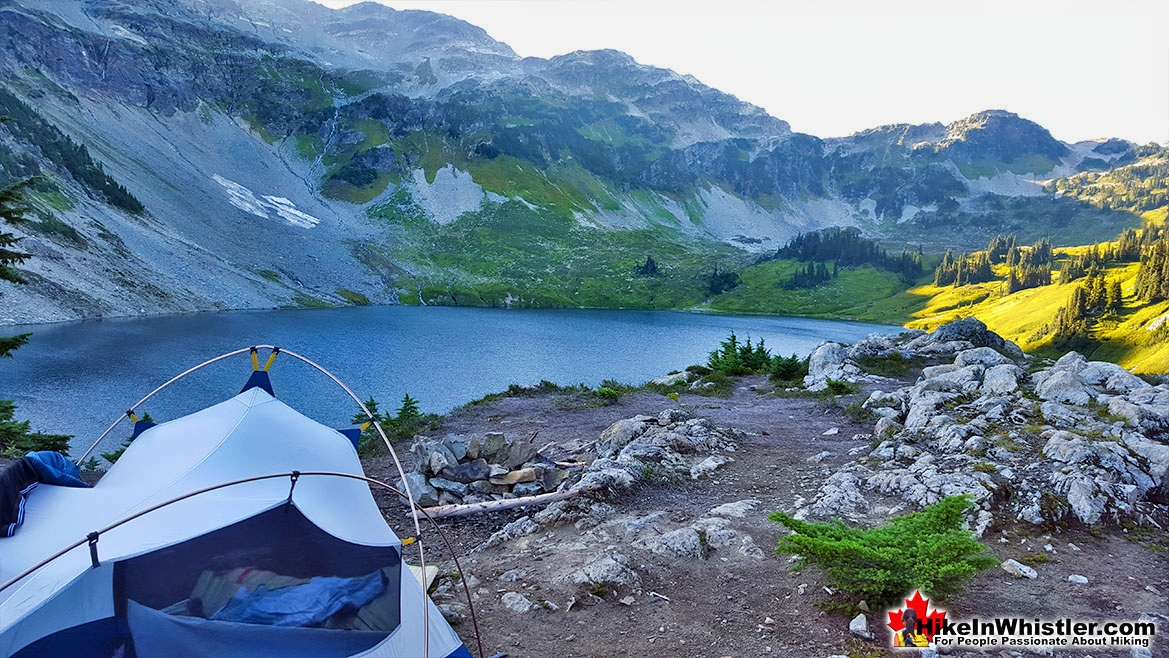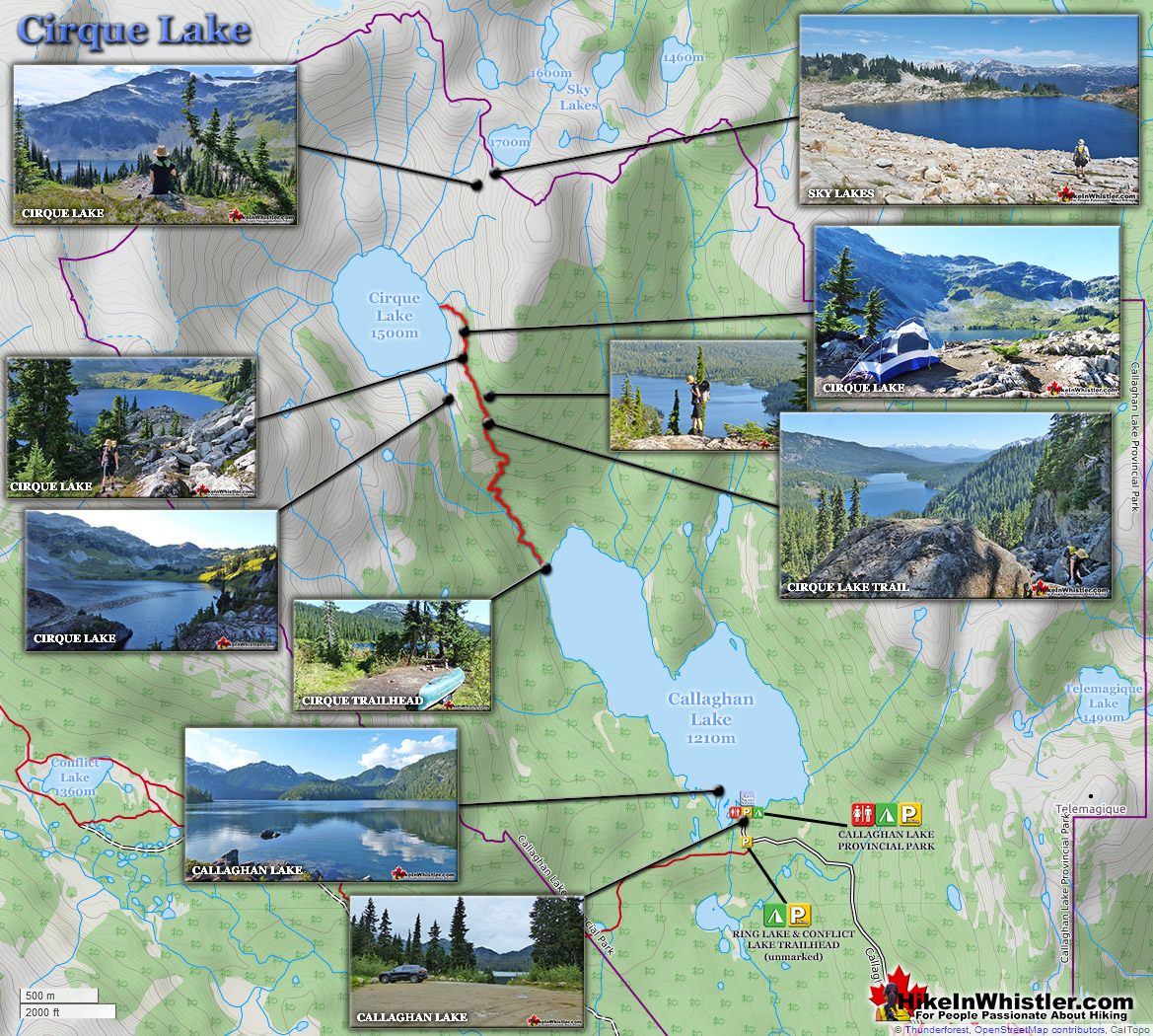 More Best Whistler Hiking - Cirque Lake
Wedgemount Lake - Best Whistler Hiking

Wedgemount Lake itself is a magnificent destination for a day hike or spectacular overnight beneath the dazzling mountain peaks and stars above Garibaldi Provincial Park. Many sleep under the stars on one of the many beautiful tent platforms that dot the landscape. Solidly built, wooden tent platforms are everywhere you look at Wedgemount Lake. Strategically positioned, these platforms manage to maintain a secluded feel despite their numbers.  In all Wedgemount Lake has 20 of these tent areas. Most are wooden, but several down by the lake shore are gravel, yet every bit as nice.  Wedgemount Lake is one of the most spectacular hikes in Garibaldi Park. Though it is a relentlessly exhausting, steep trail, it is mercifully short at only 7 kilometres one way. The elevation gain in that short distance is over 1200 metres which makes it a much steeper hike than all the other Whistler area hiking trails. Compared with other Whistler and Garibaldi Provincial Park hikes, Wedgemount Lake is half the roundtrip distance of either Black Tusk or Panorama Ridge, for example, at 13.5 kilometres and 15 kilometres respectively one way.  At a fast hiking pace you can reach Wedgemount Lake from the trailhead in just an hour and a half but at a leisurely or backpack laden pace you will likely take over two hours. The trail is well marked and well used.  The steepness of the trail doesn't require any technical skill, however that last kilometre before the lake you will be scrambling on all fours quite a bit. The elevation gain makes a tremendous difference when carrying a heavy backpack and unprepared for the exertion.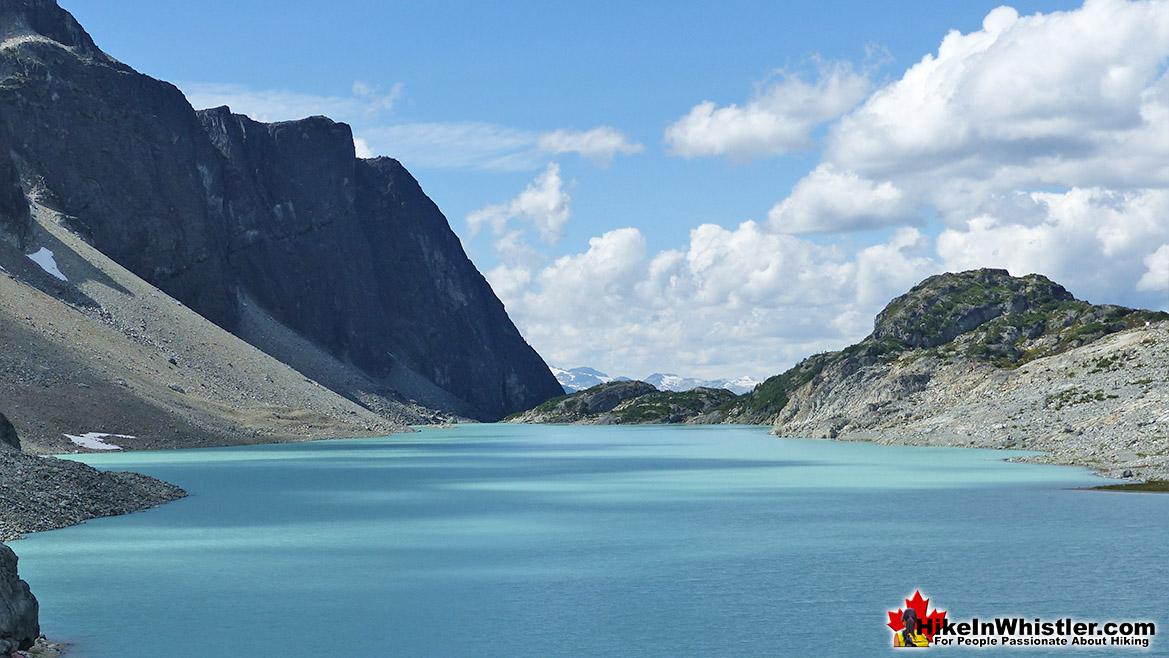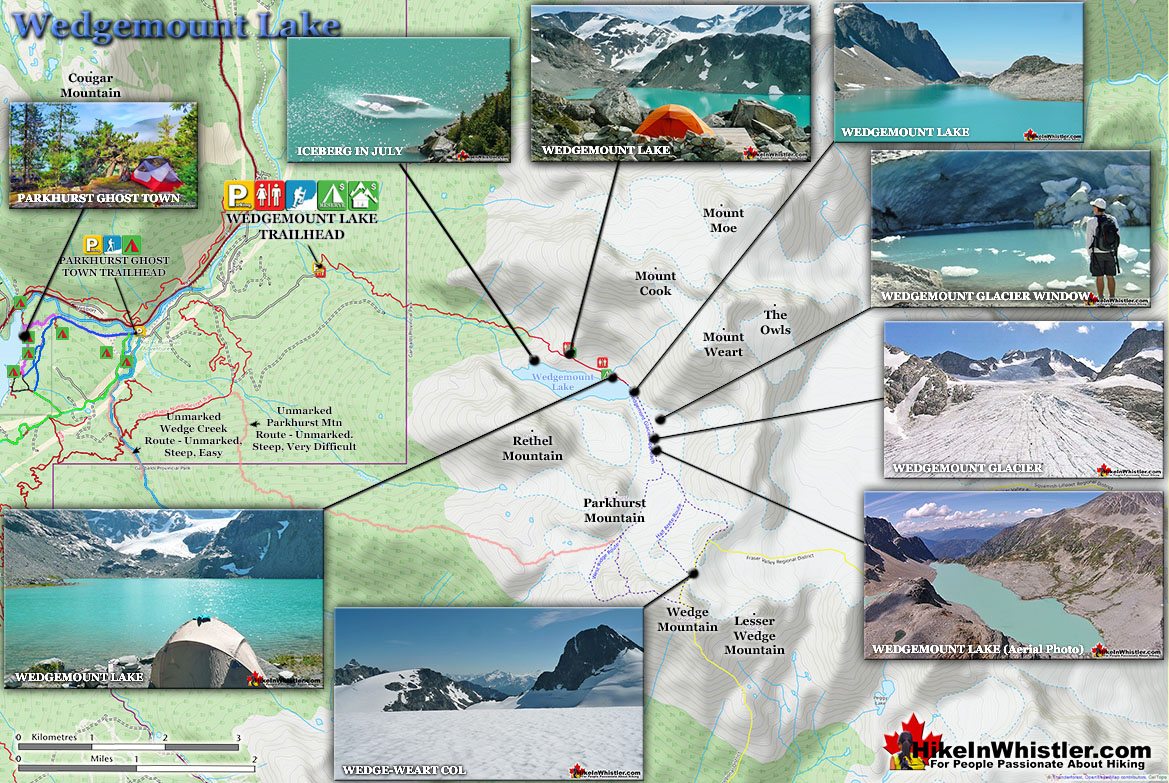 More Best Whistler Hiking - Wedgemount Lake
Parkhurst Ghost Town - Best Whistler Hiking

Whistler has an absurd number of wonderful and free hiking trails and Parkhurst Ghost Town certainly ranks as one of the most unusual, exotic and interesting. Parkhurst was a little logging town perched on the edge of Green Lake way before Whistler was Whistler.  Up on the ridge where Parkhurst sits, the views are sensational. Green Lake far below, a solid unnatural looking mass of green.  Blackcomb Mountain and Whistler Mountain out in the distance to the left and Rainbow Mountain across and beyond the lake.  If you have a good look around Parkhurst today, you can find remnants of its past almost everywhere you look.  From the old disintegrating truck from the 50's to the absurdly and improbably located car being consumed by the forest.  What makes Parkhurst Ghost Town such a great hiking trail and destination is where it is located and the trail to get to it.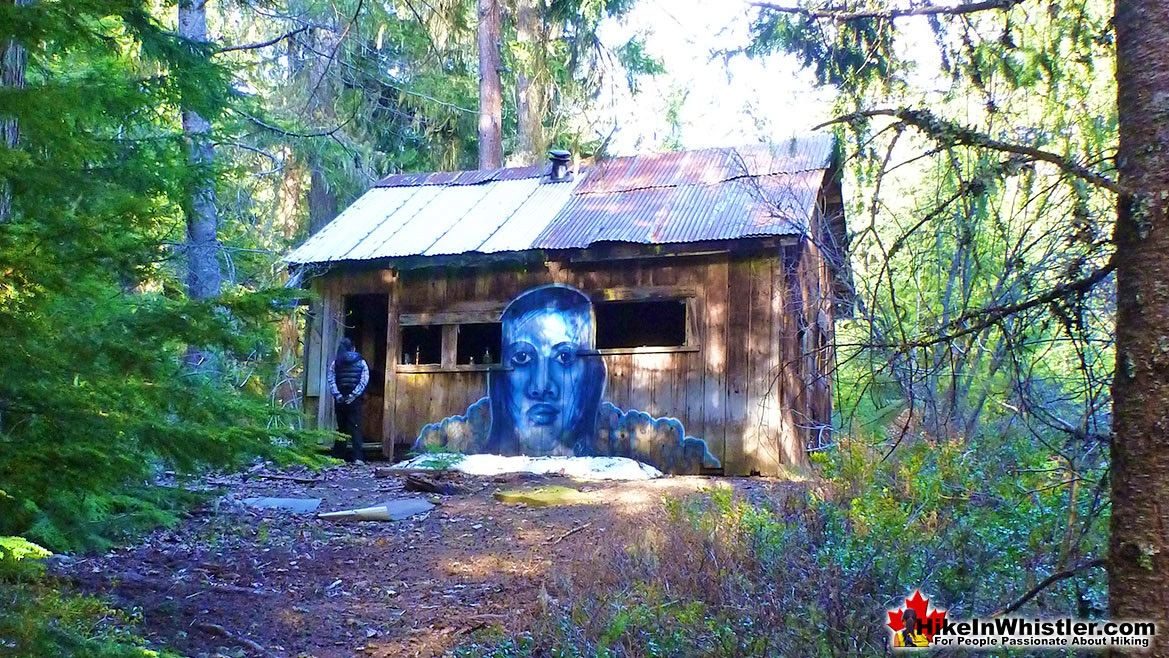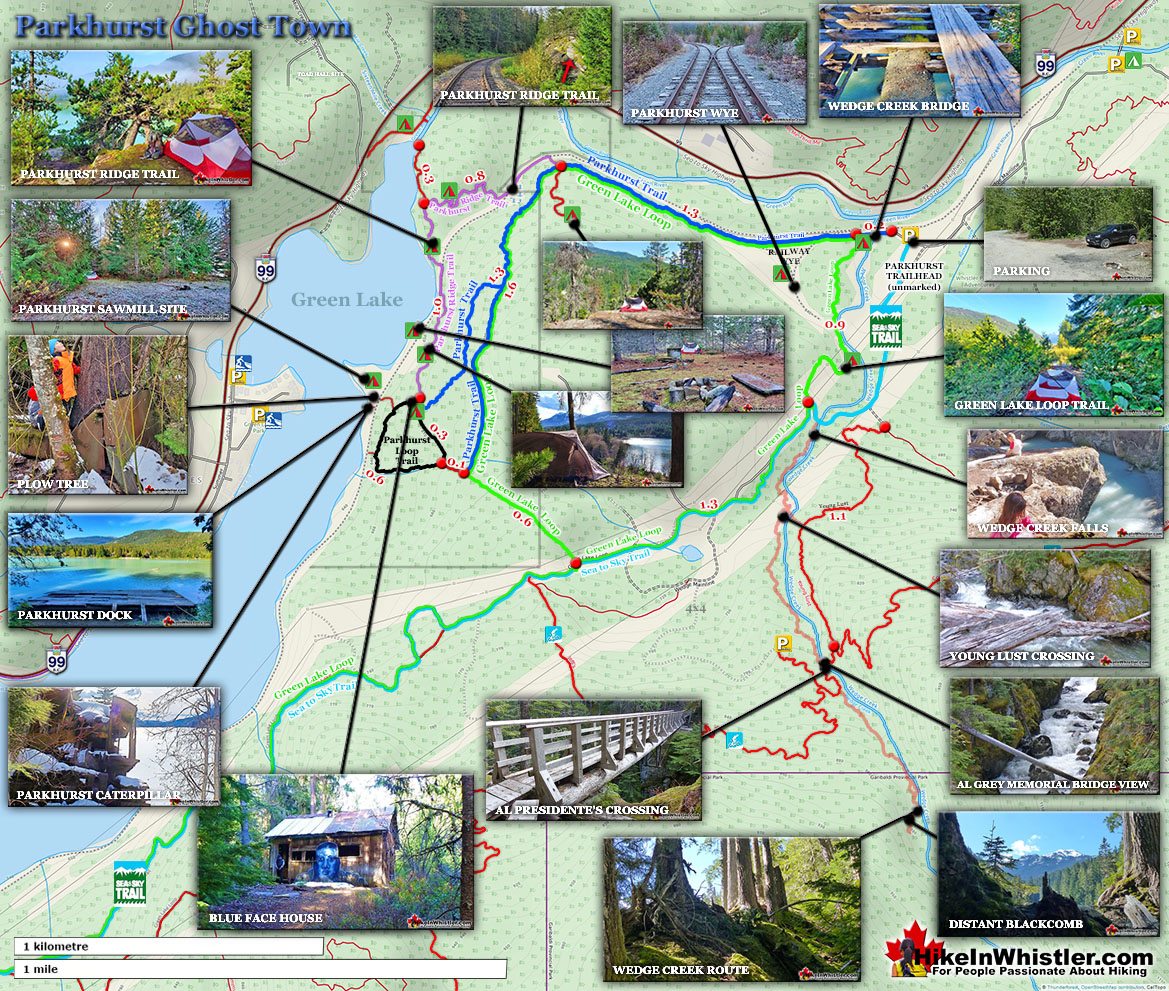 More Best Whistler Hiking - Parkhurst Ghost Town
Whistler Train Wreck - Best Whistler Hiking

The trail to Whistler Train Wreck is an easy, yet varied route through deep forest, across a great suspension bridge over Cheakamus River, to a stunning array of wrecked train cars. The trail from your car to the wrecks only takes about 15 minutes, however once you reach one wreck, you see another, then another. There are seven wrecks in total that are spread over an area about 400 metres long.  Along with the surreal train wrecks painted with stunning murals, you find yourself in a thick forest that runs along Cheakamus River. Cheakamus River is a beautiful, wild and crashing river that snakes past the train wrecks. Numerous side trails take you to some marvellous viewpoints, several metres above the rushing water below.  If you follow a trail past the wrecks(heading north or in the direction of Whistler Village) you will emerge at the train tracks. If you are adventurous you will then walk along, beside the tracks for a couple hundred metres and some truly breathtaking views of Cheakamus River.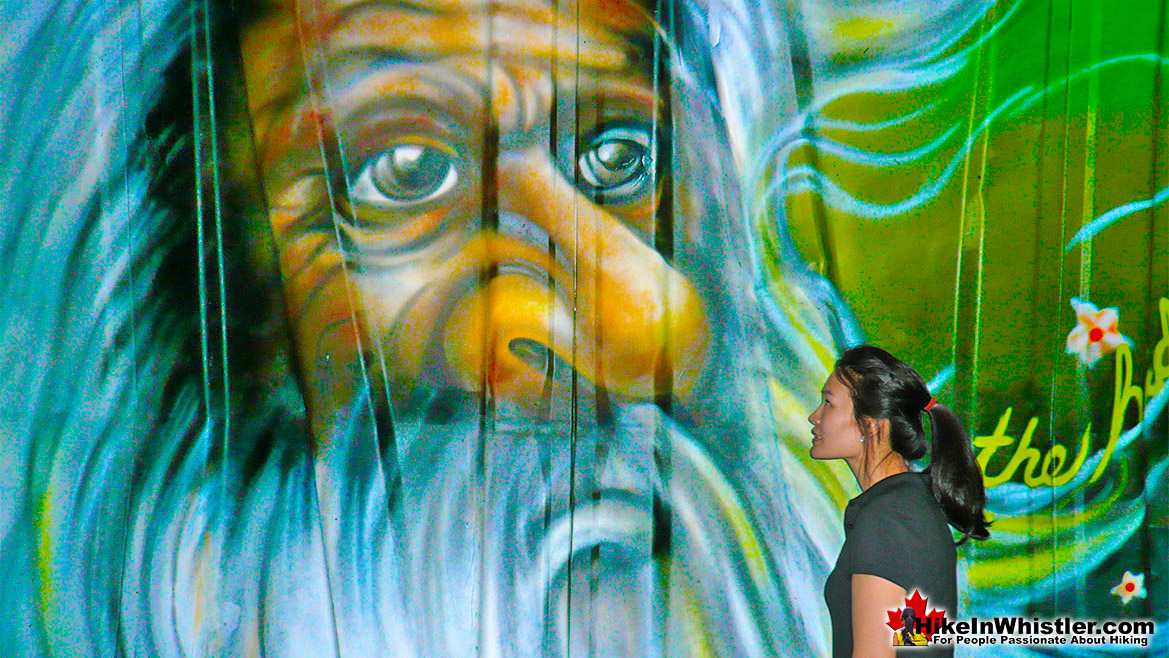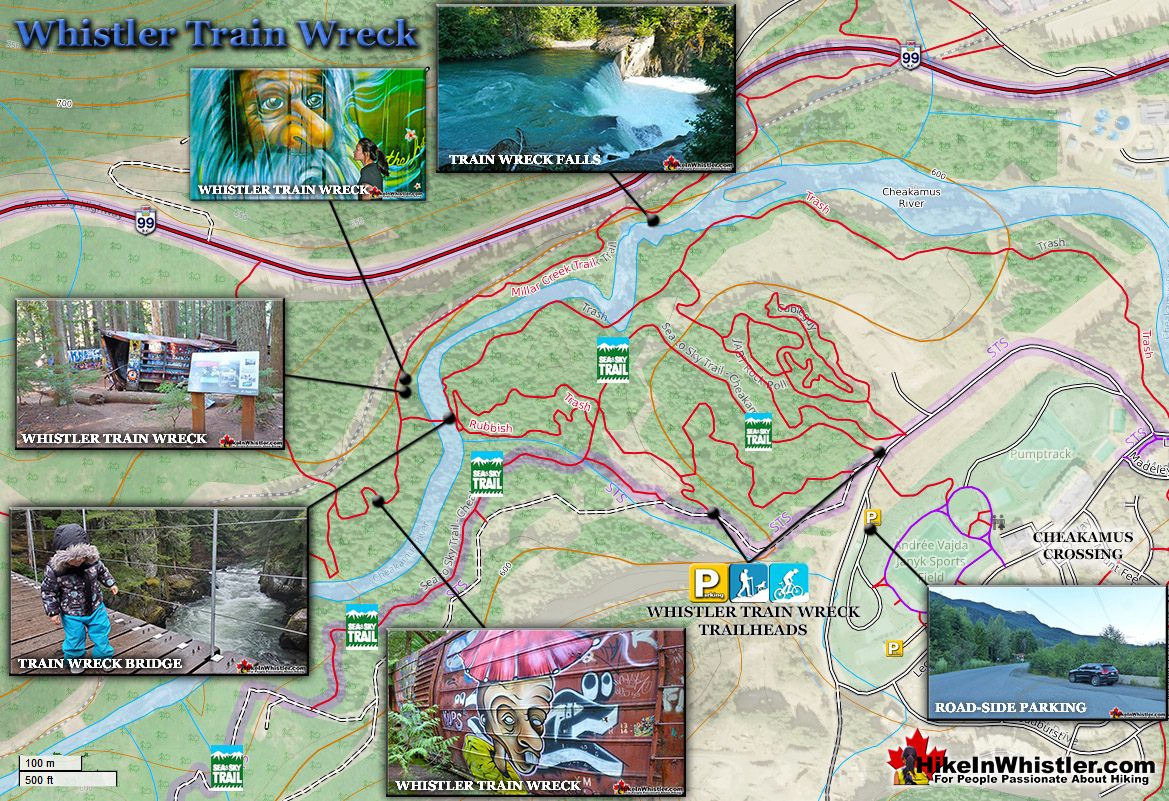 More Best Whistler Hiking - Train Wreck
Black Tusk - Best Whistler Hiking

Black Tusk is the extraordinarily iconic and appropriately named mountain that can be seen from almost everywhere in Whistler.  The massive black spire of crumbling rock juts out of the earth in an incredibly distinct way that appears like an enormous black tusk plunging out of the ground.  Whether you spot it in the distance from the top of Whistler Mountain or from vantage points along the Sea to Sky Highway, its appearance is breathtaking.  Black Tusk, created in the fires of the Garibaldi Volcanic Belt and is one of the most admired and hiked to destinations in Garibaldi Provincial Park.  Every angle you look at it, from far away, to closer vantage points such as Taylor Meadows, Helm Creek, Panorama Ridge or Garibaldi Lake.  All views give you the certain belief that it mus be impossible to hike to the top.  In fact, Black Tusk seems to look more impossible to climb the closer you get to it.  Even when you are close enough to touch its vertical, black and crumbling sides, you wonder in amazement how anyone can possible get up to the peak of this incredible mountain.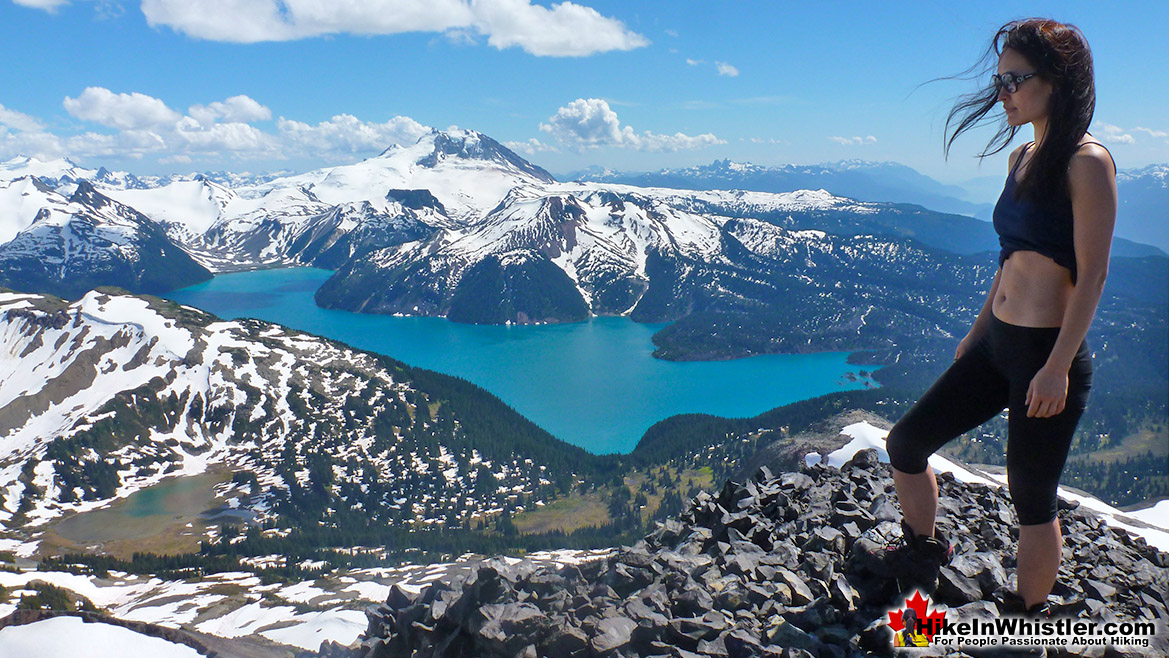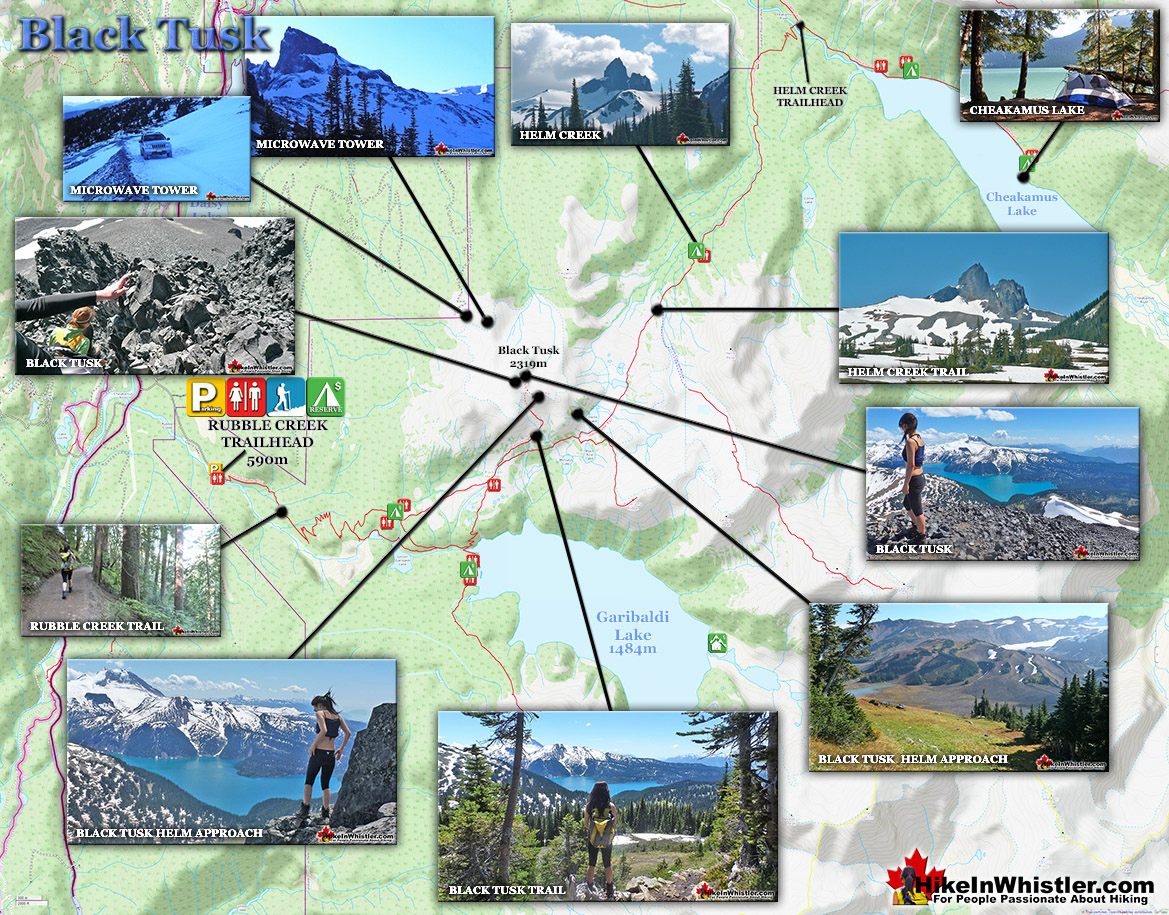 More Best Whistler Hiking - Black Tusk
Blackcomb Mountain - Best Whistler Hiking

Blackcomb Mountain holds an impressive and ever growing array of hiking trails. From the moment you arrive at the Rendezvous Lodge, you see hiking trails ascend into the distance. The Rendezvous Lodge is home to a cafeteria style restaurant, a fine dining restaurant, gift shops, washrooms, and quite a lot else.  The Rendezvous Lodge is centre of activity on Blackcomb Mountain and the Roundhouse Lodge is the same on Whistler Mountain.  Whether you are doing a long hike or just one of the short ones, stopping here before and after for a meal and/or a beer is almost essential.  Blackcomb Mountain has come alive with beautiful hiking trails in recent years.  With the 2008 addition of the Peak2Peak Gondola which connects Blackcomb Mountain to Whistler Mountain, the demand for mountain trails is higher than ever.  A dozen years ago, you would just have had some rough hiking trails to follow, and not many hikers to follow them.  Now you have mapboards, trail signs, viewpoint seating areas and six popular, named trails to hike. The majority of the Blackcomb Mountain trails are easy and relaxing, however the Decker Loop trail at the far end of Blackcomb is very challenging and spectacularly scenic. For the most part, you will find yourself winding through a nice alpine forest scattered with enormous fields of erratics leading to one great viewpoint after another.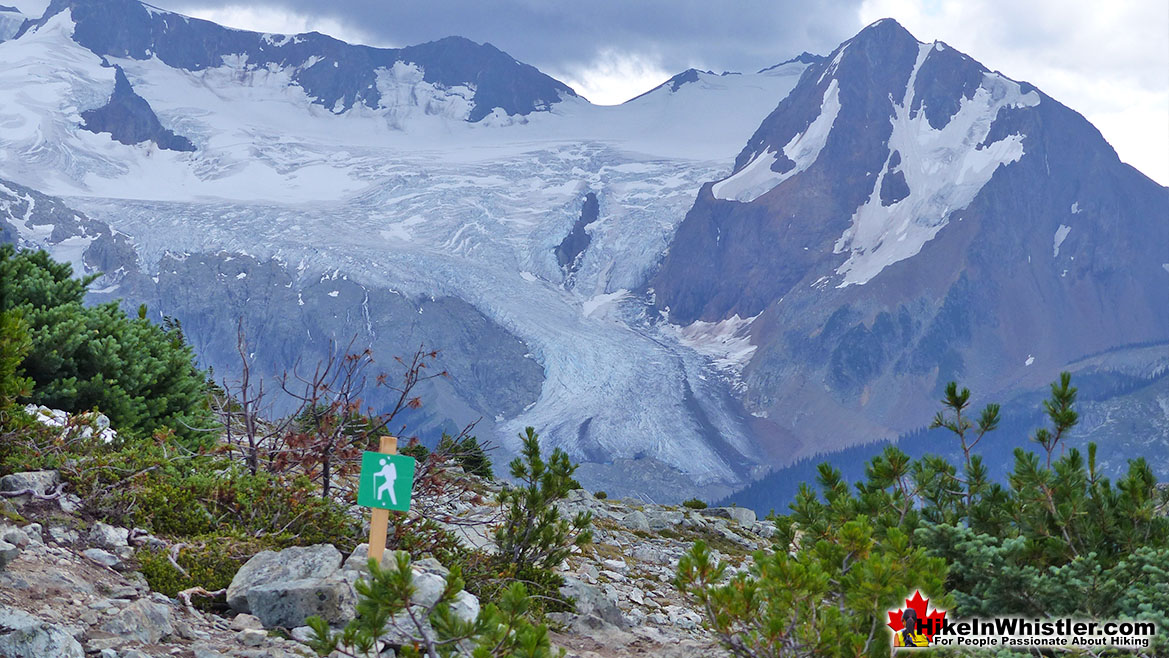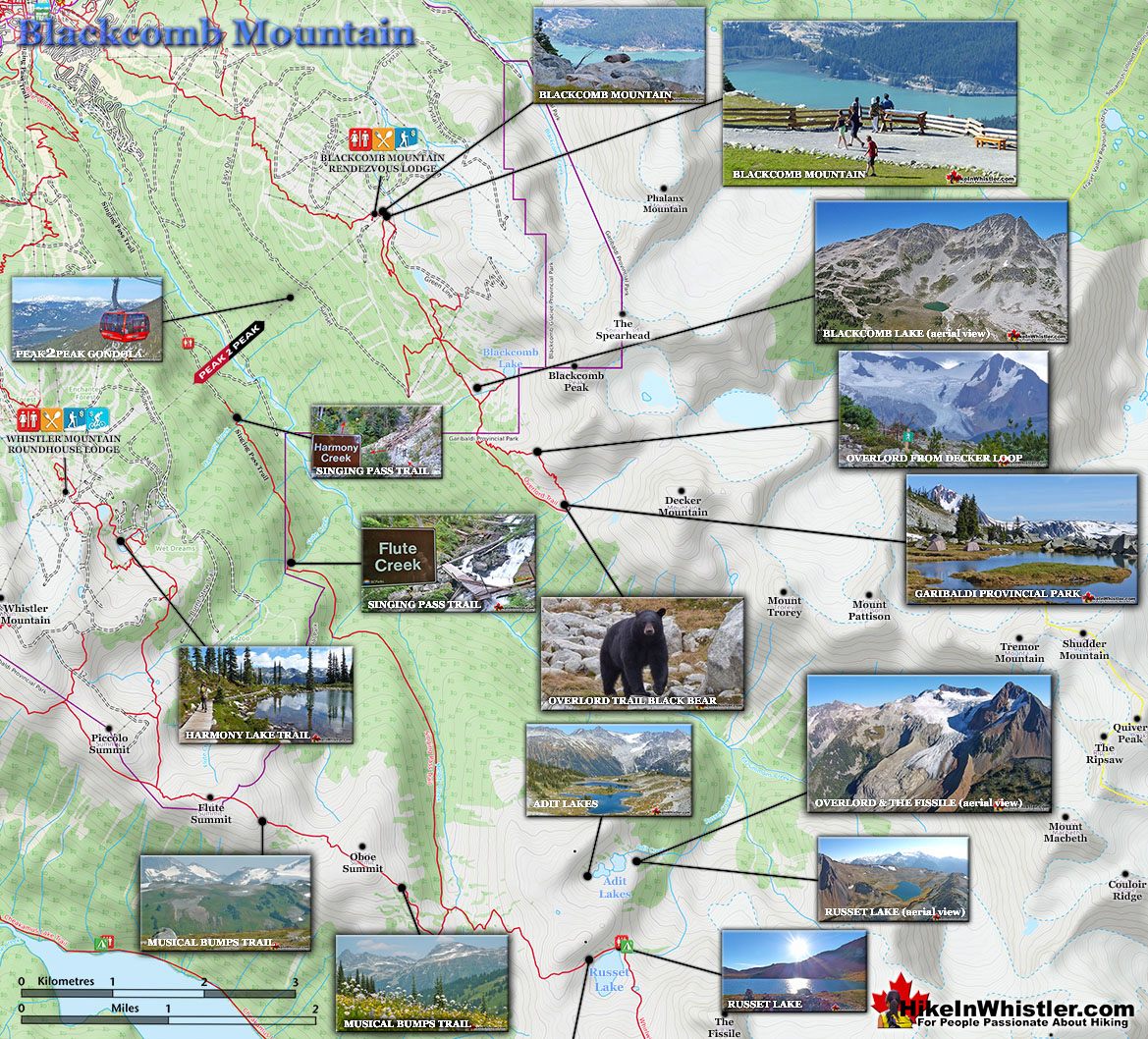 More Best Whistler Hiking - Blackcomb Mountain
Whistler Mountain - Best Whistler Hiking

The alpine hiking trails on Whistler Mountain are the ultimate in luxurious, quick-access alpine hiking. Little effort gets you amazing views of turquoise lakes, snowy mountains, valleys of flowers and distant glaciers.  The Whistler Gondola takes you to the Roundhouse Lodge where you find gift shops, restaurants, viewing decks and the new Umbrella Bar.  Just steps from the Roundhouse Lodge is one end of the Peak2Peak Gondola which takes you across to Blackcomb Mountain and another nice array of beautiful hiking trails.  In the summer months, Whistler Mountain is somewhat divided in two.  The lower half of the mountain is for biking and the upper half is more for hiking, sightseeing, trail running, eating and drinking.  There are three main directions you can hike from the Roundhouse Lodge.  Just past the Peak2Peak Gondola building you will see the Spearhead Loop trail that is 1.2 kilometres or 0.7 miles long and with not a lot of elevation gain/loss at roughly 20 metres or 66 feet overall.  Following it to the left you will descend down an easy trail toward Harmony Lake where you can link to the Harmony Lake Loop trail or veer back to where you started.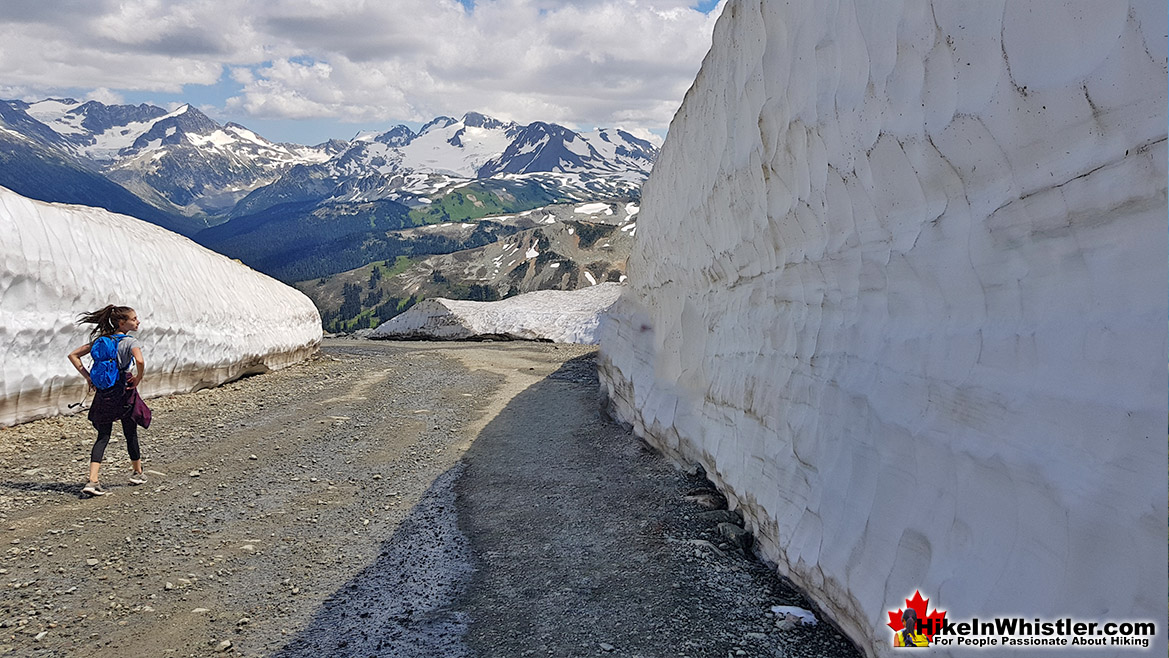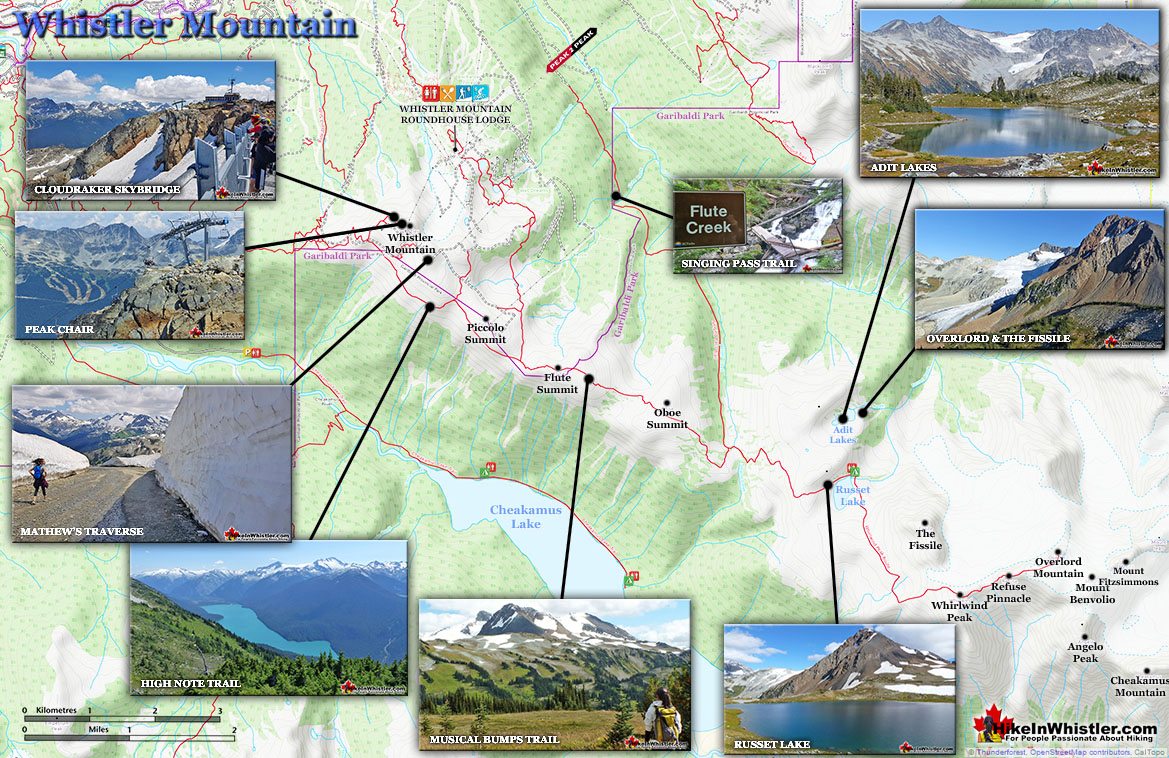 More Best Whistler Hiking - Whistler Mountain
Cheakamus Lake - Best Whistler Hiking

Cheakamus Lake is a wonderfully relaxing way to get in the wilderness easily and quickly from Whistler Village. The trail begins on the far side of Whistler Mountain, 8 kilometres from the Sea to Sky Highway at Cheakamus Crossing across from Function Junction.  This 8 kilometre stretch of logging road is fairly bumpy and potholed, but does have the benefit of allowing you to drive the elevation gain instead of hiking it.  You can easily manage this road in a car, however carefully and very slowly in parts. Once you reach the trailhead/parking the entire 7 kilometre hiking trail to the end of the maintained Cheakamus Lake trail has barely any elevation gain. Just plenty of gradual inclines and declines along the winding route. In fact, this makes it one of the few trails in Whistler and Garibaldi Park that can boast that.  The nearby Garibaldi Lake trail and the Wedgemount Lake trail make you work for the views, however, the Cheakamus Lake trail hardly makes you work at all.  The trail to Cheakamus Lake takes you through an amazing forest of giant cedars that fill the forest with their amazing aroma.  This forest is so packed with ancient giants that year to year the trail is adjusted by a monster of a tree fallen across the trail during some winter storm.  Sometimes the trail bends around these behemoths, but more often they are laboriously chainsawed by BC Parks staff.  The more enormous of these remain as fixtures of the trail.  Either edging the trail or as a mighty obstacle to climb over.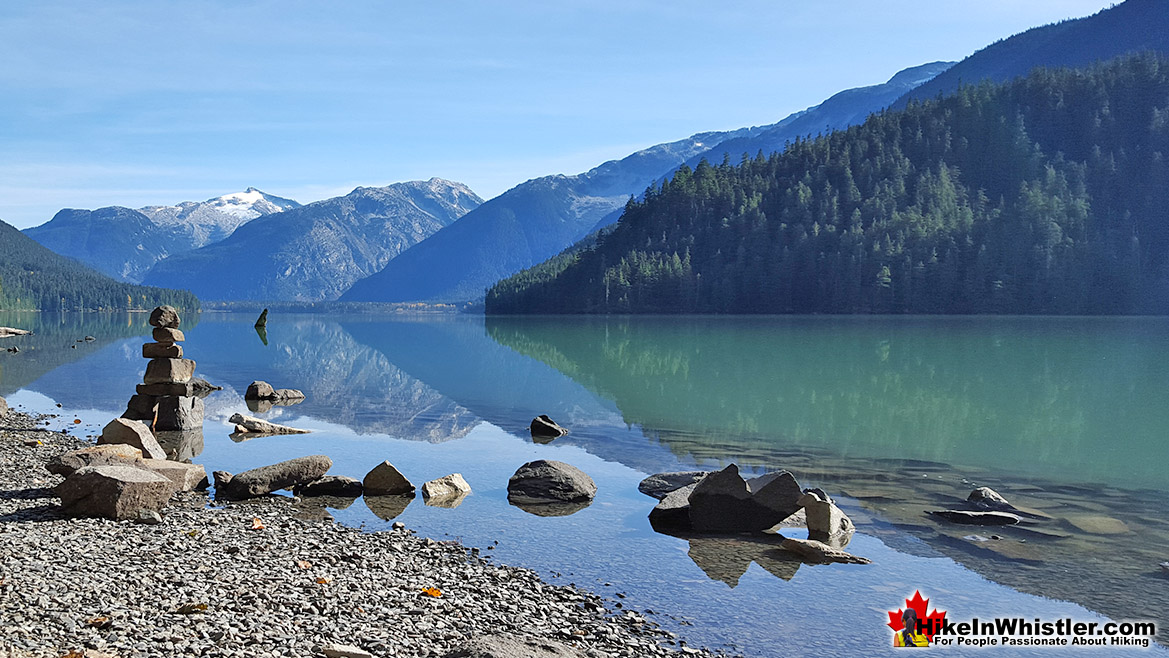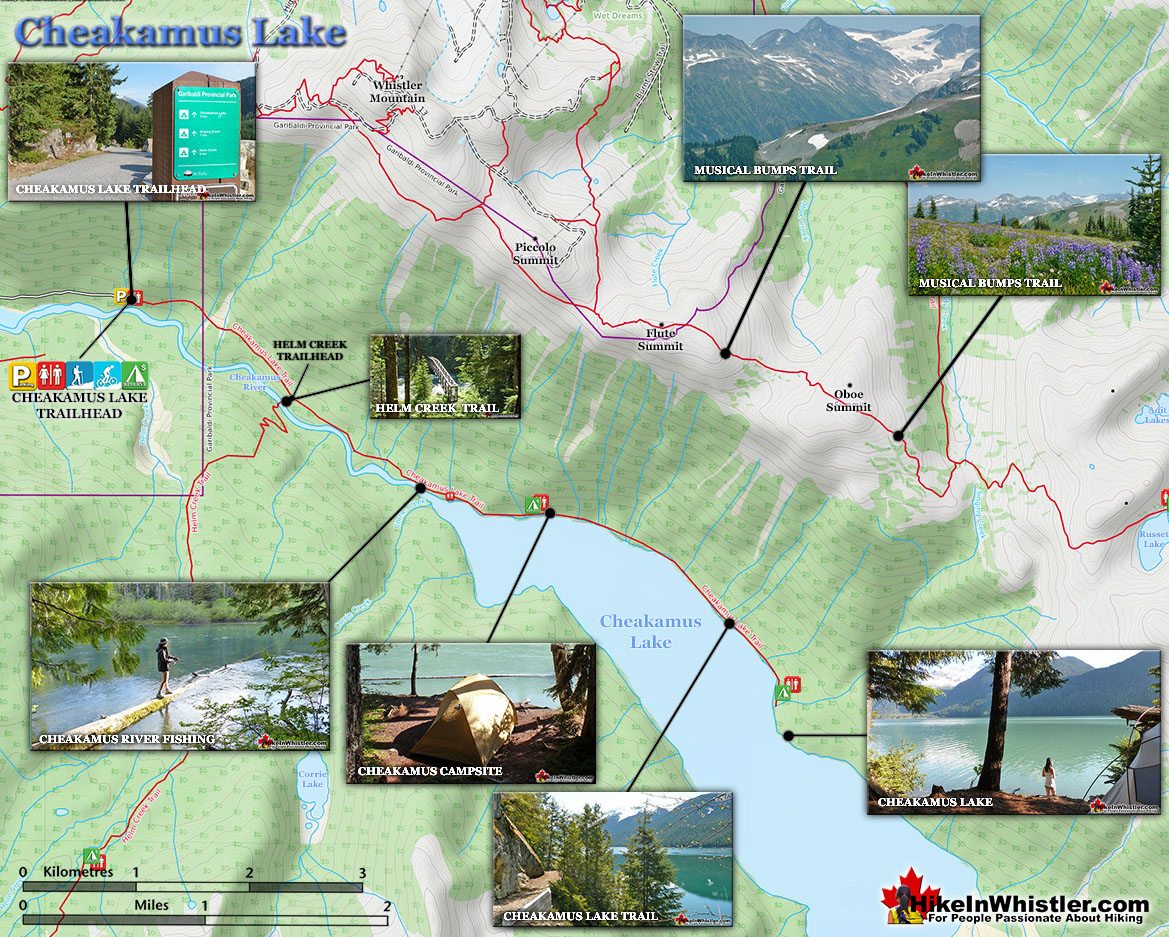 More Best Whistler Hiking - Cheakamus Lake
Keyhole Hot Springs - Best Whistler Hiking

Keyhole Hot Springs (aka Pebble Creek Hot Springs) is located 100 kilometres from Whistler(Village Gate Blvd). Though most of the 100 kilometres is on logging roads, it is driveable by most cars without any trouble. The massive Innergex hydroelectric project has turned this once quiet wilderness into a war-zone. On the plus side, the old logging roads near Keyhole Hot Springs are now well maintained and smooth.  The hot springs at Keyhole flow out of the ground adjacent to the swirling, crashing and wonderfully glacier coloured water of the Lillooet River.  The colour varies with the season, but for the most part it is a wonderful, deep, milky turquoise.  When the sunlight penetrates the deep valley, the milky turquoise changes to an unnaturally bizarre, emerald green colour as it swirls all around you. Sitting in the springs you look across to the vertical rock face and the massive, truck sized chunks of it that lay in the river next to you.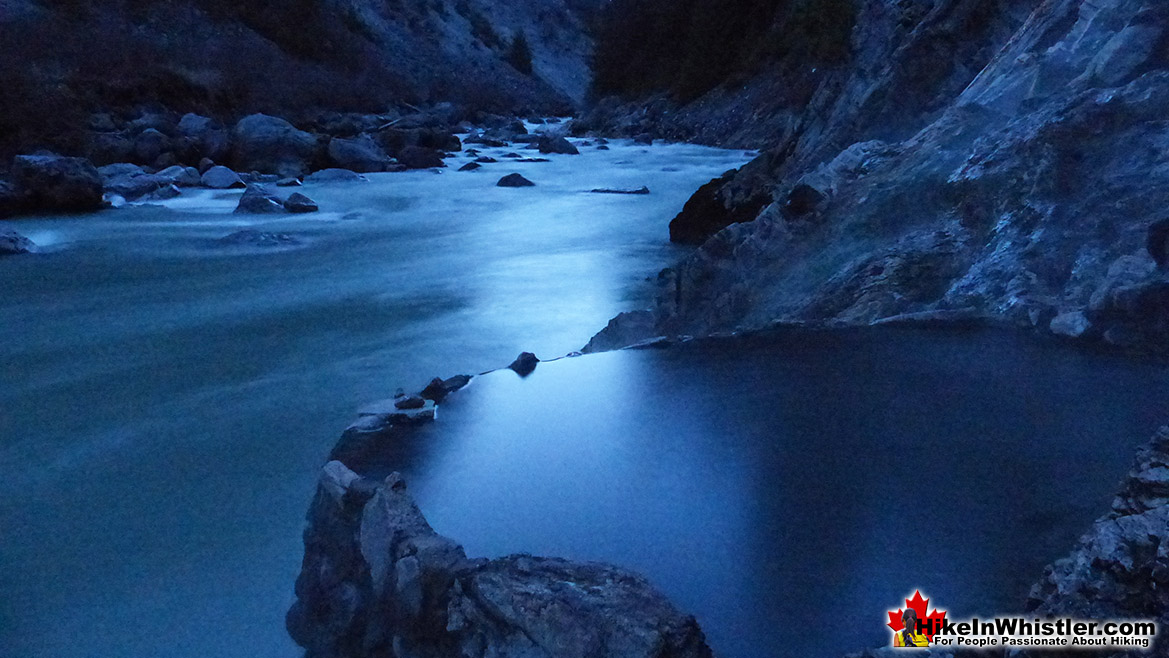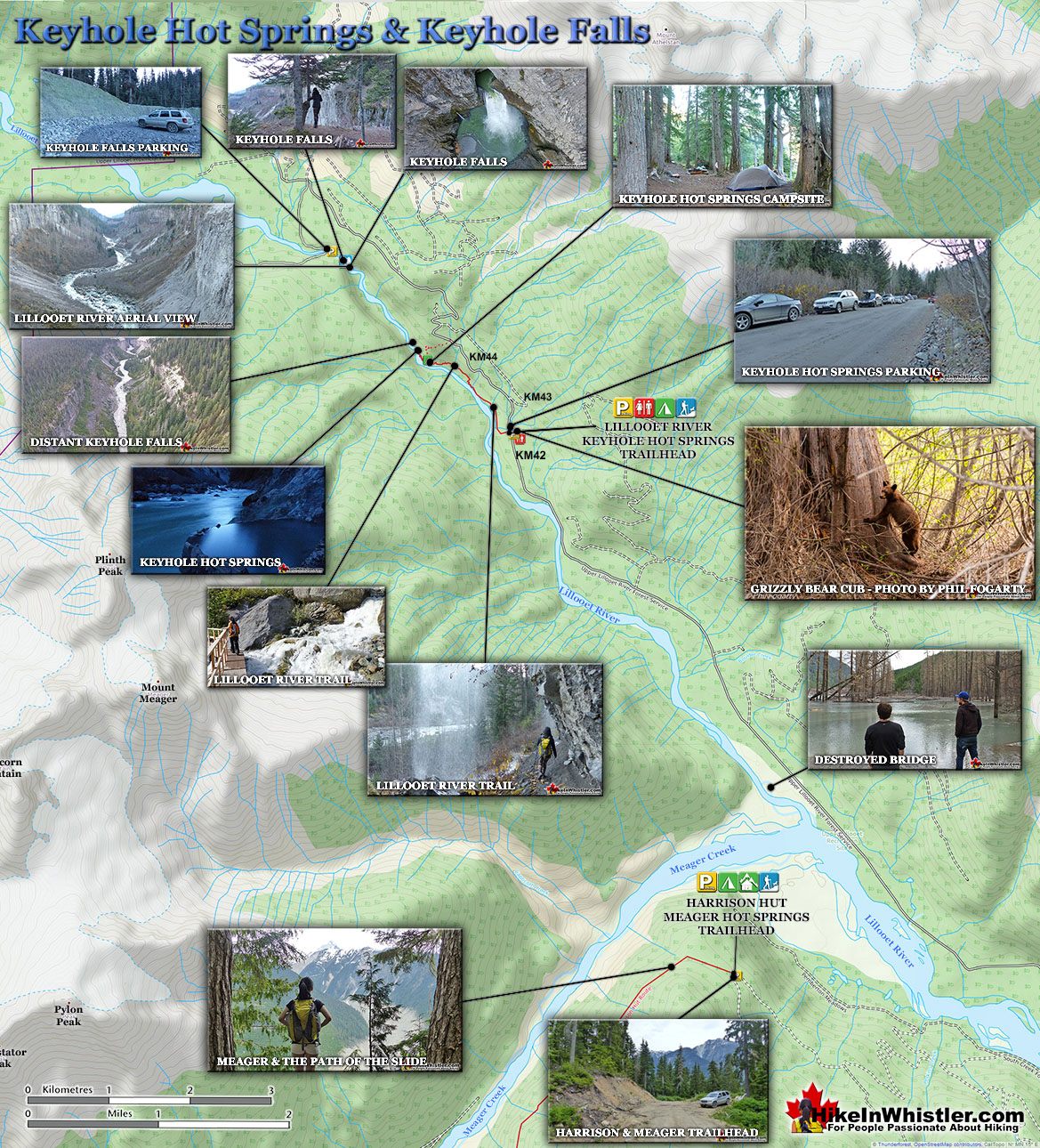 More Best Whistler Hiking - Keyhole Hot Springs
Meager Hot Springs - Best Whistler Hiking

Meager Hot Springs(aka: Meager Creek Hot Springs) is located 93 kilometres northwest of Whistler, was beautifully developed into gorgeous pools, with a caretaker and usage charge.  At its height of popularity, Meager Hot Springs had 30,000 yearly visitors. Unfortunately, due to two recent massive landslides it seems unlikely to ever officially reopen.  Just a decade ago, in 2009, a nice, expensive access bridge was installed.  A few months later it was dramatically obliterated from another slide in 2010. In 2014 the new VOC Harrison Hut Trail was mostly completed, allowing access to Meager Hot Springs once again. Currently this access road is in a bit of a construction zone, so don't be surprised if the road is blocked by a rock slide or road construction.  The old access bridge over the Upper Lillooet River which cost nearly a million dollars was wrecked in seconds in 2010.  In 2014 a new route was built to Meager Hot Springs by the UBC Varsity Outdoor Club.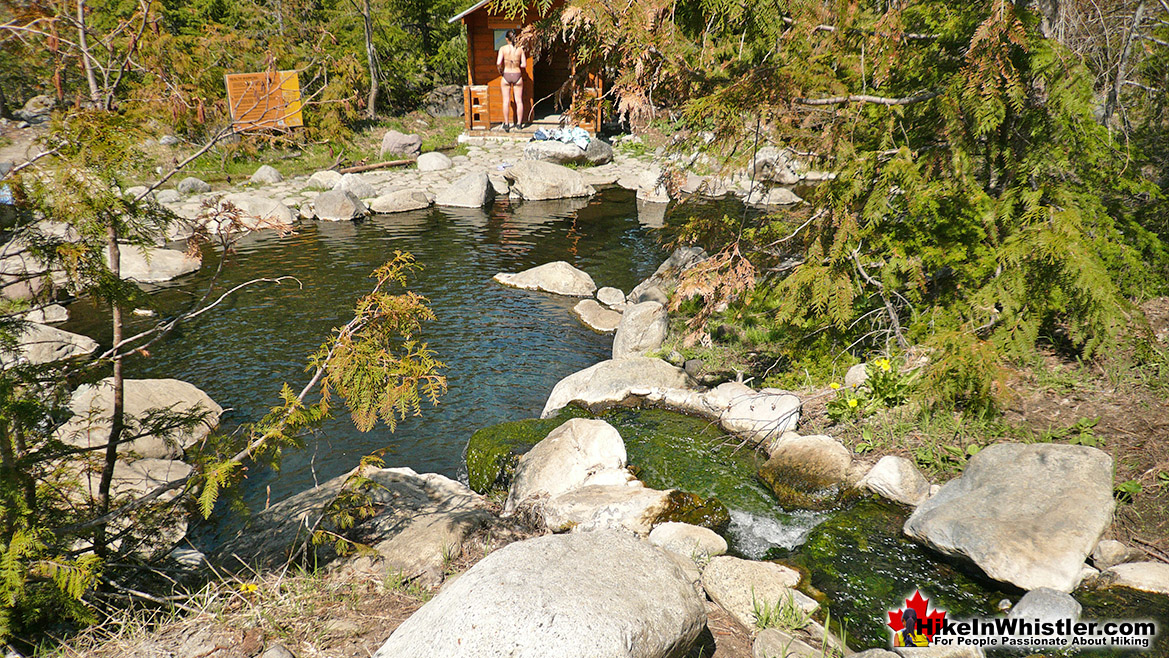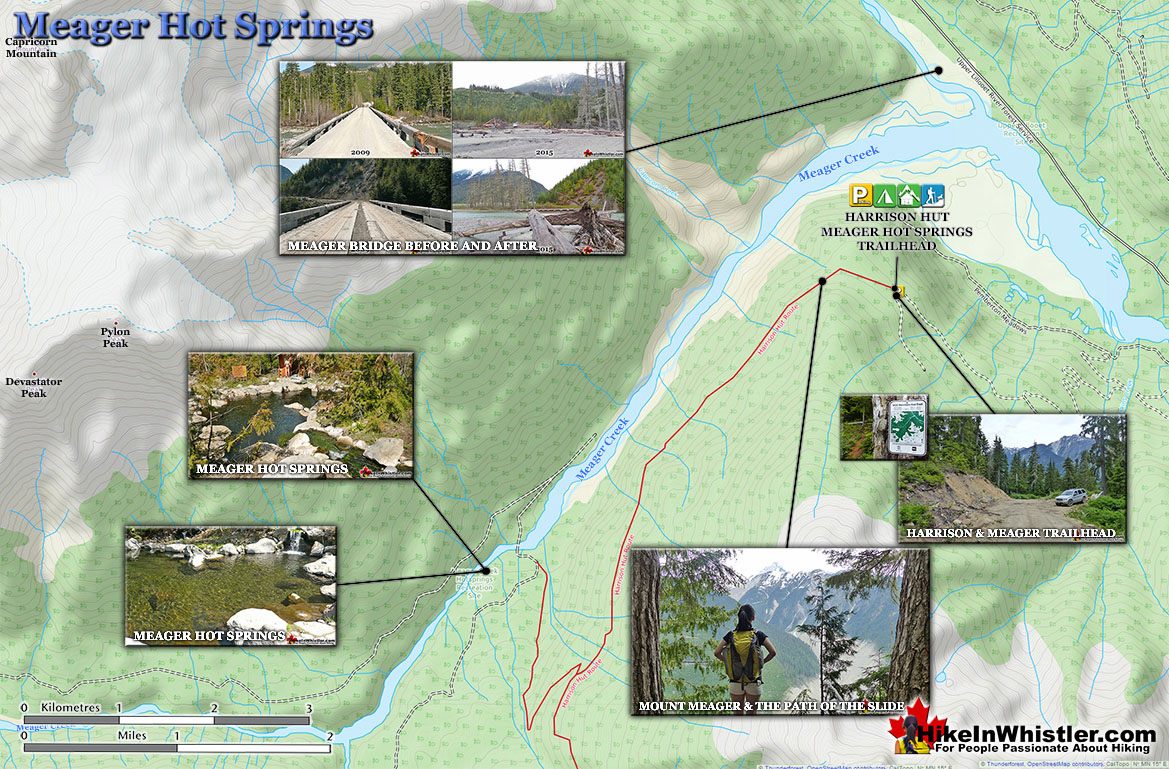 More Best Whistler Hiking - Meager Hot Springs
Madeley Lake - Best Whistler Hiking

Madeley Lake is a beautiful, remote mountain lake hidden high up in the Callaghan Valley.  From Whistler Village expect to take 40 minutes to drive there.  You can drive pretty close to the lake, however A new gate installed in 2022 blocks Madeley Lake FSR which continues two kilometres to the far end of Madeley Lake near the campsite.  Located near Alexander Falls, Madeley Lake is close to several beautiful places.  This is an amazing place to camp.  If looking for solitude at a paradise, mountain lake, Madeley Lake is hard to beat. Though somewhat popular with fishing, you are still likely to rarely see anyone at the lake in the summer and never in the fall.  Once in a while you will see a car or two at the trailhead to Hanging Lake.  If you have a canoe, Madeley Lake is a great place to paddle around or just float in the sun.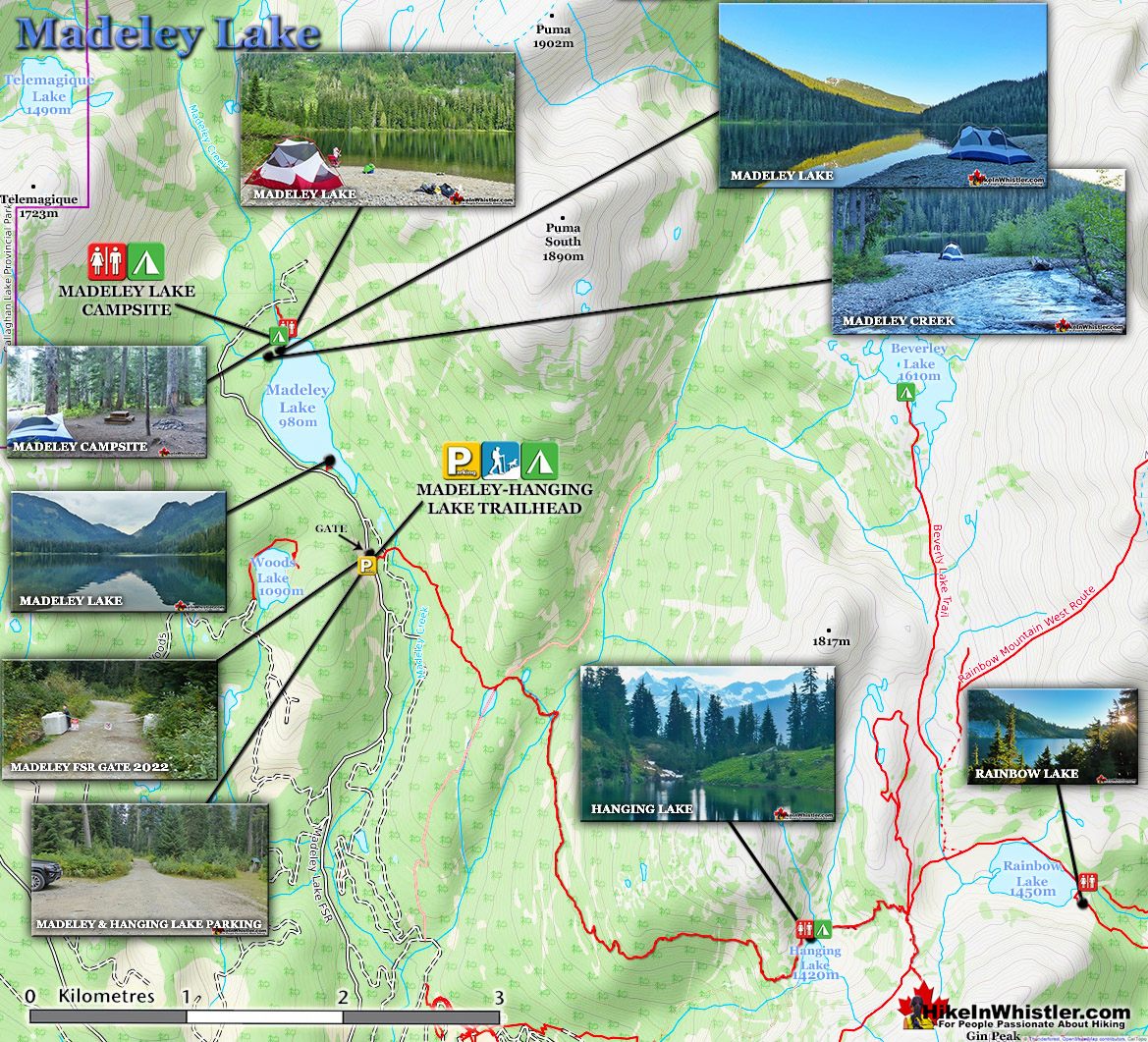 More Best Whistler Hiking - Madeley Lake
Sloquet Hot Springs - Best Whistler Hiking

Sloquet Hot Springs is a wonderfully wild set of shallow, man-made pools fed by a small, all natural, and very hot, waterfall. The pools stretch from the waterfall to the large and crashing Sloquet River. The large, spread out campsite for the hot springs lies a short 5 minute walk from the springs. You have to follow a dark and quickly descending trail toward the crashing river.  As you near, you can smell the unusual, but kind of nice hot springs scent, and you see steam rising all around you, some steam rising, bizarrely, out of the grass clearing on the edge of the river. On your left a rising cliff, on your right the crashing river.  The path narrows and steepens, leading to a large fallen tree which the trail seems to run to. So huge though as to not worry you walking the length of. Then, there it is. The massive fallen tree flanks it. Nestled between the tree and a cliff, in a large triangular area, with the river forming the third side are the Sloquet Hot Springs.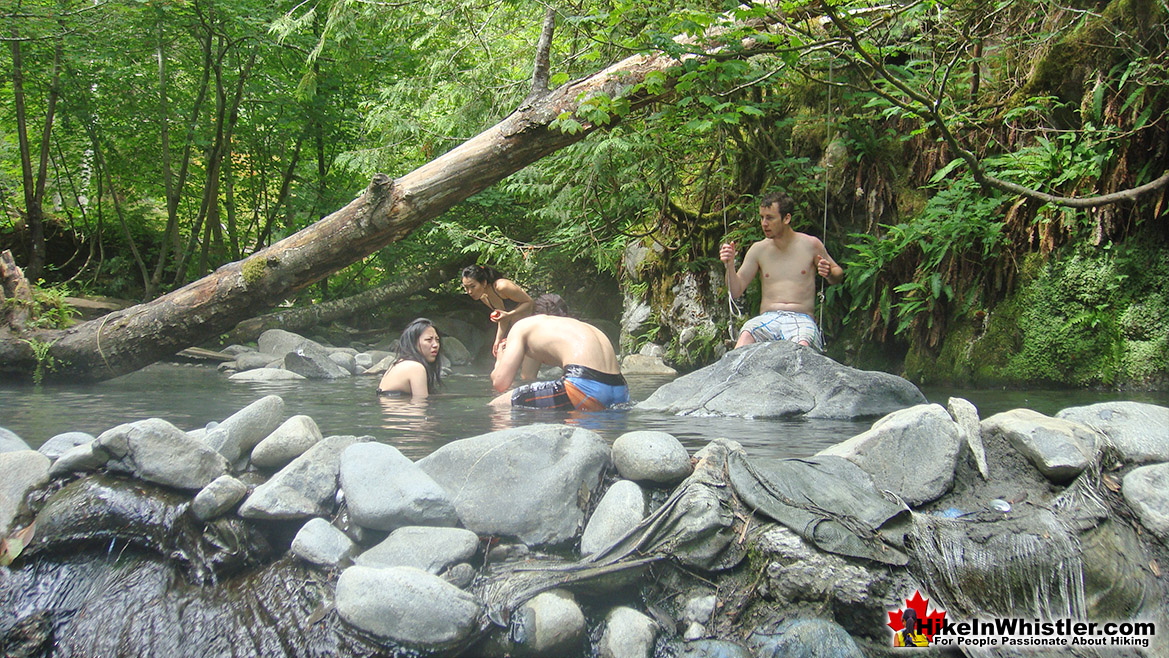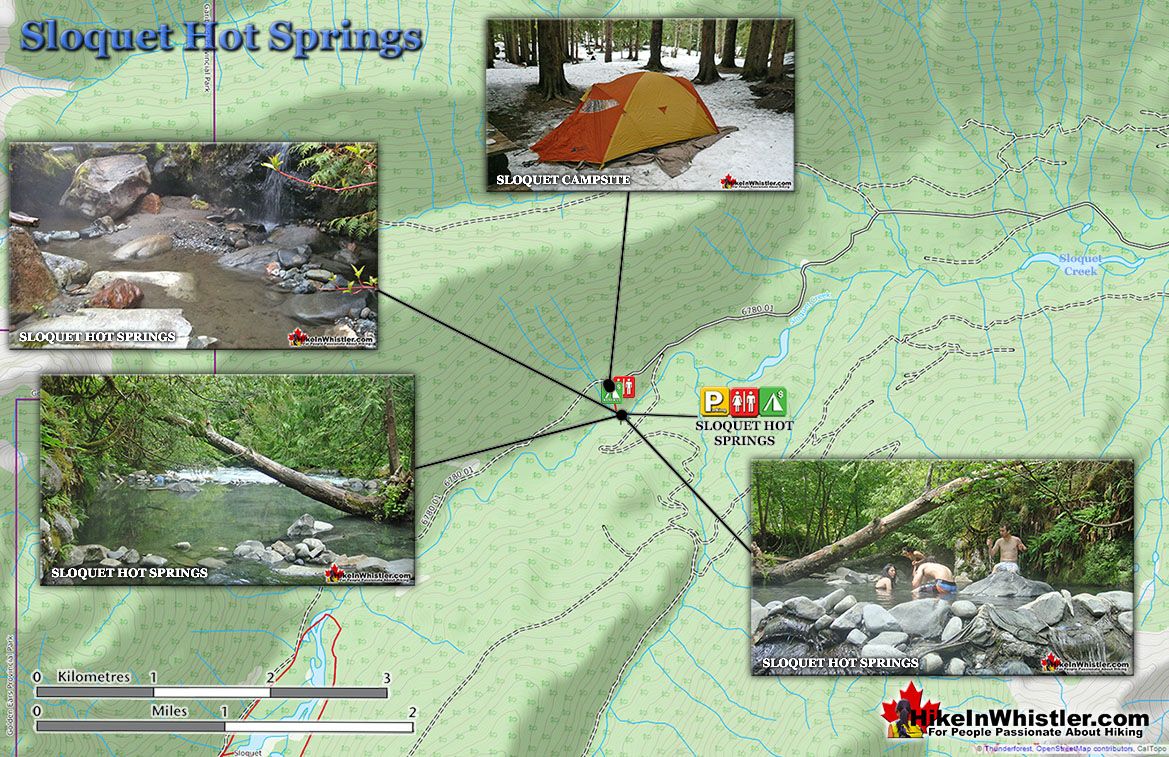 More Best Whistler Hiking - Sloquet Hot Springs
Logger's Lake - Best Whistler Hiking

Logger's Lake is an amazing little lake hidden up in the deep forest above the more well known Cheakamus River. The lake, almost unbelievably exists in a long extinct volcano. However, as soon as you see the lake up close, you quickly come to believe it. The lake sits in an almost cartoonish looking, volcano-shaped bowl, with one side of the bowl a crumbling array of truck sized boulders leading down to the lake.  The crater that Logger's Lake sits in was a volcano that pushed through the glacial ice in this valley about 10000 years ago.  As the lava cooled it formed the wonderful basalt ridge that is crumbling into valley. As Logger's Lake sits deep in this ancient volcano's vent, it is sheltered from the wind and soaks up the suns rays into the dark boulders all around. As a result makes it the warmest lake in Whistler, though most other lakes around are glacier fed(via rivers and creeks), so the comparison is not entirely fair. The surrounding cliffs and forest also add to the tranquility of the lake. Located a bit off the radar for most and requiring a short logging road drive and then a very steep, but short hike to get to also contributes to its serenity.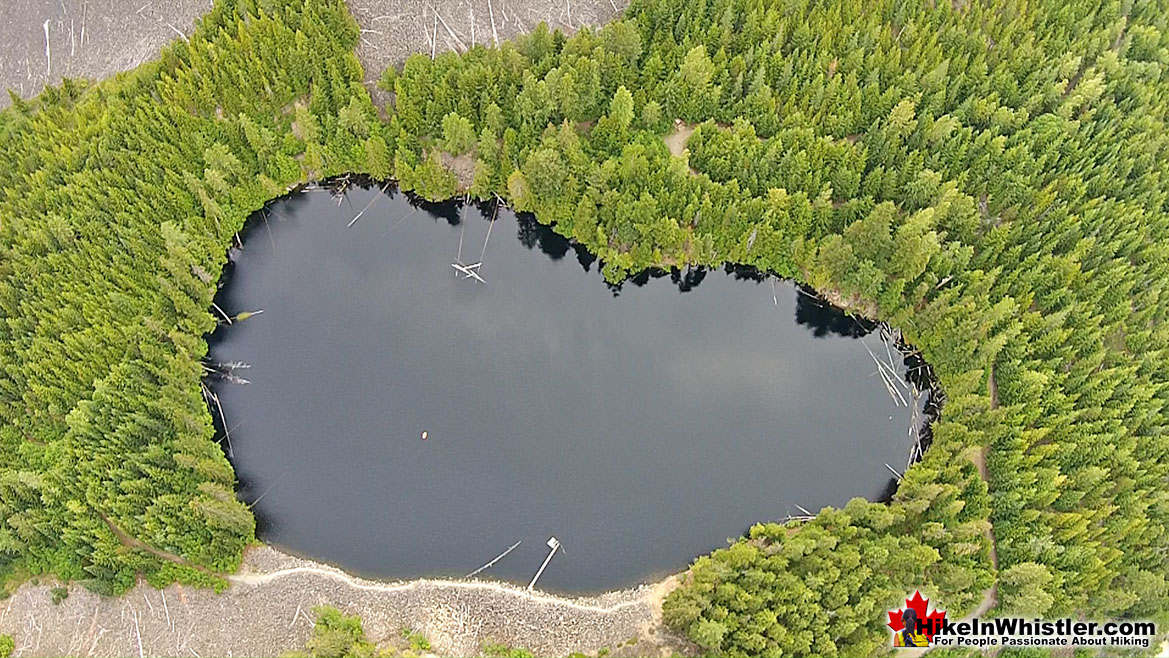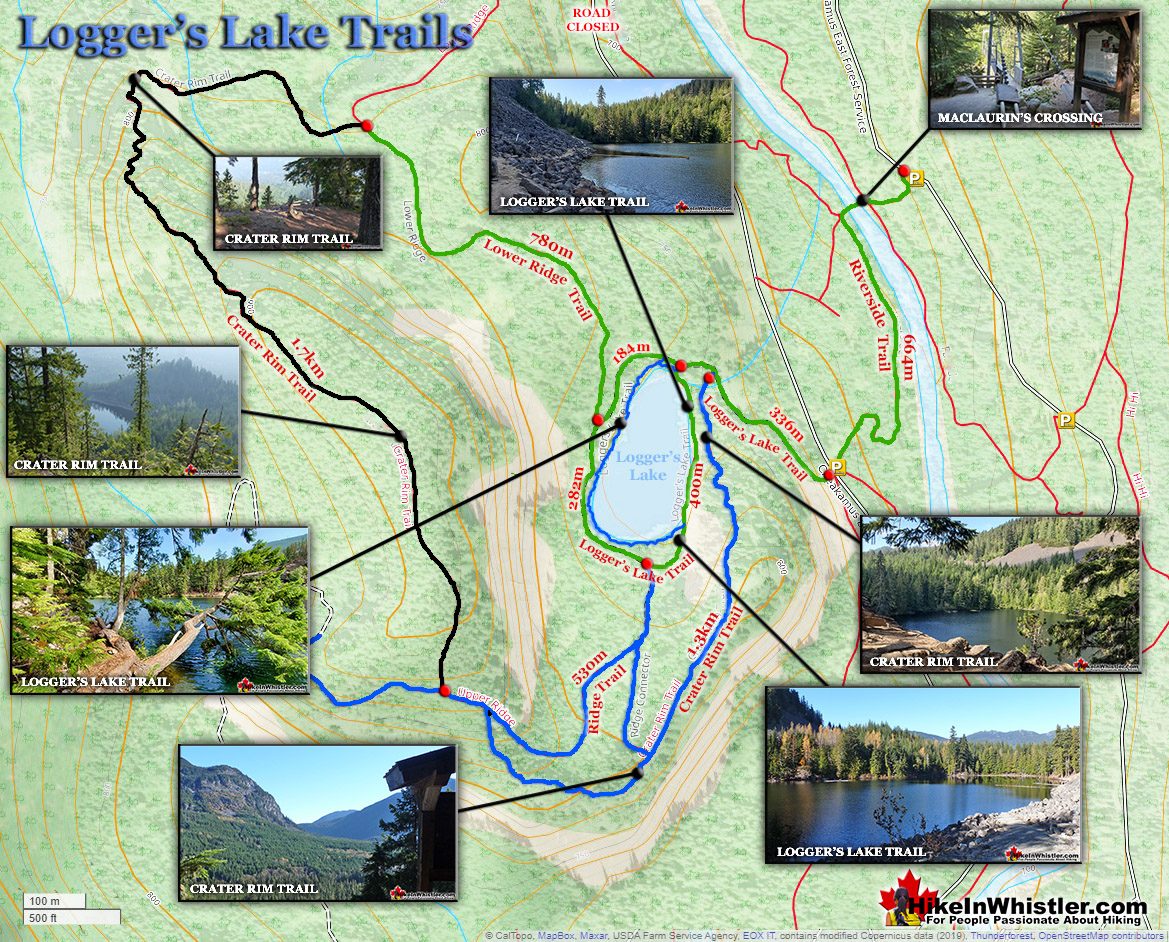 More Best Whistler Hiking - Logger's Lake
Russet Lake - Best Whistler Hiking

Russet Lake is a surreal little paradise that lays at the base of The Fissile, in Garibaldi Provincial Park. The Fissile is the strikingly bronze mountain visible from Whistler Village.  From the Village look into the distance at the Peak2Peak Gondola hanging between Whistler Mountain and Blackcomb Mountain and you will see The Fissile. Its pyramid shape in the distance perfectly separates the two mountains.  Though Russet Lake is not terribly impressive in terms of size or colour, the valley around it is remarkably beautiful. The colours change from moment to moment in and extraordinary way. The distinctive colour of The Fissile and the stark grey of the mountains around contrast amazingly with the blue of the lake and green grass in the valley. So many different factors fill the place with colour.  There are several ways to get to hike Russet Lake.  The Singing Pass trail from the base of Whistler Mountain near the Whistler Gondola. The Musical Bumps trail that begins near the top of the Whistler Gondola.  Both routes take you deep into the magnificent Fitzsimmons Range.  The Fitzsimmons Range runs east from the summit of Whistler Mountain to Russet Lake.  Fitzsimmons Creek cuts between Whistler Mountain and Blackcomb Mountain, parallel to the Singing Pass trail.  Where the Fitzsimmons Range ends at Fitzsimmons Creek, the Spearhead Range begins and continues along a set of peaks resembling spearheads to Blackcomb Mountain.  These peaks include The Spearhead, Mount Trorey, Tremor, Shatter, Shudder, Quiver, and more.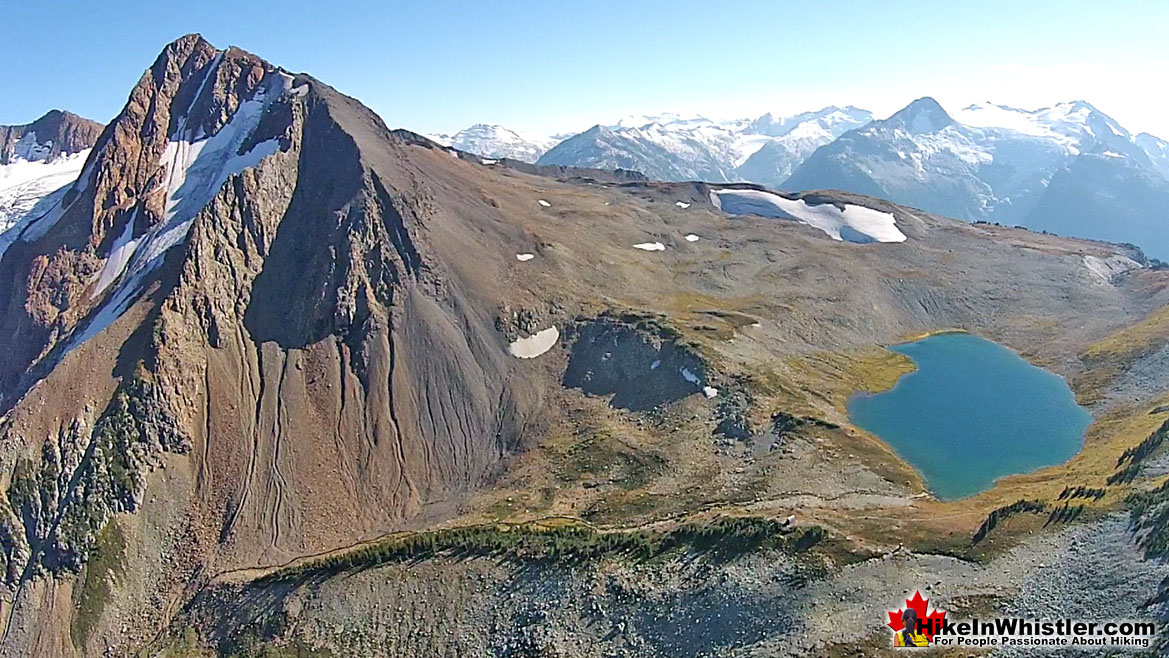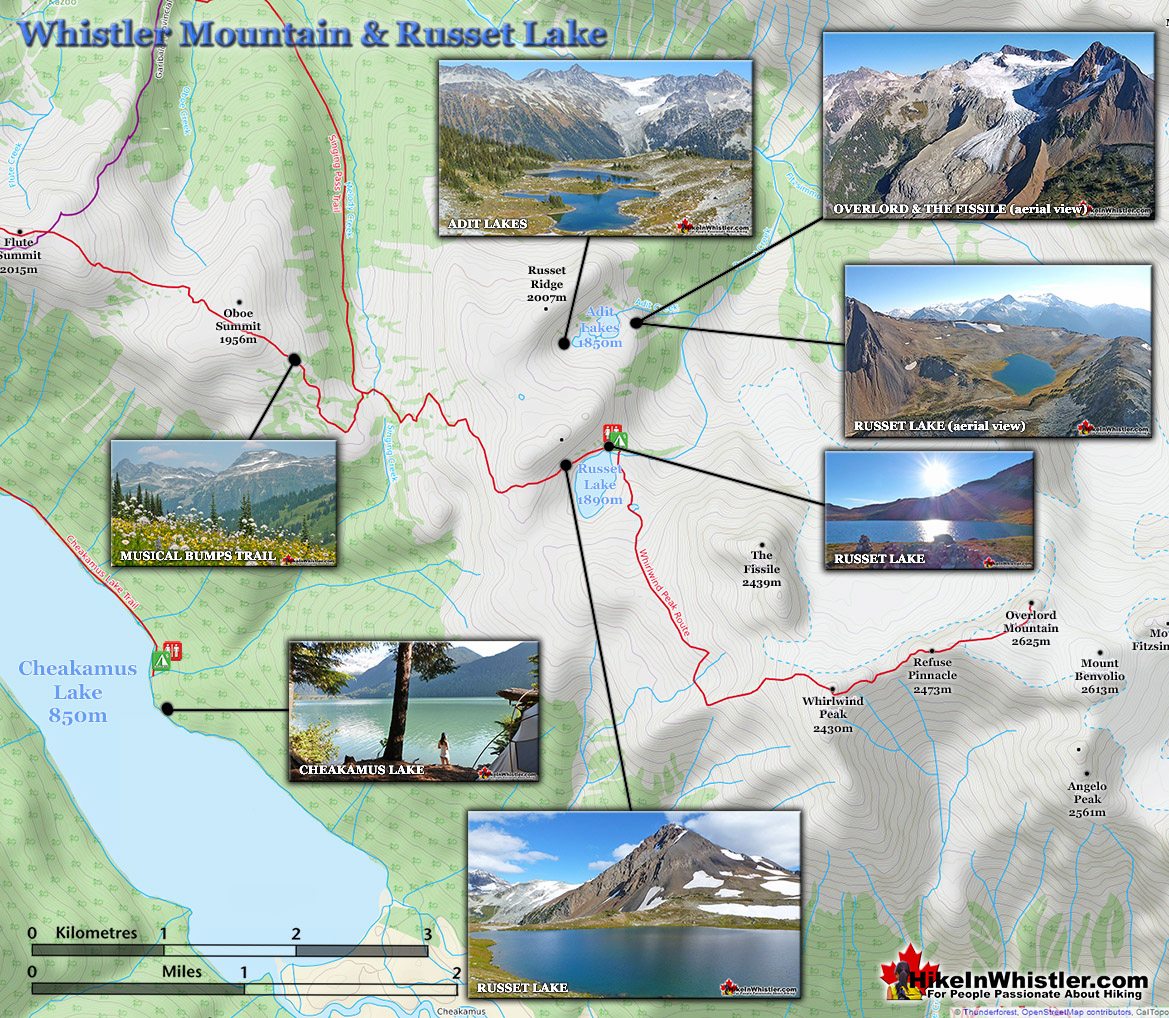 More Best Whistler Hiking - Russet Lake
Sproatt East(Stonebridge) - Best Whistler Hiking

The Sproatt East trail is a beautifully wild, steep, but relatively short trail to the magnificent, wide open alpine and summit of Mount Sproatt.  Mount Sproatt (1834 metres) towers over Whistler Valley directly across from Whistler Mountain (2181 metres) and Blackcomb Mountain (2436 metres).  There are several routes and trails to access Sproatt and the Sproatt East trail is arguably the shortest and certainly the most convenient from Whistler.  The trail begins high up in Stonebridge, the luxurious Whistler neighbourhood that extends up the valley above Alta Lake along the lower part of Mount Sproatt.  From the trailhead in Stonebridge to the summit of Sproatt you gain over a thousand metres(3280 feet) in just 5.5 kilometres(3.4 miles).  The steepness of the trail is comparable to the trail to Wedgemount Lake where you gain 1220 metres(4003 feet) in just 7 kilometres(4.4 miles).  The Sproatt East trail quickly ascends from the Flank Trail into a stunningly varied array of deep jungle-like rainforest, to boulder strewn valleys, to spectacular rock outcrops above the treetops overlooking Whistler Valley.  One minute you are hiking over dry, rocky terrain under the hot sun, then suddenly you are enveloped in deep, dark forest with idyllic streams flowing across the trail.  Often you round a bend and find yourself facing a vertical wall of rock dozens of metres tall.  You find yourself staring in wonder at the staggering size and what the view must be like at the top.  The trail tends to bend around the base of these monoliths and almost always leads up to an access route to the top.  This is one of the great features of the trail is the seemingly endless array of towering cliffs overlooking Whistler far below.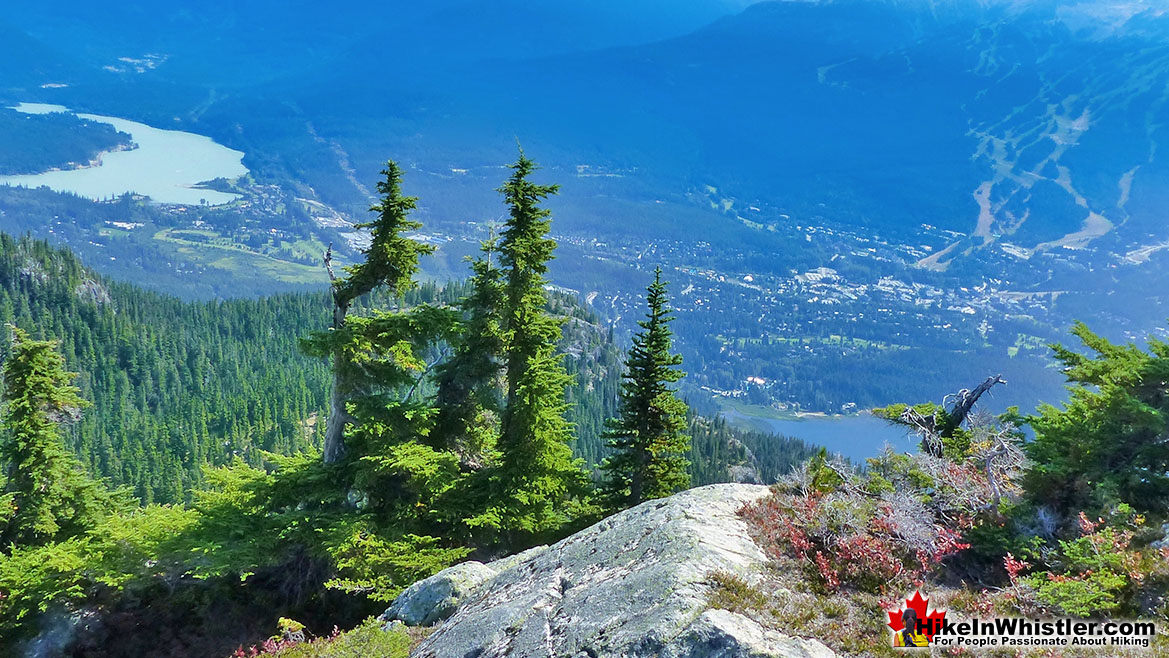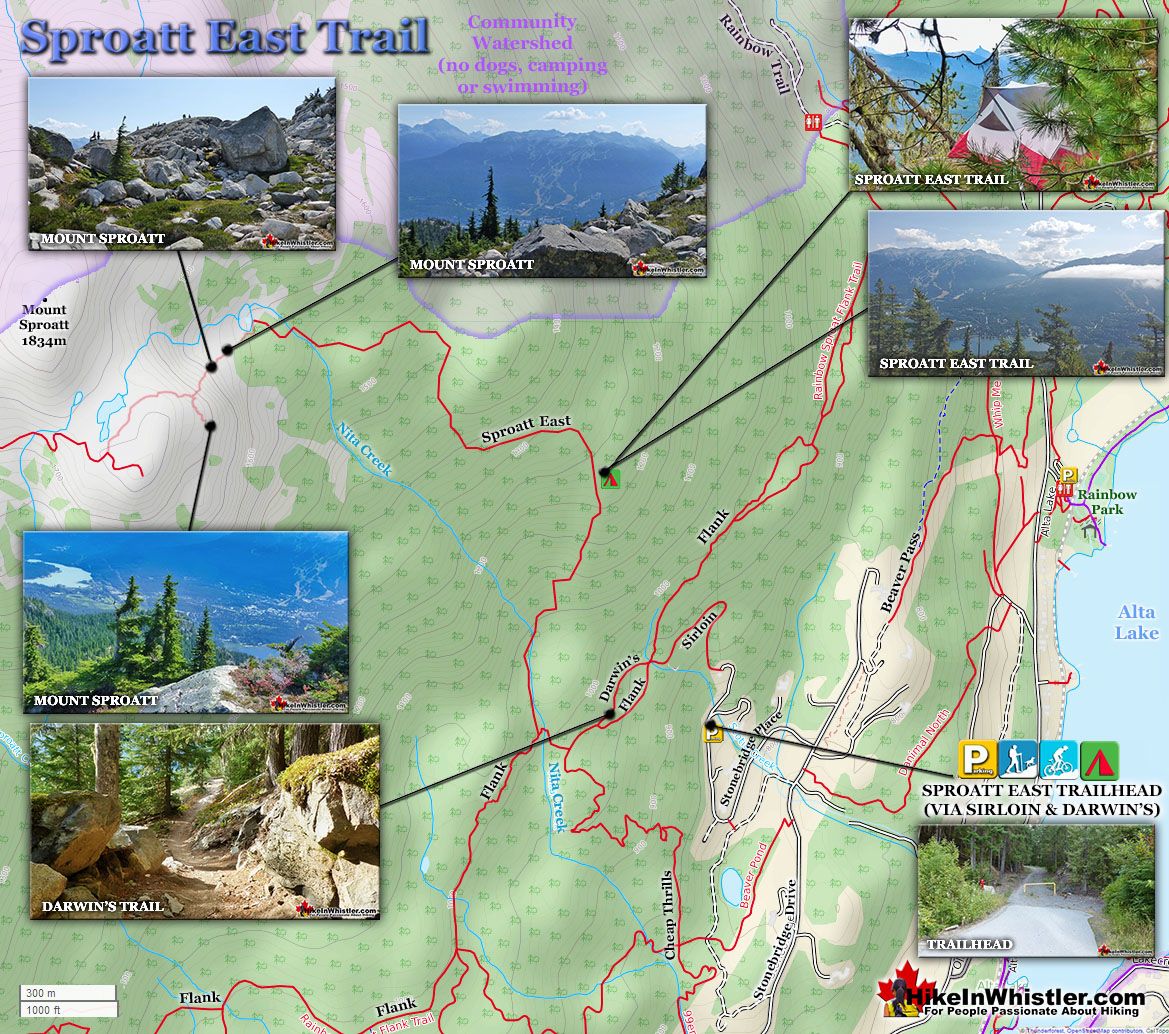 More Best Whistler Hiking - Sproatt East
Newt Lake - Best Whistler Hiking

Newt Lake is beautiful little lake high up on the far side of Cougar Mountain near Ancient Cedars.  Its location is a wonderful mix of unexpected characteristics that combine to make it a gorgeous place to see, as well as an unforgettable place to spend the night.  The lake itself is comparatively small, but its irregular shape, deep water and dramatically varied topography make it seem pretty big.  The terrain around the lake is chaotic combination of monstrous boulders, rocky cliffs and weather battered forest.  On section of Newt Lake's shoreline is buried in truck sized rocks rising sharply from the water and up to one of the ominously crumbling ridges of Cougar Mountain.  The massive jigsaw of rocks stretching from the cliff to the shore look as though they crashed down recently.  Other boulders around, and in Newt Lake are so enormous that you can't tell if they crashed down from above, or are part of the solid bedrock.  Some, the size of houses, have decades old trees growing on and around them, yet their jagged and rounded shape give them the unsettling appearance of having been dropped there.  You can't help but stare across the lake and try to visualize how they came to rest where they are.  With truck sized boulders ringing one side of the lake, there are several perfect places to jump in.  The water is immediately deep from the shore here and the colour is emerald green.  You have to navigate the steep boulder field from the trail that approaches the lake from the 2.4 kilometre trail that starts from the end of the much easier Ancient Cedars trail.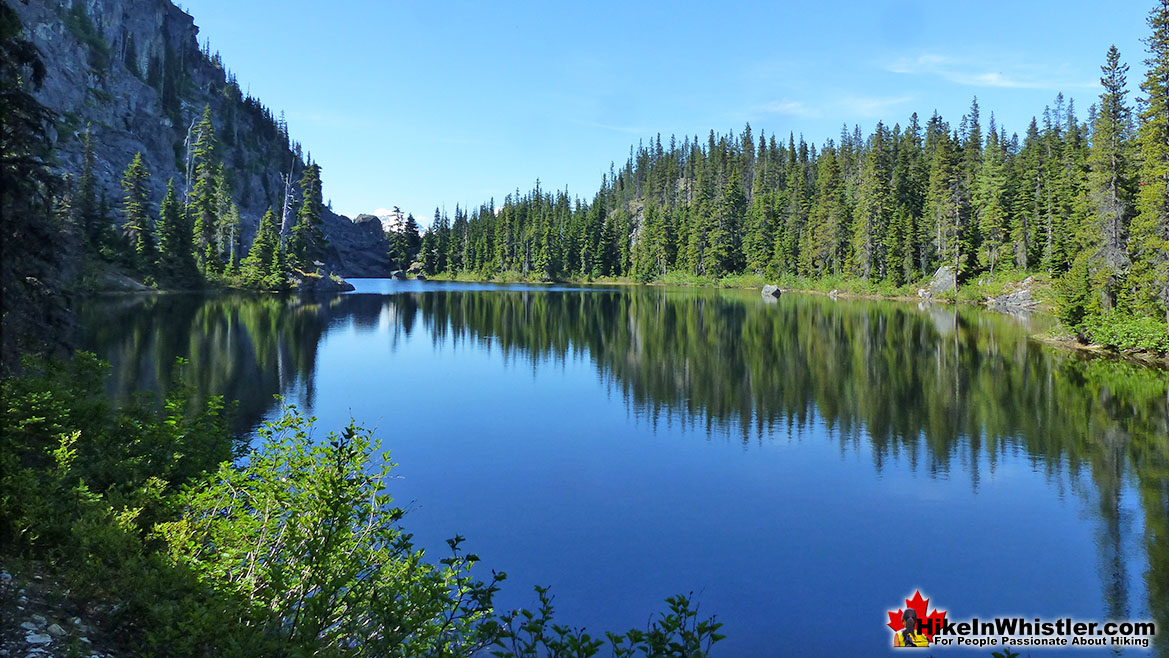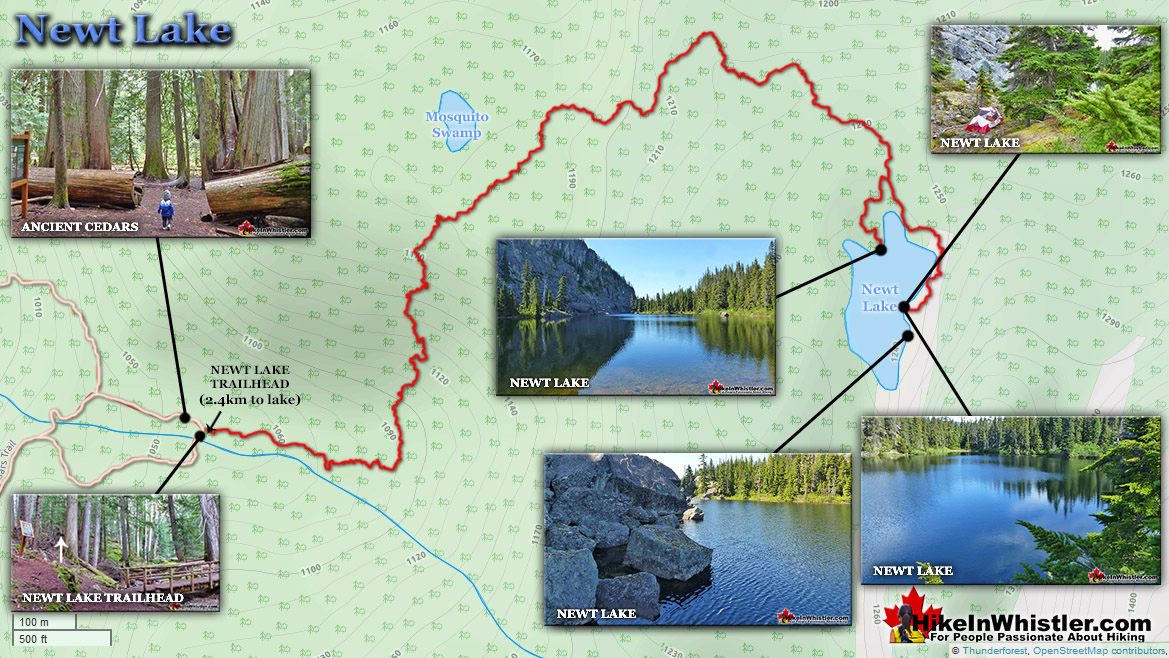 More Best Whistler Hiking - Newt Lake
Brandywine Falls - Best Whistler Hiking

Brandywine Falls is one of the must see sights on the way to or from Whistler. The falls drop from a 66 metre(216 feet), unnaturally abrupt looking cliff to the valley below. Brandywine Falls Provincial Park is such a popular, accessible and beautiful sight that it has a large and elaborate viewing platform directly opposite the falls. Located just 20 minutes south of Whistler, Brandywine Falls is just off of the Sea to Sky Highway.  The impressive falls are just one of a few sights to see in Brandywine Falls Provincial Park. Swim Lake, the Whistler Bungee Bridge and the Sea to Sky Trail running through the park make it a hiking, biking, jogging, snowshoeing paradise.  You can set off from Whistler Village by bike on the Sea to Sky Trail and reach the falls in about an hour or two.. and rarely emerge from forest!  The Sea to Sky Trail miraculously avoids roads and civilisation for most of its 33 kilometres!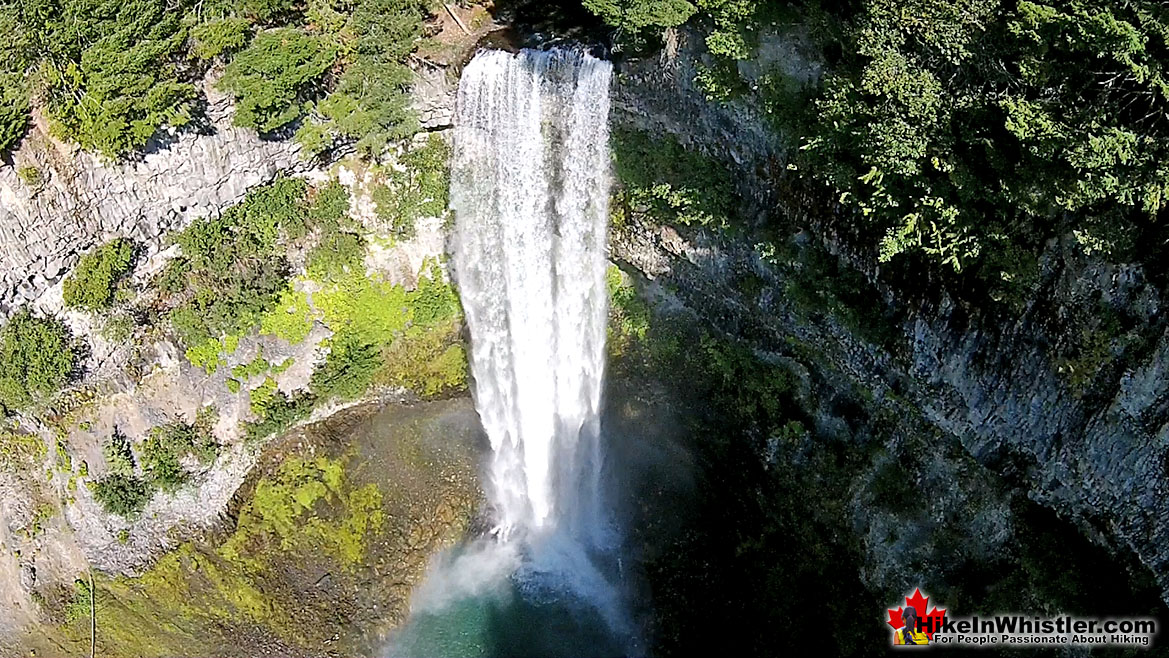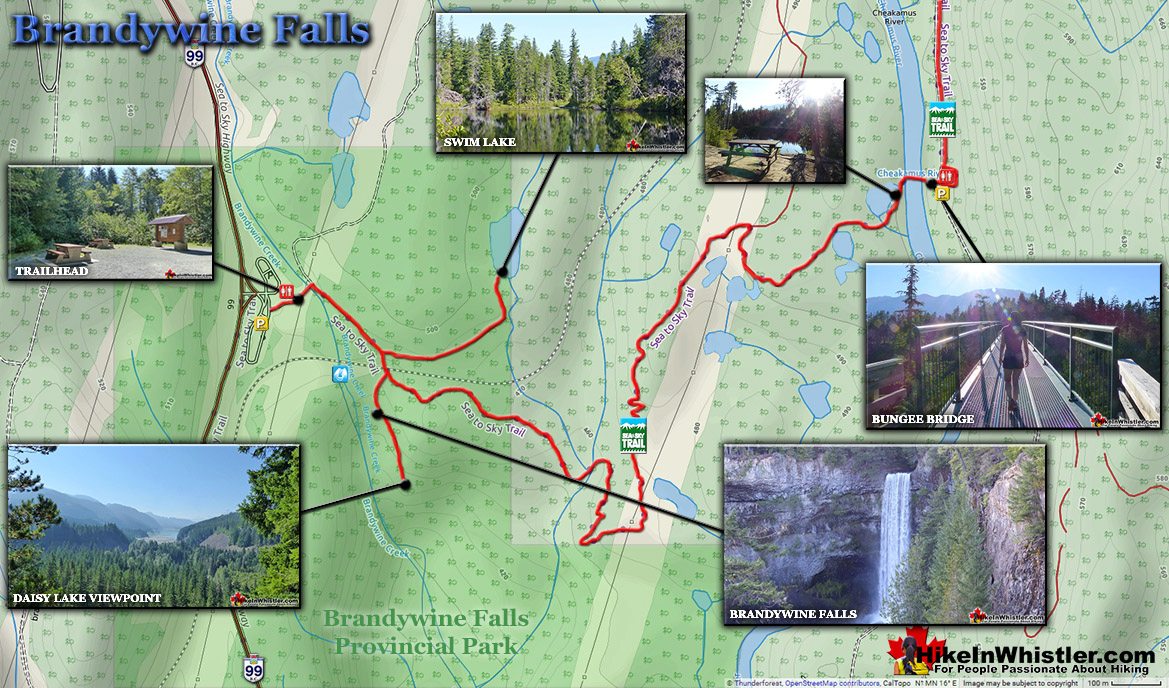 More Best Whistler Hiking - Brandywine Falls
Garibaldi Lake - Best Whistler Hiking

Garibaldi Lake is the centre and base for much of the hiking in Garibaldi Provincial Park. The Garibaldi Lake campsite is located on the amazing, turquoise shores of this massive and mostly still wild mountain lake. There are no trails around the edge of the lake except the small section leading to the campsites, so your view is an impossibly coloured lake edged by swaths of forest and a magnificent glacier towering in the distance.  Compared to other lakes in the Whistler area and in Garibaldi Provincial Park, Garibaldi Lake is enormous with a surface area of almost 10 square kilometres or 2460 acres.  It is also a very deep lake with its average depth of 119 metres or 390 feet and at its deepest, 258 metres or 849 feet!  What really makes Garibaldi Lake extraordinary is its geography.  It is flanked by volcanoes on three sides and lava flows from Mount Price during the last ice age formed The Barrier which blocked the valley which filled with water, creating Garibaldi Lake.  Vantage points around the lake such as Panorama Ridge and Black Tusk allow relatively easy views of this magnificent lake with Mount Garibaldi and other impressive peaks surrounding it.  At the Garibaldi Lake campsite the water is painfully cold, though plenty of brave hikers swim here as well as camp.  Garibaldi Lake, though beautiful enough as a primary destination, is often a base camp for further hiking. The summit of Black Tusk is just a 2 hour hike from the lake. Panorama Ridge is a bit further at about 3 hours from the lake.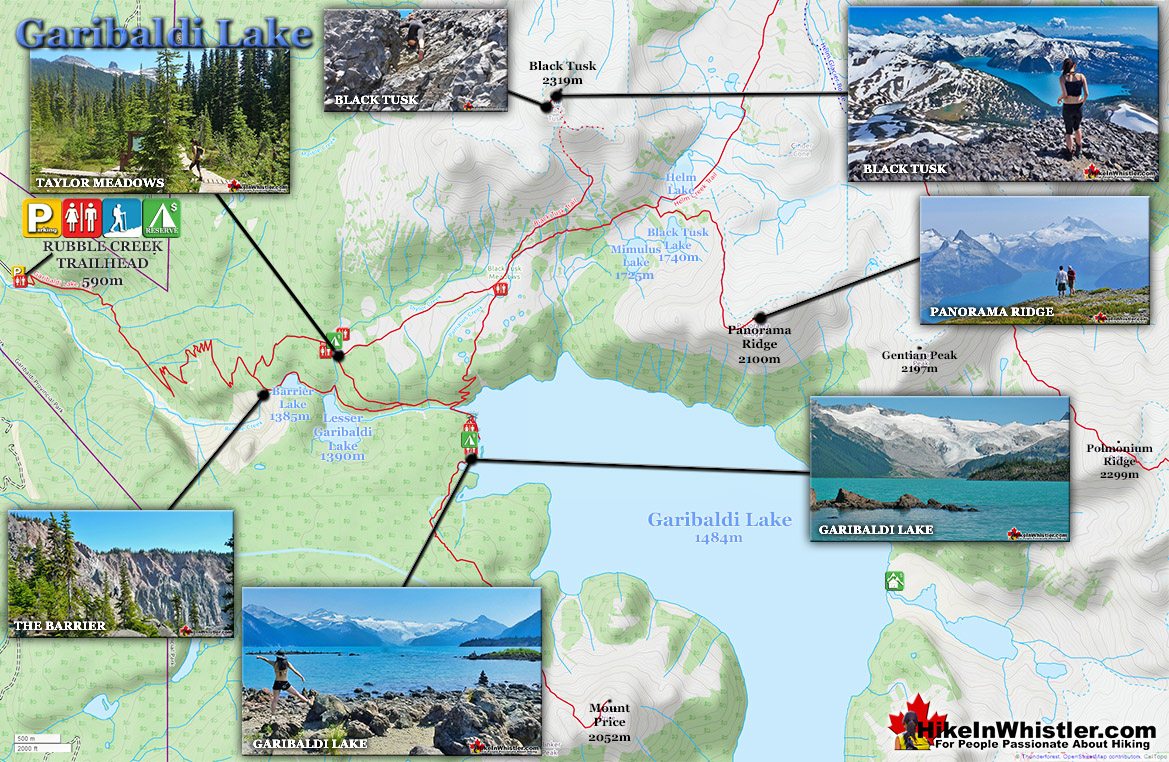 More Best Whistler Hiking - Garibaldi Lake
Joffre Lakes - Best Whistler Hiking

Joffre Lakes Provincial Park is a gorgeous park with extraordinarily coloured lakes, waterfalls, stunning mountain peaks and ominous glaciers pouring into the valley.  Joffre Lakes is one of those incredible places that makes it hard to take a boring picture.  The three Joffre Lakes are some of the most stunning lakes you are likely to ever see.  Each lake gets progressively more beautiful and impossibly turquoise from one to the next.  By the third lake the intense colour is breathtaking. The mighty Matier Glacier rises above and beyond the third lake, making the experience even more spectacular with such a looming presence.  Located an hours drive north of Whistler in the vast wilderness of mountains split by the Duffy Lake Road.  Expect to take an hour to drive the 61 kilometres to the trailhead.  There are three lakes in Joffre Lakes Provincial Park and all of them beautiful on their own.  The first lake, Lower Joffre Lake is just steps from the parking lot/trailhead and the views are already fantastic.  It has a wonderful turquoise colour that comes from light reflecting off particles of rock suspended in the glacier meltwater.  The lake is surrounded by pristine wilderness of uniformly idyllic trees.  Looking across the lake, two mountains frame a distant glacier, which looks strangely close and ominously huge.  It is the Matier Glacier which fills the steep valley above the third of the Joffre Lakes, Upper Joffre Lake, and marks the end of the trail that you just started.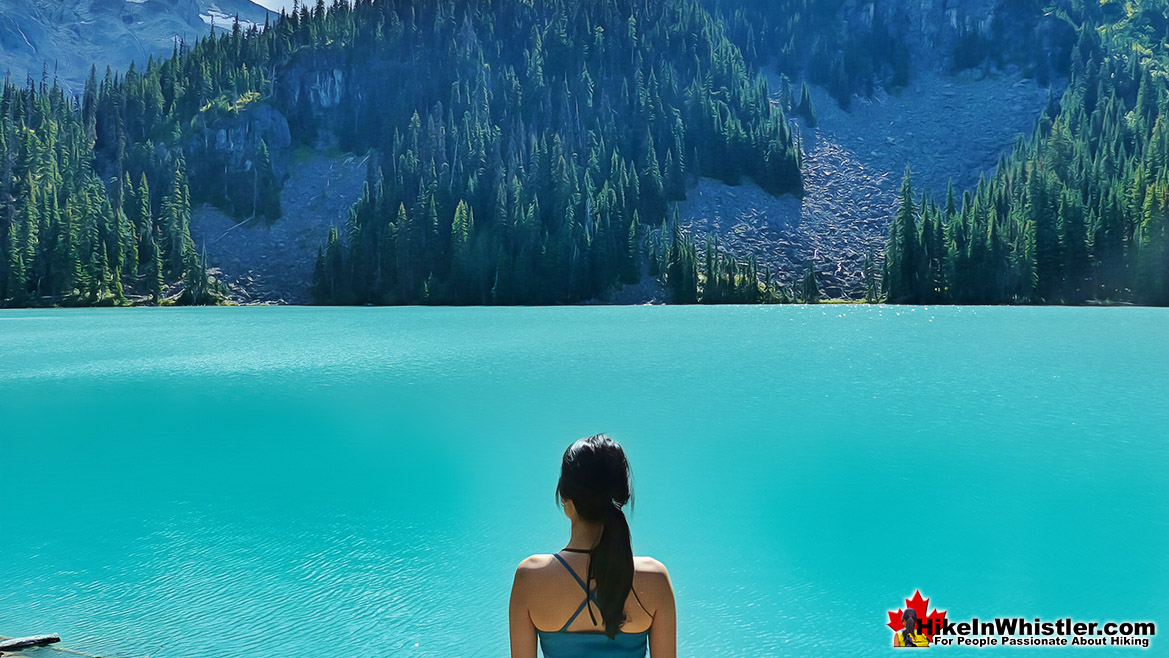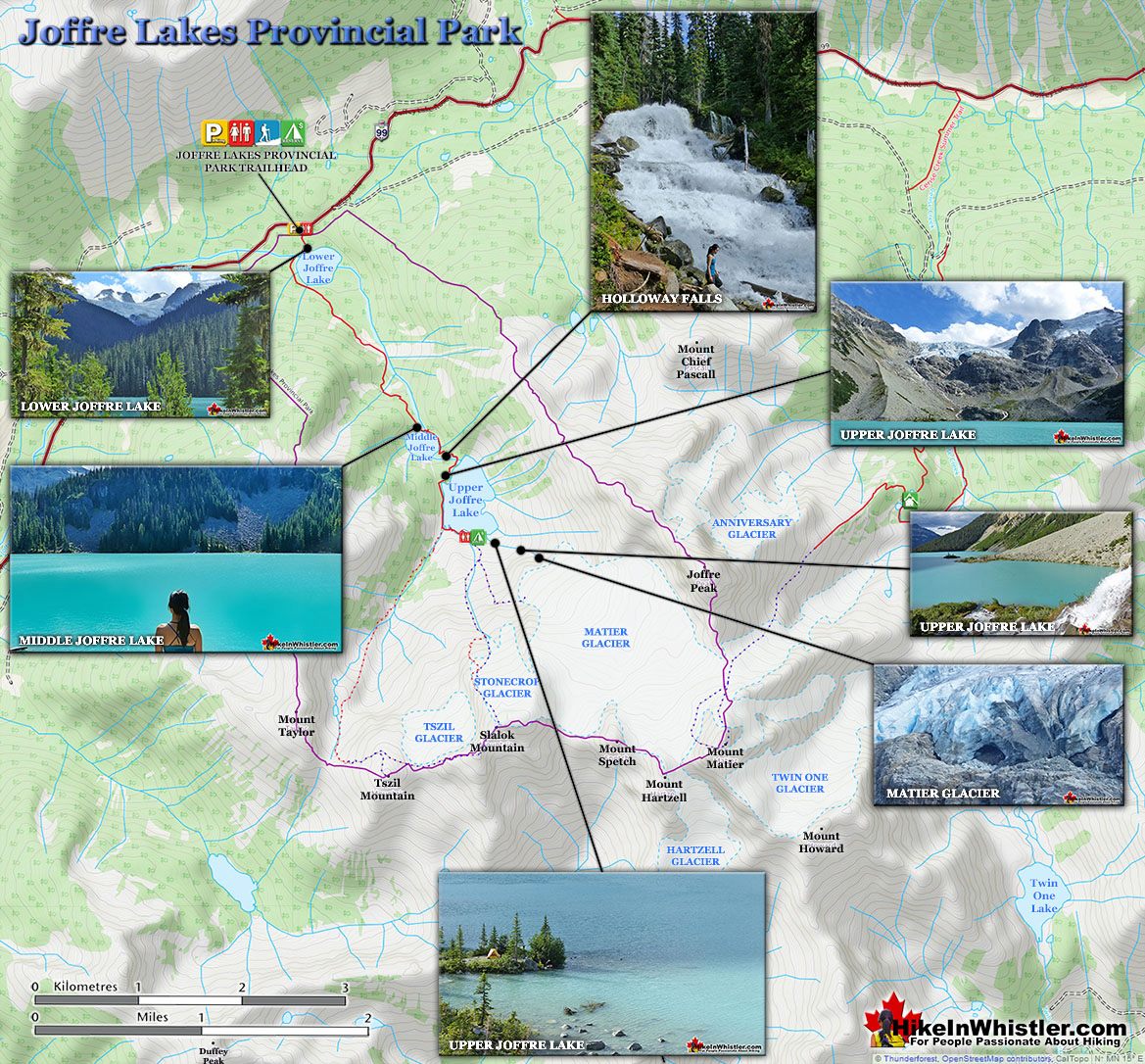 More Best Whistler Hiking - Joffre Lakes
Panorama Ridge - Best Whistler Hiking

Panorama Ridge is easily one of the most amazing hikes in Garibaldi Provincial Park.  The 15 kilometre(9.3 mile) hike from the trailhead at Rubble Creek to Panorama Ridge takes you through beautiful and deep forests, across countless idyllic streams, through meadows filled with flowers, and past dozens of jaw dropping viewpoints.  The amazing views start once you reach Taylor Meadows and get even more spectacular as the trail progresses.  Once you arrive at Panorama Ridge and its phenomenal vantage point, high above Garibaldi Park, you will stare in wonder.  Mesmerized first by Garibaldi Lake, far below you and looking unnaturally blue, the lake looks amazing surrounded by green, untouched wilderness and snow capped mountains.  The Table, the massive and unusual looking mountain with its bizarre flat top lays across the lake with the enormous Mount Garibaldi just beyond.  In the distance, where Garibaldi Lake ends, a massive glacier rises out of the blue and jagged crevasses can be seen even from such a great distance.  Behind you, Black Tusk lays across the valley.  Close to the same elevation as Panorama Ridge, you get this wonderful view of it.  Certainly the best and closest viewpoint to this iconic mountain. Panorama Ridge sits, along with Black Tusk in the midst of some of the most popular and beautiful hiking trails in Garibaldi Provincial Park.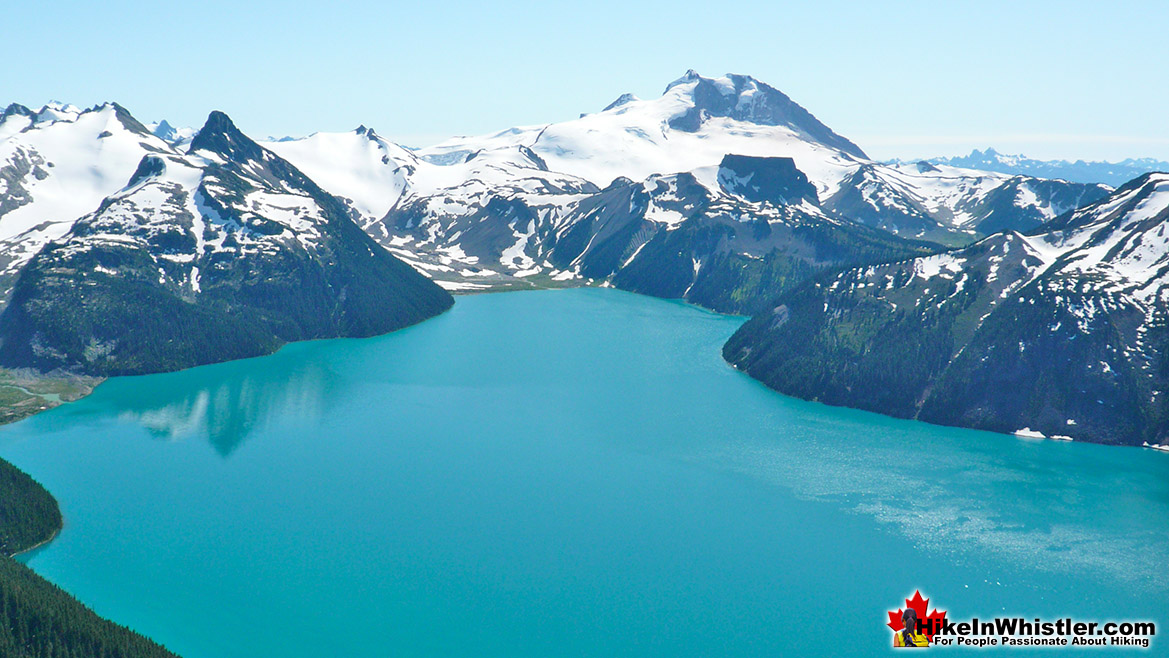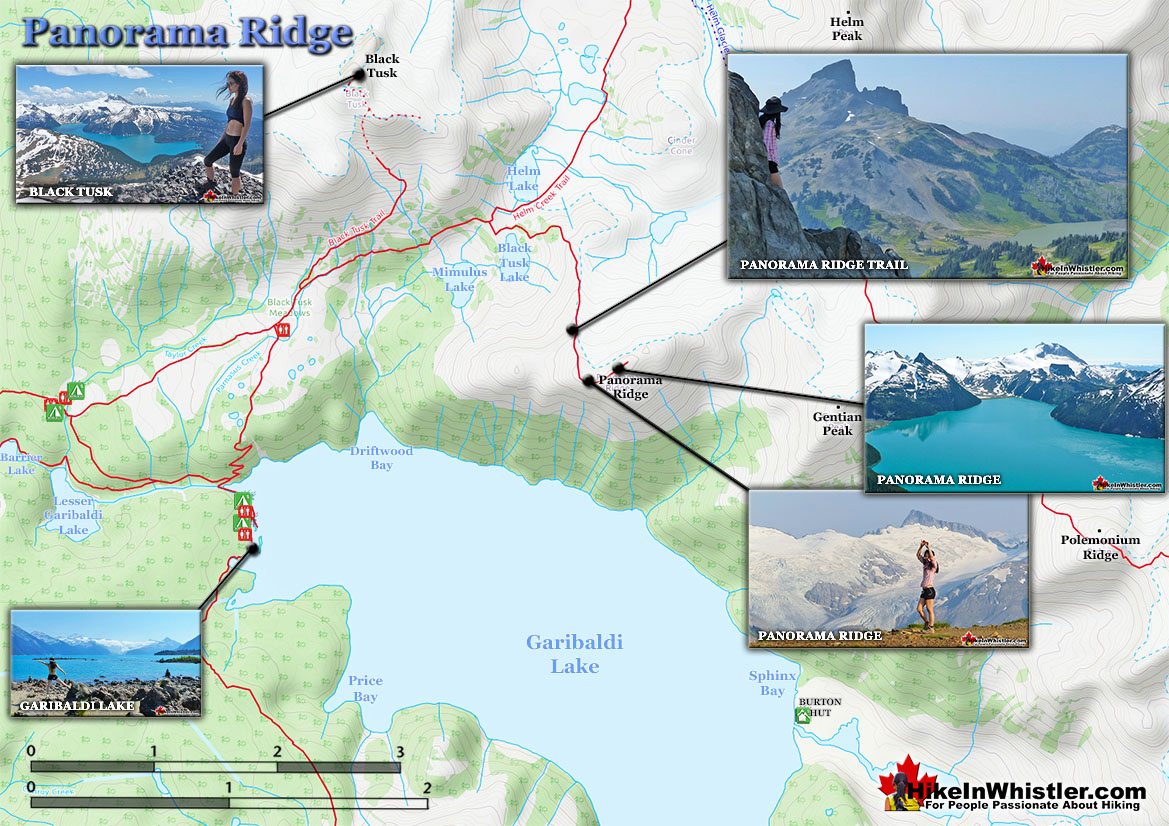 More Best Whistler Hiking Panorama Ridge
Sea to Sky Trail - Best Whistler Hiking

The Sea to Sky Trail is a 180 kilometre multi-use trail that runs from Squamish to D'Arcy. The trail is still under construction in many parts, however, the amazing route through Whistler is finally in place. The Whistler section of the Sea to Sky Trail is 33 kilometres long between Brandywine Falls Provincial Park and WedgeWoods Estates just north of Green Lake(north of Whistler Village).  The 33 kilometre Whistler section of the Sea to Sky Trail is either paved, dirt or crushed rock and often very wide. Much of the trail just north and south of Whistler Village is wide, two lanes and paved with plenty of signs and occasional mapboards.  North of Whistler Village the trail can be challenging with several hills as it rises above and beyond Parkhurst Ghost Town.  South of Whistler, the paved trail ends at Cheakamus Crossing and becomes a narrow at times dirt trail with some wider sections of crushed rock. This beautiful section follows Cheakamus River making four dramatically beautiful river crossings. The Cal-Cheak area south of Cheakamus Crossing is more challenging and sometimes narrow and hilly, dirt trails. South of Cal-Cheak the forest opens up and the trail widens to the luxurious feeling, wide and hard packed gravel all the way to Brandywine Falls Provincial Park where the trail joins with the Sea to Sky Highway. The Whistler section of the Sea to Sky Trail passes near and through an amazing array of whistler sights. The always impressive Brandywine Falls Provincial Park at the southern end of the 33 kilometre area shown here. Heading north from Brandywine Falls you cross the huge bungee jumping bridge that spans the enormous chasm over the Cheakamus River. Soon after you cross the suspension bridge at the Cal-Cheak Recreation area.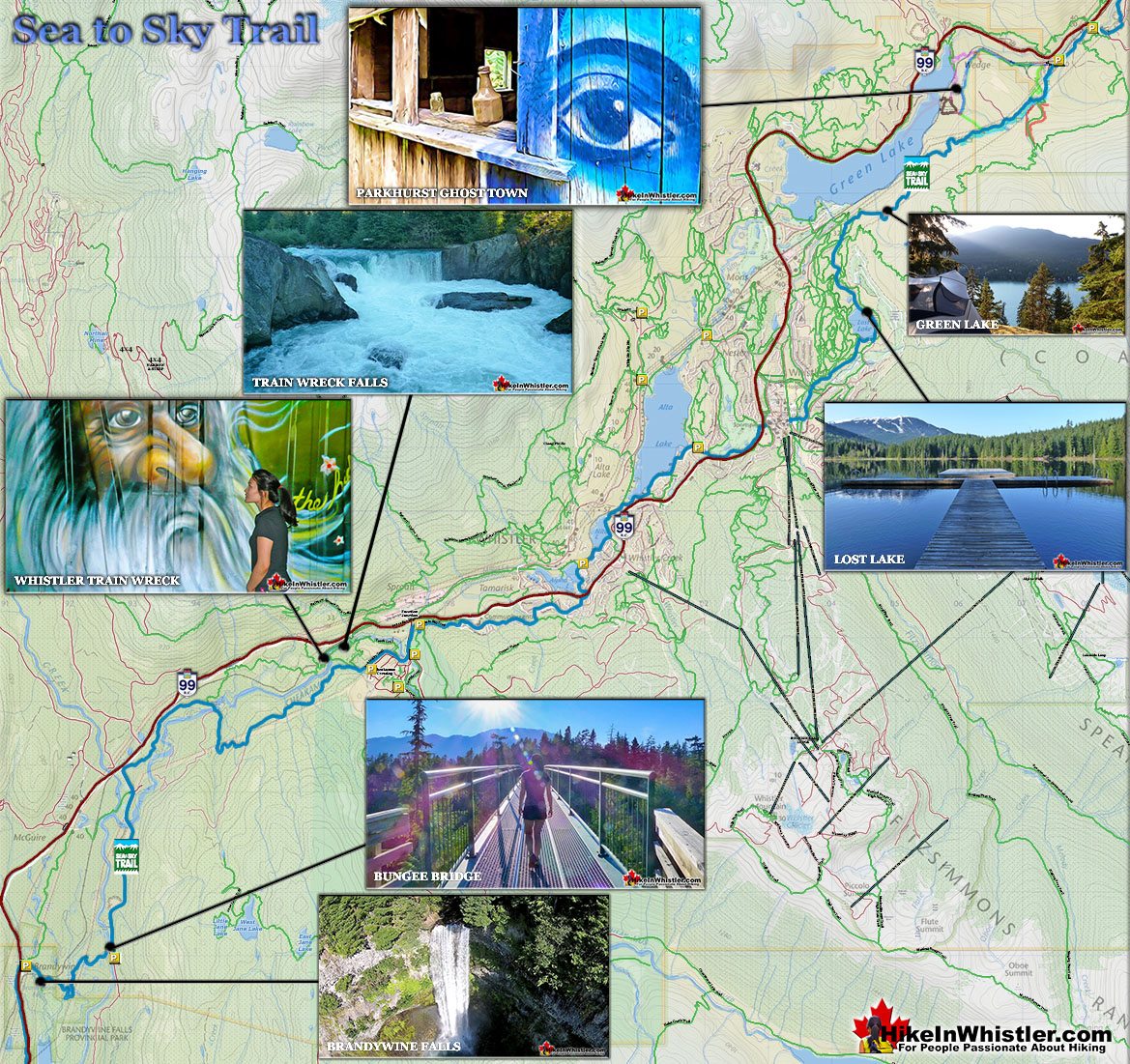 More Best Whistler Hiking - Sea to Sky Trail
Brandywine Meadows - Best Whistler Hiking

Brandywine Meadows is a nice, relatively short hike to a massive flower filled valley high up in Callaghan Valley. Located 40 minutes south of Whistler, this tough and sometimes muddy trail gains a huge 550 metres of elevation in just 3 kilometres(1.9 miles), trailhead to meadows.  The trailhead is tricky to find and involves a fairly long gravel road journey that is passable without a 4x4, but barely. If you have a dog, you will find that Brandywine Meadows is one of the few really nice, dog friendly hiking trails in and around Whistler. Garibaldi Provincial Park prohibits dogs, as well as both Whistler Mountain and Blackcomb Mountain. Here you won't be bothered by anyone and find no signs of humanity beyond some leftover remnants of the snowmobile season.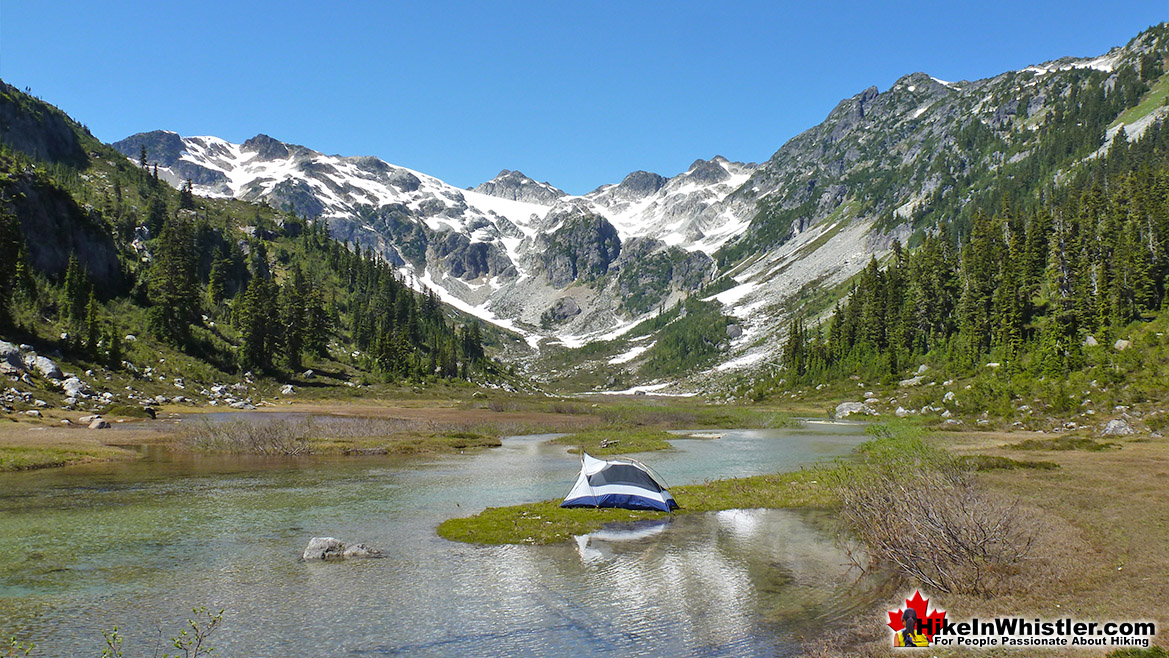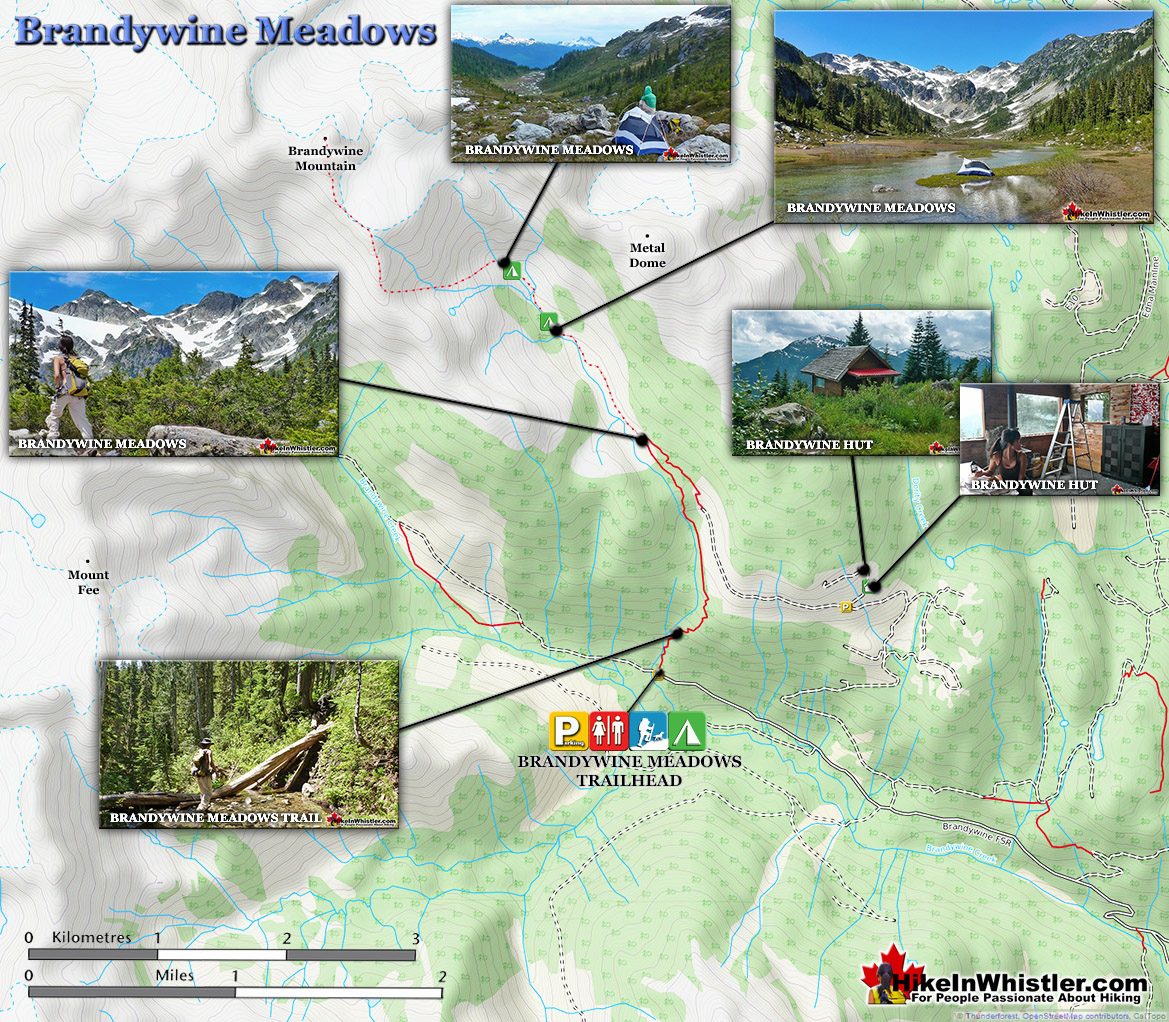 More Best Whistler Hiking - Brandywine Meadows
Ancient Cedars - Best Whistler Hiking

Ancient Cedars is a nice, easy/moderate 2.5 kilometre(1.6 mile) hiking trail on the far side of Cougar Mountain, just 10.8 kilometres north of Whistler Village. A small, untouched grove of huge western red-cedars hidden high up in the mountains. Often overlooked by hikers, certainly there are other groves of massive cedars found in other Whistler area hikes.  If you hike the short 3 kilometre trail to Cheakamus Lake and you will marvel at the size, frequency and wonderful aroma of these massive and numerous giant cedars. The Wedgemount Lake trail also has some majestic cedars along the hike. You can even walk through an impressive grove of huge cedars on the Valley Trail at the north end of the Whistler Golf Club. None of them compare, however, to the giants at Ancient Cedars.  They are extraordinarily huge and some are estimated to be a thousand years old.  Most of these giants stretch toward the sky, but some lay along the forest floor giving you an even closer grasp of their size.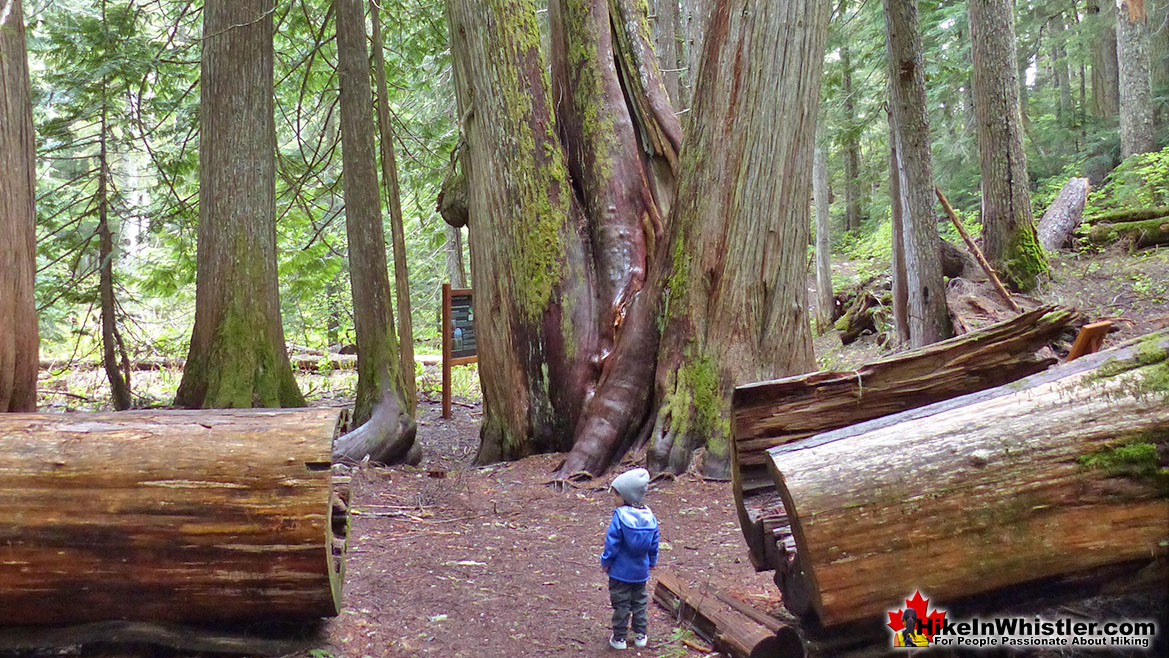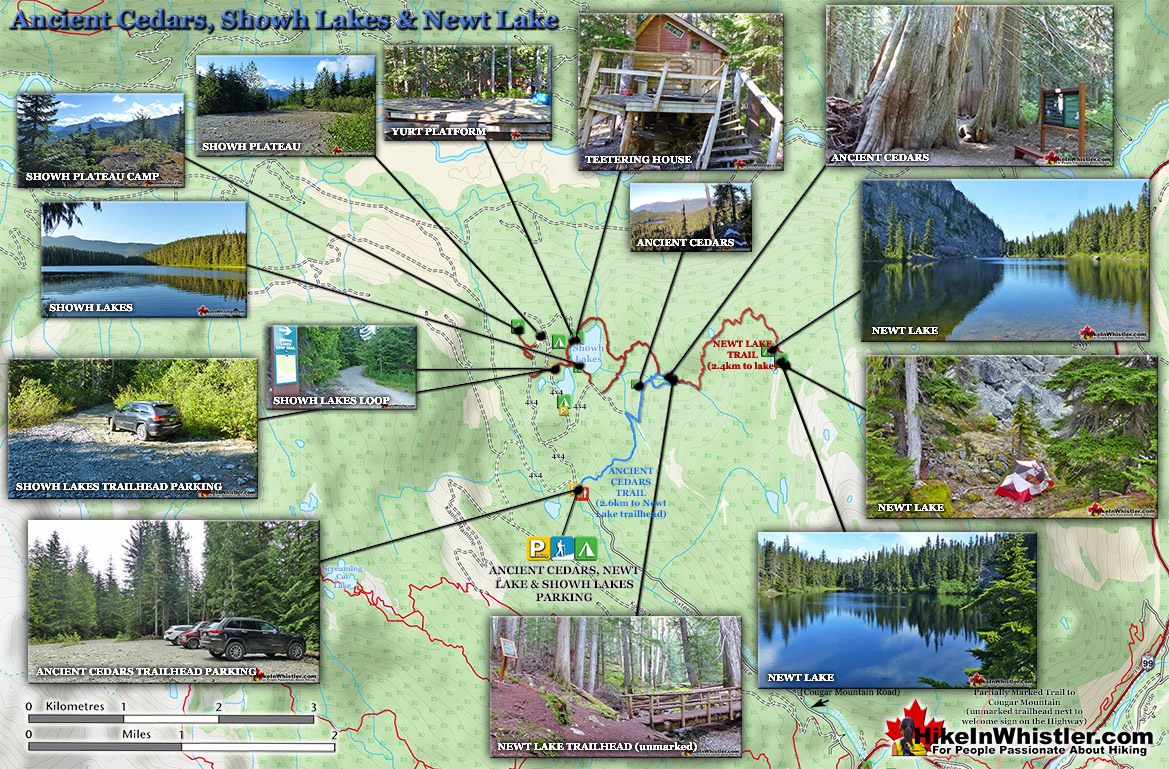 More Best Whistler Hiking - Ancient Cedars
Callaghan Lake - Best Whistler Hiking

Callaghan Lake Provincial Park is a relatively untouched wilderness of rugged mountainous terrain. The valley walls were formed by relatively recent glaciation. Evidence of this can be seen in the considerable glacial till and slide materials visible across the lake. Around the lake you will see talus slopes, flat rock benches, cirques, hanging valleys, tarns, waterfalls and upland plateaus with bogs.  The wildlife that reside in the area include bobcats, cougars, coyotes, minks, wolverines, wolves, bears, deer, mountain goats and occasionally moose and grizzly bears.  Callaghan Lake is not really a hiking destination but more of a drive to campsite on a beautiful lake, and gateway to some beautiful intermediate hikes.  The campsite is small and looks a bit like a parking lot with about a dozen spots to put up a tent near your vehicle.  There is a small boat launch at the campsite and the lake is large and beautiful to paddle. Surrounded by snowy mountains and nice rock outcrops the lake is good for fishing.  The hiking trails are minimal here due to the steepness and deep forest surrounding the lake. From the main parking area some short trails extend in either direction.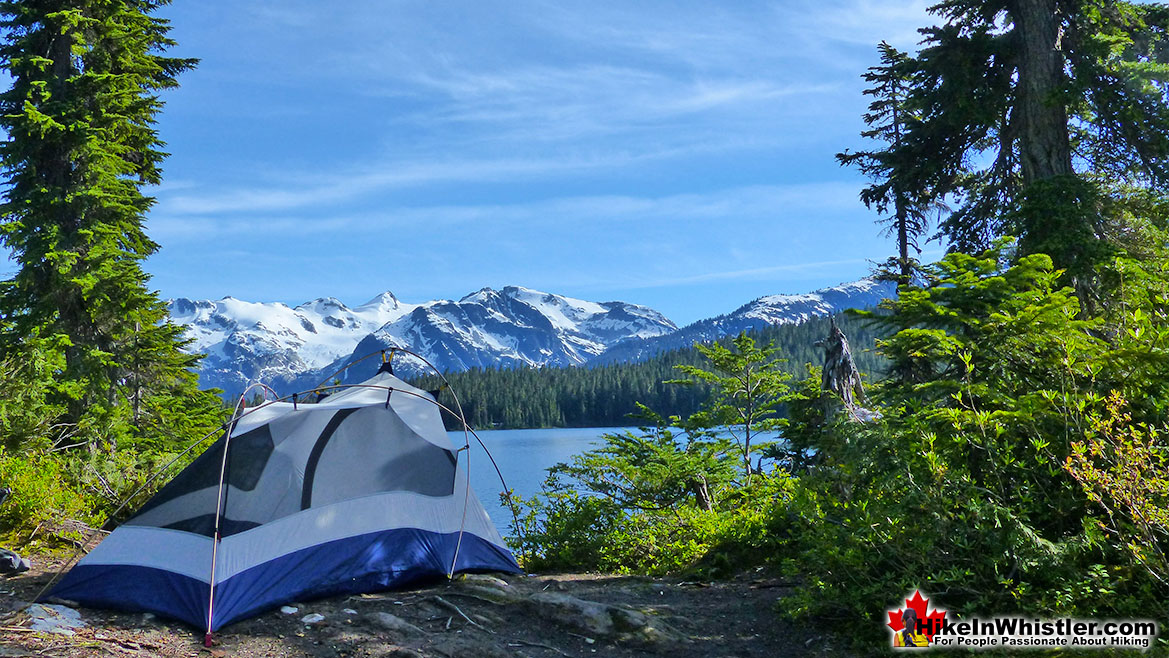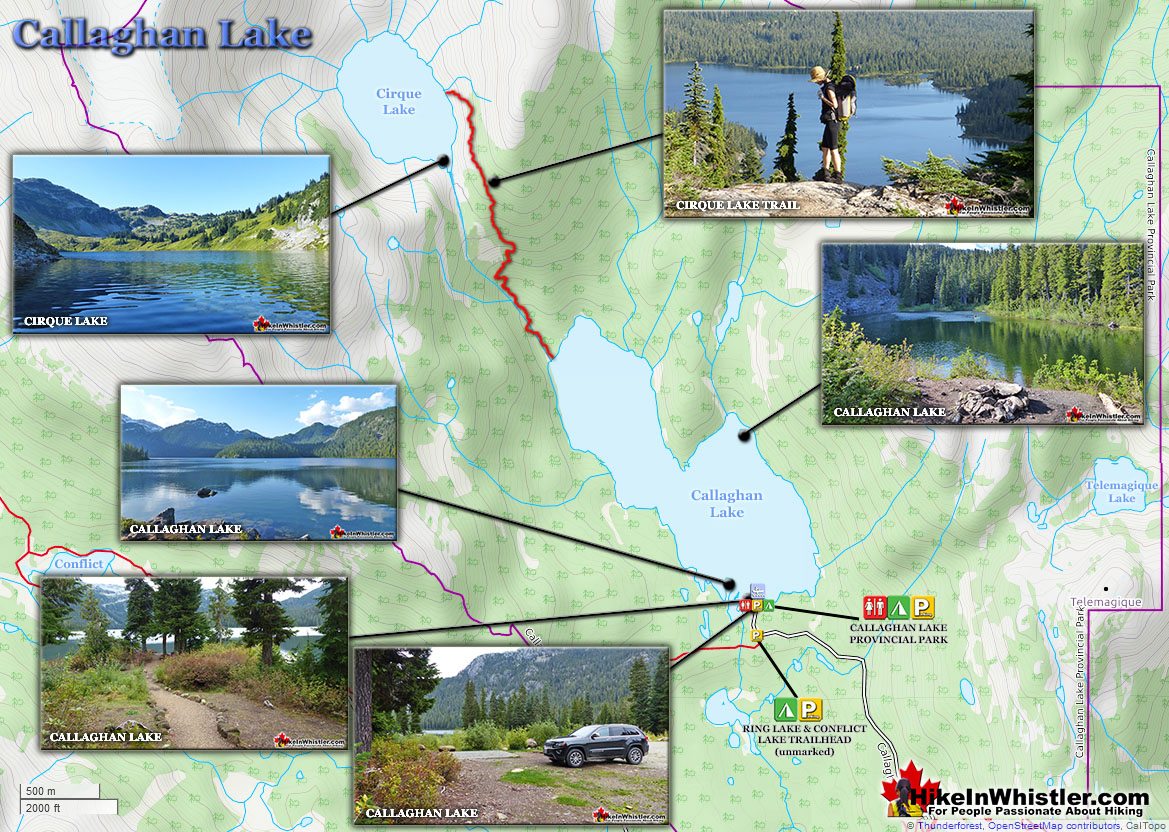 More Best Whistler Hiking - Callaghan Lake
Cheakamus River - Best Whistler Hiking

Cheakamus River is a beautiful, crashing, turquoise coloured river that flows from Cheakamus Lake, through Whistler Interpretive Forest at Cheakamus Crossing, then down past Brandywine Falls to Daisy Lake.  Also a popular kayaking route, the main attraction to Cheakamus River is the wonderful and quite extensive network of hiking and biking trails that run along either side of it.  The Riverside trail and the Farside trail run on either side of Cheakamus River and connect at both ends by bridges.  Connecting to the Riverside trail is the short trail to Logger's Lake, which in turn is surrounded by more hiking and biking trails.  The Lake Loop trail, Crater Rim trail, the Ridge trail, Upper Ridge trail, and the Lower Ridge trail.  On the Farside trail along Cheakamus River you can connect to Cheakamus Road(gravel road) and hike 6 kilometres up to the Cheakamus Lake trailhead.  On the other side of the neighbourhood of Cheakamus Crossing, which Cheakamus River bends around keeping the Sea to Sky Highway and train tracks on its opposite side, you find still more hiking and biking trails.  Trash trail hugs the river all the way to the beautiful bridge to Whistler Train Wreck.  Or, continue past the bridge to connect with the Sea to Sky trail.  For the most part, however, if you are talking about the Cheakamus River trails you are likely talking about the Farside and Riverside trails in Whistler's Interpretive Forest.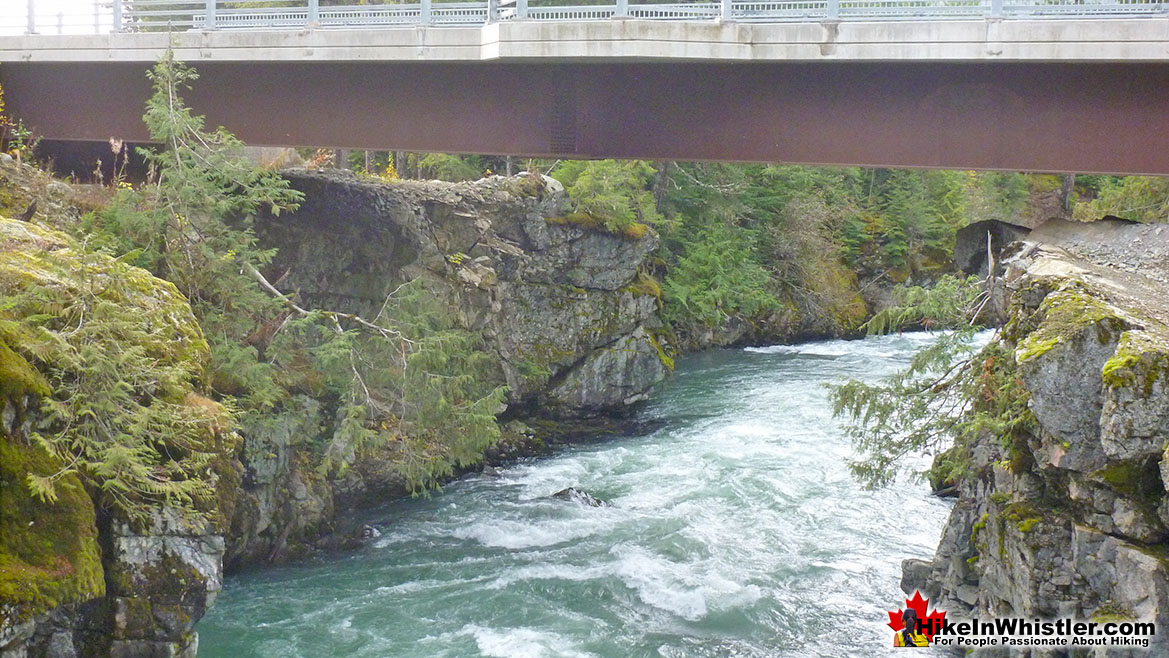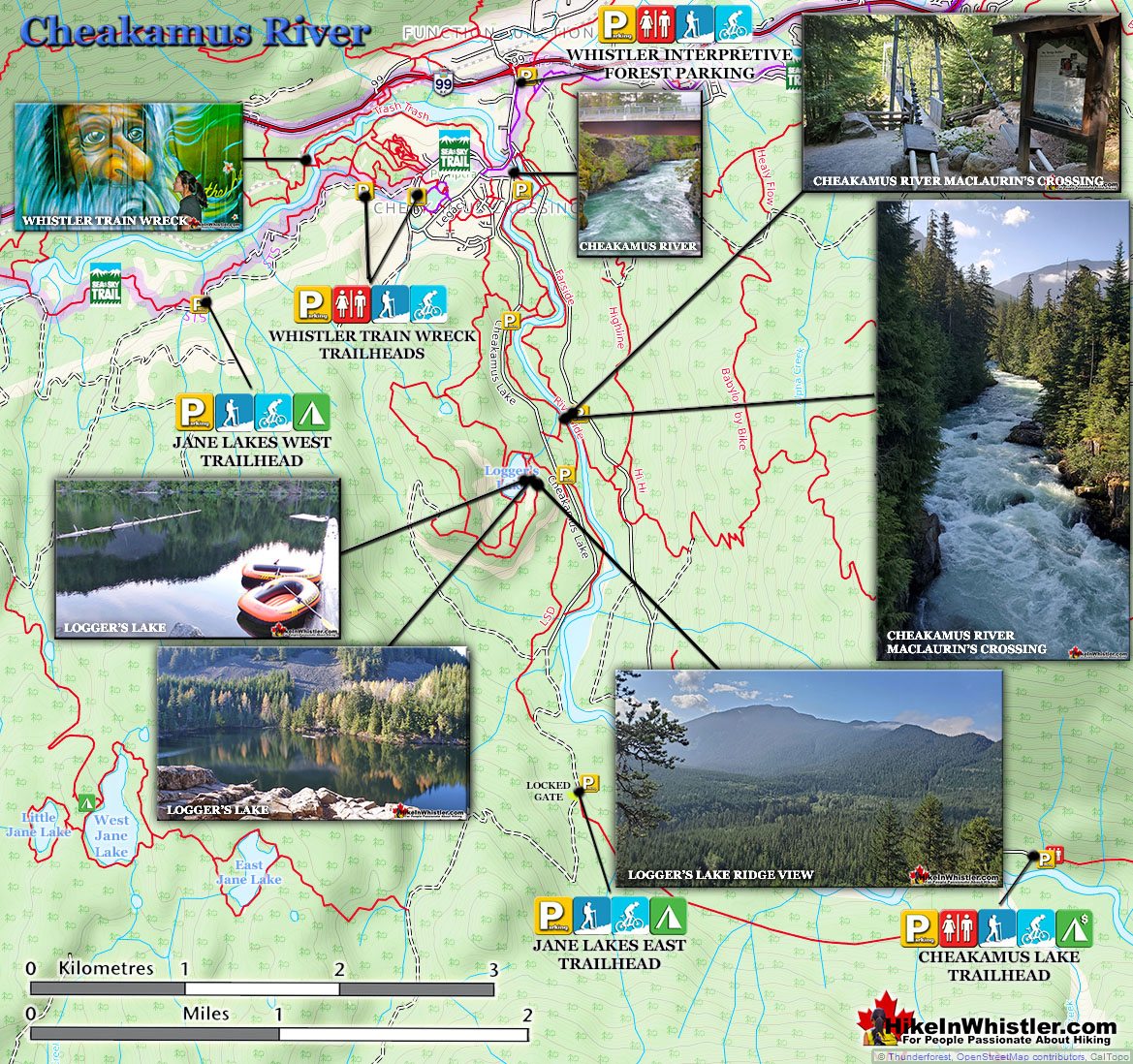 More Best Whistler Hiking - Cheakamus River
Flank Trail - Best Whistler Hiking

Hiking and biking trails are so abundant in Whistler that many go unnoticed, neglected or taken for granted.  The Flank Trail is one of these.  Most people in Whistler don't even know about it, but the ones that do, love it.  Officially known as the Rainbow-Sproatt Flank Trail, it runs the length of Whistler Valley, opposite Whistler Mountain and Blackcomb Mountain, and connects to dozens of hiking and biking trails.  Mount Sproatt and Rainbow Mountain dominate the view across the valley from Whistler Village and the Rainbow-Sproatt Flank Trail traces a 40 kilometre route along the flank of these two mountains.  One end is high up in the Callaghan Valley near Whistler Olympic Park and the other is near Ancient Cedars & Showh Lakes!  At various places along the trail there are access points.  The Rainbow Trail trailhead is a popular access point for the Flank Trail as it enters the trail at roughly its midpoint. 
More Best Whistler Hiking - Flank Trail
Skookumchuck Hot Springs - Best Whistler Hiking

Skookumchuck Hot Springs, located two hours north of Whistler along the edge of the huge Lillooet River. The name Skookumchuck means "strong water" in the language of the Chinook people of the Pacific Northwest. The name is associated with the hot springs because of the nearby First Nation community of Skatin, which was once called Skookumchuck.  The Skookumchuck Hot Springs were also once known as St. Agnes Well during the days of the Fraser Canyon Gold Rush, but that name has fallen into disuse. They are also known locally by the Skatin name as the T'sek Hot Springs.  The hot springs start in a pool which is far to hot to use so there are a network of tubes emanating from this pool to feed a ramshackle array of tubs. There are five tubs, which include one very large one under an A-frame which could hold 10 people and is beautifully comfortable. A smaller one under a half A-frame privacy screen which could hold 8 under the stars.  And three more open tubs. Clothing, you will quickly discover, is optional.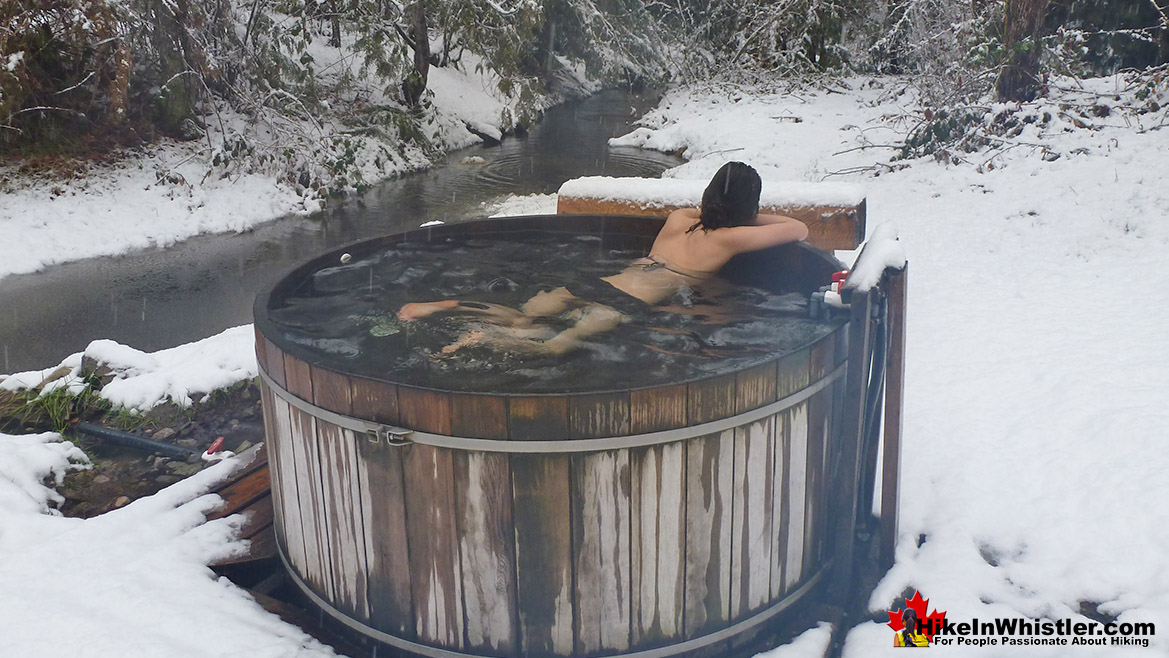 More Best Whistler Hiking - Skookumchuck Hot Springs
Sproatt West(Northair) - Best Whistler Hiking

Mount Sproatt, or as it is known locally as just Sproatt, is one of the many towering mountains visible from Whistler Village. Above and beyond Alta Lake, directly across from Whistler Mountain and Blackcomb Mountain, you will see this quiet giant. Its unremarkable appearance hides the growing network of trails that stretch through some startlingly beautiful terrain.  There are a several ways to hike to the summit of Mount Sproatt, though two main routes stand out, Sproatt West and Sproatt East.  The Sproatt West (Northair) route starts way up in the Callaghan Valley past the old, abandoned Northair Mine.  An increasingly brutal 4x4 road extends past the old, abandoned gold mine for a couple kilometres before ending at the start of the first of many named trails on Sproatt, With a Twist.  With a Twist takes you up into the alpine along a beautiful and very scenic route through the expansive wilderness.  After 3.3 kilometres, With a Twist ends at a fork in the trail.  Right descends down the mountain towards Function Junction via the Into the Mystic trail.  The left fork keeps you in the alpine heading towards the summit of Mount Sproatt along the On the Rocks trail.  On the Rocks is 3.6 kilometres long and takes you through more magnificent alpine and past Tonic Peak(1803m).  On the Rocks ends at another trail fork.  Right leads down toward Function Junction on the Lord of the Squirrels trail.  The trail to the left continues on to the Mount Sproatt for 2.5 kilometrs to the summit viewpoint via the Happy Hour trail.  The summit viewpoint has a big viewing platform overlooking Whistler Valley.  The actual summit of Sproatt is about 600 metres back from the viewpoint and towers over the valley at 1834 metres.  Though the viewpoint is a few metres lower in elevation, its position is more steeply overlooking the valley and much nicer.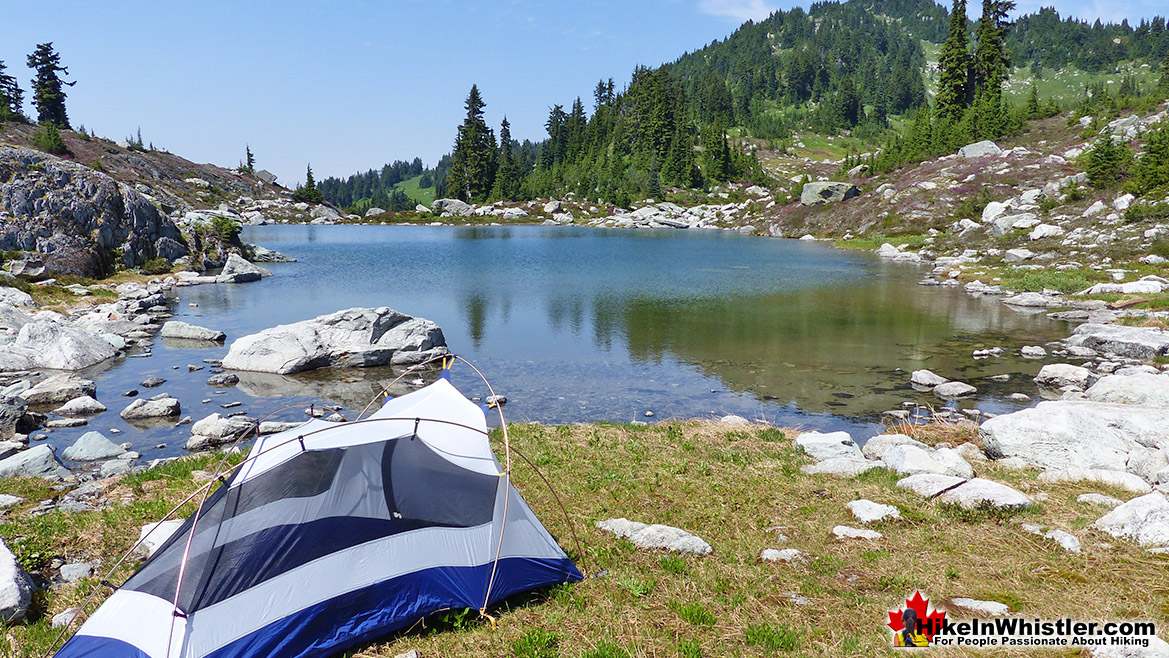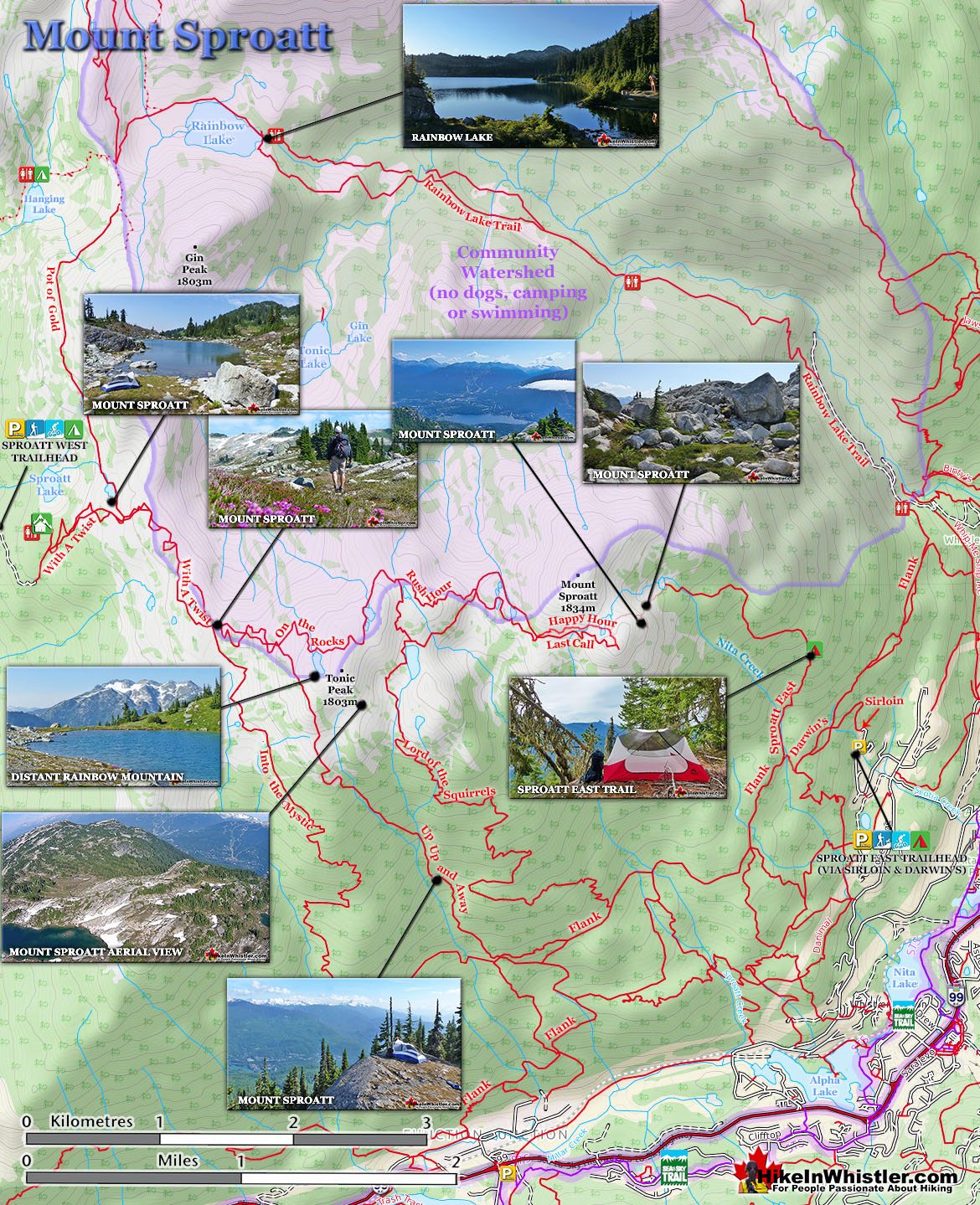 More Best Whistler Hiking - Sproatt West
Alexander Falls - Best Whistler Hiking

Alexander Falls is a very impressive 43 metre/141 foot waterfall just 30 to 40 minutes south of Whistler in the Callaghan Valley. Open year-round and located just before Whistler Olympic Park where several of the 2010 Olympic events were held. There is a nice viewing platform on the edge of the cliff across from the falls which crash fantastically into the valley below.  The parking area and viewing platform at Alexander Falls is one big area just 40 metres from the main road, just before Whistler Olympic Park.  The adventurous can find the obscure trail that leads to both the top of the falls as well as, with great difficulty, to the base of the falls.  Alexander Falls is certainly one of the nicest spots for a picnic in Whistler.  The picnic areas are numerous, the surrounding forest is gorgeous and wild and Alexander Falls crashes loud and beautiful in the background.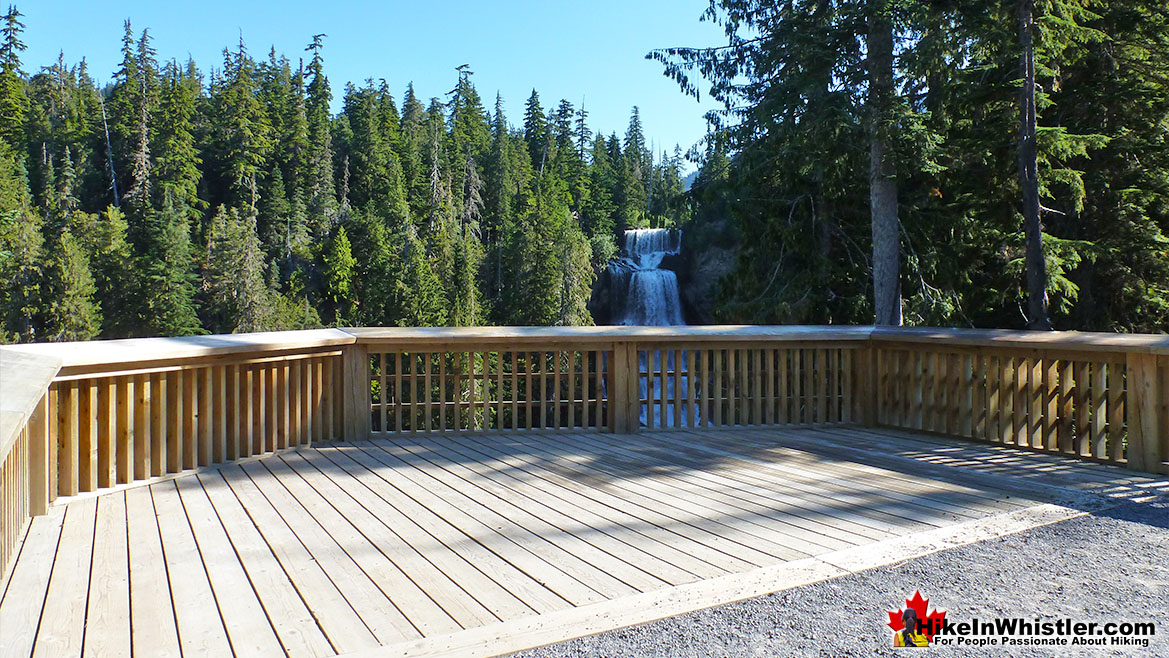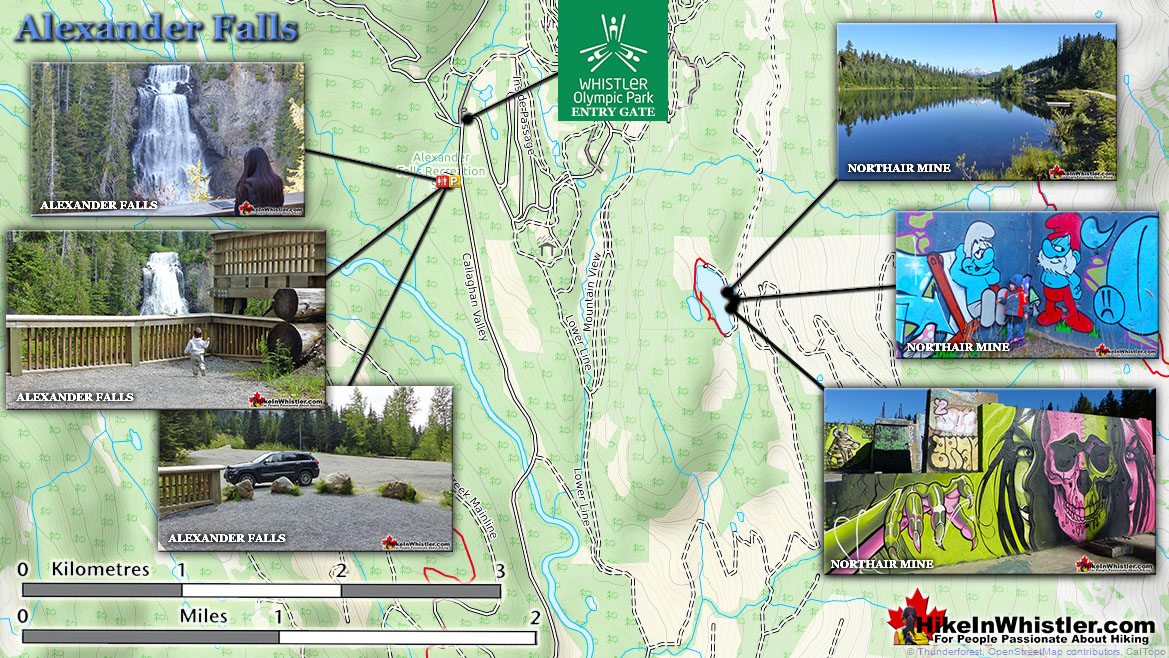 More Best Whistler Hiking - Alexander Falls
Brew Lake - Best Whistler Hiking

Brew Lake is beautiful mountain lake just a short drive south of Whistler and is relatively unknown and seldom hiked. Laying at the base of Mount Brew, Brew Lake lays in a massive alpine valley of enormous erratics.  On first seeing Brew Lake it looks serene, yet wild and hostile.  The lake is surrounded on one side by idyllic tree covered hills and lakeside cliffs and on the other side a brutal looking wasteland of huge boulders sloping up to the sky.  Hiking into this wasteland of erratics reveals an amazing paradise of small, island forests, cute streams and endless worlds within worlds to explore.  You find yourself wandering along like a kid mesmerized at what you will find next. Brew Lake itself doesn't come close in wow factor to the postcard-perfect alpine lakes such as Wedgemount Lake, Joffre Lakes, Cheakamus Lake or Garibaldi Lake, but I does beat these lakes in other aspects.  Because Brew Lake is outside of Garibaldi Provincial Park few people have heard of it.  More often than not you will have both the lake and entire valley to yourself.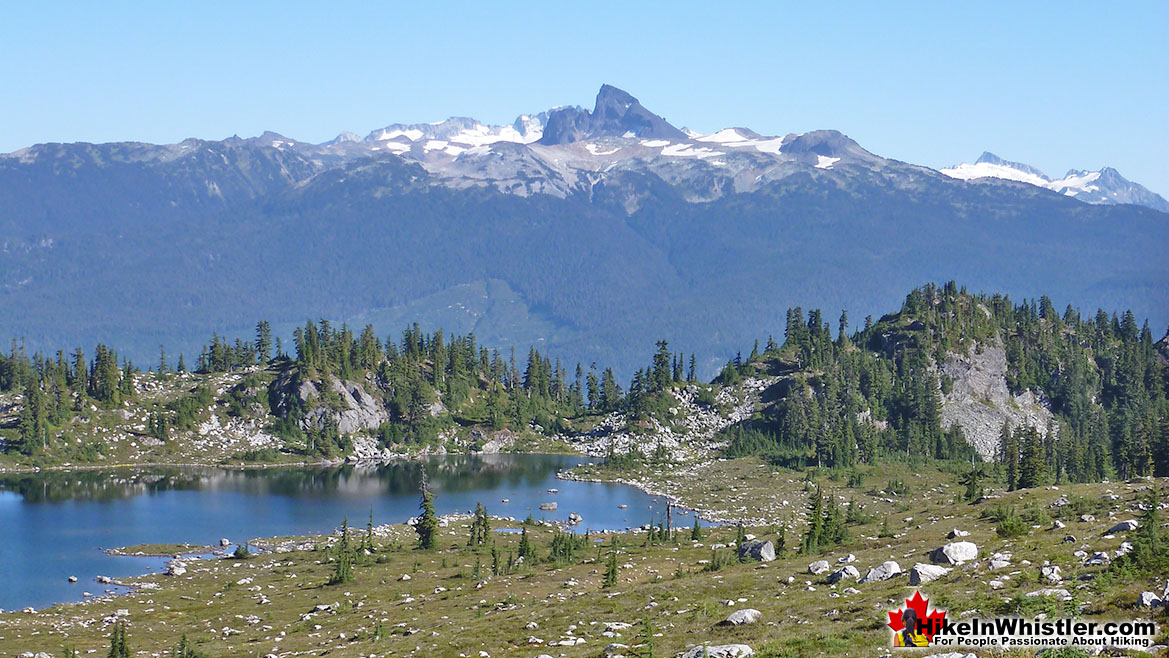 More Best Whistler Hiking - Brew Lake
Helm Creek - Best Whistler Hiking

Helm Creek is a cute, meandering creek that winds its way from beyond Black Tusk, down the valley to the wonderful campground that takes its name. From the Helm Creek campground, Helm Creek descends further along the Helm Creek trail, until it joins Cheakamus River, not far from where it leaves Cheakamus Lake. The location of Helm Creek campground is pretty amazing for a variety of reasons.  First it is just a great location. About halfway between Cheakamus Lake and Black Tusk it lays in some amazingly scenic areas of Garibaldi Park. Beautiful, climbable mountains all around. Amazing fields of snow that run all the way to the base of Black Tusk well into July.  Rivers, creeks and waterfalls everywhere you look from the idyllic campground. A large, grassy field ringed by trees and Helm Creek.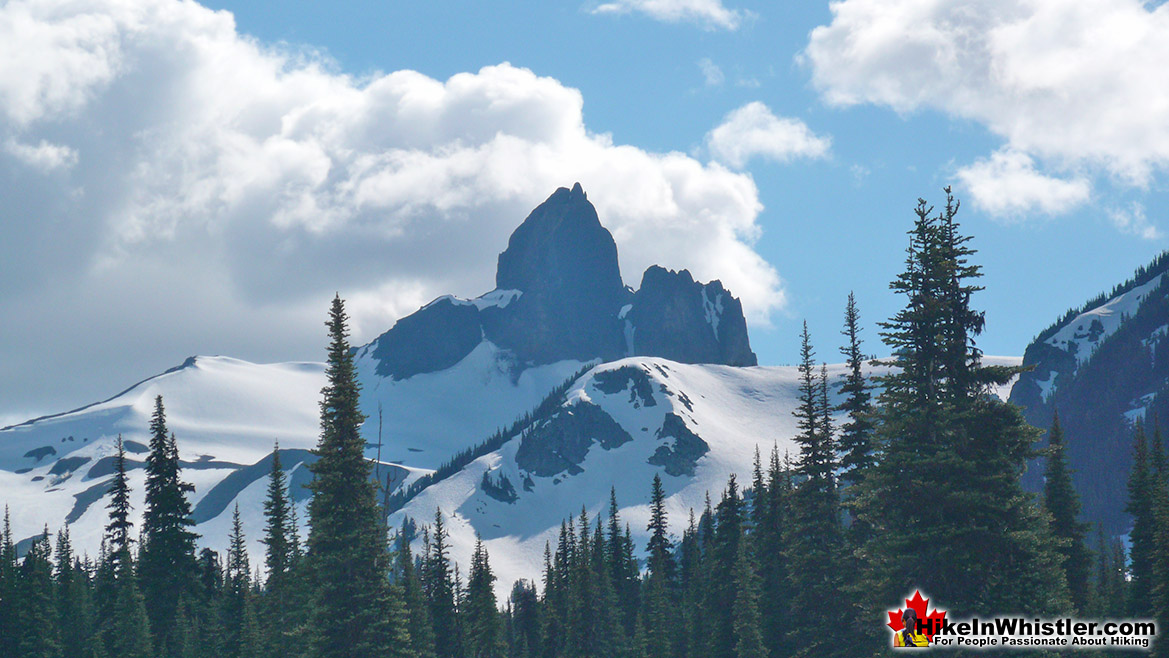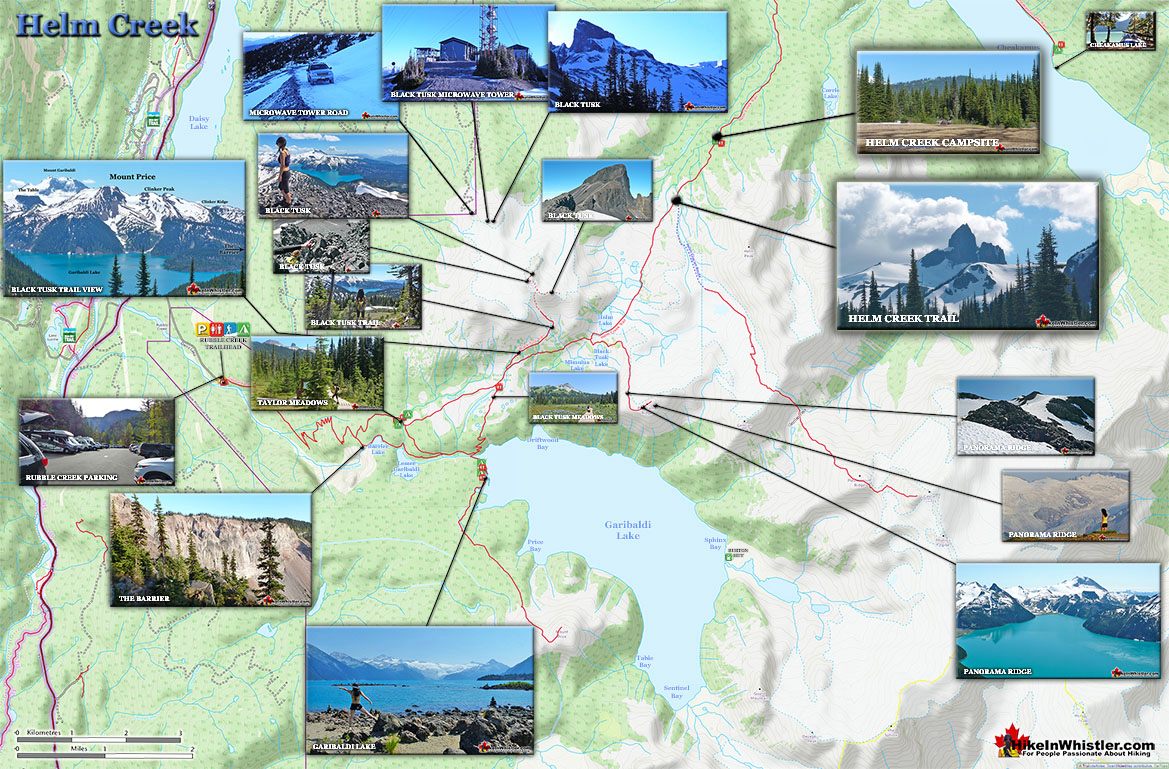 More Best Whistler Hiking - Helm Creek
Nairn Falls - Best Whistler Hiking

Nairn Falls is a wonderful, crashing and chaotic waterfall that surrounds you from the deluxe viewing platform that allows you to safely watch it from above.  The beautiful, green water rushes through the deep and angular channels of rock. Nairn Falls Provincial Park is centred around a very large campground and the short, 1.2 kilometre trail to the falls.  Nairn Falls crash through various narrow and wide areas, and though the cumulative drop is 60 metres, what you see is a series of 10 to 20 metre falls through a deep, zig-zagging canyon. There are very nicely constructed railings, fences and viewing areas as well as a walkway that guides you to the best views.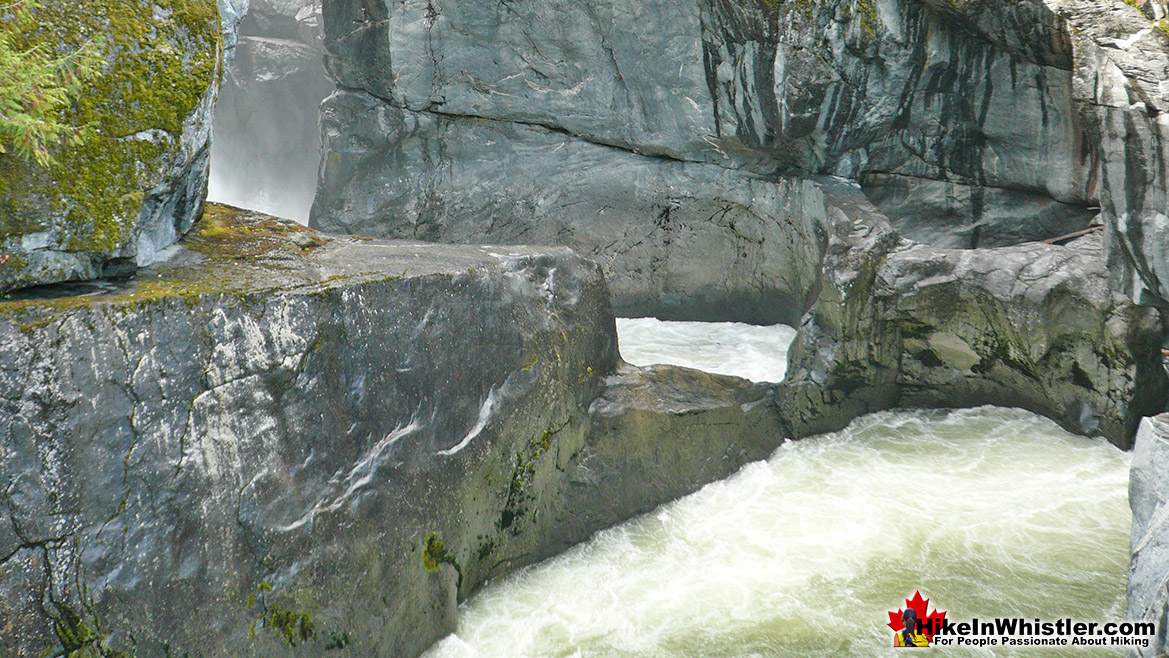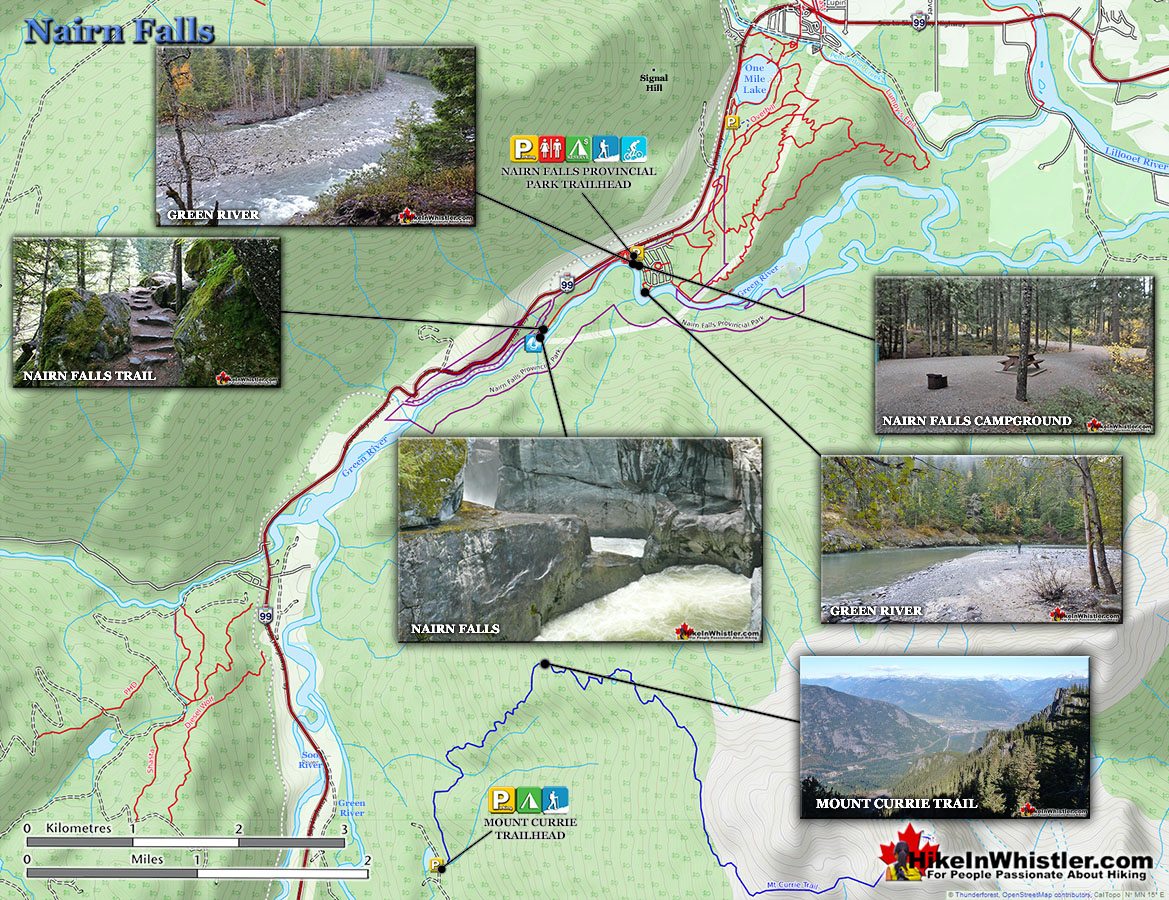 More Best Whistler Hiking - Nairn Falls
Rainbow Falls - Best Whistler Hiking

The short, winding, and ever-changing hiking trail to Rainbow Falls is the same as the much more popular trailhead for Rainbow Lake.  The trailhead is marked as the Rainbow Trail, and the trail quickly ascends into the forest winding left, right, up and down almost constantly.  Twentyone Mile Creek, always on your right can be either seen or heard as you hike through the forest to the somewhat hidden Rainbow Falls.  For the adventurous, the best time to see Rainbow Falls is in August and September when the creek is low and you can get down to the marvellous creek bed.  To get there you hike down further along another path just a hundred or so metres back.  You will have passed the large, chain sawed tree along the right(creek) side of the trail.  At one end of the tree you will see a very visible trail descend steeply down to the creek.  You will see some beautiful views of the creek weaving its way through enormous boulders that have tumbled down over the centuries.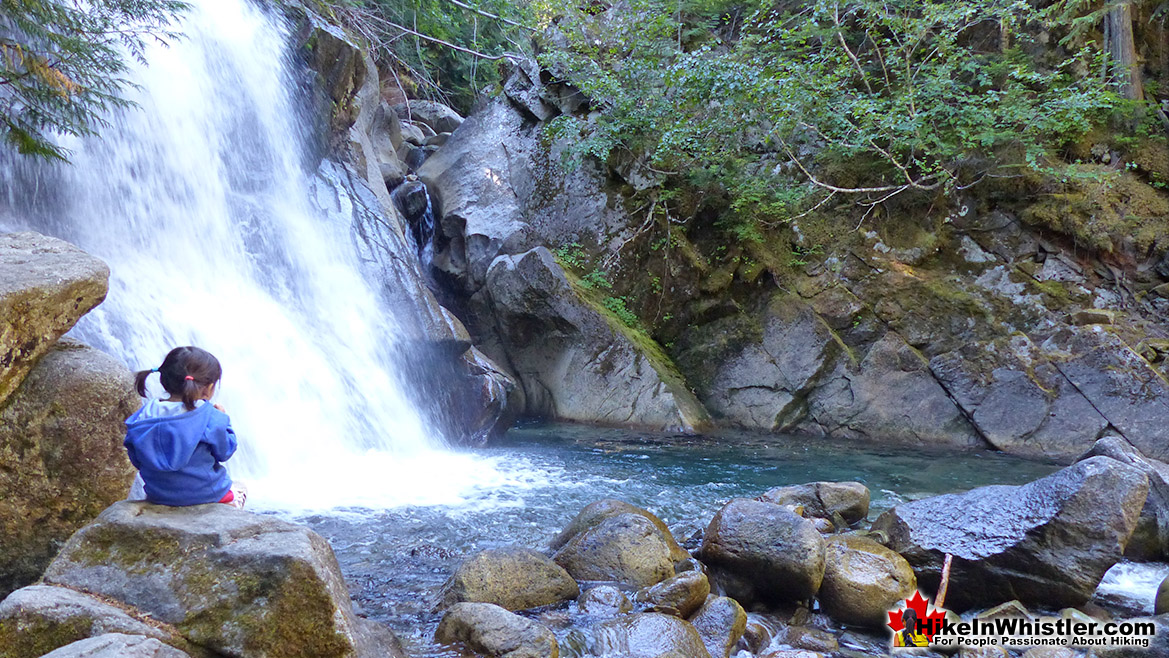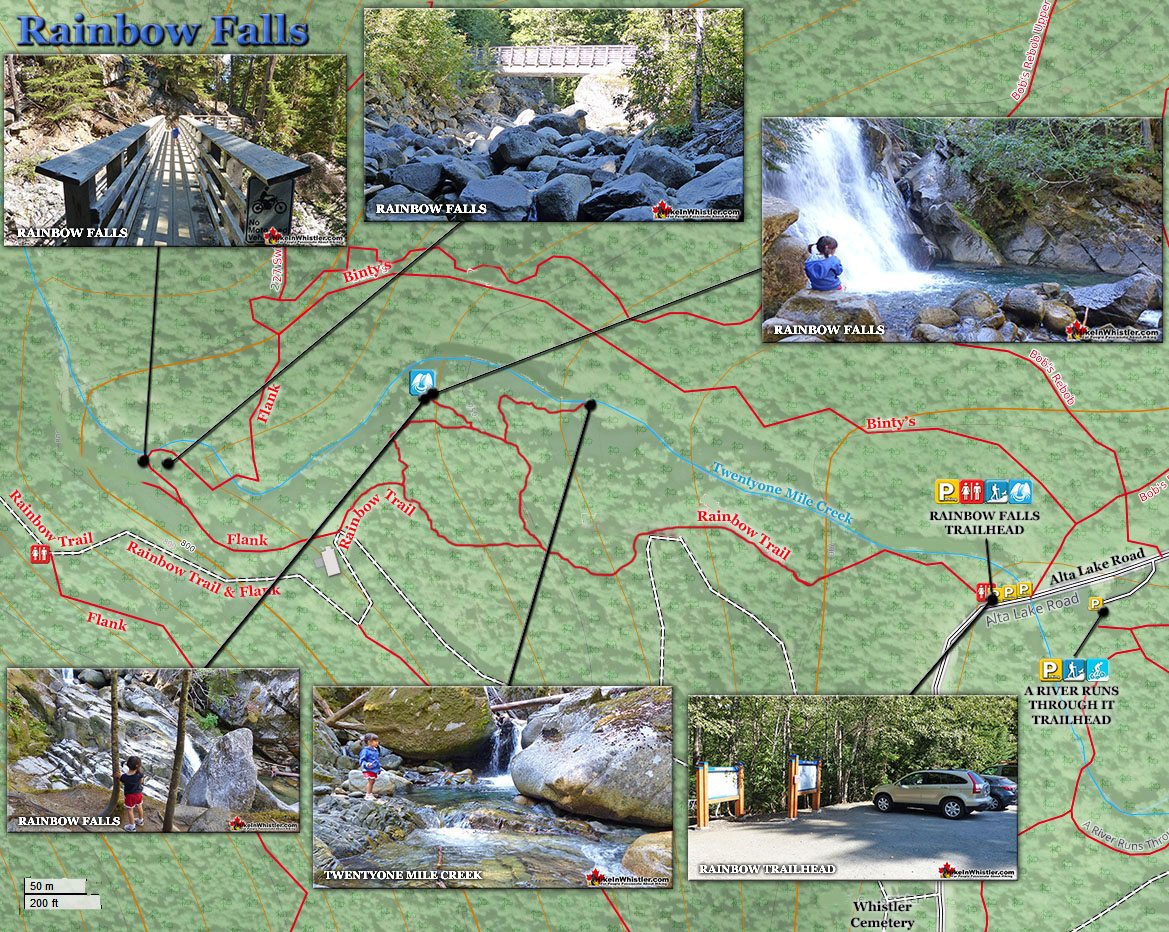 More Best Whistler Hiking - Rainbow Falls
Rainbow Lake - Best Whistler Hiking

The Rainbow Trail is a convenient and popular trail near Whistler Village that takes you to Rainbow Lake as well as the Rainbow-Sproatt Flank Trail, Rainbow Falls, Hanging Lake, Madeley Lake, Beverley Lake, Rainbow Mountain... and even Whistler Olympic Park if you are determined.  It is a consistently uphill and very beautiful trail with several water (bridge) crossings and waterfalls on the way to the picture-perfect lake.  There are a few views of the valley across to Whistler Mountain, Blackcomb Mountain, and Wedge Mountain.  Few views, though fantastic.  Rainbow Lake itself is in a gorgeous alpine valley with branching trails that extend further beyond the lake in at least three directions.  Along with the waterfalls, bridge crossings and valley views, the Rainbow Trail passes through deep forest with some impressively huge trees.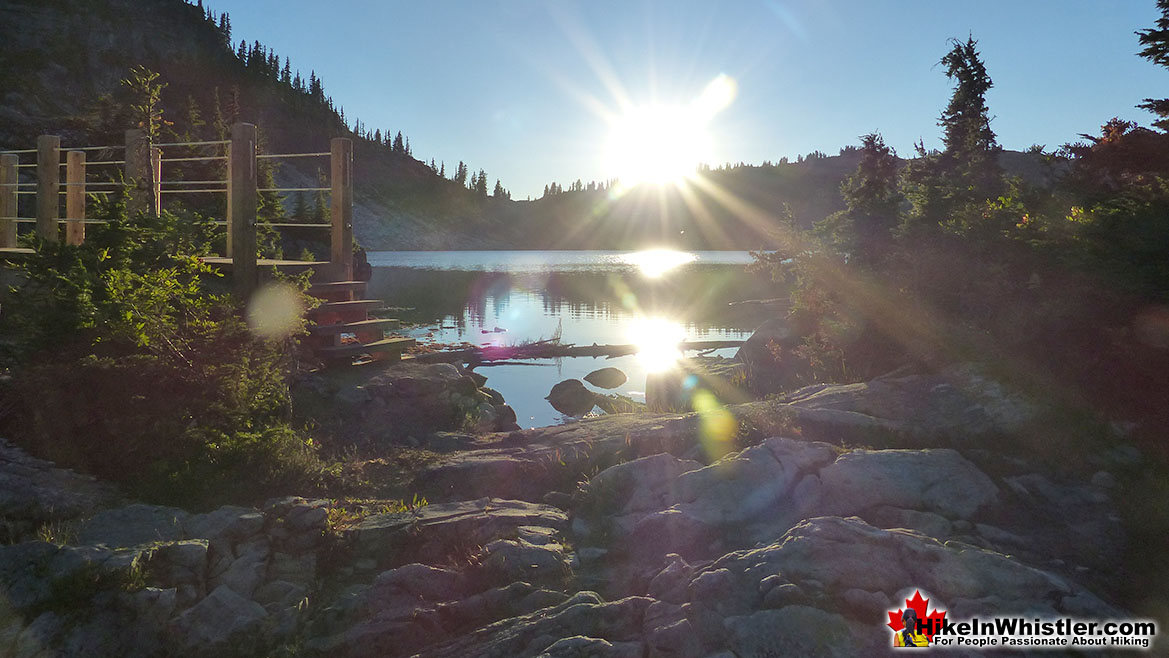 More Best Whistler Hiking - Rainbow Lake
Ring Lake - Best Whistler Hiking

Ring Lake is a fantastically serene and wonderfully remote lake similar to Cirque Lake, but considerably farther to hike to reach it. The 10 kilometre(6.2 mile) hike takes you through a rarely hiked forest, then to an idyllic meadow filled with ponds and ringed with distant, mountains, then finally up an over some steep terrain to reveal this very hidden lake. 5 kilometres(3.1 miles) into the hike you come to Conflict Lake with trails running around it.  Journeyman Lodge sits near Conflict Lake. A wilderness lodge operated by Callaghan Country, a tour company that operates in the valley. They offer a range of alpine activities, far more serene than across the valley on Whistler Mountain and Blackcomb Mountain. Signs along the trail and at Conflict Lake indicate which trail to take to reach Ring Lake, a further 5 kilometres from Conflict Lake.  The trail from Conflict Lake to Ring Lake passes through a huge valley for a couple kilometres, then abruptly ascends on the right side of the valley. The trail is poorly marked in this section and you have to keep bearing right to avoid descending back into the valley. The trail is occasionally maintained, however owing to heavy winter snow, the trail gets pretty brutalized every winter.  Because of the winter destruction, the visible trail in some parts disappears and you find yourself wondering if you are still on your way to Ring Lake. The key to staying on the right route, you quickly figure out, is to keep to the right side of the valley. Three kilometres of, at times very steep, but not technical trail gets you to the magnificent Ring Lake and the imposing Ring Mountain across the emerald green water.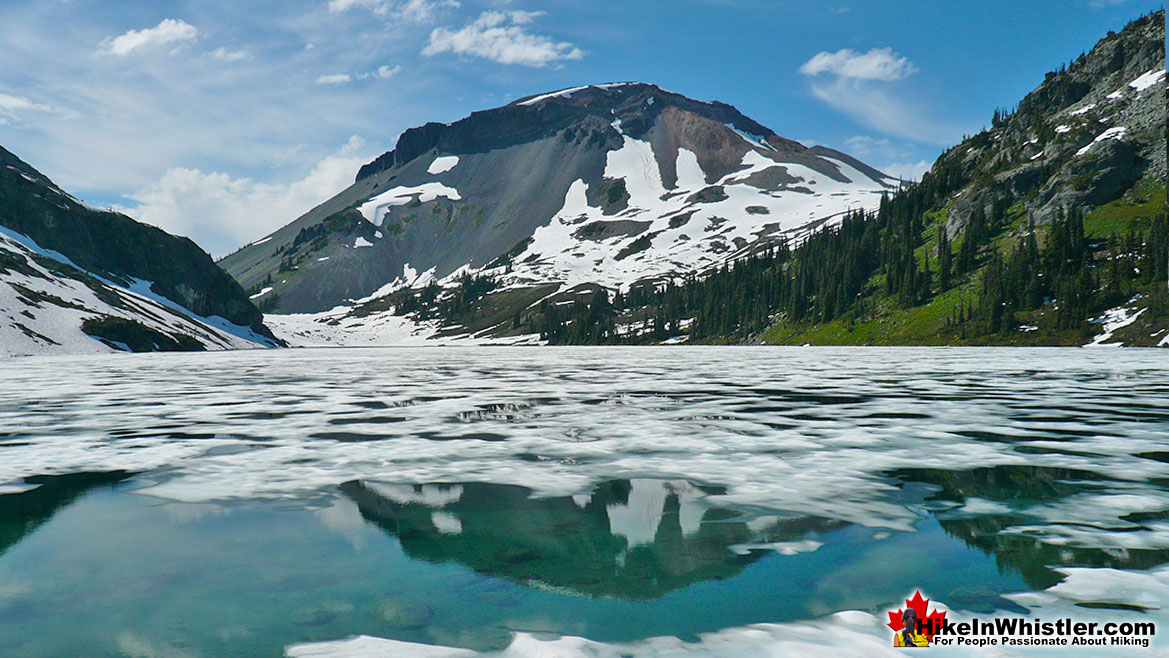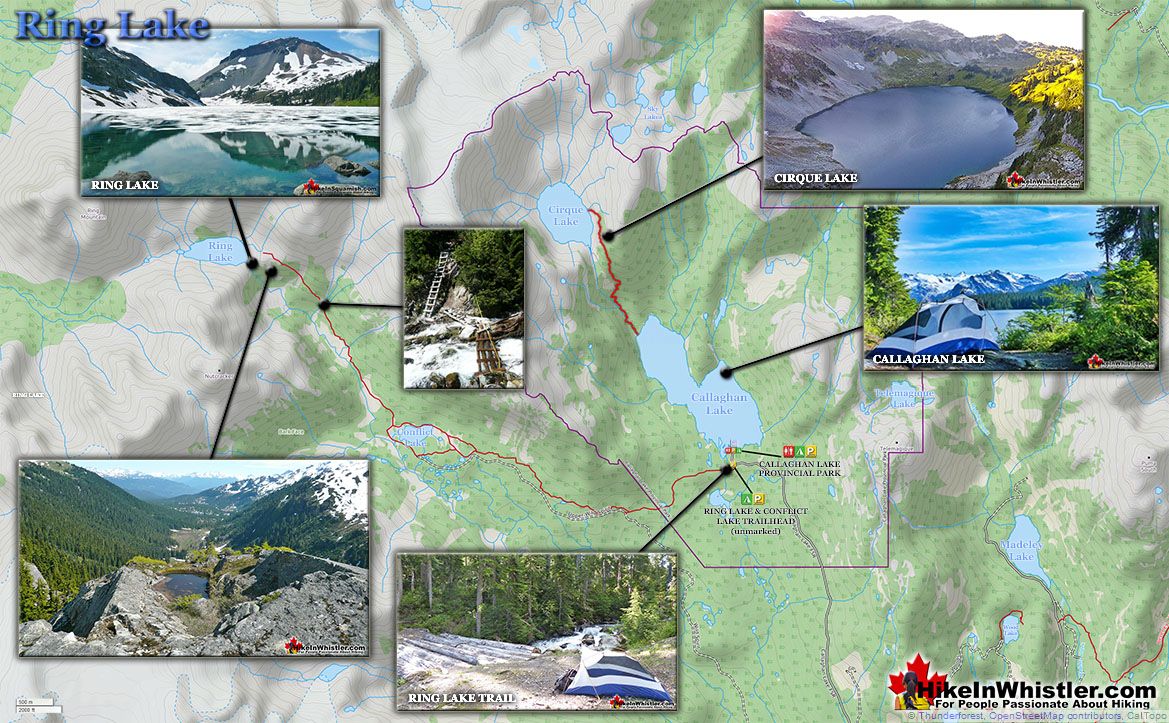 More Best Whistler Hiking - Ring Lake
Taylor Meadows - Best Whistler Hiking

Taylor Meadows is a very scenic campsite and great alternative to the much busier and more well known, Garibaldi Lake campsite. Located in Garibaldi Provincial Park between Garibaldi Lake and Black Tusk, Taylor Meadows is best hiked to from the same trailhead as Garibaldi Lake at Rubble Creek. There are 40 tent platforms, toilets, a good water source and food cache, all in the lush forest of Taylor Meadows with great views of Black Tusk.  Generally Taylor Meadows is not a destination on its own, but part of a circle route to the spectacular Garibaldi Provincial Park sights in the area.  For example, hiking from the Black Tusk(Garibaldi) Rubble Creek trailhead to Taylor Meadows, Taylor Meadows to Black Tusk or Panorama Ridge, then return via Garibaldi Lake and back down to Rubble Creek.  This makes for a long hike at 30 kilometres(19 miles), which is why tenting at this perfectly beautiful, and perfectly located Taylor Meadows campsite is a great idea.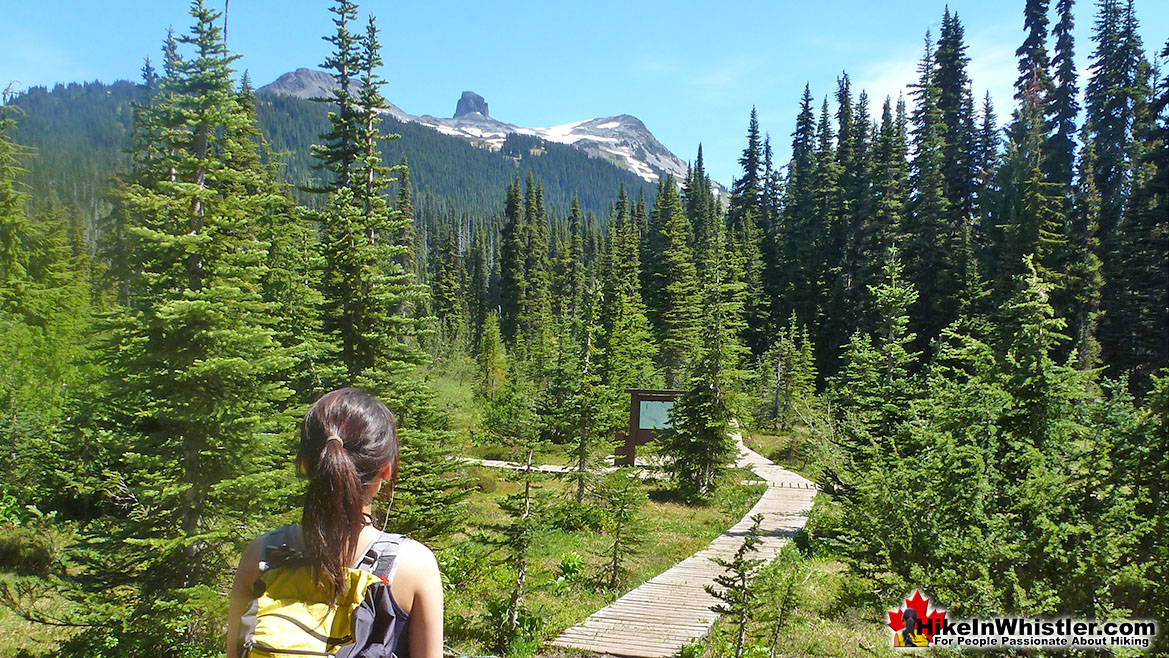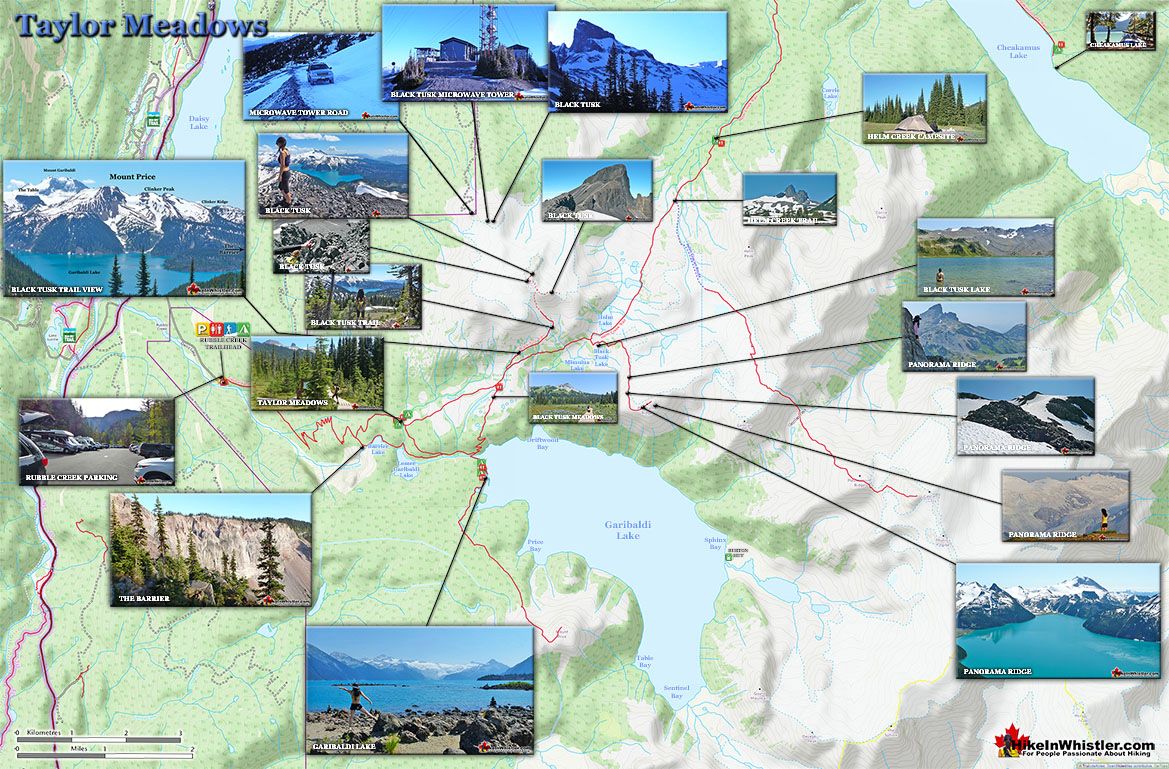 More Best Whistler Hiking - Taylor Meadows
Guides to the Best of Whistler, Garibaldi Park & Sea to Sky!
Whistler & Garibaldi Park Best Hiking by Month!

Explore BC Hiking Destinations!