Logger's Lake is an amazing little lake hidden up in the deep forest above the more well known Cheakamus River. The lake, almost unbelievably exists in a long extinct volcano. However, as soon as you see the lake up close, you quickly come to believe it. The lake sits in an almost cartoonish looking, volcano-shaped bowl, with one side of the bowl a crumbling array of truck sized boulders leading down to the lake.
Incredible place to escape from the world

Surreal look at the inside of an ancient volcano

Great for swimming & warmer than other lakes

Located in Whistler's Interpretive Forest 
Park just 5 minutes from the lake
More trails beyond the lake
Cheakamus River trails nearby
Camping is not permitted
Located in a forest recently logged
Fires not allowed in the Interpretive Forest
Whistler & Garibaldi Hiking

Alexander Falls  

Ancient Cedars  

Black Tusk  

Blackcomb Mountain  

Brandywine Falls  

Brandywine Meadows  

Brew Lake  

Callaghan Lake  

Cheakamus Lake  

Cheakamus River  

Cirque Lake 

Flank Trail 

Garibaldi Lake 

Garibaldi Park 

Helm Creek  

Jane Lakes 

Joffre Lakes  

Keyhole Hot Springs  

Logger's Lake  

Madeley Lake  

Meager Hot Springs 

Nairn Falls  

Newt Lake 

Panorama Ridge 

Parkhurst Ghost Town 

Rainbow Falls  

Rainbow Lake 

Ring Lake  

Russet Lake  

Sea to Sky Trail 

Skookumchuck Hot Springs  

Sloquet Hot Springs 

Sproatt East 

Sproatt West  

Taylor Meadows  

Train Wreck  

Wedgemount Lake  

Whistler Mountain

January 

February 

March 

April 

May 

June 

July 

August 

September 

October 

November 

December
The crater that Logger's Lake sits in was a volcano that pushed through the glacial ice in this valley about 10000 years ago.  As the lava cooled it formed the wonderful basalt ridge that is crumbling into valley. As Logger's Lake sits deep in this ancient volcano's vent, it is sheltered from the wind and soaks up the suns rays into the dark boulders all around. As a result makes it the warmest lake in Whistler, though most other lakes around are glacier fed(via rivers and creeks), so the comparison is not entirely fair. The surrounding cliffs and forest also add to the tranquility of the lake. Located a bit off the radar for most and requiring a short logging road drive and then a very steep, but short hike to get to also contributes to its serenity. This serenity is broken at least once a year, however, when a new tradition formed in 2012.  A yearly "Flash Mob Floatie Party" began, where hundreds congregate at Logger's Lake, most with rubber boats for an outdoor party, DJ and all.  But aside from that one hilarious day, Logger's Lake is a secret-feeling oasis.  Another, though unexpected draw to Logger's Lake, is its good fishing. Occasionally the lake is stocked with rainbow trout and because of the steep shoreline, casting from almost anywhere along the shore is easy and effective. There is also an ancient and disintegrating log that is a pier of sorts that leads to a tiny wooden platform out in the lake. A good spot to cast from as well, though you will be standing in a centimetre of water as the platform partially sinks under your weight.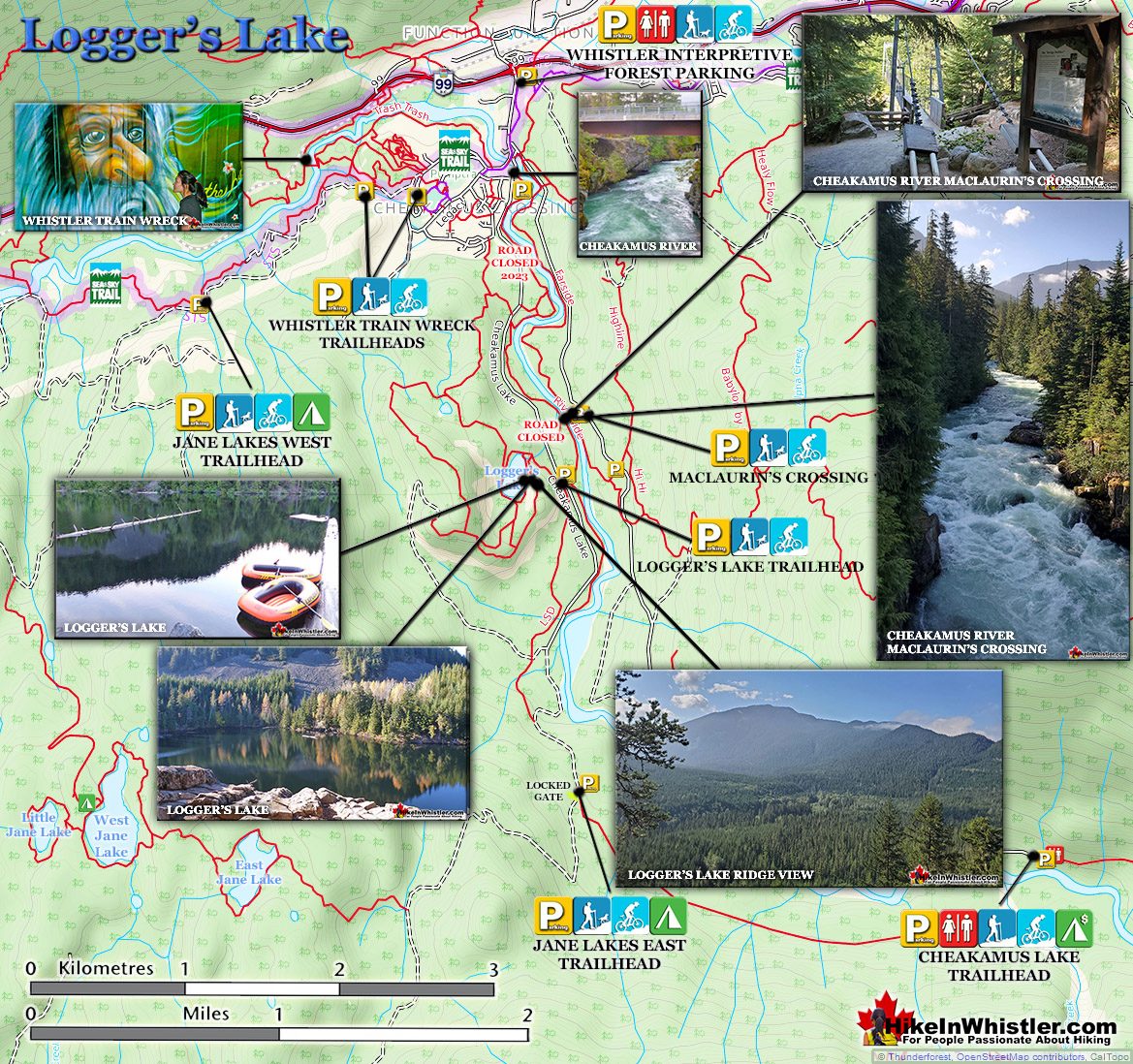 Logger's Lake Network of Trails
Logger's Lake has a surprisingly large network of hiking trails around it. As the area was logged quite extensively in past decades, you often hike along trails near the lake that are in fact overgrown logging roads.  The ridge directly behind you, if you are facing Logger's Lake and the log pier is an excellent place to hike. Appropriately named the Crater Rim Trail, this trail takes you quickly up to a tremendous vantage point over the lake. Further along and up the ridge you reach the outer edge of the volcano vent and can look outward across the valley in the direction of Cheakamus Lake. The trail then bends to the right and ascends back towards Loggers Lake.  Bearing left at the next junction takes you further along the Crater Rim Trail, while bearing right takes you back down to Logger's Lake.
Logger's Lake From Above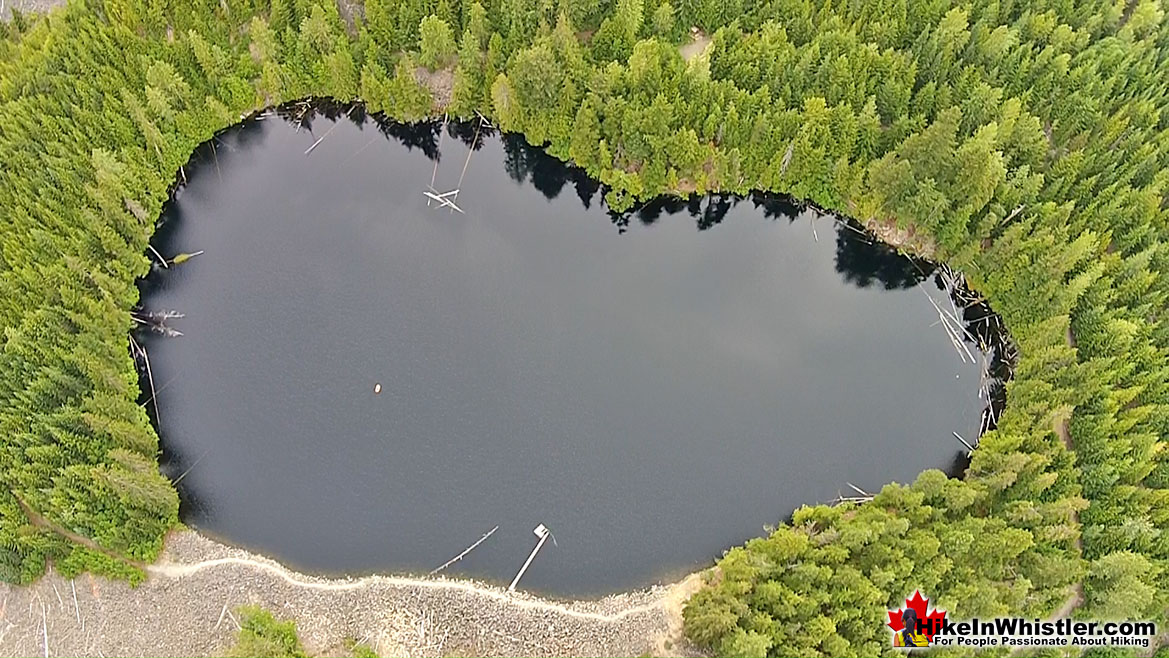 Hidden Paradise in an Extinct Volcano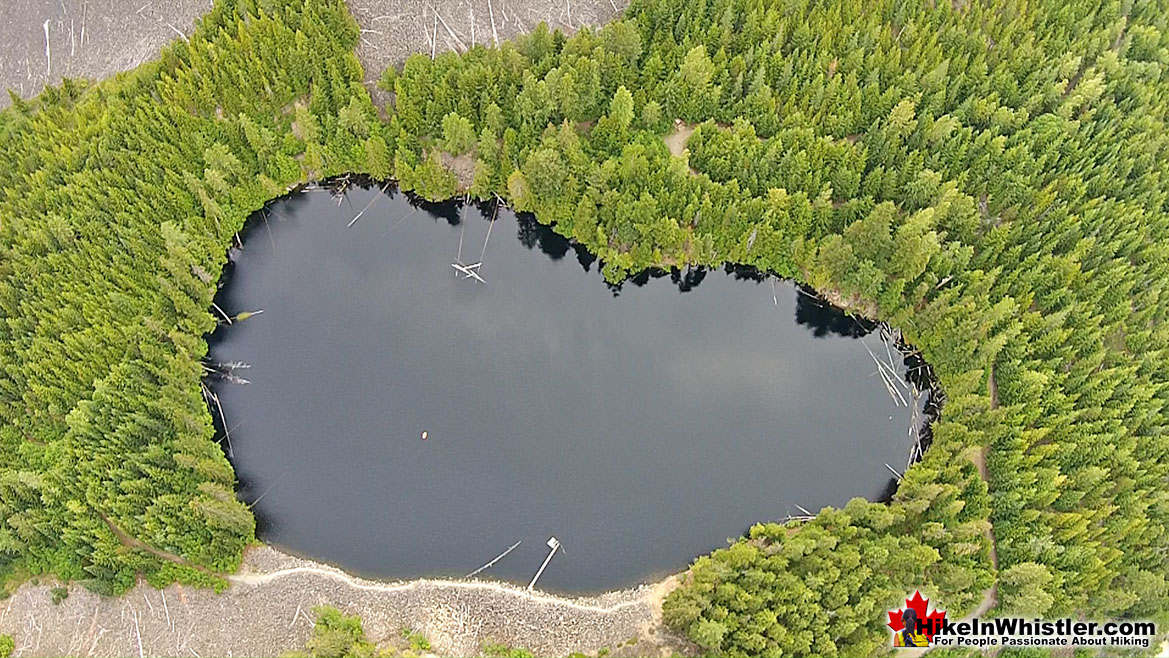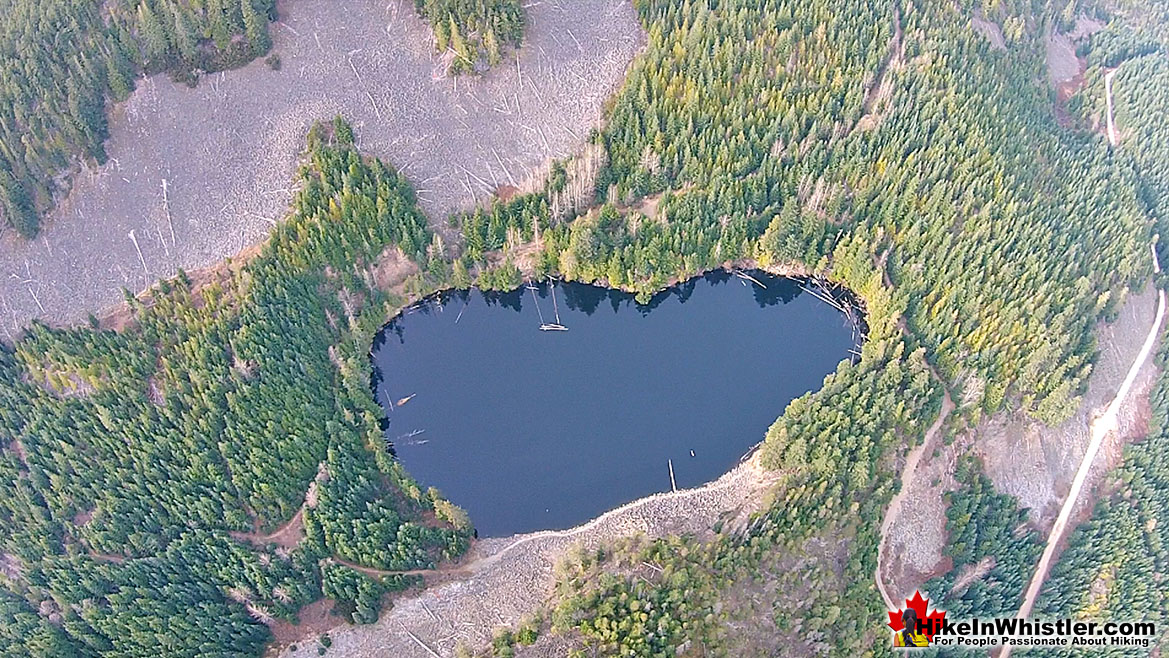 A Trail Runs Around the Shore of Logger's Lake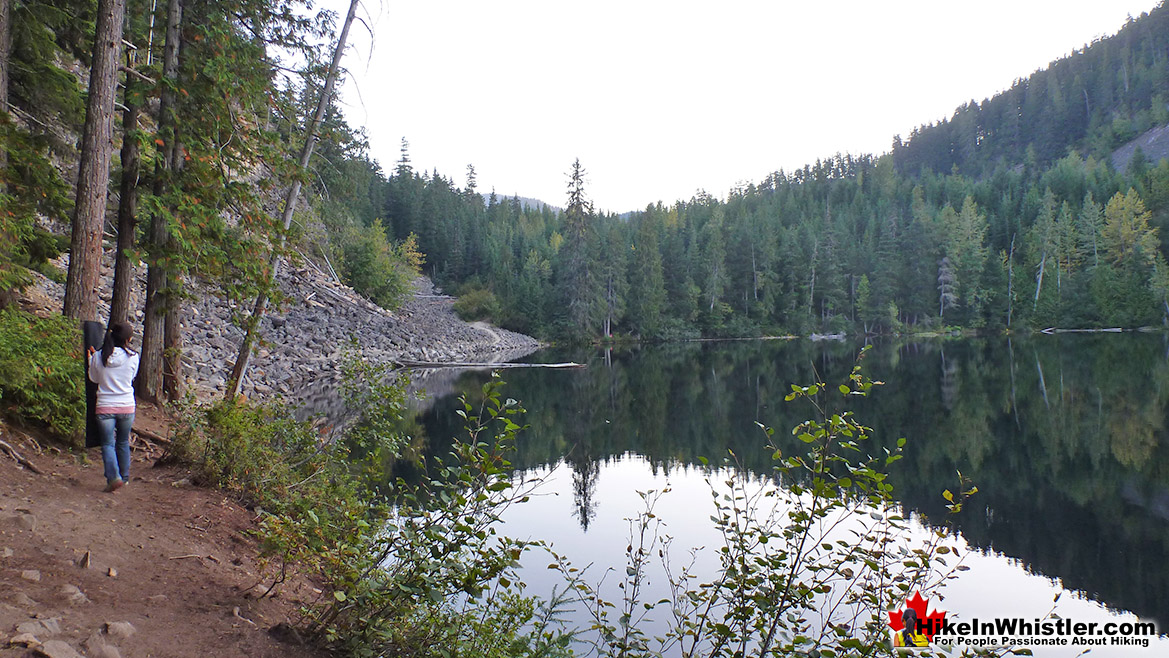 The Crater Rim Trail Takes You High Up and Around the Lake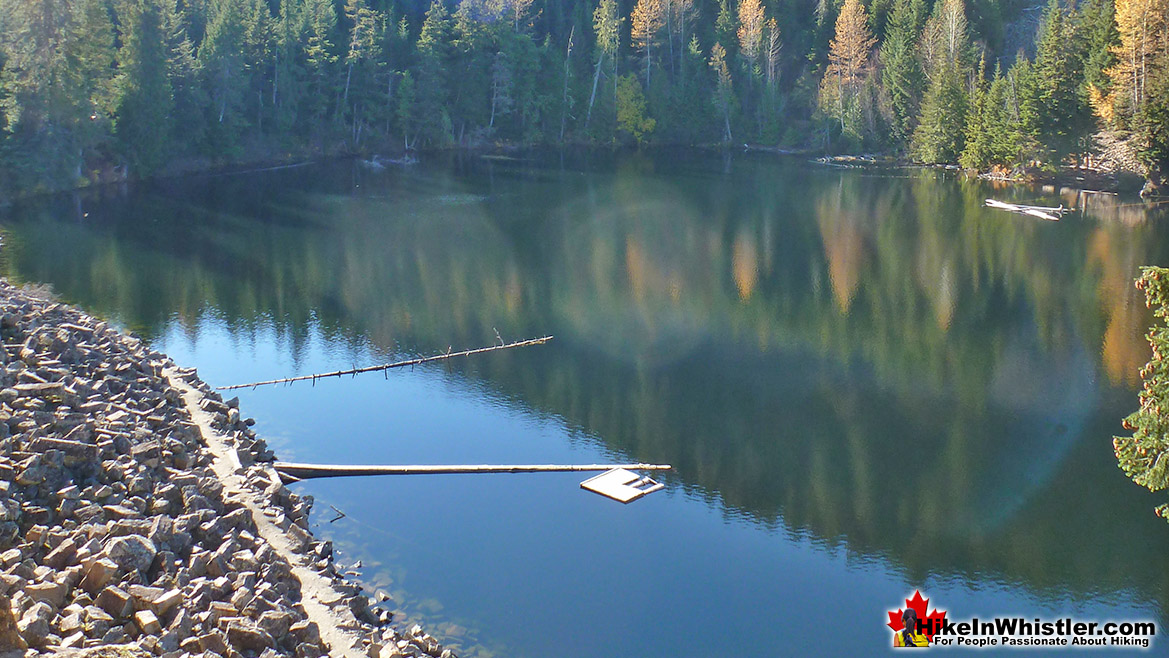 Fractured Rock Surrounds Logger's Lake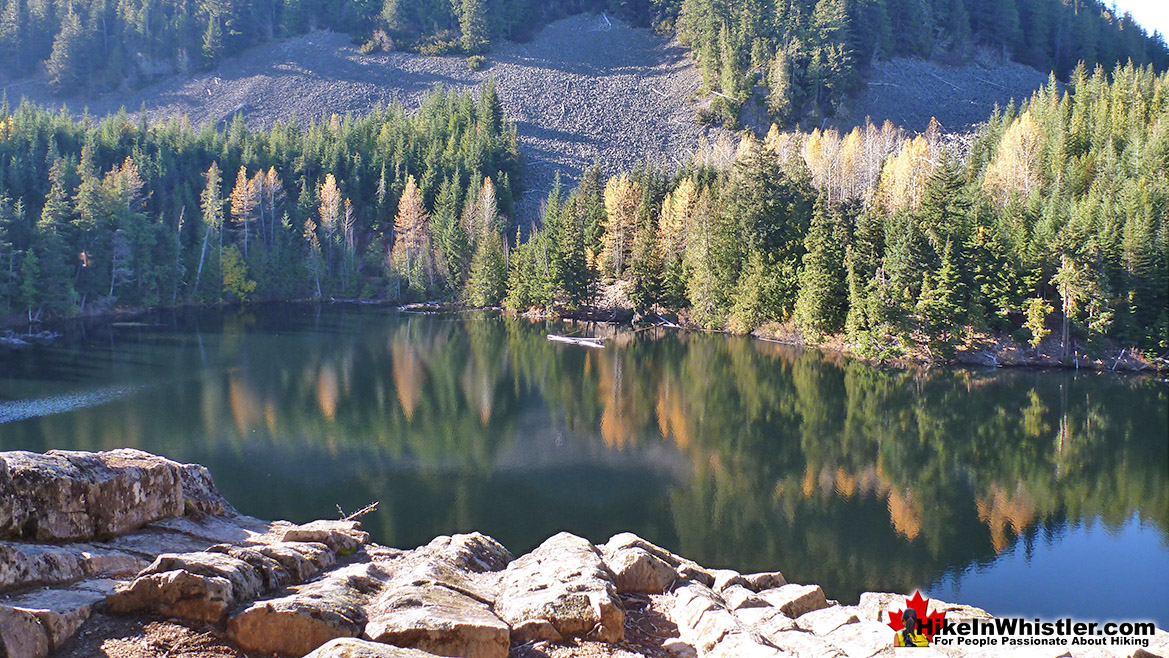 Crater Rim Viewpoint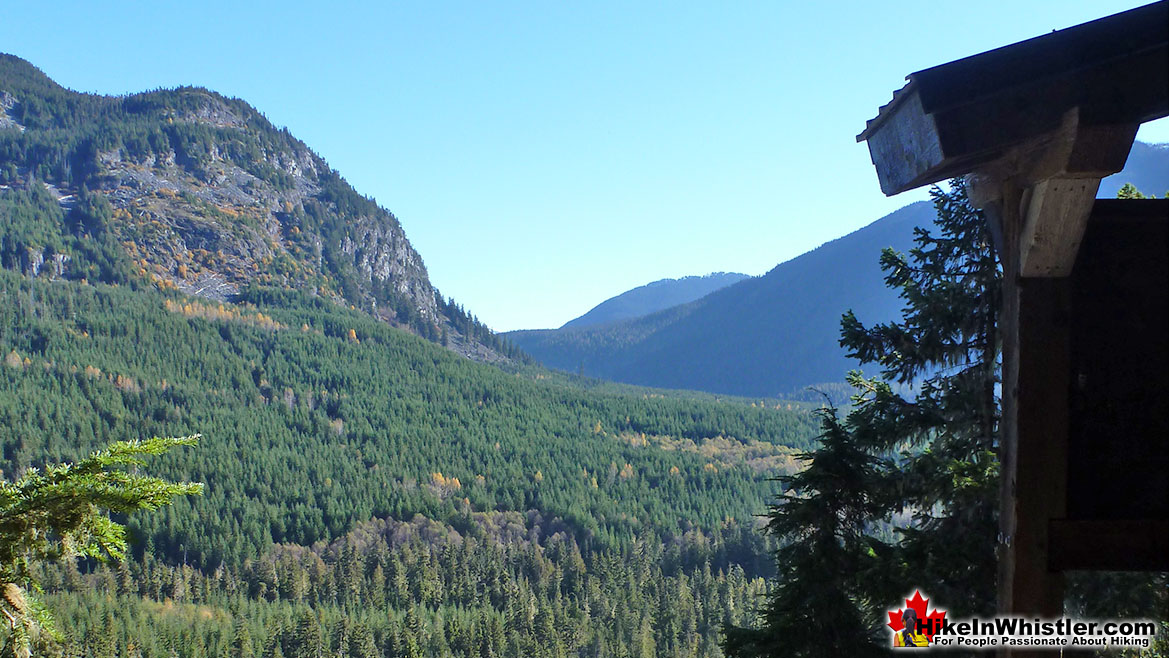 Logger's Lake Trail Map

The Cheakamus River trails consist of two trails that link via the suspension bridge at one end and the vehicle bridge in Cheakamus Crossing. These two trails, Riverside & Farside, lay at the heart of The Whistler Interpretive Forest which encompasses the surrounding areas of beyond Cheakamus River. These areas consist of the Riverside Trail, Farside Trail, Discovery Loop, Ridge Trail, Riparian Interpretive Trail, Crater Rim Trail, Craterview Loop, Plantation Loop, Biogeoclimatic Loop and Crater Lookout. The Riverside Trail(left side of Cheakamus River if looking from Cheakamus Crossing toward Cheakamus Lake) is an easy to moderate, 2 kilometre multi-use trail with a a few steep switchbacks and a couple very scenic viewpoints over the river. At the suspension bridge it connects to the Farside Trail, an easy, multi-purpose trail that brings you back to where you started in Cheakamus Crossing.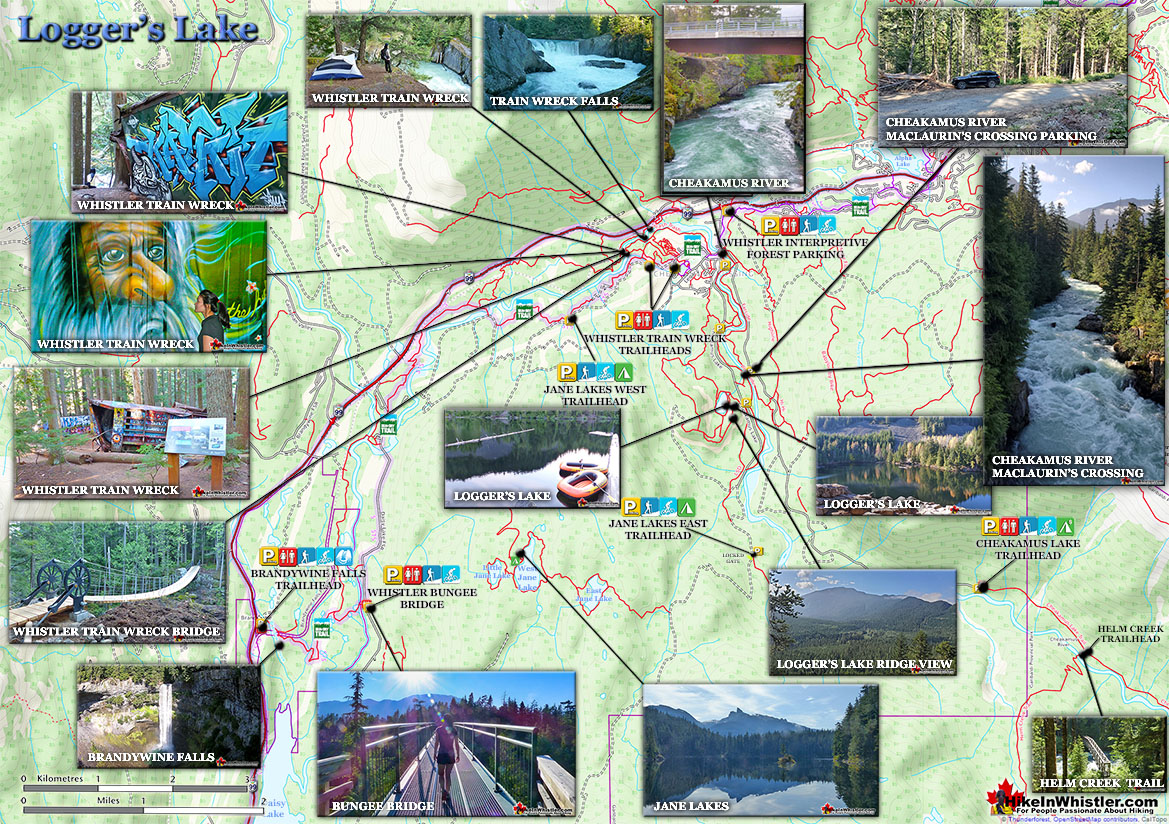 Camping Around Logger's Lake

Although the trails around Logger's Lake and especially the basalt ridge above the lake look amazing for camping, the Interpretive Forest prohibits camping. The area is exceptionally dry as compared to the rest of the valley and the risk of forest fire may be part of the reason for this. Also, the Interpretive Forest is dedicated as an experimental "ecosystem-based managed forest" and the inclusion of campsites may add to the recreational popularity of the area making future logging of this forest to be seen by the public as undesirable. The Logger's Lake trails are part of the much larger network of trails known as the Whistler Interpretive Forest.  Several named trails run throughout the forest and along the wild and crashing, Cheakamus River.  The Riverside Trail and the Farside Trail are the two beautiful trails that run along either side of Cheakamus River. The Cheakamus River suspension bridge is just a 5 minute hike from the parking area for Logger's Lake. The suspension bridge is one end a 4 kilometre circle route that is a great way to see this amazing river.
Stealth Camping Along Cheakamus River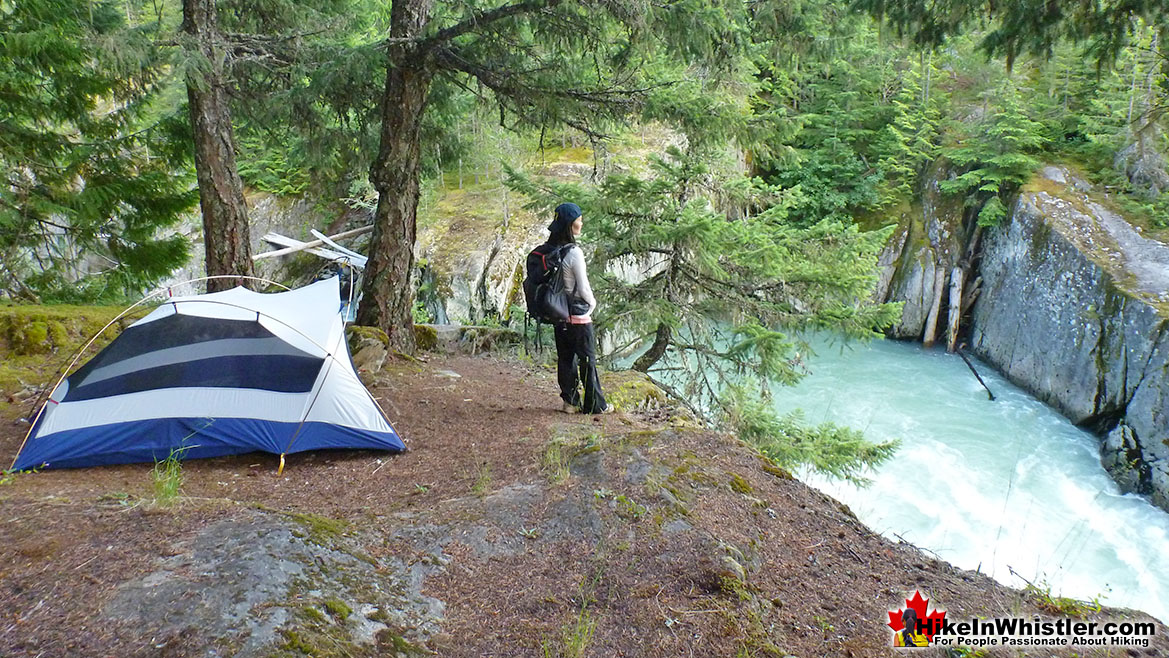 Facilities in the Interpretive Forest

The Cheakamus River trails and the Interpretive Forest don't have any facilities such as outhouses or picnic tables. This is quite nice as to maintain a wild and untouched feeling of the area. Cheakamus Crossing has a few eateries with washrooms. The HI Whistler Hostel has a very nice little coffee shop with a few things to eat and drink. It is worth checking out, not least for a glimpse at Athletes Village. The name given to this neighbourhood for the 2010 Olympics as it accommodated hundreds of athletes. The HI Whistler Hostel is a huge hostel and looks inside and out like a hotel. Very modern and trendy feeling as you walk in the front door. The only drawback to this hostel is its location, as it is 8 kilometres south of Whistler Village, though on a regular bus route.
Logger's Lake Aerial View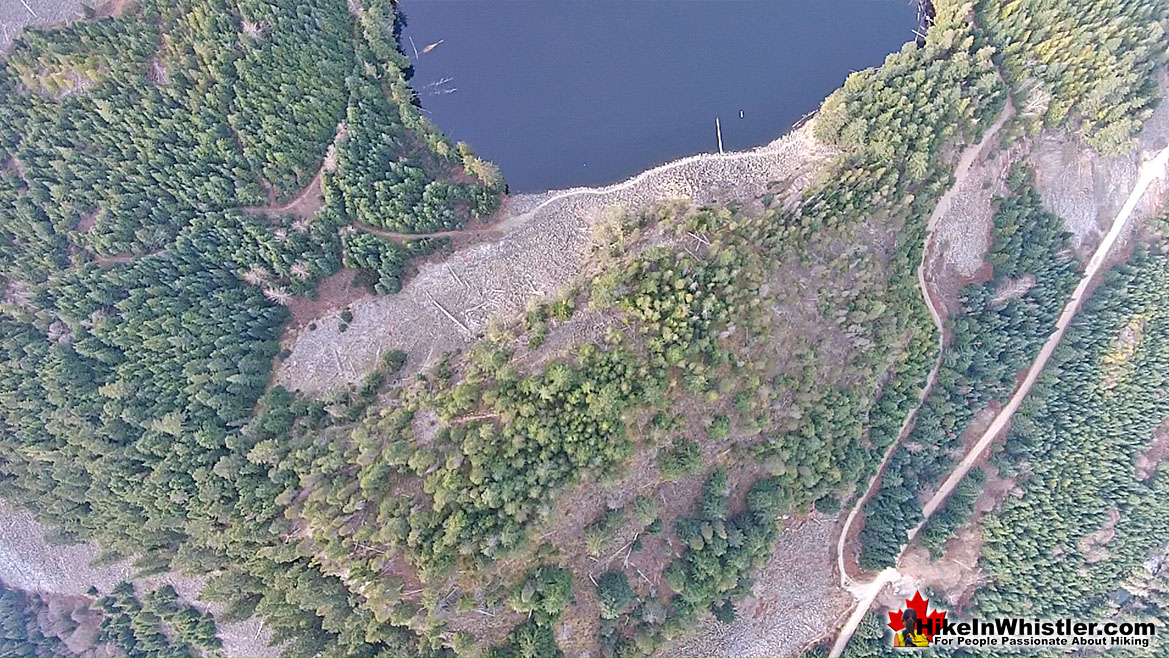 Restrictions and Concerns at Logger's Lake


No fires are allowed in Whistler's Interpretive Forest as the danger of forest fires is very high. No motorised vehicles on the trails either. Camping is not allowed, however the Interpretive Forest covers quite a large area of wilderness with dozens of idyllic places to sneak a nights sleep in the wilderness. For legal campsite options you have to look further up the Cheakamus valley. Cheakamus Lake has two very nice, wilderness campsites(pay to use). Helm Creek campground is further up towards Black Tusk. These are both in Garibaldi Provincial Park, which is campsite friendly, but not dog or bike friendly. As mentioned above, the Cal-Cheak Campground and Whistler RV Park & Campground are good options for pay camping.
Whistler Interpretive Forest Trailhead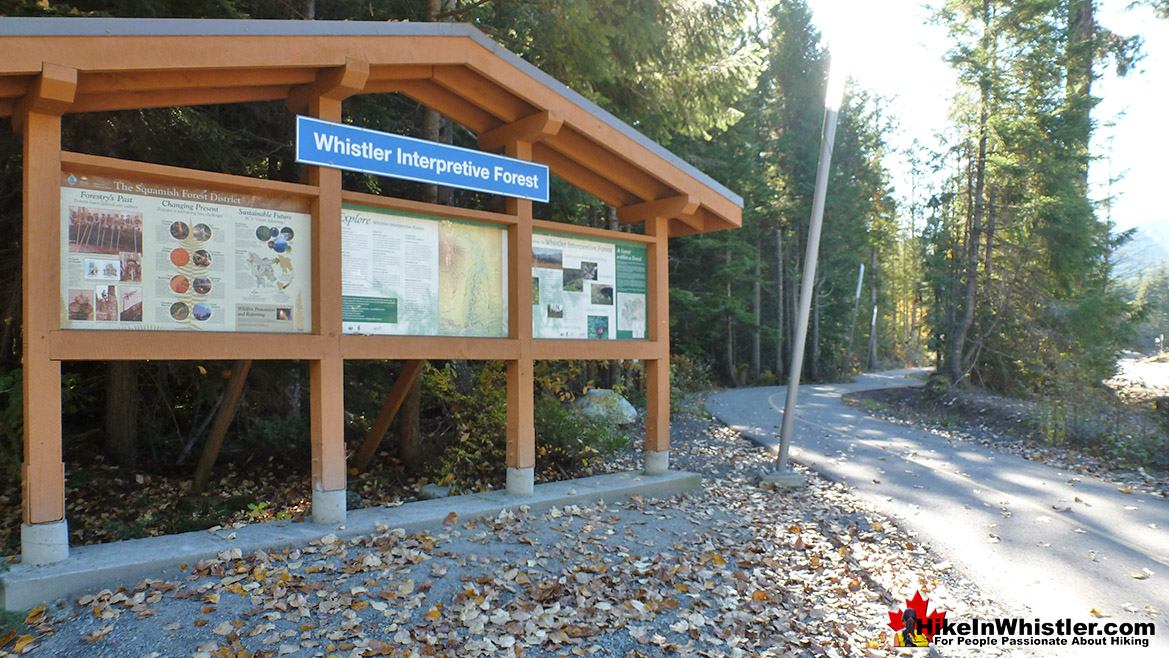 Wildlife at Logger's Lake

The list of wildlife in the forests around Whistler is quite extensive. Black bears are frequently seen near Logger's Lake and Cheakamus River. There has never been an unprovoked bears attack in Whistler, however you don't want to be the first. Be aware of your surroundings and if you round a bend and see a bear, just stop and edge back. If you give the bear some space he will wander off the trail and disappear into the wilderness. Fishing is good at Logger's Lake. Though small, you can consistently catch something most days. Other big mammals make their home around Logger's Lake, but are rarely seen. Mountain goats, deer, cougars, wolverines and grizzly bears have been known to range this area, but very rare to see.
Fishing From the Tiny Logger's Lake Log Pier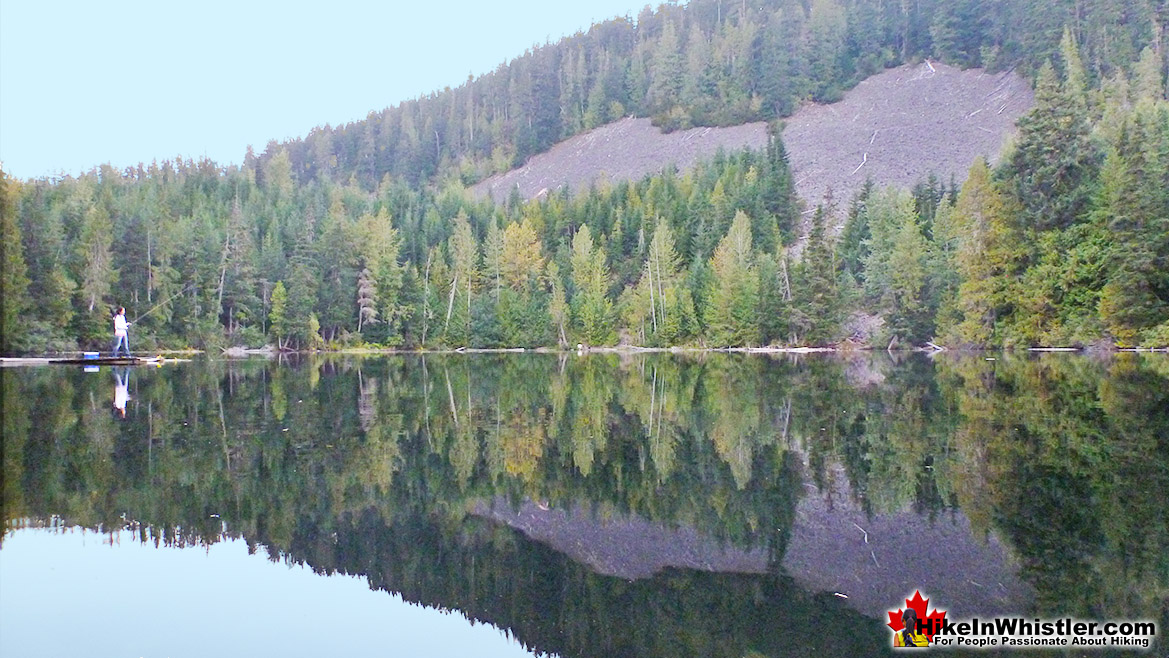 Parking & Trailhead Directions to Logger's Lake



The Riverside Road to Loggers Lake is closed for the foreseeable future due to a massive construction project in Cheakamus Crossing.  Hundreds of new homes are being built in large apartment buildings.  The construction project is enormous and edges pretty close to Cheakamus River and the only access road to Logger's Lake will be closed for construction for all of 2023 and well into 2024..  The Riverside Trail is still accessible, however sticking to the Farside Trail is probably better.  The Farside Trail is on the Cheakamus Lake FSR side, which is completely open and free from construction.  Though lots of hikers park at the Interpretive Forest Parking lot next to the Sea to Sky Highway, you can park about three kilometres closer to Loggers Lake by parking along the Cheakamus Lake FSR near the MacLaurin's Crossing suspension bridge.  Starting here you are just 20 minutes from Loggers Lake along the nice trail that starts by crossing Cheakamus River over this scenic bridge.
Logger's Lake Trailhead Parking Inaccessible for Cars Until 2024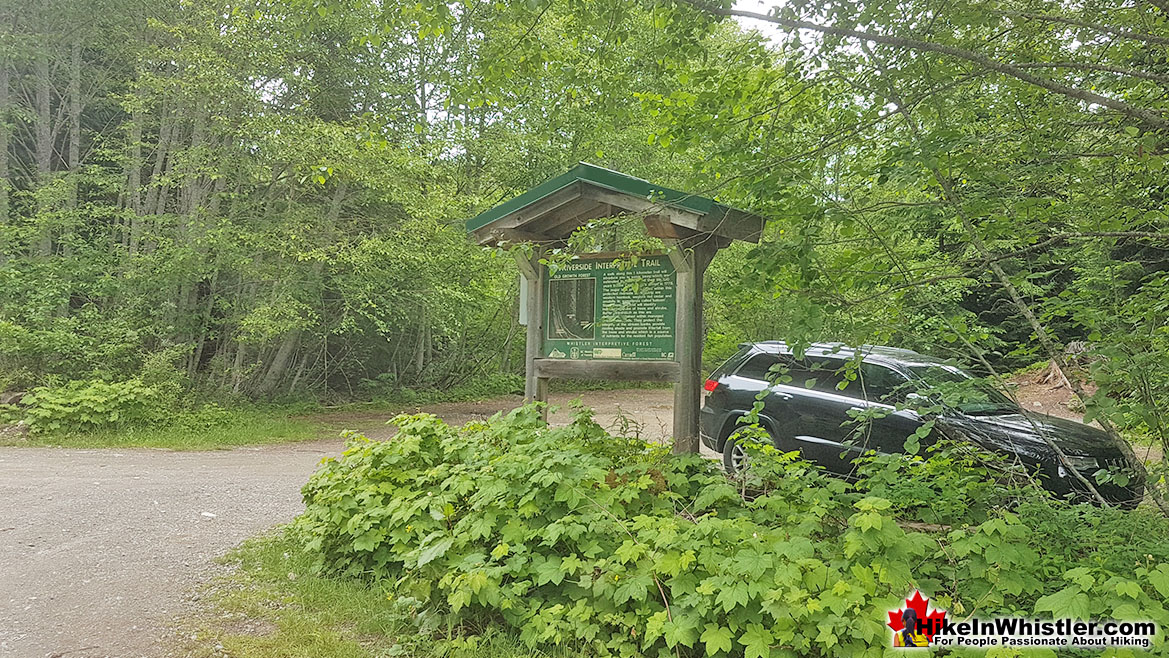 Logger's Lake Driving Directions Map
Construction may cause the closure of the access road to Logger's Lake. The best alternative is found by parking near the MacLaurin's Crossing suspension bridge shown on the map here almost directly across from the Logger's Lake parking. From the start of the gravel road the unmarking road-side parking area near MacLaurin's Crossing is about 2 kilometres away on your right. A one minute trail takes you to the crossing, then you can hike to Logger's Lake in about 20 minutes.
Alternate Parking for Logger's Lake at MacLaurin's Crossing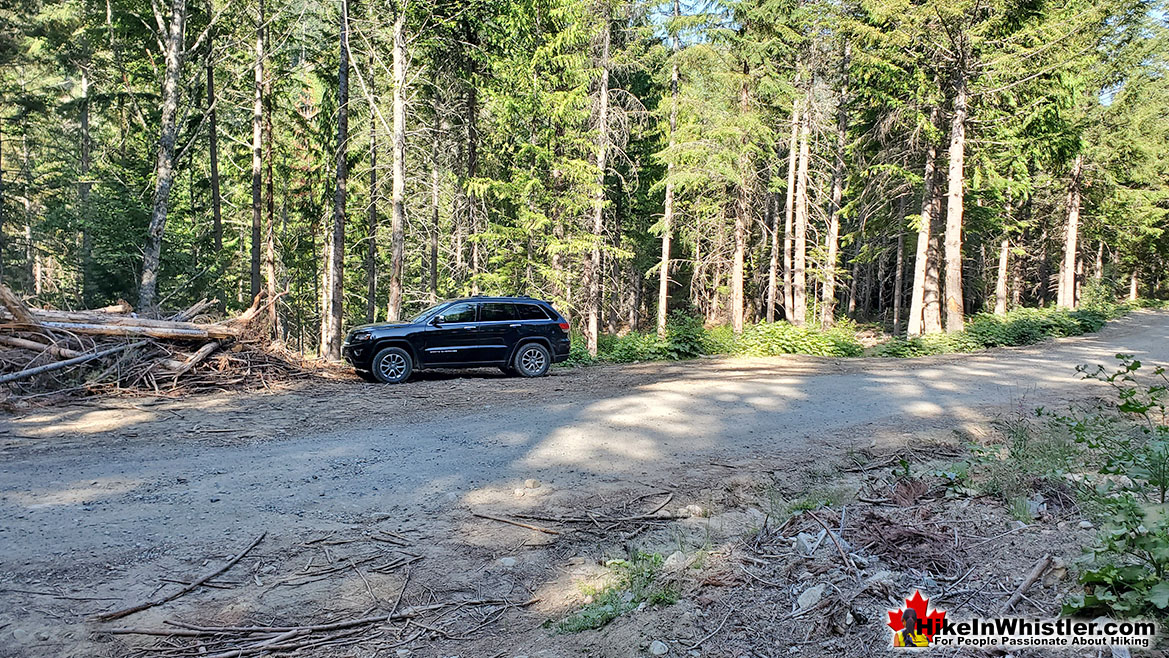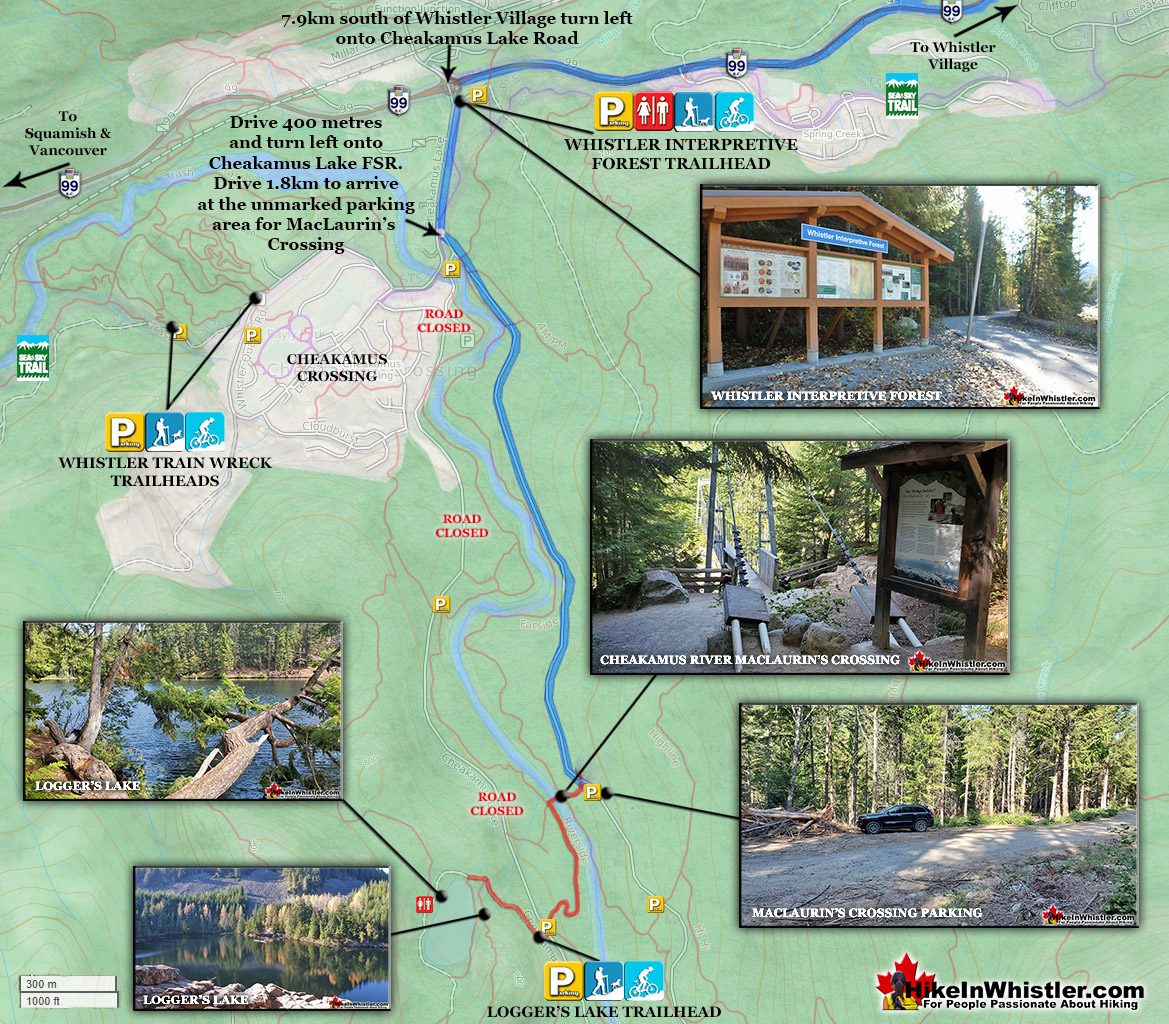 More Hiking Trails Near Logger's Lake

Logger's Lake is located near Cheakamus River which has hiking trails on both sides of it that stretch quite far.  The wonderful Sea to Sky Trail passes along Cheakamus River and through Cheakamus Crossing.  A nice suspension bridge crosses Cheakamus River and takes you over to the surreal Whistler Train Wreck.  Several wrecked train cars beautifully painted with graffiti murals are spread through the forest over an area about 400 metre long.  From Logger's Lake, heading up to the source of Cheakamus River is Cheakamus Lake. Cheakamus Lake is a beautiful mountain lake that starts just 3 kilometres from the trailhead.  The trail then continues along the shore of Cheakamus Lake for another 4 kilometres.  Located in Garibaldi Provincial Park, Cheakamus Lake is one of the main trailhead access points to this beautiful park.
Cheakamus Lake - Trails Near Logger's Lake

Cheakamus Lake is a wonderfully relaxing way to get in the wilderness easily and quickly from Whistler Village. The trail begins on the far side of Whistler Mountain, 8 kilometres from the Sea to Sky Highway at Cheakamus Crossing across from Function Junction.  This 8 kilometre stretch of logging road is fairly bumpy and potholed, but does have the benefit of allowing you to drive the elevation gain instead of hiking it.  You can easily manage this road in a car, however carefully and very slowly in parts. Once you reach the trailhead/parking the entire 7 kilometre hiking trail to the end of the maintained Cheakamus Lake trail has barely any elevation gain. Just plenty of gradual inclines and declines along the winding route. In fact, this makes it one of the few trails in Whistler and Garibaldi Park that can boast that.  The nearby Garibaldi Lake trail and the Wedgemount Lake trail make you work for the views, however, the Cheakamus Lake trail hardly makes you work at all.  The trail to Cheakamus Lake takes you through an amazing forest of giant cedars that fill the forest with their amazing aroma.  This forest is so packed with ancient giants that year to year the trail is adjusted by a monster of a tree fallen across the trail during some winter storm.  Sometimes the trail bends around these behemoths, but more often they are laboriously chainsawed by BC Parks staff.  The more enormous of these remain as fixtures of the trail.  Either edging the trail or as a mighty obstacle to climb over.  Continued here...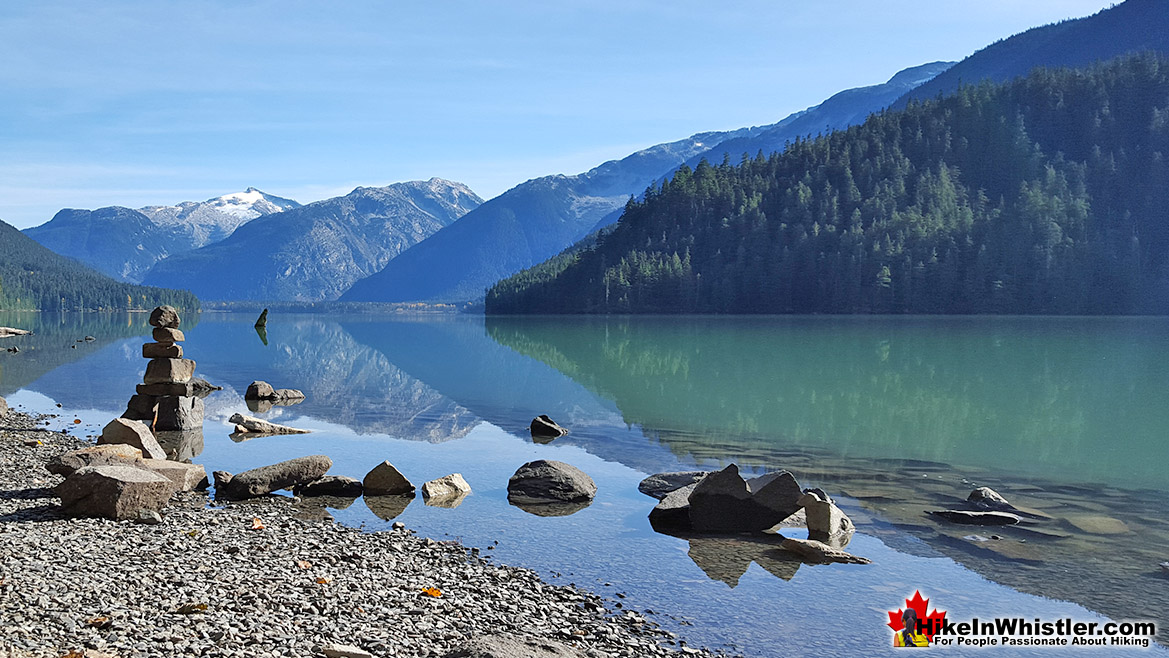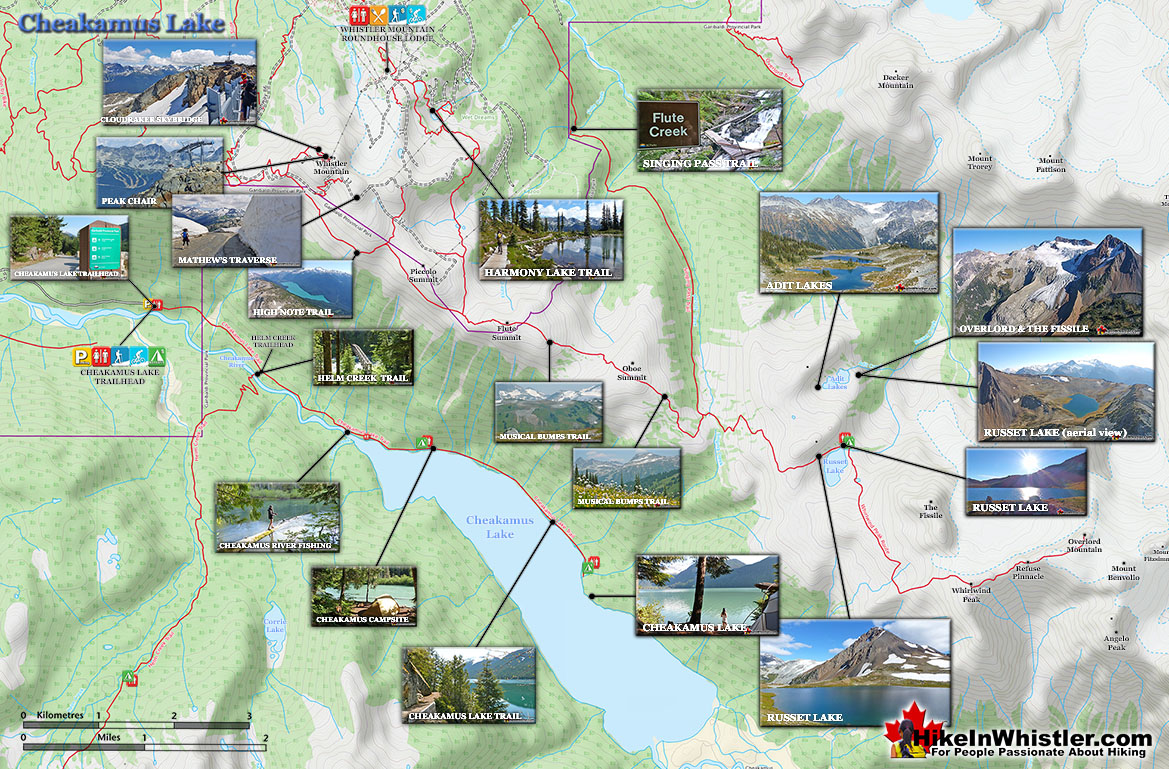 Cheakamus River - Trails Near Logger's Lake

Cheakamus River is a beautiful, crashing, turquoise coloured river that flows from Cheakamus Lake, through Whistler Interpretive Forest at Cheakamus Crossing, then down past Brandywine Falls to Daisy Lake.  Also a popular kayaking route, the main attraction to Cheakamus River is the wonderful and quite extensive network of hiking and biking trails that run along either side of it.  The Riverside trail and the Farside trail run on either side of Cheakamus River and connect at both ends by bridges.  Connecting to the Riverside trail is the short trail to Logger's Lake, which in turn is surrounded by more hiking and biking trails.  The Lake Loop trail, Crater Rim trail, the Ridge trail, Upper Ridge trail, and the Lower Ridge trail.  On the Farside trail along Cheakamus River you can connect to Cheakamus Road(gravel road) and hike 6 kilometres up to the Cheakamus Lake trailhead.  On the other side of the neighbourhood of Cheakamus Crossing, which Cheakamus River bends around keeping the Sea to Sky Highway and train tracks on its opposite side, you find still more hiking and biking trails.  Trash trail hugs the river all the way to the beautiful bridge to Whistler Train Wreck.  Or, continue past the bridge to connect with the Sea to Sky trail.  For the most part, however, if you are talking about the Cheakamus River trails you are likely talking about the Farside and Riverside trails in Whistler's Interpretive Forest.  Continued here...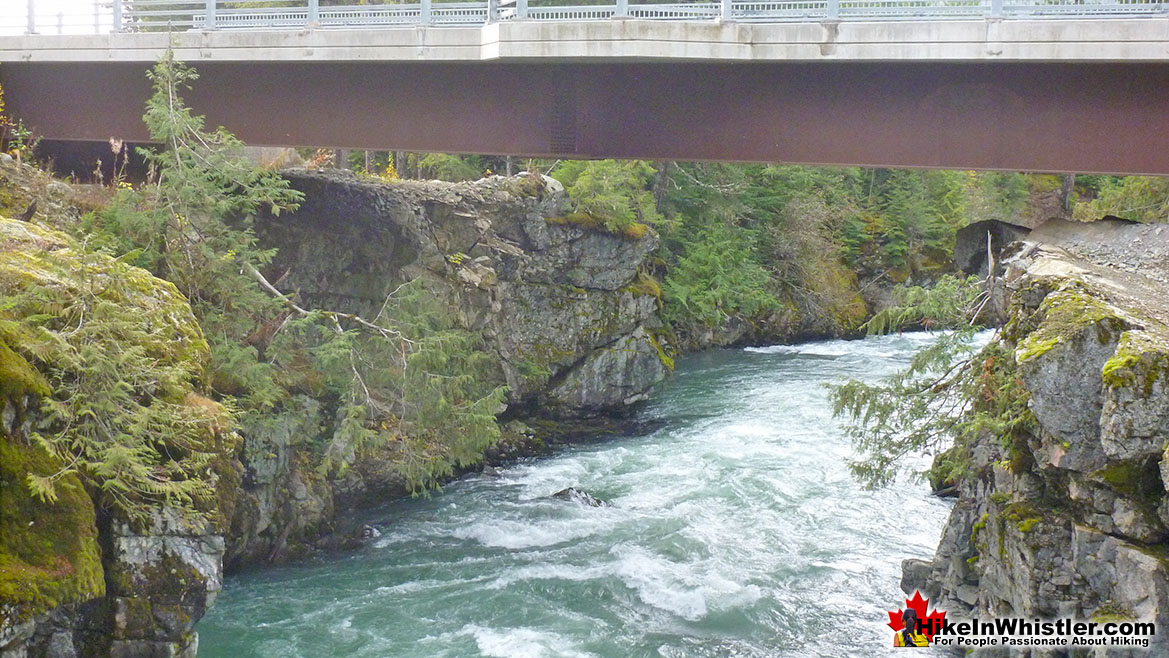 Train Wreck - Trails Near Logger's Lake

The trail to Whistler Train Wreck is an easy, yet varied route through deep forest, across a great suspension bridge over Cheakamus River, to a stunning array of wrecked train cars. The trail from your car to the wrecks only takes about 15 minutes, however once you reach one wreck, you see another, then another. There are seven wrecks in total that are spread over an area about 400 metres long.  Along with the surreal train wrecks painted with stunning murals, you find yourself in a thick forest that runs along Cheakamus River. Cheakamus River is a beautiful, wild and crashing river that snakes past the train wrecks. Numerous side trails take you to some marvellous viewpoints, several metres above the rushing water below.  If you follow a trail past the wrecks(heading north or in the direction of Whistler Village) you will emerge at the train tracks. If you are adventurous you will then walk along, beside the tracks for a couple hundred metres and some truly breathtaking views of Cheakamus River.  Continued here...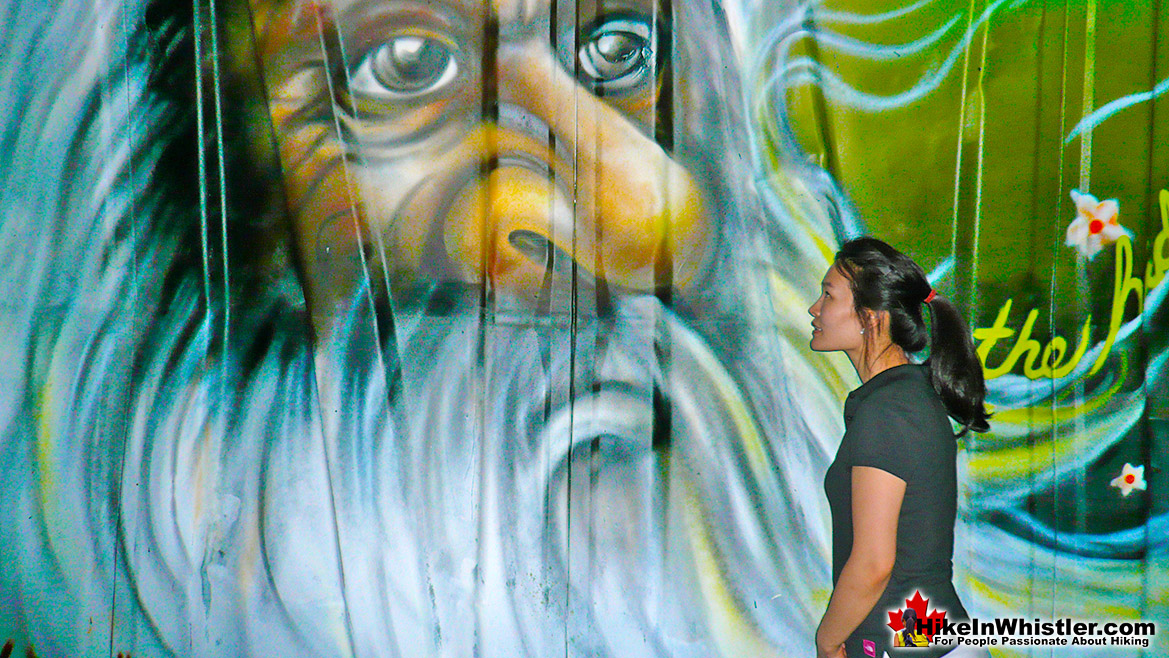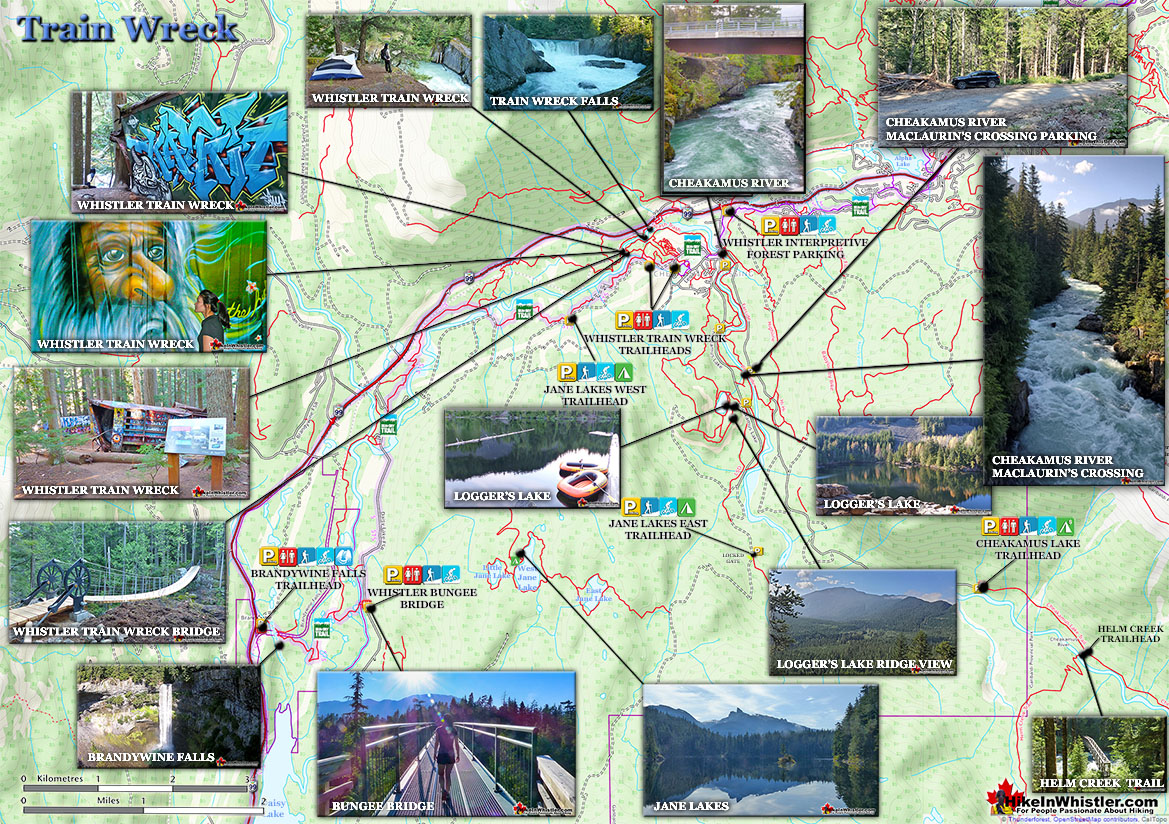 Sea to Sky Trail - Trails Near Logger's Lake

The Sea to Sky Trail is a 180 kilometre multi-use trail that runs from Squamish to D'Arcy. The trail is still under construction in many parts, however, the amazing route through Whistler is finally in place. The Whistler section of the Sea to Sky Trail is 33 kilometres long between Brandywine Falls Provincial Park and WedgeWoods Estates just north of Green Lake(north of Whistler Village).  The 33 kilometre Whistler section of the Sea to Sky Trail is either paved, dirt or crushed rock and often very wide. Much of the trail just north and south of Whistler Village is wide, two lanes and paved with plenty of signs and occasional mapboards.  North of Whistler Village the trail can be challenging with several hills as it rises above and beyond Parkhurst Ghost Town.  South of Whistler, the paved trail ends at Cheakamus Crossing and becomes a narrow at times dirt trail with some wider sections of crushed rock. This beautiful section follows Cheakamus River making four dramatically beautiful river crossings. The Cal-Cheak area south of Cheakamus Crossing is more challenging and sometimes narrow and hilly, dirt trails. South of Cal-Cheak the forest opens up and the trail widens to the luxurious feeling, wide and hard packed gravel all the way to Brandywine Falls Provincial Park where the trail joins with the Sea to Sky Highway. The Whistler section of the Sea to Sky Trail passes near and through an amazing array of whistler sights. The always impressive Brandywine Falls Provincial Park at the southern end of the 33 kilometre area shown here. Heading north from Brandywine Falls you cross the huge bungee jumping bridge that spans the enormous chasm over the Cheakamus River. Soon after you cross the suspension bridge at the Cal-Cheak Recreation area.  Continued here...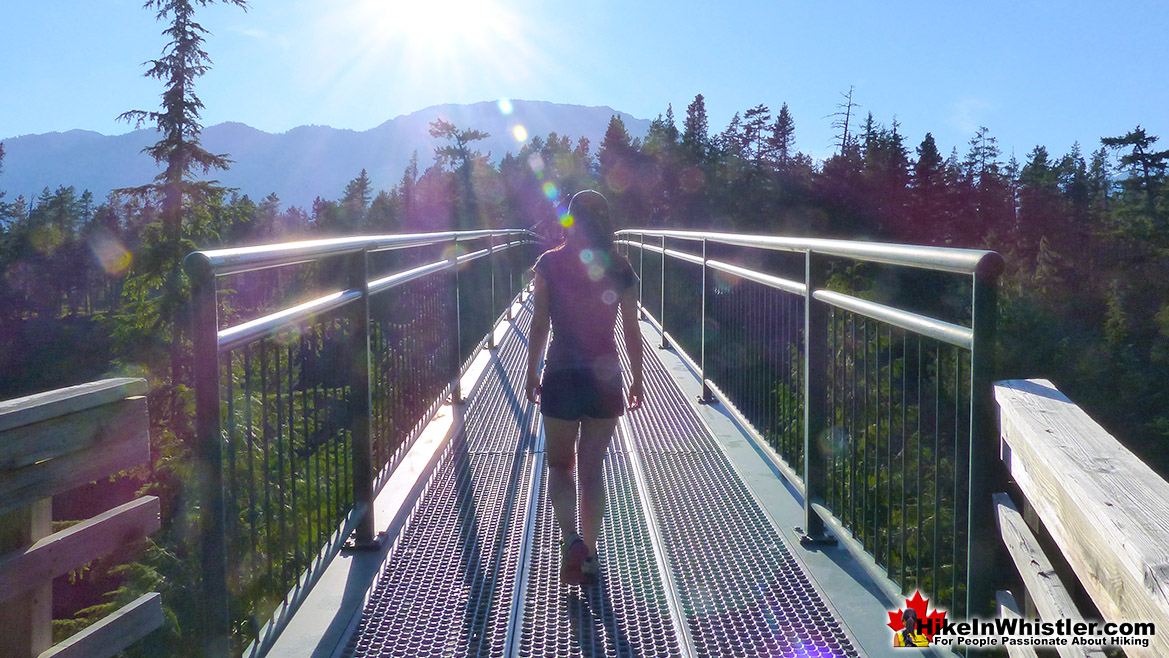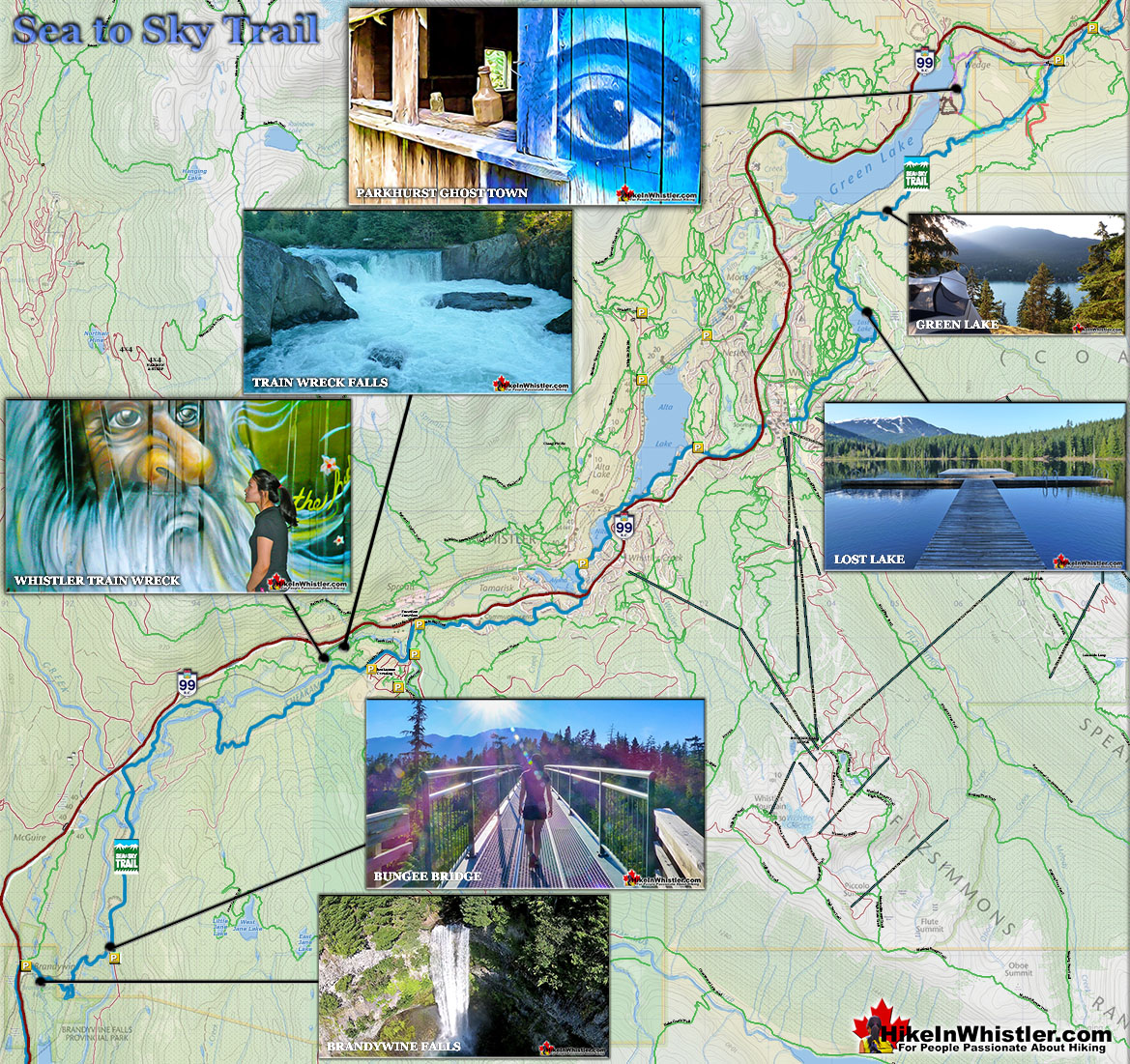 Whistler's Best Hiking Trails!
Whistler & Garibaldi Park Best Hiking by Month!

Explore BC Hiking Destinations!