Garibaldi Lake is the centre and base for much of the hiking in Garibaldi Provincial Park. The Garibaldi Lake campsite is located on the amazing, turquoise shores of this massive and mostly still wild mountain lake. There are no trails around the edge of the lake except the small section leading to the campsites, so your view is an impossibly coloured lake edged by swaths of forest and a magnificent glacier towering in the distance.
Huge alpine lake in a pristine forest
Extraordinary, turquoise coloured water
Campsites are all close to the shore

Great for swimming, but very cold
Huge glacier is visible across the lake
Black Tusk & Panorama Ridge are near
Fishing is pretty good
Hike past The The Barrier on the hike
The first 6 kilometres are exhausting
Campsites are crowded together & busy
Compared to other lakes in the Whistler area and in Garibaldi Provincial Park, Garibaldi Lake is enormous with a surface area of almost 10 square kilometres or 2460 acres.  It is also a very deep lake with its average depth of 119 metres or 390 feet and at its deepest, 258 metres or 849 feet!  What really makes Garibaldi Lake extraordinary is its geography.  It is flanked by volcanoes on three sides and lava flows from Mount Price during the last ice age formed The Barrier which blocked the valley which filled with water, creating Garibaldi Lake.  Vantage points around the lake such as Panorama Ridge and Black Tusk allow relatively easy views of this magnificent lake with Mount Garibaldi and other impressive peaks surrounding it.  At the Garibaldi Lake campsite the water is painfully cold, though plenty of brave hikers swim here as well as camp.  Garibaldi Lake, though beautiful enough as a primary destination, is often a base camp for further hiking. The summit of Black Tusk is just a 2 hour hike from the lake. Panorama Ridge is a bit further at about 3 hours from the lake. Taylor Meadows is a beautiful, often flower filled valley, and home to the other Garibaldi Provincial Park campsites in the area.  Helm Creek campsites are located past Black Tusk and Panorama Ridge, on the way to Cheakamus Lake. If you can manage transport, you can start at Rubble Creek trailhead and finish at Cheakamus Lake trailhead. This allows for a linear route instead of a there and back route. Garibaldi Lake, Taylor Meadows, Black Tusk, Panorama Ridge, Helm Creek and Cheakamus Lake are all beautiful destinations on their own, but combined in a 2 or 3 day hiking expedition are extraordinary.
Partway along the trail to Garibaldi Lake the trail forks.  Right to Garibaldi Lake and left goes to another beautiful campground, Taylor Meadows.  Past Taylor Meadows you can link back to Garibaldi Lake by yet another linking trail.  At every trail fork, there are nice and clear signs and often large mapboards showing where and how far everything is.  Beyond the main camping areas of Taylor Meadows and Garibaldi Lake, there are several amazing hikes. Black Tusk and Panorama Ridge lay just beyond these two camping areas. Black Tusk or Panorama Ridge, Taylor Meadows and Garibaldi Lake can be done in one long 30 kilometre dayhike, trailhead to trailhead, but expect to take 8-10 hours. The Garibaldi Lake trailhead is located just 30 minutes south of Whistler.  Keep your eye out for the hard to miss Garibaldi Provincial Park highway sign.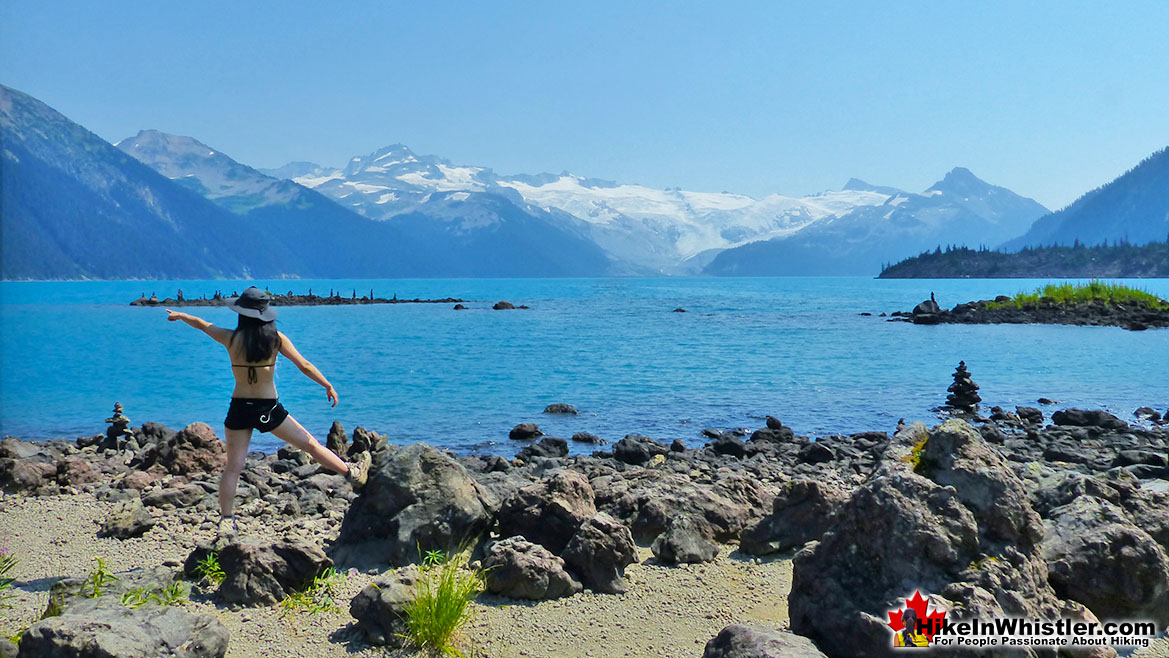 The Barrier on the Trail to Garibaldi Lake
Below is a picture of The Barrier, the monstrous and unstable wall formed when lava met the glacier that filled the valley during the ice age.  The Barrier formed as a result of huge lava flows from Clinker Peak on the west shoulder of Mount Price during the last ice age.  About thirteen thousand years ago, the Cheakamus River valley was filled by an enormous glacier, part of the Cordilleran Ice Sheet.  Lava flowed from Clinker Peak and pressed up against the massive glacier.  The lava ponded and formed what geologists call an ice-marginal lava flow.  In the spring of 1856 more than 25 million cubic metres of rock from The Barrier crashed down the valley of what is today called Rubble Creek.  The incredible torrent of volcanic rock boulders crashed down the valley more than 6 kilometres at a speed of more than 30 metres per second.  The vertical distance of the debris flow was over 1000 metres measured from the top of The Barrier to the end of the debris field where Rubble Creek meets Cheakamus River.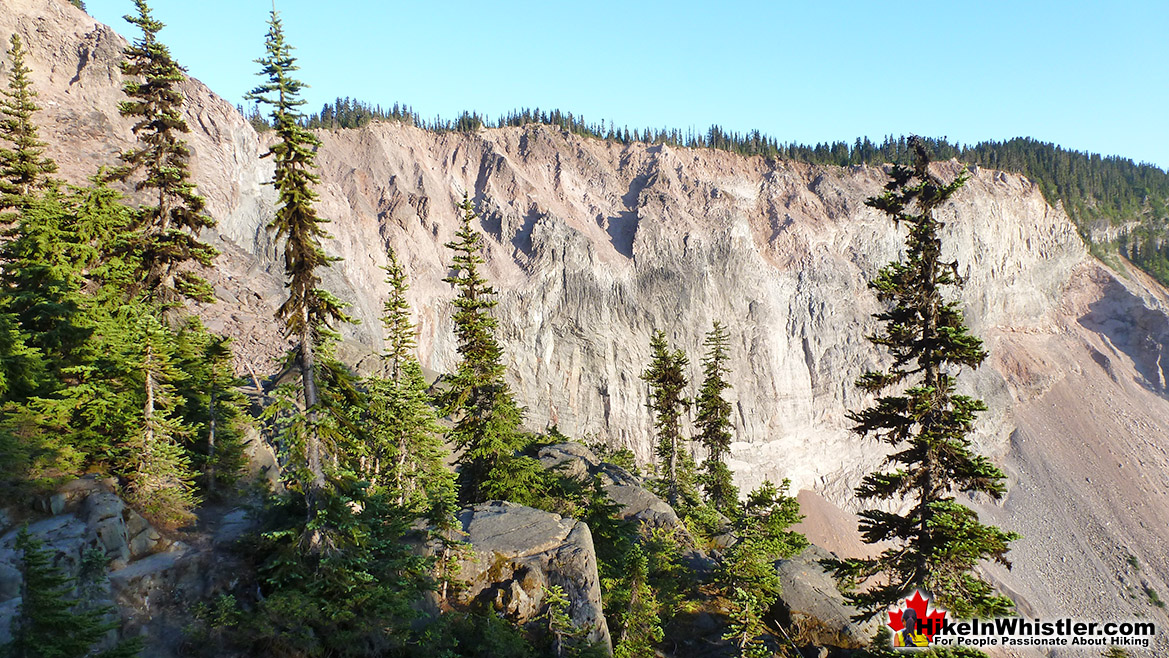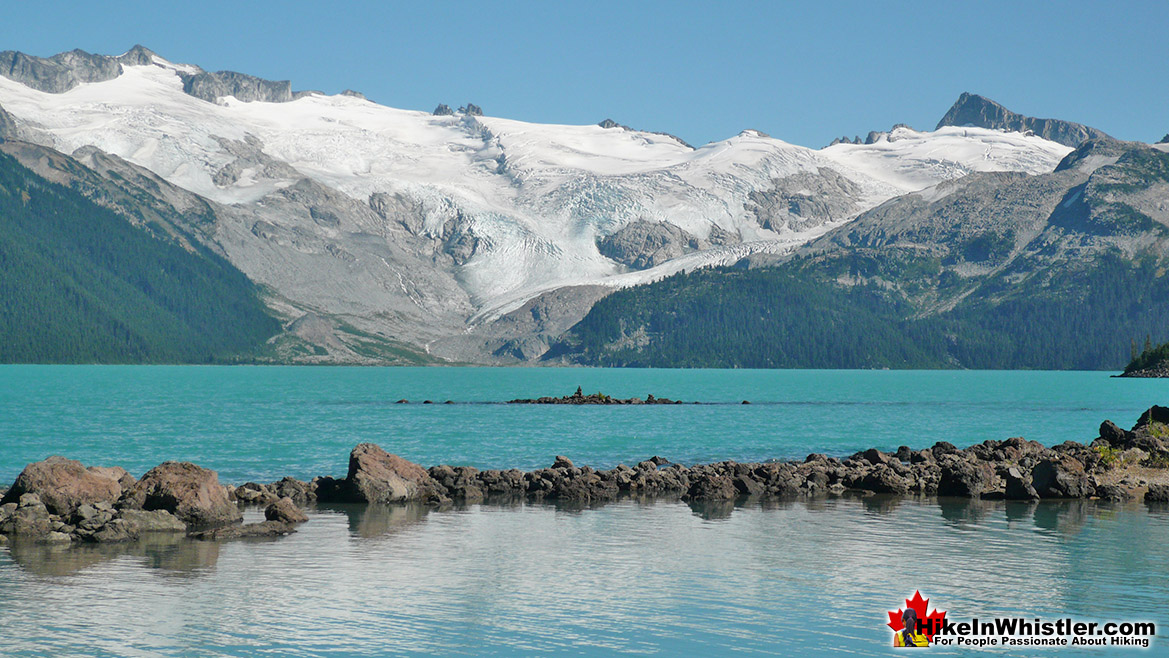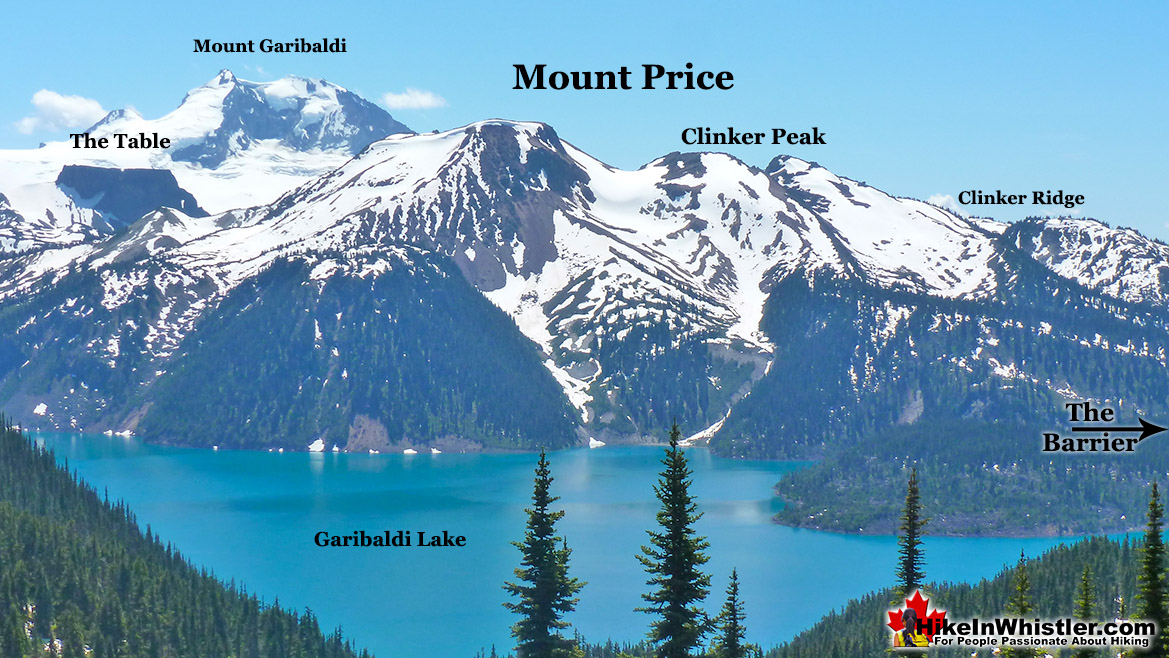 Garibaldi Lake Campground in Garibaldi Park

The campground at Garibaldi Lake is the largest and most popular with 50 tent pads.  It is open year-round, although it is only busy in the summer months.  Though you get some skier and snowboarder activity in the winter, the snow and cold weather keeps people away.  Along with the 50 tent pads, you have plenty of outhouses, picnic tables and a bear-proof hut for preparing and storing food.  No sleeping is allowed in the hut.  At the end of the campsites you will find a BC Parks ranger cabin which is often manned in the summer and sporadically the rest of the year.  The campsites at Garibaldi Lake and Taylor Meadows are popular bases for hiking to Black Tusk and/or Panorama Ridge.  The Helm Creek campground on the other side of Black Tusk and Panorama Ridge is another good base for these amazing sights.  Generally Helm Creek is hiked from the Cheakamus Lake trailhead instead of the Rubble Creek trailhead.  Fees Per Night: $10 Adult - $5 Kids(6-15)  Campsite fees must be paid online in advance at the BC Parks Garibaldi Provincial Park reservations page.  There are no well defined hiking trails around the lake.  The Panorama Ridge side of the lake is far to steep and wild to make a trail feasible.  On the other side of the lake, hiking is possible to Mount Price, although the faint trail disappears into the alpine and route-finding can get very difficult.  There are some trail markings that denote the trail past the BC Parks ranger cabin a the far end of the Garibaldi Lake campsite.  Plenty of hikers have hiked around Garibaldi Lake in the past, but you have to know what you are doing and be well equipped, tough and determined to do it.

Garibaldi Lake Trail Map

Garibaldi Lake sits at the heart of the enormous Garibaldi Provincial Park. Trails head in all directions, and all of them to breathtaking destinations. Black Tusk is a starkly black, extinct volcano core that is crumbling slowly. It is, as its name suggests, looks like a Black Tusk coming out of the earth. It looks impossible to climb from a distance, yet is actually possible to summit without technical skill. The final small chute is quite challenging, and if you have a fear of heights, looking down from it may freak you out. Panorama Ridge is another great destination beyond Garibaldi Lake. This is the source of all the stunning images you will find on the internet, showing the impossibly blue Garibaldi Lake. If you are more adventurous, you will find a route from the Garibaldi Lake campground to Price Mountain. A bit more challenging than the other, well laid out and travelled trails in the park.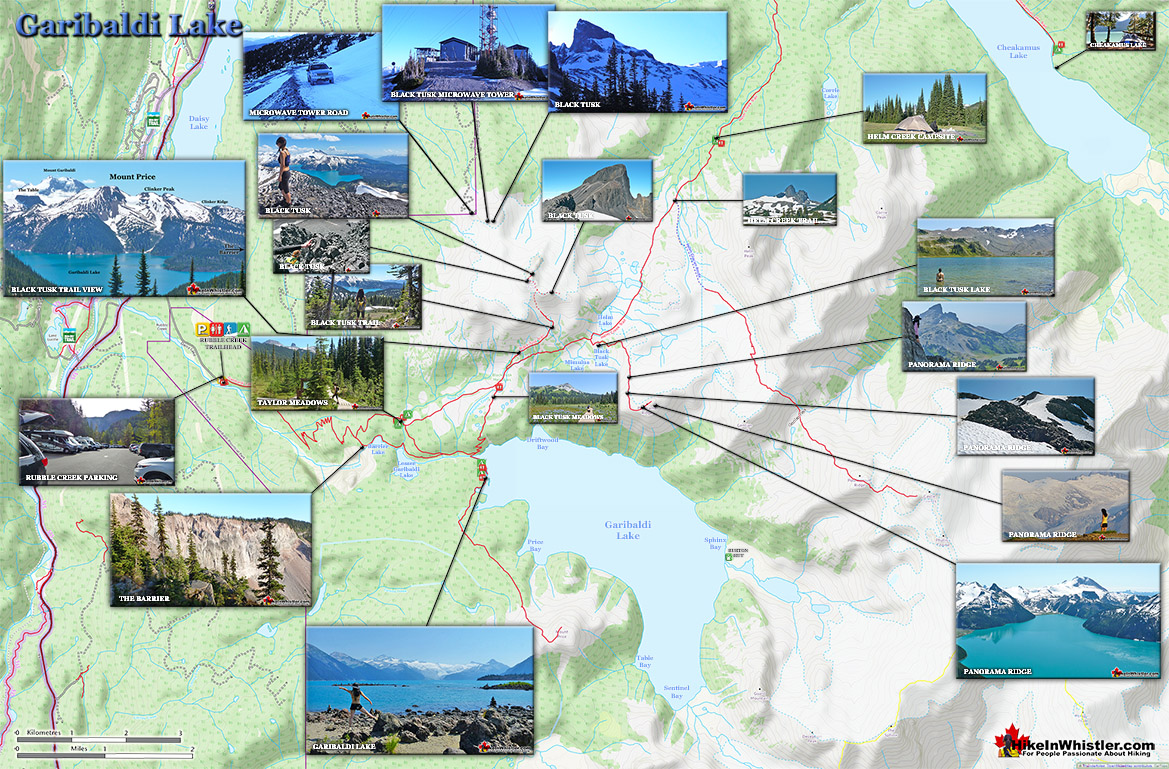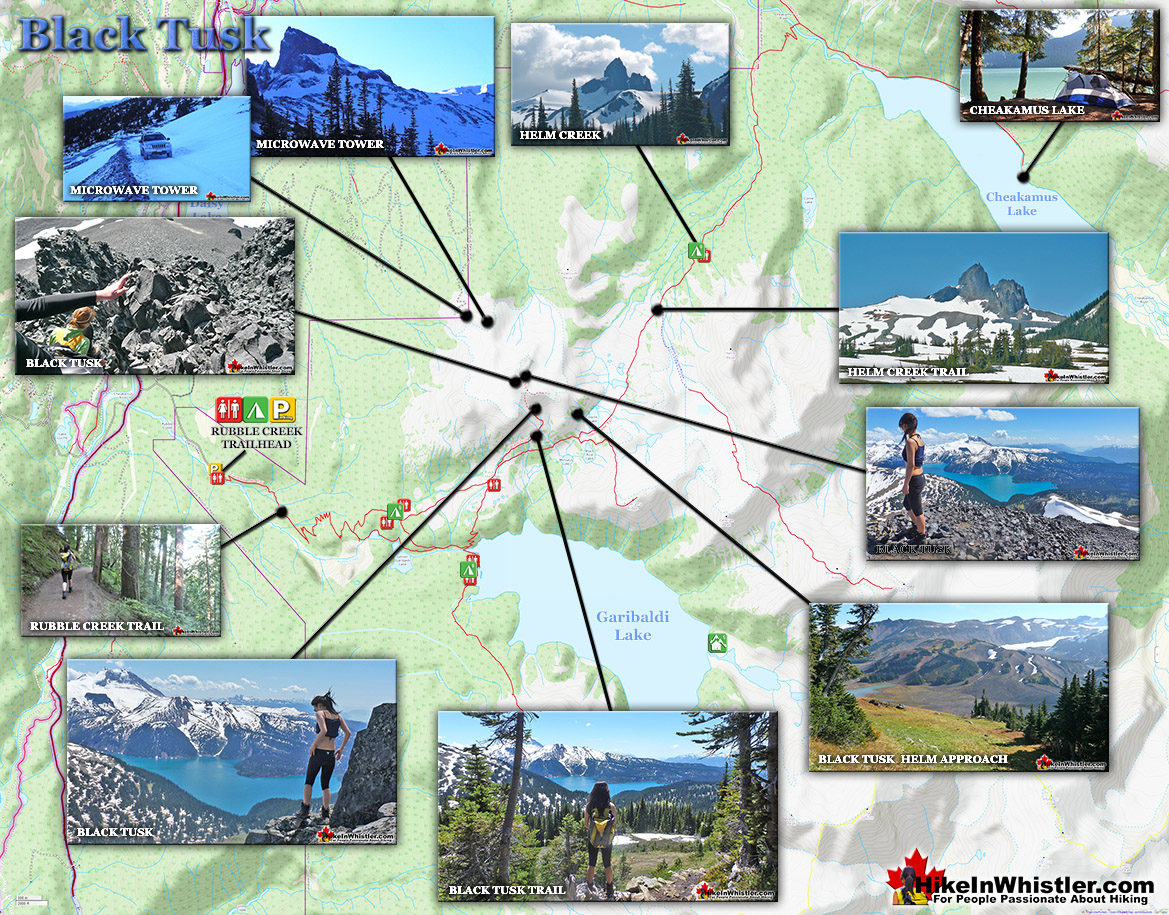 Parking & Trailhead Directions to Garibaldi Lake

The best and closest parking lot to access Garibaldi Lake is the Rubble Creek trailhead just off of the Sea to Sky Highway, south of Whistler.  The Rubble Creek trailhead parking is well equipped with direction signs, a mapboard and outhouse. The access road that connects it to the Sea to Sky Highway is paved and snowplowed in the winter.  Rubble Creek is the most popular route to Garibaldi Lake and consequently the most chaotic. The huge parking lots are often filled close to capacity, with additional cars parked along the access road which can accommodate even the busiest days(so far at least, as of 2020).  This road is the only paved(not a heavily potholed, gravel road) to access a trailhead to Garibaldi Lake.  Though very busy, the Rubble Creek trail to Garibaldi Lake is constantly maintained to a high standard.  Plenty of helpful mapboards and trail signs keep you on track and aware of where you are.  The tidy, natural dirt trail is wide enough to hike side-by-side most of the time.  The constant ascent from here gets you to the Garibaldi Lake in just a couple hours.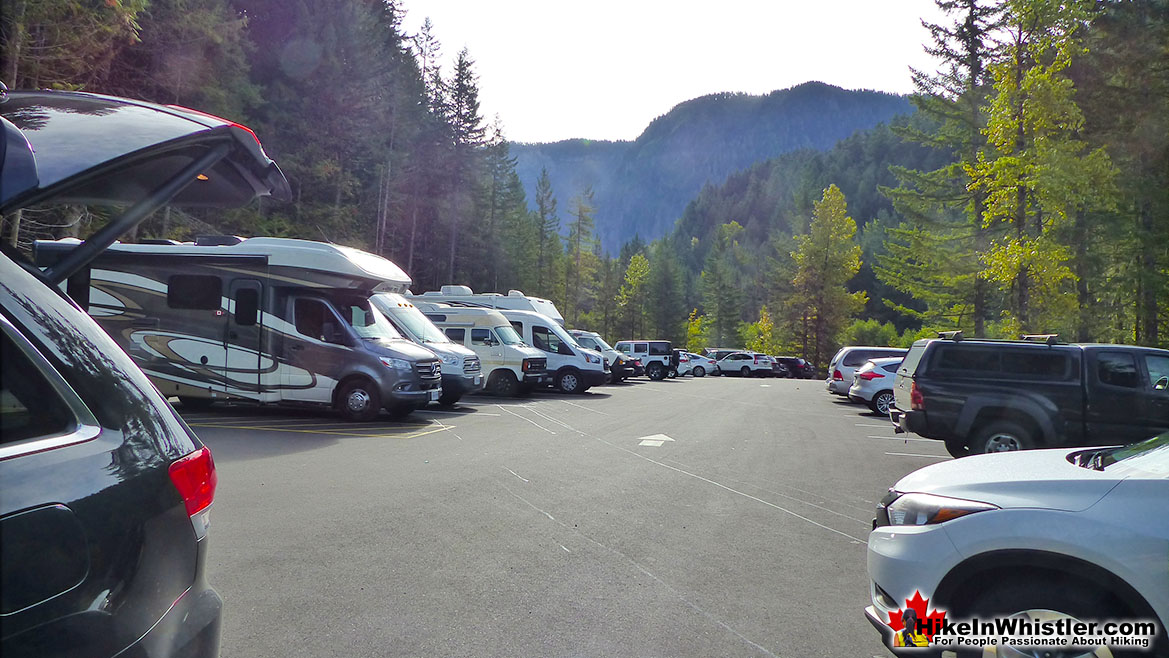 To get to Rubble Creek, drive south from Whistler Village(zero your odometer at Village Gate Boulevard) on Hwy 99.  At 24.7 kilometres look for the Black Tusk(Garibaldi) sign on the highway indicating you to turn left.  There is a nice, and long dedicated left turn lane on the highway here to allow you to safely exit the highway.  There is a fork in the road a couple hundred metre up Daisy Lake road. Take the right fork and continue up the paved road for 2 kilometres to the Rubble Creek trailhead for Garibaldi Lake, Black Tusk, Taylor Meadows, Panorama Ridge and much more.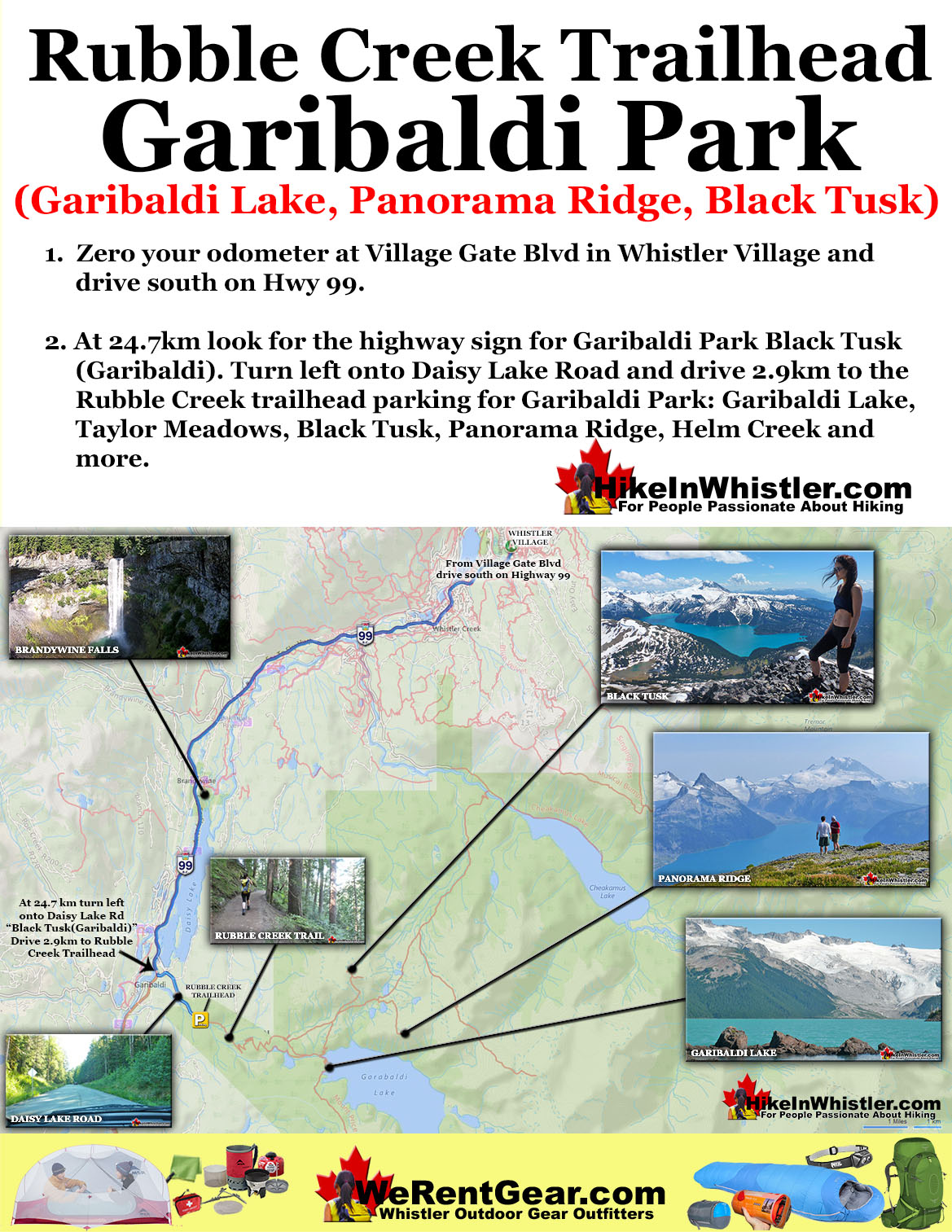 Two Fantastic Books About BC Hiking!


Here are two excellent books on hiking and geology of British Columbia.  Matt Gunn's Scrambles in Southwest British Columbia includes the various routes to the summit of Wedge Mountain as well as summit routes to the neighbouring peaks, Weart, Cook, Parkhurst and Rethel.  Mount Weart is the second highest mountain in Garibaldi Park and is located just north of Wedge Mountain, separated by the Wedge-Weart Col.  Published in 2005, Scrambles in Southwest British Columbia is still the best guide in print or online.  A Passion for Mountains by Kathryn Bridge is a fascinating look at Don and Phyllis Munday's prolific exploration of the mountains in BC.  Based out of Vancouver, they were dominant figures of the climbing community in the early 1900's.  In 1923 they visited their friend Neal Carter in Alta Lake(Whistler) and explored the mountains around the valley.. many for the first time!
**We participate in the Amazon Services LLC Associates Program and earn a small commission on purchases we link through to Amazon at no extra cost to you.  We only link to books and products we love and highly recommend.  Thanks for your support!**
Whistler & Garibaldi Hiking

Alexander Falls  

Ancient Cedars  

Black Tusk  

Blackcomb Mountain  

Brandywine Falls  

Brandywine Meadows  

Brew Lake  

Callaghan Lake  

Cheakamus Lake  

Cheakamus River  

Cirque Lake 

Flank Trail 

Garibaldi Lake 

Garibaldi Park 

Helm Creek  

Jane Lakes 

Joffre Lakes  

Keyhole Hot Springs  

Logger's Lake  

Madeley Lake  

Meager Hot Springs 

Nairn Falls  

Newt Lake 

Panorama Ridge 

Parkhurst Ghost Town 

Rainbow Falls  

Rainbow Lake 

Ring Lake  

Russet Lake  

Sea to Sky Trail 

Skookumchuck Hot Springs  

Sloquet Hot Springs 

Sproatt East 

Sproatt West  

Taylor Meadows  

Train Wreck  

Wedgemount Lake  

Whistler Mountain

January 

February 

March 

April 

May 

June 

July 

August 

September 

October 

November 

December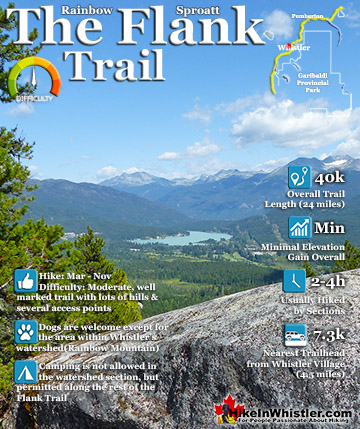 Hiking and biking trails are so abundant in Whistler that many go unnoticed, neglected or taken for granted.  The Flank Trail is one of these.  Most people in Whistler don't even know about it, but the ones ...
Read more
Alexander Falls is a very impressive 43 metre/141 foot waterfall just 30 to 40 minutes south of Whistler in the
Callaghan Valley
. Open year-round and located just before Whistler Olympic Park where several ...
Read more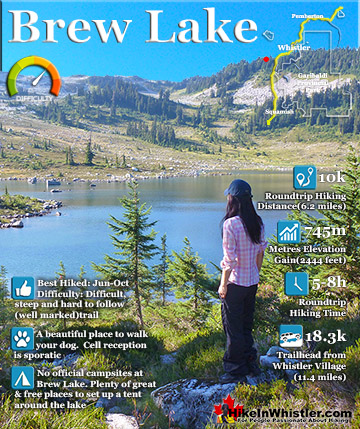 Brew Lake is beautiful mountain lake just a short drive south of Whistler and is relatively unknown and seldom hiked. Laying at the base of Mount Brew, Brew Lake lays in a massive alpine valley of enormous ...
Read more