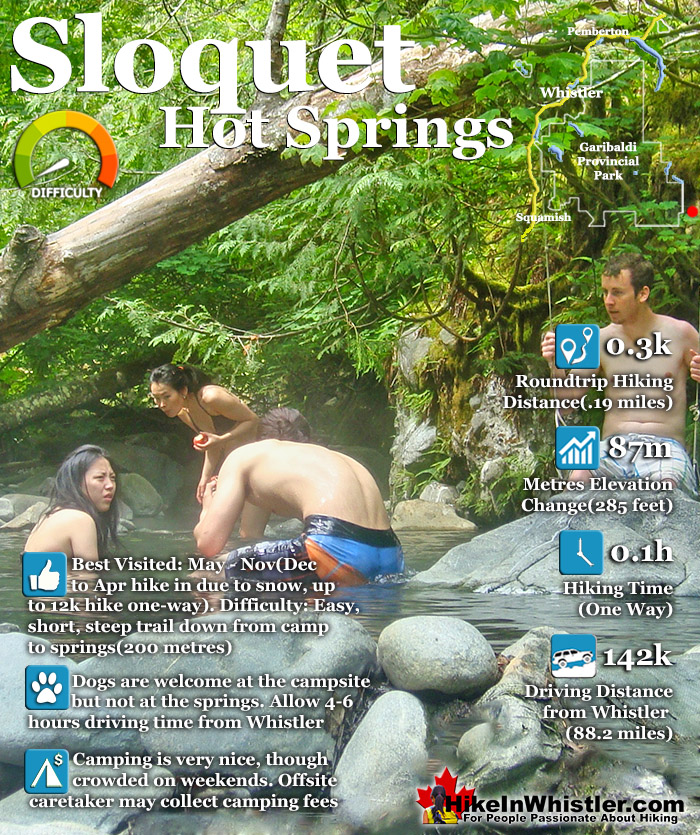 Sloquet Hot Springs is a wonderfully wild set of shallow, man-made pools fed by a small, all natural, and very hot, waterfall. The pools stretch from the waterfall to the large and crashing Sloquet River. The large, spread out campsite for the hot springs lies a short 5 minute walk from the springs. You have to follow a dark and quickly descending trail toward the crashing river.
Incredible setting for relaxing in deep wilderness
Fed by a waterfall & located next to a rushing river
Drive in campsites are nicely spaced in the forest
Springs & campsite are separated by a short trail
Skookumchuck is on the way to Sloquet
Several pools & two are quite large
Far from civilization so often quiet
Well laid out drive-to campsites
Hike there in winter & you will have it to yourself!
Campsite can get rowdy with tailgate parties
Whistler & Garibaldi Hiking

Alexander Falls  

Ancient Cedars  

Black Tusk  

Blackcomb Mountain  

Brandywine Falls  

Brandywine Meadows  

Brew Lake  

Callaghan Lake  

Cheakamus Lake  

Cheakamus River  

Cirque Lake 

Flank Trail 

Garibaldi Lake 

Garibaldi Park 

Helm Creek  

Jane Lakes 

Joffre Lakes  

Keyhole Hot Springs  

Logger's Lake  

Madeley Lake  

Meager Hot Springs 

Nairn Falls  

Newt Lake 

Panorama Ridge 

Parkhurst Ghost Town 

Rainbow Falls  

Rainbow Lake 

Ring Lake  

Russet Lake  

Sea to Sky Trail 

Skookumchuck Hot Springs  

Sloquet Hot Springs 

Sproatt East 

Sproatt West  

Taylor Meadows  

Train Wreck  

Wedgemount Lake  

Whistler Mountain

January 

February 

March 

April 

May 

June 

July 

August 

September 

October 

November 

December
As you near, you can smell the unusual, but kind of nice hot springs scent, and you see steam rising all around you, some steam rising, bizarrely, out of the grass clearing on the edge of the river. On your left a rising cliff, on your right the crashing river.  The path narrows and steepens, leading to a large fallen tree which the trail seems to run to. So huge though as to not worry you walking the length of. Then, there it is. The massive fallen tree flanks it. Nestled between the tree and a cliff, in a large triangular area, with the river forming the third side are the Sloquet Hot Springs. Sloquet Hot Springs is 142 kilometres from Whistler, which translates to well over 3 hours of driving.  Much of the driving is along the In-Shuck-Ch Forest Service Road, which runs the length of the very scenic Lillooet Lake and river. This gravel road takes you well into the wilderness, far from civilization and past quite a few nice sights along the way.  Just 20 minutes north of Whistler you pass Nairn Falls Provincial Park. This is a great pit-stop on the journey to Sloquet, whether you hike the short, 1.2 kilometre trail to the falls or just check out the river viewpoint near the parking lot.  Back on the highway, Pemberton is just 5 minutes north of Nairn Falls. This little town is your last chance for gas, food, alcohol, ect before Sloquet. Continuing through Pemberton, on the way to Sloquet you will pass North Arm Farm.  This is a great place to visit. You can wander around the beautiful farm grounds, visit the interesting farm animals and marvel at the amazing view of Mount Currie. The farm is free to visit and open weekends in the winter and everyday the rest of the year. They have a fantastic cafe with all sorts of baked goods and lunch items as well as various farm fresh produce for sale as well.  Also, a great place for your last coffee before entering the wilderness.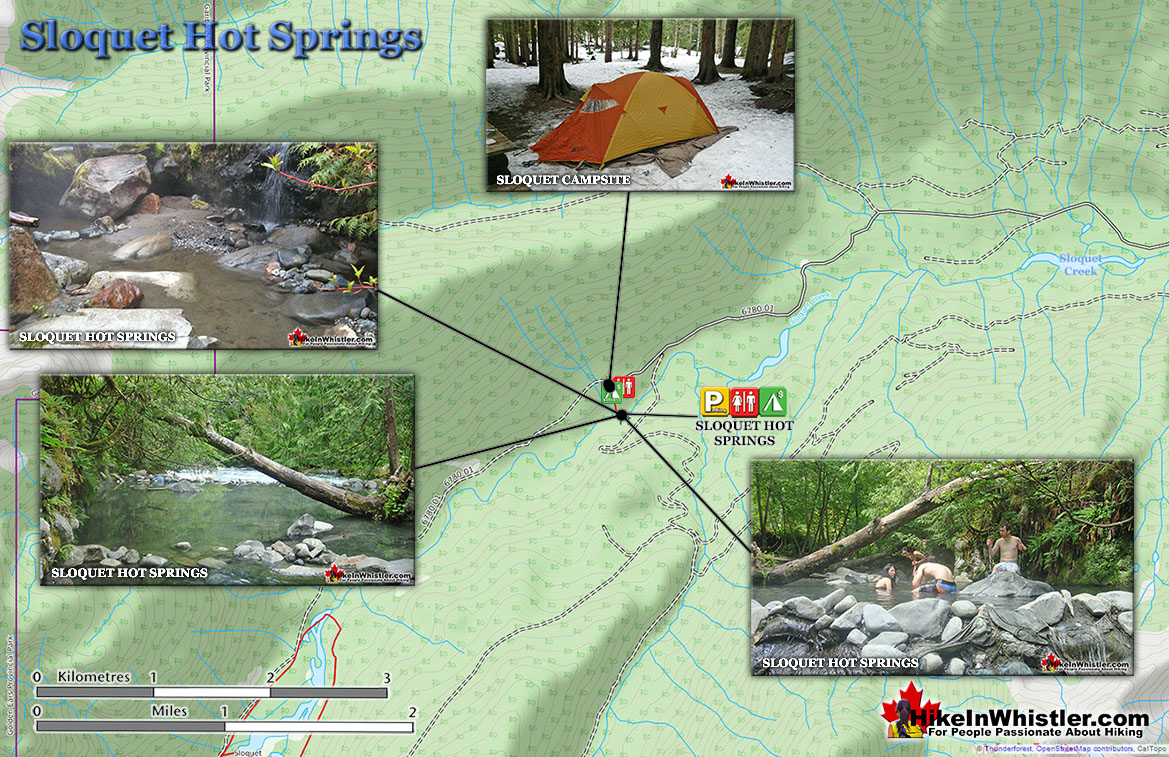 Driving to Sloquet Hot Springs
Another 10 minutes on the highway further and you come to the turnoff to the In-Shuck-Ch Forest Service Road and begin the long and beautiful drive along Lillooet Lake.  There are several excellent places to stop along the way. From the obvious and frequent viewpoints along the road to the numerous campsites along the way. Even if you have no intention of camping, these are great places to stop and see Lillooet Lake, have a beer, swim, or all three. Depending on the season, Lillooet Lake can be emerald, though cloudy green or muddy brown. This is all dependent on the spring runoff and especially the silty brown, Lillooet River that flows into Lillooet Lake from Pemberton.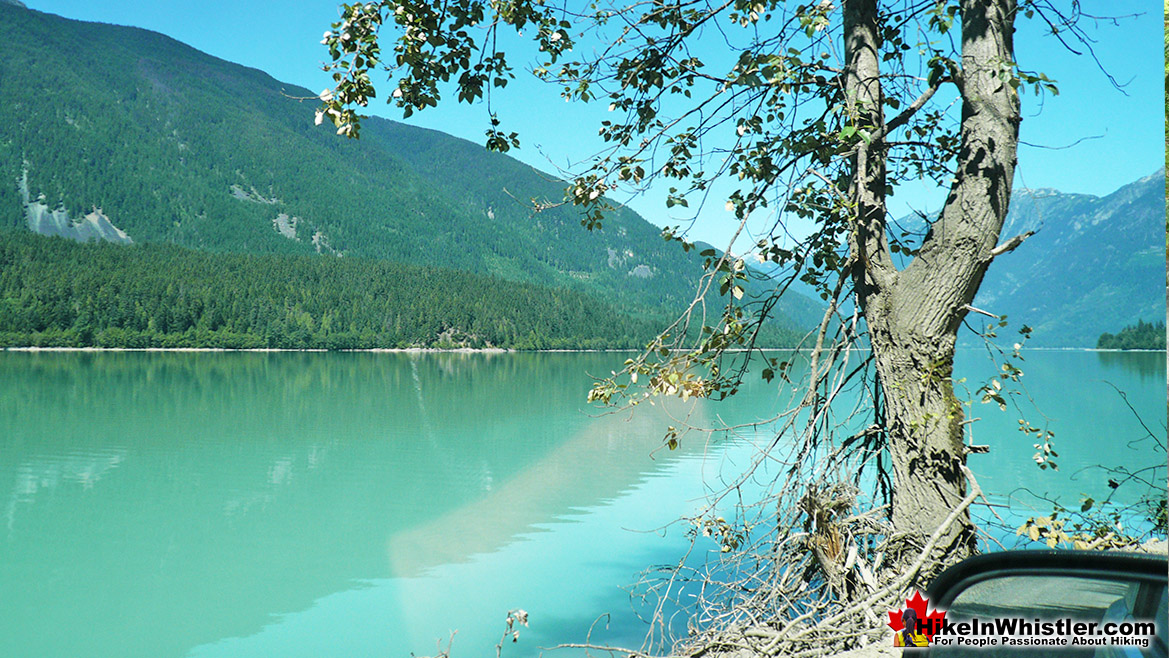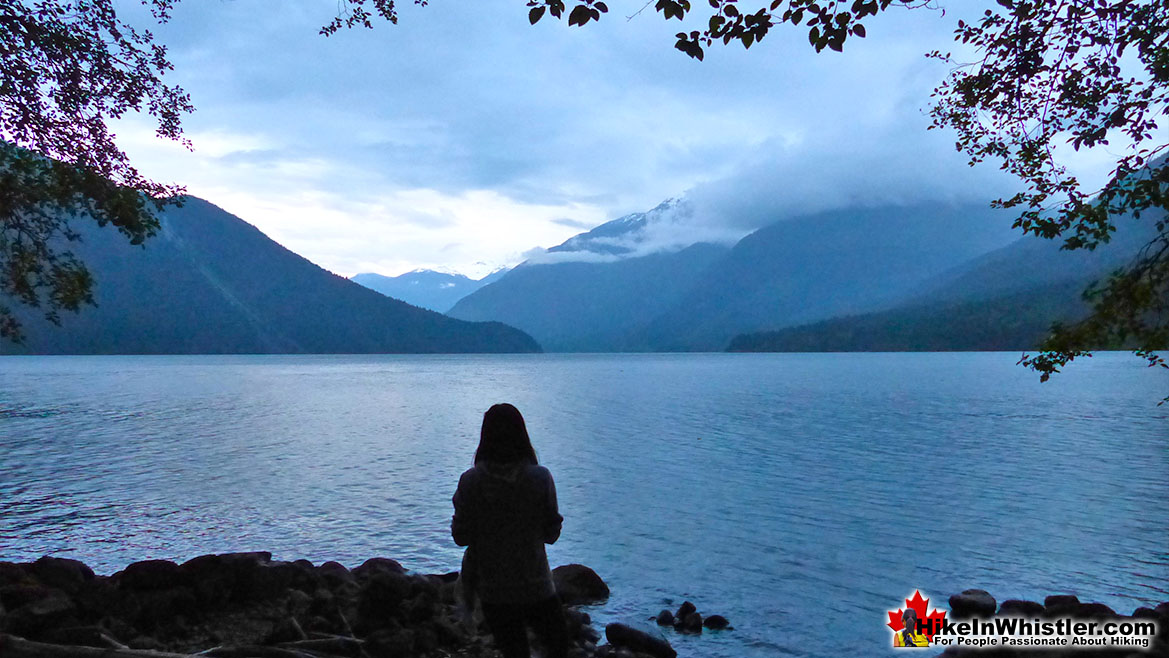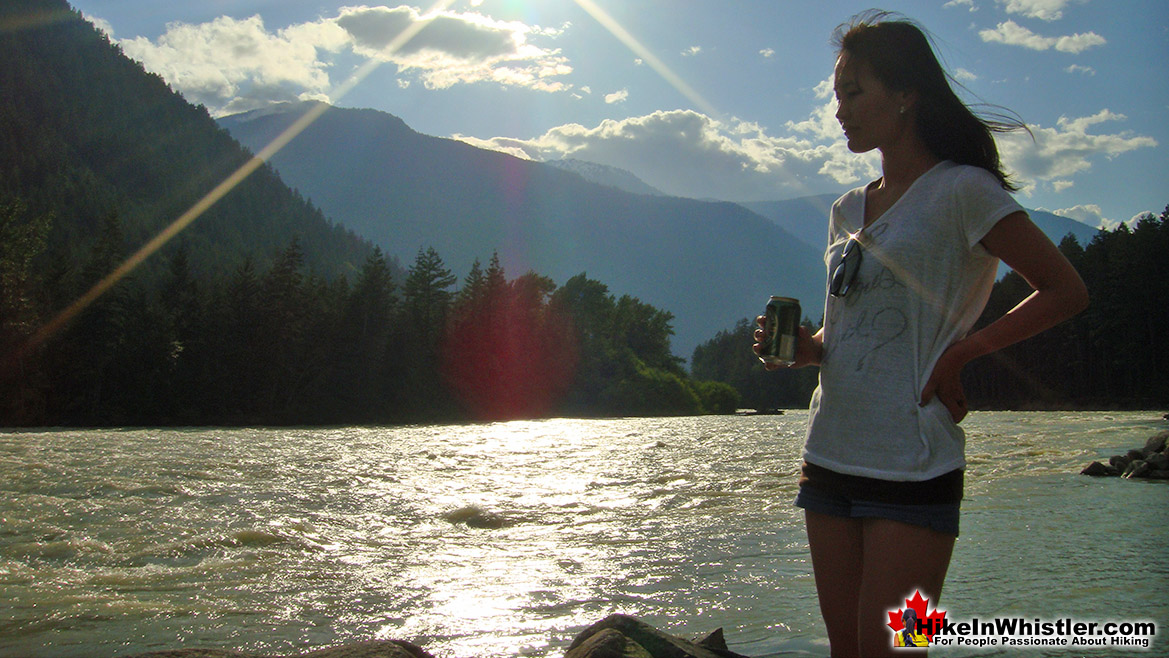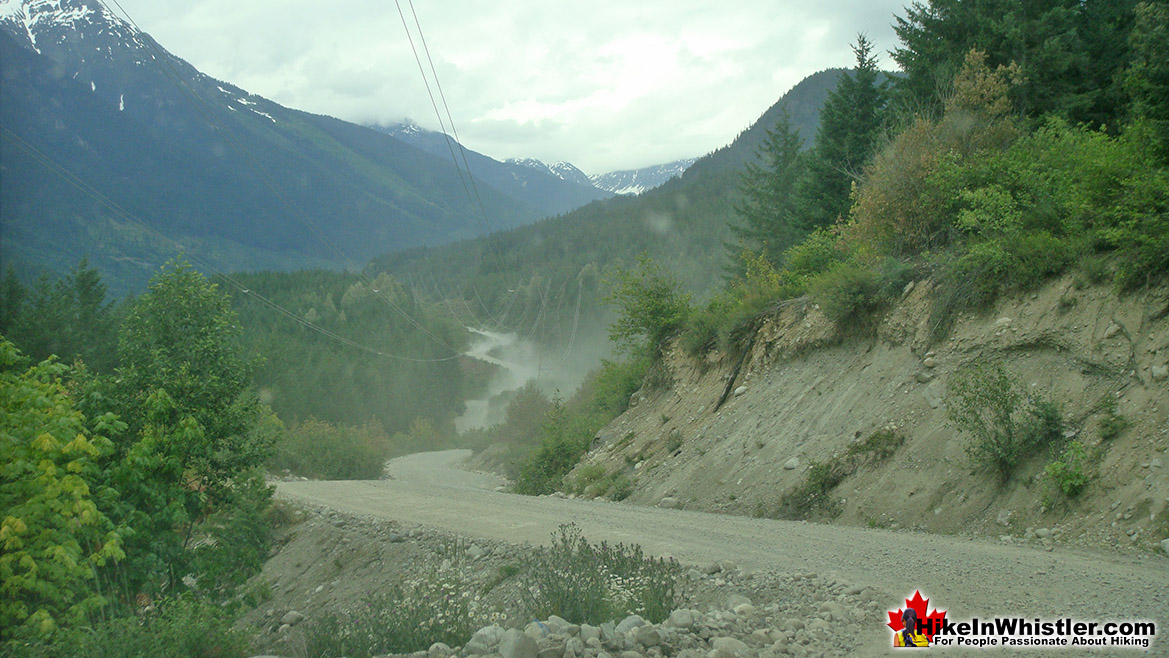 Skookumchuck Hot Springs on the Way to Sloquet
At 96 kilometres from Whistler Village you will come to Skookumchuck Hot Springs. This is a popular and beautiful campsite along the edge of Lillooet River and home to an odd collection of hot spring fed tubs. Though Skookumchuck is a bit messy looking, you would be crazy to not stop for an hour or two and give the tubs a try. It is a strange feature of Skookumchuck, that after you give the place a chance, you fall in love with the place. Despite the usually bad first impression most get, after 5 minutes in one of the tubs, the place becomes warm and welcoming.  There is a drop in charge of $7.50 to use the springs and you will find a cash and envelope drop box on the way in by the caretaker house, or you may see the friendly caretaker and can pay him.  If you can, get him talking. He's very funny and full of great stories about just about every subject you can imagine.
The Road to Sloquet Hot Springs
The final few kilometres to Sloquet is not terribly scenic except for the beautiful river crossing which will probably be your last stop before Sloquet. This very high, one lane, old-school logging bridge towers over, and is an amazing viewpoint over the Lillooet River. The sides of the bridge have a wooden, bench-like railing that all but invites you to sit, swing your legs over and watch the mighty, green whirling water below you. From here, Sloquet is just 20 minutes away, and the potholes quickly become gigantic. The beauty and wildness of Sloquet brings quite a few people to the area during some weekends and in the summer months. There is quite a lot of industrial activity in the area as well that brings in the occasional large groups of boisterous workers to the area.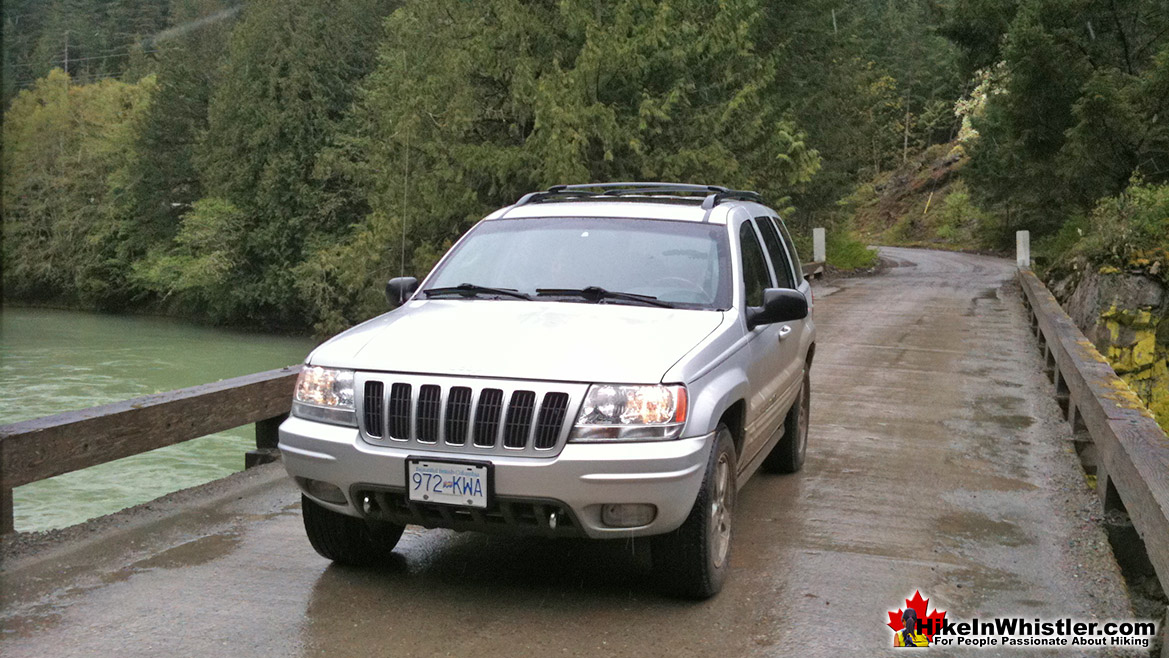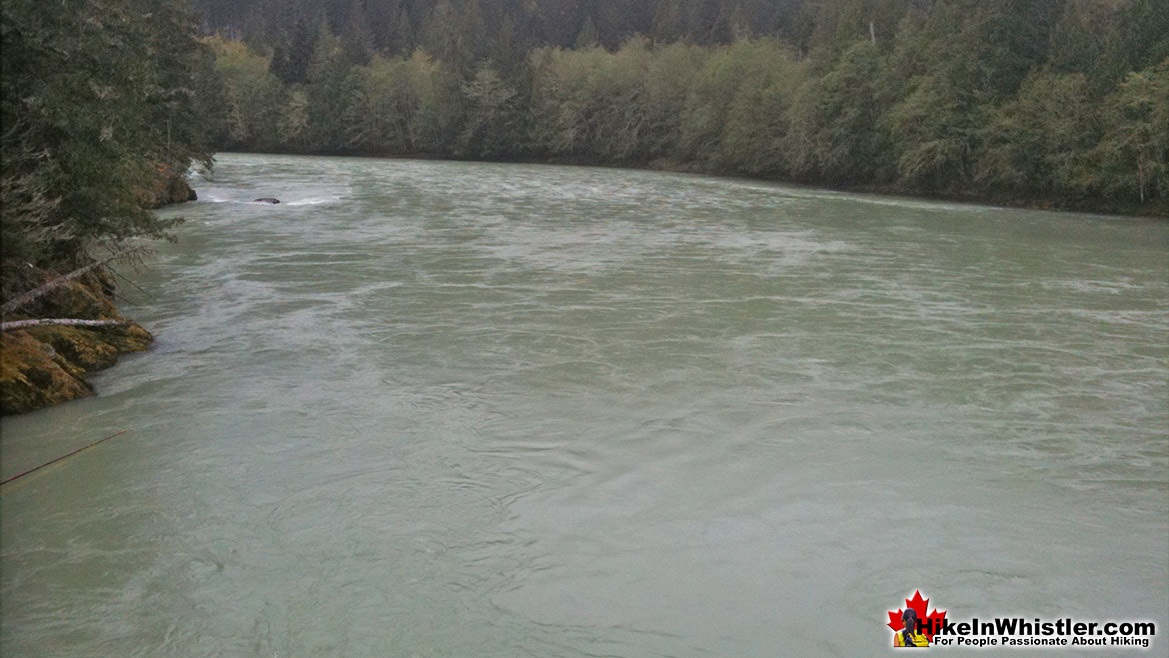 Sloquet Hot Springs Campsite
Though you will often find the campsite a loud and chaotic place with music playing and two or three campsite parties, the hot springs, a couple hundred metres away, serene and tranquil. This is one of the accidental beauties of Sloquet. The campsite and the hot springs are separated by this steep, short trail and deep forest keeps them apart from each other. The tailgate parties that sometimes erupt at the campsite are far removed from the hot springs oasis wedged between the river, cliff and forest. Sloquet is quite a contrast to its closest, well known neighbour, Skookumchuck Hot Springs. Skookumchuck is shabby, institutionalized and far from natural. Sloquet is beautiful, natural and serene. It consists of seven pools formed with rocks positioned to segment pools out of what must have been one huge pool. Recently, in late 2013, dozens of volunteers did a massive cleanup of the pools, forming them into a more natural and even more beautiful place to be.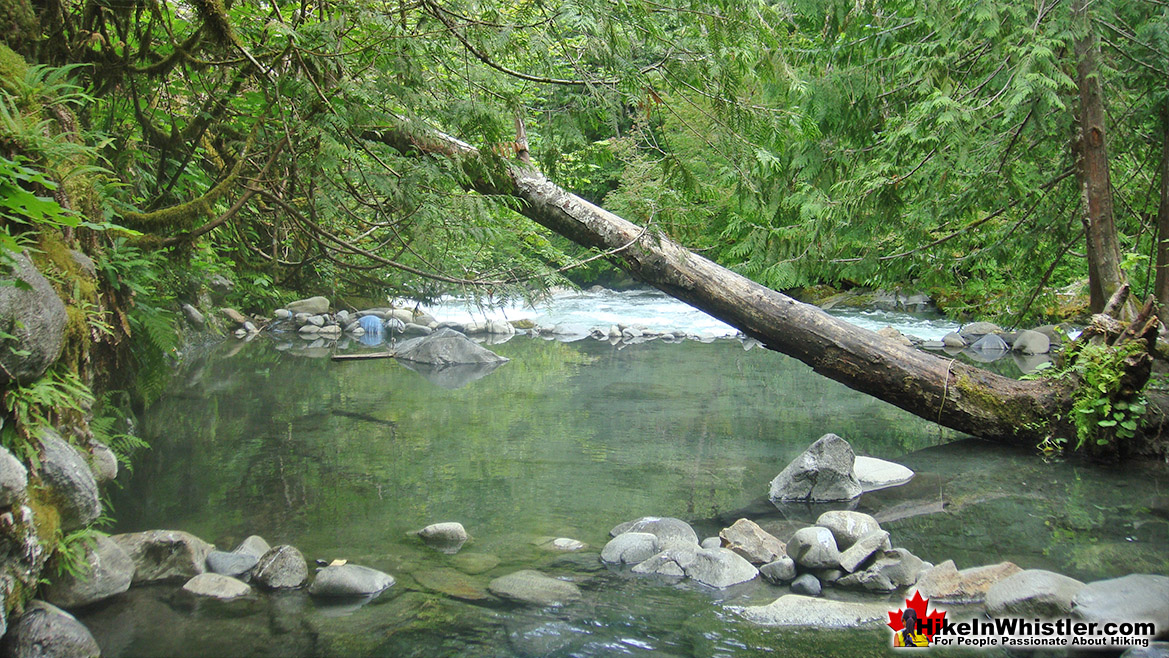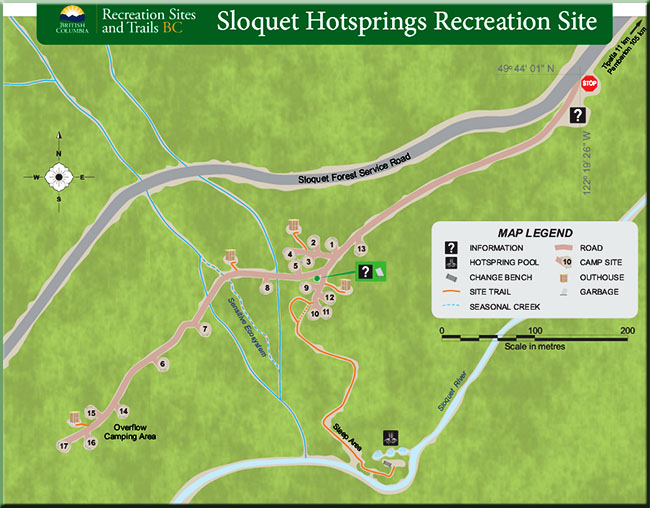 It is the natural, cozy and hidden feeling you get at the Sloquet Hot Springs that makes it special. Every(natural) aspect of the springs seems fined tuned for comfort. The cold, dark cliff at your back, specked with candles. Natural little rock coves and multiple pools to separate your conversation from your neighbours. The majestic river so loud and so close. The scent of cedar from the huge, thick forest spread out in front of you. As if it could get any more perfect you can't help but smile at the little waterfall that feeds these beautiful pools.  Cascading down the ancient looking cliff, alive with rainforest life growing out of every inch. What a wonderful place.
Sloquet Hot Springs campsite is dog friendly and your pet will almost certainly find a playmate or two while there. The wilderness around Sloquet is definitely bear country and having your dog with you will give you peace of mind while sleeping. 2012 saw some problems with wild dogs in the area that made the news. An attempt was made by WAG in Whistler to deal with the situation and upon their arrival one dog was killed by a Sloquet caretaker and another soon after. By all accounts this seems likely to not happen again as the trigger-happy caretaker heard quite a public backlash after the incident.  Keep in mind that, though dogs are welcome in the campsite and endless wilderness around, having them in and around the hot springs is a definite no-no.
The very large and spread out campsite has evolved over the years into over a dozen large clearings.  Each with room to park a vehicle or three, a couple tents and most have fire rings set up to use.  There are four outhouses in the area and some picnic tables. These outhouses are notorious for never being serviced, despite the hefty user fees that are sometimes asked for. Officially there is a day use fee of $5 and a camping fee of $15(per site), however, you, for the most part, only see anyone to collect during weekends and busy summer months.  It is interesting to note that the hot springs pools are maintained, cleaned, etc by hot springs users/enthusiasts/volunteers and not by the TTQ Economic Development Corporation, which collects fees as the "Site Operator", and evidently little else.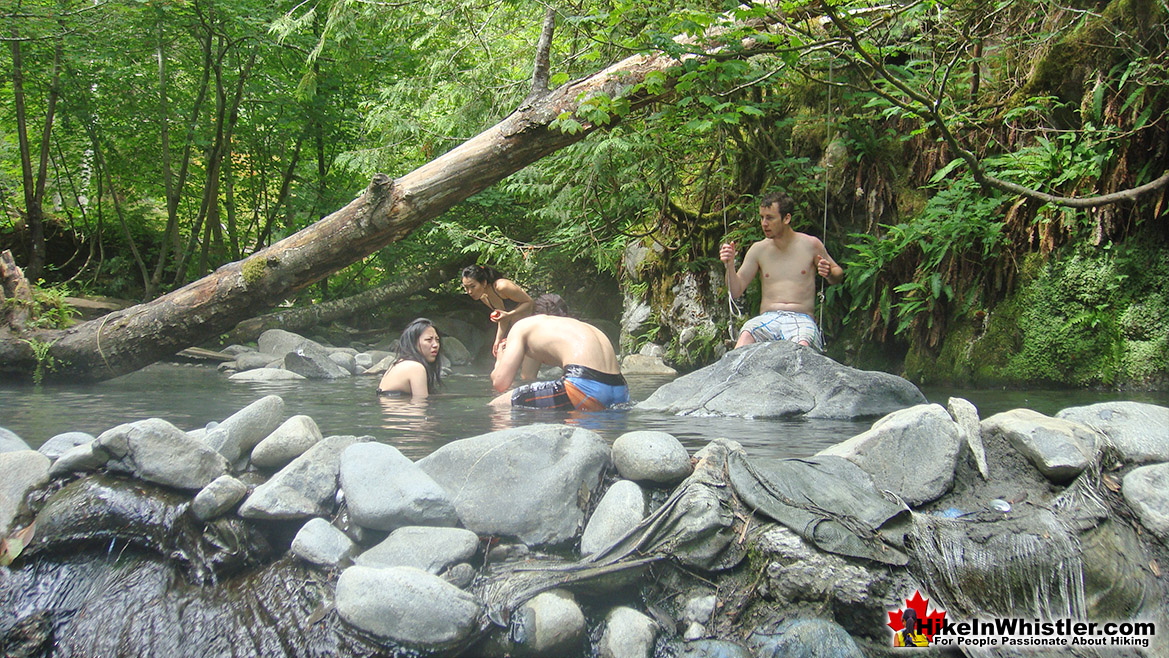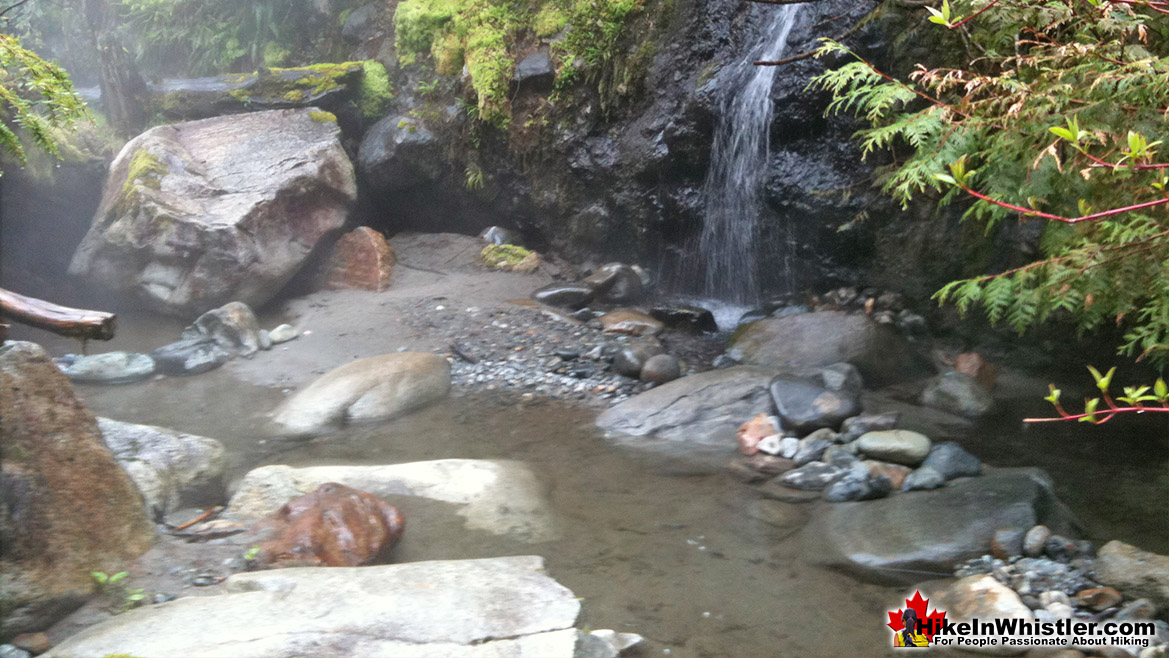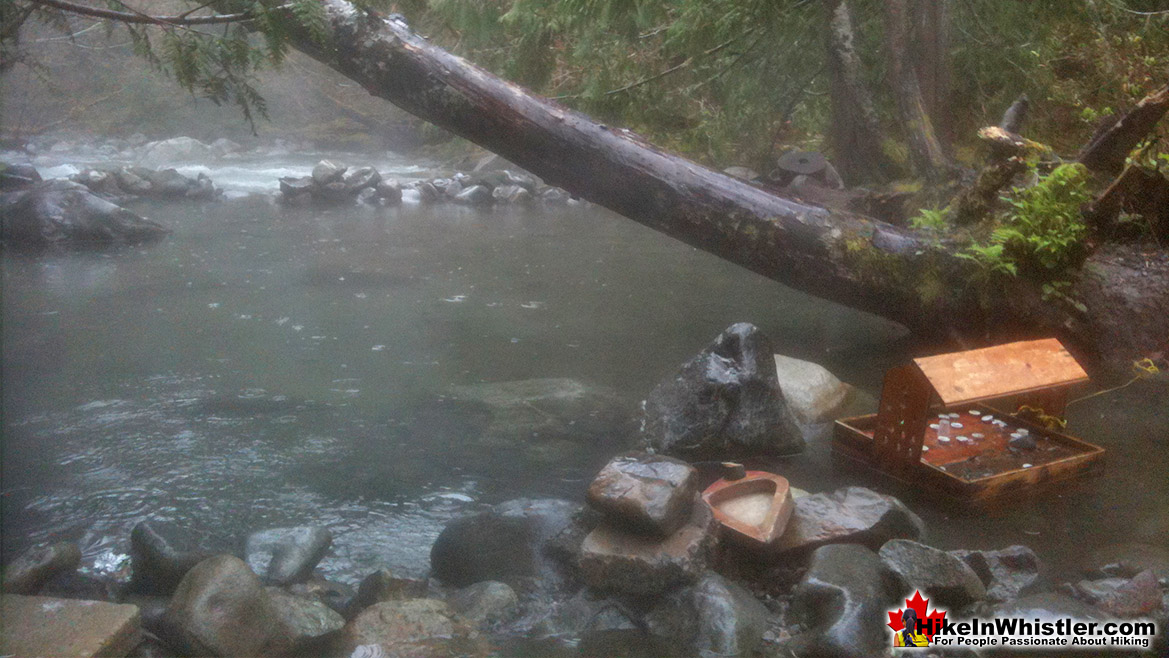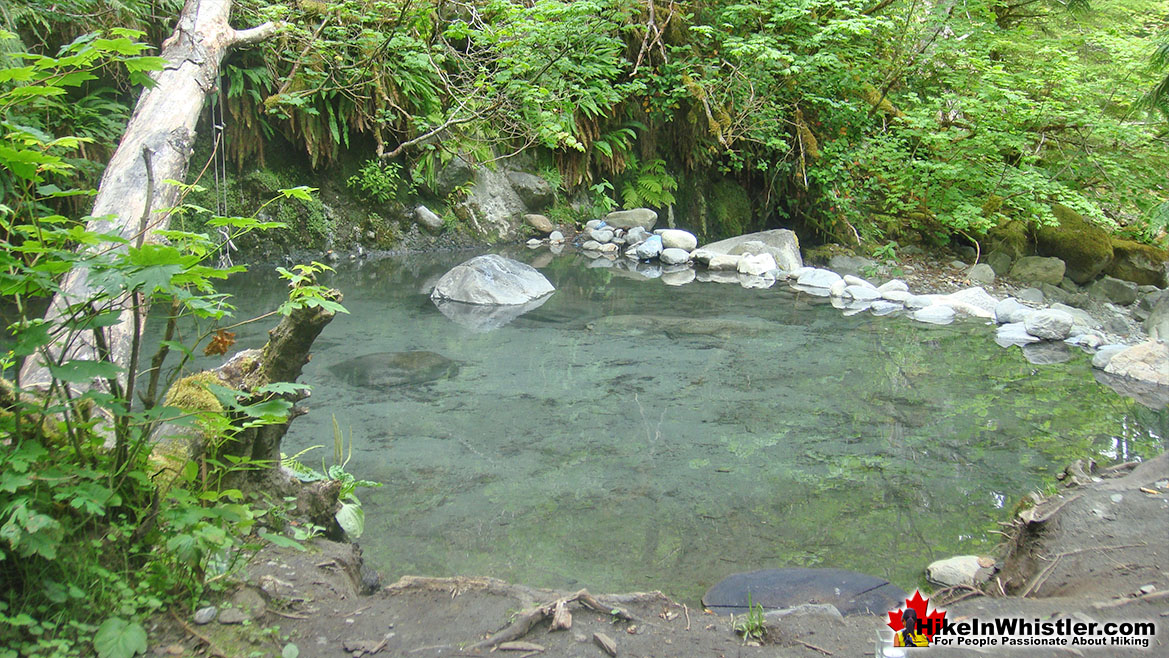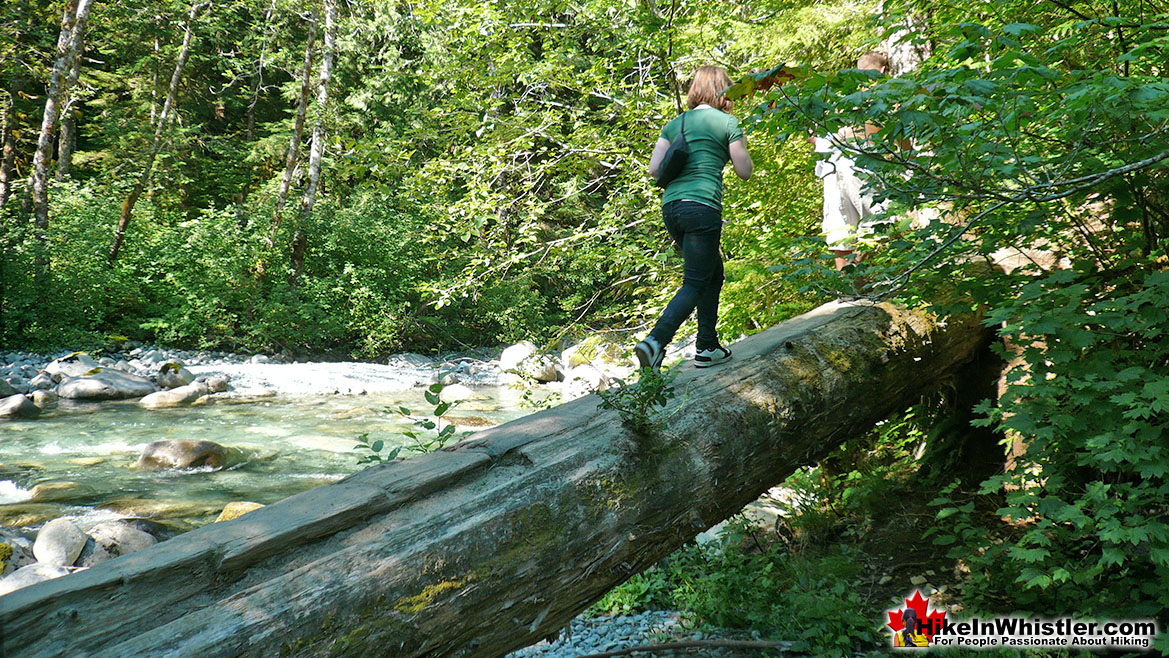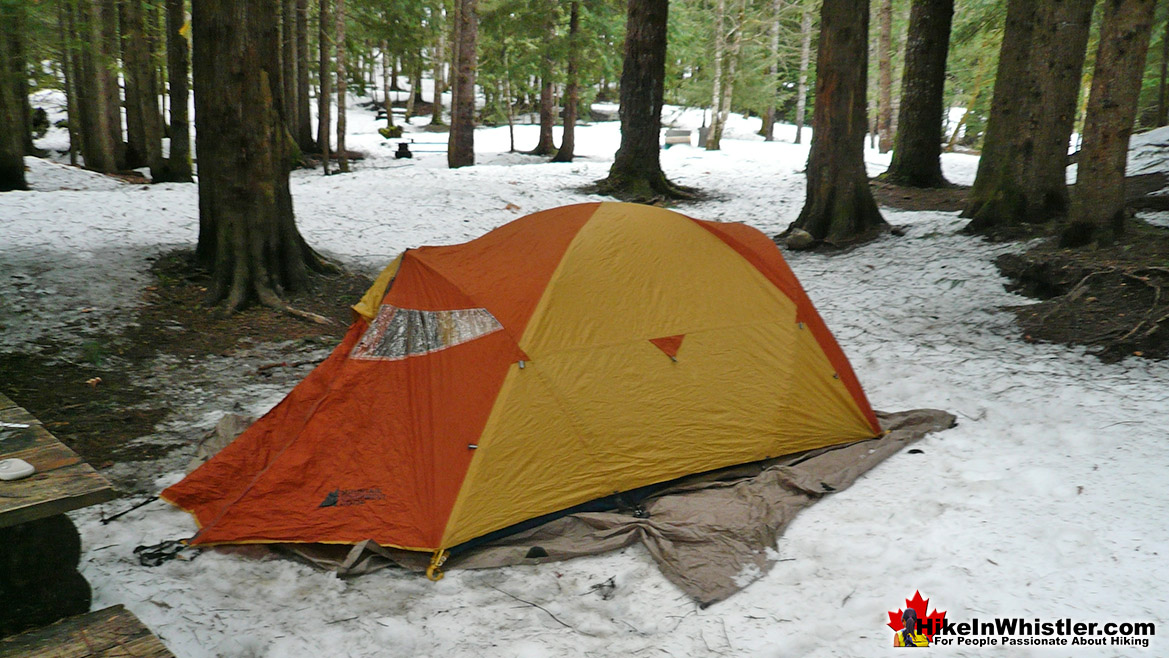 Directions to Sloquet Hot Springs

From Whistler, zero your odometer in Whistler at Village Gate Boulevard and follow highway 99 (Sea to Sky Highway north toward Pemberton.  At 32km you will arrive at Pemberton, an intersection, with a Petro Can gas station on your left and Mcdonalds to your right. Continue straight, through Pemberton. At 39km turn right at the sign to Lillooet(pictured left). Follow this winding road, for 10km and soon (5-10 minutes) you will come to the massive Lillooet Lake on your right. At 49km turn right, just as you pass the lake on your right you will see a sign for the In-Shuck-Ch Forest Service Road(pictured right). Continue down this logging road as it hugs the mighty Lillooet Lake on your right. At 78.8km you will come to a fork in the road. Bear left and you will immediately see another sign to the Skookumchuck Hot Springs. At 96.5km, on your right you will pass the sign welcoming you to "St. Agnes Well, T'sik, Skookumchuck Hot Springs" At 126.5km you will come to a slight fork in the road. Keep to the right and cross the massive bridge across Lillooet River. After a kilometre or so you will come to an intersection, turn left. At 131km you will see the sign to Sloquet Hot Springs. Turn right, then immediately left, follow this for 11km and look for the sign and entrance on your left for the Sloquet Hot Springs campsite. The trail to the hot springs descends quickly from the first big cluster of campsites on the left. Location 50°34.4' 123°28.0'.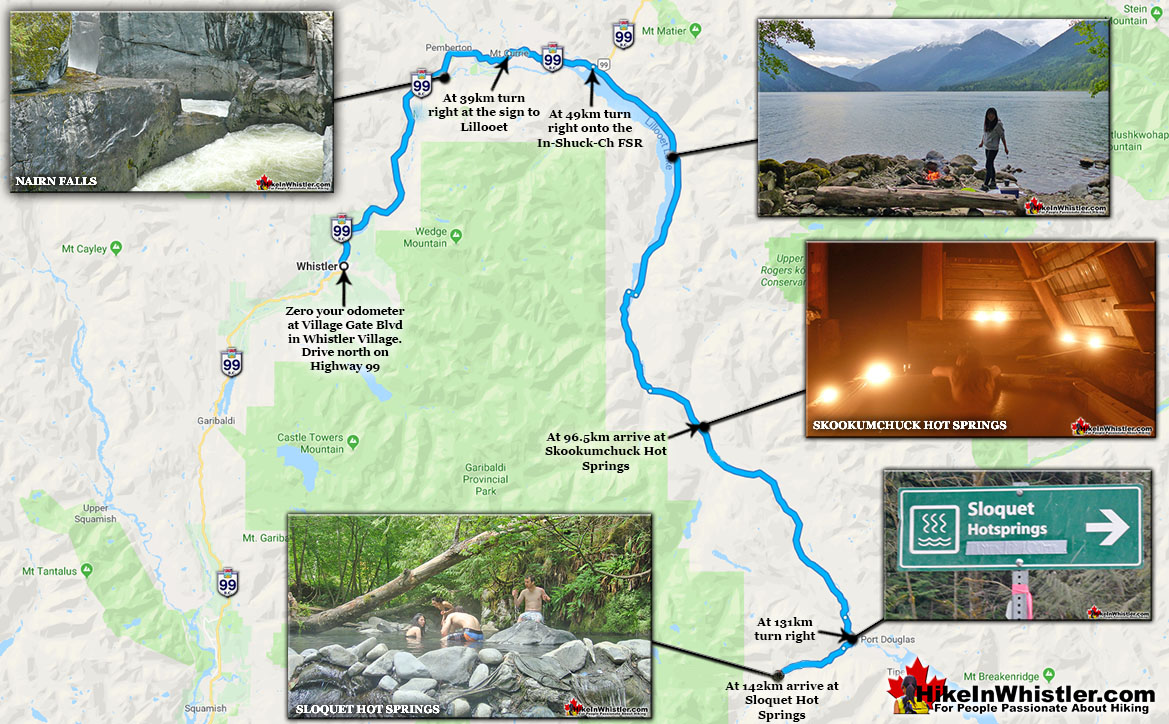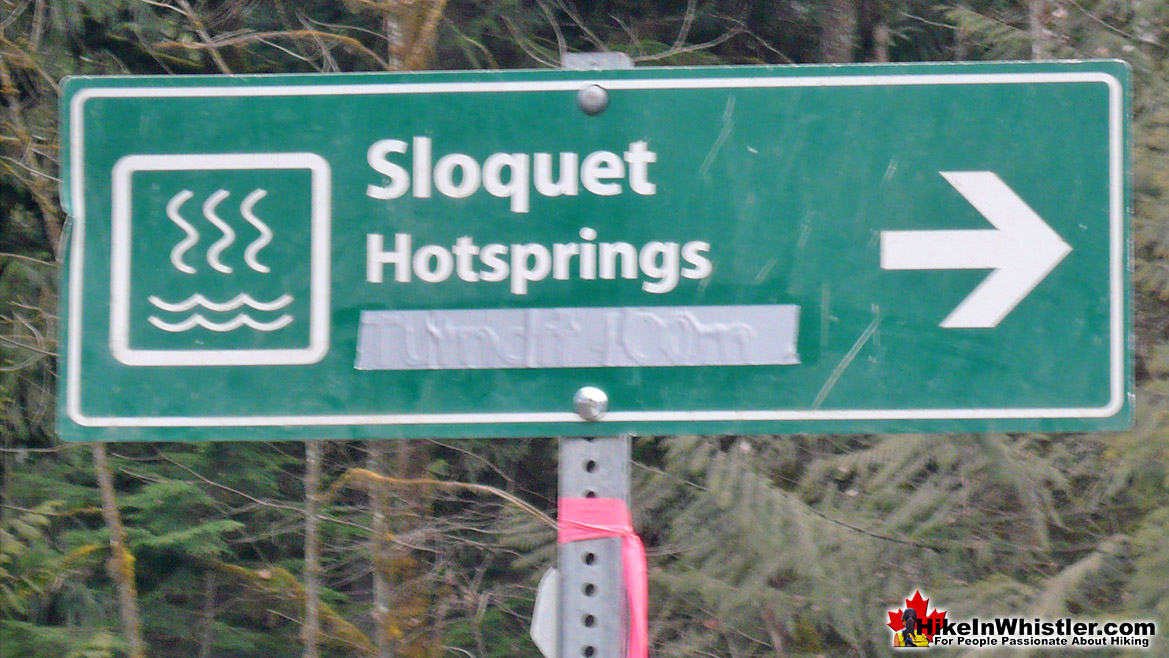 Due to the year-round use of these logging roads, they are maintained by snowplows, however, the last 11 kilometres are not. Certainly from December to March this last section of road will have to be hiked with some difficulty. Often you can drive part of this section of road until the snow becomes too deep. There are plenty of wide areas to park or(turn around) out of the way of others attempting to drive to the campsite.

Keyhole Hot Springs 

Meager Hot Springs 

Skookumchuck Hot Springs 

Sloquet Hot Springs
Skookumchuck Hot Springs - Whistler Area Hot Springs

Skookumchuck Hot Springs, located two hours north of Whistler, and on the way to Sloquet Hot Springs. The name Skookumchuck means "strong water" in the language of the Chinook people of the Pacific Northwest. The name is associated with the hot springs because of the nearby First Nation community of Skatin, which was once called Skookumchuck.  The Skookumchuck Hot Springs were also once known as St. Agnes Well during the days of the Fraser Canyon Gold Rush, but that name has fallen into disuse. They are also known locally by the Skatin name as the T'sek Hot Springs.  The hot springs start in a pool which is far to hot to use so there are a network of tubes emanating from this pool to feed a ramshackle array of tubs. There are five tubs, which include one very large one under an A-frame which could hold 10 people and is beautifully comfortable. A smaller one under a half A-frame privacy screen which could hold 8 under the stars.  And three more open tubs. Clothing, you will quickly discover, is optional.  Continued here...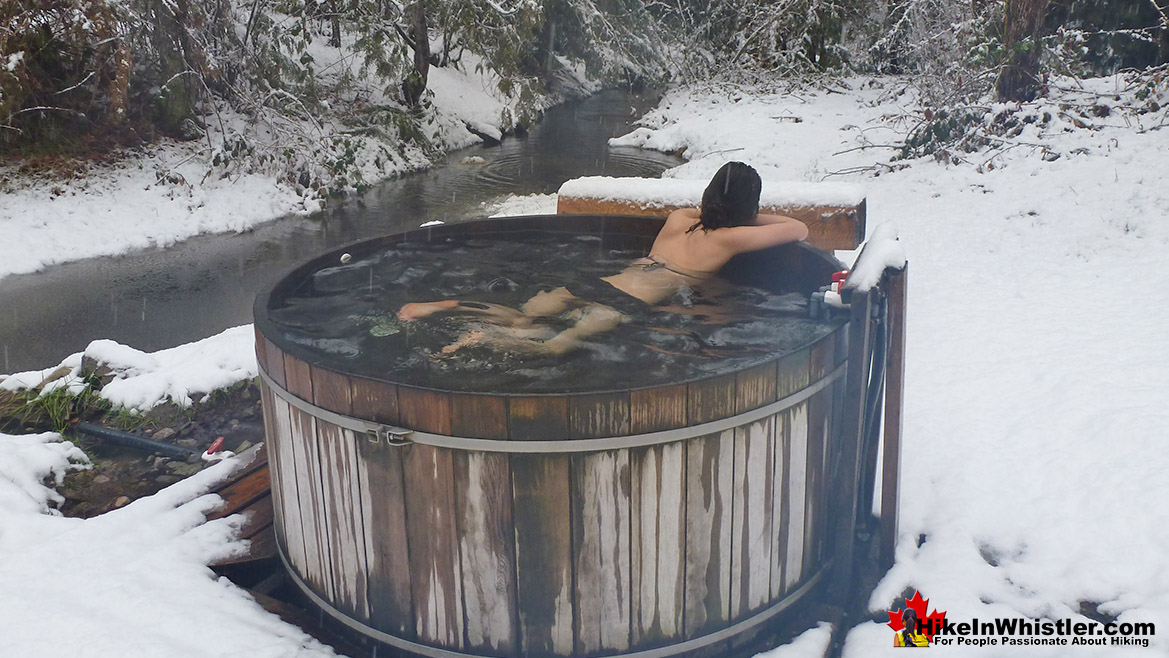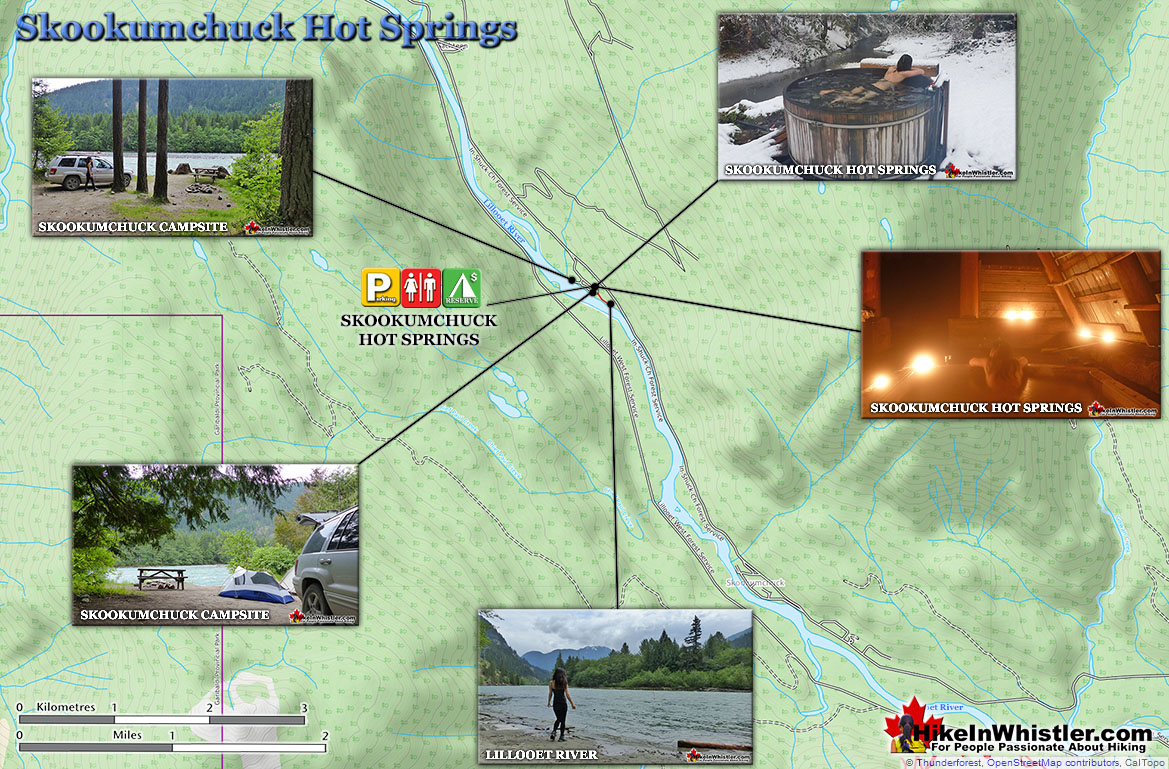 Keyhole Hot Springs - Whistler Area Hot Springs

Keyhole Hot Springs (aka Pebble Creek Hot Springs) is located 100 kilometres from Whistler(Village Gate Blvd). Though most of the 100 kilometres is on logging roads, it is driveable by most cars without any trouble. The massive Innergex hydroelectric project has turned this once quiet wilderness into a war-zone. On the plus side, the old logging roads near Keyhole Hot Springs are now well maintained and smooth.  The hot springs at Keyhole flow out of the ground adjacent to the swirling, crashing and wonderfully glacier coloured water of the Lillooet River.  The colour varies with the season, but for the most part it is a wonderful, deep, milky turquoise.  When the sunlight penetrates the deep valley, the milky turquoise changes to an unnaturally bizarre, emerald green colour as it swirls all around you. Sitting in the springs you look across to the vertical rock face and the massive, truck sized chunks of it that lay in the river next to you.  Continued here...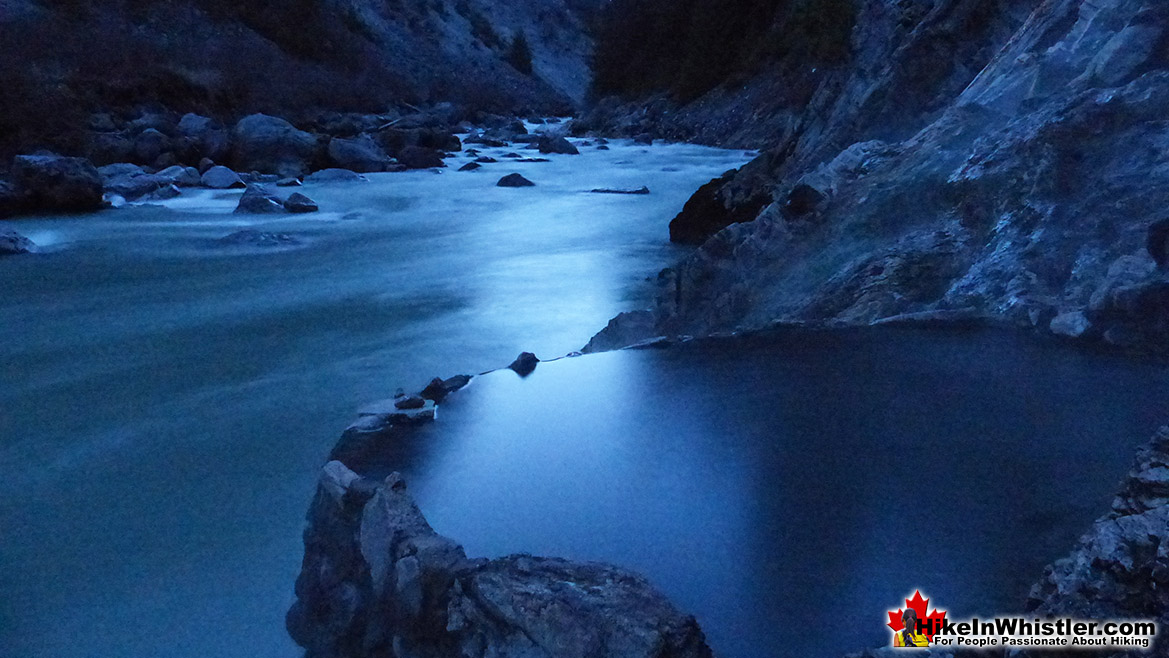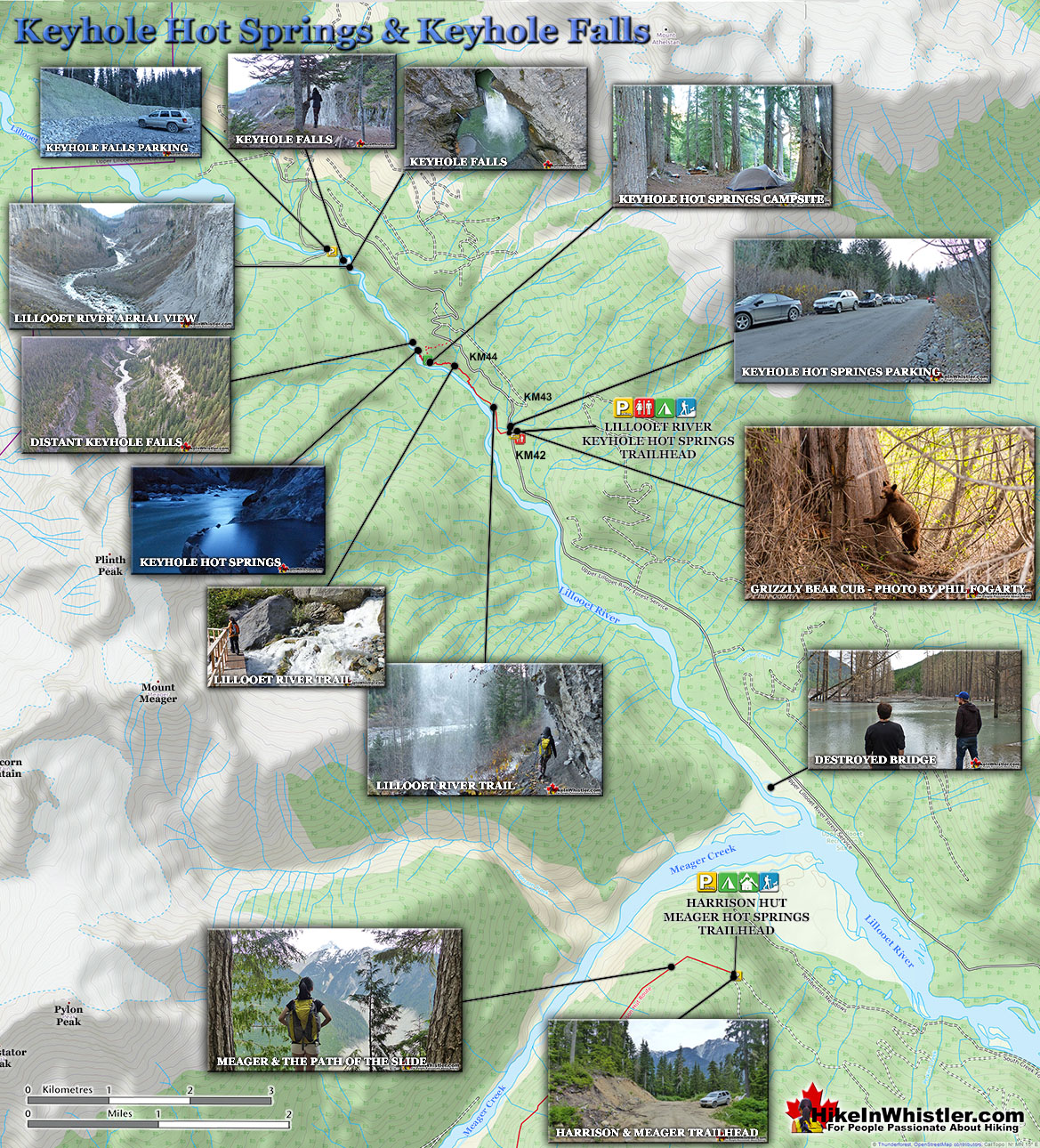 Meager Hot Springs - Whistler Area Hot Springs

Meager Hot Springs(aka: Meager Creek Hot Springs) is located 93 kilometres northwest of Whistler, was beautifully developed into gorgeous pools, with a caretaker and usage charge.  At its height of popularity, Meager Hot Springs had 30,000 yearly visitors. Unfortunately, due to two recent massive landslides it seems unlikely to ever officially reopen.  Just a decade ago, in 2009, a nice, expensive access bridge was installed.  A few months later it was dramatically obliterated from another slide in 2010. In 2014 the new VOC Harrison Hut Trail was mostly completed, allowing access to Meager Hot Springs once again. Currently this access road is in a bit of a construction zone, so don't be surprised if the road is blocked by a rock slide or road construction.  The old access bridge over the Upper Lillooet River which cost nearly a million dollars was wrecked in seconds in 2010.  In 2014 a new route was built to Meager Hot Springs by the UBC Varsity Outdoor Club.  Continued here...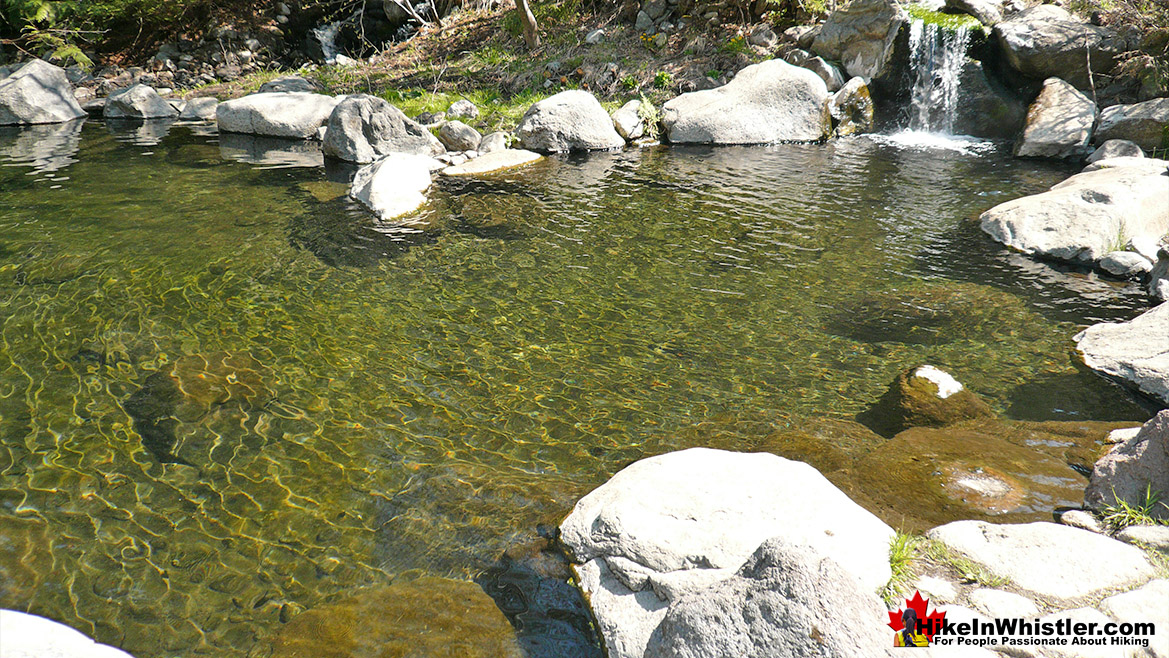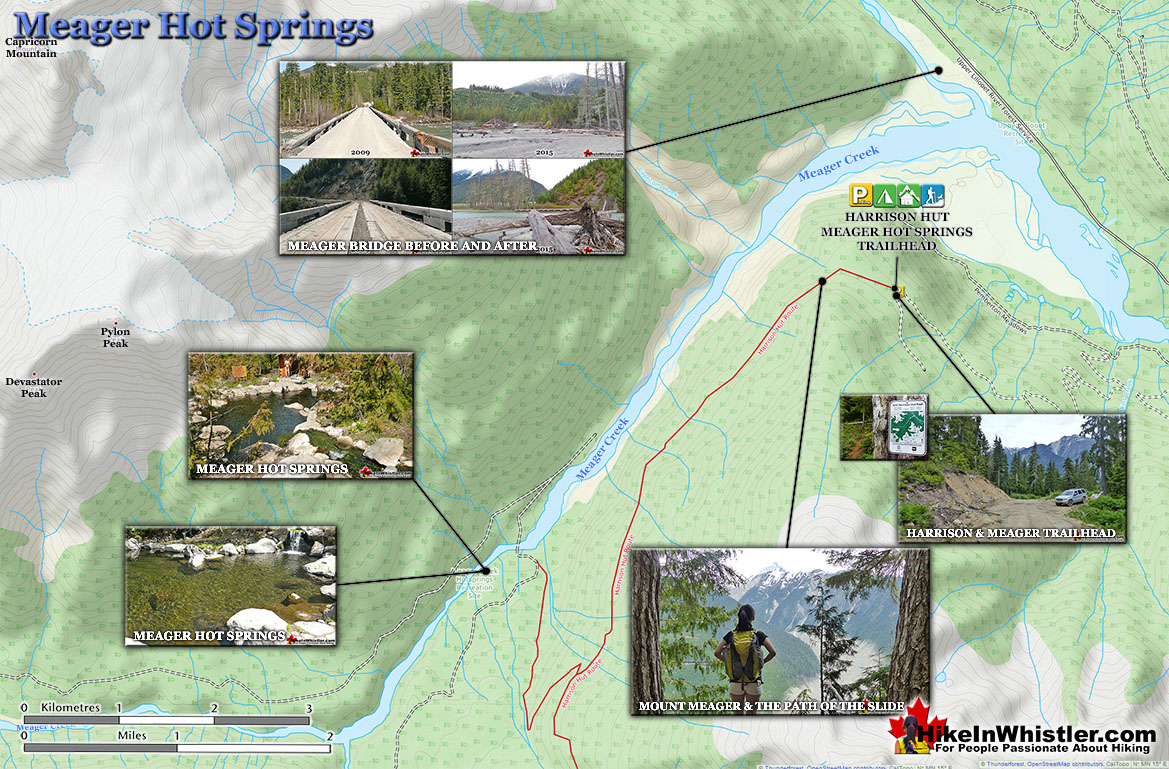 Whistler's Best Hiking Trails!
Whistler & Garibaldi Park Best Hiking by Month!

Explore BC Hiking Destinations!