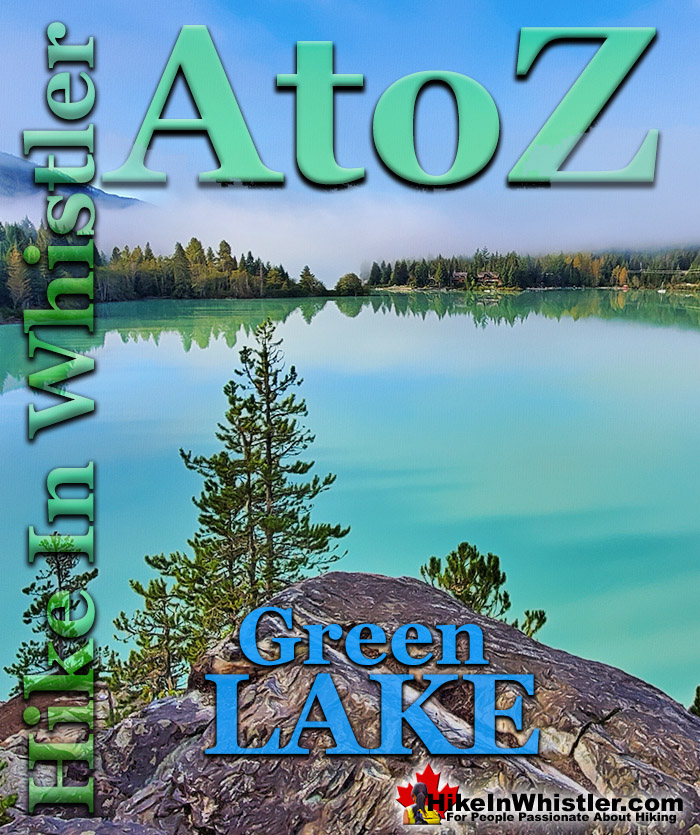 Green Lake is the marvellously vivid, green coloured lake just north of Whistler Village.  Driving north on the Sea to Sky Highway, Green Lake appears along the highway on your right.  The vivid colour is always impressive and on a sunny day can be spectacular.  One of the best, and easiest places in Whistler to capture an extraordinary sunrise or sunset photo is along the Green Lake viewpoint along the edge of the highway.
Whistler & Garibaldi Hiking

Alexander Falls  

Ancient Cedars  

Black Tusk  

Blackcomb Mountain  

Brandywine Falls  

Brandywine Meadows  

Brew Lake  

Callaghan Lake  

Cheakamus Lake  

Cheakamus River  

Cirque Lake 

Flank Trail 

Garibaldi Lake 

Garibaldi Park 

Helm Creek  

Jane Lakes 

Joffre Lakes  

Keyhole Hot Springs  

Logger's Lake  

Madeley Lake  

Meager Hot Springs 

Nairn Falls  

Newt Lake 

Panorama Ridge 

Parkhurst Ghost Town 

Rainbow Falls  

Rainbow Lake 

Ring Lake  

Russet Lake  

Sea to Sky Trail 

Skookumchuck Hot Springs  

Sloquet Hot Springs 

Sproatt East 

Sproatt West  

Taylor Meadows  

Train Wreck  

Wedgemount Lake  

Whistler Mountain

January 

February 

March 

April 

May 

June 

July 

August 

September 

October 

November 

December
Compared to the other lakes around Whistler Village, Green Lake is quite large at well over one kilometre long and has an average width of 650 metres.  Because of its large size, Green Lake doesn't warm up much in the summer and is not known as a swimming lake as Lost Lake, Alta Lake, Alpha Lake and Nita Lake are.  With the railway line on one side of the lake and the Sea to Sky Highway on the other, Green Lake has relatively few houses along the shore.  Nicklaus North Golf Course sits at the end closest to Whistler Village, along with Whistler's airport.  The airport consists of about three float planes docked at a small wharf.  The beautiful Valley Trail runs along the southern shore of Green Lake, past the airport, then veers right, through the golf course and on to Lost Lake. Green Lake is fed by Fitzsimmons Creek and The River of Golden Dreams.  Both water bodies figure prominently in Whistler's history.  The River of Golden Dreams runs from Rainbow Park on Alta Lake and is a lovely, meandering river that is a popular route via canoe, kayak, paddleboard, and most frequently hordes of small inflatable boats.  The five kilometre distance between Alta Lake and Green Lake, makes it an always entertaining journey.  Where The River of Golden Dreams is a slow, meandering, relaxing river, Fitzsimmons Creek is a fast, crashing torrent of water descending from Fitzsimmons Glacier high up in the mountains.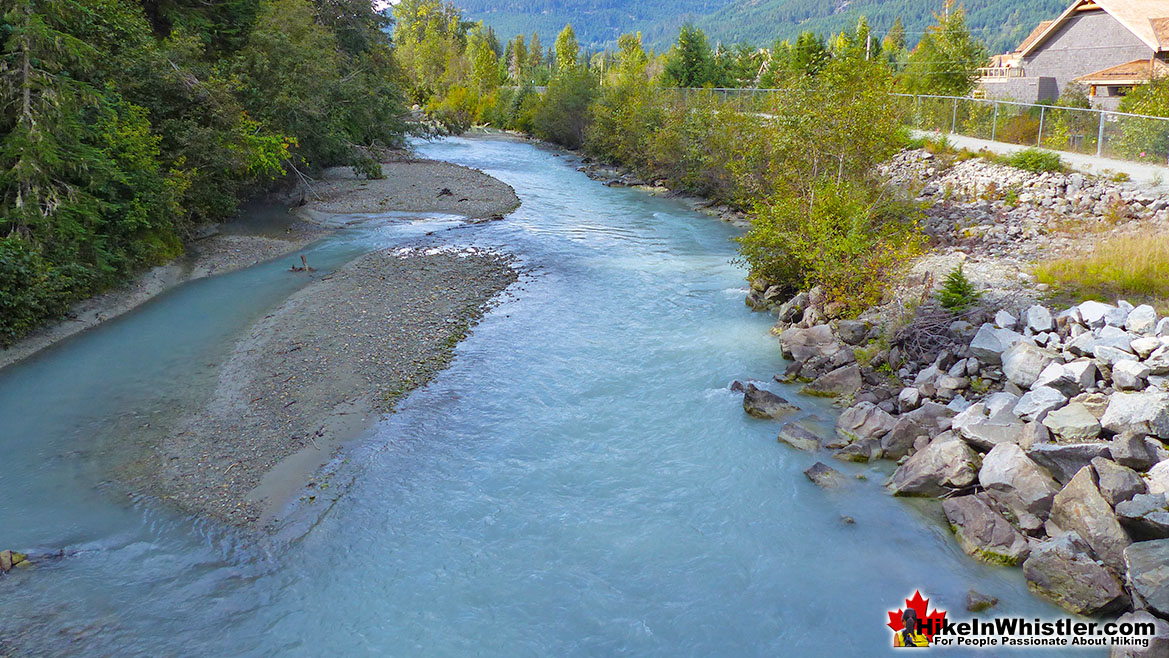 Fitzsimmons Creek cuts between Blackcomb Mountain and Whistler Mountain, down through Whistler Village and finally into Green Lake.  Fitzsimmons Creek is the reason Green Lake has such a dazzling colour.  Glaciers have tiny particles of rock in them, that when released into a lake tend to remain suspended throughout the lake reflecting light. 
The image below is your first glimpse of Green Lake if you arrived via the River of Golden Dreams.  Whistler's Valley Trail runs along the south end of Green Lake just a few metres from this picture.  The Valley Trail then connects to the networks of hiking and biking trails around Lost Lake.  From Lost Lake you can connect to the Sea to Sky Trail and/or the Green Lake Loop Trail and hike or bike around the beautiful back side of Green Lake all the way to Parkhurst and beyond.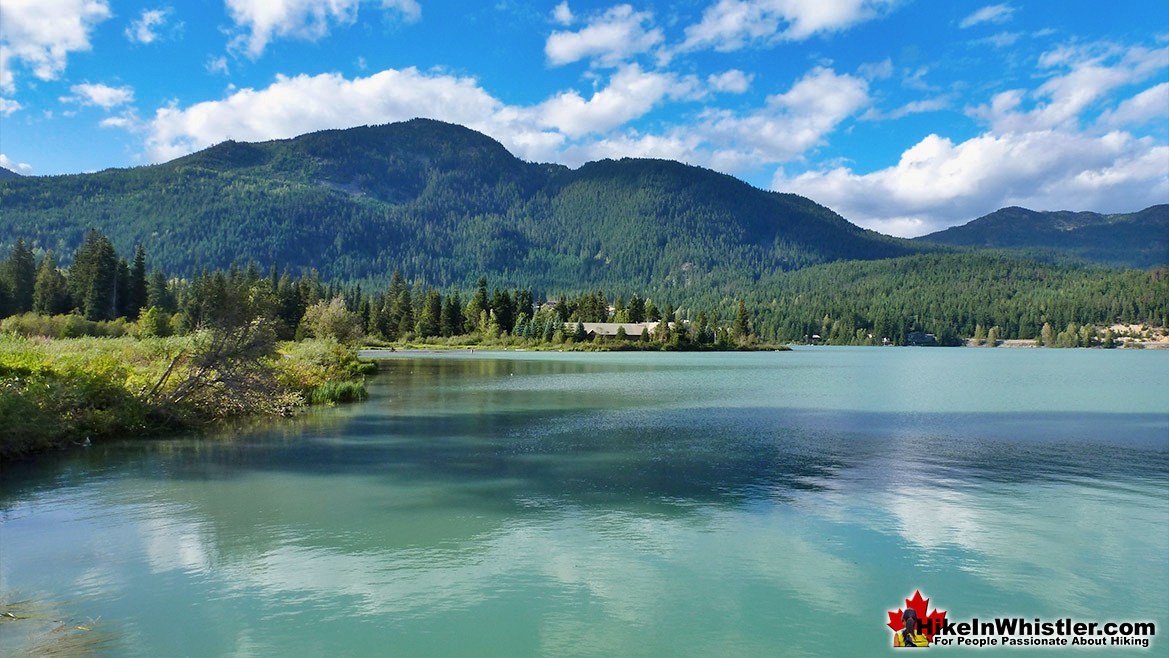 This is the type of view of get of Green Lake over and over as you ascend up the back side of the lake.  The Green Lake Loop Trail is the original trail built decades ago and the Sea to Sky Trail was just built a decade ago and overlaps much of the Green Lake Loop Trail.  The Sea to Sky Trail is a considerable improvement on the old Green Lake Loop Trail, however as it smoothed out the erratic and narrow old trail and widened it as well as layered on gravel to make it luxuriously smooth and dry.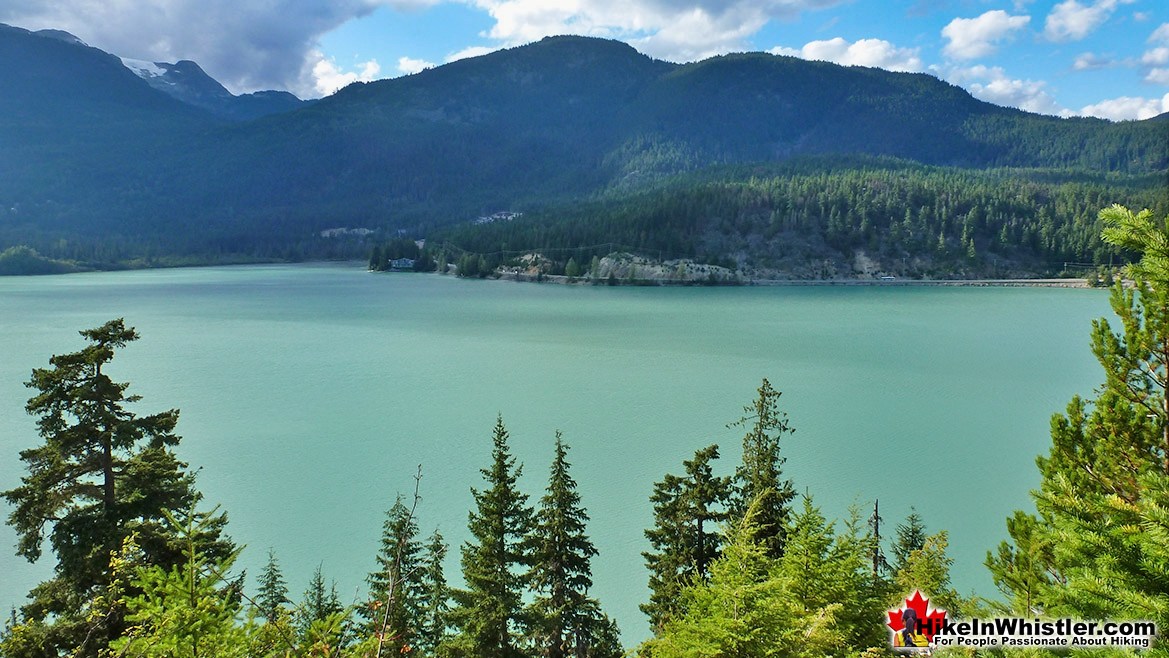 The image below is from the Sea to Sky Highway viewpoint overlooking Green Lake and Blackcomb Mountain beyond.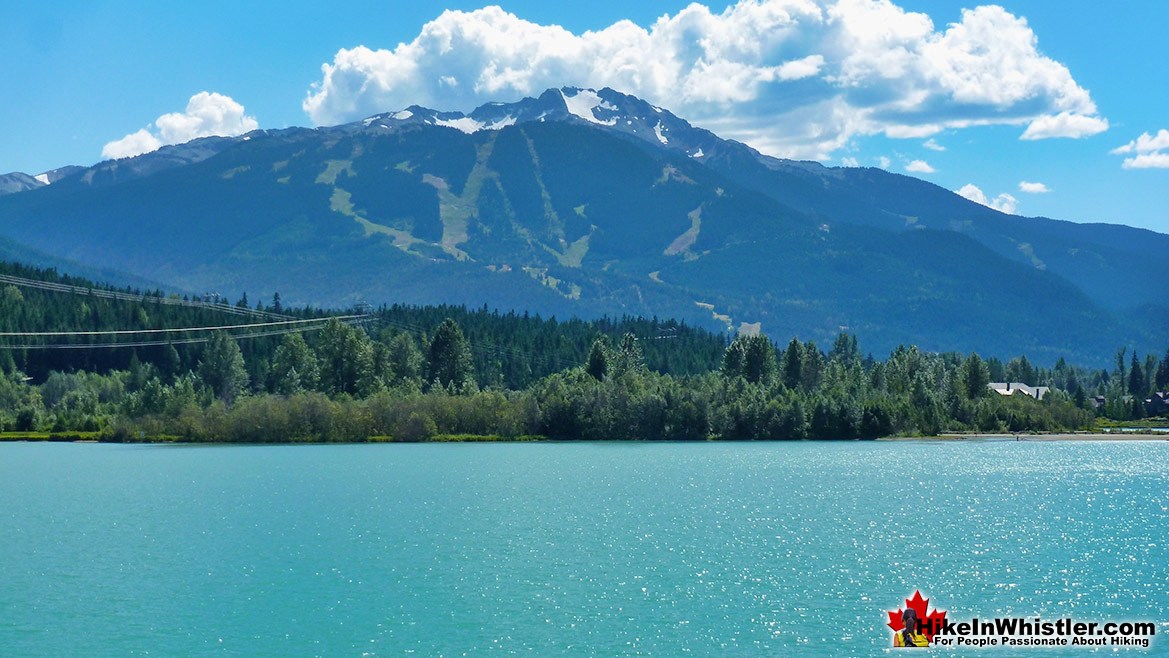 Green Lake Hiking Trails

As a destination in Whistler for hiking, Green Lake goes almost entirely unnoticed. A remarkable fact considering the extraordinary array of both established and unestablished trails running, seemingly endlessly throughout the edges of this massive lake. Any trails you do find are only ever used by bikes or the occasional fisherman. There are three reasons for the huge number of trails running around the lake. First, the lake and its surrounds are beautiful, sensationally beautiful. Second, there once was a small town that existed on the far side of Green Lake for decades called Parkhurst.  Now a ghost town consisting of just a couple crumbling structures and numerous antique curiosities. The third reason is the nature of the forest around the lake. It is incredibly dry. The trees, the ground.  Much of the surrounding forest is comprised of scattered, large trees over beautiful hillsides with a dry feeling carpet of what looks like moss, and possibly is. This allows for hiking in almost any direction and a wonderful surface to put up a tent.
Parkhurst Ghost Town can be reached in a number of ways.  By boat is a fun and direct way to get there.  Green Lake Park is just across from Parkhurst and just a 2 minute canoe/kayak ride away.  All you have to do to find Parkhurst is aim for the huge, abandoned log loader tractor perched on the edge of the lake.  Park your boat there and a trail takes you across the train tracks and up to the ruins of Parkhurst.  Don't expect too much, however there is one standing house that is artfully painted with a beautiful and haunting looking blue face.  If you wander the trails around the house you will find some other interesting curiosities, such as an abandoned truck from the 50's and a similarly disintegrating corvette from a similar era.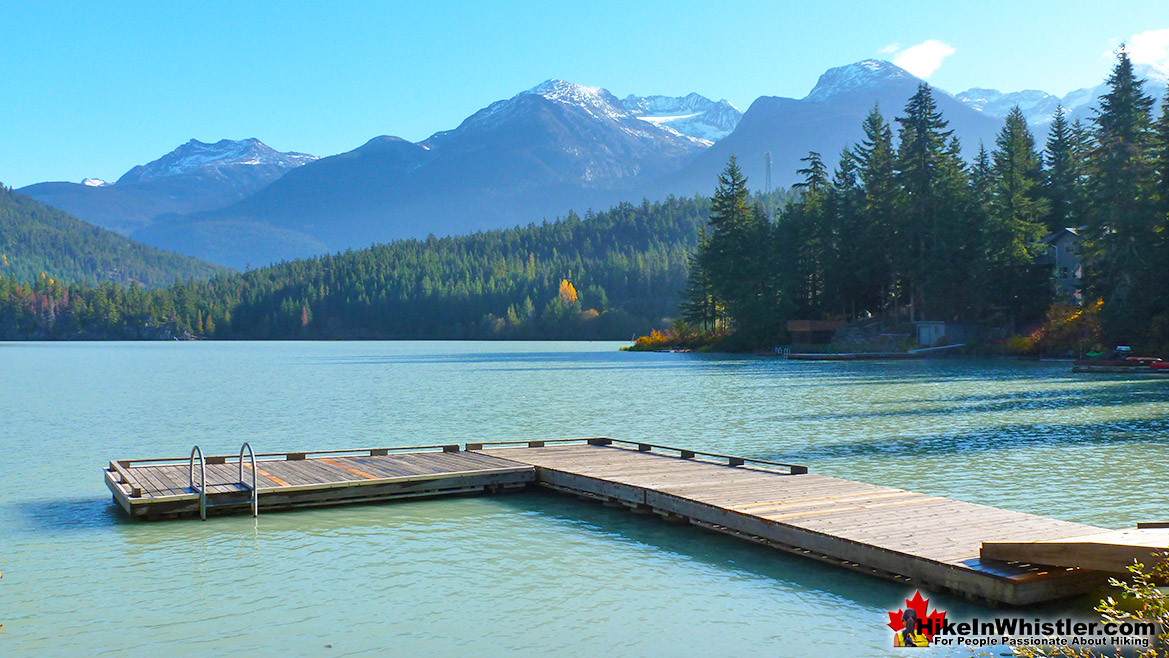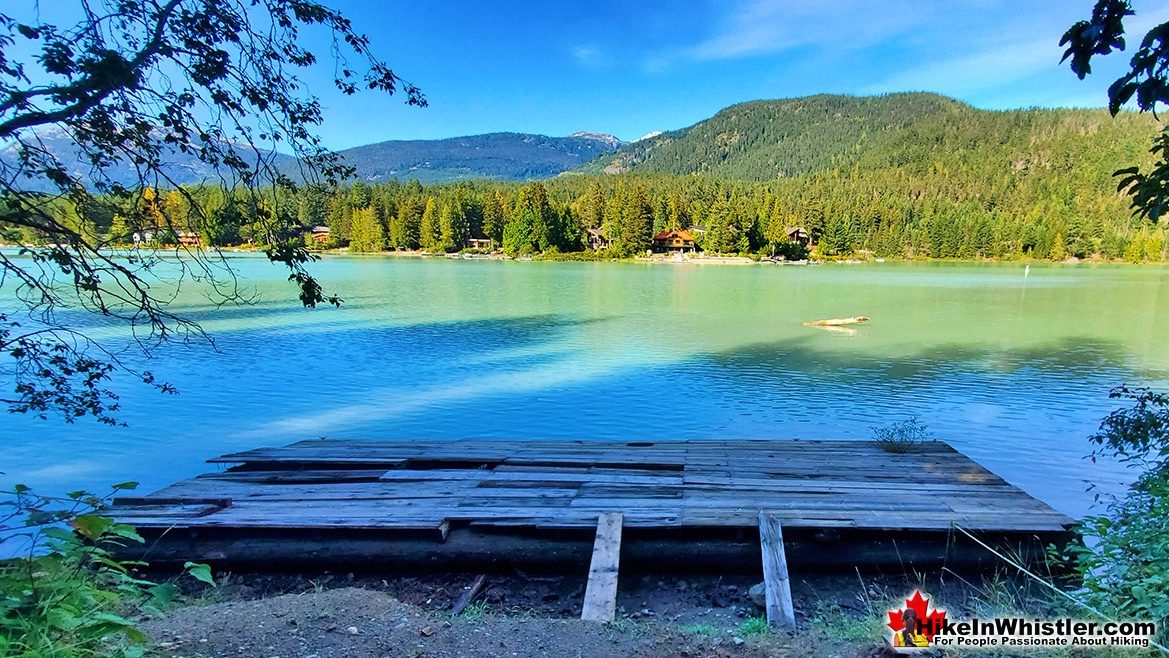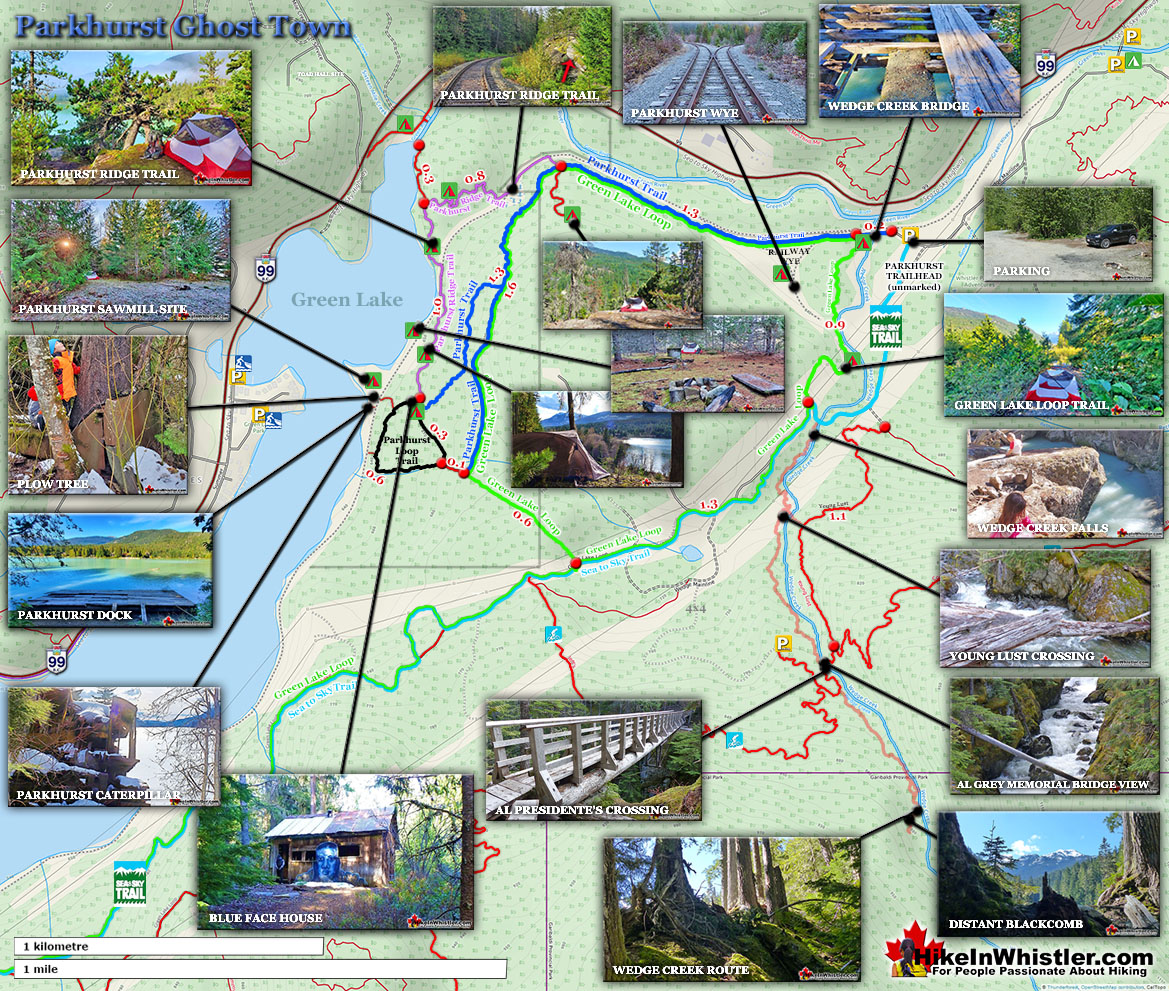 More Hiking Details for Parkhurst Ghost Town
More Whistler & Garibaldi Park Hiking A to Z!

The Best Whistler & Garibaldi Park Hiking Trails!
Whistler & Garibaldi Park Best Hiking by Month!

Explore BC Hiking Destinations!