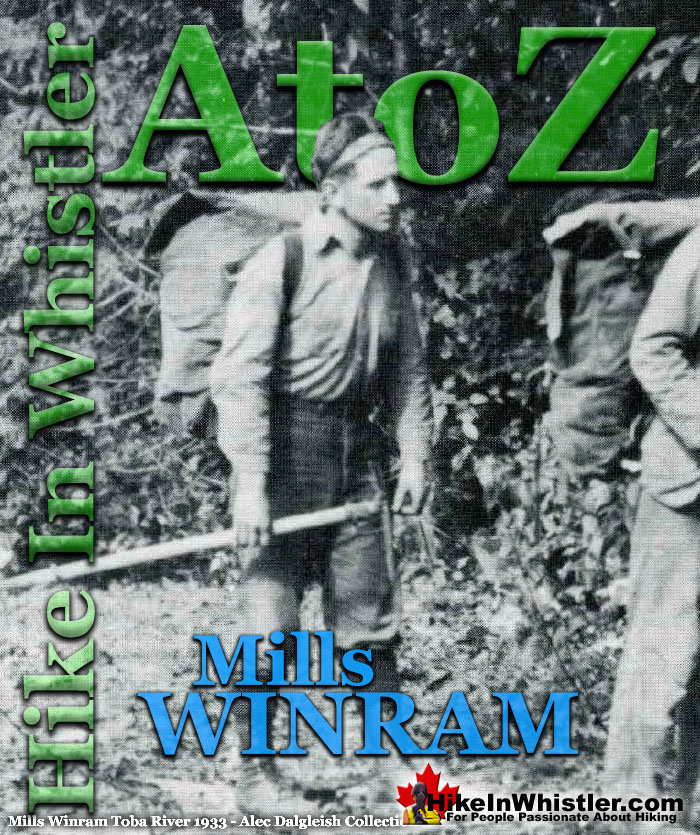 Mills Winram was a very active mountaineer from Vancouver with some very notable ascents in the 1920's and 1930's.  He, along with Fred Parkes and Stan Henderson made the first ascent of Mount Slesse in August of 1927.  In 1932 Mills Winram, Tom Fyles, Neal Carter and Alec Dalgleish went on an exploratory expedition to the headwaters of Lillooet River, where they made the first known ascent of Mount Meager and several surrounding peaks.
Whistler & Garibaldi Hiking

Alexander Falls  

Ancient Cedars  

Black Tusk  

Blackcomb Mountain  

Brandywine Falls  

Brandywine Meadows  

Brew Lake  

Callaghan Lake  

Cheakamus Lake  

Cheakamus River  

Cirque Lake 

Flank Trail 

Garibaldi Lake 

Garibaldi Park 

Helm Creek  

Jane Lakes 

Joffre Lakes  

Keyhole Hot Springs  

Logger's Lake  

Madeley Lake  

Meager Hot Springs 

Nairn Falls  

Newt Lake 

Panorama Ridge 

Parkhurst Ghost Town 

Rainbow Falls  

Rainbow Lake 

Ring Lake  

Russet Lake  

Sea to Sky Trail 

Skookumchuck Hot Springs  

Sloquet Hot Springs 

Sproatt East 

Sproatt West  

Taylor Meadows  

Train Wreck  

Wedgemount Lake  

Whistler Mountain

January 

February 

March 

April 

May 

June 

July 

August 

September 

October 

November 

December
The following year, the same group set off to explore the mountains they had seen from Mount Meager to the west, toward the coast.  To reach these mountains they took the long boat journey from Vancouver up into Toba Inlet and up Toba River. As Mills Winram recalled in an interview several years later, "The Toba Inlet had been mapped. But the upper half of the Toba River, and the mountains above it, were unknown. So in July of 1933 , four of us set out to explore the headwaters of the Toba River.  From the head of Toba Inlet two Indians took us in their fish boat up the river for about a day and a half. Then we switched to a little outboard-powered canoe and went for a day in that. The river got faster and faster, and finally it got too difficult to get around the bends. We had to be landed, and take to the bush. The valley is a typical glaciated U-shaped valley, with a relatively flat valley floor, and relatively steep granite sides down which waterfalls would come about every half-mile. In many places, it was so steep that the waterfalls would shoot out like a hose. We bushwhacked our way along the banks. We carried about fifty-pound packs , just standard knapsacks, no iron frames on them. But that was easier because you could crawl through heavy underbrush with nothing to catch on your back. We had to carry all our own food, as well as our bedding."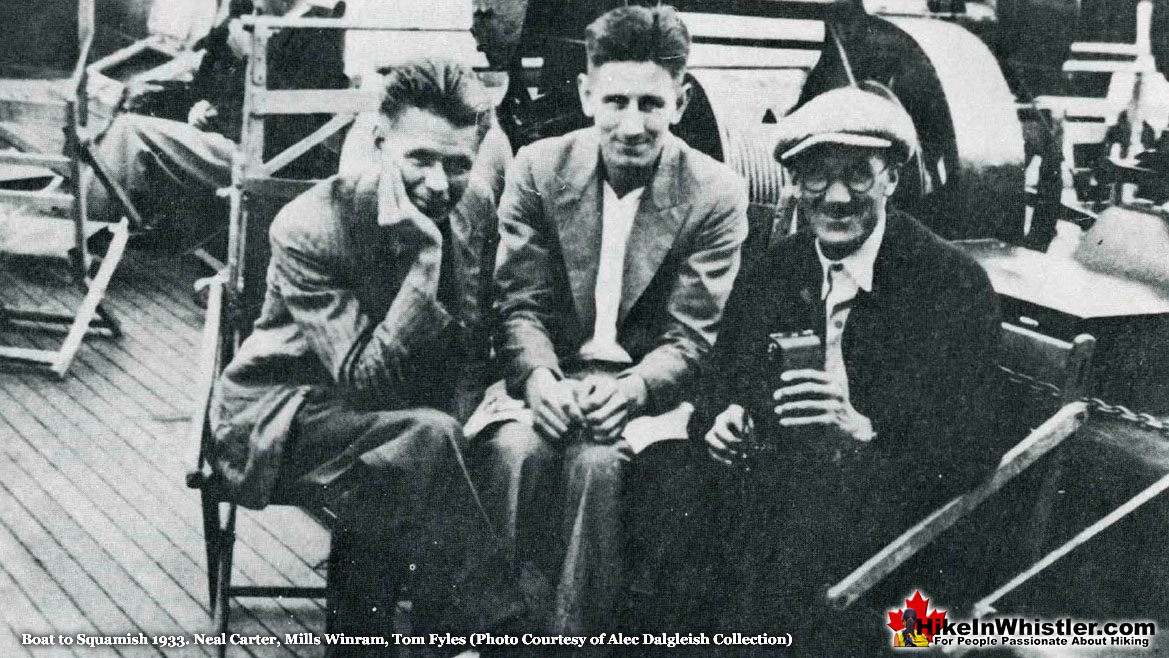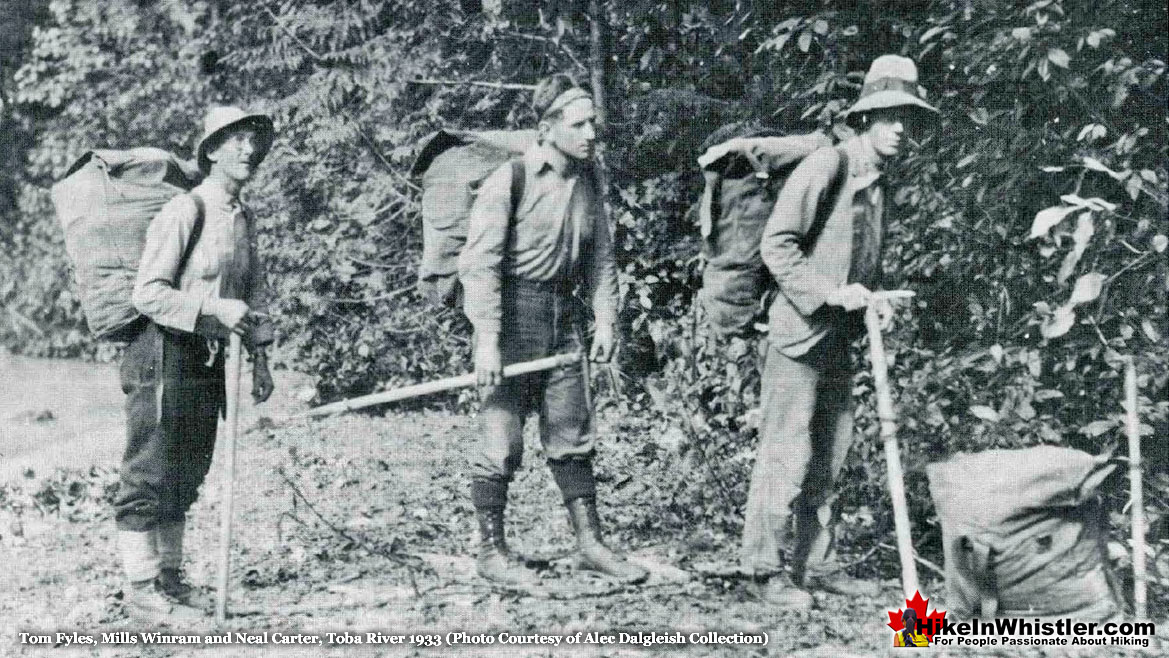 Mills Winram was born in 1907 in Manitou, Manitoba and while still young, his family relocated to Vancouver.  After finishing high school, he started working in a fishing supply business and in 1925 he joined the British Columbia Mountaineering Club.  He felt unsure of himself at his job, whereas in the mountains he seemed to excel.  The positive nature of the BCMC and the excitement and friendships he made were a sharp contrast to his tedious day job.  He recalled, "Most young fellows don't know very much about their job when they start out and they make a lot of mistakes  But I could go into the mountains and meet people with a different outlook altogether who didn't care about the mistakes I had made in the shipping office, and they would treat me as an equal, or at least be courteous to me.  And I lived from weekend to weekend."  For Mills Winram, mountaineering introduced him to a wider world of people and experiences which he seemed to thrive on.  Recalling his first mountaineering trip beyond the local mountains around Vancouver at the 1926 BCMC summer camp in Garibaldi Park.  "I met some extremely interesting people there.  I shared the tent with a university professor and a leading lawyer from the city.  And then, sitting around the campfire, there was a woman who had been to Russia.  And this, of course, was like going to the moon in those days, and she gave us a talk on the Russian ballet, which I had never heard of.  This is the type of thing that opens up for you the fact that there's more to life than just climbing mountains, or just writing out receipts in a shipping office."
The following year, in 1927, Mills Winram, Stan Henderson and Fred Parkes made an impressive first ascent of Mount Slesse.  In the excellent book, In the Western Mountains: Early Mountaineering in British Columbia, Susan Leslie interviewed Mills Winram.  In 1979, he recalled that remarkable ascent of Mount Slesse 52 years earlier.
We didn't have any carabiners or pitons or any extra things that people use today.  Just our fingers to hold us on.  Fred Parkes, being a relatively small man , could get into small chimneys and wiggle his way up, and then throw the rope down and pull the other two of us up.  We went all day , and then about noon we realized that we couldn't possibly go back the way we'd come. We couldn't see where we'd come and we were afraid that we'd end in a precipice and just look over and have nothing to hold onto and we didn't have enough rope to rappel down the whole way. I think we had just about a hundred feet of rope. We had to keep on going. And under those circumstances, you can overcome a lot of drawbacks. Eventually, about 2 o'clock in the afternoon , we came out between the two peaks near the top. There was a little bit of a meadow and there was a goat on the meadow. He was absolutely amazed. He thought no human being could ever get there, and he ran away over the. hill.  Then there was a little bit of chimney, which I didn't mind. Then I was about 100 feet below the peak. The others had gone up to the peak and I seemed to just run out of energy. I said, " I can't go any further. I'm going to go back. " And they just came down and laughed at me and tied a rope around me and said, "Come on. We' re there, so come up." So they pulled me up the last fifty feet. And then we looked around, and we were on the highest point all right. So we built a cairn, and we wrote in it, "Hope we get down all right."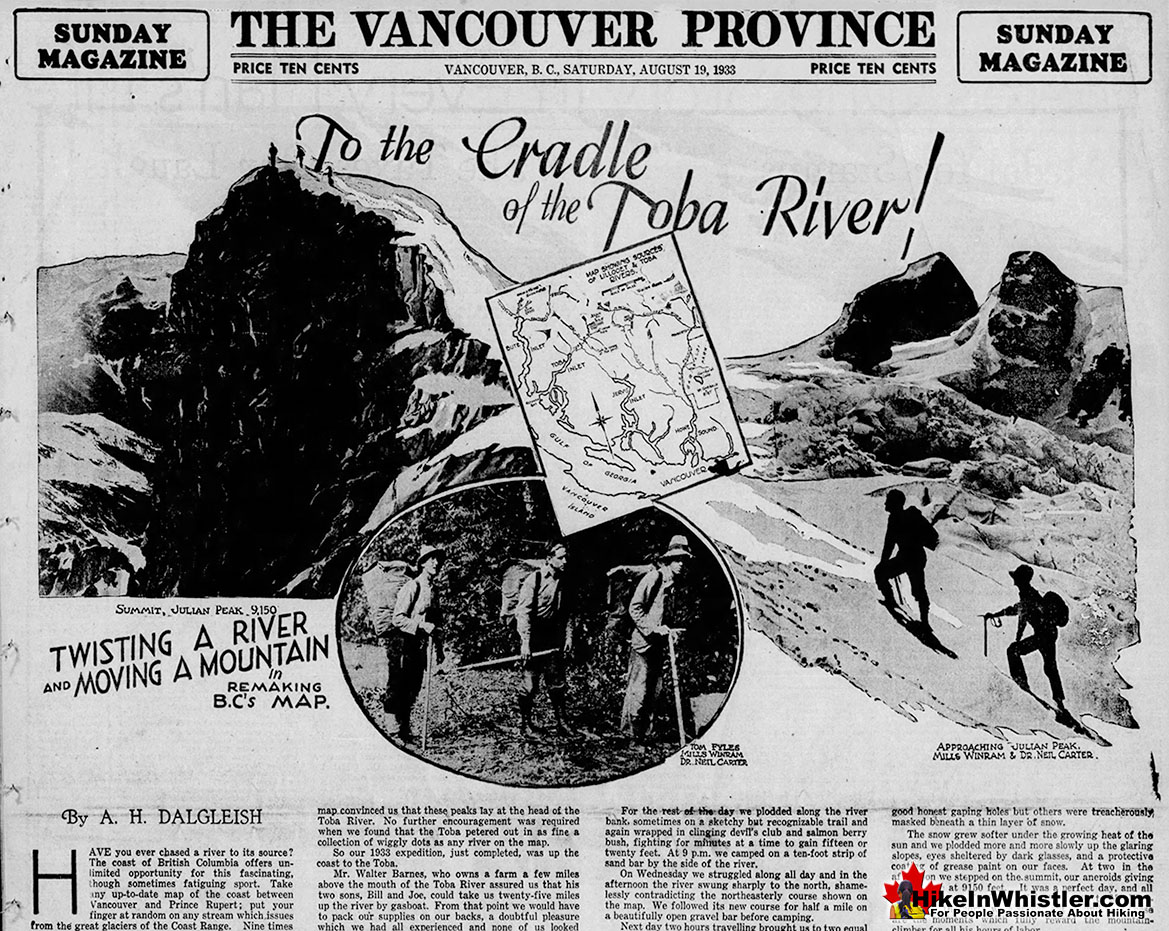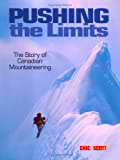 Mills Winram went on to graduate with a Masters Degree in Agricultural Economics from the University of British Columbia in 1933.  The same year that he went on the search for the source of the Toba River with Tom Fyles, Neal Carter and Alec Dalgleish.  When he wasn't hiking in the mountains he managed Winram Insurance, the family business.  Well into his 90's he was still going into the office.  In Pushing The Limits: The Story of Canadian Mountaineering, Chic Scott writes that.  He later confided, "I was never the dare-devil type. Frankly I was scared a lot of the very difficult mountains."  He says he climbed for curiosity. "Most of the maps were very good along the shoreline of BC, but there were blank spots once you got in.  We felt we would like to explore these blank spots, but we had to learn to climb the mountains first."  In June 2001, the Alpine Club of Canada honoured him for his 75th year of continuous membership in the club.  At the age of 95 he was still active in the mountains, skiing with his grandson on Mount Seymour.  Mills Winram passed away in Vancouver on January 10th, 2006 at the age of 98.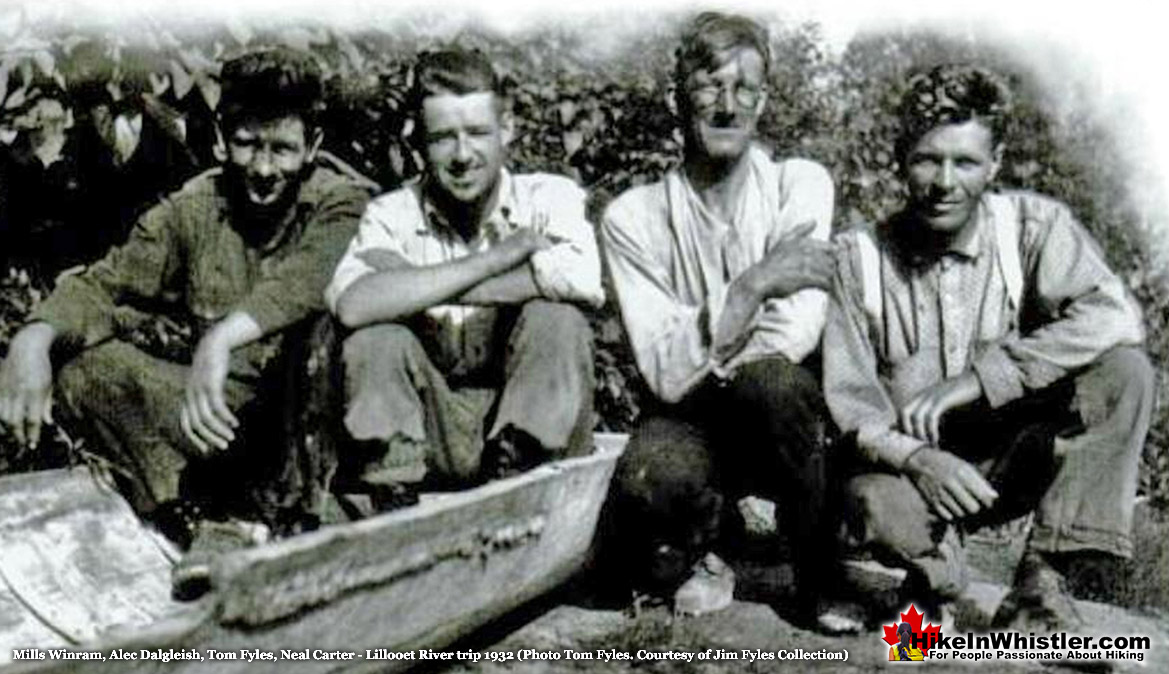 More Whistler & Garibaldi Park Hiking A to Z!

The Best Whistler & Garibaldi Park Hiking Trails!
Whistler & Garibaldi Park Best Hiking by Month!

Explore BC Hiking Destinations!