Wedgemount Lake itself is a magnificent destination for a day hike or spectacular overnight beneath the dazzling mountain peaks and stars above Garibaldi Provincial Park. Many sleep under the stars on one of the many beautiful tent platforms that dot the landscape. Solidly built, wooden tent platforms are everywhere you look at Wedgemount Lake. Strategically positioned, these platforms manage to maintain a secluded feel despite their numbers.  Down along the lake are several more perfect tent clearings overlooking the lake and Wedge Glacier.
Whistler & Garibaldi Hiking

Alexander Falls  

Ancient Cedars  

Black Tusk  

Blackcomb Mountain  

Brandywine Falls  

Brandywine Meadows  

Brew Lake  

Callaghan Lake  

Cheakamus Lake  

Cheakamus River  

Cirque Lake 

Flank Trail 

Garibaldi Lake 

Garibaldi Park 

Helm Creek  

Jane Lakes 

Joffre Lakes  

Keyhole Hot Springs  

Logger's Lake  

Madeley Lake  

Meager Hot Springs 

Nairn Falls  

Newt Lake 

Panorama Ridge 

Parkhurst Ghost Town 

Rainbow Falls  

Rainbow Lake 

Ring Lake  

Russet Lake  

Sea to Sky Trail 

Skookumchuck Hot Springs  

Sloquet Hot Springs 

Sproatt East 

Sproatt West  

Taylor Meadows  

Train Wreck  

Wedgemount Lake  

Whistler Mountain
Whistler Aerial Views

Alexander 

Brandywine 

Blackcomb 

Callaghan 

Cirque 

Joffre 

Keyhole 

Logger's 

Madeley 

Panorama 

Sproatt 

Parkhurst

Rainbow 

Russet 

Train Wreck 

Wedge Glacier 

Wedgemount 

Whistler
One of the defining features of Garibaldi Provincial Park, and Wedgemount Lake in particular, is the staggering number of branching hikes from the main destination of the lake itself. For many, Wedgemount Lake and the Wedge Hut is the base for hikes to Wedge Mountain, Mount Cook, Mount Weart, Mount Moe, Mount James Turner and Mount Currie in Pemberton, crossing glaciers such as Wedge Glacier, Weart Glacier, Armchair Glacier, Mystery Glacier and the Needles and Chaos Glacier to name a few. Dozens of unforgettable peaks can be reached from this quiet little hut overlooking this perfect, turquoise lake.  In short, if you were to design a paradise in the mountains, Wedgemount Lake would be the standard to which all others would pale.  The sheltered valley, beautiful turquoise lake, wonderfully huge glacier across the valley and brutally jagged mountains all around all contribute to making Wedgemount Lake something special.  It's challenging and exhausting to hike to and an absolute paradise to relax in. Down by the lakeside you can actually find two recliner chairs, built out of the rocks by the lake.  Such a perfect way to enjoy the sun rising over the not-so-distant glacier across the lake.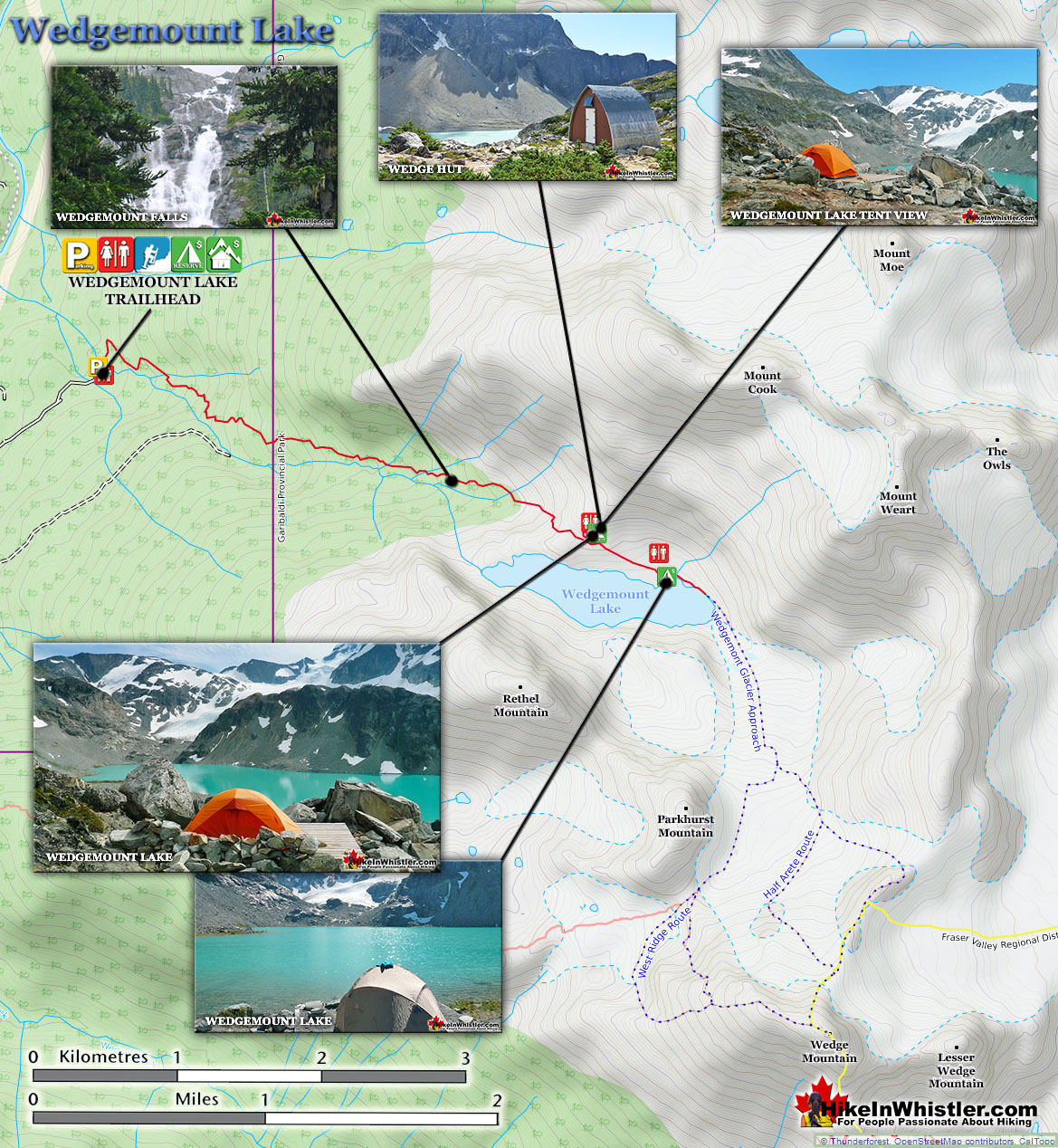 Wedgemount Lake Aerial Views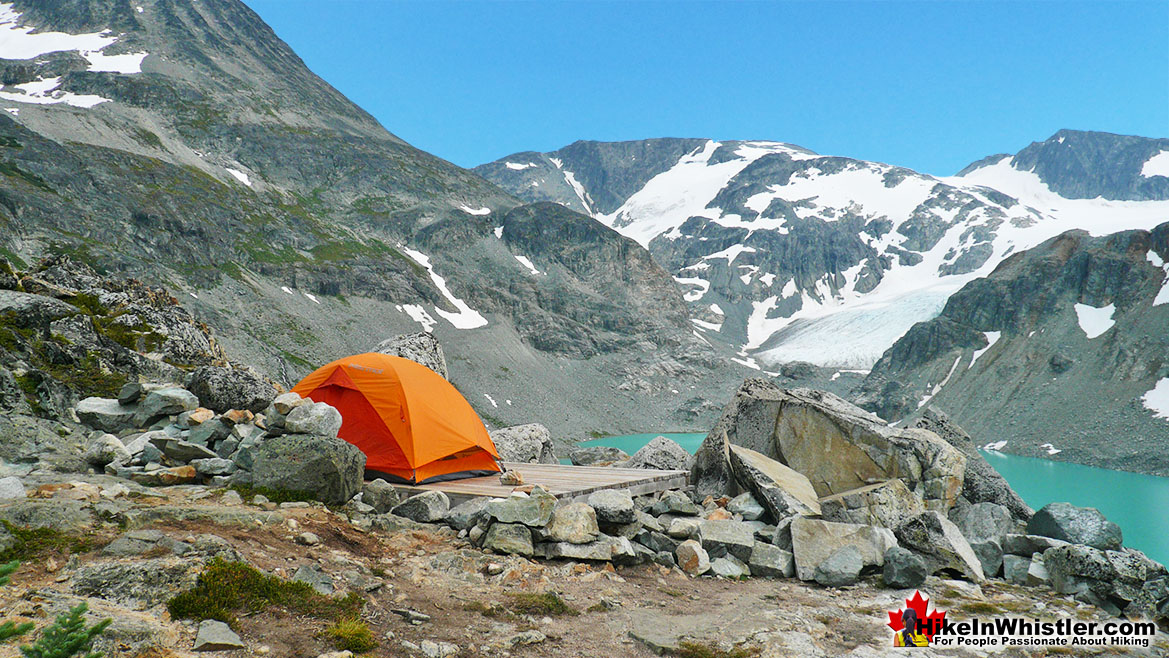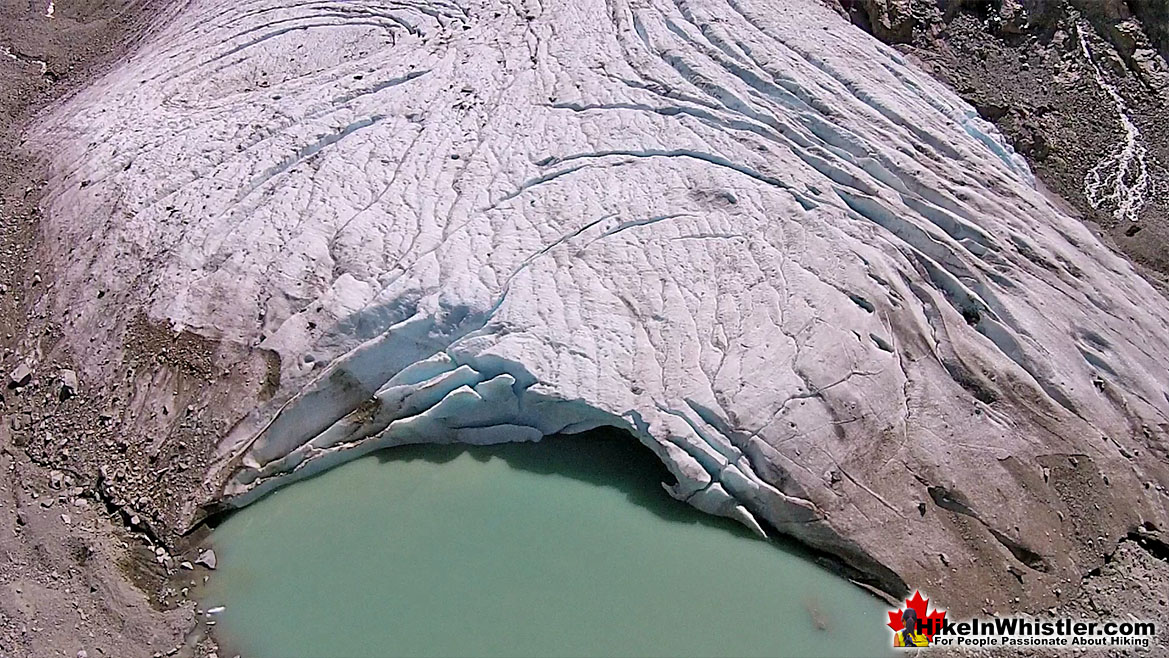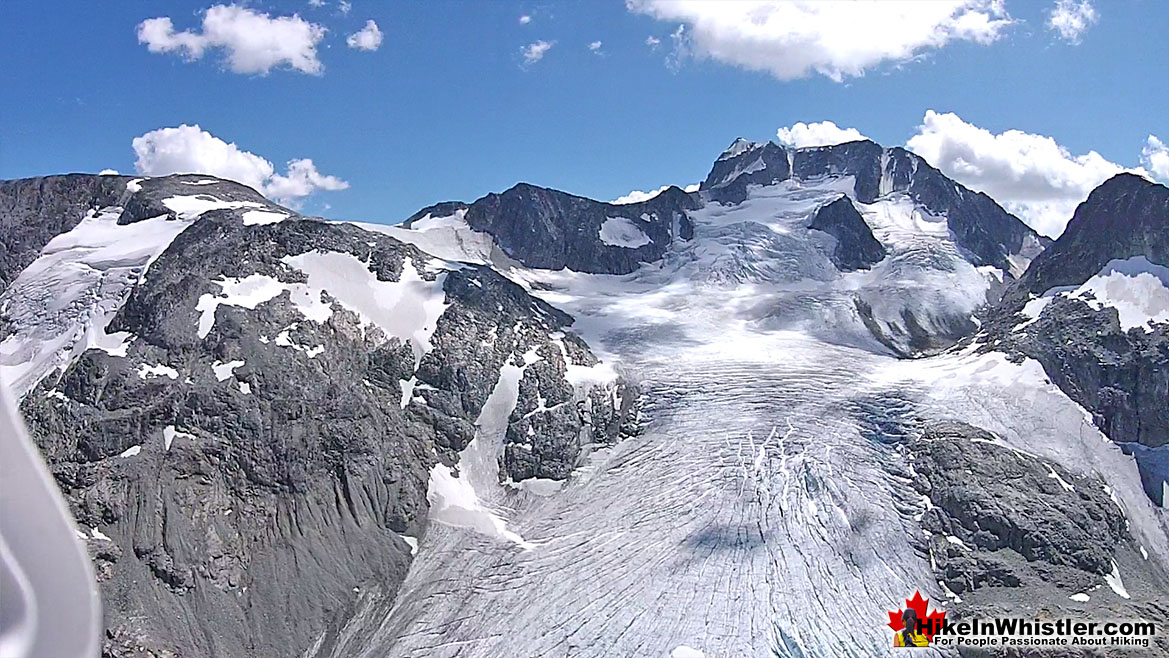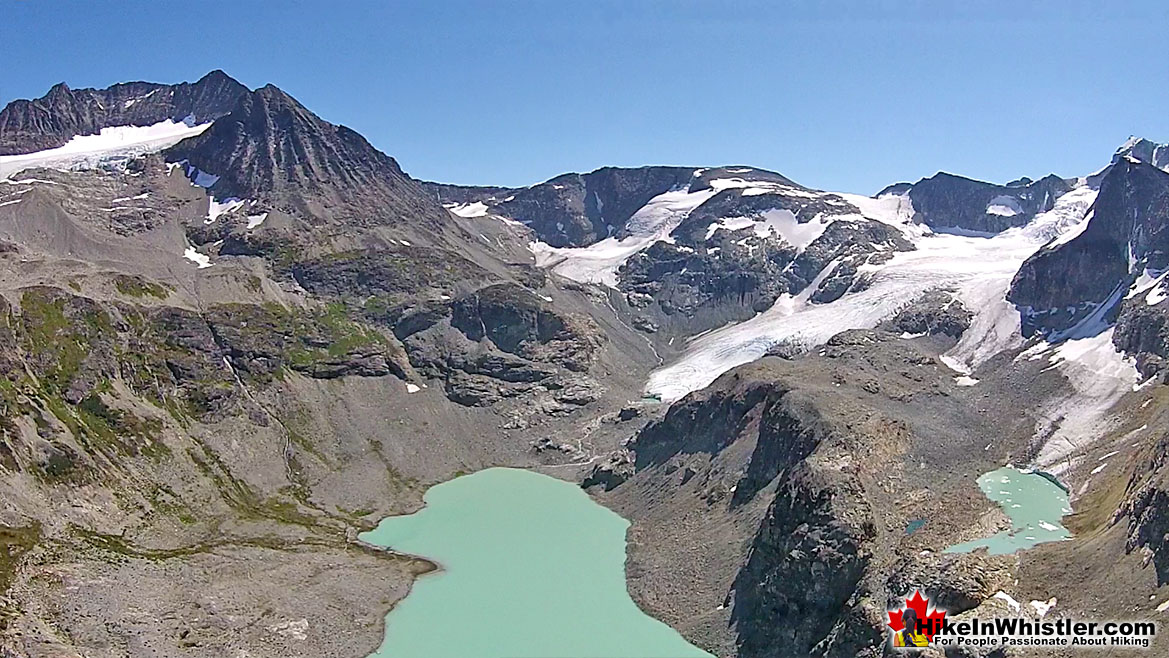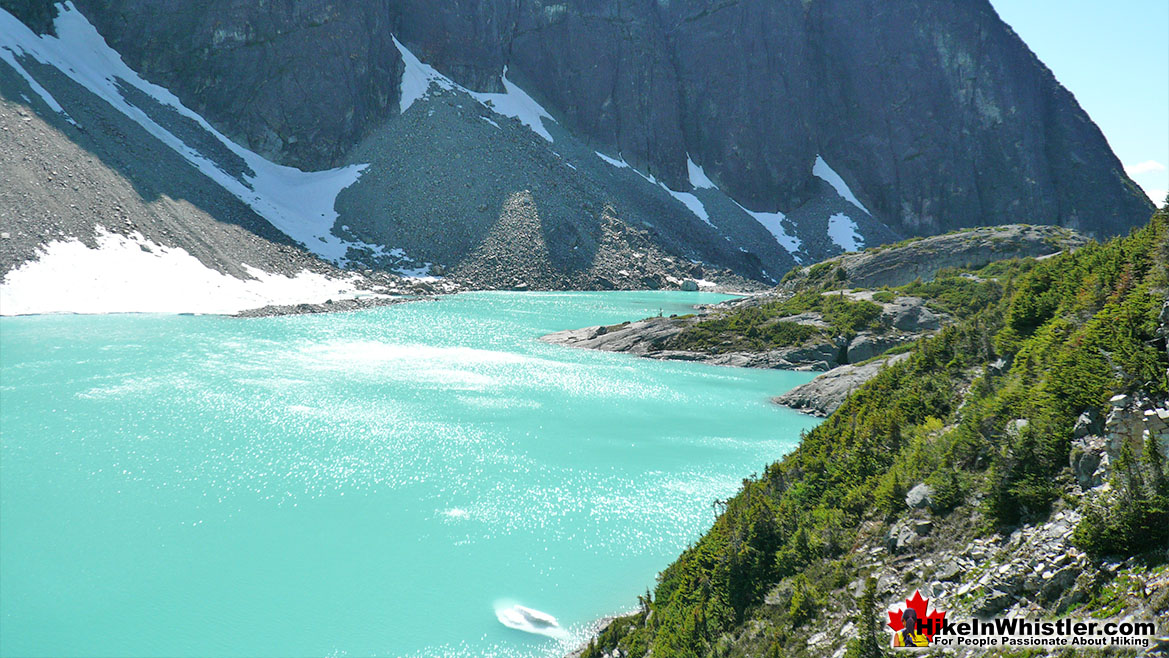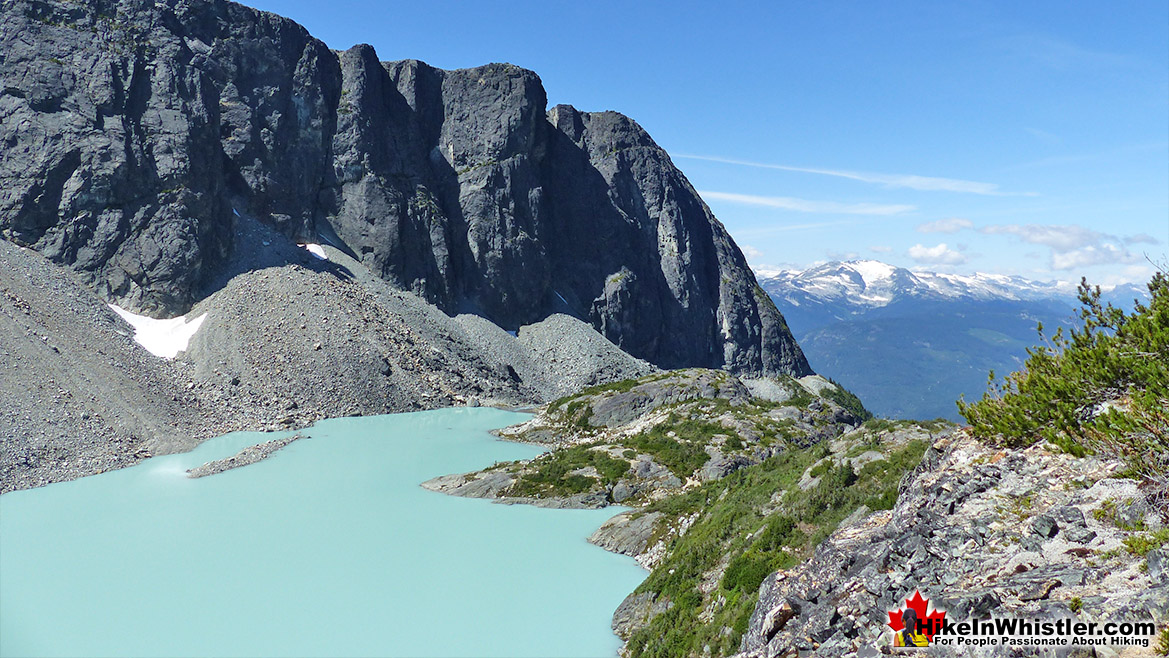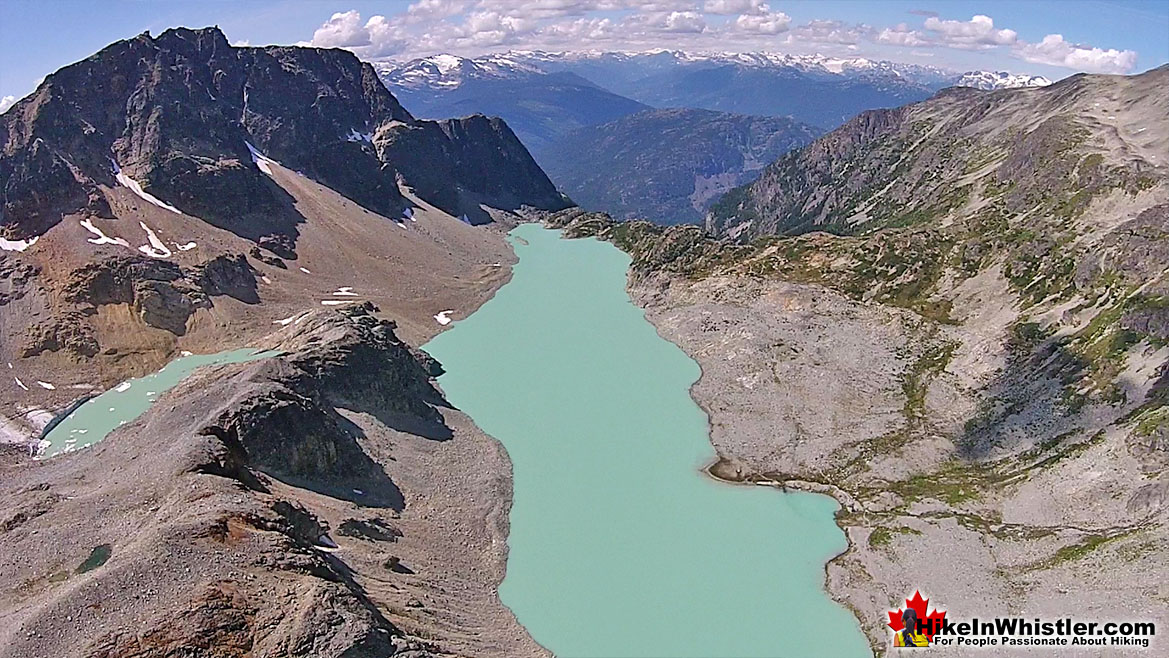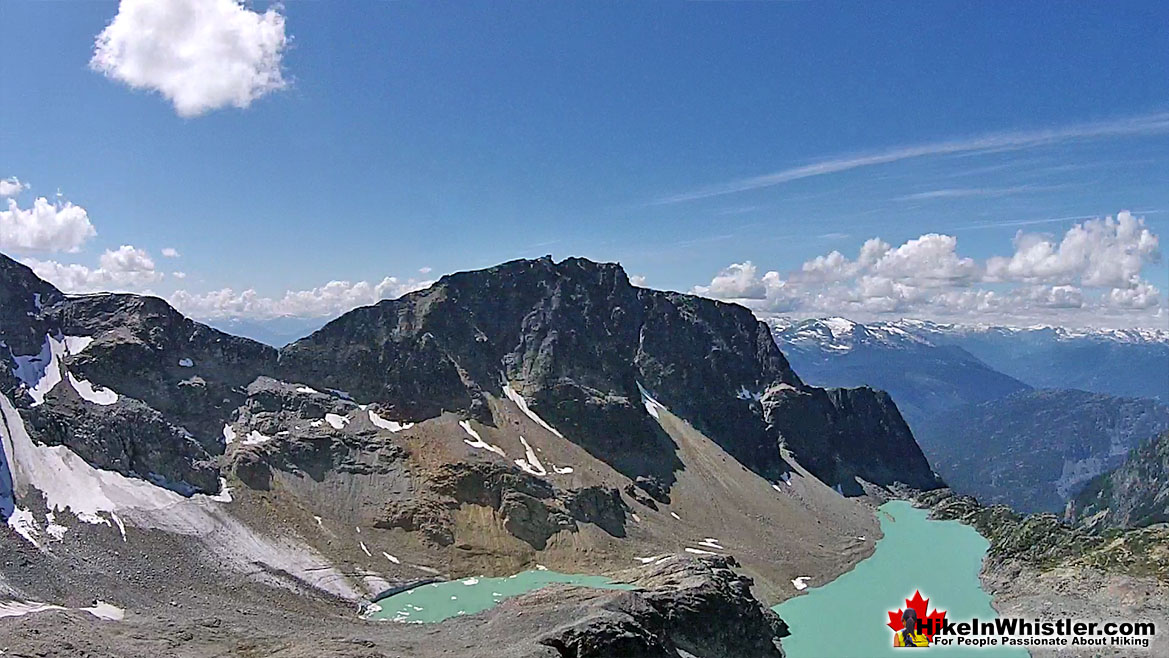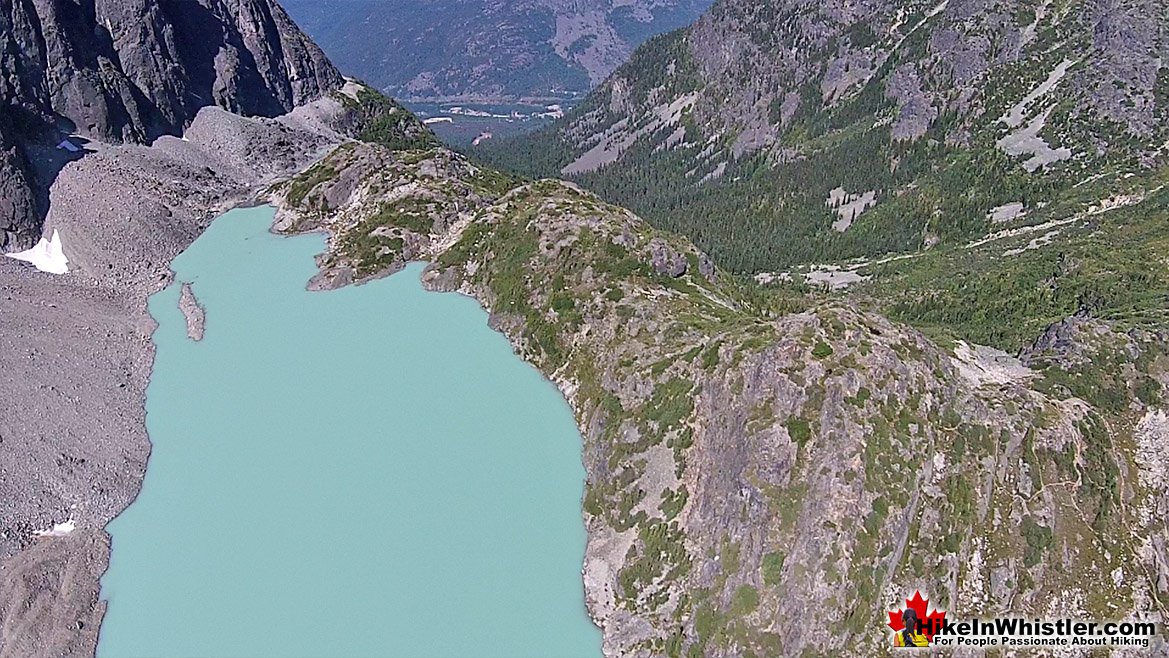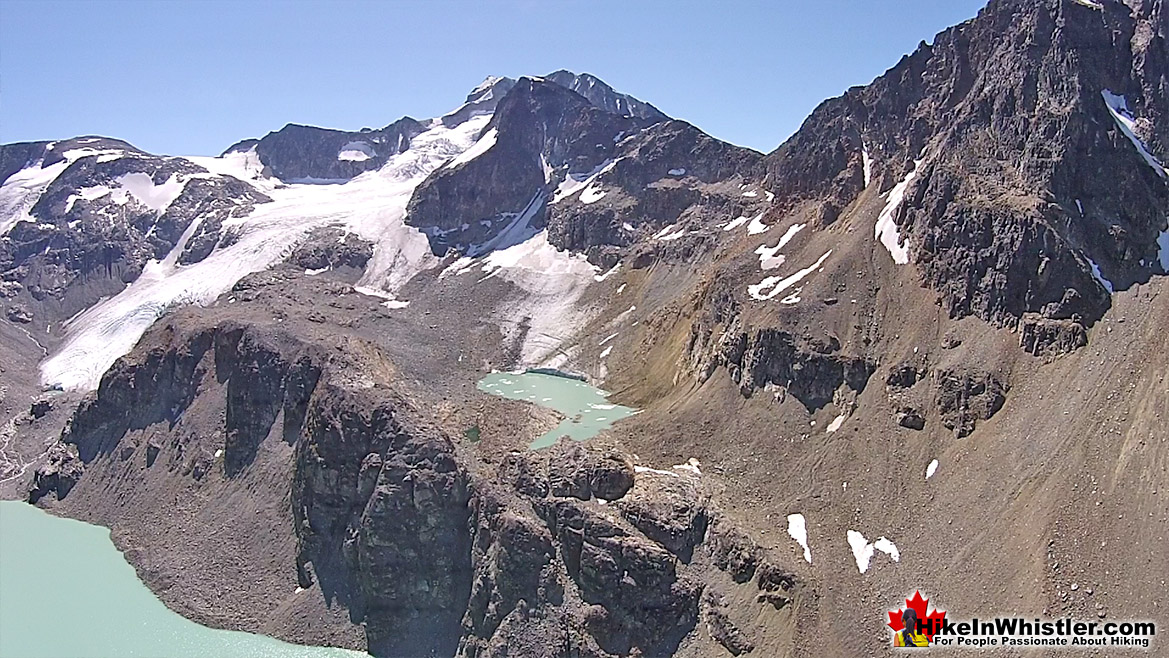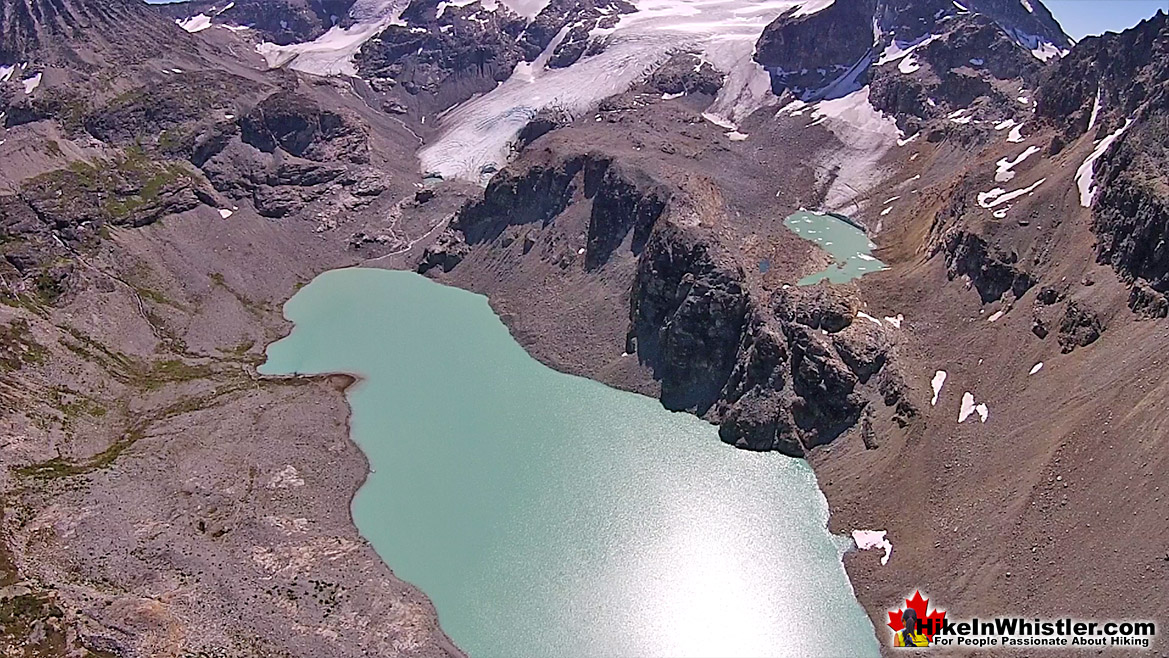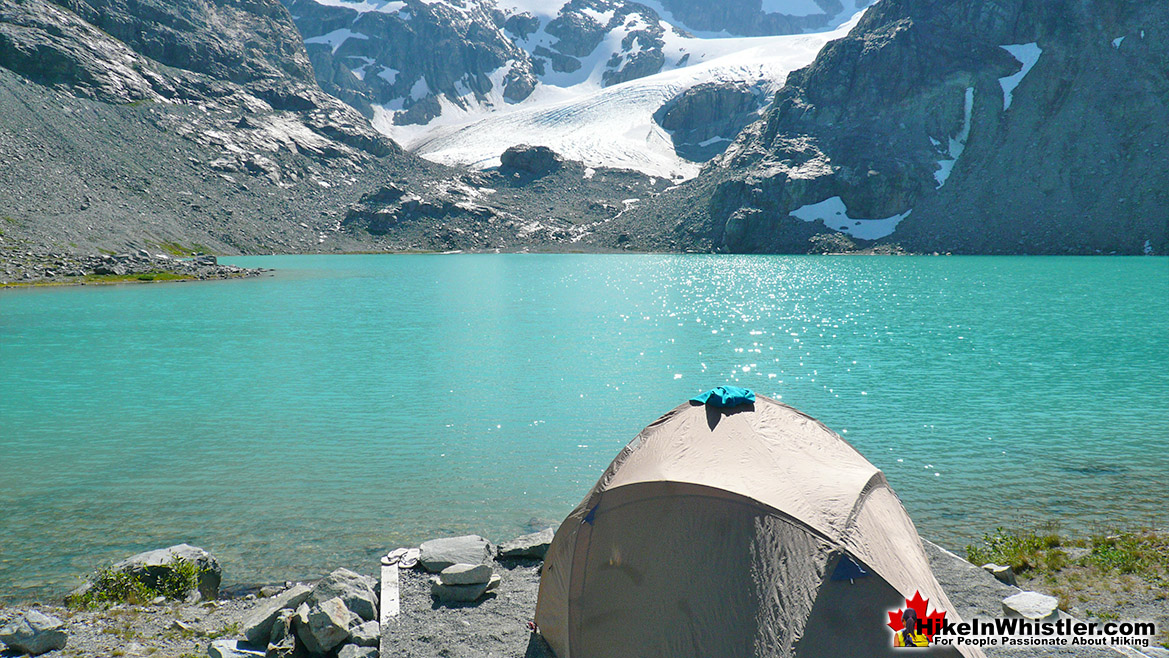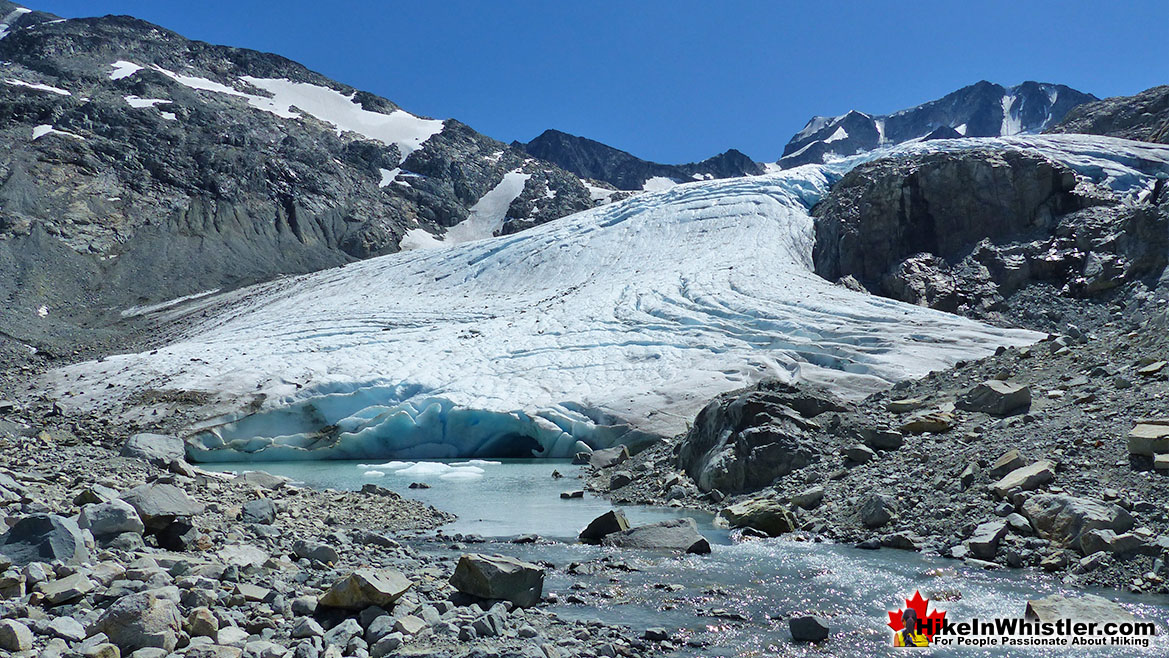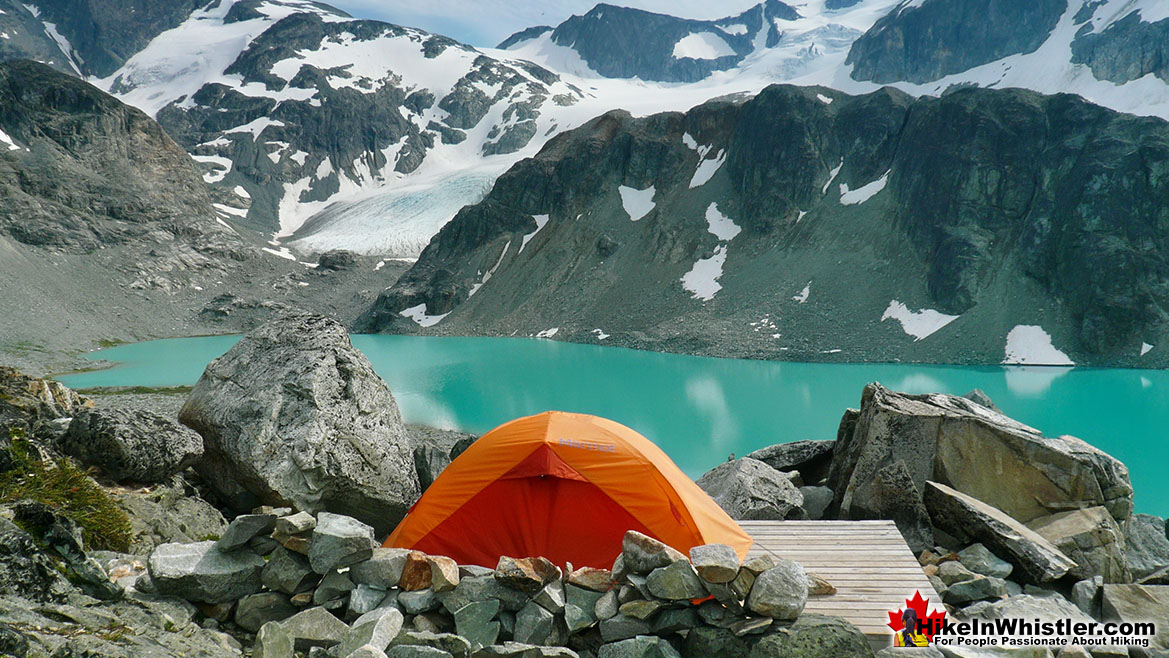 More info, maps and details for Wedgemount Lake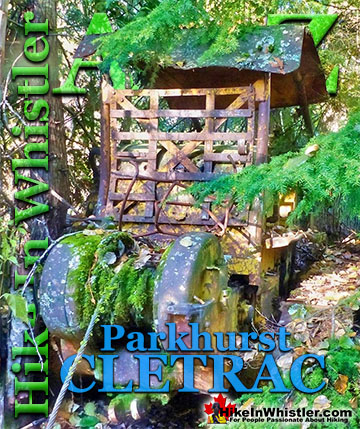 Read more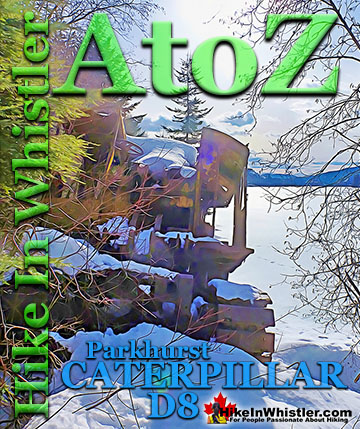 Along the shore of
Green Lake
, you will find a monstrous old Caterpillar tractor that dates from the 1930's.  Abandoned here in the 1950's, it looks as if the ...
Read more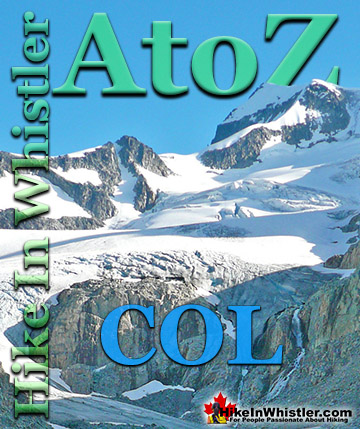 Col: a ridge between two higher peaks, a mountain pass or saddle.  More specifically is the lowest point on a mountain ridge between two peaks.  Sometimes ...
Read more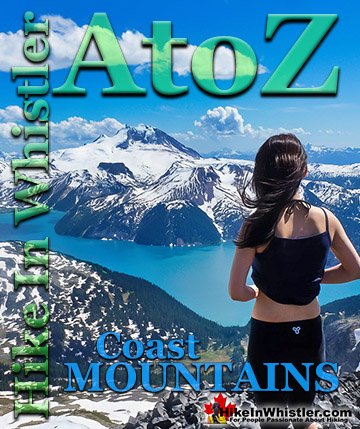 The Coast Mountains run from the Yukon down to Vancouver along the west coast of British Columbia in a band that averages 300 kilometres wide(190 miles).  ...
Read more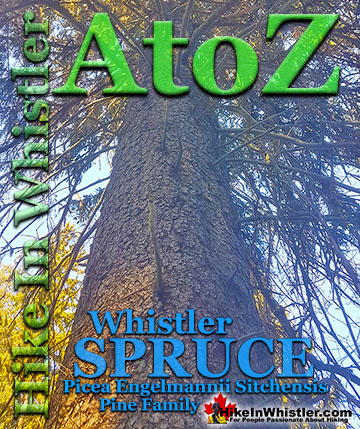 Whistler spruce is a hybrid of the Sitka spruce and the interior Engelmann spruce. Sitka spruce trees thrive in the rainforests of the Pacific Northwest ...
Read more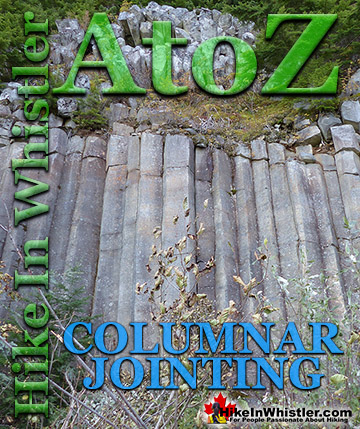 Columnar Jointing: bizarre looking columns of oddly angular rock formations that can be found in many places around Whistler and worldwide.  Generally ...
Read more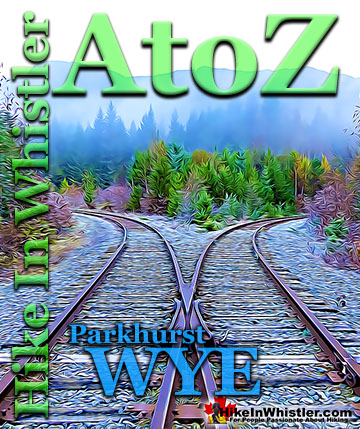 When hiking to
Parkhurst Ghost Town
, the first area you will encounter after you cross the disintegrating bridge over 
Wedge Creek
is the wye.  In railroad ...
Read more
Whistler & Garibaldi Hiking

Alexander Falls  

Ancient Cedars  

Black Tusk  

Blackcomb Mountain  

Brandywine Falls  

Brandywine Meadows  

Brew Lake  

Callaghan Lake  

Cheakamus Lake  

Cheakamus River  

Cirque Lake 

Flank Trail 

Garibaldi Lake 

Garibaldi Park 

Helm Creek  

Jane Lakes 

Joffre Lakes  

Keyhole Hot Springs  

Logger's Lake  

Madeley Lake  

Meager Hot Springs 

Nairn Falls  

Newt Lake 

Panorama Ridge 

Parkhurst Ghost Town 

Rainbow Falls  

Rainbow Lake 

Ring Lake  

Russet Lake  

Sea to Sky Trail 

Skookumchuck Hot Springs  

Sloquet Hot Springs 

Sproatt East 

Sproatt West  

Taylor Meadows  

Train Wreck  

Wedgemount Lake  

Whistler Mountain

January 

February 

March 

April 

May 

June 

July 

August 

September 

October 

November 

December