Cirque Lake is a beautiful mountain lake hidden up alongside Mount Callaghan in Callaghan Lake Provincial Park.  The trailhead is tricky to find and located at the far end of Callaghan Lake.  You can only reach the trailhead by boat and the trail is quite steep but very short.  Less than two kilometres long the steep trail hugs Cirque Creek and Cirque Falls up to Cirque Lake.  The lake itself sits in a huge cirque along the north side of Mount Callaghan and is untouched by humanity.
Whistler & Garibaldi Hiking

Alexander Falls  

Ancient Cedars  

Black Tusk  

Blackcomb Mountain  

Brandywine Falls  

Brandywine Meadows  

Brew Lake  

Callaghan Lake  

Cheakamus Lake  

Cheakamus River  

Cirque Lake 

Flank Trail 

Garibaldi Lake 

Garibaldi Park 

Helm Creek  

Jane Lakes 

Joffre Lakes  

Keyhole Hot Springs  

Logger's Lake  

Madeley Lake  

Meager Hot Springs 

Nairn Falls  

Newt Lake 

Panorama Ridge 

Parkhurst Ghost Town 

Rainbow Falls  

Rainbow Lake 

Ring Lake  

Russet Lake  

Sea to Sky Trail 

Skookumchuck Hot Springs  

Sloquet Hot Springs 

Sproatt East 

Sproatt West  

Taylor Meadows  

Train Wreck  

Wedgemount Lake  

Whistler Mountain
Whistler Aerial Views

Alexander 

Brandywine 

Blackcomb 

Callaghan 

Cirque 

Joffre 

Keyhole 

Logger's 

Madeley 

Panorama 

Sproatt 

Parkhurst

Rainbow 

Russet 

Train Wreck 

Wedge Glacier 

Wedgemount 

Whistler
Cirque Lake is well into the alpine so you won't need to find hiking trails as the alpine is wide open for hiking.  A fairly easy route along the right side of the lake takes you further into the alpine along the right edge of the cirque.  This alpine leads to more alpine lakes that descend like steps down into the valley below.  At Cirque Lake you will find few areas of ground suitable for a tent.  The rugged terrain is rocky and buried in snow most of the year.  The snow retreats from along the shore of Cirque Lake in mid to late July, but the trail is mostly free of snow by early July.  At less than two kilometres, the Cirque Lake trail is steep, however not too steep to require technical skill.  Callaghan Lake Provincial Park doesn't prohibit dogs, making the Cirque Lake trail one of the few hiking trails in Whistler that is dog friendly.  The steep trail and necessity of canoeing to the trailhead make Cirque Lake far less hiked than other Whistler area hiking trails.  The alpine beyond Cirque Lake is even less popular with hikers and you rarely see anyone up there on even the sunniest summer days.  More details, directions and maps for Cirque Lake.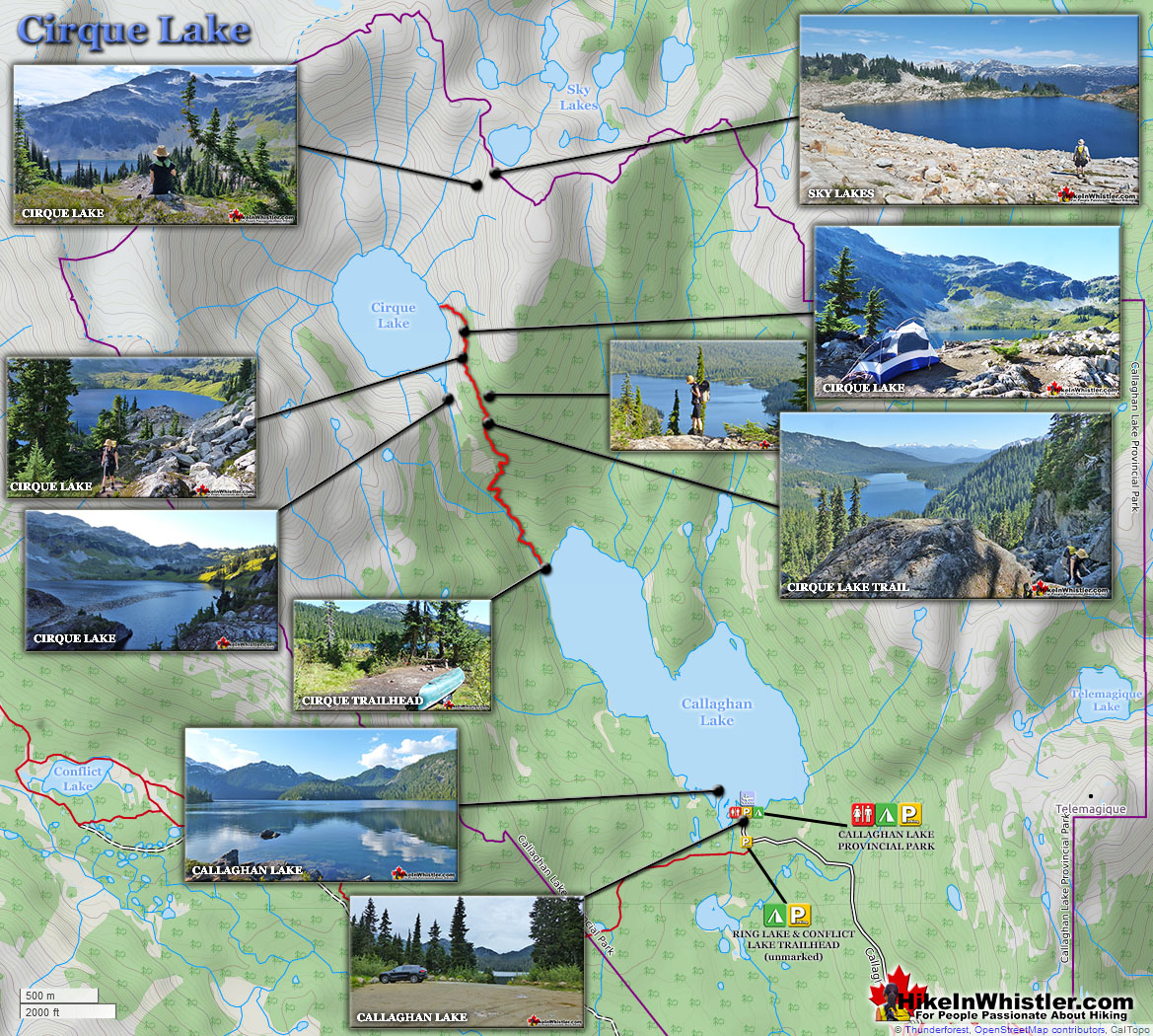 Cirque Lake Aerial Views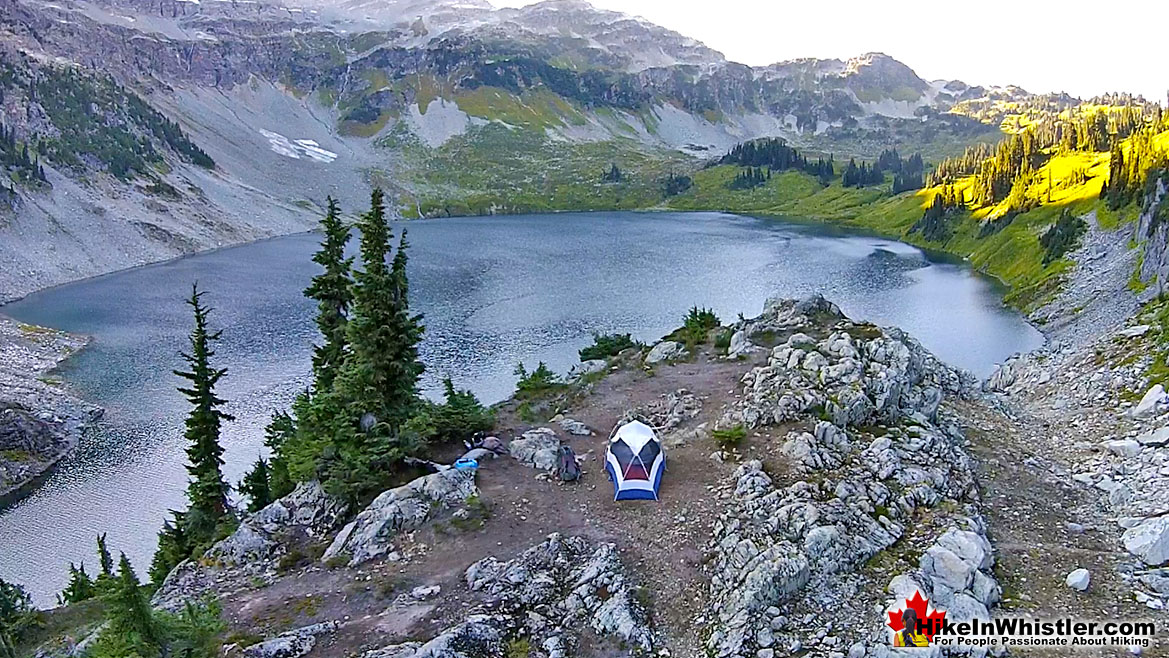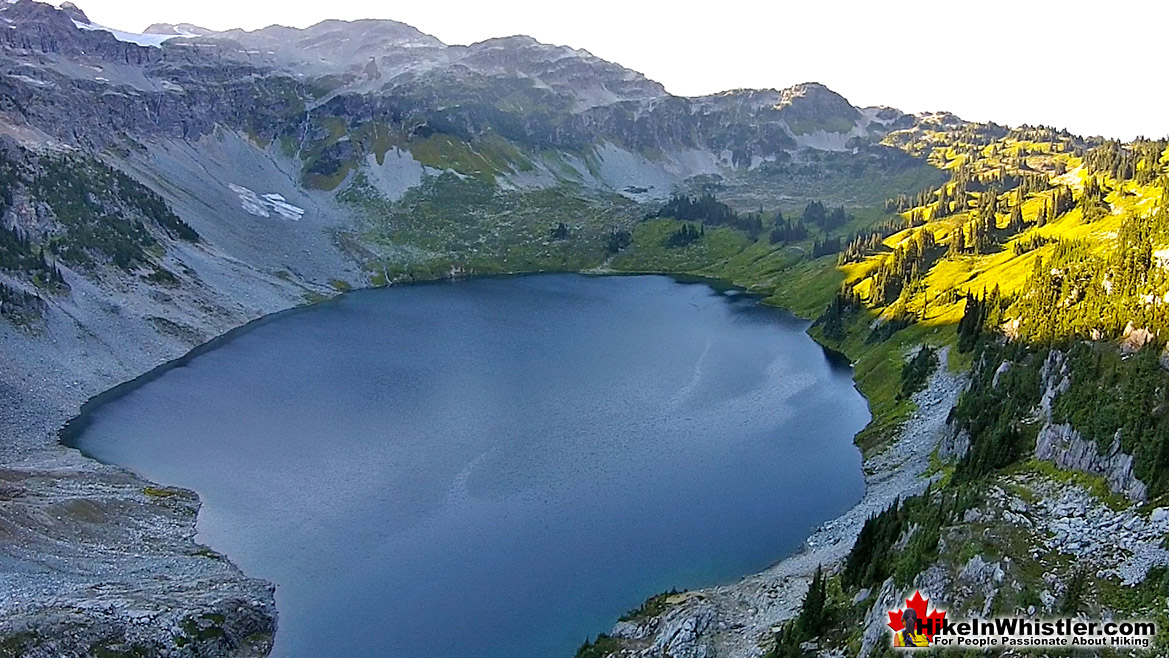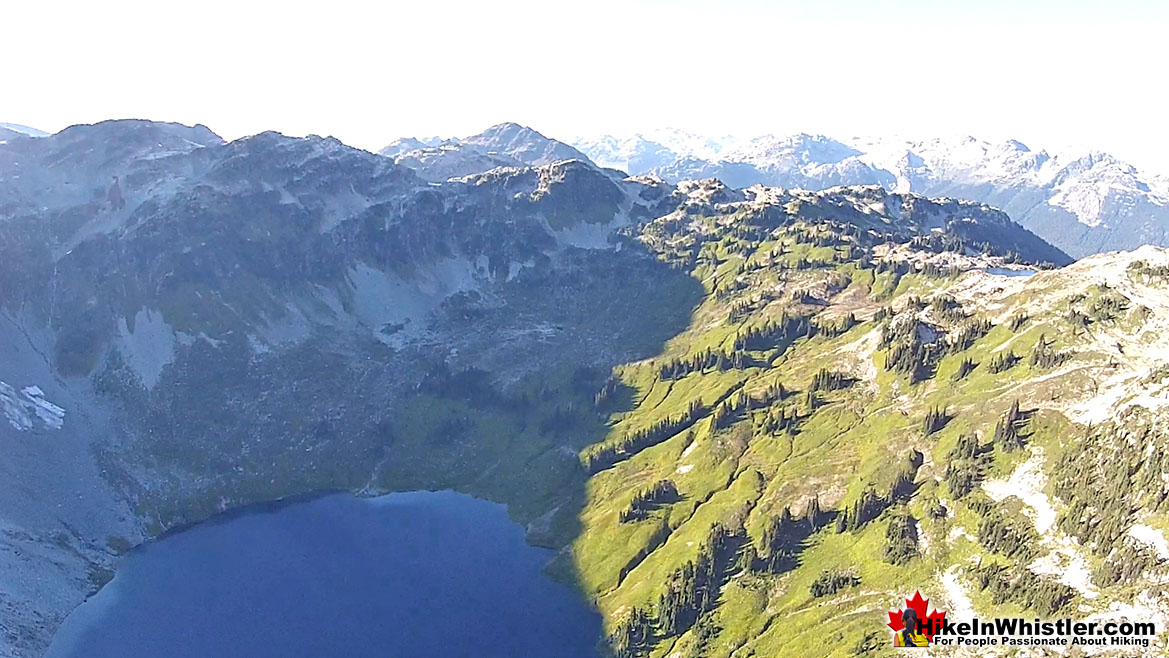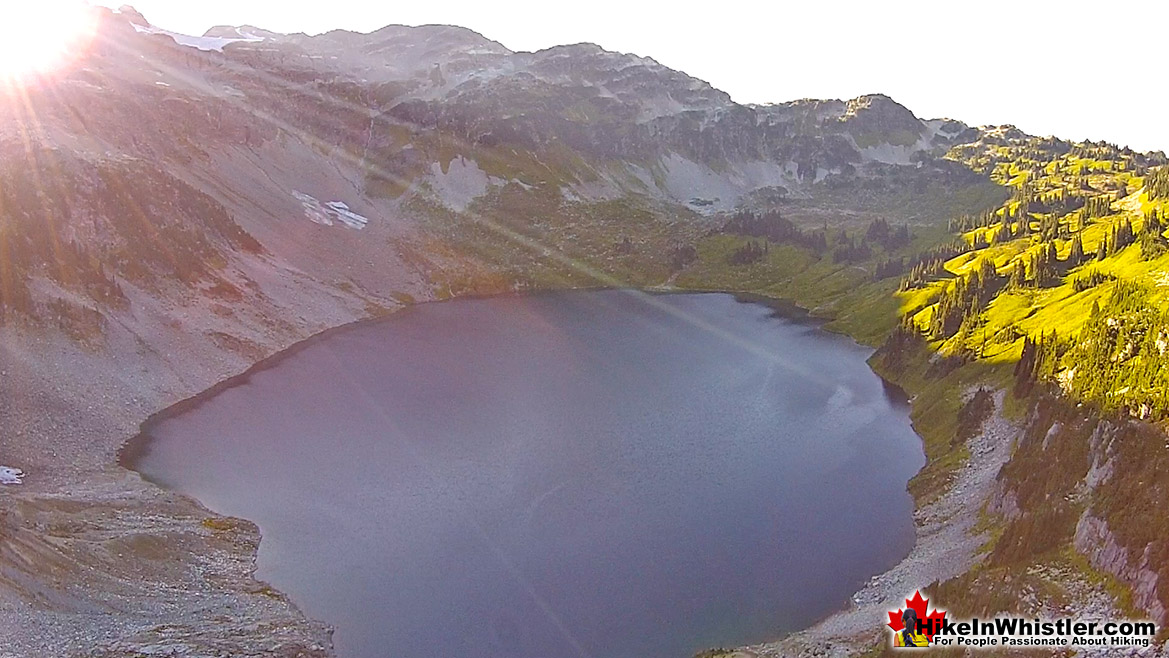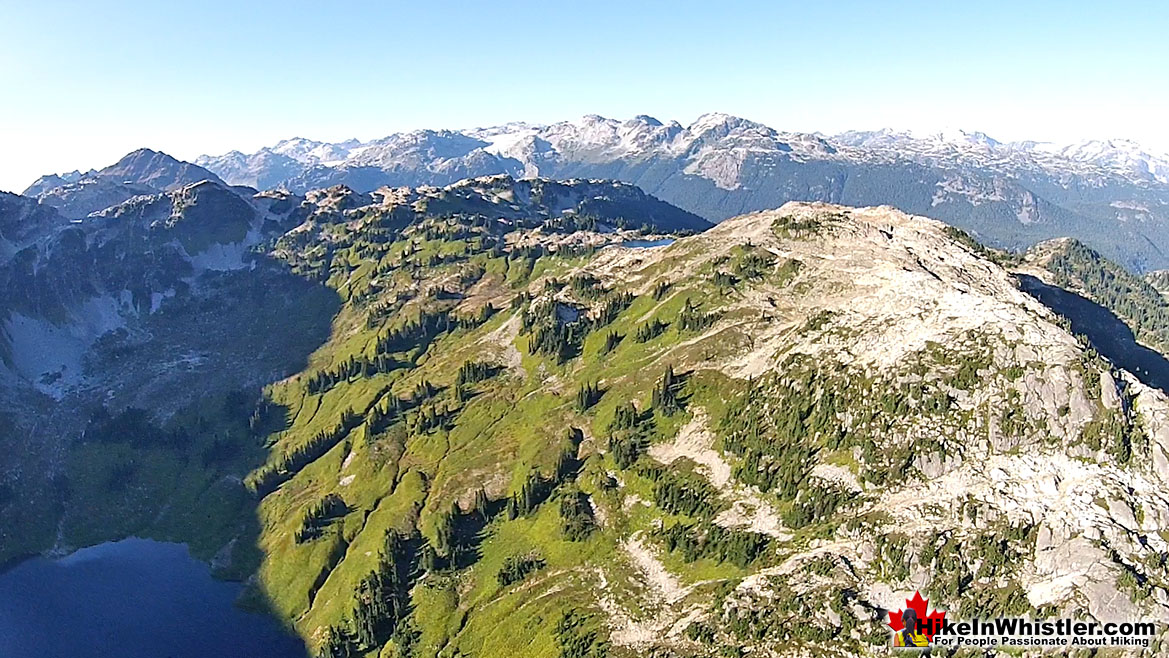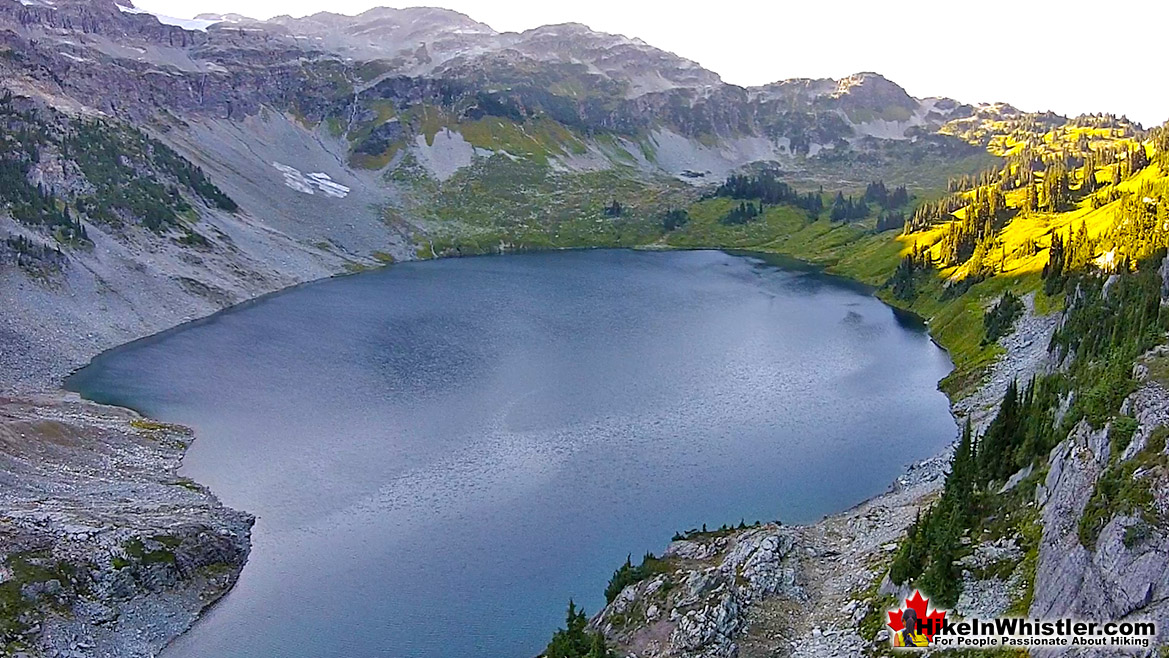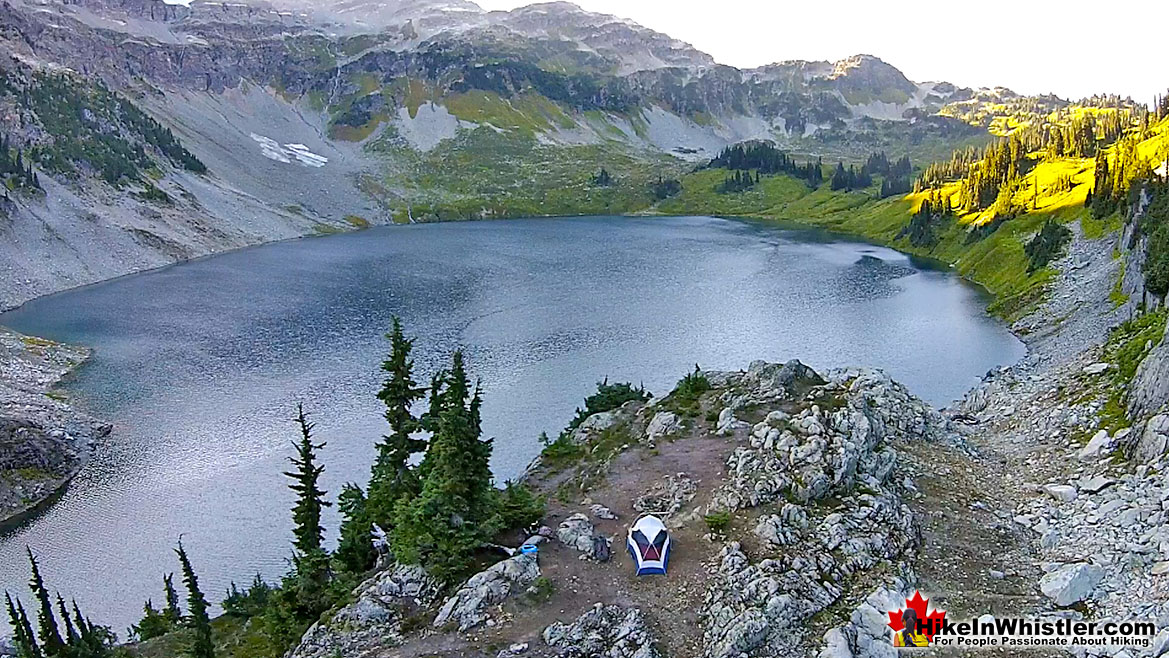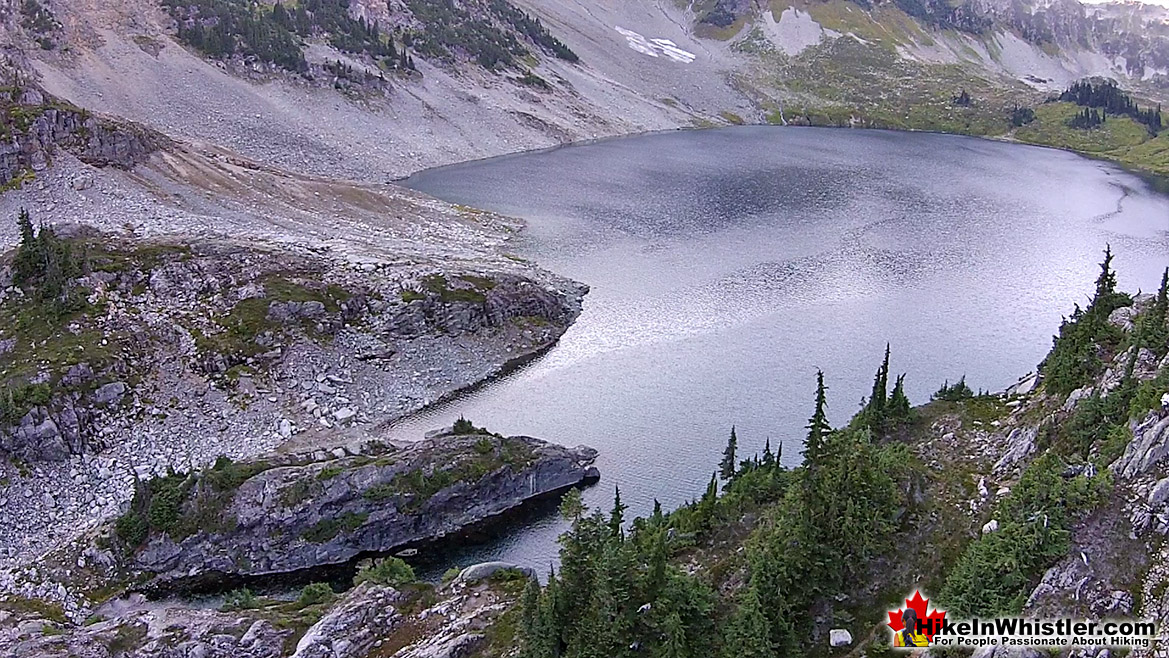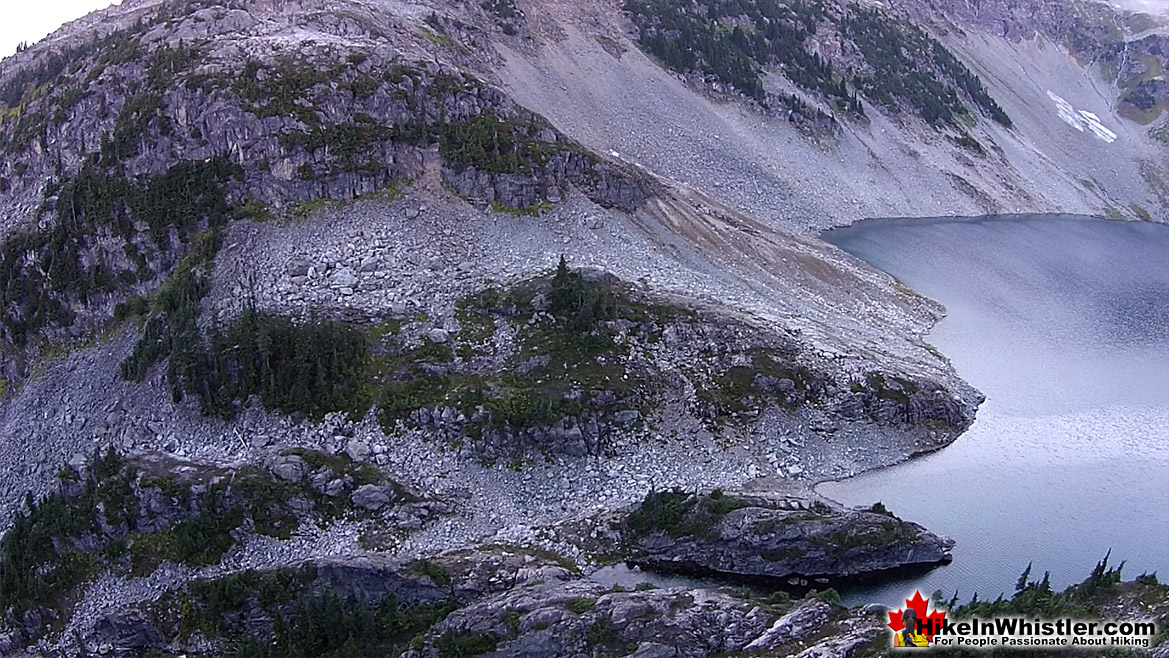 Parking & Trailhead Directions to Cirque Lake



The trailhead to Cirque Lake is found at the far end of Callaghan Lake. Callaghan Lake Provincial Park is less than an hours drive from Whistler Village and most of the drive is quite beautiful. From Whistler drive 13.8 kilometres towards Vancouver on the Sea to Sky Highway. Turn right onto Callaghan Valley Road at the sign for Whistler Olympic Park. Drive up the beautiful, winding road for 9.6 kilometres. The sign for Callaghan Lake Provincial Park will be just after Alexander Falls Provincial Park and just before Whistler Olympic Park. You will turn left, cross a bridge and drive up the horrendously potholed Callaghan Lake FSR for 8.5 kilometres.  Most vehicles can make it to the lake but with extreme caution and care at several waterbars and the frequent and very deep potholes.  You often see full size motorhomes at the campsite so as long as you drive slow, most vehicles should make it slowly but surely. This logging road is usually deep with snow until June(June 4th in 2019).  If you attempt to drive this road in early summer, be sure to bring a shovel and rope in case you find yourself stuck in the snow. You will have spotty cell reception all the way to the Callaghan campsite, however you may have to walk along the road until you catch a usable signal.  Access to Callaghan Lake FSR is blocked by a chain at the bridge until May 15th every year.  A huge pile of snow is plowed to block Callaghan Lake FSR just past the bridge.  It keeps people from driving up and getting stuck in the snow on the higher elevations.  When this snow pile melts, it is a good indication that the road to Callaghan Lake may be clear as well.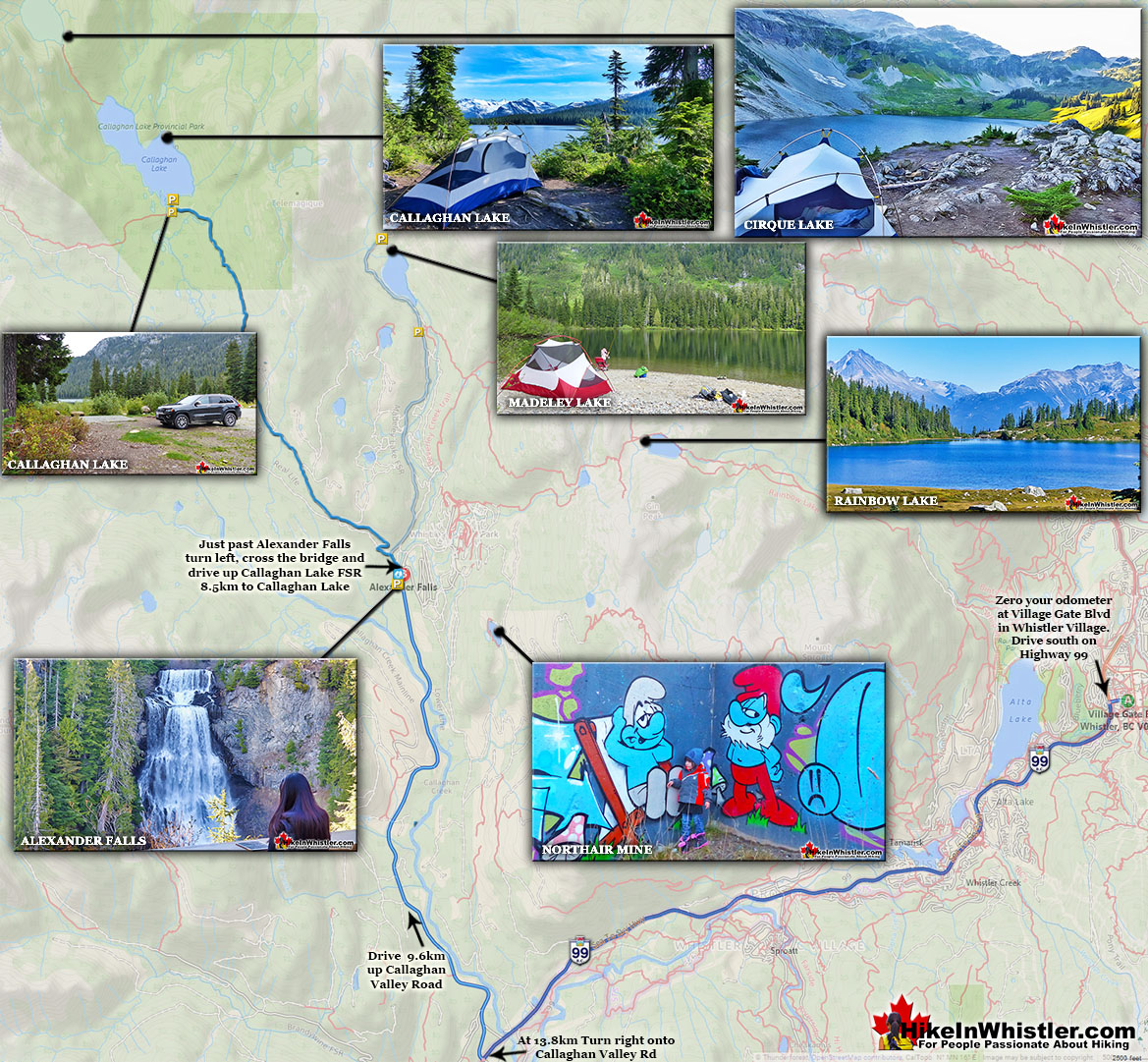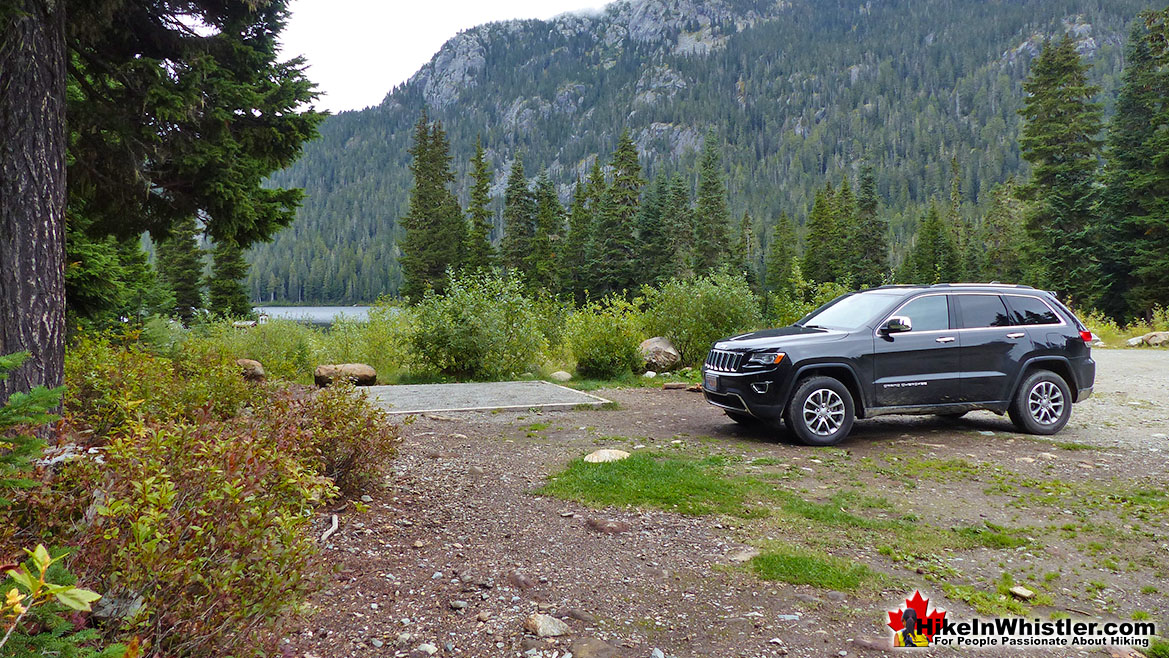 Finding the Hidden Cirque Lake Trailhead

To reach the very hidden trailhead to Cirque Lake, paddle your canoe towards the waterfall far off in the distance. Not until you are only 50 metres from the shore, nearest the sound of the now hidden waterfall, you will see a small clearing jutting out from the shore, this is the trailhead, despite it not looking like one. Pull your canoe up here and drag into the bushes. Only a few metres into shore you will notice an obvious trail. There are even plenty of tree markers on the way. From here it is only an hour hike to the lake, though even steeper than the Wedgemount Lake trail. About two thirds of the way up the trail you will come to a massive boulder field. The trail emerges from the forest into this field and cuts across it.  You then hike the precarious boulder field along the right side.  The route zig-zags all the while following several not so obviously placed cairns and orange trail marker ribbons.  At the top of the boulder field you will have to climb up a narrow cliff gap with an impressive array of brutalized krummholz trees.  These boulder mangled trees, bent and twisted by the crushing weight of snow and rockfalls.  From this gap to Cirque Lake is only another 15 minutes of ever more beautiful views.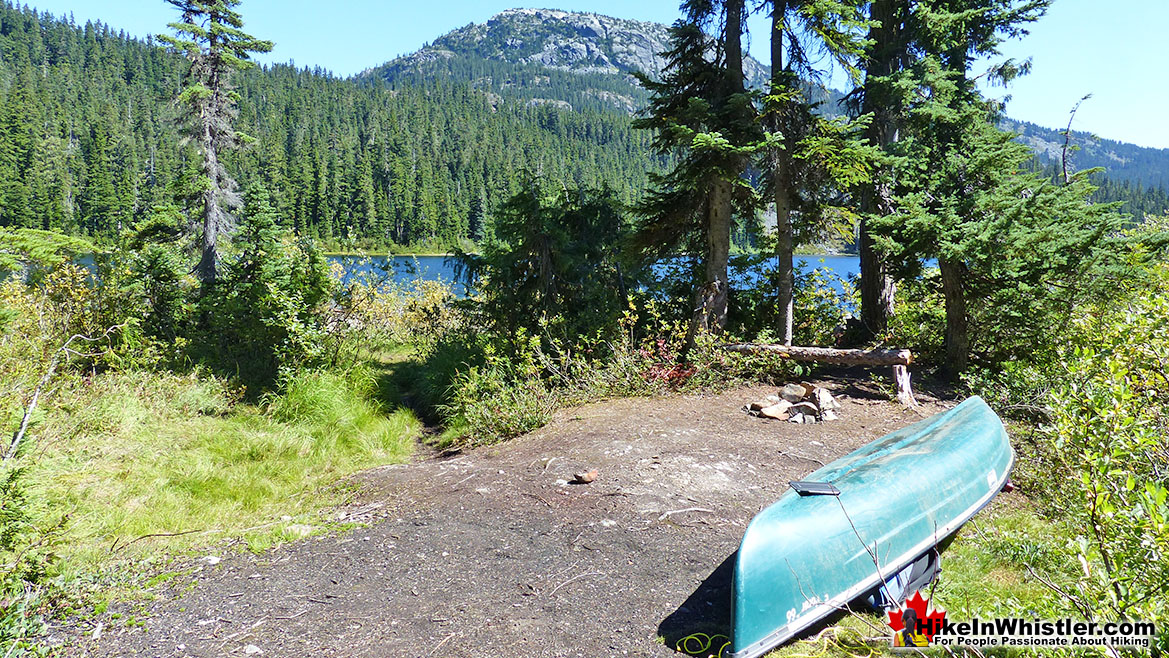 More Great Hiking in the Callaghan Valley

The Callaghan Valley lays quietly across from Whistler despite being home to some incredible hikes. Ring & Conflict Lake and Cirque Lake are two phenomenal hiking destinations in the valley that few people have even heard of. Cirque Lake resides high above Callaghan Lake at the end of a very steep, though very short hike that runs startlingly close to the almost vertical falls that empty Cirque Lake. Ring & Conflict Lake sit high up in the mountains 10 kilometres west of Callaghan Lake.  You will never, or at least comparatively rarely see anyone on the trails to Cirque Lake, Ring & Conflict Lake for several reasons. First is location. Despite the Callaghan Valley being tremendously beautiful geographically. The distant mountains are snow covered, even in September.  The lakes are emerald coloured and crystal clear.  The forests are an untouched blanket of beautiful green. The creeks, rivers and waterfalls are everywhere in your view or if not in view, heard as distant sounds of running water. Despite this beauty, it seems that the biggest reason for the Callaghan Valley's lack of use as a hiking destination is its location next to Garibaldi Park. The beautiful and well known park focuses all the throngs of hikers in the justifiably popular areas of Garibaldi Lake, Black Tusk, Taylor Meadows, Wedgemount Lake and Elfin Lakes.  Laying outside this monstrously famous Provincial Park exists the relatively untouched and unknown Callaghan Valley.  The second big reason of course is that the hikes in the Callaghan Valley are unmaintained or at least rarely maintained.  The campsite at Callaghan Lake is maintained to a very high standard, however the trail to Cirque Lake evidently doesn't fall into any park jurisdiction and finding the unmarked trailhead is a challenge.  There are flagging tapes along the trail after the trailhead.  The third reason, at least for Cirque Lake, for being hardly hiked is the fact that the unmarked trailhead starts at the far end of Callaghan Lake.  So you need to canoe or otherwise, boat there.  This added impediment surely contributes to this wonderful trail, continuing to be infrequently hiked.  The fourth, more practical, yet inexplicable reason is that the road to Callaghan Lake Provincial Park is horribly unmaintained.  Obviously grading this poor logging road is expensive, however it is beyond neglected. Boulders, waterbars and potholes exist on this road to such a high degree that the neglect seems malicious. In fact, the moment you leave the deluxe road to the Olympic Nordic Centre the monstrous potholes begin, presumably scaring away any 4x4 lacking tourists Callaghan Lake Provincial Park bound.  The Callaghan Valley gets a lot of drive in traffic since the recent paving of the road and installation of Whistler Olympic Park for the 2010 Olympics.  This road is open year-round and in the summer is frequented by bear watchers.  The grass along the road is a favourite for bears and in the summer months consistently ensures at least a couple bears along the route to the Callaghan Valley.  Whistler has quite a few beautiful waterfalls to see.  From Squamish there is Shannon Falls, then Brandywine Falls closer to Whistler. Rainbow Falls in Whistler and Nairn Falls twenty minutes north.  Out of these, Alexander Falls in the Callaghan Valley is both impressively huge and convenient to see.  It is located just before the turnoff to Callaghan Lake.  You can drive to the viewing platform and actually see the falls without leaving your car.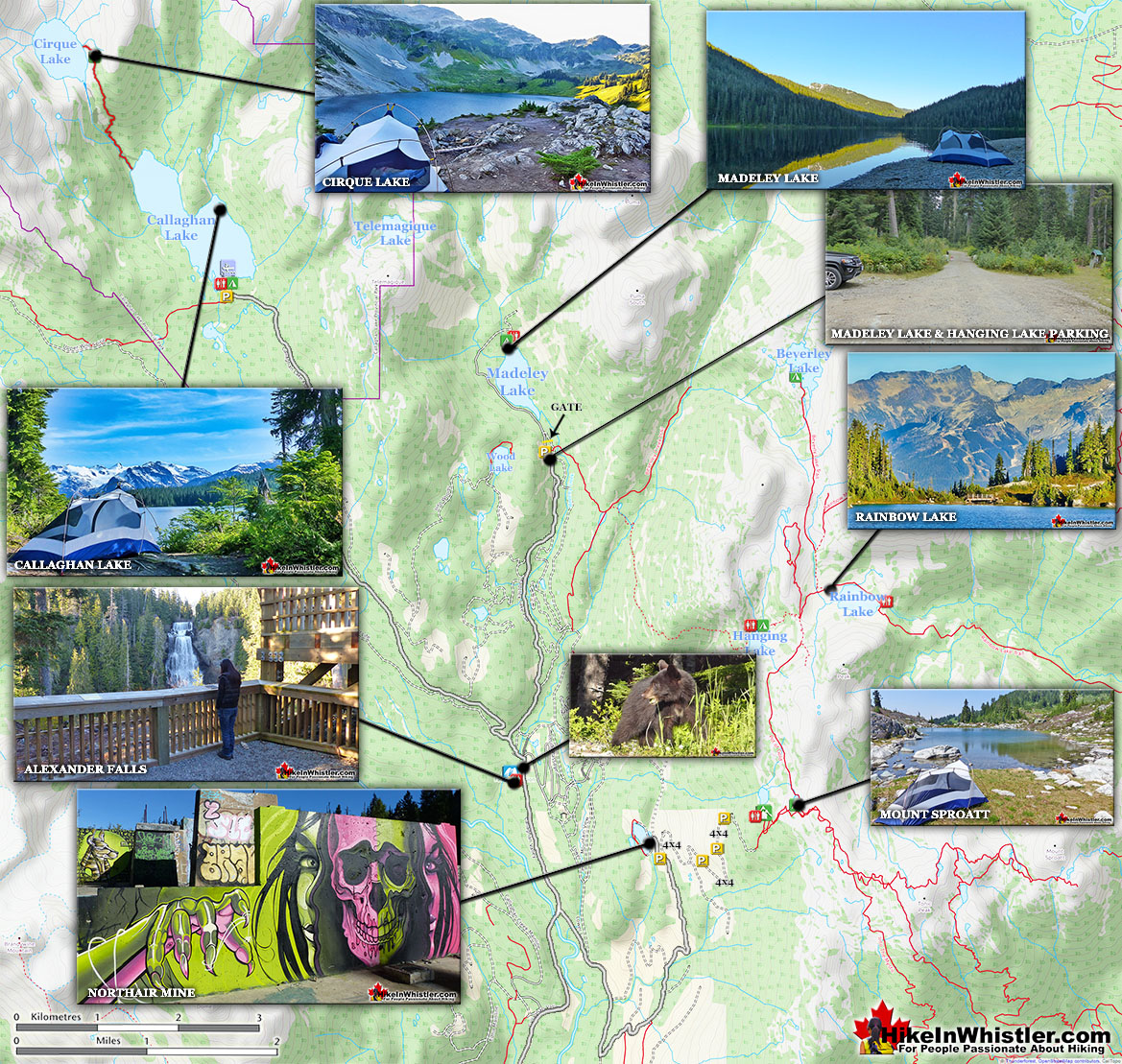 More details, directions and maps for Cirque Lake.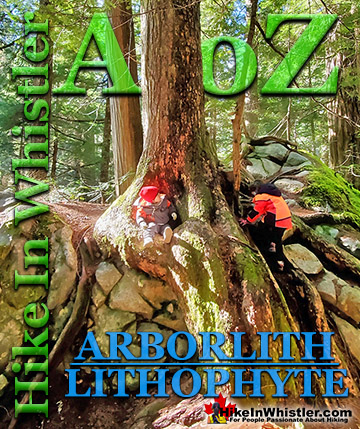 Every unusual phenomenon in the forest seems to have a name, but one natural work of art seems to be without a commonly used name.  Big trees with ...
Read more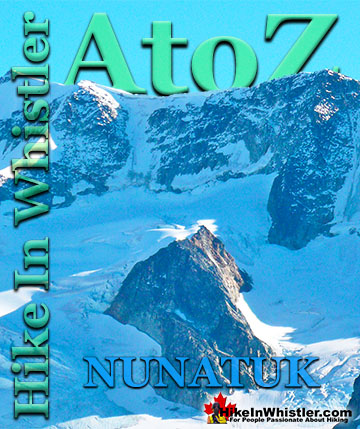 Nunatuk: a rock projection protruding through permanent ice or snow.  Their distinct appearance in an otherwise barren landscape often makes them ...
Read more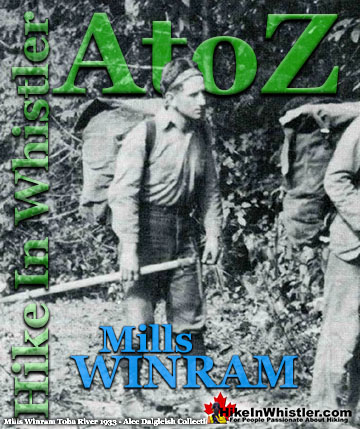 Mills Winram was a very active mountaineer from Vancouver with some very notable ascents in the 1920's and 1930's.  He, along with Fred Parkes and Stan ...
Read more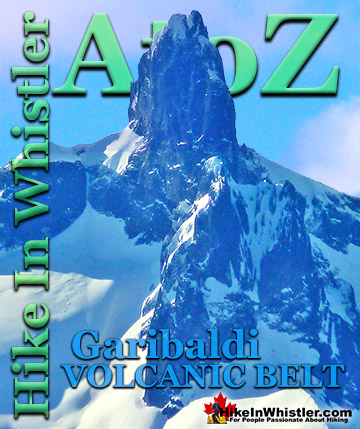 The Garibaldi Volcanic Belt is a line of mostly dormant stratovolcanoes and subglacial volcanoes largely centred around Whistler and extending through much ...
Read more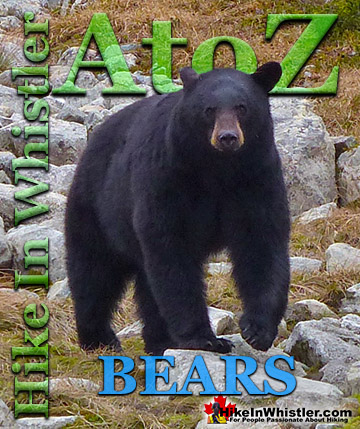 Whistler, the surrounding mountains, and
Garibaldi Provincial Park
are home to two types of bears.  Black bears and grizzly bears.  Black bears are ...
Read more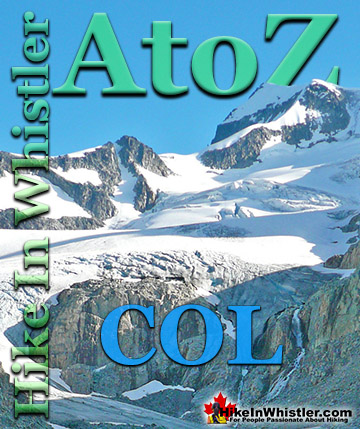 Col: a ridge between two higher peaks, a mountain pass or saddle.  More specifically is the lowest point on a mountain ridge between two peaks.  Sometimes ...
Read more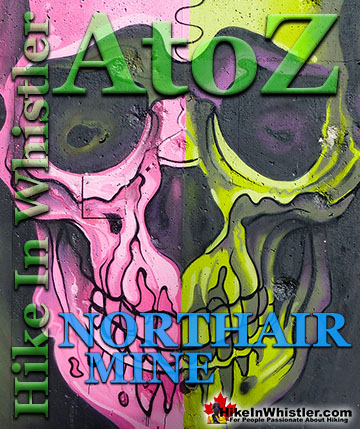 Northair Mine is wonderful, hidden world high up in
Callaghan Valley
.  It was a gold mine run by the Northair Group from 1976 until was abandoned in 1982 ...
Read more
Whistler & Garibaldi Hiking

Alexander Falls  

Ancient Cedars  

Black Tusk  

Blackcomb Mountain  

Brandywine Falls  

Brandywine Meadows  

Brew Lake  

Callaghan Lake  

Cheakamus Lake  

Cheakamus River  

Cirque Lake 

Flank Trail 

Garibaldi Lake 

Garibaldi Park 

Helm Creek  

Jane Lakes 

Joffre Lakes  

Keyhole Hot Springs  

Logger's Lake  

Madeley Lake  

Meager Hot Springs 

Nairn Falls  

Newt Lake 

Panorama Ridge 

Parkhurst Ghost Town 

Rainbow Falls  

Rainbow Lake 

Ring Lake  

Russet Lake  

Sea to Sky Trail 

Skookumchuck Hot Springs  

Sloquet Hot Springs 

Sproatt East 

Sproatt West  

Taylor Meadows  

Train Wreck  

Wedgemount Lake  

Whistler Mountain

January 

February 

March 

April 

May 

June 

July 

August 

September 

October 

November 

December