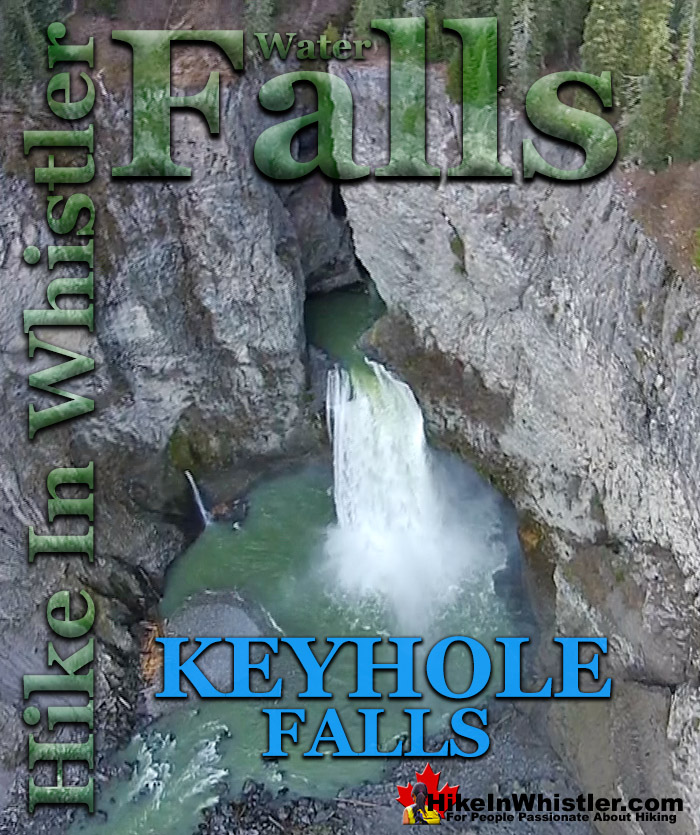 Mount Meager erupted here 2400 years ago and filled the valley with debris that cemented into rock that blocked Lillooet River.  Eventually water erosion cut a channel through the breccia dam, and Keyhole Falls were born.  The trail to Keyhole Hot Springs shows you plenty of examples of breccia, which is larger pieces of angular rock cemented together with small particles or a mineral cement that forms these marvels.
Whistler & Garibaldi Hiking

Alexander Falls  

Ancient Cedars  

Black Tusk  

Blackcomb Mountain  

Brandywine Falls  

Brandywine Meadows  

Brew Lake  

Callaghan Lake  

Cheakamus Lake  

Cheakamus River  

Cirque Lake 

Flank Trail 

Garibaldi Lake 

Garibaldi Park 

Helm Creek  

Jane Lakes 

Joffre Lakes  

Keyhole Hot Springs  

Logger's Lake  

Madeley Lake  

Meager Hot Springs 

Nairn Falls  

Newt Lake 

Panorama Ridge 

Parkhurst Ghost Town 

Rainbow Falls  

Rainbow Lake 

Ring Lake  

Russet Lake  

Sea to Sky Trail 

Skookumchuck Hot Springs  

Sloquet Hot Springs 

Sproatt East 

Sproatt West  

Taylor Meadows  

Train Wreck  

Wedgemount Lake  

Whistler Mountain

January 

February 

March 

April 

May 

June 

July 

August 

September 

October 

November 

December

Alexander Falls 

Brandywine Falls  

Cirque Falls  

Holloway Falls 

Keyhole Falls 

Nairn Falls 

Rainbow Falls 

Shannon Falls 

Train Wreck Falls 

Wedgemount Falls
The beautiful Keyhole Falls are just a couple kilometres upriver from Keyhole Hot Springs.  The unmarked trailhead and parking area for Keyhole Falls are just a couple kilometres past the parking area for Keyhole Hot Springs.  It is easy to find if you have a good idea where it is, see the map below.  If you don't have a rough idea where it is, or expect an obvious sign, you will likely get lost in the maze of logging roads in the area.  Mount Meager looms high above Keyhole Hot Springs and it, and the surrounding peaks are known collectively as the Mount Meager Complex. The Meager Complex produced the most recent, major volcanic event in Canada in the last 10,000 years. The eruption 2400 years ago spread ash as far as Alberta. More recently, in 2010 a massive debris flow swept down and into the valley causing Pemberton to be evacuated. The eruption 2400 years ago left a huge pumice outcrop 2 kilometres long and 1 kilometre wide.  In the last couple years BC Ministry of Forests and Recreation Sites and Trails BC have been aggressively blocking public access to both Meager Hot Springs, Keyhole Hot Springs and Keyhole Falls. Currently, in 2023 they have blocked both access roads with gates to the trailheads and are threatening to issue violation tickets. The warning reads: SITE CLOSED: Trail and hot springs are closed from Apr 1 to Nov 15 each year (spring to fall) The Province will be enforcing this closure and will issue violation tickets to anyone caught ignoring the restrictions. They don't appear to have any legitimate reasons for the closures and are clearly making up vague things to justify blocking public access. For example: "The Upper Lillooet provides important habitat for many wildlife species, including the threatened South Chilcotin grizzly bear population, and is a very important wildlife migration corridor for deer, moose, and mountain goats. Mineral licks at the hot springs provide wildlife with year-round nutrients. The hot springs are also home to the vivid dancer damselfly, a species of special concern that is threatened by intensive recreational use. Ad hoc water diversion mechanisms and user created tubs disturb natural features and alter stream flow, negatively impacting the ecosystem. Human activity at the hot springs can displace wildlife from these valuable habitat features."
Keyhole Falls from Above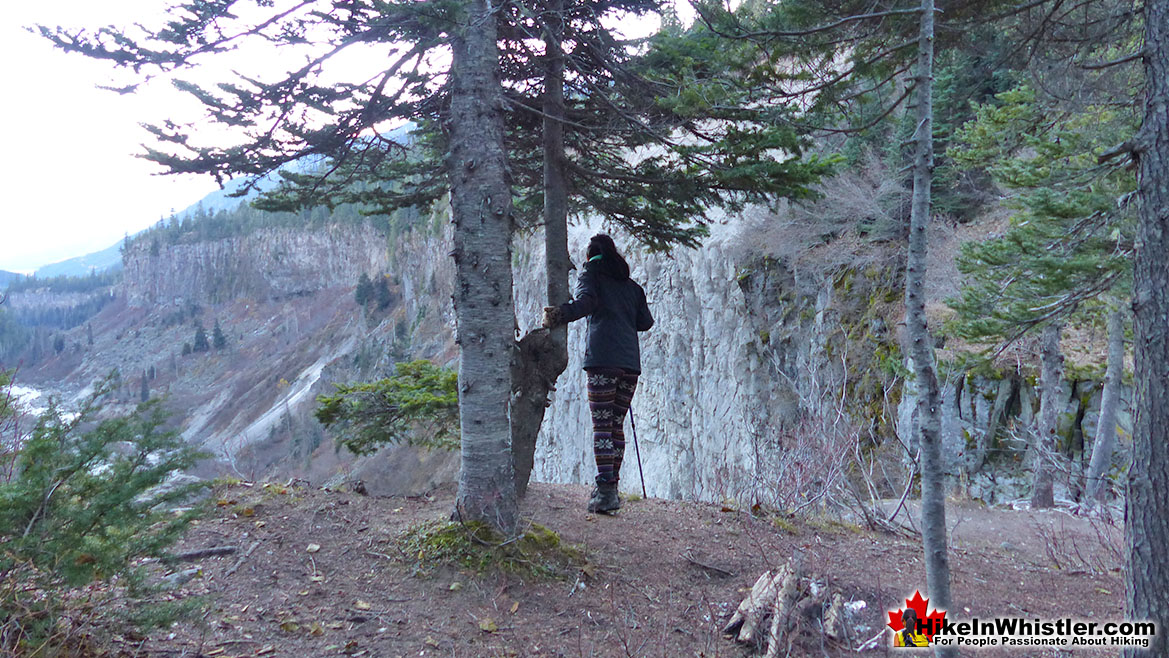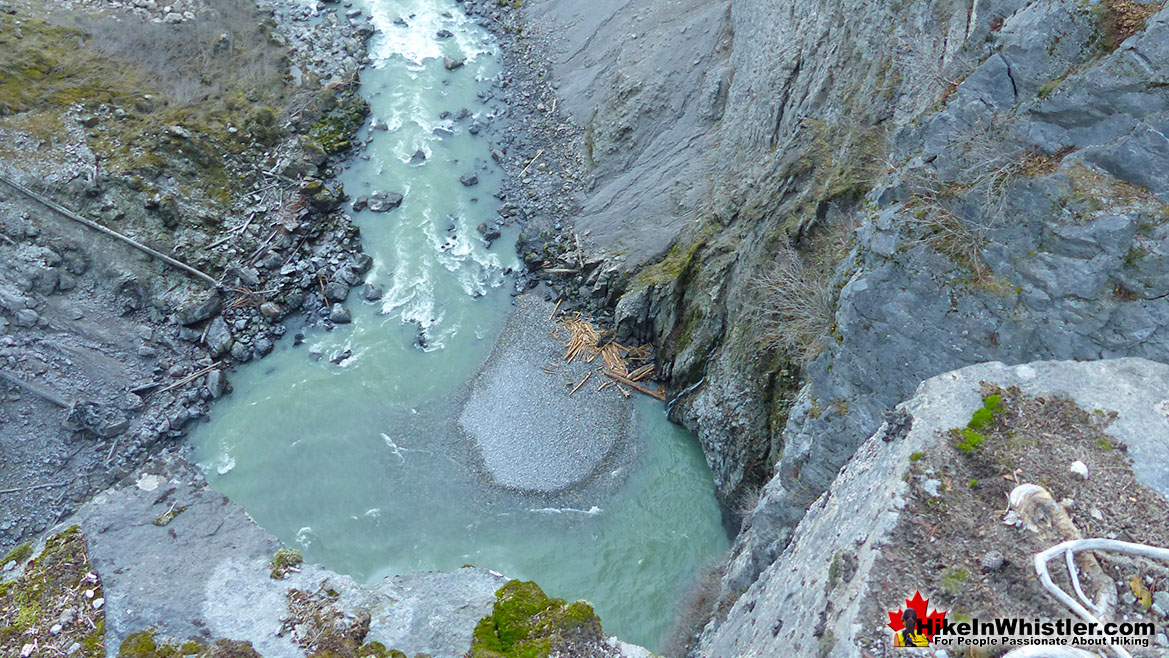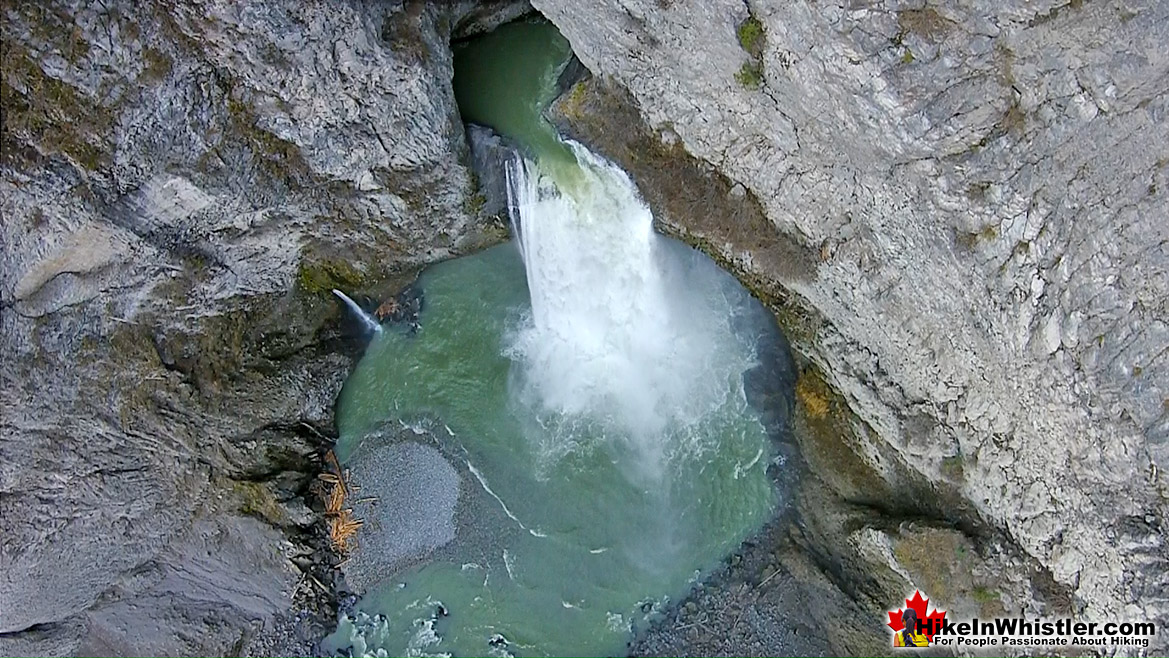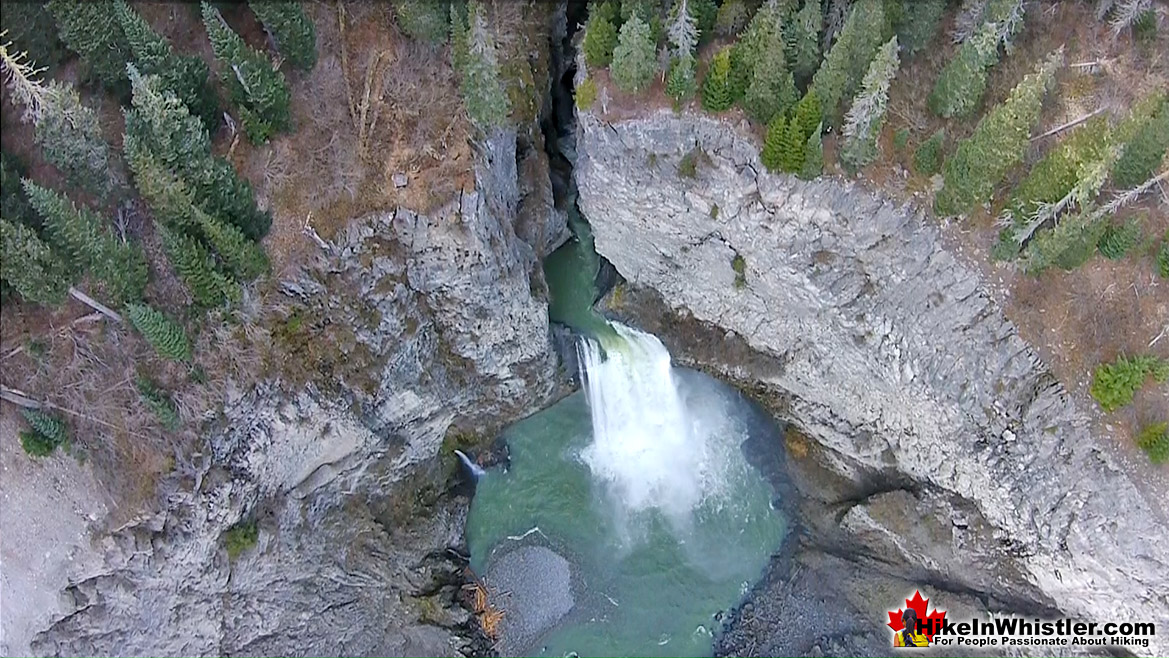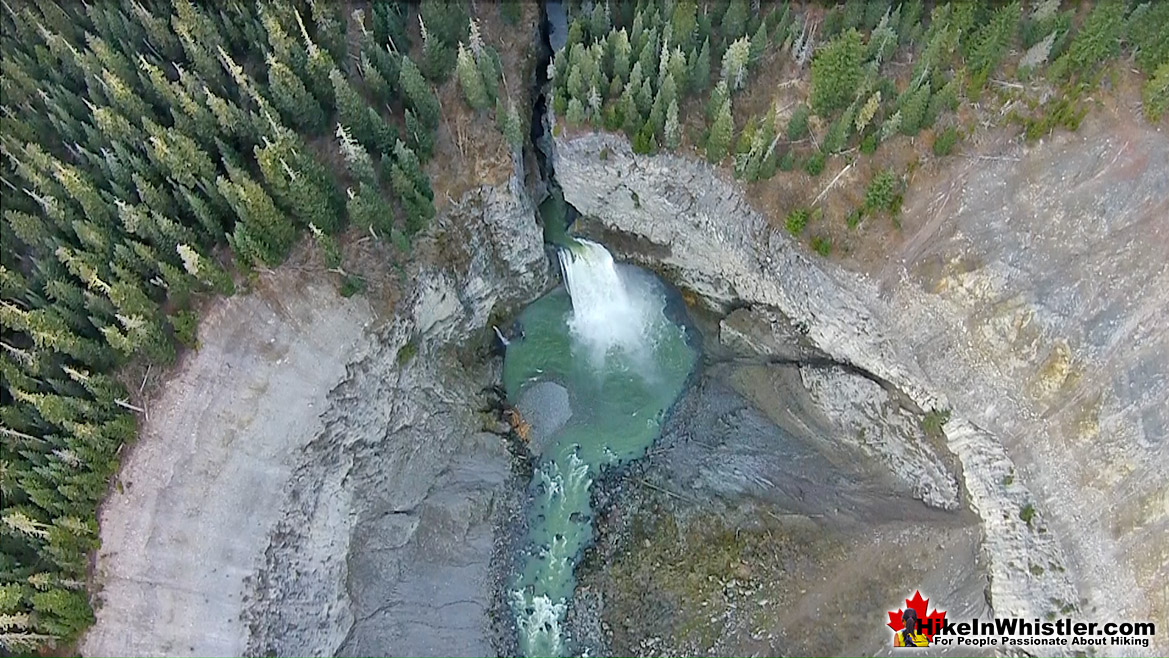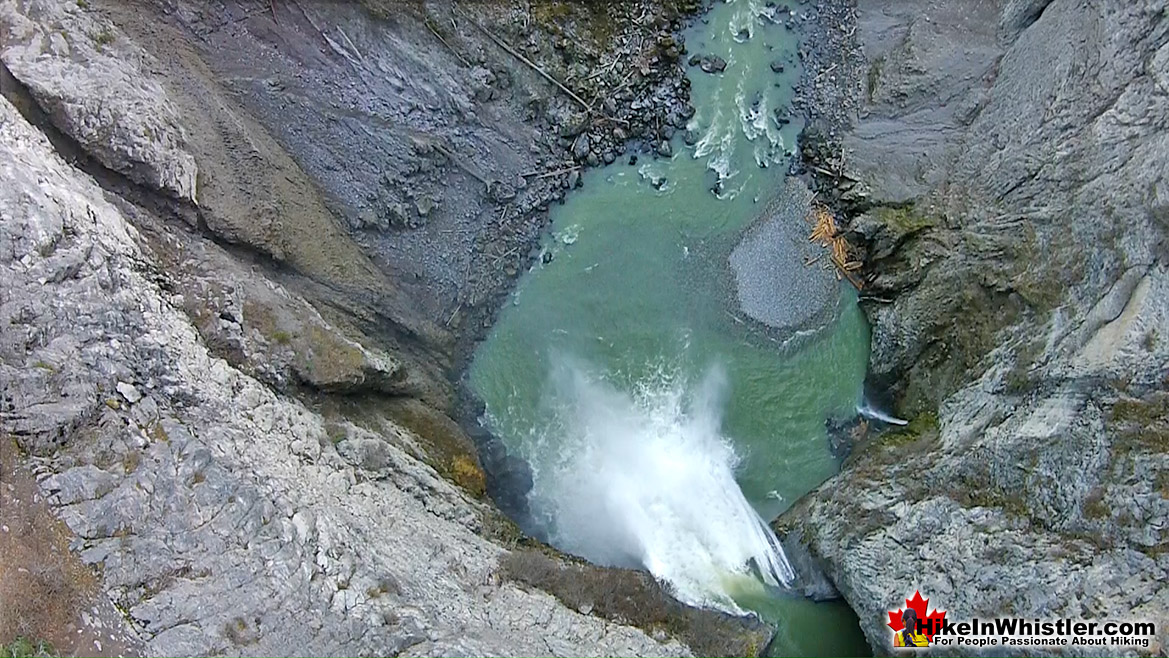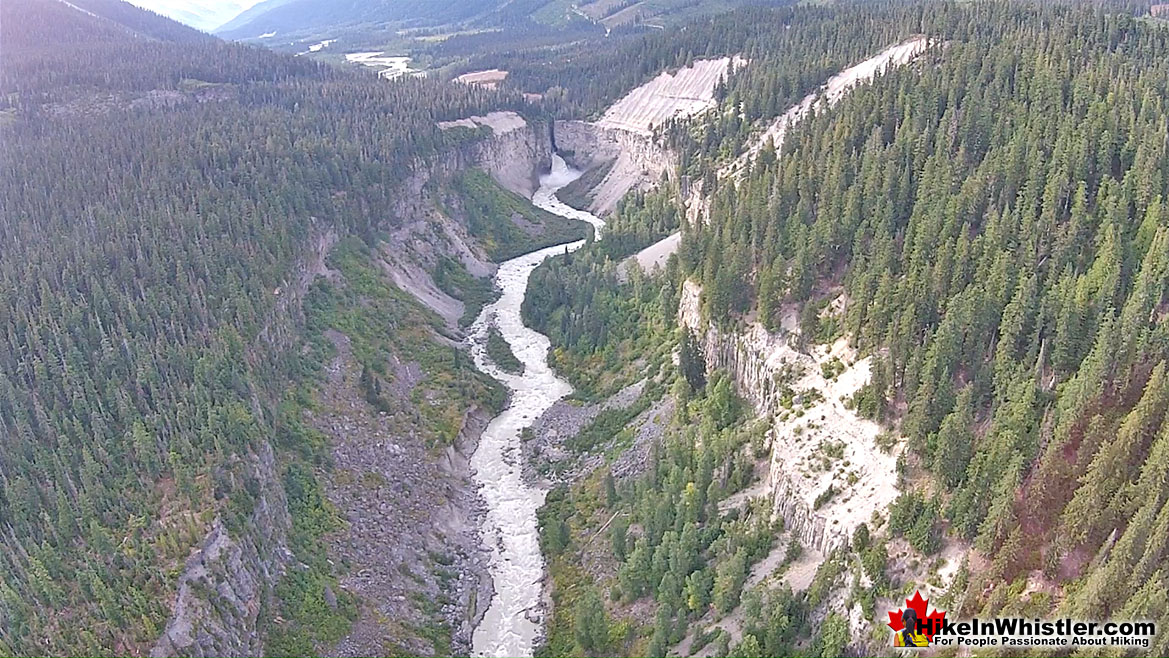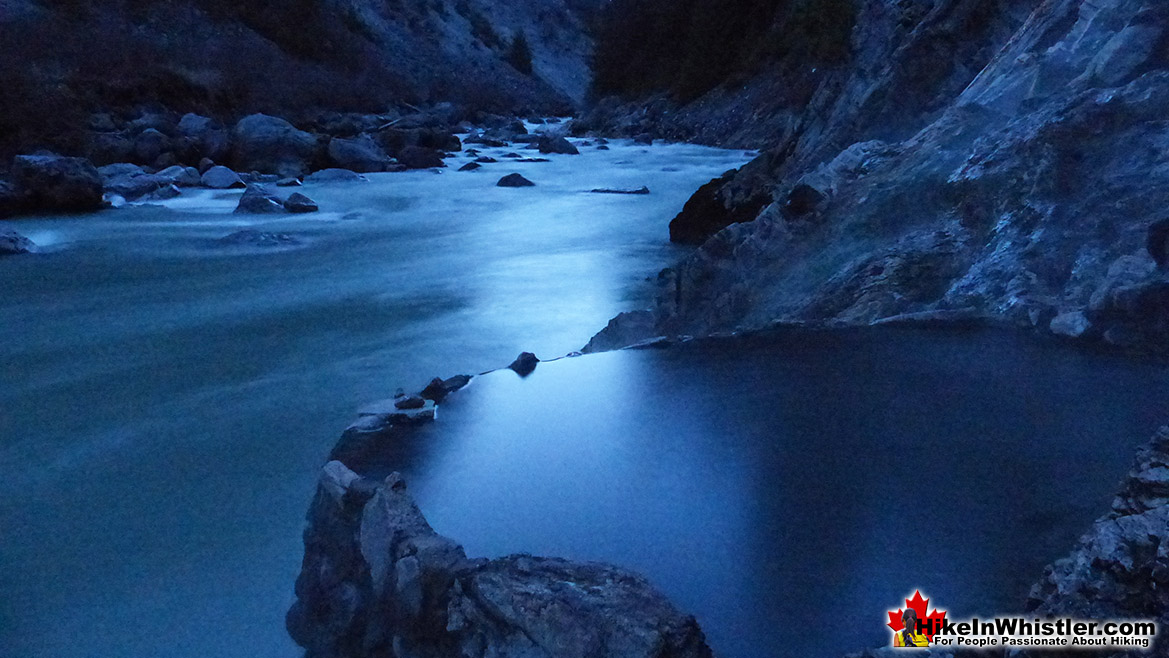 Keyhole Falls and Hot Springs Map
Keyhole Hot Springs is located 100 kilometres from Whistler(Village Gate Blvd). Though most of the 100 kilometres is on logging roads, it is driveable by most cars without any trouble. The massive Innergex hydroelectric project has turned this once quiet wilderness into a war-zone. On the plus side, the old logging roads near Keyhole Hot Springs and Keyhole Falls are now well maintained and smooth.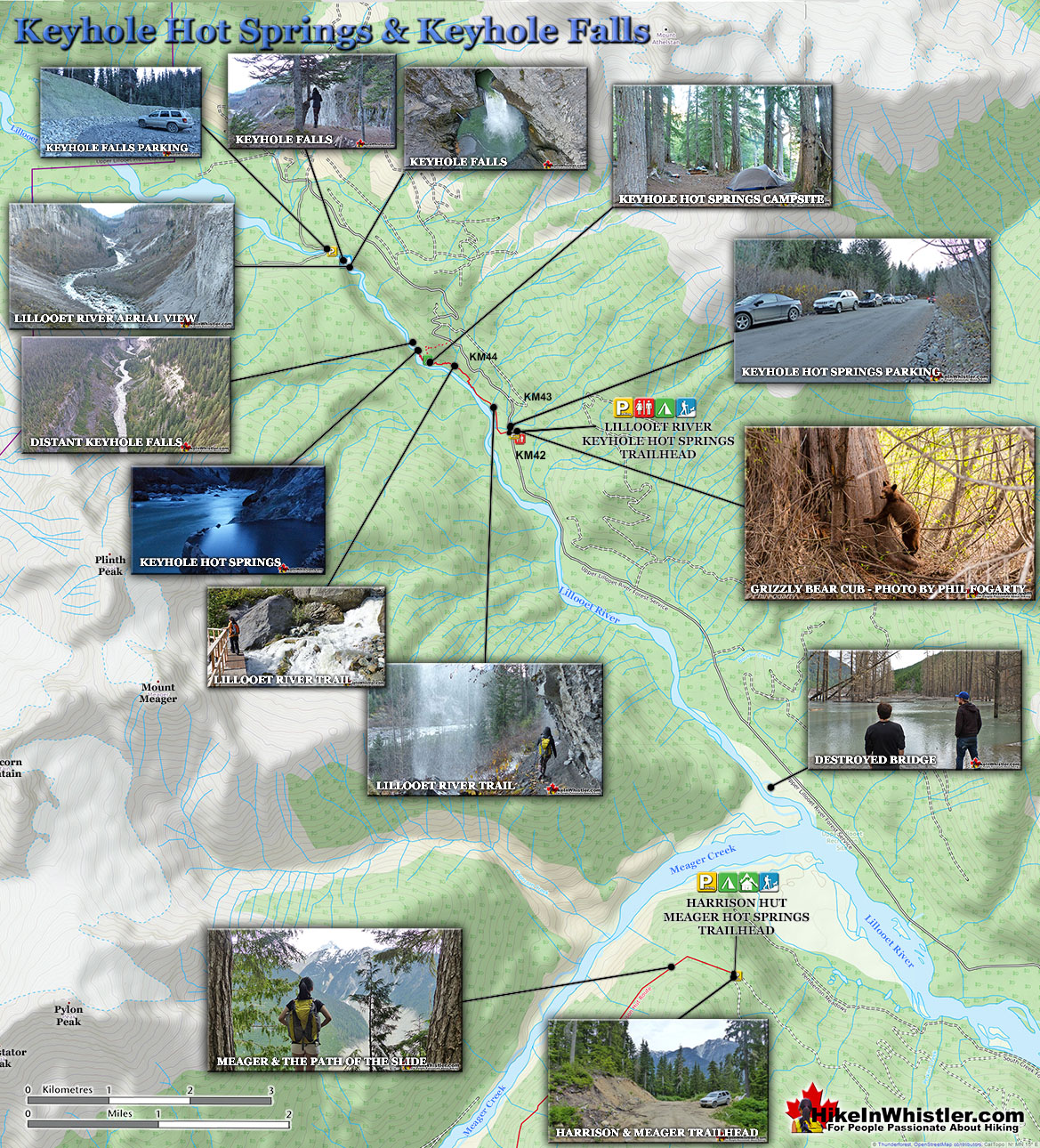 Directions to Keyhole Falls



Keyhole Falls is over one hundred kilometres from Whistler Village.  Drive north on Highway 99 until you reach Pemberton.  When you reach Pemberton turn left at the traffic lights(Petro-Canada gas station) and after 1k you will come to a roundabout, left here and drive 200 metres to the T junction, you will see a sign for "The Meadows" turn right here and and another "The Meadows" sign in a couple hundred metres pointing left.  Head NW from Pemberton on Pemberton Meadows road for 25km and turn right onto Upper Lillooet Forest Service Road.  This cuts you across, and in between two huge farm fields and then crosses a bridge high above the river then turns sharply left.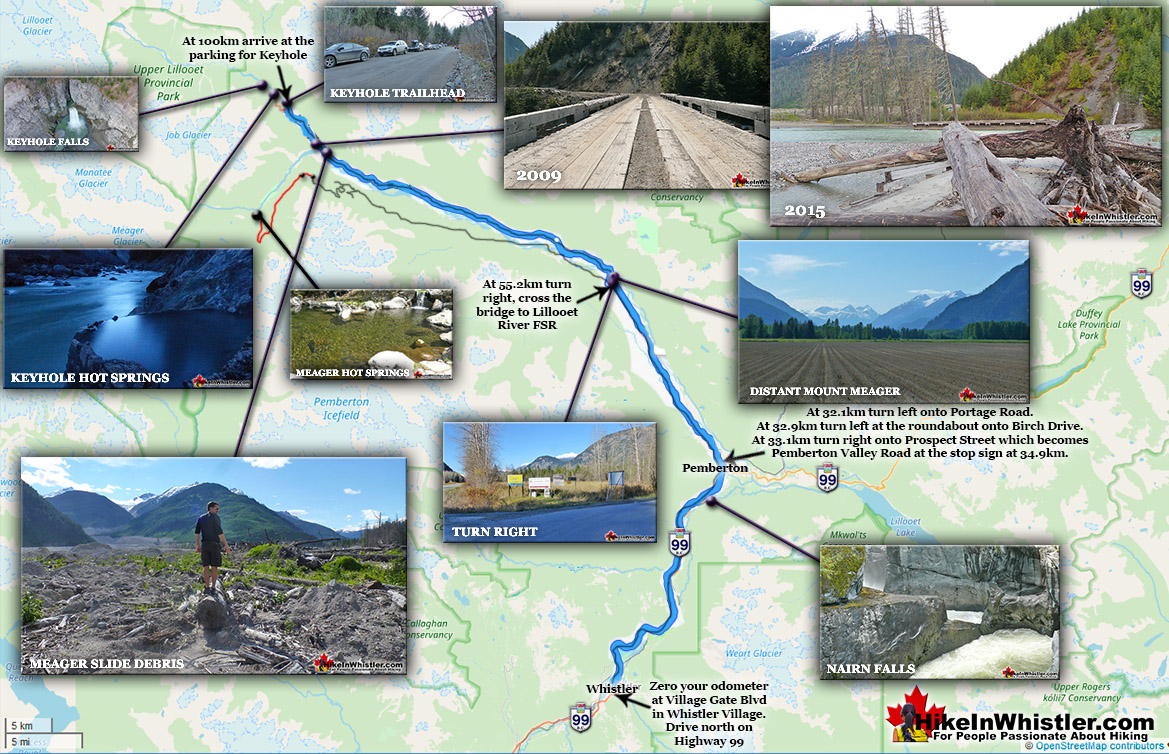 You will notice after you cross the bridge that the Upper Lillooet FSR has kilometre markings posted on the right side of the road starting here.  You don't really need to zero your odometer here, as you can just use these road KM markers instead which are used below.  Be careful to keep left at 9km (right goes to Gold Bridge via Hurley Pass)  At 36k you will see the massive mudslide carnage of 2010 on your left and an amazing place to pull over and look around.  It is amazing to think that 2013 was when the plants and trees finally managed to significantly return here.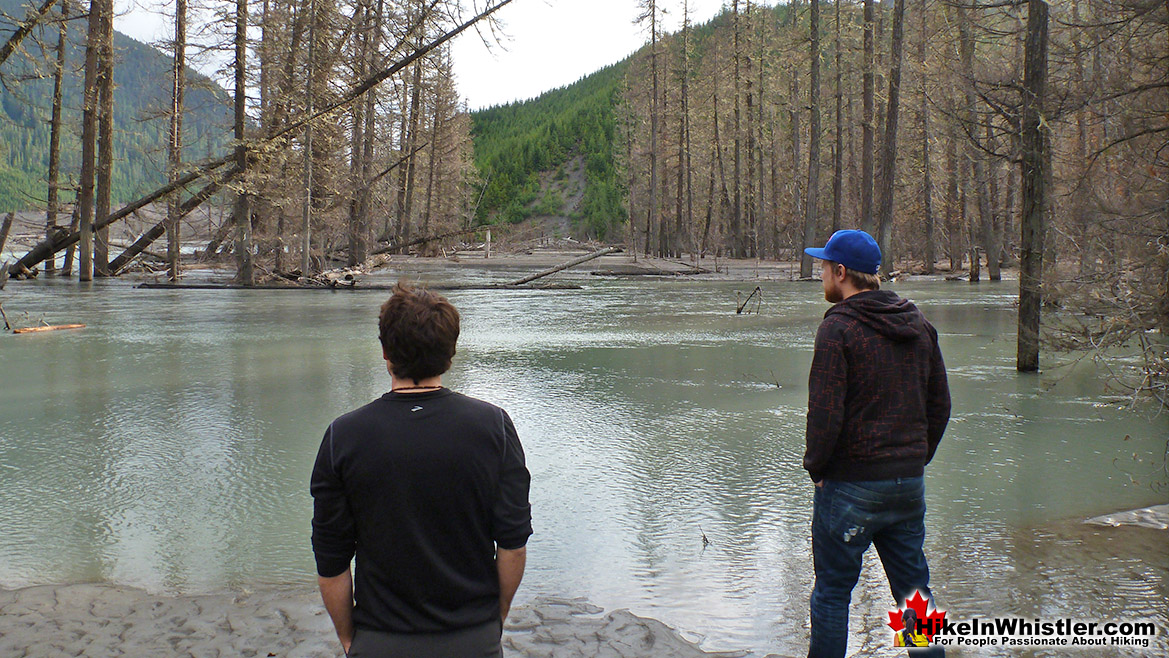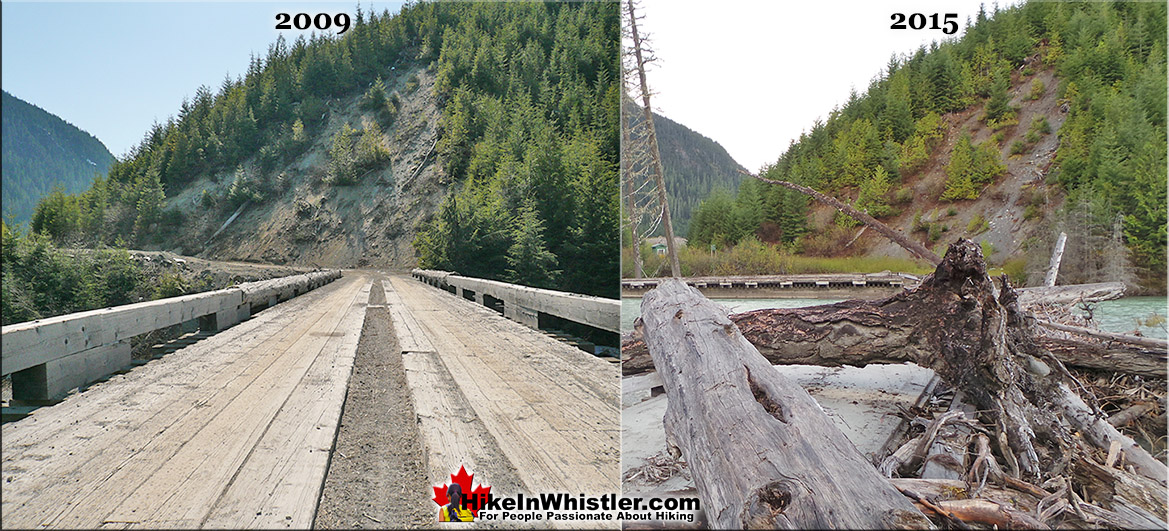 At km 37 continue straight past the old Meager Hot Springs turn-off on your left, which is now a mound of dirt(sometimes car sized boulders) blocking the road that once was the giant bridge to Meager Hot Springs. Look for the very old sign on your right, "Meager Hot Springs - Closed". Don't forget to stop here and marvel at the surreal road to nowhere. Just past km 42 you will pass the trailhead parking area(for Keyhole Hot Springs pictured on the map above) on the right(room for about 15 cars). There is a very small "Lillooet River Trail".  Just continue driving past the Lillooet River Trail. You will see a large, unmarked parking area and hard to find trail just before the km 50(just before the bridge, see pictures below).  If you have doubts that you are parking in the right spot, just get out of your vehicle and listen for a moment. The deep rumbling of Keyhole Falls can be faintly heard from where you park.  Climb the gravel embankment(don't cross the vehicle bridge) and look for the faint trail, then follow the faint rumbling from the falls as it soon becomes a thundering echo far below. The trail is just a couple hundred metres long from the parking area. The reason you have to be brave to get to Keyhole Falls is because of the colossal war zone you have to drive through to get to it.  It is a bit daunting, however, access to the area is still allowed.  You just have to be very aware of being considerate to the massive construction vehicles scrambling to get the job done.  There are large signs indicated where you cannot go, which makes navigating to the falls more manageable.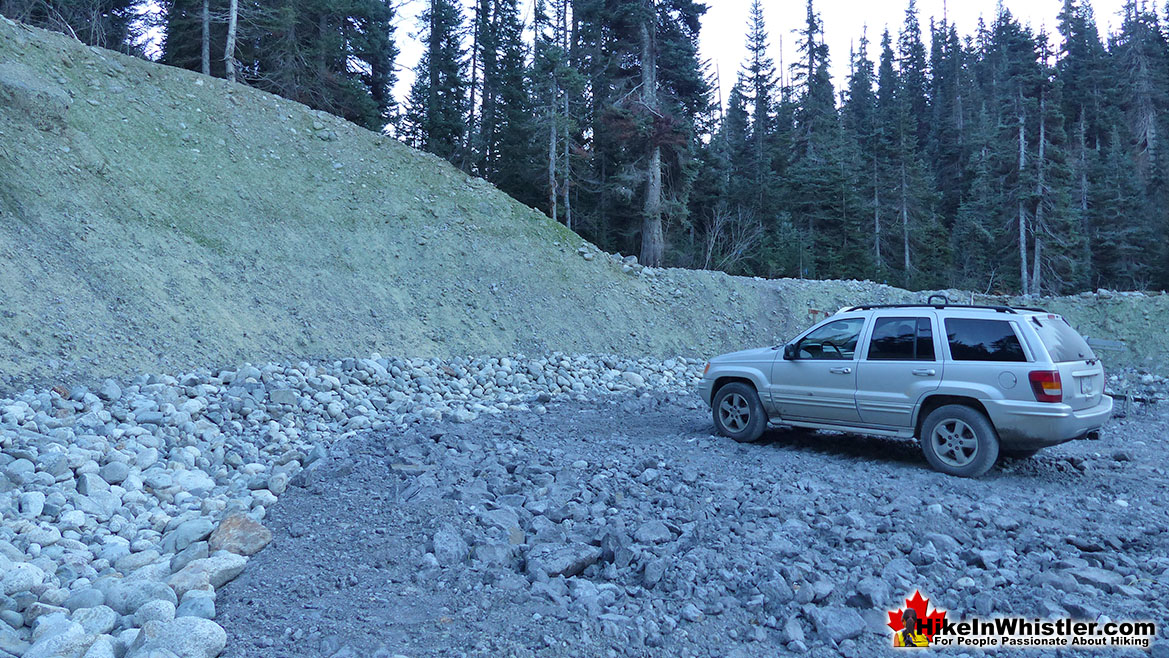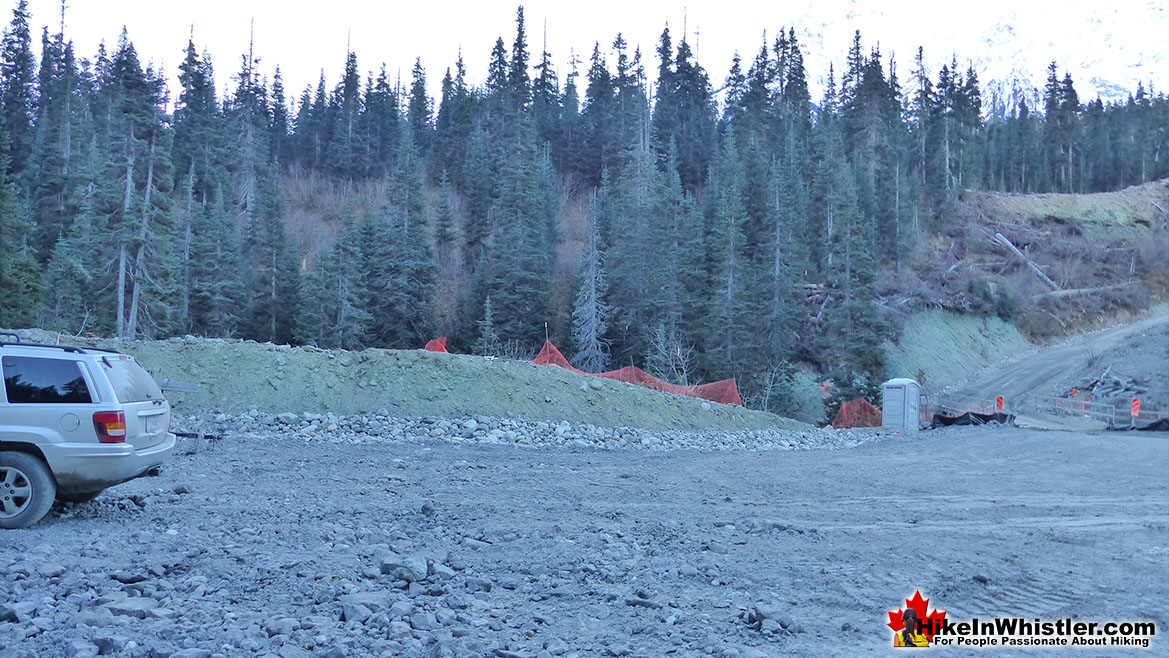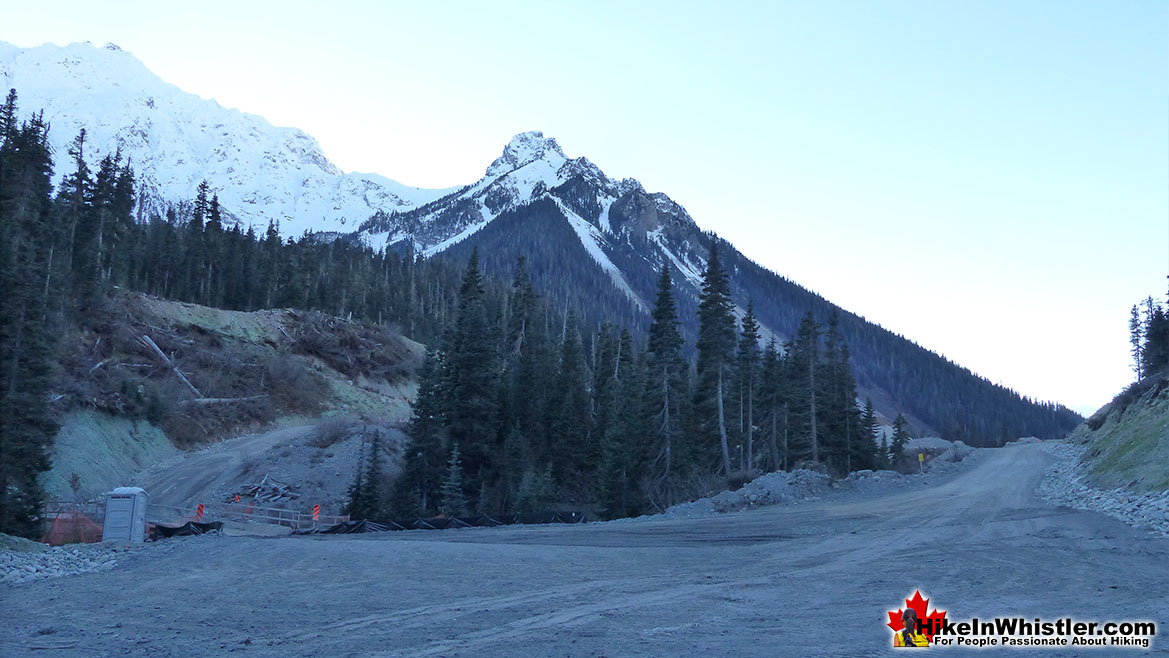 Alexander Falls - Best Whistler Waterfalls

Alexander Falls is a very impressive 43 metre/141 foot waterfall just 30 to 40 minutes south of Whistler in the Callaghan Valley. Open year-round and located just before Whistler Olympic Park where several of the 2010 Olympic events were held. There is a nice viewing platform on the edge of the cliff across from the falls which crash fantastically into the valley below.  The parking area and viewing platform at Alexander Falls is one big area just 40 metres from the main road, just before Whistler Olympic Park.  The adventurous can find the obscure trail that leads to both the top of the falls as well as, with great difficulty, to the base of the falls.  Alexander Falls is certainly one of the nicest spots for a picnic in Whistler.  The picnic areas are numerous, the surrounding forest is gorgeous and wild and Alexander Falls crashes loud and beautiful in the background.  Several picnic tables are located in forested clearings that were once used as campsites, so if you have a big group, you will have lots of room to spread out and enjoy the surroundings.  The free parking lot at Alexander Falls is enormous. Keep in mind that it is a day-use only parking area and camping or campfires are prohibited. If you are looking for a place to park overnight in the area the possibilities are endless.  Callaghan Valley is very wild, devoid of people and the spider-web of logging roads that cover the valley run for hundreds of kilometres.  Continued here...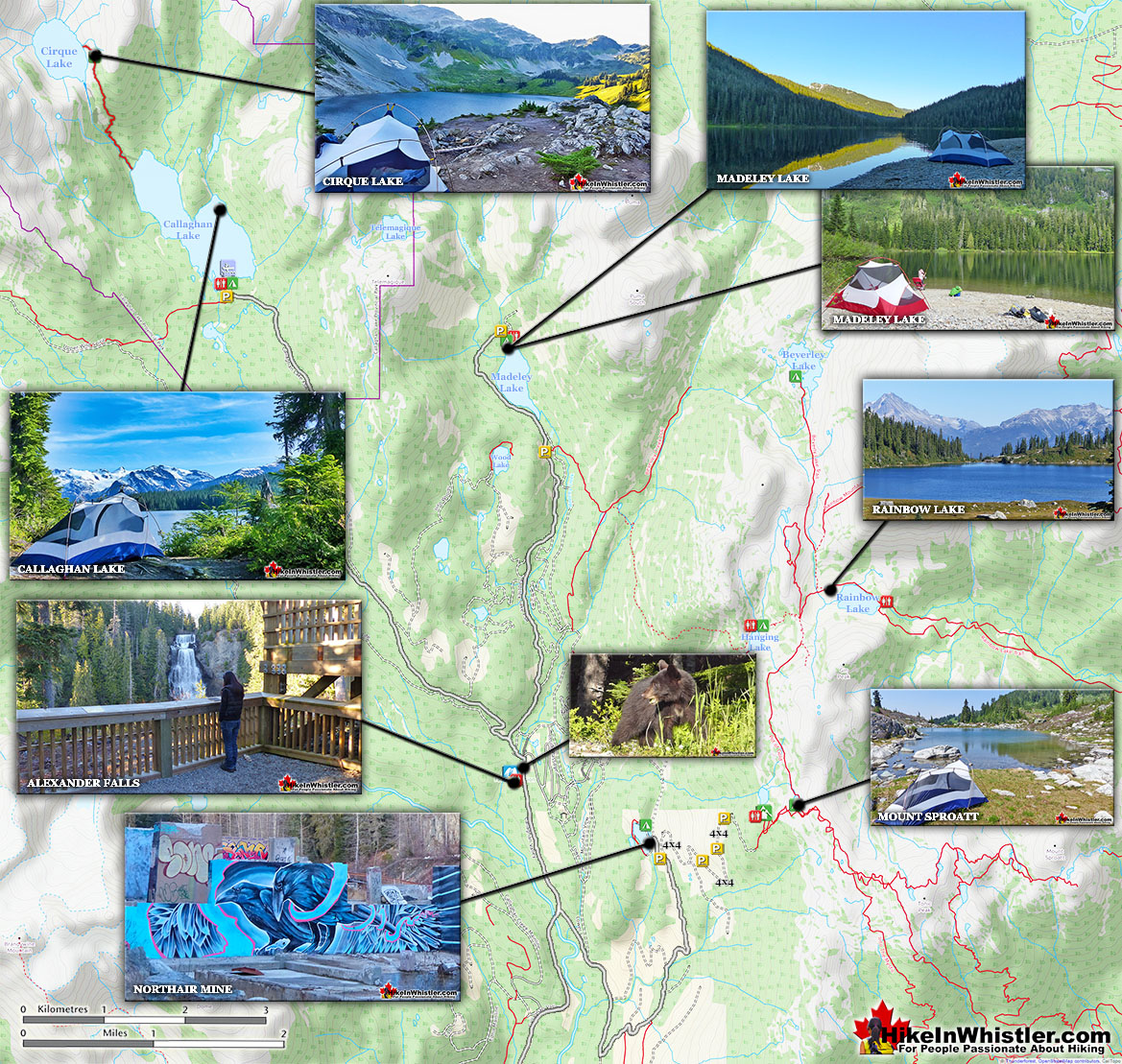 Brandywine Falls - Best Whistler Waterfalls

Brandywine Falls is one of the must see sights on the way to or from Whistler. The falls drop from a 66 metre(216 feet), unnaturally abrupt looking cliff to the valley below. Brandywine Falls Provincial Park is such a popular, accessible and beautiful sight that it has a large and elaborate viewing platform directly opposite the falls. Located just 20 minutes south of Whistler, Brandywine Falls is just off of the Sea to Sky Highway.  Brandywine Falls Provincial Park is wonderful for so many reasons.  First it is dramatically beautiful as it plunges from an abrupt cliff.  Second it is very easy to get to and easy to hike to.  The viewing areas are nicely located and the far viewing area overlooks the massive valley toward Daisy Lake.  Brandywine Falls is the main sight in the area, but there are several more great sights around the falls.  Continued here...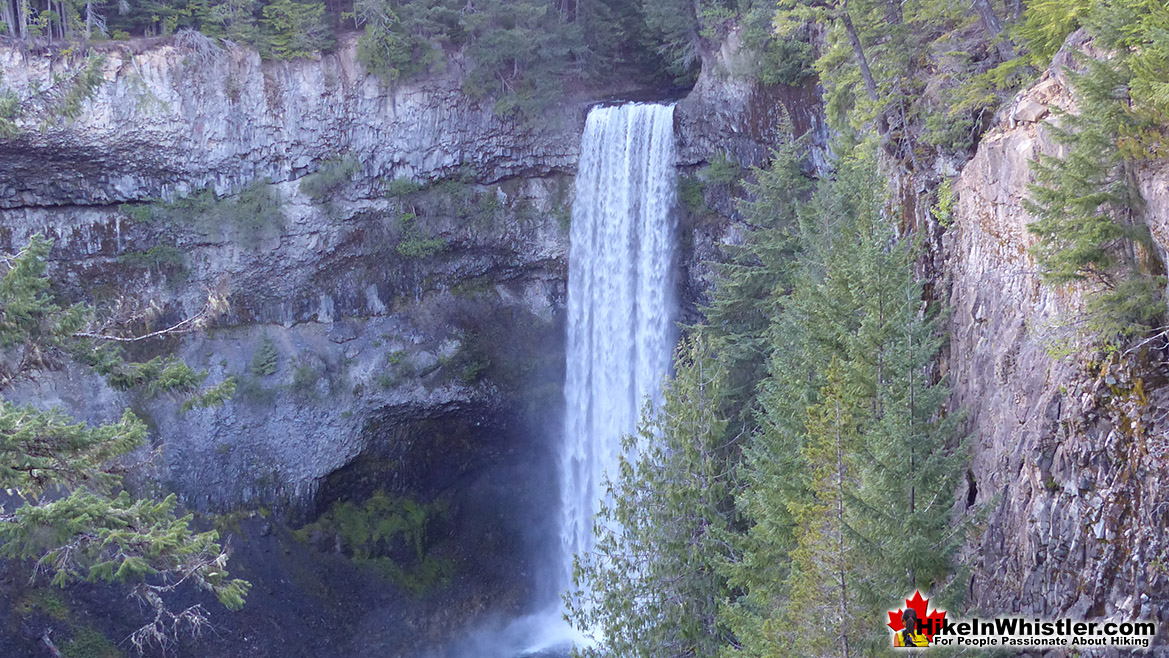 Cirque Falls - Best Whistler Waterfalls

Cirque Falls crashes down from Cirque Lake to Callaghan Lake, connecting these two remarkably beautiful and very different lakes.  Where Callaghan Lake is a large, easy to get to mountain lake, Cirque Lake is an extraordinarily serene and hidden lake that takes a bit of planning and effort to get to.  Though it is just two kilometres up a steep, yet easily manageable trail, the Cirque Lake trailhead is hidden at the far end of Callaghan Lake.  With the massive snowfall and long winters, combined with the rapid, trail-consuming forest growth in BC's Coast Mountains, finding the Cirque Lake trail is mangled, obscured and overgrown.  Keeping to the trail and even finding the trailhead would be nearly impossible without the help of Cirque Falls and Cirque Creek.  The trailhead, in fact, is so well concealed by the forest that it is completely invisible from the lake.  Paddling up to the end of Callaghan Lake and where you assume the trailhead to be leaves you some probable options that entice you away from the actual trailhead.  Flatter terrain, gaps in the forest and a more obvious entry point to the forest can be found on the right side of the end of the lake.  The left side and middle, you rule out quickly as they are both too steep and the impenetrable wall of the rainforest looks uninviting.  Continued here...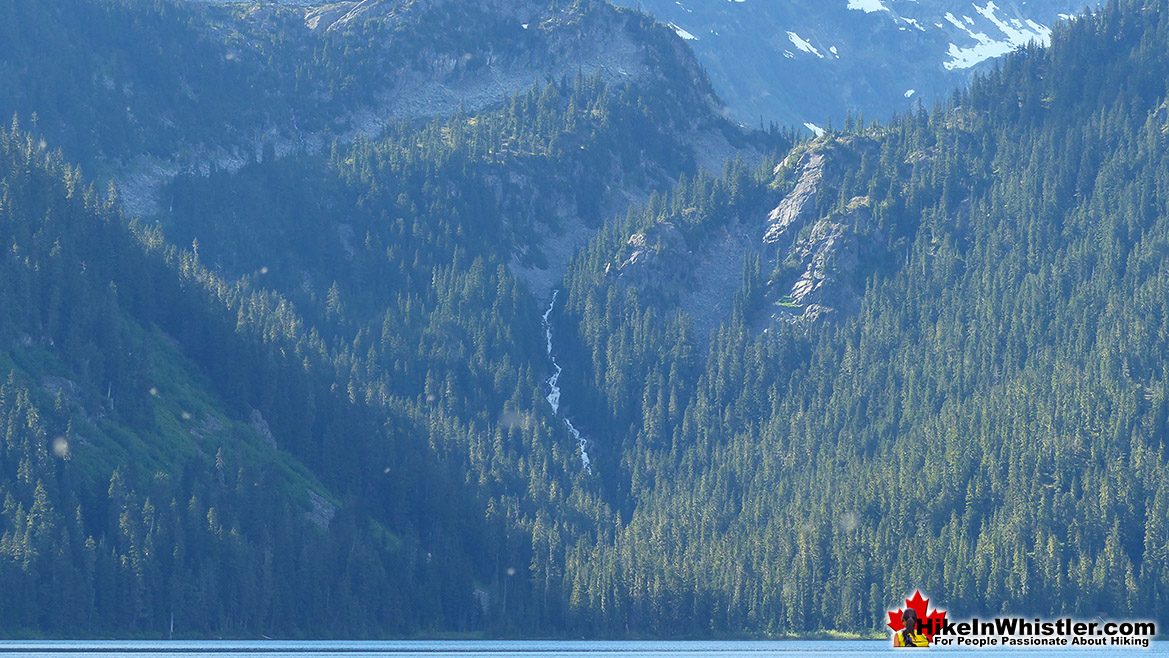 Holloway Falls - Best Whistler Waterfalls

Holloway Falls is the beautiful waterfalls you see partway along the Joffre Lakes Provincial Park trail.  Located between Middle Joffre Lake and Upper Joffre Lake, Holloway Falls is a wide, crashing torrent of white water emerging from the forest and rushing past the trail.  Huge boulders and logs along the edge with swirling water rushing around them.  On a hot day, you can easily dunk your head in the rushing water and cool down.  Joffre Creek flows from Upper Joffre Lake to Middle Joffre Lake with Holloway Falls an equal distance between them.  Joffre Creek then flows quite some distance to Lower Joffre Lake.  It then flows out of Joffre Lakes Provincial Park and runs along parallel to the Sea to Sky Highway for several kilometres to Lillooet Lake.  Holloway Falls is not dramatically impressive like other Whistler waterfalls like Brandywine Falls or Alexander Falls.  It is more like Rainbow Falls, in that it flows down more gradually, and not over a massive and abrupt cliff.  Though compared to Rainbow Falls, Holloway Falls is quite a larger torrent of water flowing through.  Joffre Lakes Provincial Park is a beautiful and popular park, well known for its brilliantly, glacier coloured lakes.  All three Joffre Lakes are extraordinarily turquoise coloured.  On a sunny day, the lakes are hypnotizingly beautiful, surrounded by gorgeous mountains and untouched wilderness.  Continued here...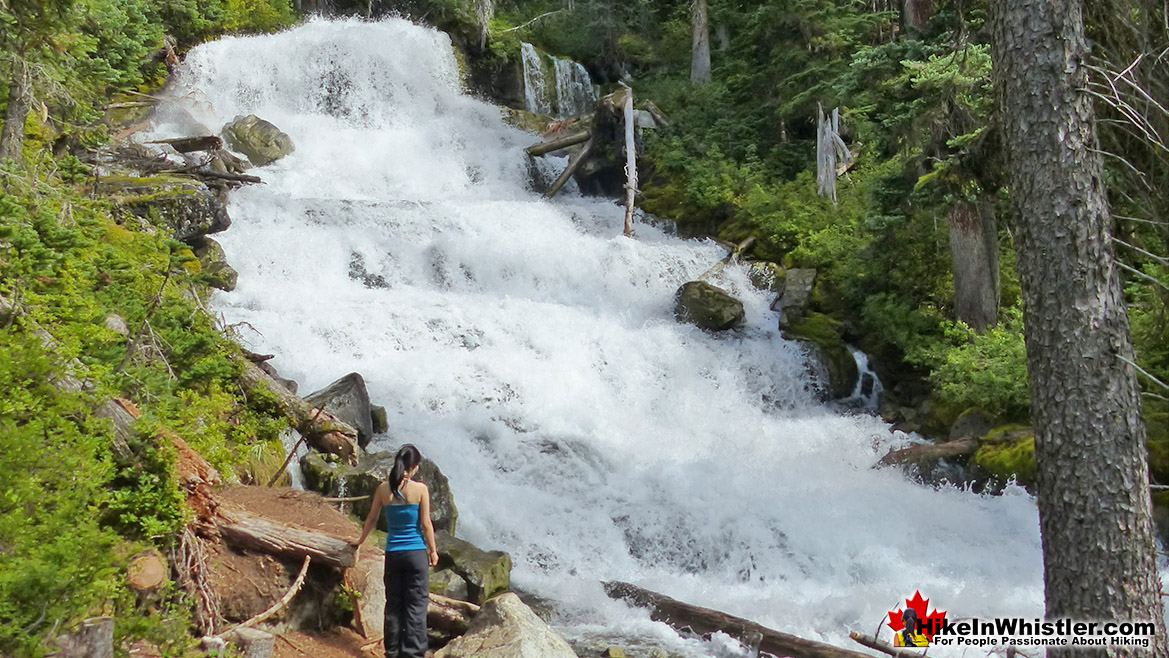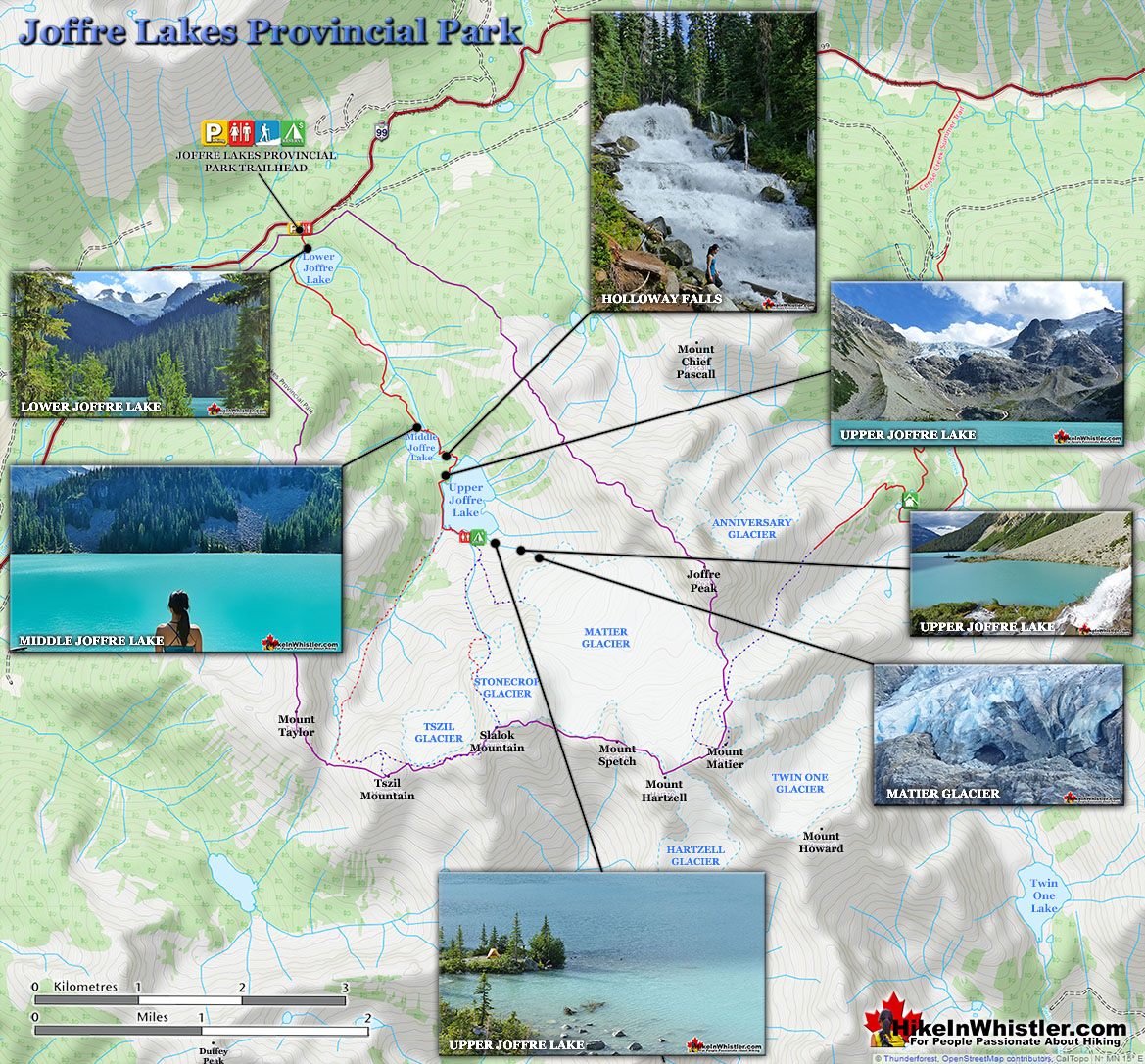 Nairn Falls - Best Whistler Waterfalls

Nairn Falls is a wonderful, crashing and chaotic waterfall that surrounds you from the deluxe viewing platform that allows you to safely watch it from above.  The beautiful, green water rushes through the deep and angular channels of rock. Nairn Falls Provincial Park is centred around a very large campground and the short, 1.2 kilometre trail to the falls.  You won't find the abrupt drop into a deep chasm like to see with Brandywine Falls.  Nairn Falls has a very different shape to it, but is every bit as interesting and scenic. More so, in fact, due to the interesting geological information you find at the main viewpoint over the falls.  Nairn Falls crash through various narrow and wide areas, and though the cumulative drop is 60 metres, what you see is a series of 10 to 20 metre falls through a deep, zig-zagging canyon. There are very nicely constructed railings, fences and viewing areas as well as a walkway that guides you to the best views.  Continued here...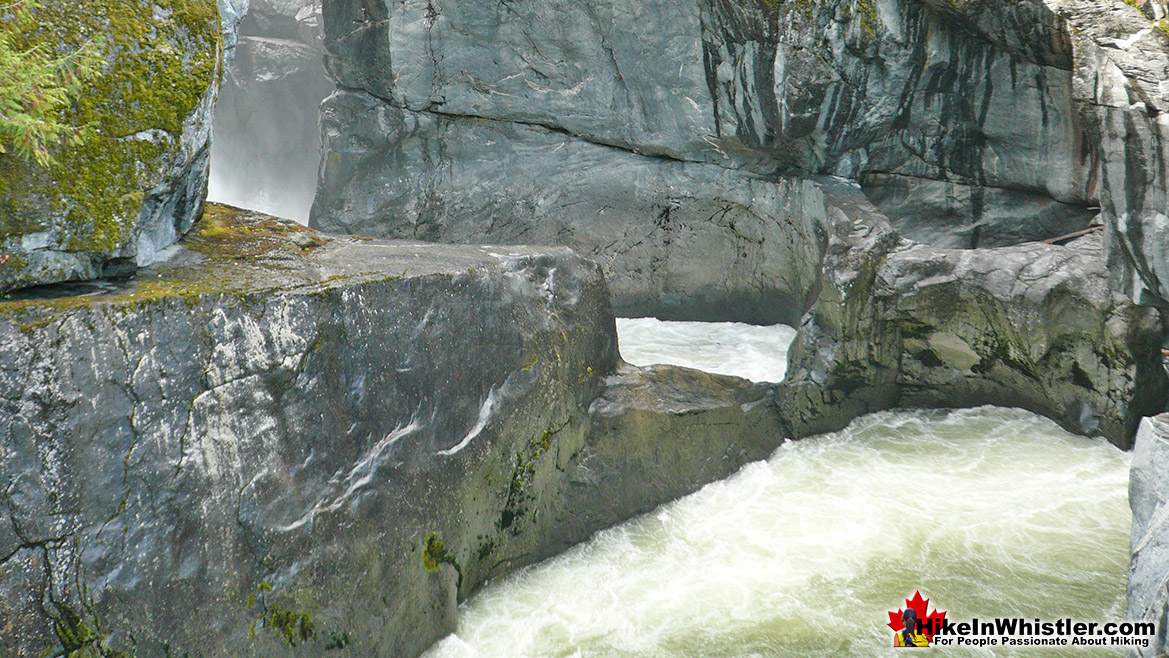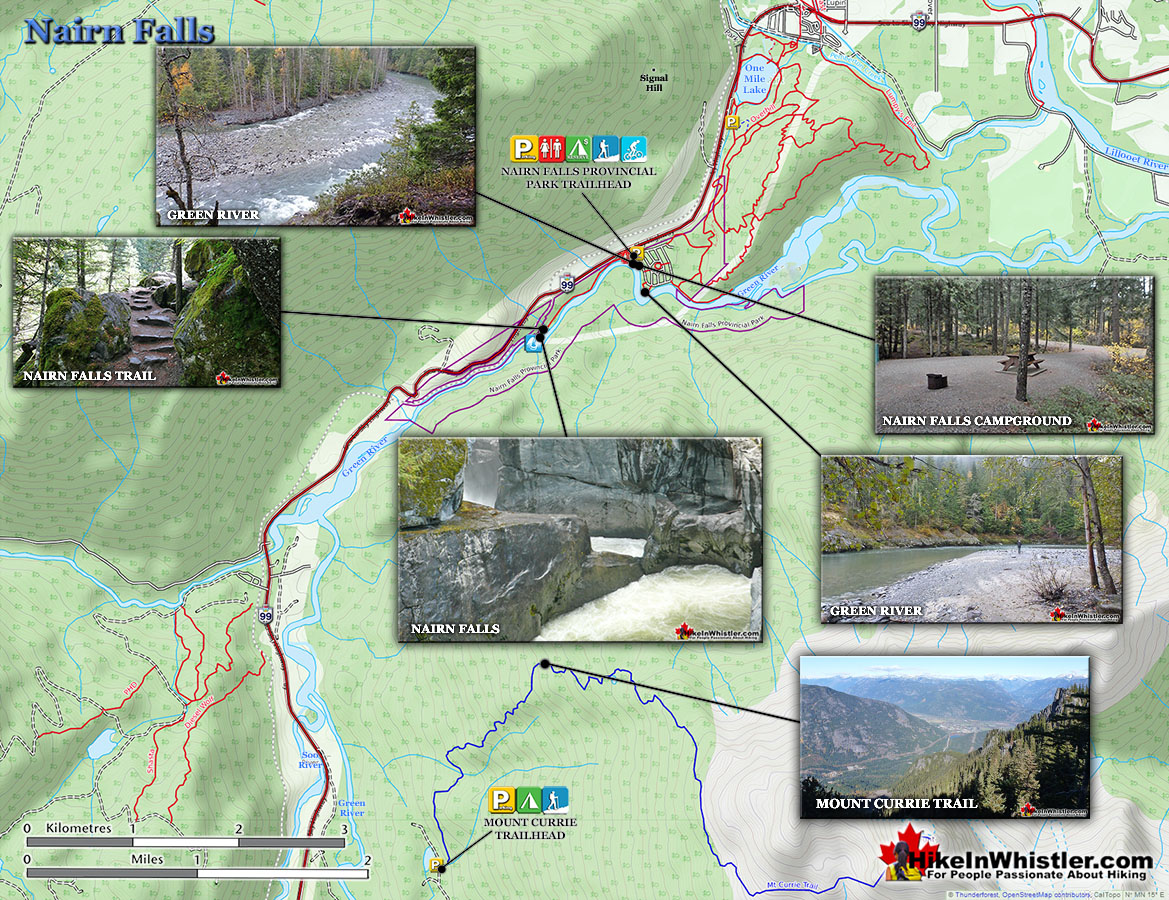 Rainbow Falls - Best Whistler Waterfalls

Rainbow Falls is located just a short hike from the start of the Rainbow Trail to Rainbow Lake.  The trailhead is along Alta Lake Road on the far side of Alta Lake, just down and across from Rainbow Park.  Rainbow Falls are not awe inspiring, however the trail to them is fun and the creek above and below the falls is very scenic.  The Flank Trail crosses the Rainbow Trail and 21 Mile Creek just up from Rainbow Falls.  A small trail on the far side of the bridge takes you down to the creek bed and the top of the falls.  Depending on the time of year, the creek bed may be full of crashing water or half empty and inviting to crawl around the huge, water-smoothed boulders.  Rainbow Falls can be tricky to find from the Rainbow trailhead as the trail branches a few times along the way.  There is a small Rainbow Falls sign, however it is easily missed, especially in the winter if it is buried in snow.  Continued here...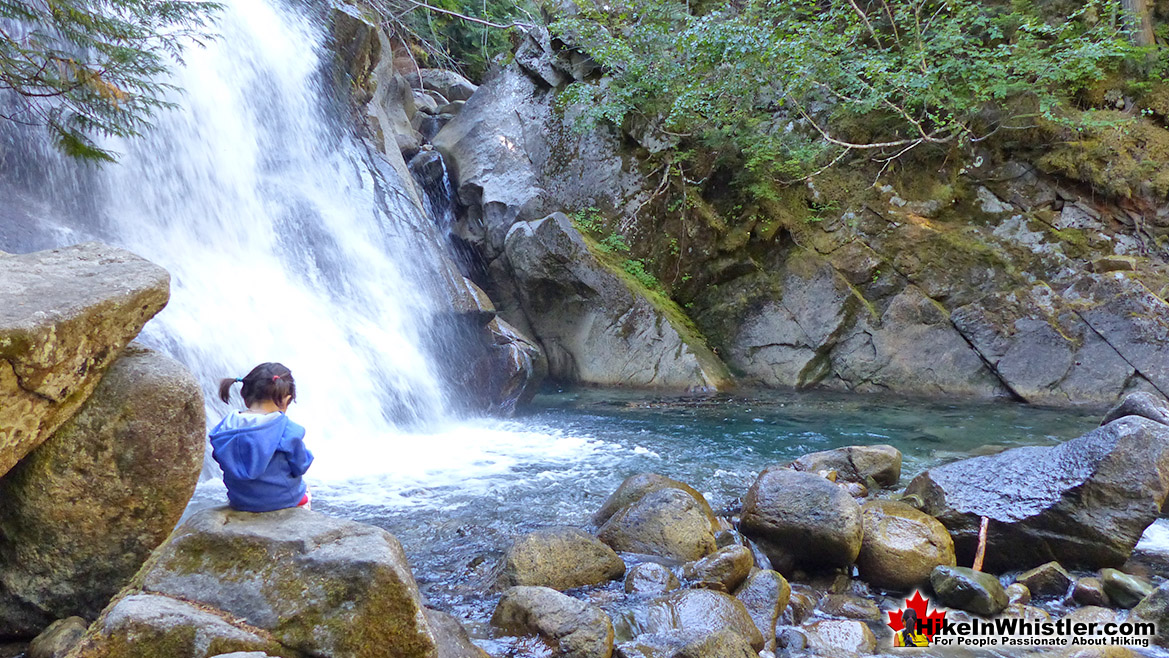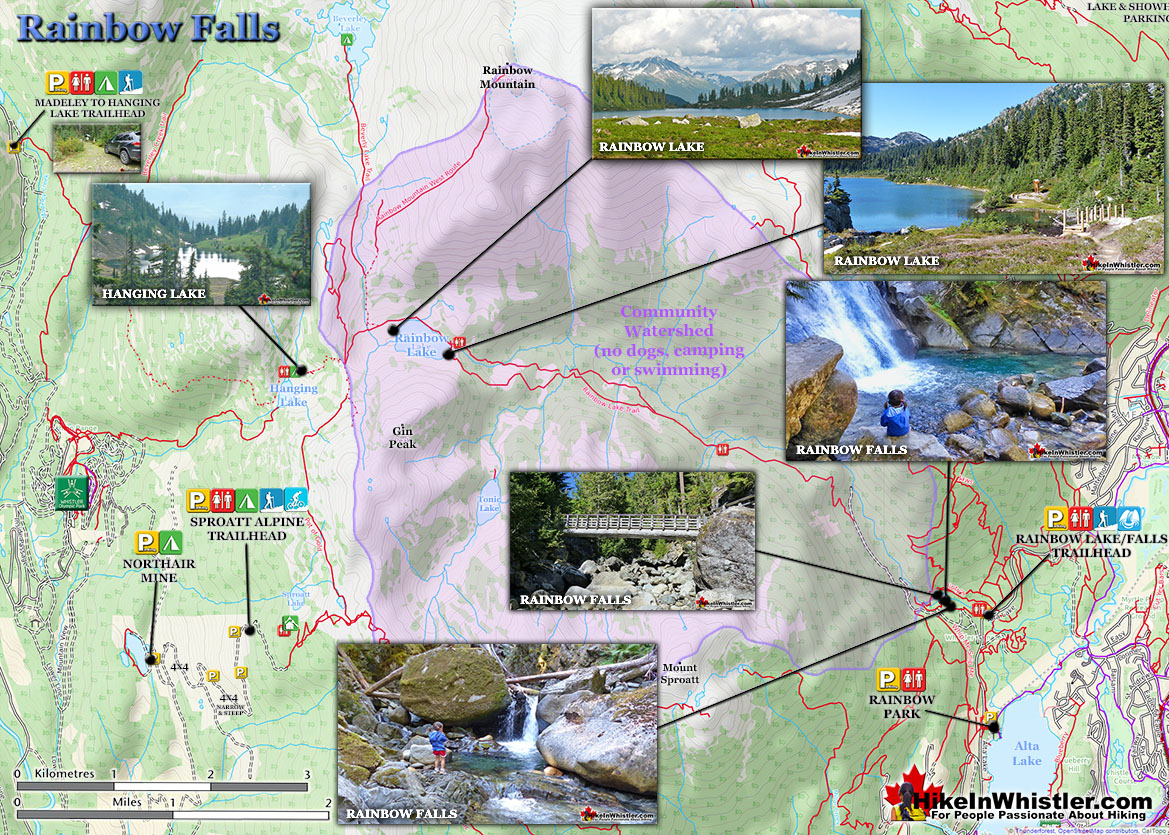 Shannon Falls - Best Whistler Waterfalls

Shannon Falls towers above Howe Sound at 335 metres as the third tallest falls in BC.  The wonderful, though very short trail winds through a beautiful old growth forest to get to the base of the falls.  From your car to the viewpoint takes only about four minutes.  You can continue along the trail and join with the Stawamus Chief trail which goes to the three marvellous summits of The Chief.  Shannon Falls Provincial Park has a concession stand as well as an information centre next to the parking area.  This parking area is day use only, so if you are hoping to camp overnight in the area, you have to park at the Stawamus Chief parking lot, just a 1 minute drive north of the Shannon Falls lot.  If you are planning to hike the Stawamus Chief, the Shannon Falls parking lot is arguably a better place to start from.  You can take a look at Shannon Falls and then take the connecting trail to join onto the trail to The Chief.  Continued here...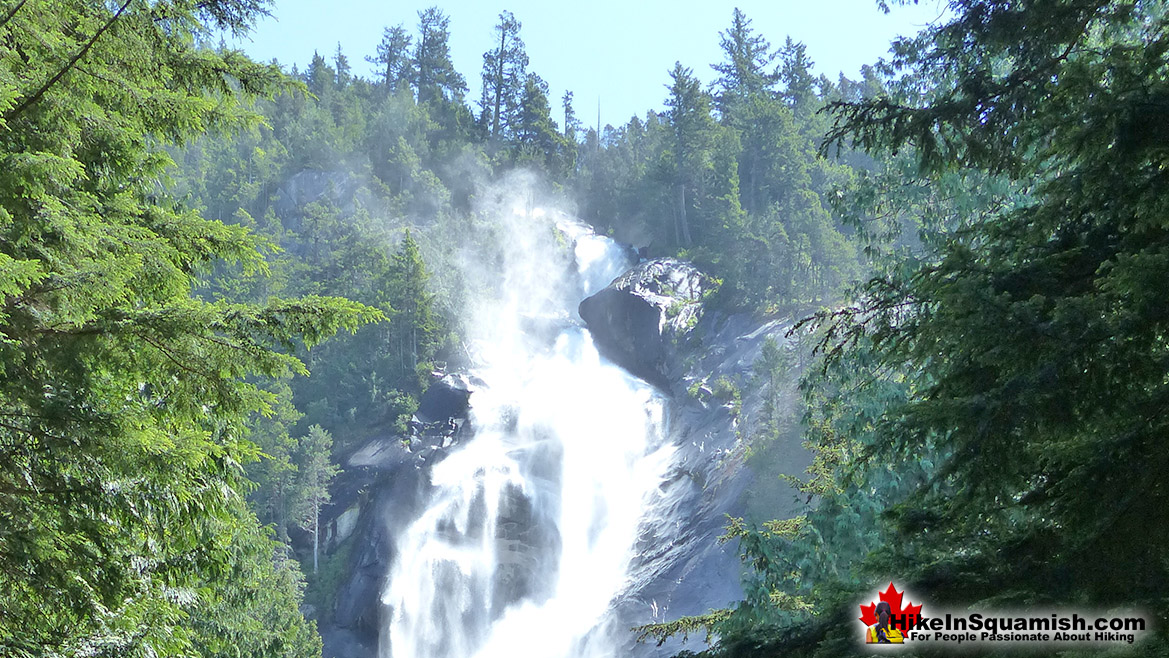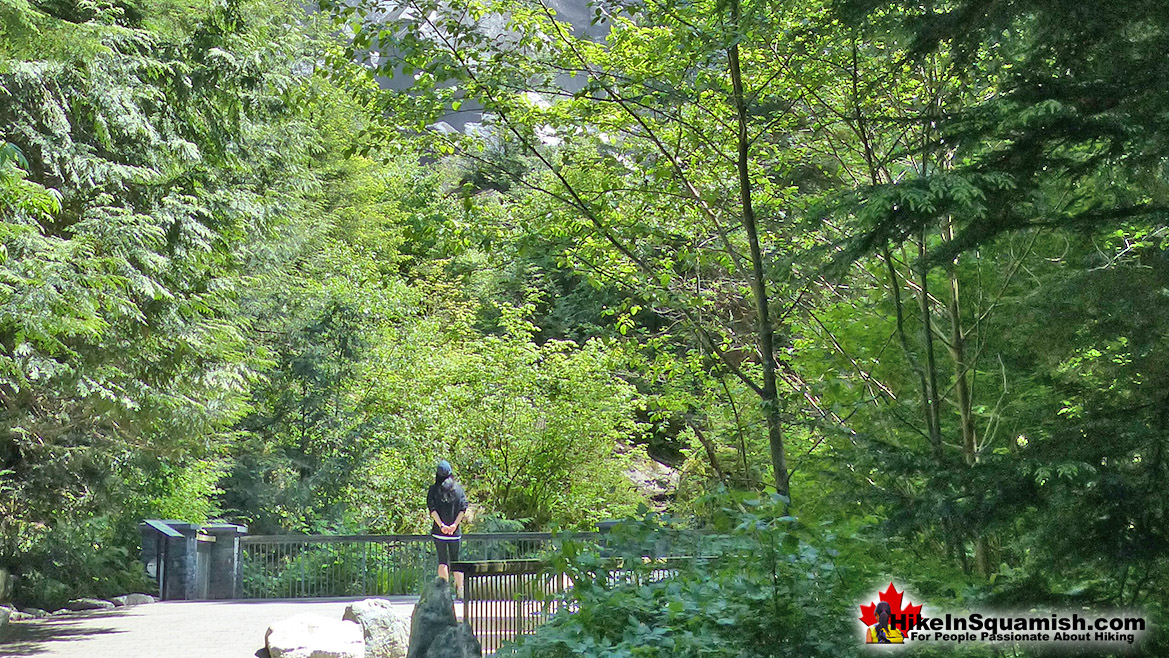 Train Wreck Falls - Best Whistler Waterfalls

Whistler Train Wreck is a hidden little world of brightly graffiti painted, wrecked train cars along a gorgeous stretch of Cheakamus River.  One particularly stunning section of the river, unseen by nearly all visitors to Train Wreck, is the marvellously broad and crashing Train Wreck Falls.  In the past, the falls were easily spotted on the trail to Train Wreck, but with the recent installation of the bridge to Train Wreck, the access trail was redirected.  The new trail to Whistler Train Wreck comes from the opposite direction as the old trail.  Designed to avoid the train tracks and inevitable conflicts with CN Rail, the new trail and bridge allows access to Train Wreck without crossing the train tracks.  The new trail, however, keeps Train Wreck Falls out of sight.  The Trash Trail runs along the other side of Cheakamus River and runs along the edge of the top of the falls and quite a nice view of them.  The Train Wreck side of the river has multiple viewpoints of Train Wreck Falls that are considerably more beautiful.  Continued here...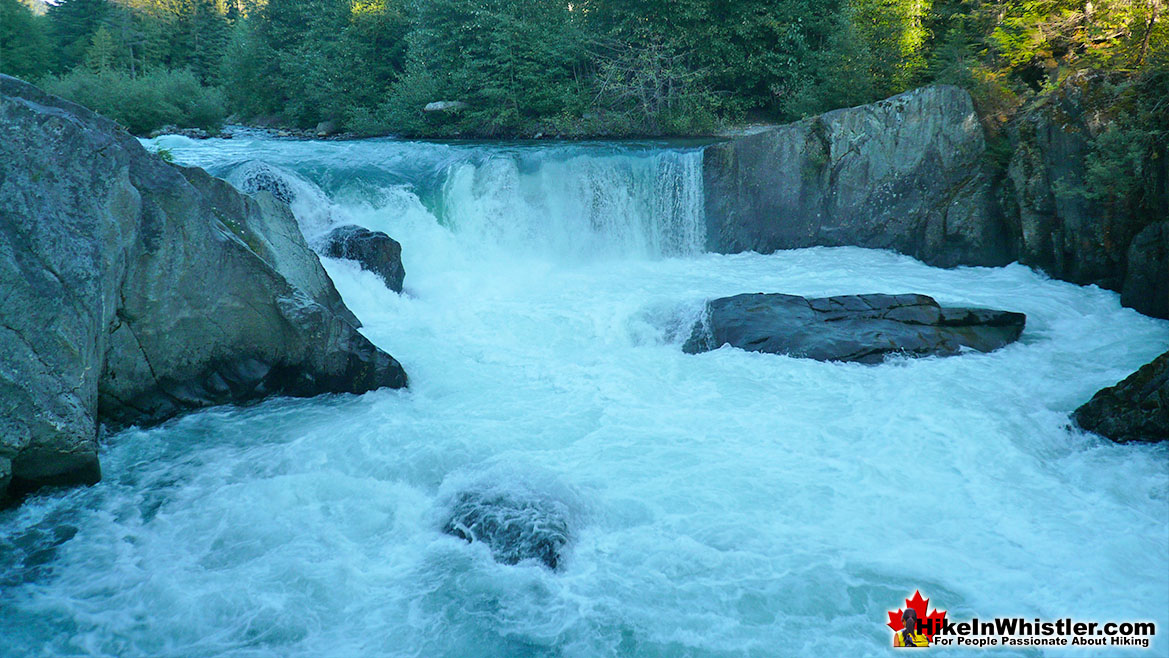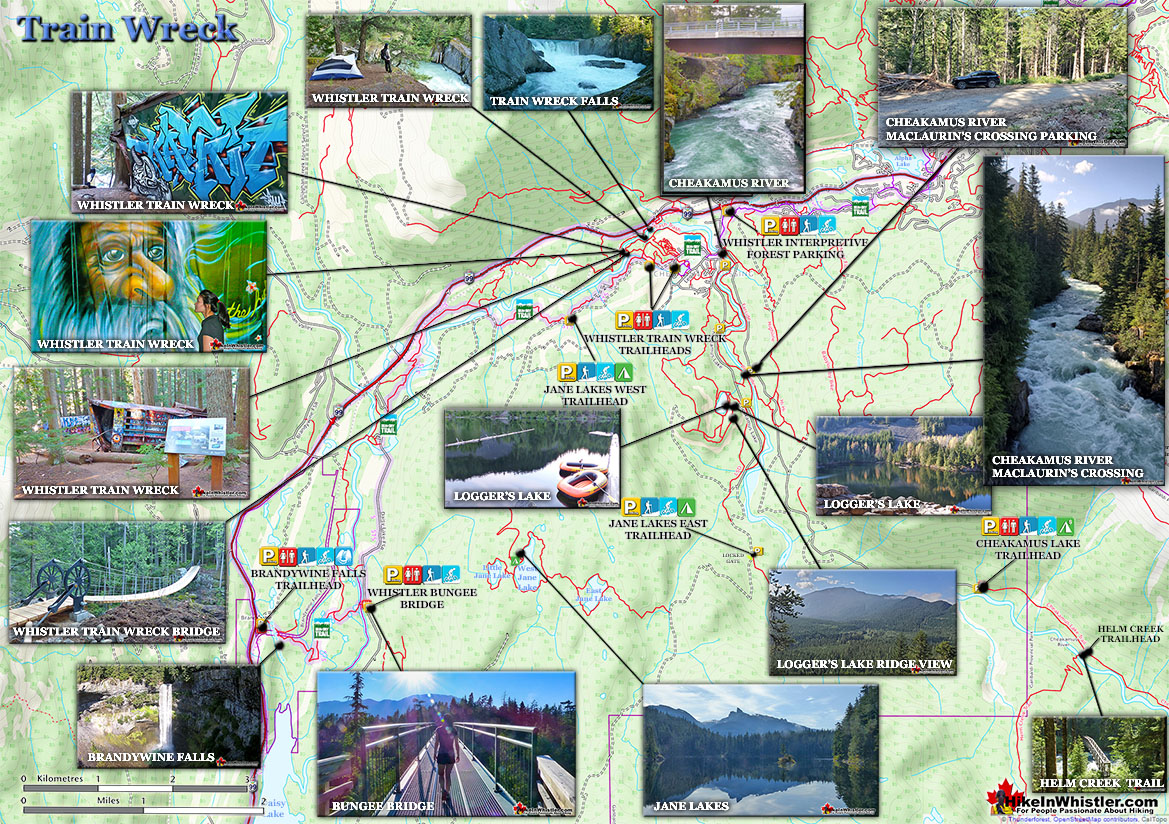 Wedgemount Falls - Best Whistler Waterfalls

Wedgemount Falls can be seen along the trail to Wedgemount Lake.  As the falls flow directly from Wedgemount Lake, they are located about three quarters of the hiking distance from the trailhead.  At almost 300 metres high, Wedgemount Falls can be heard long before being visible.  The forest cover is very thick for most of the trail to Wedgemount Lake so getting a clear look at the falls is difficult.  There is one spot, however, where you will catch sight of them, still kilometres away, yet with such a enormously tall waterfall, you would have to see them from a distance to get it all in view.  The falls crash down the almost vertical mountainside, not far from the edge of Wedgemount Lake.  You can, if you are fairly brave, hike fairly close to the top of Wedgemount Falls from Wedgemount Lake.  Continued here...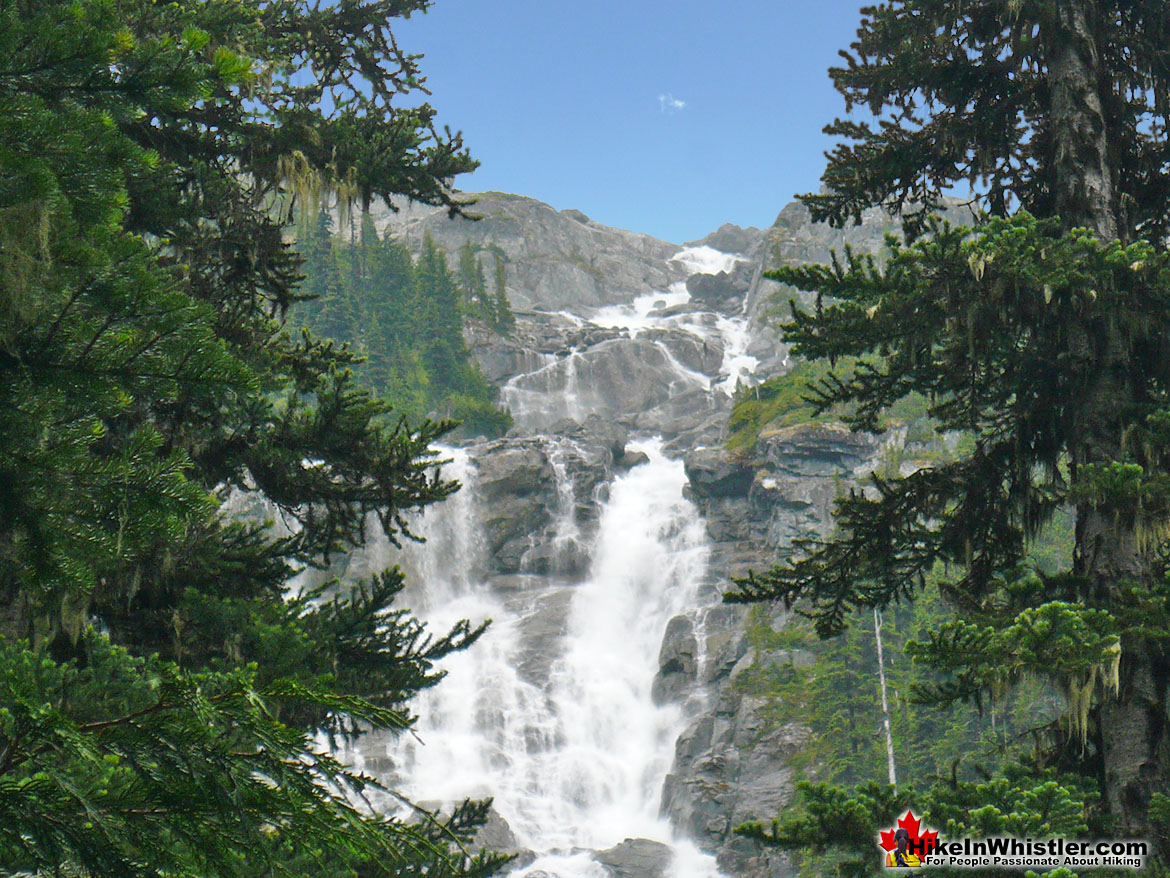 Books About Geology in BC


Here are two excellent books on the Geology of British Columbia.  In Search of Ancient British Columbia by Barbara Huck is one of our favourites.  It focuses on southern BC and covers each individual region separately.  The Lower Mainland chapter explains the geology, paleontology and archaeology of the region stretching from Vancouver, Sea to Sky, Garibaldi Park and north to Mount Meager and Meager Hot Springs.  Quite a lot of the book is devoted to how the last ice age shaped the land and inhabitants of southern BC.  The chapters on Vancouver Island are particularly good as the geological history was particularly chaotic and the history of glaciation around present day Victoria is very interesting.  Roadside Geology of Southern British Columbia by Bill Mathews and JWH Monger is a wonderful geologic history of BC and covers some great features along the Sea to Sky Highway.
**We participate in the Amazon Services LLC Associates Program and earn a small commission on purchases we link through to Amazon at no extra cost to you.  We only link to books and products we love and highly recommend.  Thanks for your support!**
Whistler & Garibaldi Hiking

Alexander Falls  

Ancient Cedars  

Black Tusk  

Blackcomb Mountain  

Brandywine Falls  

Brandywine Meadows  

Brew Lake  

Callaghan Lake  

Cheakamus Lake  

Cheakamus River  

Cirque Lake 

Flank Trail 

Garibaldi Lake 

Garibaldi Park 

Helm Creek  

Jane Lakes 

Joffre Lakes  

Keyhole Hot Springs  

Logger's Lake  

Madeley Lake  

Meager Hot Springs 

Nairn Falls  

Newt Lake 

Panorama Ridge 

Parkhurst Ghost Town 

Rainbow Falls  

Rainbow Lake 

Ring Lake  

Russet Lake  

Sea to Sky Trail 

Skookumchuck Hot Springs  

Sloquet Hot Springs 

Sproatt East 

Sproatt West  

Taylor Meadows  

Train Wreck  

Wedgemount Lake  

Whistler Mountain

January 

February 

March 

April 

May 

June 

July 

August 

September 

October 

November 

December