Twentyone Mile Creek begins its long and steep journey from Rainbow Lake, high up and between Mount Sproatt and Rainbow Mountain.  Cutting between the two mountains, Twentyone Mile Creek flattens out somewhat, passes under Alta Lake Road, then winds its way through a deep and dark forest before flowing into the River of Golden Dreams near the end of Lorimer Road.  This hidden forest extends from Rainbow Park to Emerald Forest and between Alta Lake Road and the River of Golden Dreams.
Whistler & Garibaldi Hiking

Alexander Falls  

Ancient Cedars  

Black Tusk  

Blackcomb Mountain  

Brandywine Falls  

Brandywine Meadows  

Brew Lake  

Callaghan Lake  

Cheakamus Lake  

Cheakamus River  

Cirque Lake 

Flank Trail 

Garibaldi Lake 

Garibaldi Park 

Helm Creek  

Jane Lakes 

Joffre Lakes  

Keyhole Hot Springs  

Logger's Lake  

Madeley Lake  

Meager Hot Springs 

Nairn Falls  

Newt Lake 

Panorama Ridge 

Parkhurst Ghost Town 

Rainbow Falls  

Rainbow Lake 

Ring Lake  

Russet Lake  

Sea to Sky Trail 

Skookumchuck Hot Springs  

Sloquet Hot Springs 

Sproatt East 

Sproatt West  

Taylor Meadows  

Train Wreck  

Wedgemount Lake  

Whistler Mountain

January 

February 

March 

April 

May 

June 

July 

August 

September 

October 

November 

December
If you look closely at one of the parking lots in Rainbow Park, you will see a small trail sign for the wonderful trail that takes you through this secluded forest, all the way to Emerald Forest.  A River Runs Through It is an insanely winding trail that follows a dizzying route through this captivating forest with Twentyone Mile Creek running through it.  A popular, though brutally challenging bike trail, A River Runs Through It has numerous, elaborate ramps, small bridges, and one large bridge that spans Twentyone Mile Creek.  A River Runs Through It has a couple shortcut trails that cut a couple kilometres off of it to make it a more manageable and enjoyable hiking trail.  If you add in another two connecting trails, you can turn A River Runs Through It into a beautiful 6 kilometre circle route.  You can start this circle route from a couple spots on Alta Lake Road, or at Rainbow Park, or at the end of Lorimer Road.  The end of Lorimer Road starting point has the advantage of being very close to Whistler Village.  You can drive to this starting point from Whistler Village in 3 minutes, or bike there in 8 minutes, or walk there in 22 minutes.  From the end of Lorimer Road you get on the Valley Trail, cross the bridge over the River of Golden Dreams, then cross the train tracks and enter Emerald Forest on your left.  Climbing up the trail that skirts the gravel pit leads you to the top of the gravel pit and you then enter the deep, dark, emerald coloured forest. 
Emerald Forest To A River Runs Through It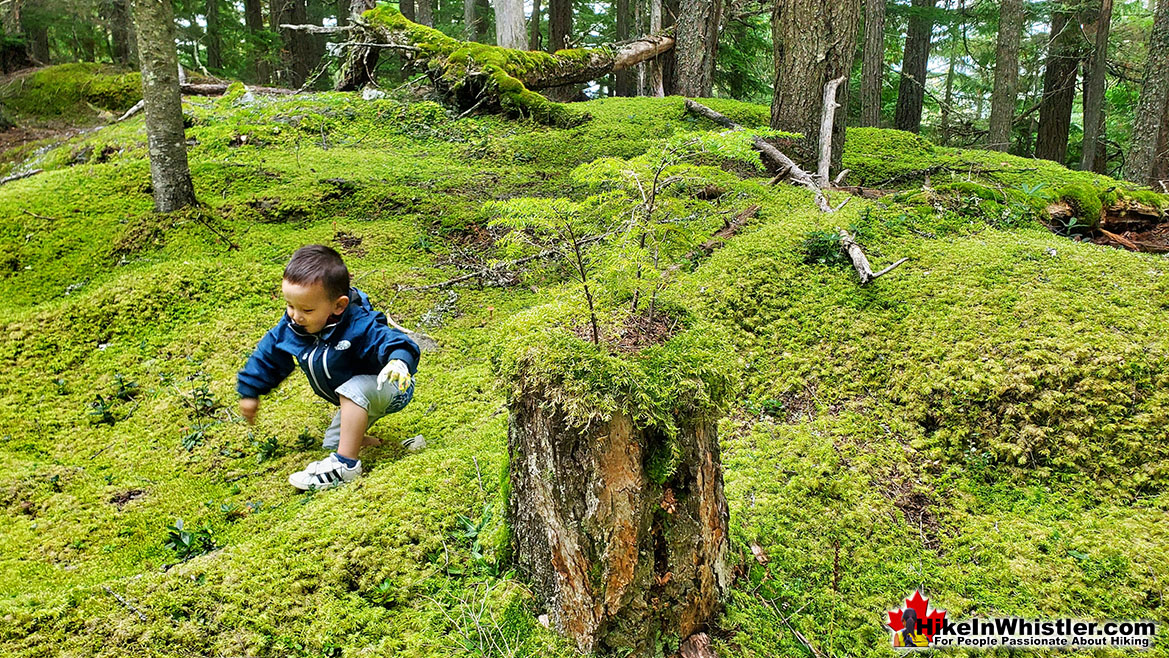 Emerald Forest to A River Runs Through It
This trail takes you 1.4 kilometres through Emerald Forest before bearing left and descending down to the old access road.  Directly across this road is the start of A River Runs Through It North.  If you don't see it, you may have come out of Emerald Forest too early and just need to follow the old road to the right and you will spot the sign for A River Runs Through It on your left.  If you come out to Alta Lake Road, you have gone too far.  The trail quickly descends into the wonderfully dark and wild forest.  One kilometre in you come to your first shortcut by connecting onto Bart's Dark Trail.  This 0.8 kilometre section cuts out a much longer and windier section of A River Runs Through It.  Bart's Dark Trail leads to the narrow bridge across Twentyone Mile Creek.
Twentyone Mile Creek Passes Under Alta Lake Road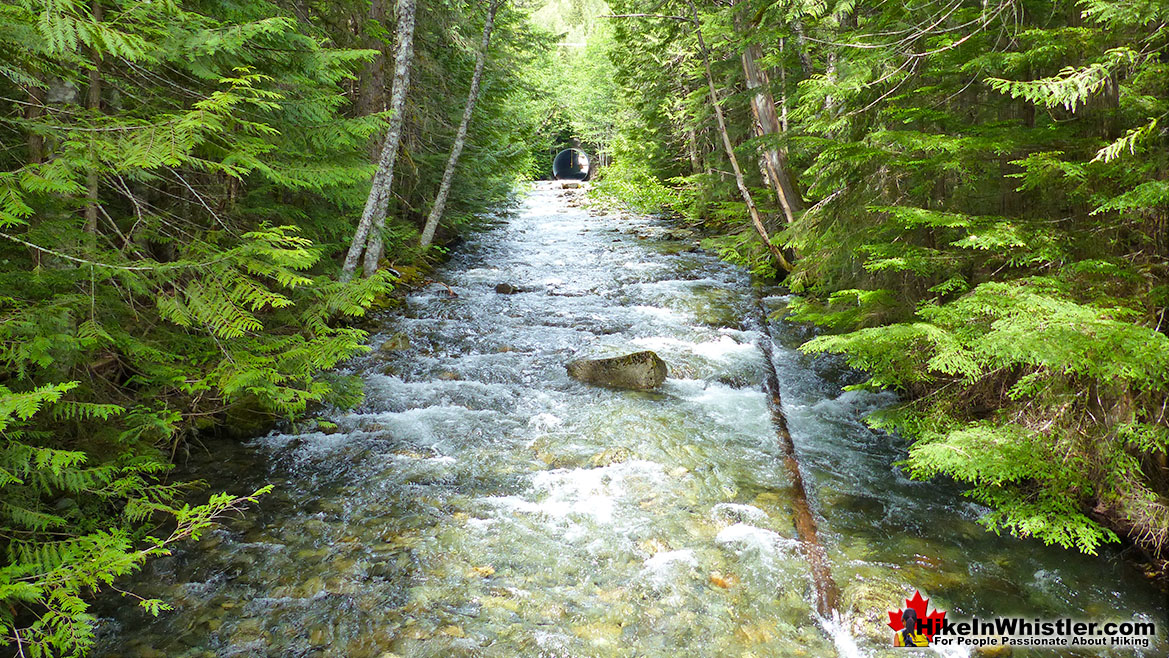 A River Runs Through It Bridge Over Twentyone Mile Creek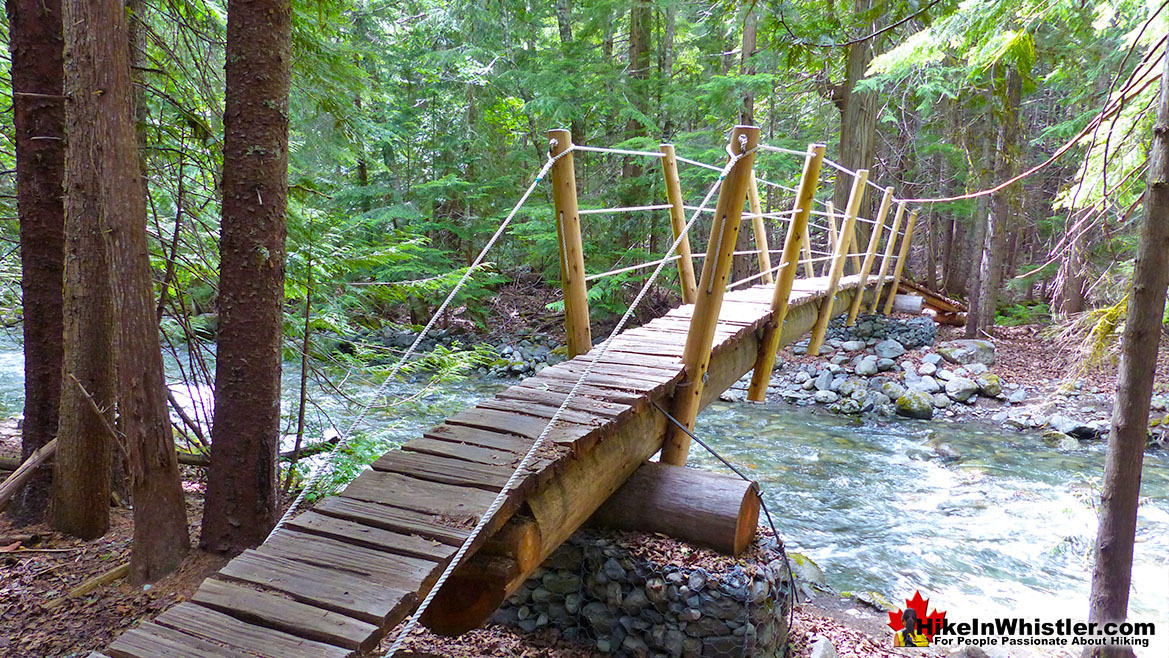 Twentyone Mile Creek at Alta Lake Road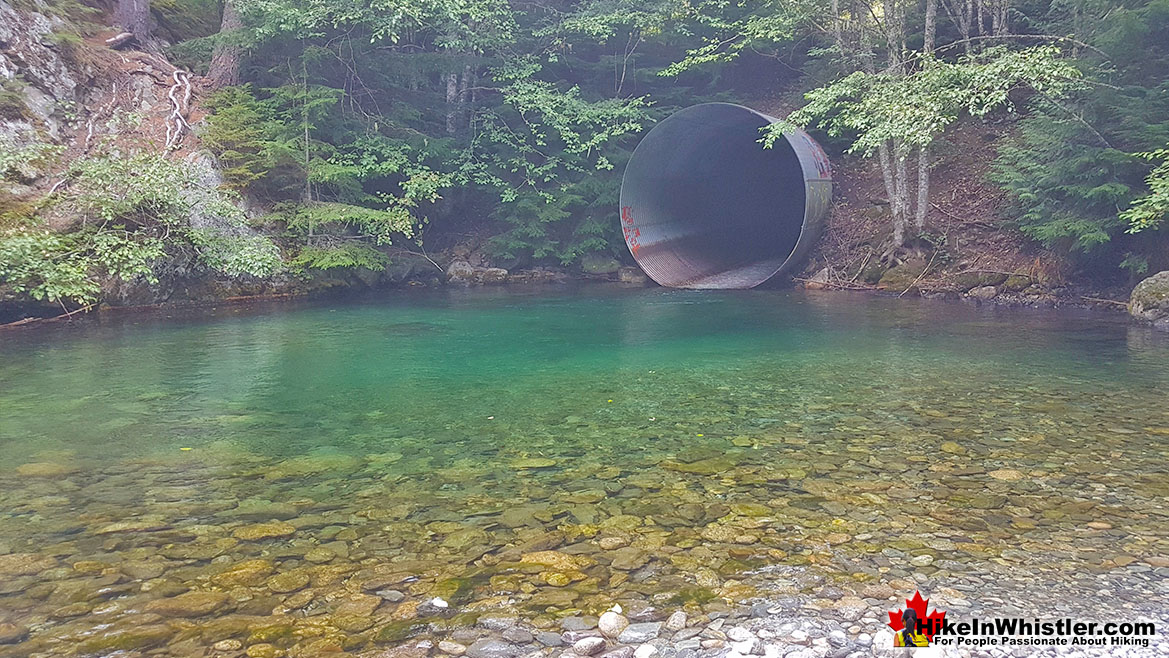 Old Deadfall Across Twentyone Mile Creek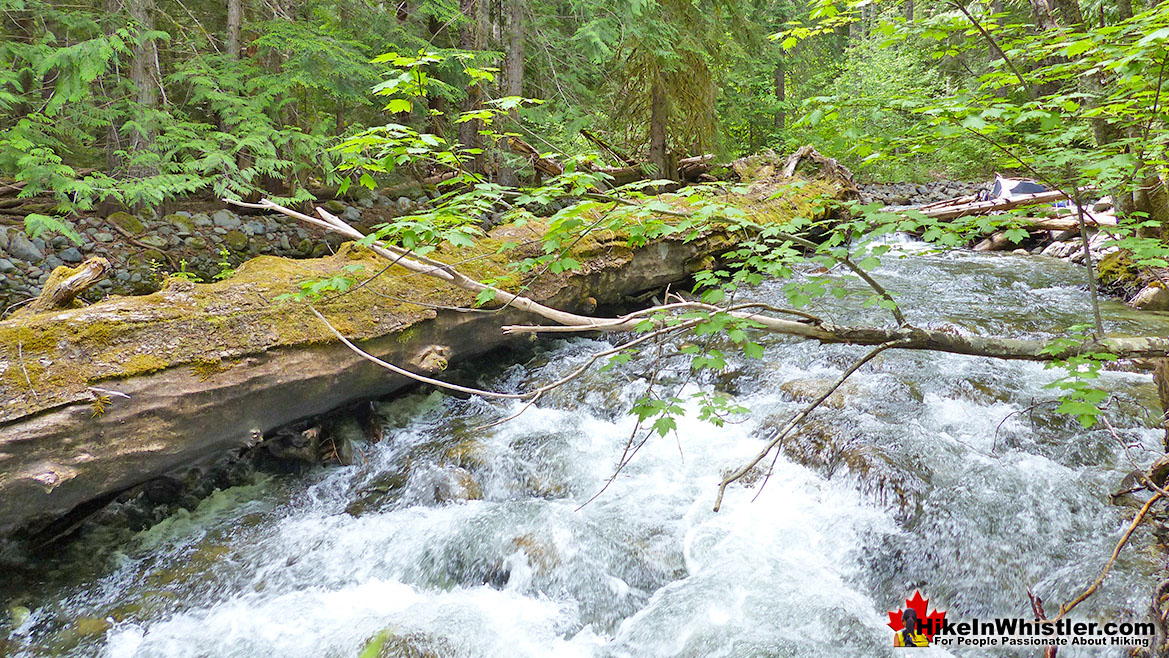 A River Runs Through It Map
From here A River Runs Through It continues its wildly meandering course through the forest.  This is a nice 2.4 kilometre walk in the woods that takes you through this very scenic forest to a bunch of nice creek views.  If you prefer to take another shortcut, you will see, just after the bridge crossing, the Rainbow Express trail cut through the forest in a fairly direct 300 metre route to reconnect to A River Runs Through It South.  This last section of A River Runs Through It is just 0.8 kilometres long and emerges at Rainbow Park.  Rainbow Park is one of Whistler's countless gorgeous lakeside parks and here you will find washrooms, a sandy beach, a huge wharf, and one of Whistler's best views of Wedge, Blackcomb and Whistler mountains.  The Valley Trail disappears into the forest along Alta Lake and emerges at Lorimer Road in just 1.5 kilometres, completing the 6 kilometre circle route.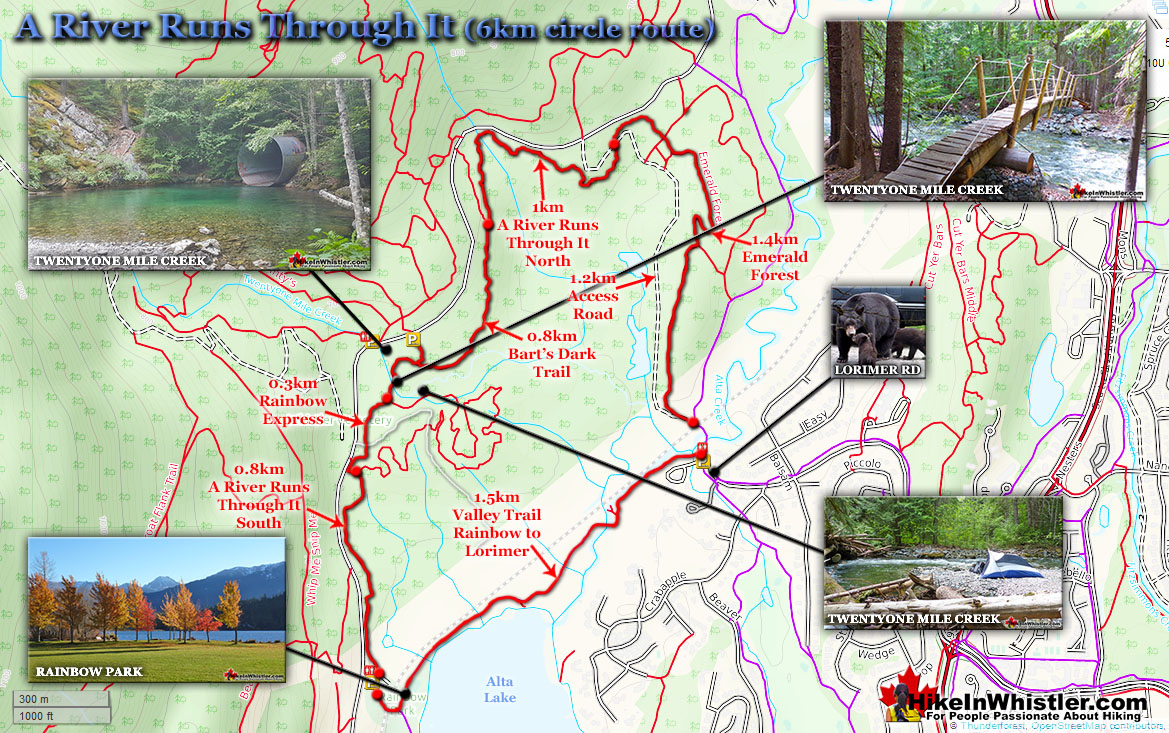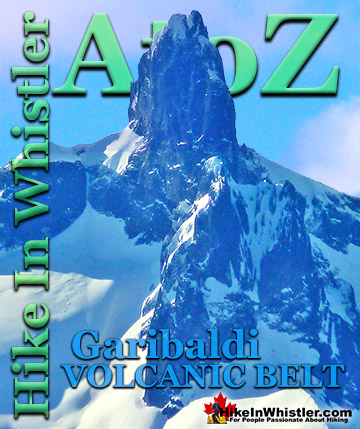 The Garibaldi Volcanic Belt is a line of mostly dormant stratovolcanoes and subglacial volcanoes largely centred around Whistler and extending through much ...
Read more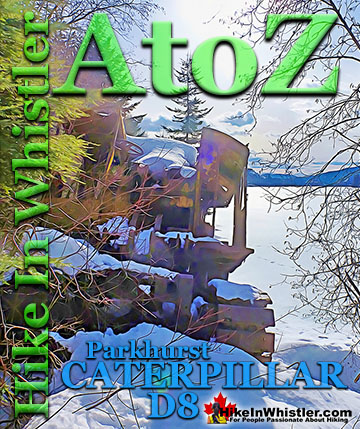 Along the shore of
Green Lake
, you will find a monstrous old Caterpillar tractor that dates from the 1930's.  Abandoned here in the 1950's, it looks as if the ...
Read more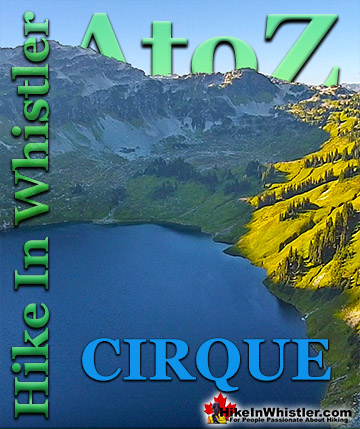 Cirque: a glacier-carved bowl or amphitheater in the mountains.  To form, the glacier must be a combination of size, a certain slope and more unexpectedly, a ...
Read more