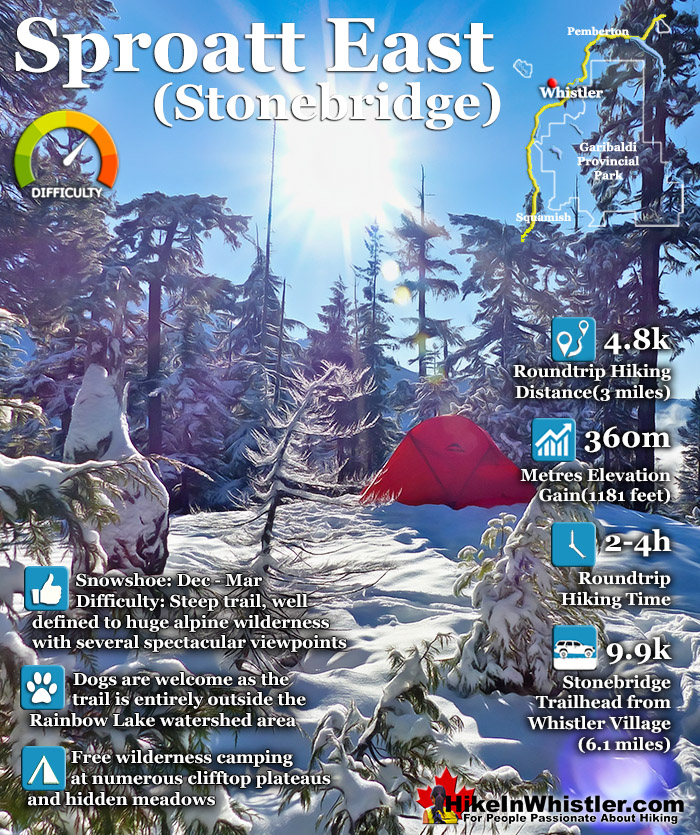 The Sproatt East trail is one of the nicest snowshoe trails in Whistler.  With the trailhead high up in Stonebridge, partway up the flank of Mount Sproatt, you start snowshoeing already high up in the wonderfully secluded wilderness overlooking Whistler valley.  Just a few metres along the trail you catch glimpses of Black Tusk far across the valley before entering the forest along the Sirloin trail.  Sirloin ascends through the forest and soon crosses the Rainbow Sproatt Flank Trail and connects to Darwin's trail.
Start high on the mountain

Many connecting trails

Dog friendly

Steep, but easy to follow

Rarely see any humans

Endless viewpoints

Vast wilderness to explore

Winter camping is amazing

Convenient from Whistler Village

Mostly steep trails

Whistler Snowshoe Trails

Blueberry Trail 

Brandywine Falls 

Cheakamus River 

Elfin Lakes 

Flank Trail 

Joffre Lakes 

Nairn Falls 

Parkhurst Ghost Town 

Rainbow Falls 

Rainbow Lake 

Rainbow Park 

Sproatt East 

Taylor Meadows 

Train Wreck 

Wedgemount Lake 

January 

February 

March 

April 

May 

June 

July 

August 

September 

October 

November 

December
Darwin's bends further up Sproatt along beautiful and elaborate, wooden boardwalks that zig-zag up a steep section.  Soon the trail emerges from the forest for the first of many beautiful views over the valley.  Darwin's merges onto Flank and soon crosses Nita Creek and the the easy to miss, unmarked Sproatt East trail extends up the left side of Nita Creek.  Mount Sproatt is a big, sloping mountain with dozens of beautiful plateaus that are quite easy to get to.  Back on Flank, just before you crossed Nita Creek there is a faint trail that ascends quickly up to the first of many beautiful plateaus overlooking the valley.  At just 1.4 kilometres from where you started, this plateau is a excellent destination on its own and on a sunny day it is paradise!  If winter camping is your thing, this spot is pretty hard to beat with its convenience and sweeping views of the valley looking across to Blackcomb Mountain and Whistler Mountain.  Nita Creek can be heard crashing about 40 metres below, hidden by snow covered treetops.  This plateau is fairly easy to reach on snowshoes and Sirloin, Darwin's and Flank are a steady ascent, but only moderately challenging snowshoe trails.  The Sproatt East trail gets progressively more challenging as you climb every steeper into the vast wilderness of Mount Sproatt.  Virtually unknown and rarely hiked, even in the summer.  despite this it is surprisingly well defined and well marked with tree ribbons.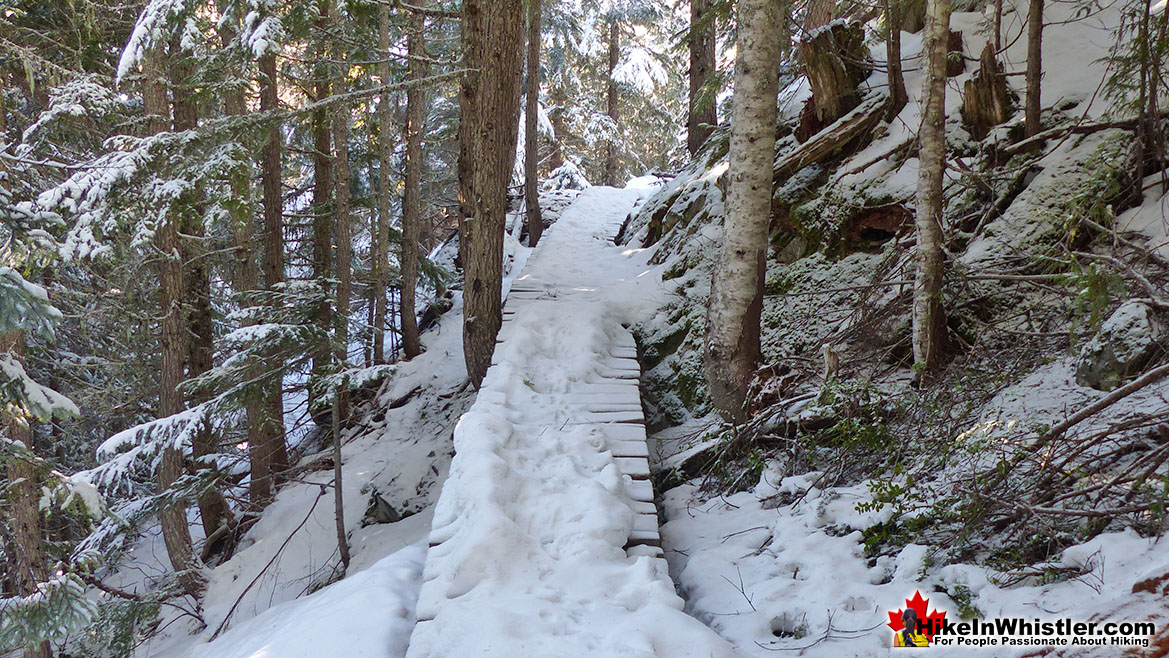 Snowshoeing Serenity on the Sproatt East Trail

Other snowshoe trails around Whistler such as Rainbow Lake, Rainbow Falls, Train Wreck, Joffre Lakes, Nairn Falls, Garibaldi Lake and Taylor Meadows get busy and sometimes quite crowded, the Sproatt East trail is serene and beautiful.  Also, places like Joffre Lakes, Garibaldi Lake and Taylor Meadows are usually full day trips, whereas Sproatt can be partly done in a couple hours.  The wonderful network of trails on Sproatt is comparable to Parkhurst Ghost Town, though access to Parkhurst in the winter is much less convenient when the road to the trailhead gets buried in snow.  Though you do get a few weeks in January and February when Green Lake freezes enough to walk across to Parkhurst, making it very easy and quick to get to.  The endless trail variations on Sproatt make it ideal for snowshoeing.  You can snowshoe only to the first plateau, a worthwhile destination on its own and just 1.4 kilometres from the trailhead.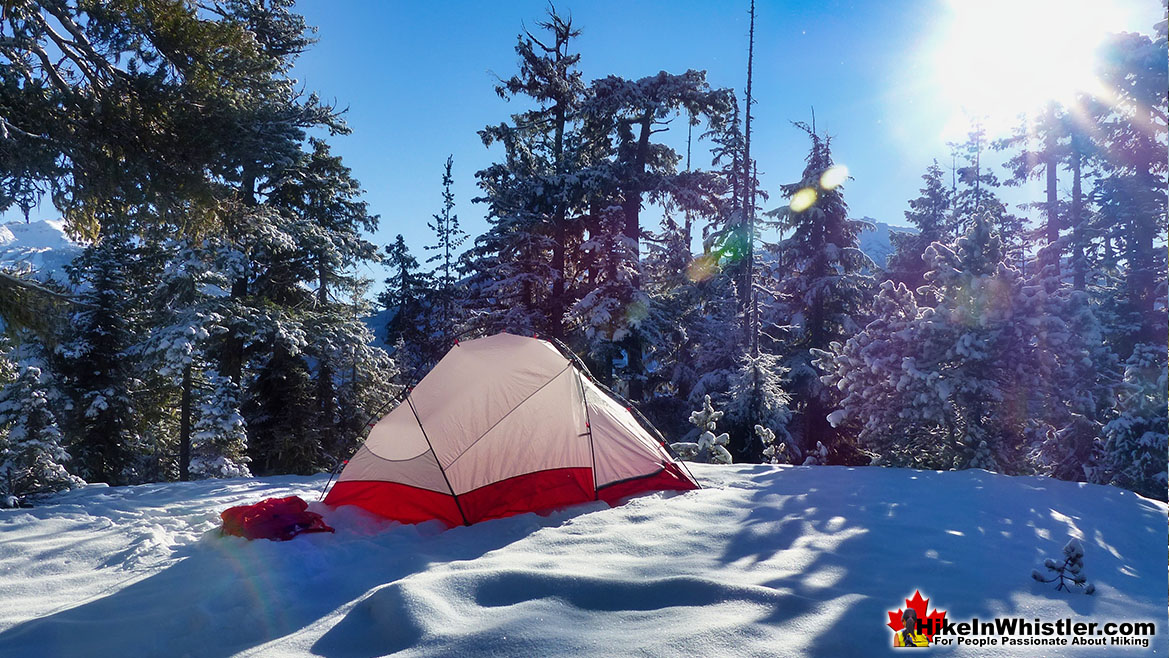 Sproatt East Trail Second Plateau

Or you can continue onto the Sproatt East trail  as it quickly ascends up to the much more challenging second plateau at 2.4km with considerably more impressive views.  If you are really into a challenging adventure and are prepared you can continue another 2.3 kilometres further up to the end of the Sproatt East trail.  The end of the trail opens up to the endless beautiful alpine of Mount Sproatt with the summit and the summit viewpoint just another kilometre past the end of the trail.  It is a tremendous workout even in the summer, but in the winter its an exhausting ascent of almost a thousand metres in just 5.5 kilometres!  Back down on the Flank Trail you can do still more variations to make your own snowshoe route.  If you turn right from Sirloin onto Flank, instead of going straight onto Darwin's you will come to a gorgeous section of the Flank Trail in just a couple kilometres.  A beautiful ridge juts out overlooking the valley along two parallel trails to Flank, A Rockwork Orange and Korova Milk Bar.  If you continue along Flank another kilometre you will connect to the Rainbow Trail where it overlaps the Flank Trail and leads to Rainbow Falls.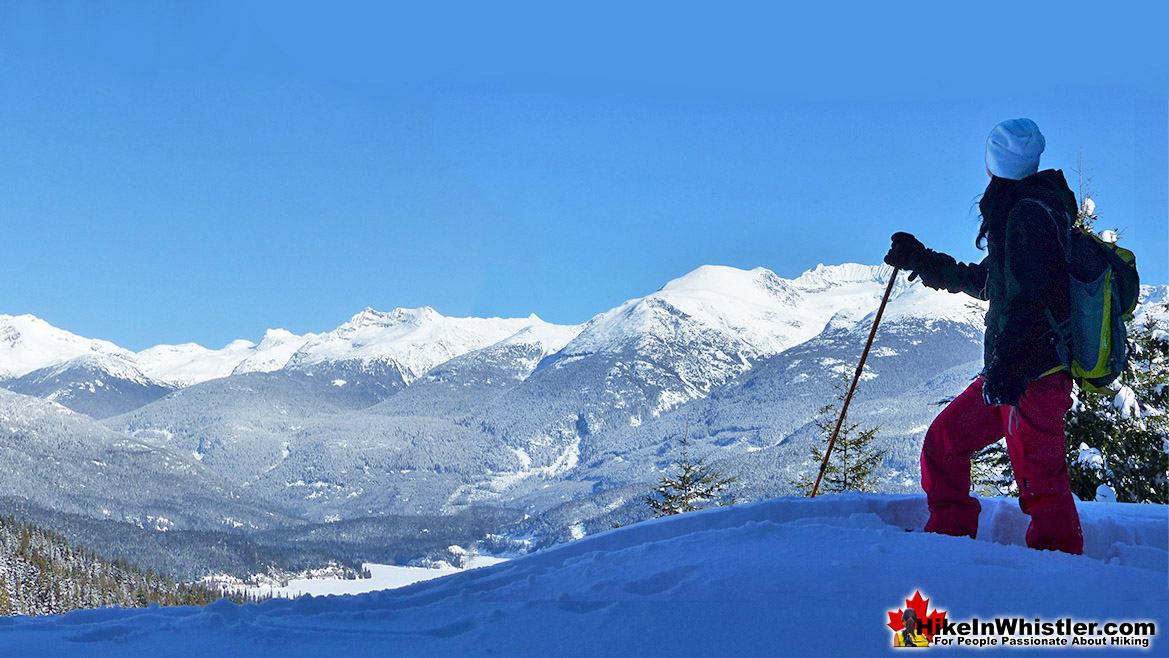 Sproatt East Snowshoe Trail Map

Finding your way to the Sproatt East trail is a bit tricky as there are no signs for the trail and the trailhead where you park your car is unmarked as well.  Despite the lack of signs, the route is fairly straight forward.  The unmarked trailhead is found high up in Stonebridge at the end of Stonebridge Place, where you will find free parking along the road.  A yellow gate marks the 200 metre access road that leads up to the start of the Sirloin trail which runs for 640 metres and connects to Darwin's trail.  You follow Darwin's for about 400 metres until it merges into the Flank Trail.  After a couple hundred metres you cross Nita Creek and almost immediately see the unmarked Sproatt East trail on your right.  There are no Sproatt East signs, but the trail is well worn and with plenty of trail markers.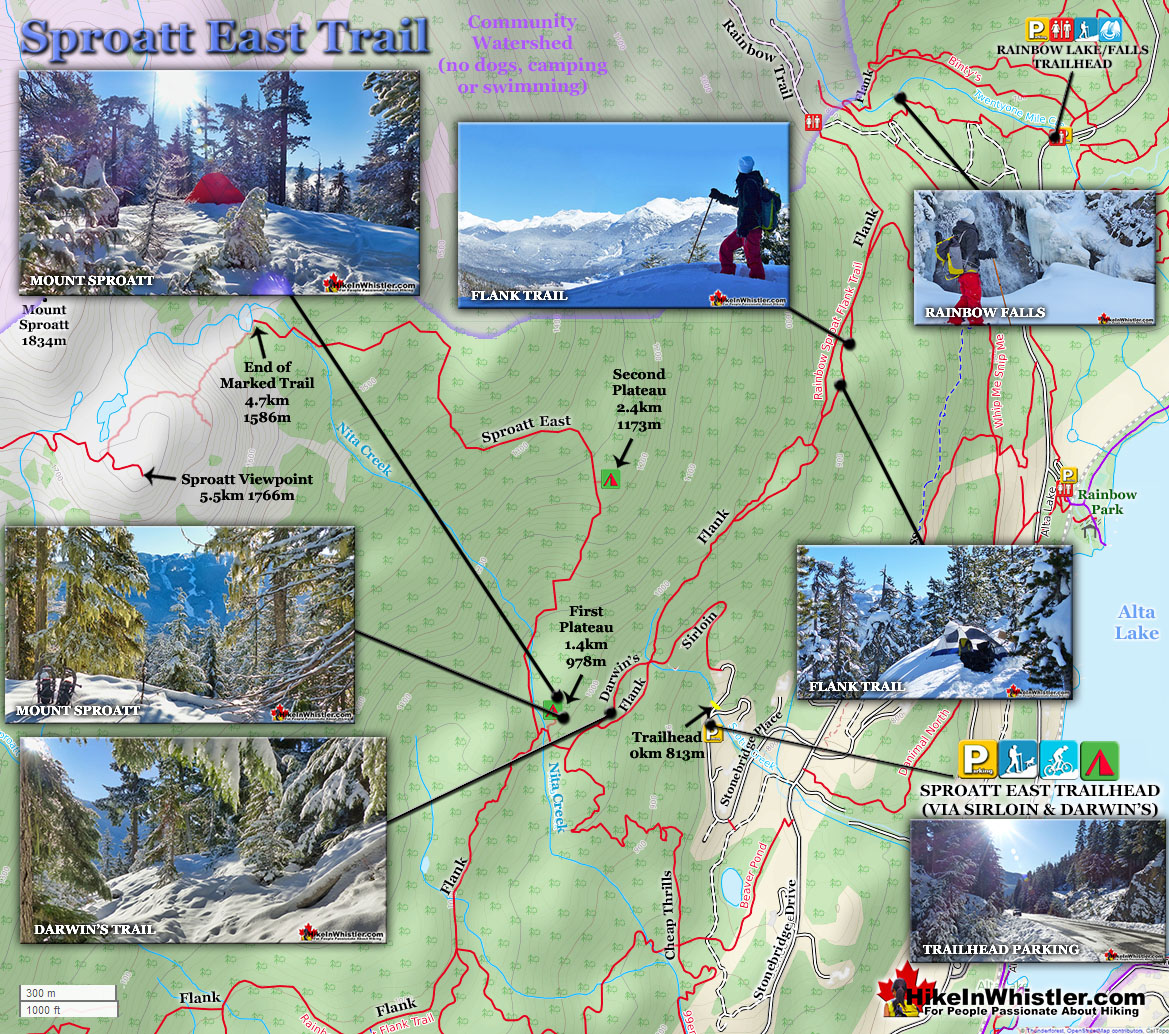 Sproatt East Trail Stats:
Driving There: 15 minutes south of Whistler Village(9.9 kilometres/6.1 miles)  Hiking Distance: 1.4 kilometres one way from the trailhead to the first plateau(steep, but not too challenging) or 2.4 kilometres to the second plateau(steep and challenging) or 5.5 kilometres to Sproatt summit(very steep and very challenging).  Hiking Time: 2 hours roundtrip first plateau or 3 hours roundtrip second plateau, or 4-6 hours roundtrip to Sproatt summit. Start Elevation: 813 metres/2667 feet.  First Plateau: 978 metres.  Second Plateau: 1173 metres.  Summit Elevation: 1834 metres/6017 feet.   Elevation Gain: 1021 metres/3350 feet.  Fees: None  Campsites: No  Camping Allowed: Not Officially  Difficulty: Moderate to challenging, very steep but short trail, easy to follow  Kid Friendly: Yes, short enough to be fun, lots to see  Stroller Friendly: No  Dog Friendly: Yes
Snowshoeing the Sproatt East Trail

The Sproatt East trail branches off from Flank, which is reached by two short, connecting trails, Sirloin and Darwin's.  A short, but steep 160 metre access road leads from the end of Stonebridge Place to the marked trailhead for Sirloin.  Sirloin takes you steeply up through the forest for just 566 metres before crossing Flank and connecting to the start of Darwin's.  Darwin's is when the trail starts getting fun and interesting as there are a few elaborate bridges and boardwalks along the way.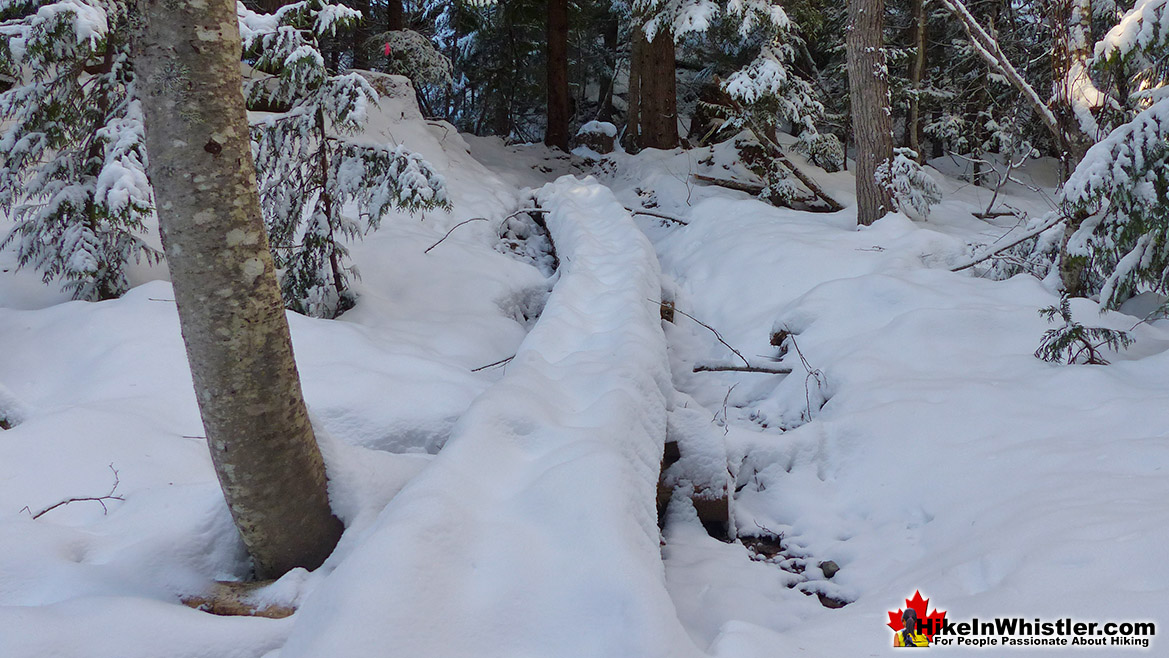 This one arcs sharply through the forest and bends back up to continue along the flank of Mount Sproatt.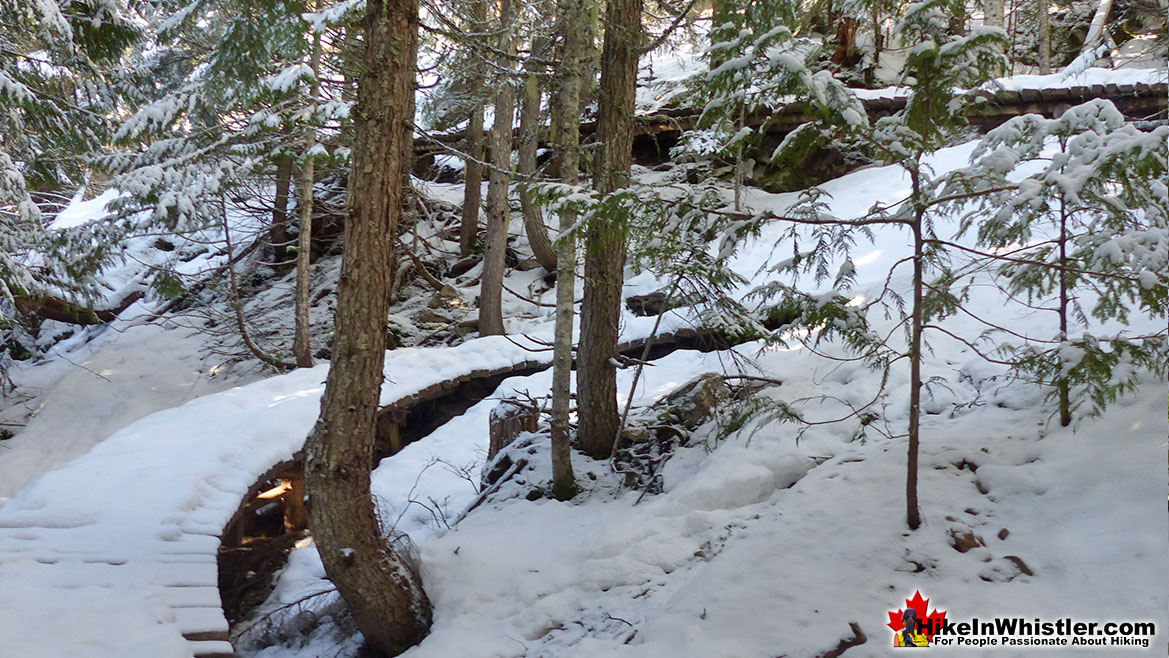 Darwin's continues gradually upward for a few minutes before opening up to this beautiful view of Whistler Valley.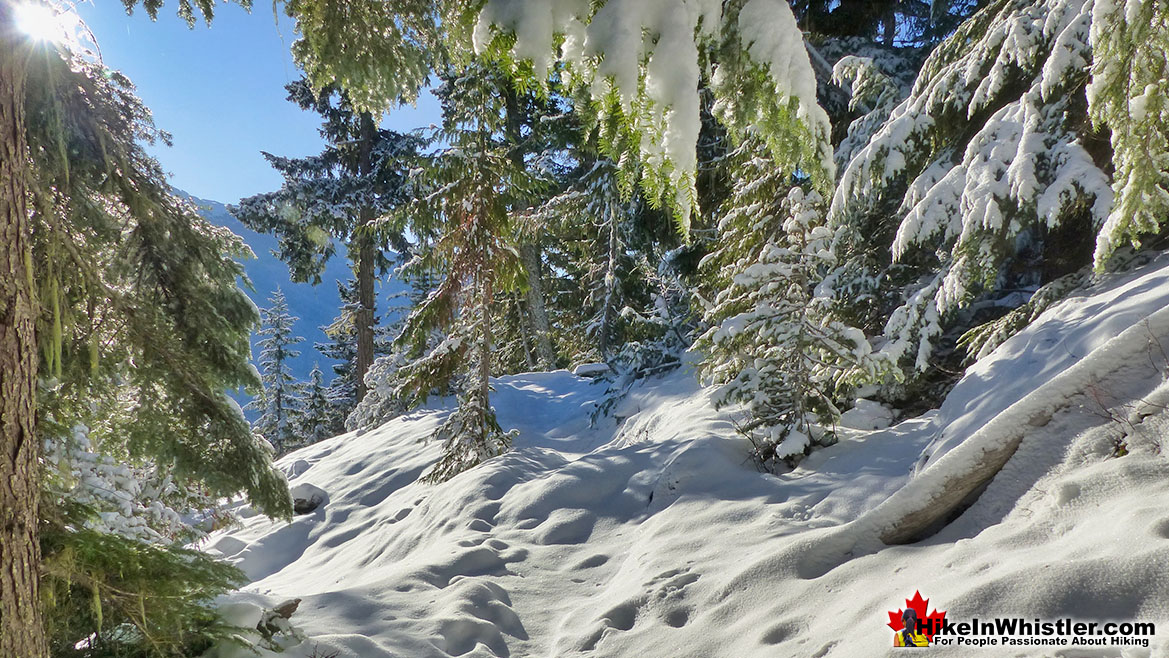 Whistler Mountain directly across and Blackcomb Mountain over to the left.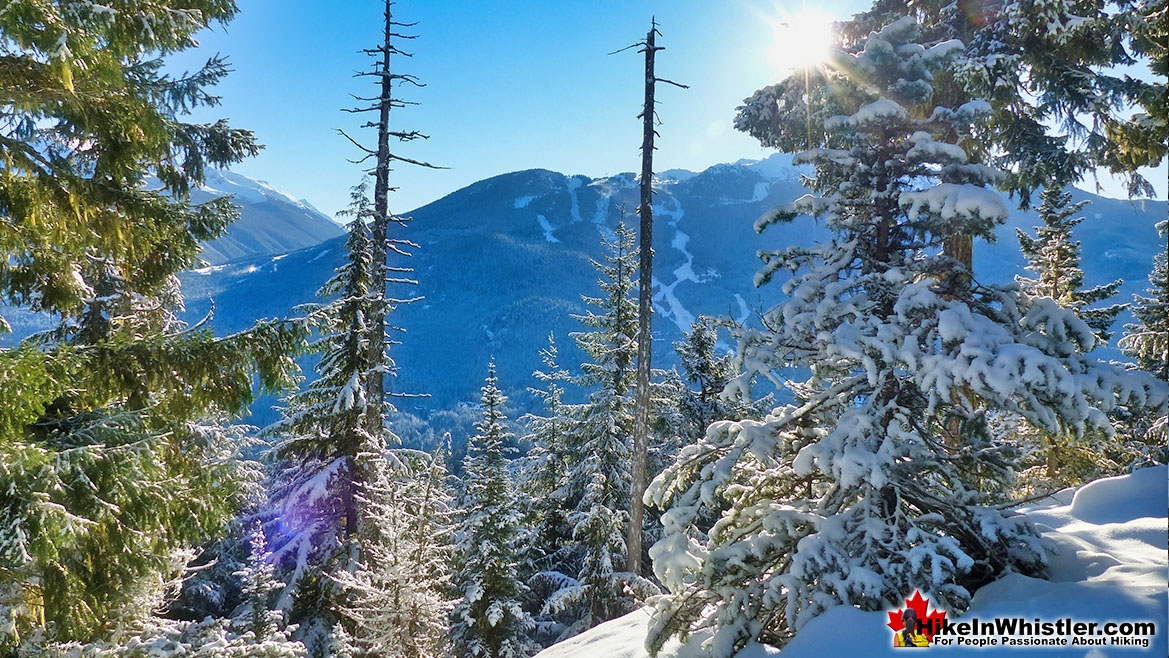 The trail heads back into the forest and connects to Flank and just before you cross Nita Creek you see a faint trail lead up to this beautiful spot overlooking the valley.  A series of big, snowy and fairly flat clearings perfect for a camp with a million dollar view.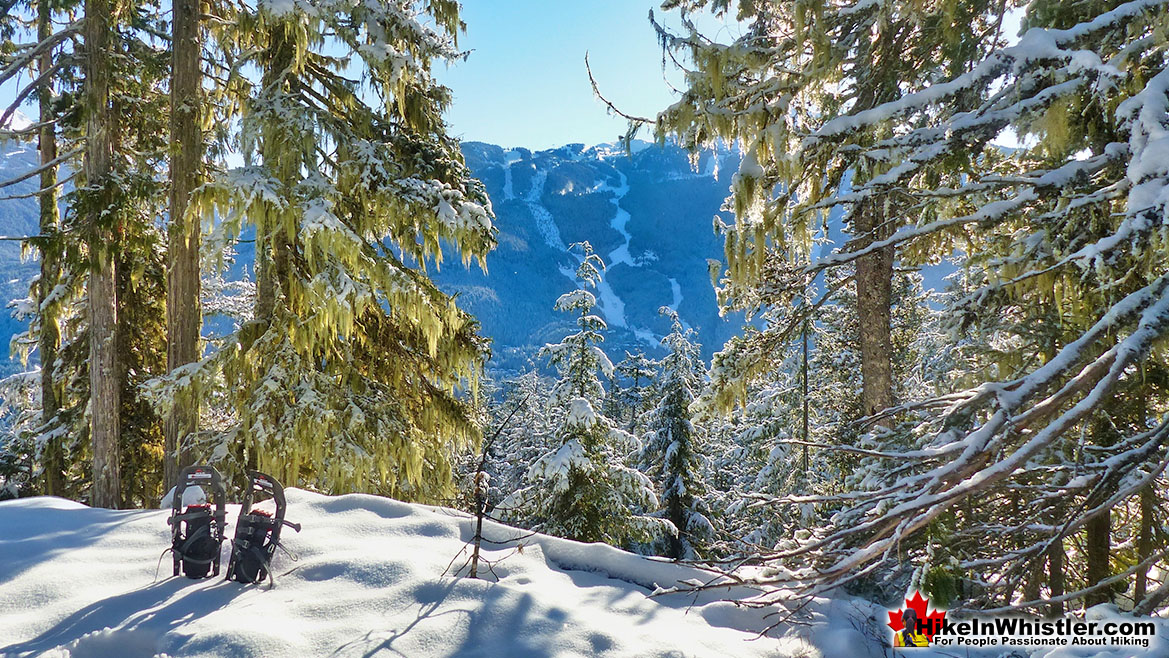 Black Tusk looks amazing with snowy mountains stretching to the horizon.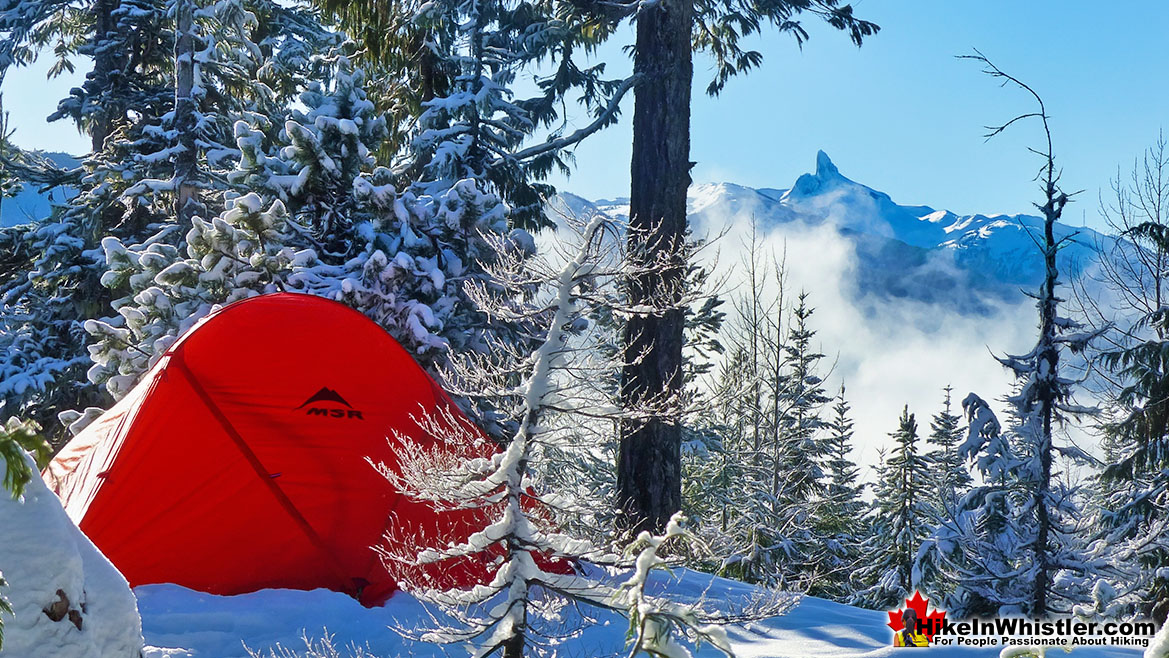 One side of this plateau is quite steep and Nita Creek can be heard crashing through the forest, but looking down you only see snowy treetops.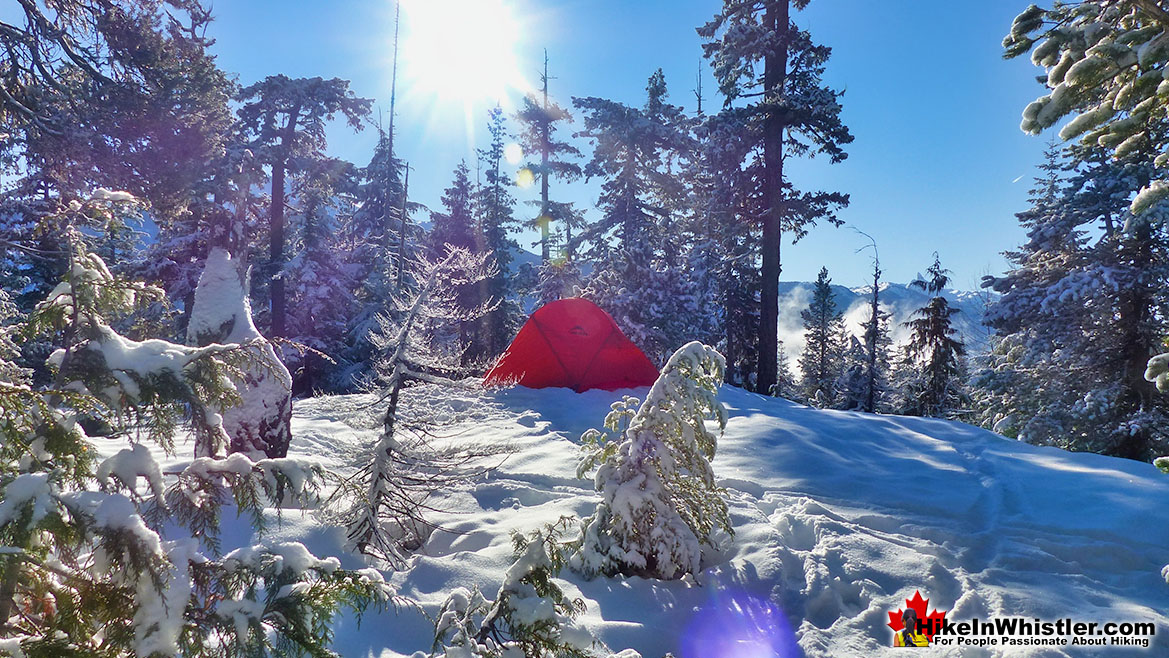 The 1.4 kilometres from the trailhead to this first plateau is fairly steep the entire way, it is short enough to be overall fairly easy and only about 20 minutes from your car.  The second plateau is another 1.4 kilometres up the trail and much more challenging.  You have to drop back down to Flank and continue across Nita Creek where you will see the unmarked Sproatt East trail on your right.  For the first couple hundred metres you gradually ascend in a fairly straight line through the deep forest with Nita Creek on your right.  Once you cross the creek the trail gets considerably steeper and exhausting.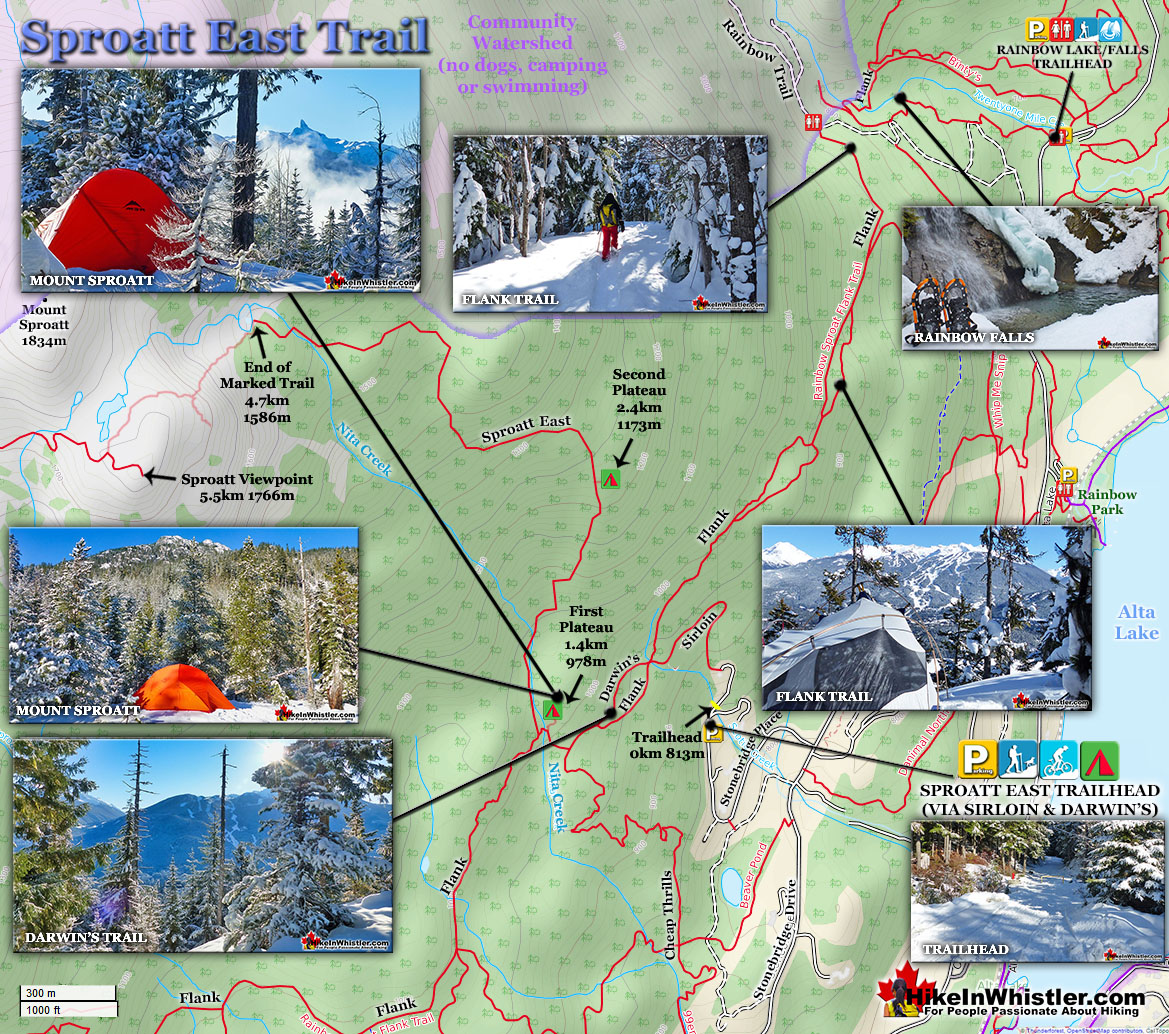 The Sproatt East Trail in the Summer

Mount Sproatt is fantastic, partly because you never see the crowds of people that flock to other Whistler and Garibaldi Park hiking trails.  There are a few good reasons why it is so quiet.  First, many of the trails are relatively new bike trails built in just the last 10 years, so the mountain has not caught the attention of hikers in a big way yet.  Also, it is almost entirely focussed on biking instead of hiking.  You do see the occasional hiker on the Flank Trail, but for the most part hikers stick to the Rainbow Trail that cuts between Mount Sproatt and Rainbow Mountain and leads to Rainbow Lake.  Another reason Sproatt is so quiet is that it lacks a spectacular mountain lake at the end of the trail like you get at Joffre Lakes, Wedgemount Lake, Cirque Lake and Garibaldi Lake.  You do get some beautiful little tarns on Sproatt, but nothing compared to the other well known lake hikes.  Another reason for seldom running into other hikers on Sproatt is the vastness of the trail network.  The Sproatt East access via Sirloin and Darwin's is just one of several trailheads available.  Back down the road along Stonebridge Drive you will pass Beaver Trail which connects to Cheap Thrills which takes you up to the Flank Trail not far from where Darwin's meets Flank.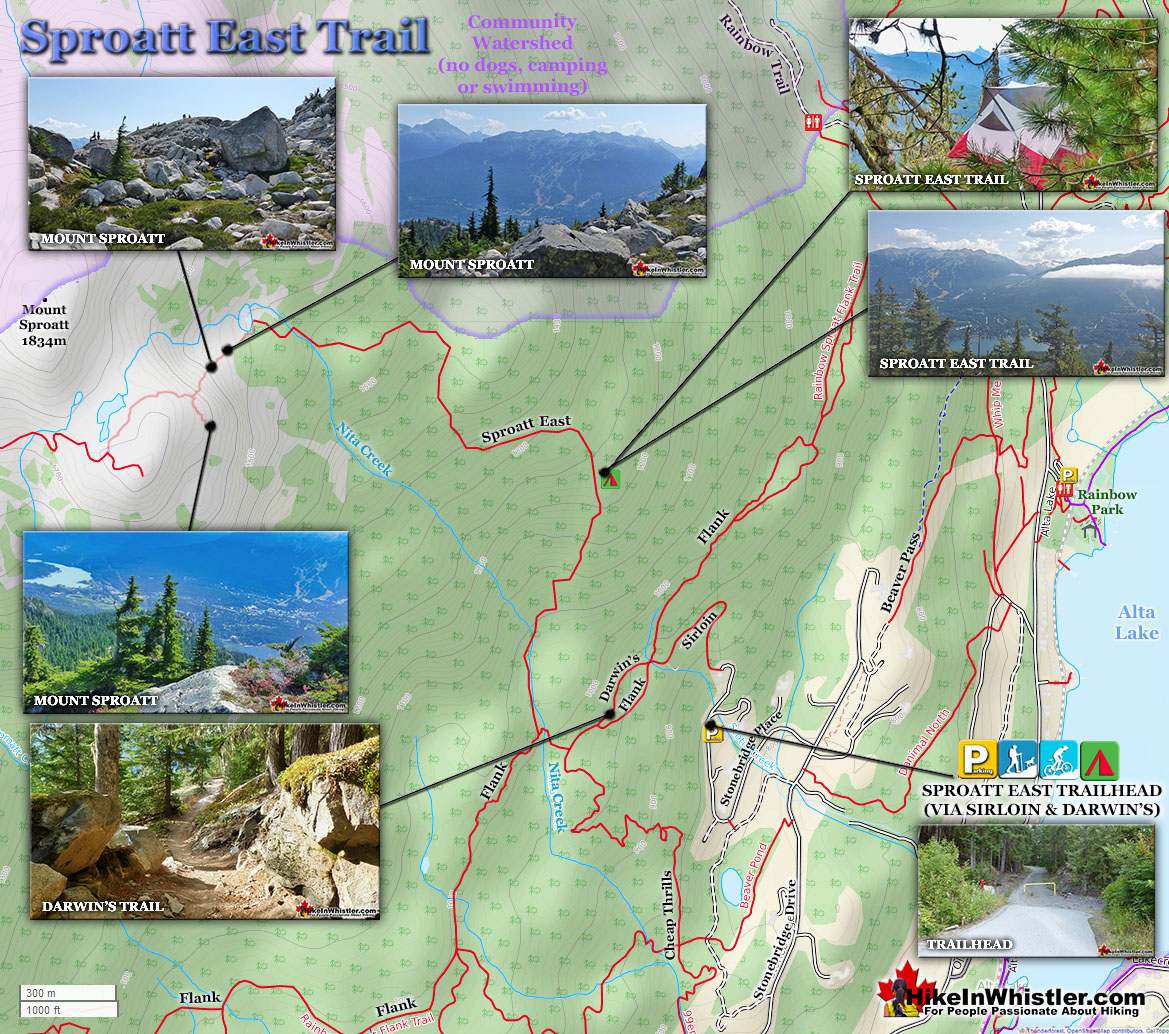 Along Flank past the Sproatt East trail you will find several trails that rapidly ascend up Sproatt with great names like, Lord of the Squirrels, Up, Up and Away, and Into the Mystic.  As you can see in the map below the spider web of trails on Sproatt is staggering and extend around the west side of the mountain to the Callaghan Valley!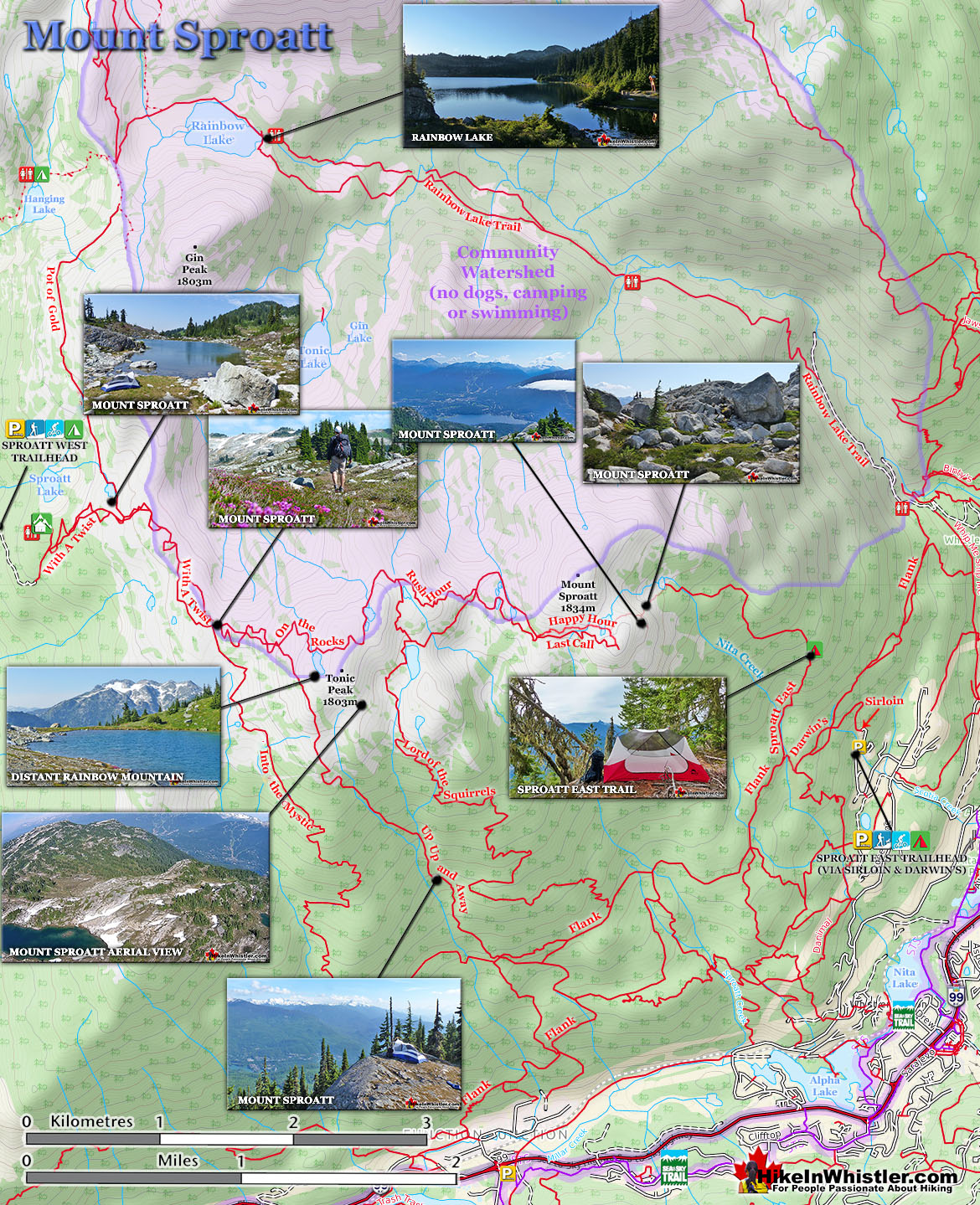 Facilities on Mount Sproatt

The Sproatt East trail and Mount Sproatt are wonderfully wild and almost entirely devoid of human made structures.  There is the very nice viewing platform overlooking the valley just down from the summit of Sproatt.  For most hiking, biking or skiing on Sproatt this is the destination instead of the actual summit, several metres above and behind the viewpoint.  From the trailhead in Stonebridge the viewpoint is about 5.4km with an elevation gain of 880 metres.  The nearby summit of Sproatt is about 5.5km from the Stonebridge trailhead with an elevation gain of 1021 metres.  Way over on the west side of Sproatt there is a snowmobile/atv hut overlooking Sproatt Lake owned by a local guiding company.  The wonderful, gothic arch hut that was recently removed from Russet Lake is reportedly going to be rebuilt somewhere on Sproatt to act as a ranger cabin.  There are no dedicated rangers for Sproatt yet, however the increasing number of bikers, especially on the west side of the mountain, have developed a need for rangers to help with hurt or lost people.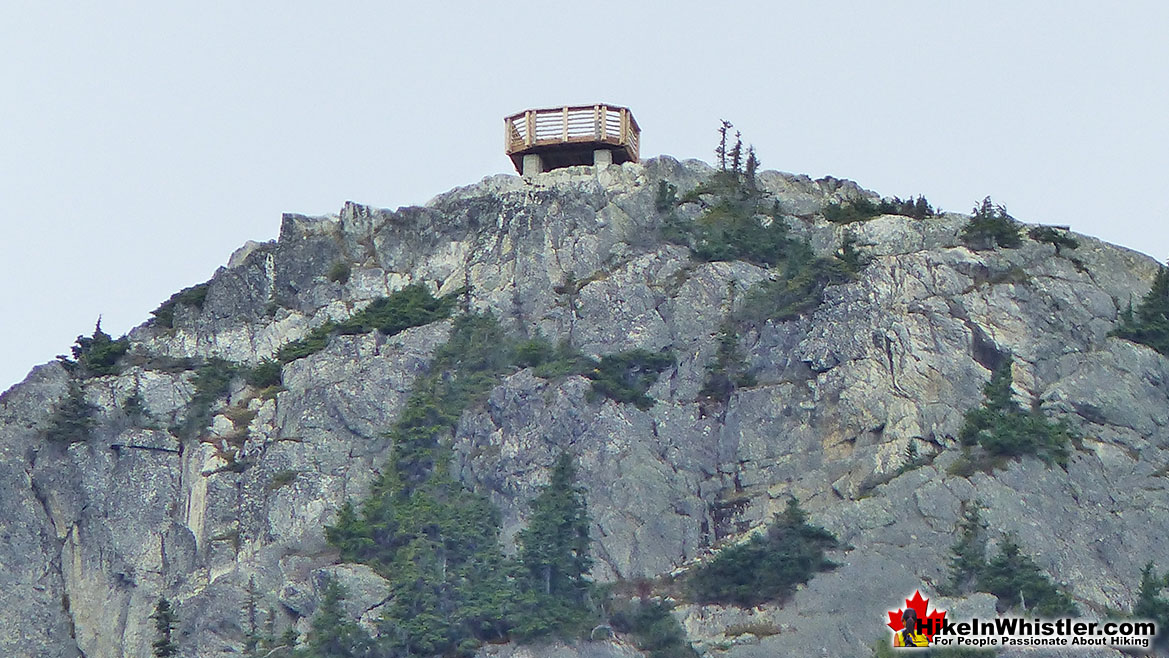 Restrictions and Concerns for the Sproatt East Trail

There are not too many restrictions on Sproatt outside the watershed areas.  Of course fires are prohibited during the summer and some trails, including the Sproatt East trail don't allow ATV's or snowmobiles.  Camping is possibly prohibited as the Sproatt East trail lays within Whistler's municipal boundary on some maps, but goes unnoticed in the vastness of the mountain outside the watershed area.  Snowmobiling is popular on the west side of Sproatt and companies do tours all winter.  Dogs are allowed on the Sproatt East trail as it is entirely outside the watershed boundary.  This makes it one of the best dog friendly snowshoe trails in Whistler as Sirloin, Darwin's, Flank and the Sproatt East trail are seldom used in the winter and you drive a lot of elevation before you reach the trailhead parking.  There are plenty of variations as the trail network on Sproatt is quite vast and the Flank Trail extends southwest to the Callaghan Valley and northeast past Rainbow Mountain all the way to Ancient Cedars on Cougar Mountain!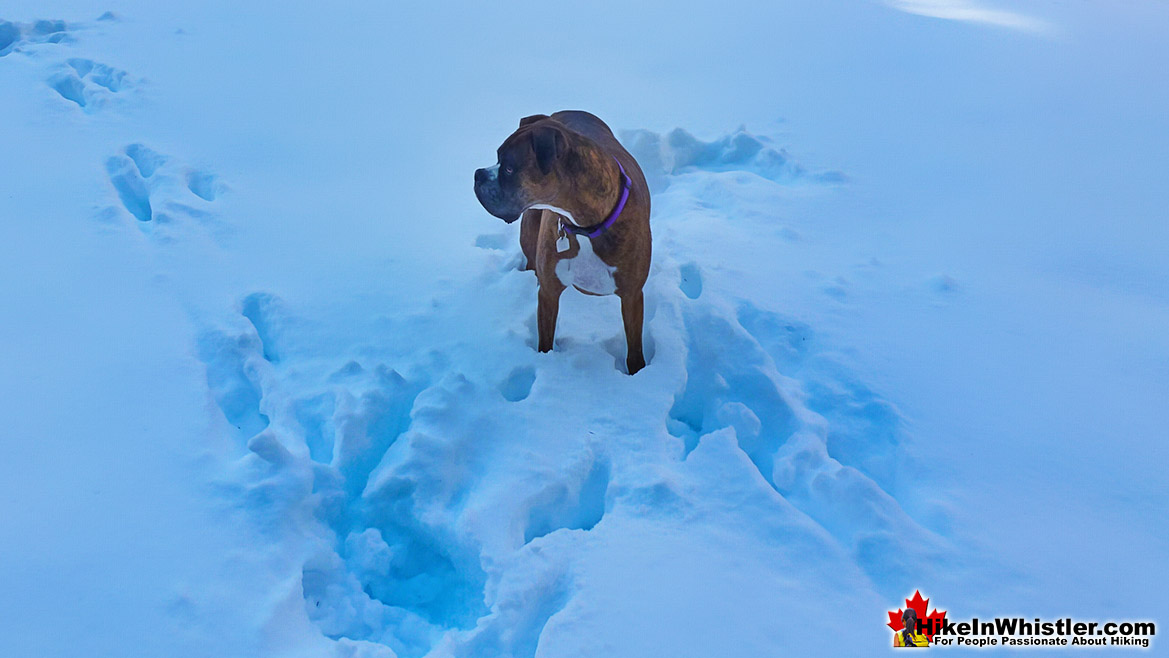 Wildlife on Sproatt

Black bears roam around on Sproatt in the summer and fall months, and in recent years there have been the occasional grizzly bear sighting in late summer and early fall.  This tends to happen on the west side of Sproatt and also around Hanging Lake and Madeley Lake, which are northwest of Rainbow Lake.  The sightings tend to cause a panic and signs go up at some trailheads preventing access due to grizzly bear in area.  The nearby Rainbow Trail to Rainbow Lake is the main access trail to Hanging Lake tends to be one of the main trail temporary closures every year.  Snowshoeing Sproatt in the winter you likely won't see a lot of wildlife, though you will spot a lot of animal tracks.  Lots of deer tracks, rabbit tracks and sometimes bobcat, cougar or wolf tracks can be found on the trail.
Getting to the Sproatt East Trailhead

Finding your way to the Sproatt East trail is a bit tricky as there are no signs for the trail and the trailhead where you park your car is unmarked as well.  Despite the lack of signs, the route is fairly straight forward.  From Whistler Village you drive south on the Sea to Sky Highway for 5.3 kilometres, turn right onto Alta Lake Road.  2.3 kilometres along Alta Lake Road turn left onto Stonebridge Drive.  Drive another 1.5 kilometres and turn left onto Stonebridge Place and drive another 800 metres until it ends at a roundabout.  You will see no parking signs along the roundabout, but parking is allowed along the side of the road just a few metres away.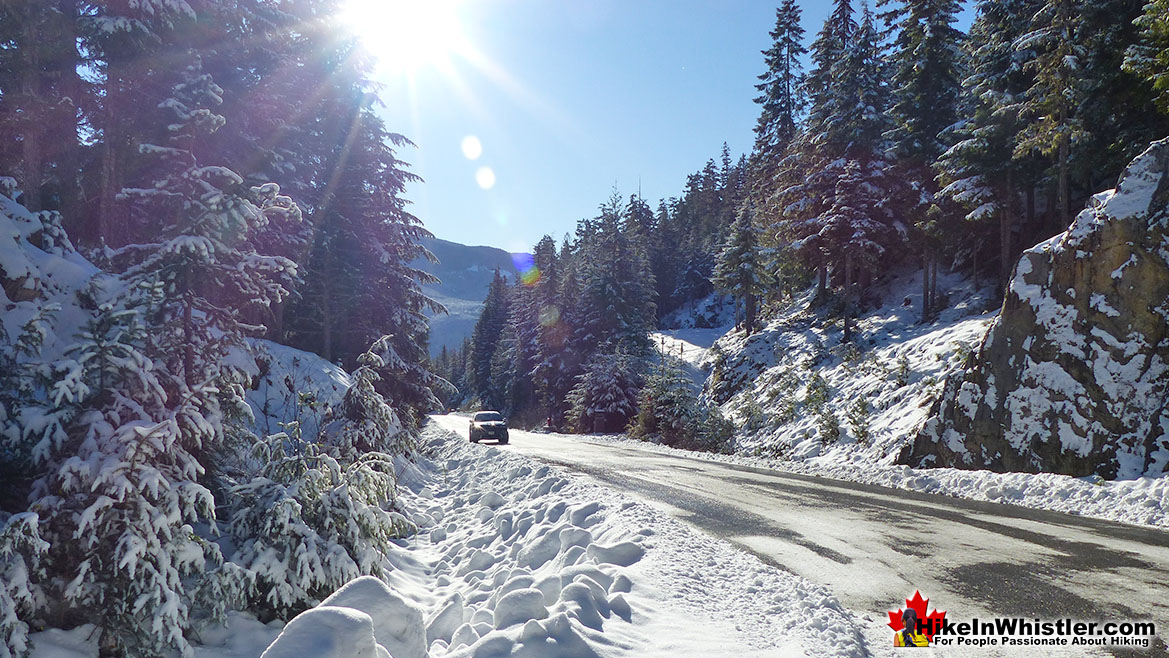 The yellow gate(pictured below) is the start of the trail which is actually a short access road to the water tower.  The access road is a fairly steep 160 metres to the start of Sirloin, where you will find an actual trailhead sign.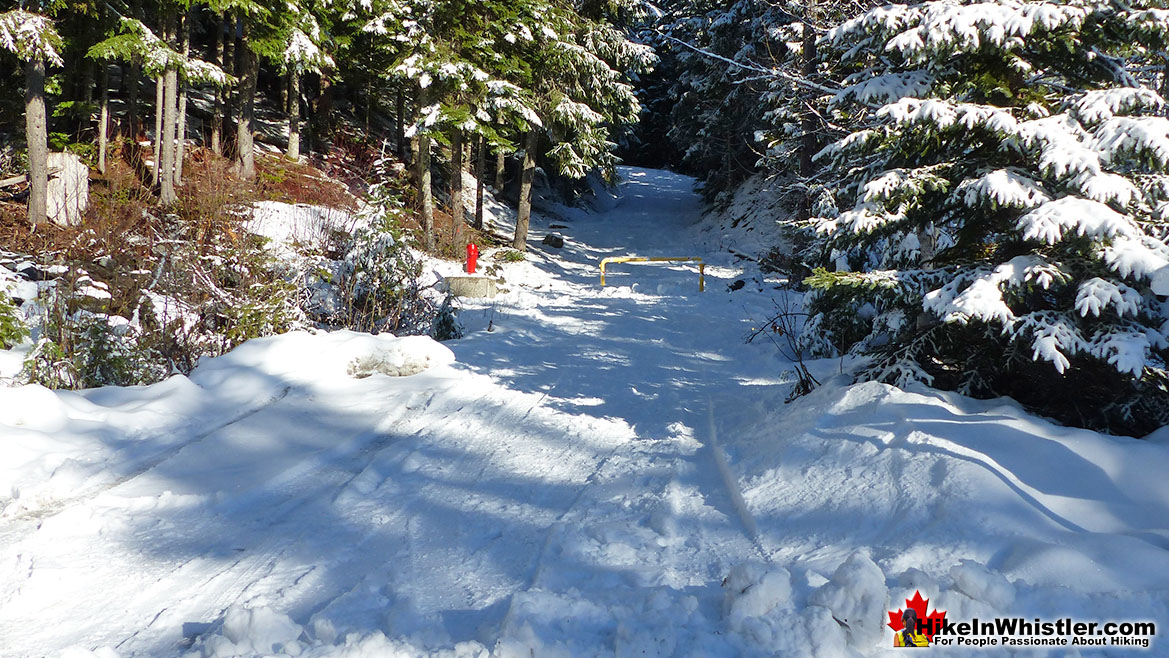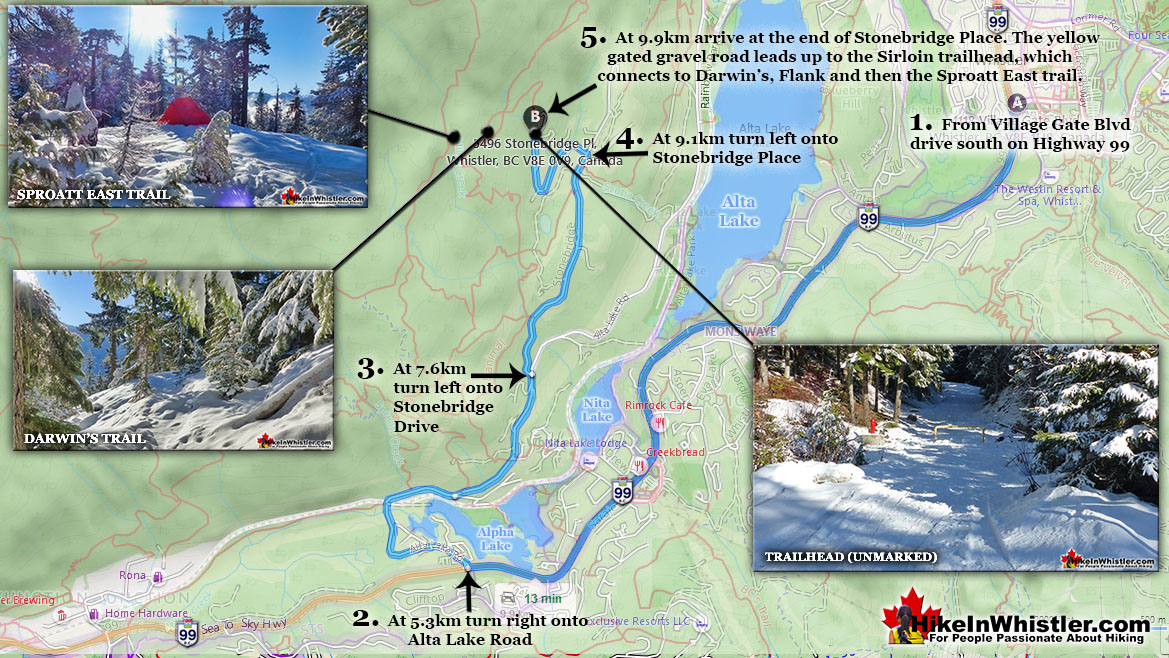 More Whistler Snowshoe Trails

There are plenty of beautiful and free snowshoe trails in Whistler and Garibaldi Provincial Park.  From the surreal paintings of Whistler Train Wreck to the magnificent mountain serenity of Wedgemount Lake in Garibaldi Park.  Trails range from extremely easy, like the short, flat trails to Brandywine Falls and Rainbow Park.  To challenging and long trails to places like Elfin Lakes, Taylor Meadows and Wedgemount Lake.  Whistler even has a growing network of snowshoe trails to Parkhurst Ghost Town on the far side of Green Lake.  There are a couple pay-use snowshoeing areas in Whistler, however most free trails are as good or better.  Whistler Train Wreck is an easy/moderate snowshoe trail that takes you through a deep forest, over Cheakamus River via a very pretty suspension bridge, and to a series of decades old, wrecked train cars.  Elfin Lakes in Garibaldi Provincial Park is another beautiful place to snowshoe.  Located at the south end of Garibaldi Park, the Elfin Lakes trailhead is found in Squamish.  The trail is not overly difficult, however it is quite long.  A consistently uphill, 11 kilometre(13.7 mile) trail through some spectacular scenery takes you to the marvelous Elfin Lakes hut.  For easier snowshoeing, Rainbow Falls is a good option.  Located just a short drive from Whistler Village, the Rainbow Trail is a beautiful trek through the forest in a winter wonderland to a hidden waterfall surrounded by deep pillows of powdery snow.  For more challenging snowshoeing, Joffre Lakes Provincial Park is hard to beat.  A long, though beautiful drive into the mountains, north of Pemberton takes you to this moderately challenging, 11 kilometre(6.8mile) roundtrip snowshoe trail.  The frequently steep, winding trail takes you through a winter paradise and around, or over three frozen lakes.  Back in Whistler, an excellent place to snowshoe is to Parkhurst Ghost Town.  Sitting on the far side of Green Lake, Parkhurst was a thriving logging community several decades ago.  It has since been abandoned except for intermittent squatter communities over the years.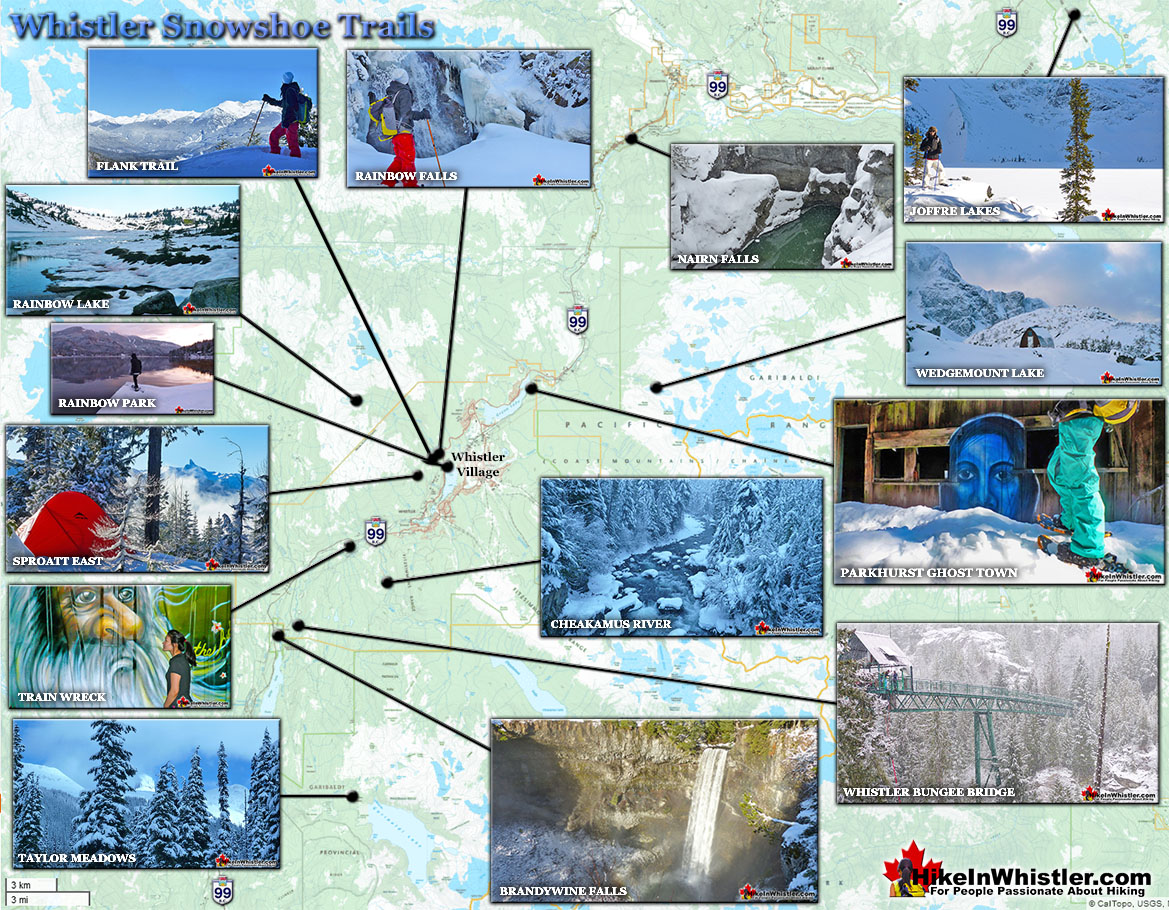 More Whistler & Garibaldi Park Snowshoe Trails!
Where to Hike in Whistler & Garibaldi Park by Month

Amazing Whistler & Garibaldi Park Hiking Trails!