November in Whistler is when the temperatures plummet and the first heavy snow falls in the alpine and often in Whistler Village.  The hiking opportunities become limited to easier and lower elevation hikes such as to Nairn Falls, Brandywine Falls and Rainbow Falls.  Waterfalls are a great in Whistler, huge and impressive.  Also, most can be accessed year-round. Alexander Falls, located high up in beautiful Callaghan Valley, just metres from a snow plowed road. 
Whistler & Garibaldi Hiking

Alexander Falls  

Ancient Cedars  

Black Tusk  

Blackcomb Mountain  

Brandywine Falls  

Brandywine Meadows  

Brew Lake  

Callaghan Lake  

Cheakamus Lake  

Cheakamus River  

Cirque Lake 

Flank Trail 

Garibaldi Lake 

Garibaldi Park 

Helm Creek  

Jane Lakes 

Joffre Lakes  

Keyhole Hot Springs  

Logger's Lake  

Madeley Lake  

Meager Hot Springs 

Nairn Falls  

Newt Lake 

Panorama Ridge 

Parkhurst Ghost Town 

Rainbow Falls  

Rainbow Lake 

Ring Lake  

Russet Lake  

Sea to Sky Trail 

Skookumchuck Hot Springs  

Sloquet Hot Springs 

Sproatt East 

Sproatt West  

Taylor Meadows  

Train Wreck  

Wedgemount Lake  

Whistler Mountain

January 

February 

March 

April 

May 

June 

July 

August 

September 

October 

November 

December
Even in the depths of winter the road to Alexander Falls is plowed and access is easy and safe.  Just a 20 minute drive north of Whistler Village on the Sea to Sky Highway is the contrastingly beautiful Nairn Falls Provincial Park.  A nice, easy and short trail takes you to these crashing and deep falls that have carved potholes in the rock over the years. Though Nairn Falls campground is very large and busy much of the year, in November the place is very quiet.  Not open for camping, the park is desolate and serene.  Unless there has been heavy and recent snowfall, the 1.2 kilometre trail doesn't require snowshoes and is easy and flat. Brandywine Falls is another great, short and easily accessible site to see in Whistler in November.  It is located just 20 minutes south of Whistler on the Sea to Sky Highway.  Look for the sign if you are driving up from Vancouver and you can't miss it.  The hike is an easy and nice trail that takes less than 15 minutes from your car to the falls viewing platform.  The parking lot is immediately off the highway and the short 1 kilometre trail takes you over then alongside Brandywine Creek to the viewing area.
The only facilities in Brandywine Falls Provincial Park the park are pit toilets and picnic tables and there is no charge for hiking or for parking your vehicle in the park.  The gate off of the highway is locked at night and in the winter so at these times you simply park at the edge of the highway and hike past the gate. Brandywine Falls Provincial Park is attached to the wonderful Sea to Sky Trail which runs between and beyond Whistler and Squamish.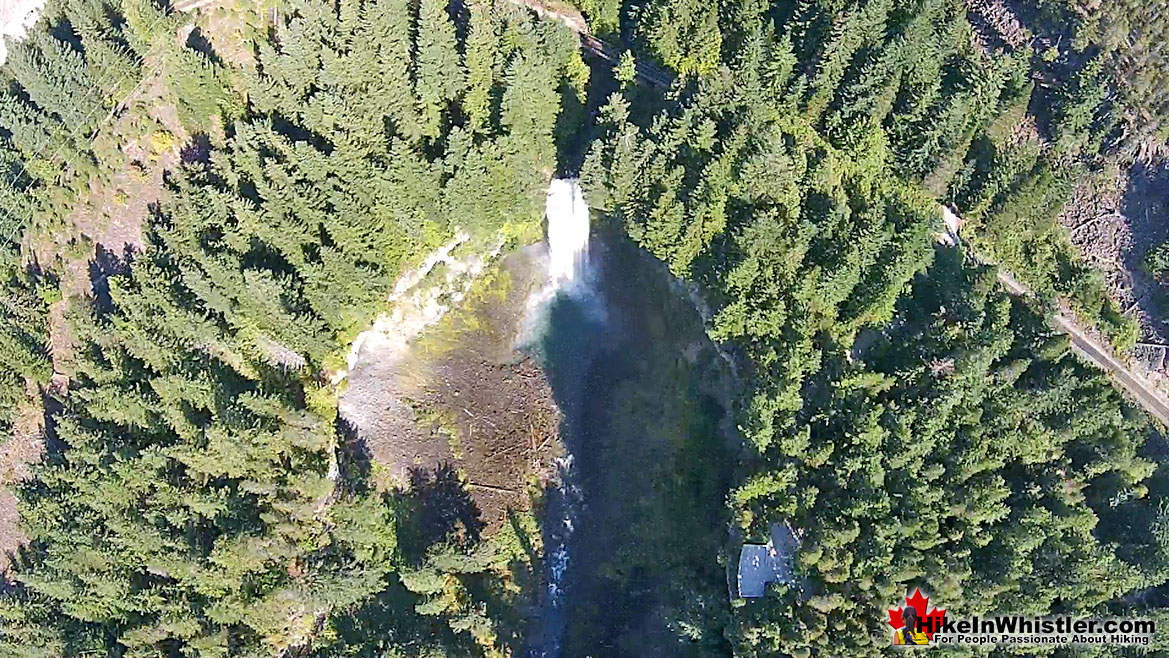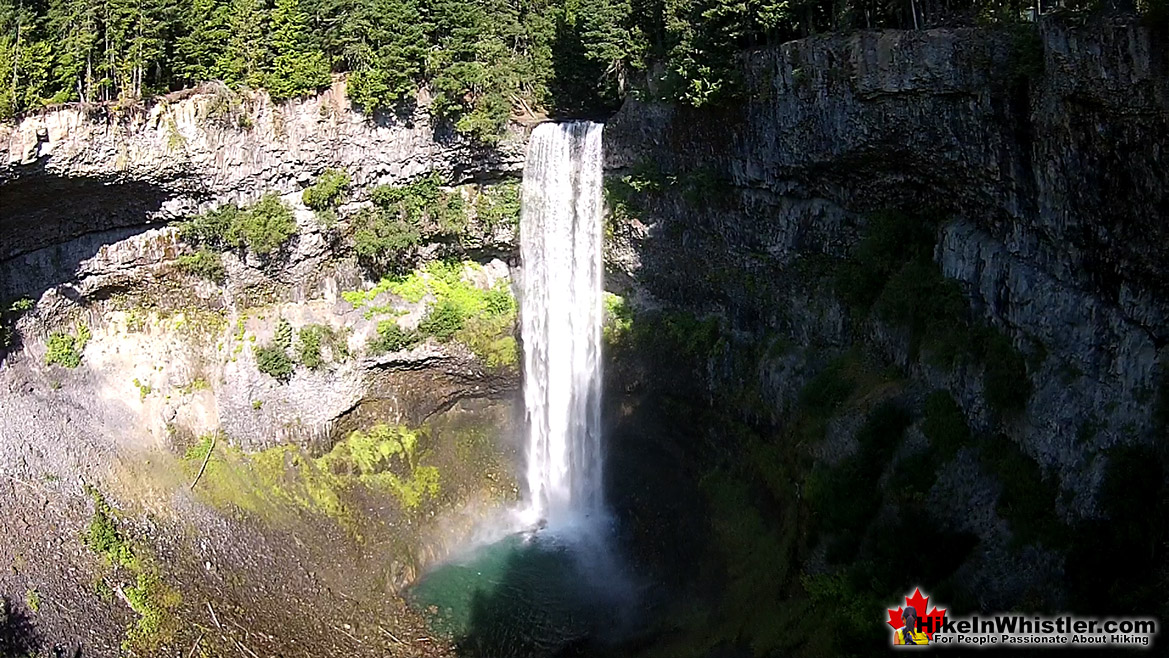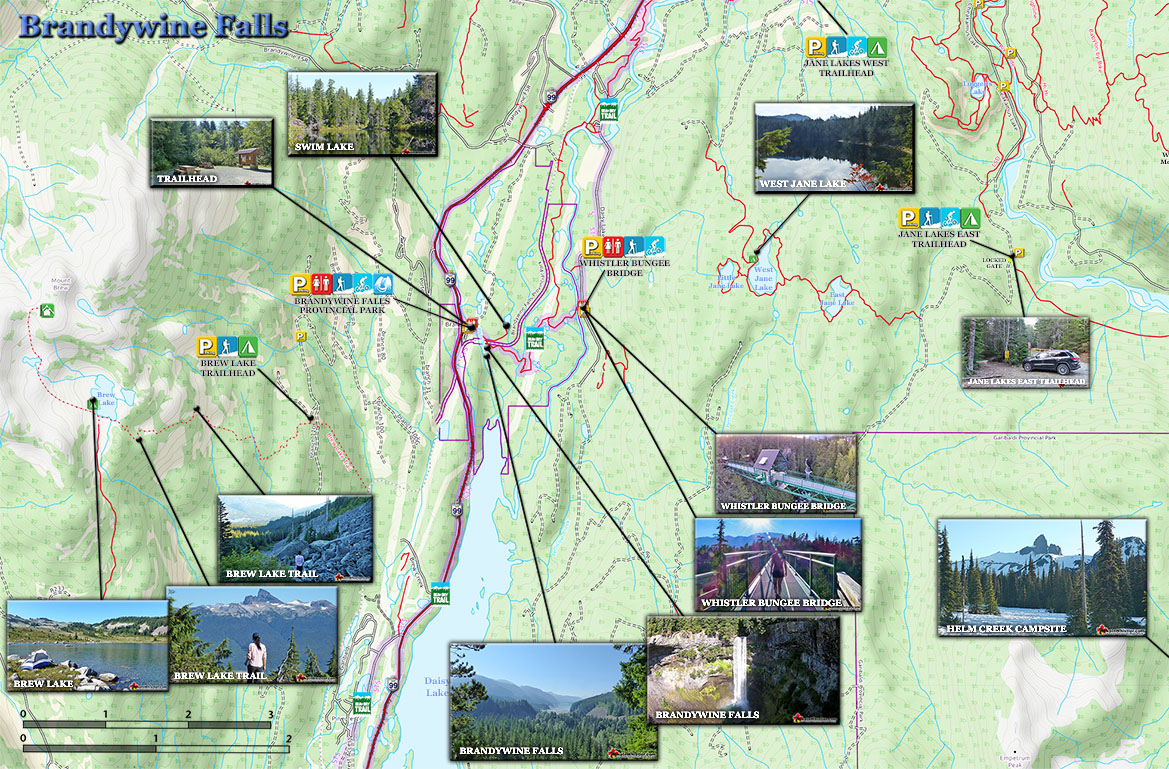 Best Whistler Hiking November – Sea to Sky Trail

The Sea to Sky Trail is a 180 kilometre multi-use trail that runs from Squamish to D'Arcy. The trail is still under construction in many parts, however, the amazing route through Whistler is finally in place. The Whistler section of the Sea to Sky Trail is 33 kilometres long between Brandywine Falls Provincial Park and WedgeWoods Estates just north of Green Lake(north of Whistler Village). The 33 kilometre Whistler section of the Sea to Sky Trail is either paved, dirt or crushed rock and often very wide. Much of the trail just north and south of Whistler Village is wide, two lanes and paved with plenty of signs and occasional mapboards.  North of Whistler Village the trail can be challenging with several hills as it rises above and beyond Parkhurst Ghost Town.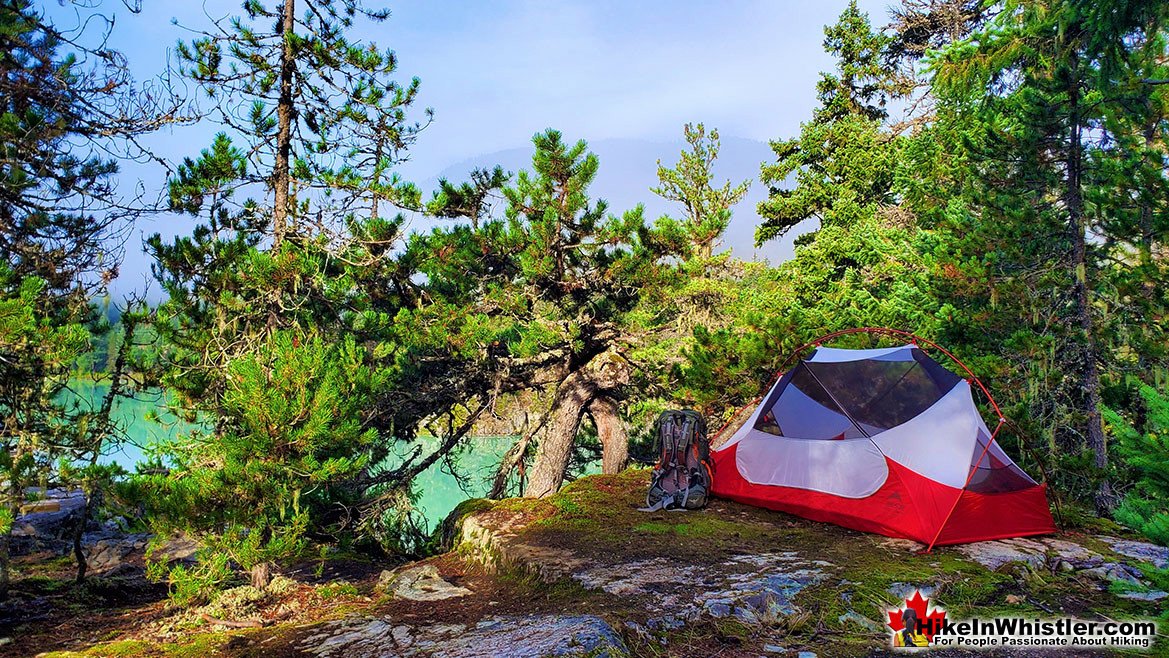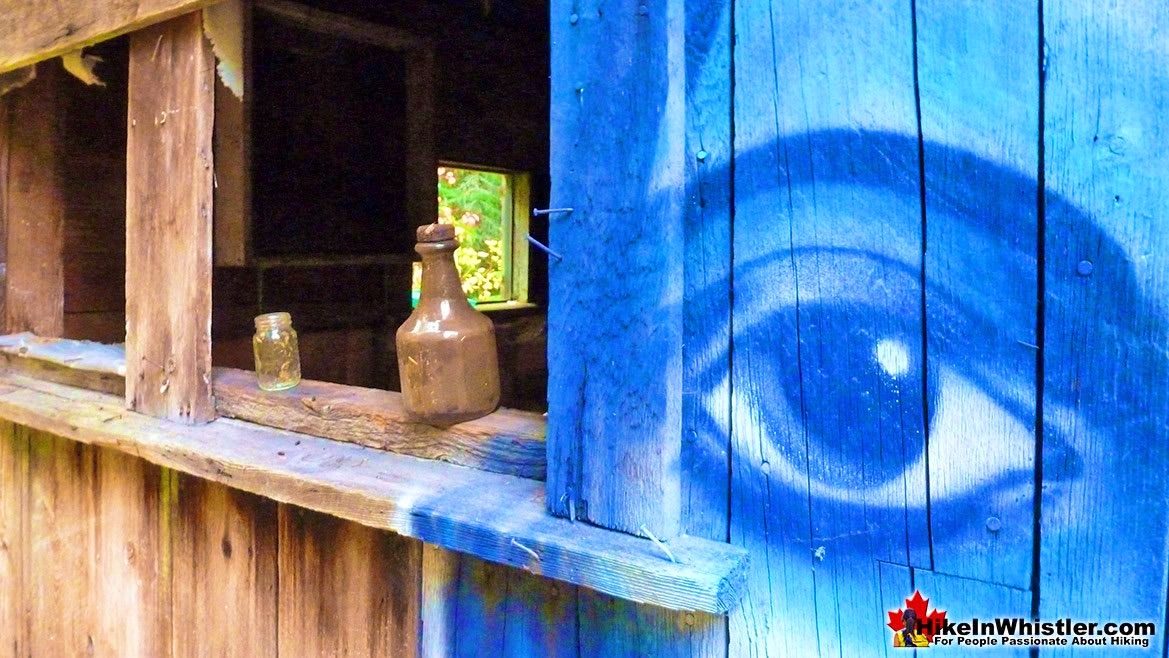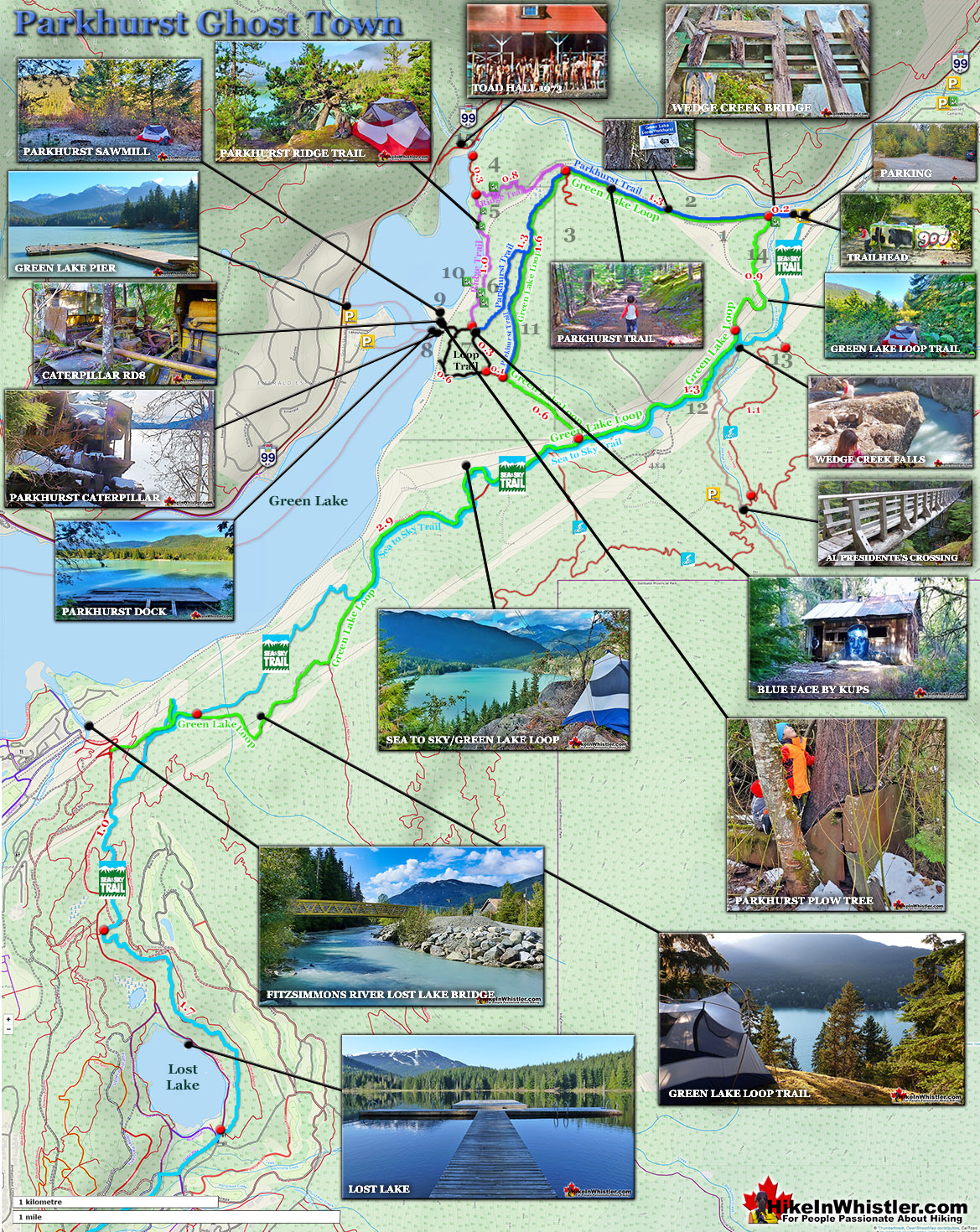 South of Whistler, the paved trail ends at Cheakamus Crossing and becomes a narrow at times dirt trail with some wider sections of crushed rock. This beautiful section follows Cheakamus River making four dramatically beautiful river crossings. The Cal-Cheak area south of Cheakamus Crossing is more challenging and sometimes narrow and hilly, dirt trails. South of Cal-Cheak the forest opens up and the trail widens to the luxurious feeling, wide and hard packed gravel all the way to Brandywine Falls Provincial Park where the trail joins with the Sea to Sky Highway. The Whistler section of the Sea to Sky Trail passes near and through an amazing array of whistler sights. The always impressive Brandywine Falls Provincial Park at the southern end of the 33 kilometre area shown here. Heading north from Brandywine Falls you cross the huge bungee jumping bridge that spans the enormous chasm over the Cheakamus River. Soon after you cross the suspension Bridge at the Cal-Cheak Recreation area.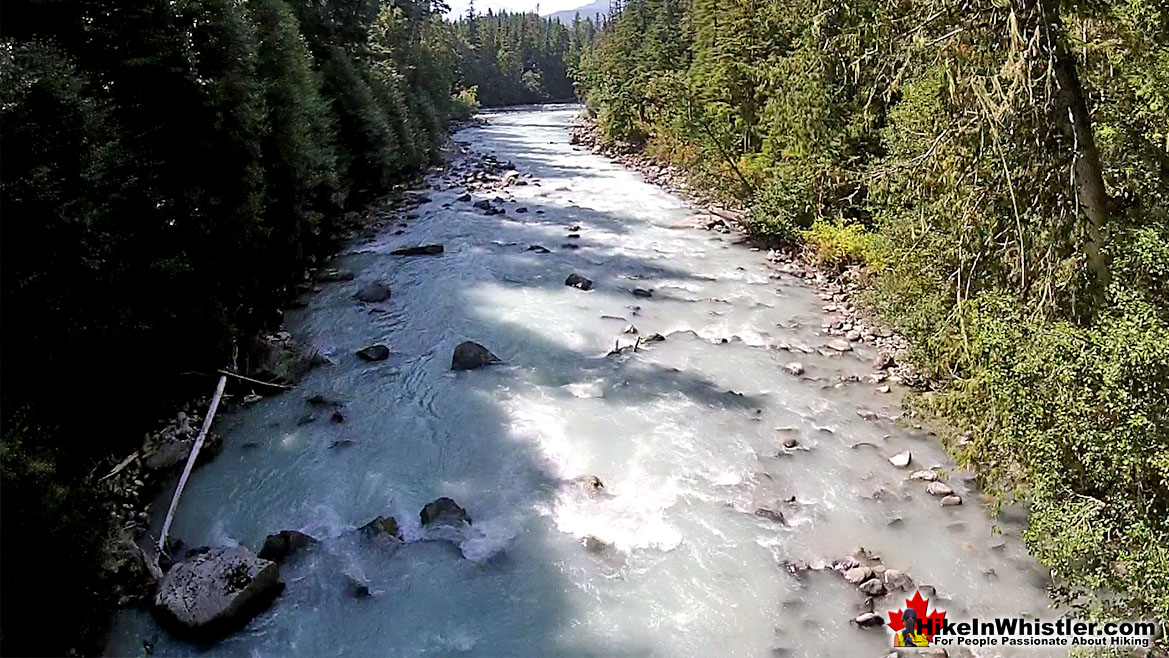 At Cheakamus Crossing there are some scenic viewpoints of Cheakamus River and a short detour takes you to the extraordinary Whistler Train Wreck. Back on the Sea to Sky Trail heading towards Whistler Village you pass by three of Whistler's beautiful Lakes each with nice parks.  Alpha Lake Park, Nita Lake Park and then along Alta Lake you pass Wayside Park and Lakeside Park.  The trail then runs through Whistler Village and enters the wonderfully sprawling Lost Lake Park network of trails.  As you pass by Lost Lake, the Lost Lake trail leads you to the Sea to Sky Trail. This section of the Sea to Sky Trail quickly ascends up to the ridge along Green Lake and takes you north to WedgeWood Estates at the northern end of this marvellous 33 kilometres, Whistler stretch of the Sea to Sky Trail.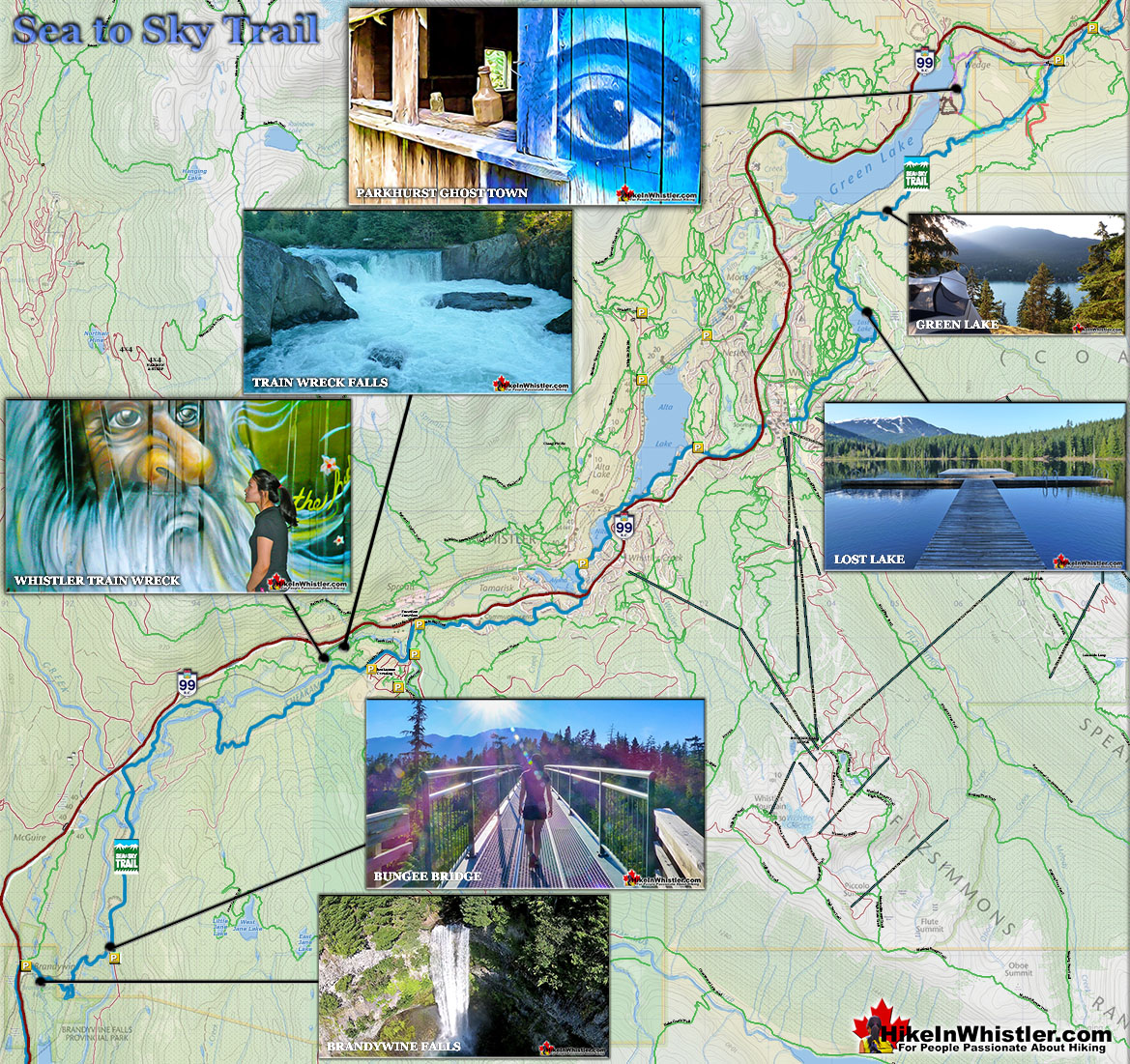 This is an incredible section of the Sea to Sky Trail. The trail is filled with amazing highlights and viewpoints. There are three convenient places to begin this section of the trail, Brandywine Falls, Calcheak or at Cheakamus Crossing. All have free parking just metres from the trail and all are close to some amazing sights. This description will describe the route south to north as if starting from Brandywine Falls Provincial Park. From the parking lot (park outside the gates if closed), you will see the large Sea to Sky Trail sign and mapboard indicating where to go. You cross the covered bridge and the first fork in the trail with the Sea to Sky Trail sign pointing right takes you to the Brandywine Falls lookout in 300 metres. Just before the falls lookout there is another sign for the Sea to Sky Trail branching to the left for the Calcheak Suspension Bridge 4 kilometres and Cheakamus Bungee Bridge 2.6 kilometres.  The trail descends and ascends past a few scenic viewpoints until reaching the fantastic Cheakamus Bungee Bridge at 2.6 kilometres. This huge and very high bridge spans the enormous chasm across the Cheakamus River with breathtaking views all around.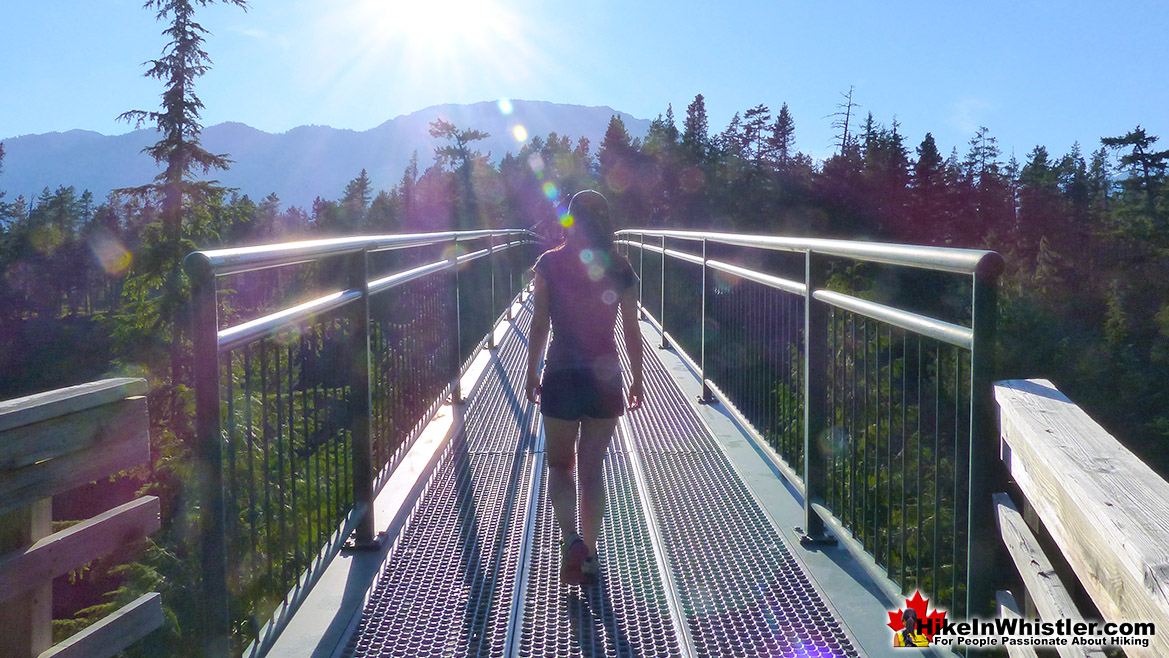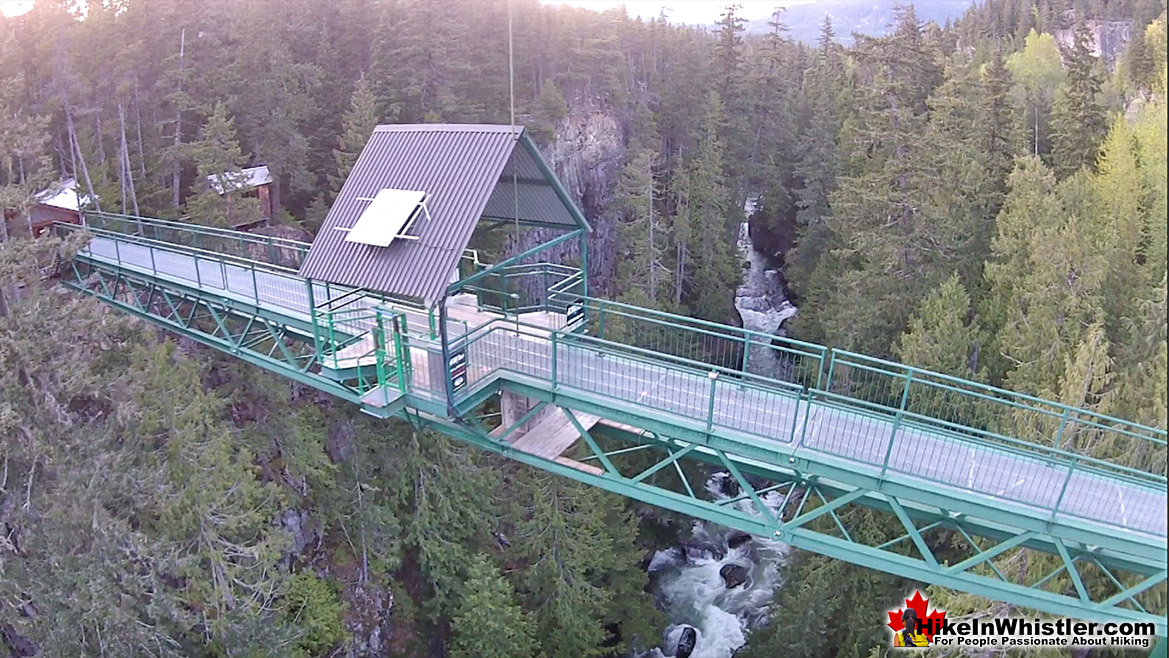 Across the bridge the Sea to Sky Trail route continues along the Bungee Bridge access road before again becoming the Sea to Sky Trail. The trail now becomes a narrow, dirt and deeply forested path that runs along the beautiful Cheakamus River and then crosses it at the Calcheak Suspension Bridge. Once at Cheakamus Crossing the trail continues along a quiet residential road leading to a bridge across Cheakamus River.  There are great trails to the right here along the river and one runs along one side and returns the other side.  Each side 2 kilometres long and cross the river via, yet another suspension bridge.  This is a great trail if you have the time or energy and is also great to try on snowshoes.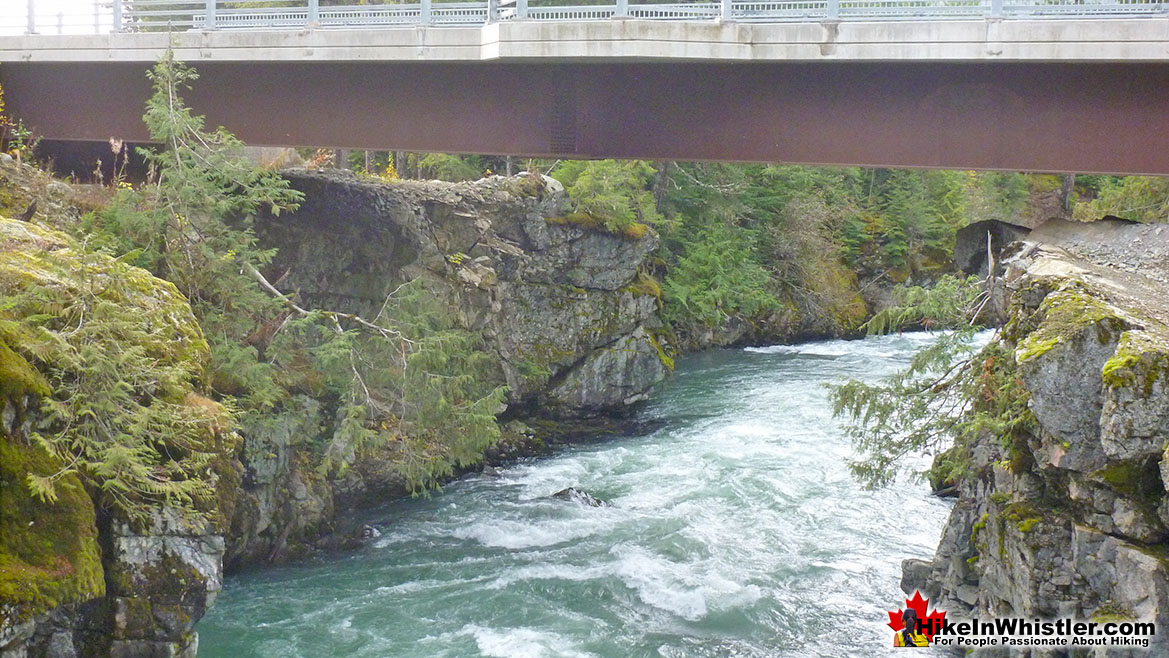 Back on the Sea to Sky Trail you will be heading along the Cheakamus Lake Road towards the Sea to Sky Highway. Just before the highway you will see a Sea to Sky Trail sign direct you to the right and the Sea to Sky Trail joins with Whistler's Valley Trail.  The Valley Trail system is Whistler is very nice.  Wide, paved and with two lanes, the Valley Trail extends throughout Whistler passing through most of the beautiful parks and lakes and leading to Whistler Village.  Athletes Village is now the beautiful neighbourhood called Cheakamus Crossing. Cheakamus Crossing is surrounded by some amazing sights in Whistler. The Sea to Sky Trail runs along the huge and crashing Cheakamus River.  Across the river is the sight of Whistler's most unique and extraordinary places, the Whistler Train Wreck.  This wonderful area of train wrecks has morphed into an amazing work of art and an amazing detour just off the Sea to Sky Trail. A new bridge along the Sea to Sky Trail now links "Trash Trail" to Whistler Train Wreck. Built in 2016, there is parking fairly close in Cheakamus Crossing.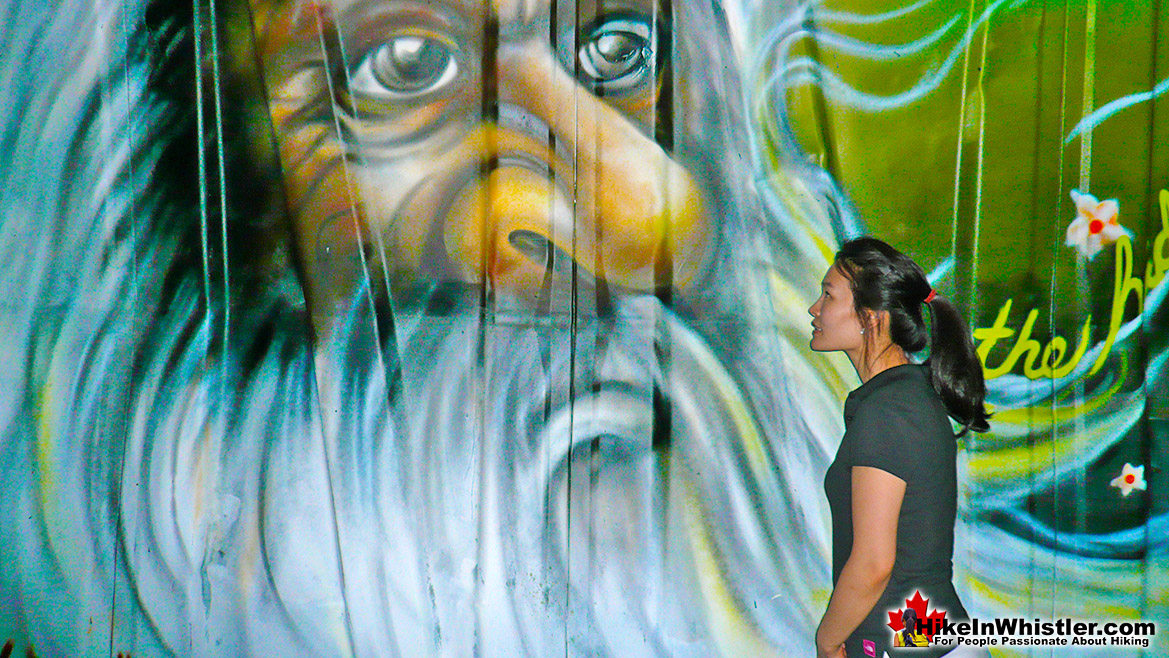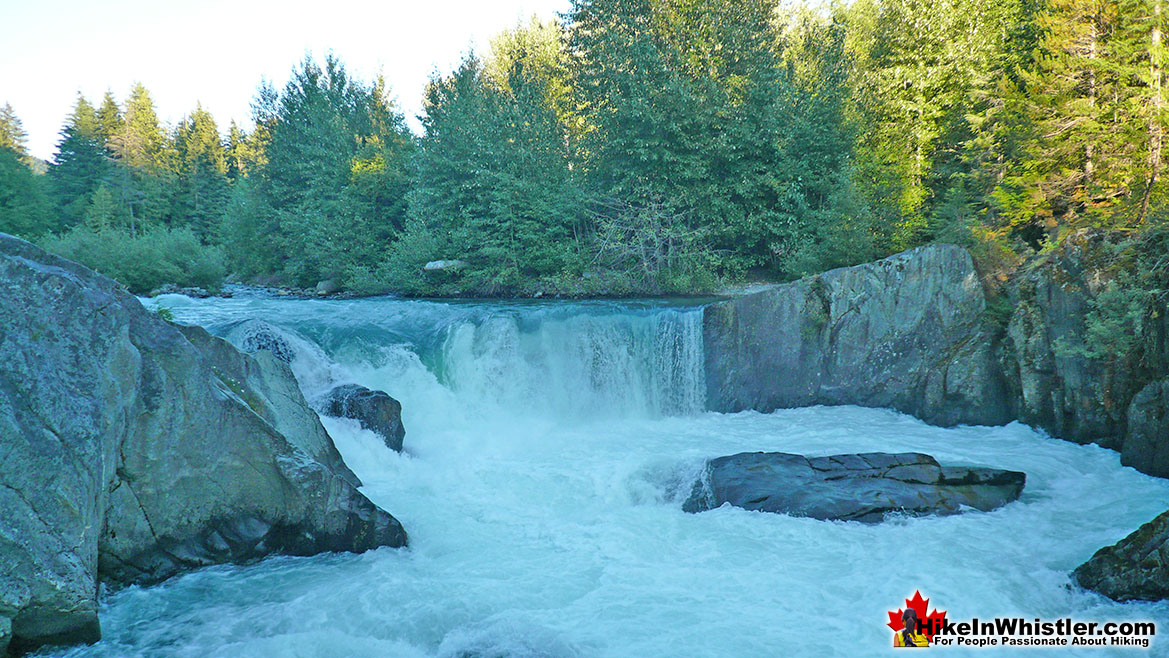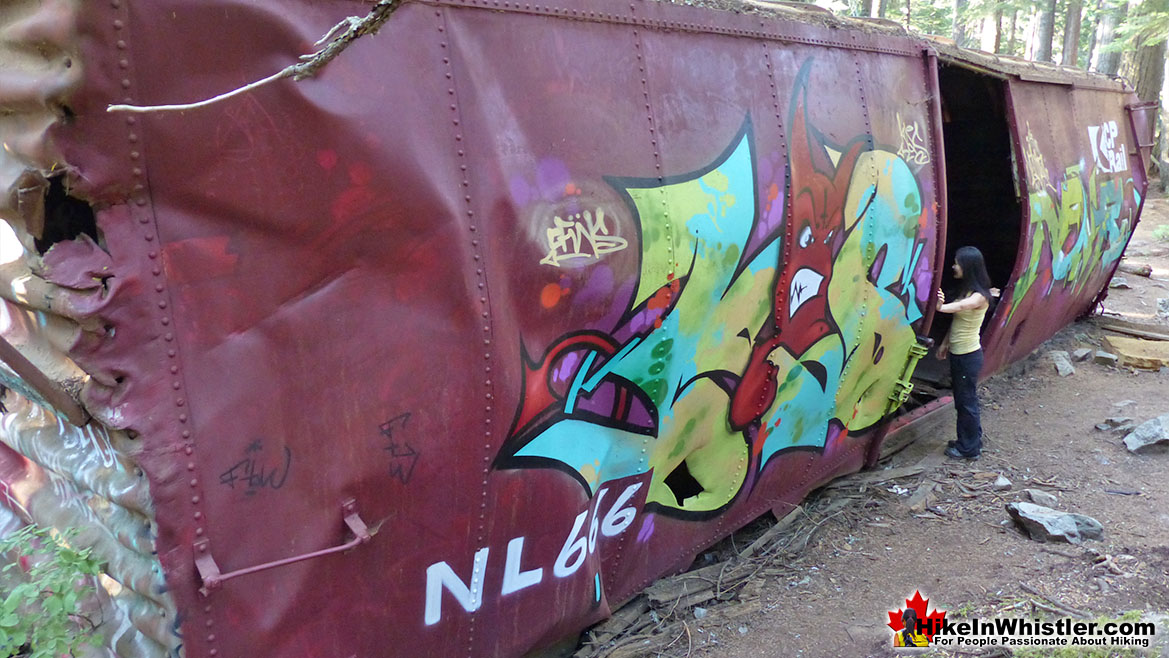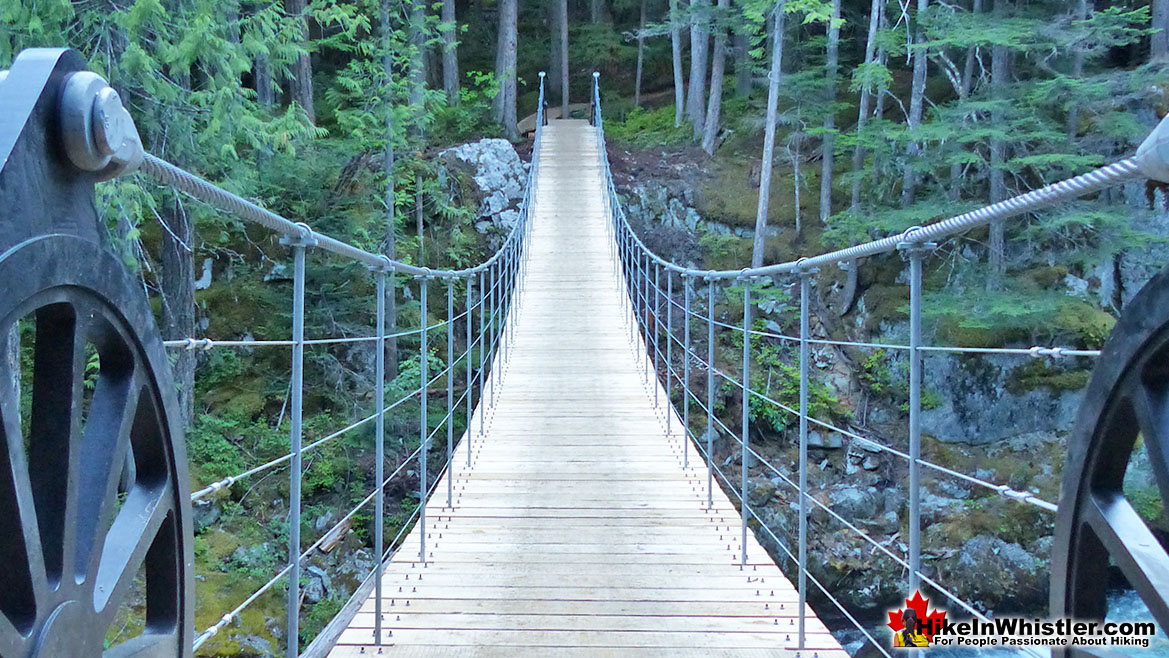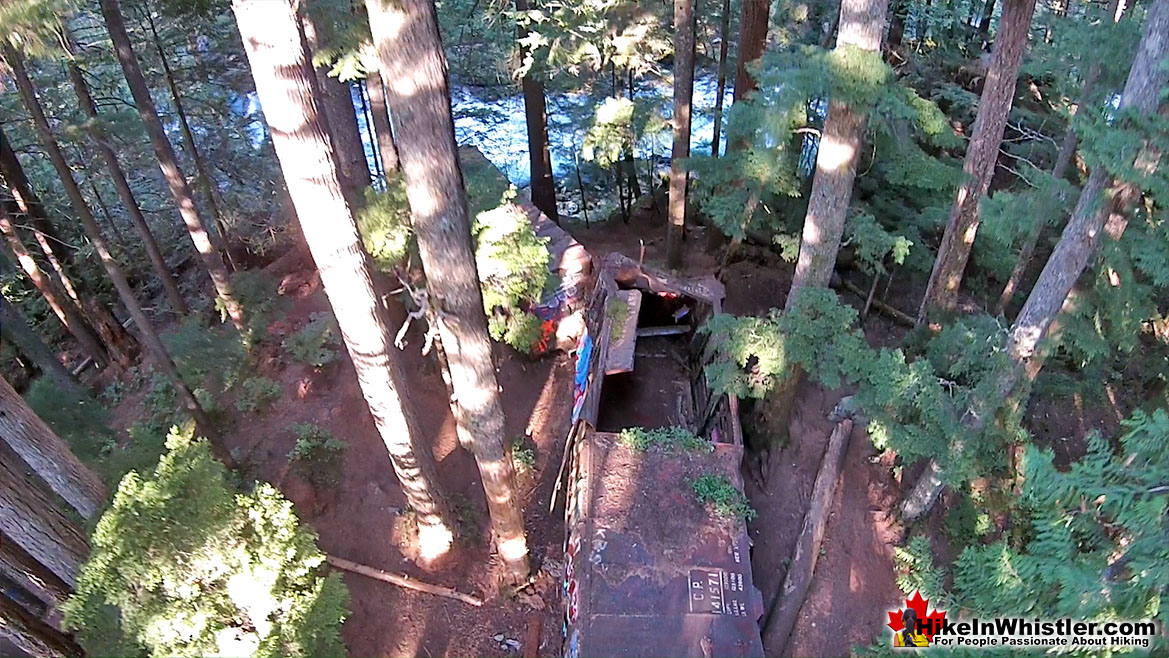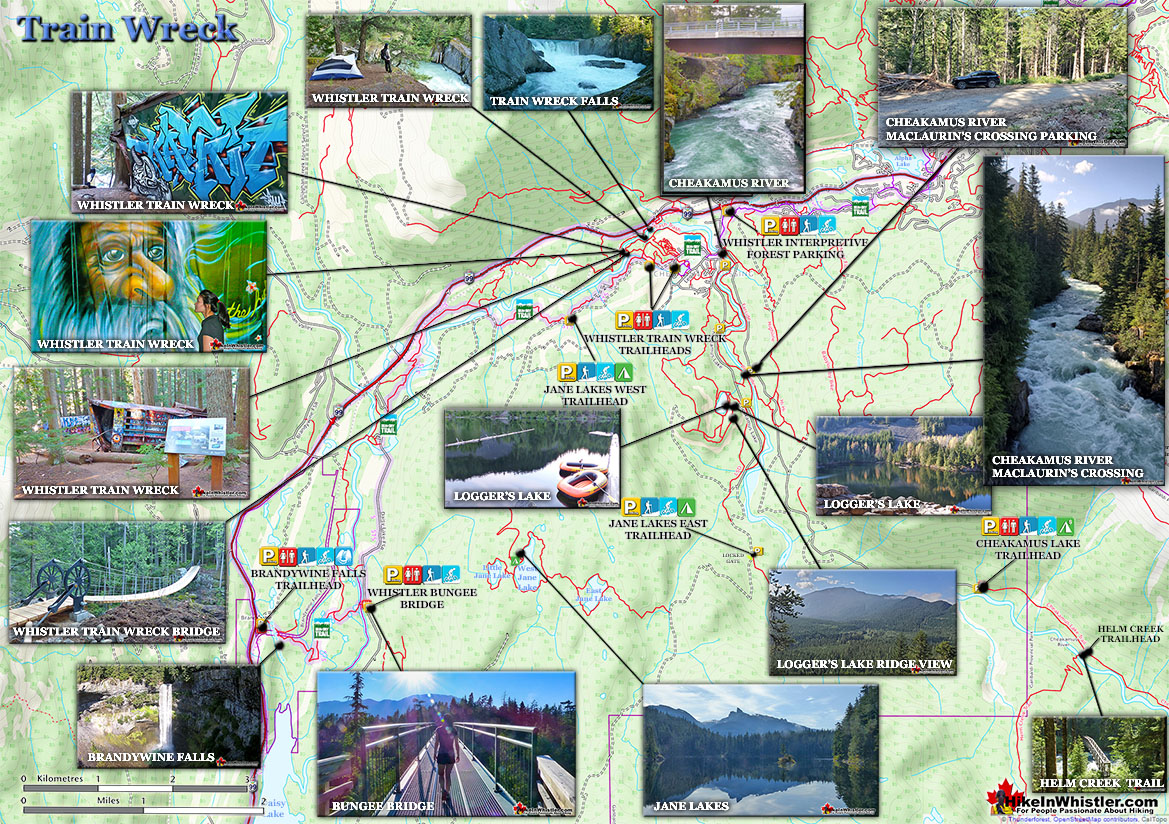 The Sea to Sky Trail crosses the Cheakamus River as you leave Cheakamus Crossing and veer toward the Sea to Sky Highway. Just before reaching the highway, the Sea to Sky Trail bends right and ascends up parallel to the highway towards Whistler Village. Back on the Sea to Sky Trail where you came from in Cheakamus Crossing, Whistler Creekside(Whistler Creek) is 3.5 kilometres of constant hills. The trail runs through the neighbourhood of Spring Creek before descending back down to cross the Sea to Sky Highway at the lights at Bayshore Drive. Astonishingly, this is the only significant, traffic related stop along the entire 33 kilometres route (the next Sea to Sky Highway crossing is via a Sea to Sky/Valley Trail underpass that connects the trail, uninterrupted to Whistler Village). After crossing the Sea to Sky Highway the Sea to Sky/Valley Trail takes you past Alpha Lake and the beautiful Alpha Lake Park. Then the trail winds its way past the Whistler Train Station in Creekside and along Nita Lake through Nita Lake Park and Lakeside Park on the popular, scenic and historical Alta Lake. After Lakeside Park the trail veers off through the neighbourhood of Alta Vista, leading to the Whistler Golf Course which then leads to the underpass to Whistler Village.
Once the Sea to Sky Trail reaches Whistler Village the route to follow becomes a little confused. You have to pass through the heart of Whistler's wonderful Village.  If you are on your bike you have to walk it as it is pedestrian only.  If you don't want to walk you can easily plot a bike friendly route through the edge of the Village. If you would rather walk through all the action of the Village the most direct route takes you through Village Square and the heart of the Village. The Sea to Sky Trail continues out the far side of the Village, first past Lost Lake, via Lost Lake Park. Lost Lake is a tranquil and secluded lake that hides in the forest extending from Whistler Village. Just a 20 minute, leisurely walk or 5 minute bike ride along the well signed Valley Trail will lead you to this beautiful little lake.  The wide and paved Valley Trail turns into a wide and gravel trail as you enter Lost Lake Park. The main trail around the lake is a popular running route from Whistler Village as roundtrip from the Village, around Lost Lake and back to the Village is just 6 kilometres. There are plenty of nice viewpoints along the main trail as well as quite a few short trails that lead to several access points to the lake, some with great places to sit and relax in the sun and take in the view.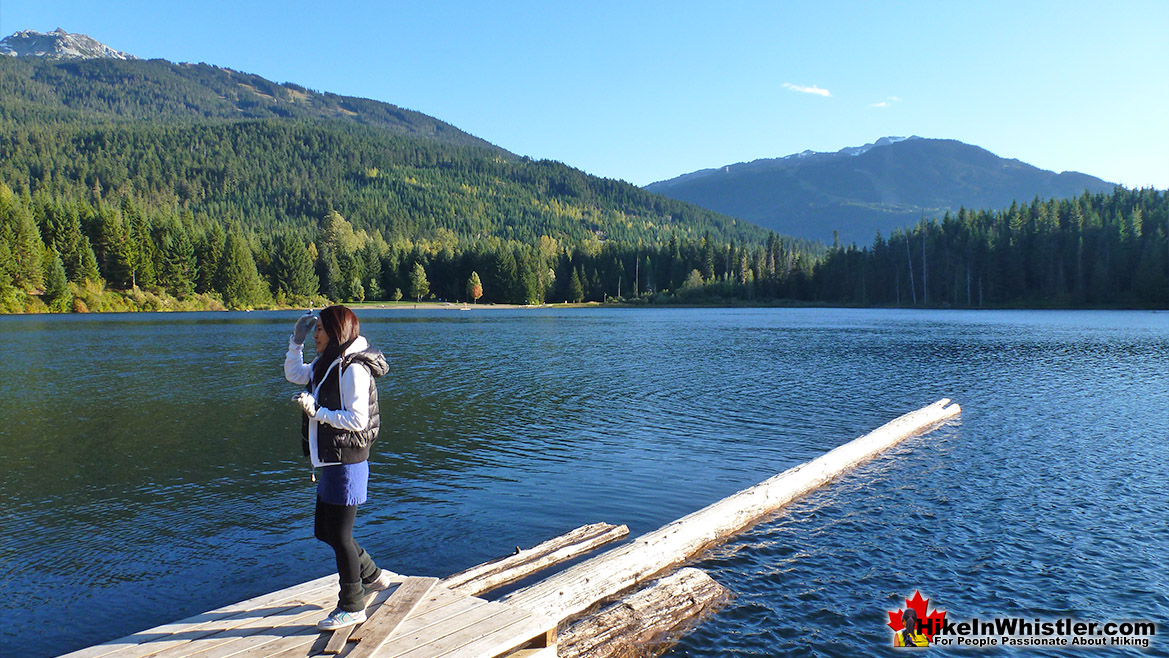 Lost Lake has a very popular beach at one end and in the height of summer can get busy as it is the most convenient beach from Whistler Village. There are several swimming platforms out in the lake as well as a wonderful and huge pier along the right hand side of the lake.  An amazing place to catch the sunsets over Whistler Mountain. In the winter months when there is snow in Whistler, Lost Lake becomes a cross country and snowshoeing area and there is a charge to access the main trails around the lake. Usually from mid December to early April.  As you continue past Lost Lake you will see a small Sea to Sky Trail sign pointing to the right and directing you up into the beautiful trail above Green Lake that leads you up past Green Lake and comes out near the turnoff to Wedgemount Lake. This section of the Sea to Sky Trail above Green Lake is wide, gravel and somewhat steep. Lots of steep switchbacks get you ascending quickly above Green Lake. This section of the trail is remarkably windy which makes it quite fun as your view constantly changes.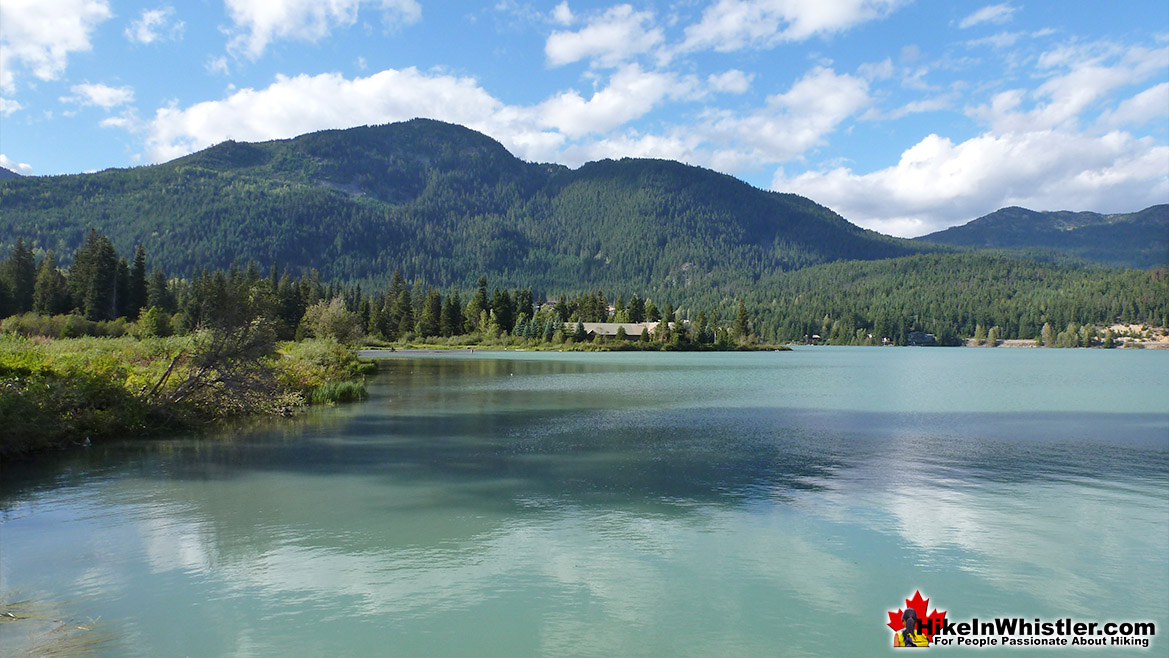 This highlight of this stretch of the trail, apart from the beautiful views of Green Lake, is Parkhurst Ghost Town. Shortly after you begin your steep descent on the far side of Green Lake you will see an unmarked trail on your left. This leads you to this amazing relic of pre-Whistler history. Parkhurst was a small logging town several decades ago that was abandoned. Despite the harsh winters with crushing snow, one resilient house still stands.  It has been adorned with an amazing and haunting mural of a blue face.  Elsewhere in the area you find strange artifacts. An abandoned 1950's car, several 1940's trucks and logging machinery. And down on the shore of Green Lake an extraordinary and enormous Caterpillar tractor is perched on the shore as if waiting for the next batch of logs to move.  Back in the tangle of forest that used to be the Parkhurst sawmill you will find another 1940's Caterpillar tractor and a similarly old Cletrac tractor.  The Caterpillar's enormous plow is being lifted off the forest floor by the relentless growth of trees underneath.  Nearby you will spot a wonderfully surreal sight, a 65 year old tree growing through another enormous plow.  This extraordinary tree has squeezed through the triangle opening in the plow and has kept growing since the Parkhurst sawmill closed in 1956.  Quite an amazing sight, but like much of the best things in Parkhurst, you have to explore the area to find it.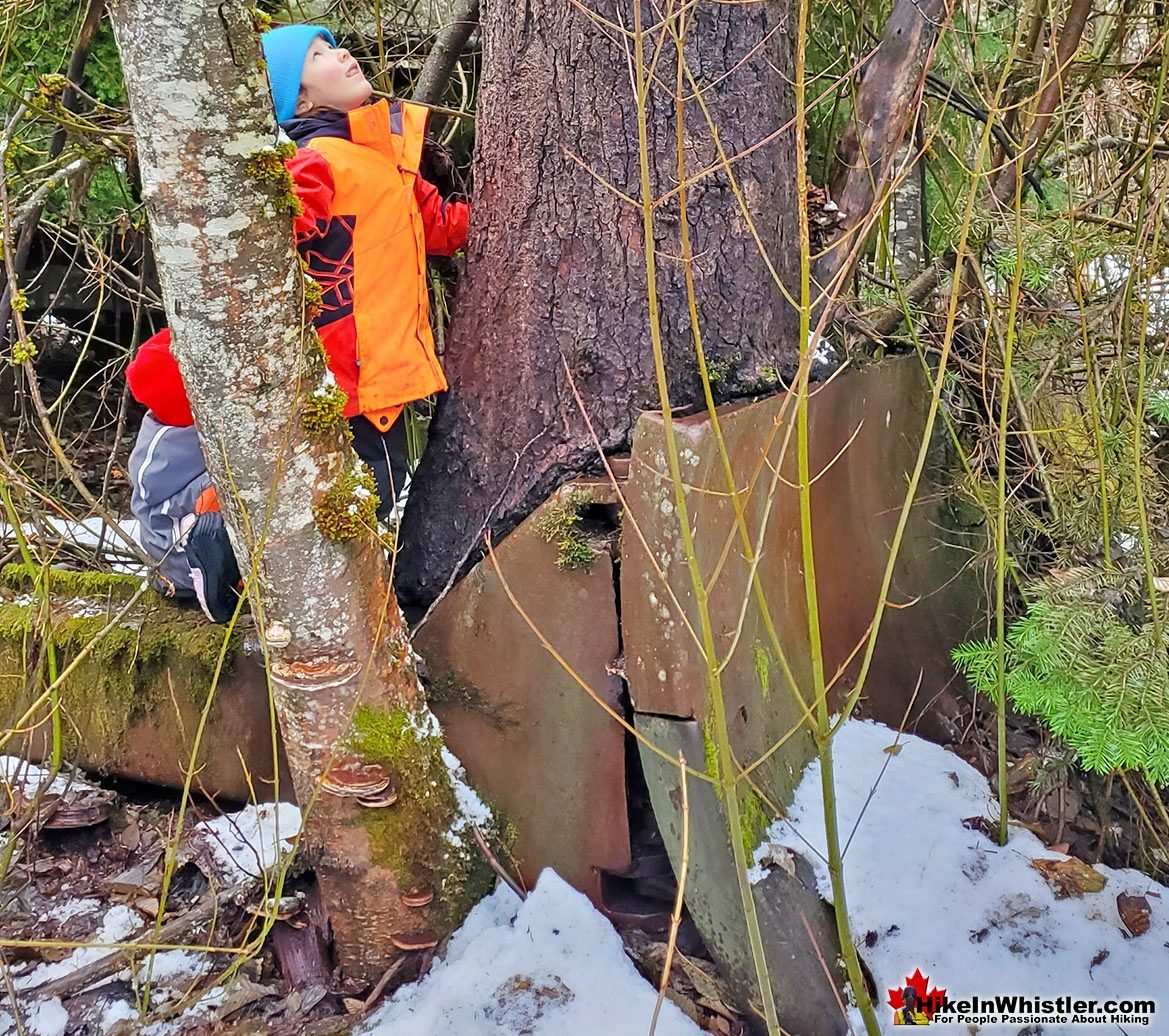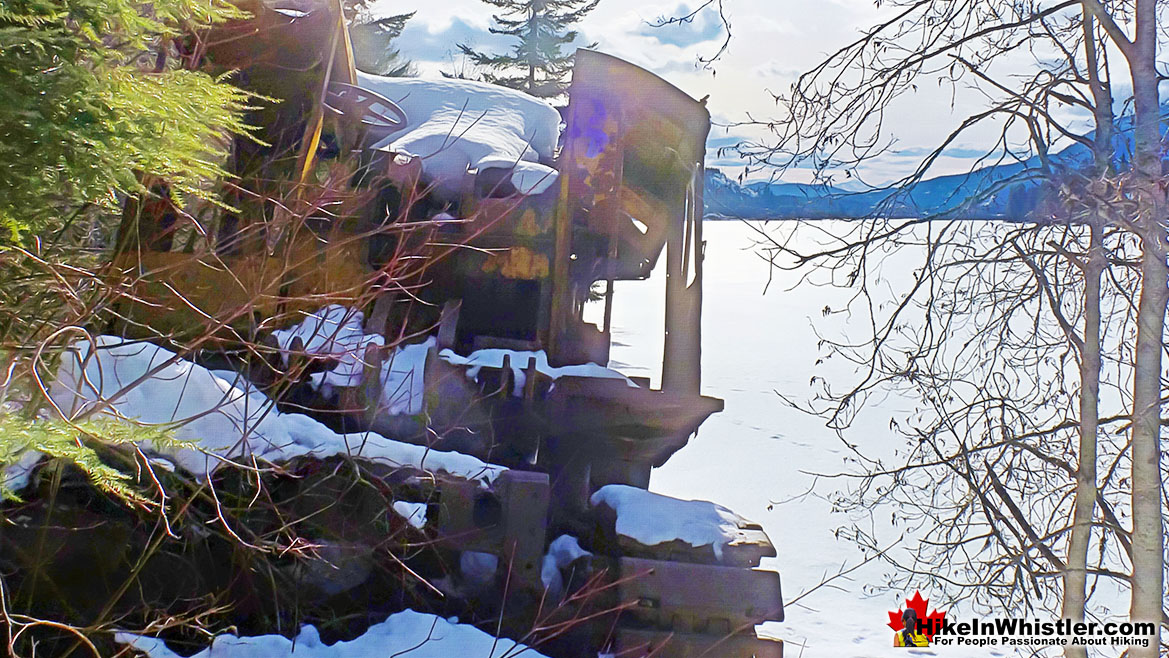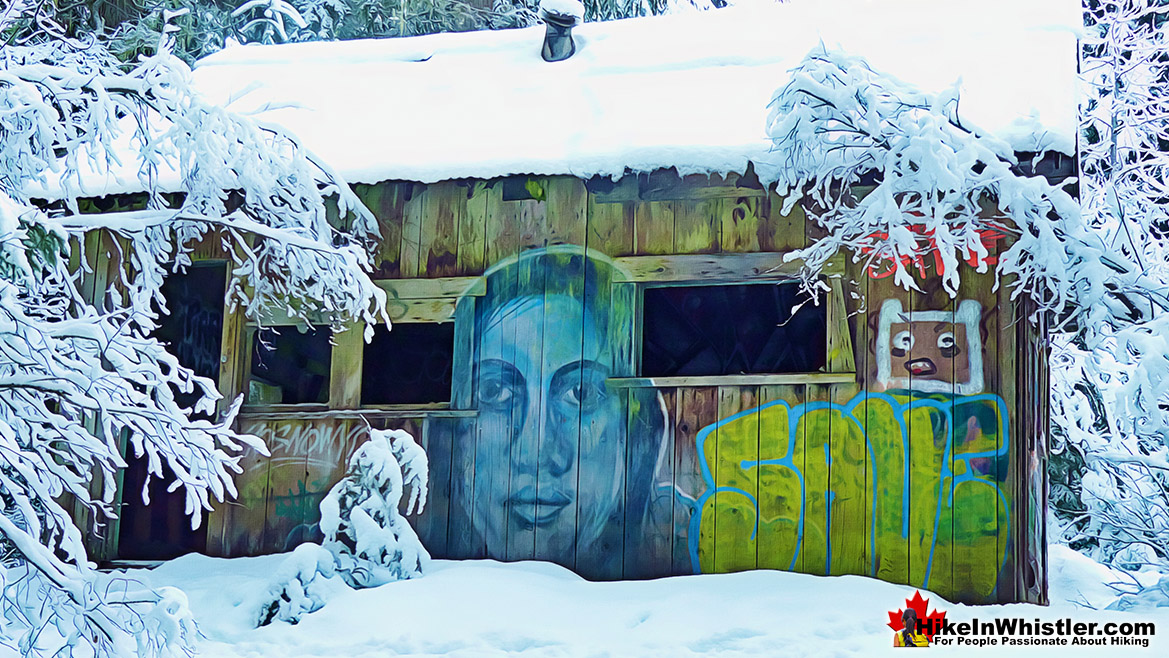 Back on the Sea to Sky Trail a few more descending switchbacks lead you to a logging road which leads you down to the Green River crossing to the Sea to Sky Highway.  This is where you often have to park in the winter to access the Sea to Sky Trail and Parkhurst as this logging road is buried in snow. The Sea to Sky Trail is still under sporadic construction in this area. You may spot a sign here that shows the trail continuing to the new Whistler neighbourhood of WedgeWood Estates.
Best Whistler Hiking November
All of the amazing hikes such as Joffre Lakes, Wedgemount Lake, Garibaldi Lake, Black Tusk, Taylor Meadows, Helm Creek and all the rest will now require snowshoes to do.. and least mid to late in November.  This makes for some tough, though very rewarding hikes.  Often starting with snowshoes fastened to backpacks until the higher elevations on the trail, where they become necessary.  Certainly a lot of caution has to be taken in November as getting caught out in bad weather can quickly obscure the trail and leave you lost in the wilderness.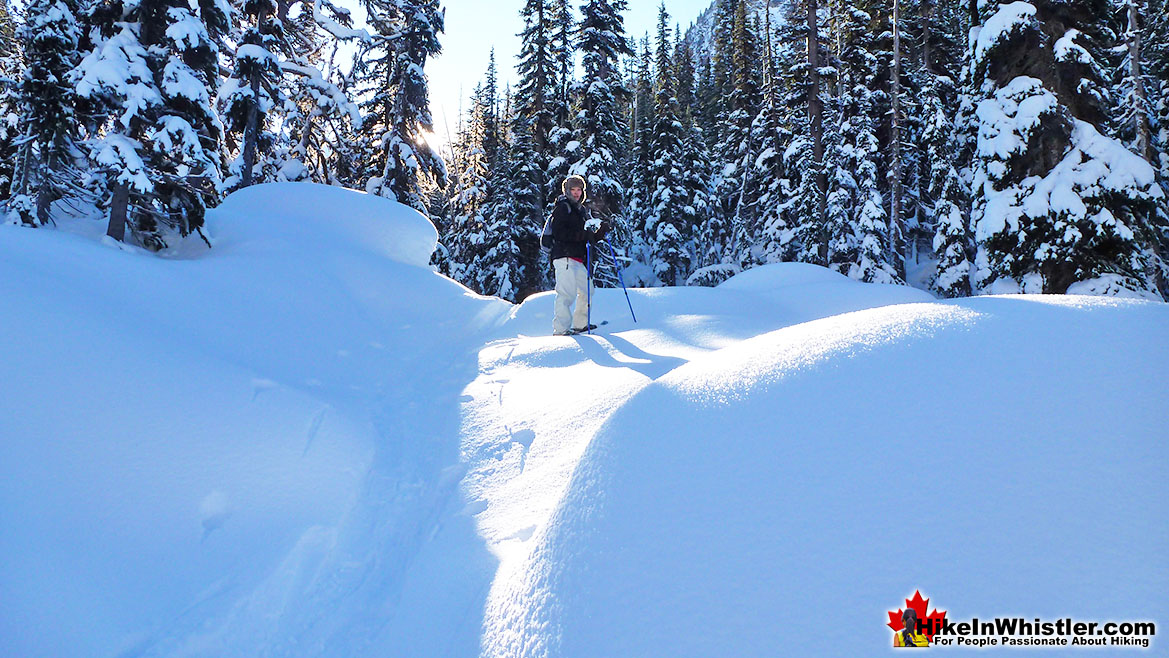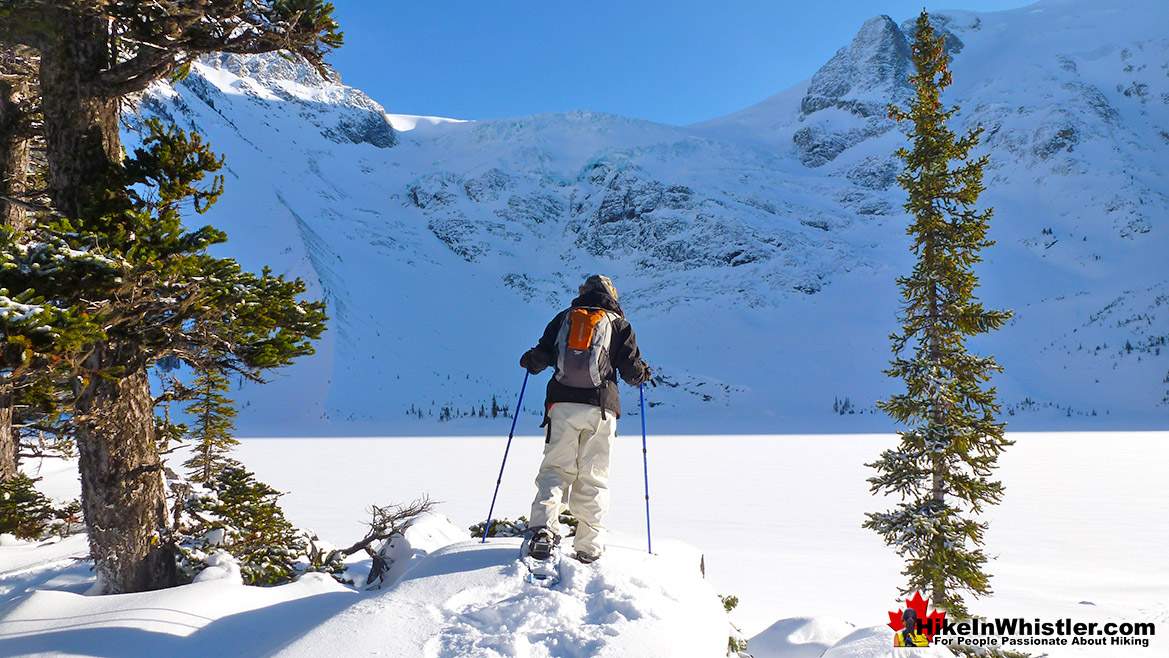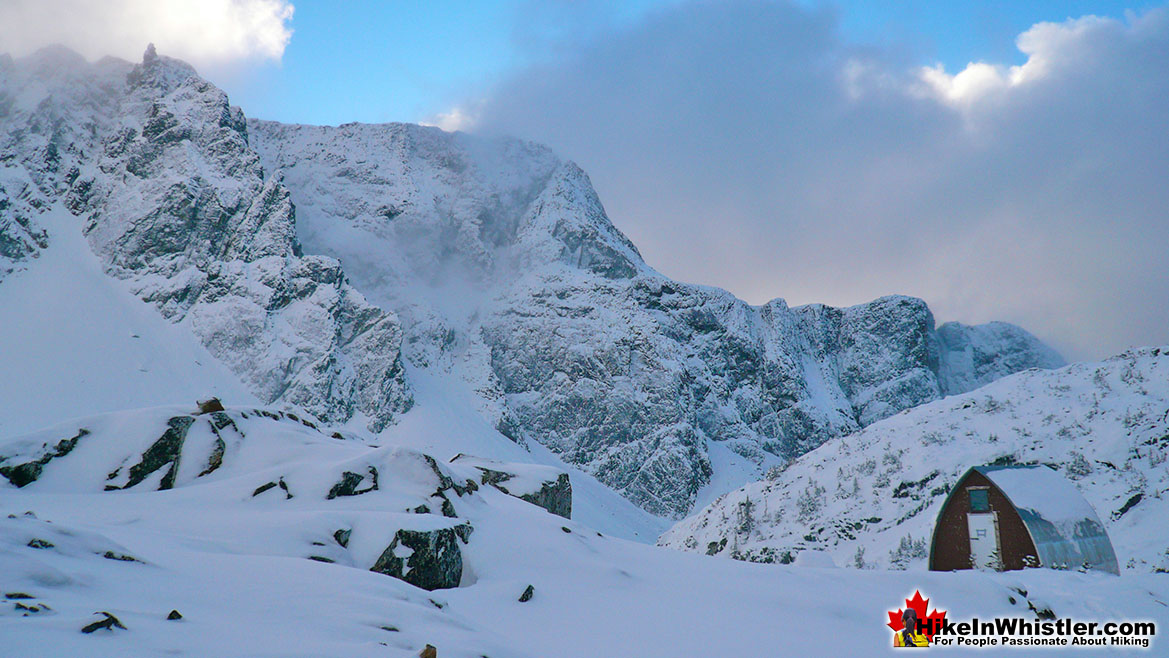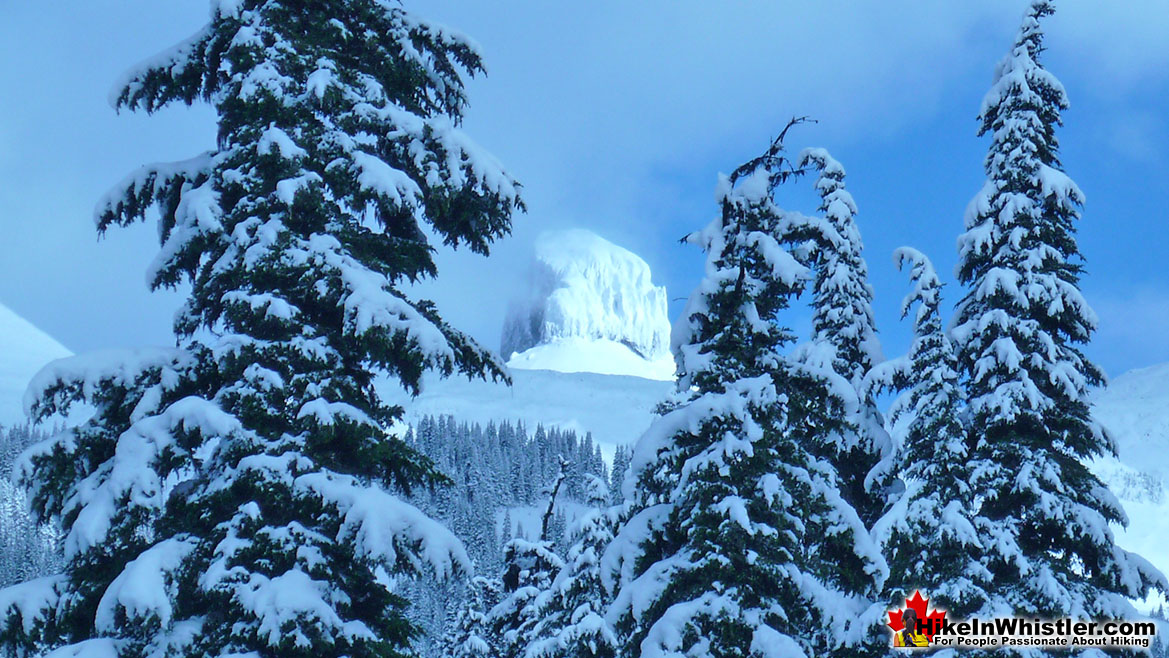 For something out-of-the-ordinary to do in November, taking a beautiful 2-3 hour drive north of Whistler to Skookumchuck Hot Springs is an amazing adventure.  These rustic hot springs are located on the beautifully crashing Lillooet River at the far end of the beautiful Lillooet Lake.  It is easily manageable to do as a wonderful day trip from Whistler, or if you have a tent or camper as an overnight trip at the nice, adjoining campsite.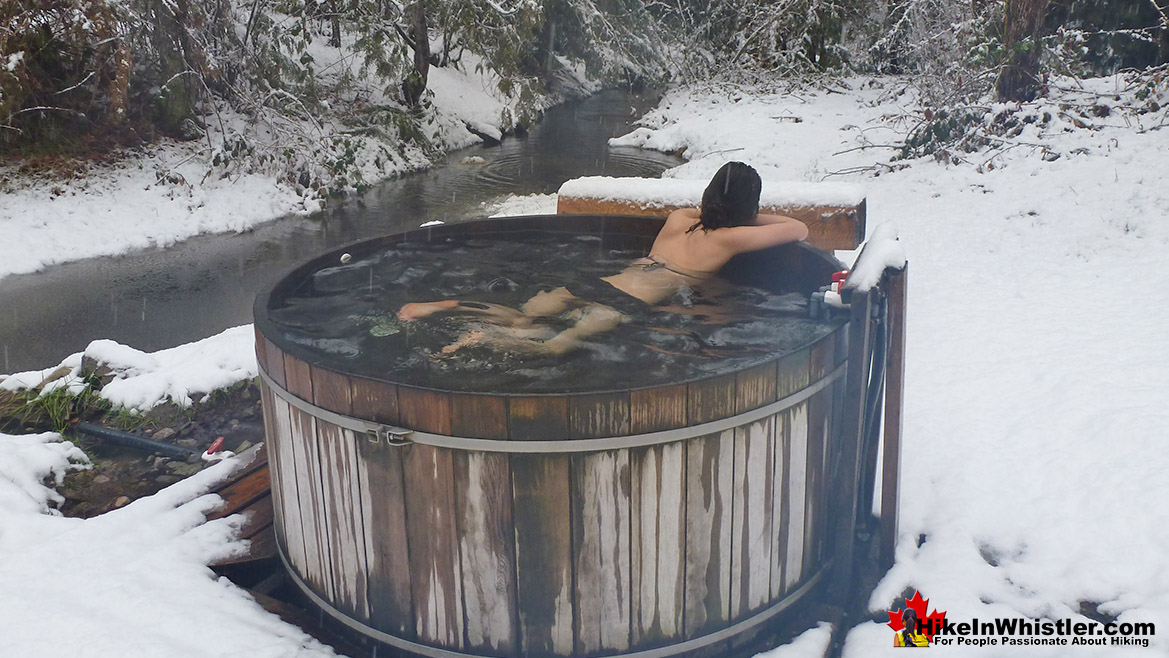 In November, you will find Skookumchuck very quiet and peaceful.  You may even have the entire place to yourselves.  The drive to get there is mostly along Lillooet Lake, which is snow plowed all winter.  There is a small charge to use the springs by day, and an overnight camping charge if you plan to stay.  Open 24 hours per day, 7 days a week, 365 days per year.  No reservations and Skookumchuck is available for camping, first come, first served.  Whistler is located along the infamous Pacific Ring of Fire and as a result has some amazing hot springs.  Skookumchuck Hot Springs is open year-round and is a maintained, though very rustic facility.  There is a small charge to use and quite a nice campground along the Lillooet River.  The other three, well known hot springs north of Whistler are usually accessible in early November, however snow will eventually close the road access to them by late November.  These three hot springs are called Sloquet Hot Springs, which is an hour north of Skookumchuck, and Meager Hot Springs and Keyhole Hot Springs, both located west of Pemberton (Pemberton is north of Whistler).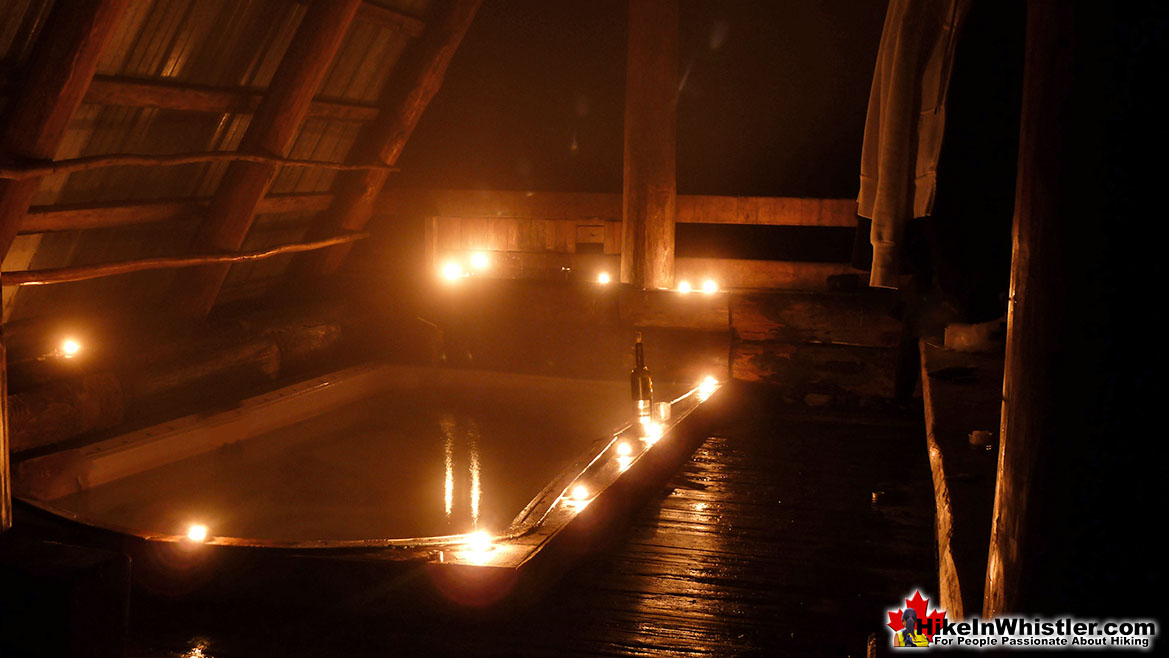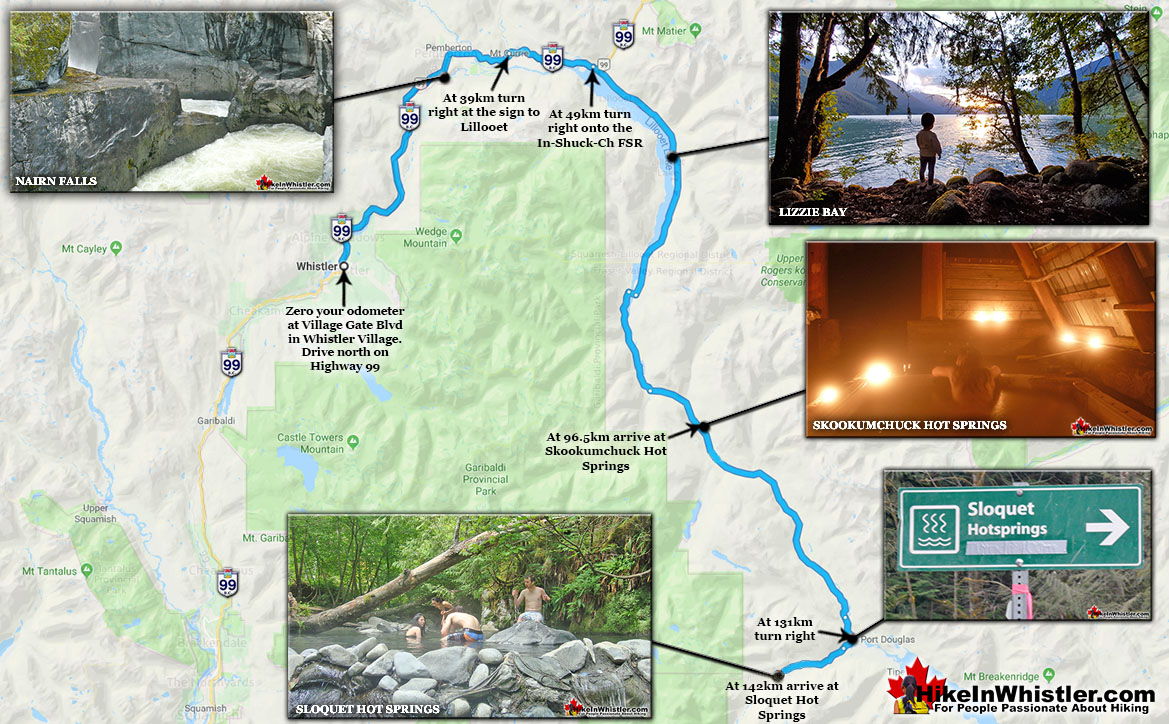 Best Whistler Hiking November – Alexander Falls

If you would rather just jump in your car, take a beautiful drive directly to an amazing waterfalls viewpoint, then Alexander Falls is perfect for you.  High up in the beautiful Callaghan Valley, where some of the 2010 Olympic Games events were held, sits Alexander Falls Provincial Park.  A large viewing platform sits directly across from them and you can literally park your car 1 metre from this platform.  Alexander Falls are similar to Brandywine Falls in that they abruptly fall from a high and very vertical cliff to a chasm far below.  Just a 2 minute drive past Alexander Falls is Whistler Olympic Park.  The parking area and viewing platform at Alexander Falls is one big area just 40 metres from the main road, just before Whistler Olympic Park.  The adventurous can find the obscure trail that leads to both the top of the falls as well as, with great difficulty, to the base of the falls.  Alexander Falls is certainly one of the nicest spots for a picnic in Whistler.  The picnic areas are numerous, the surrounding forest is gorgeous and wild and Alexander Falls crashes loud and beautiful in the background.  Several picnic tables are located in forested clearings that were once used as campsites, so if you have a big group, you will have lots of room to spread out and enjoy the surroundings.  The free parking lot at Alexander Falls is enormous. Keep in mind that it is a day-use only parking area and camping or campfires are prohibited. If you are looking for a place to park overnight in the area the possibilities are endless.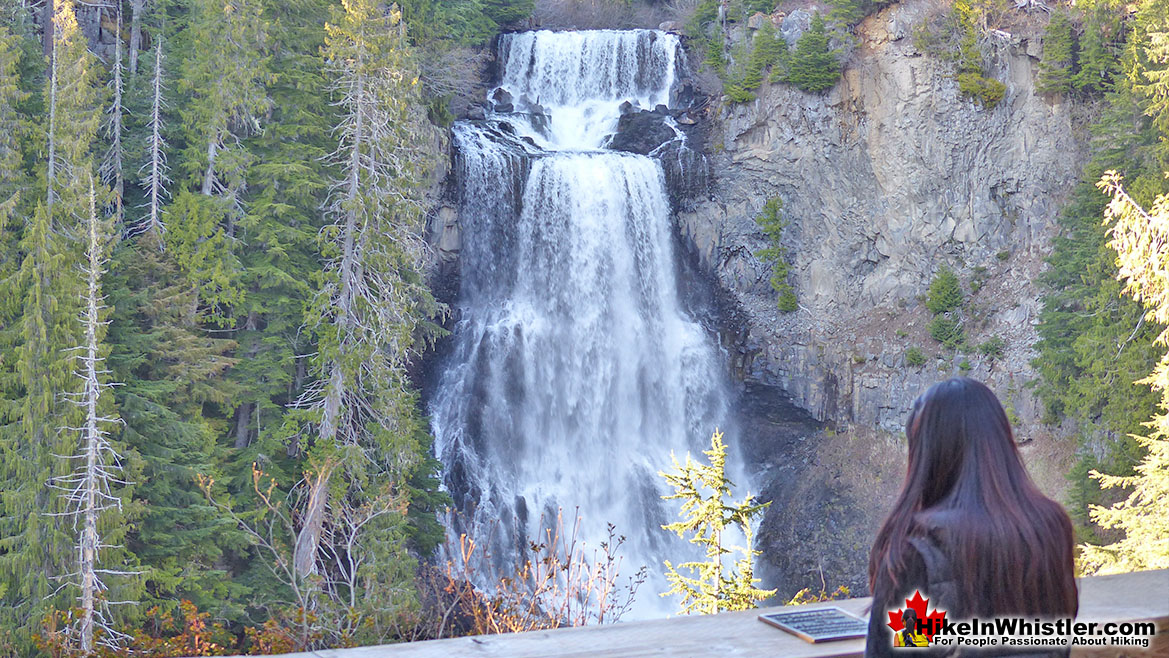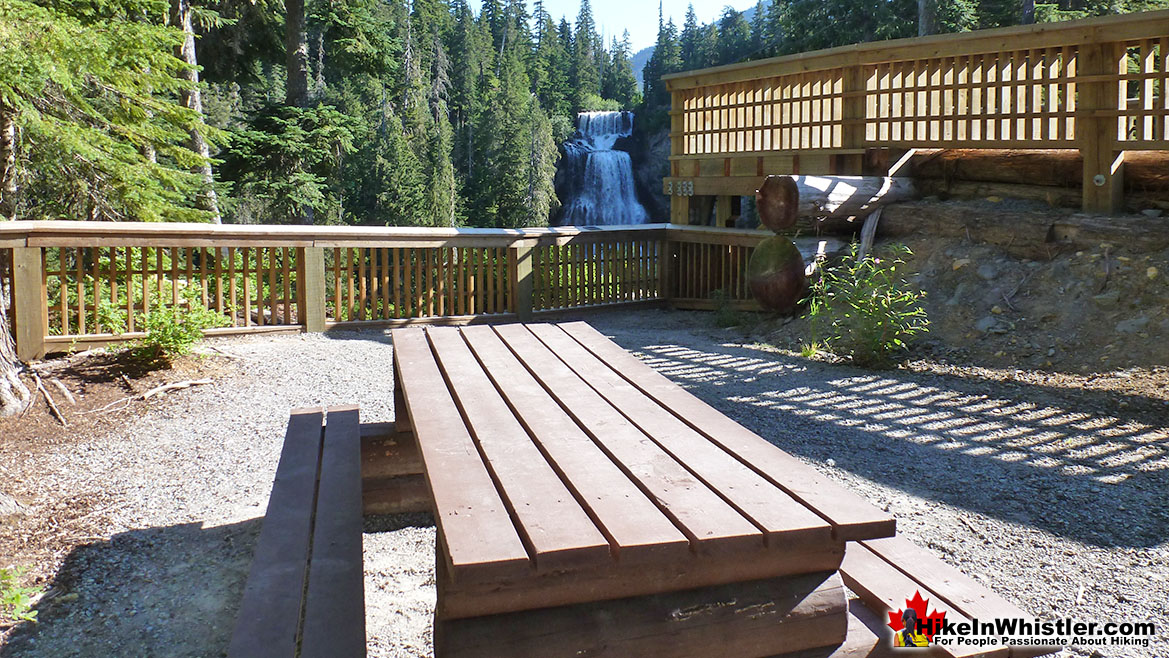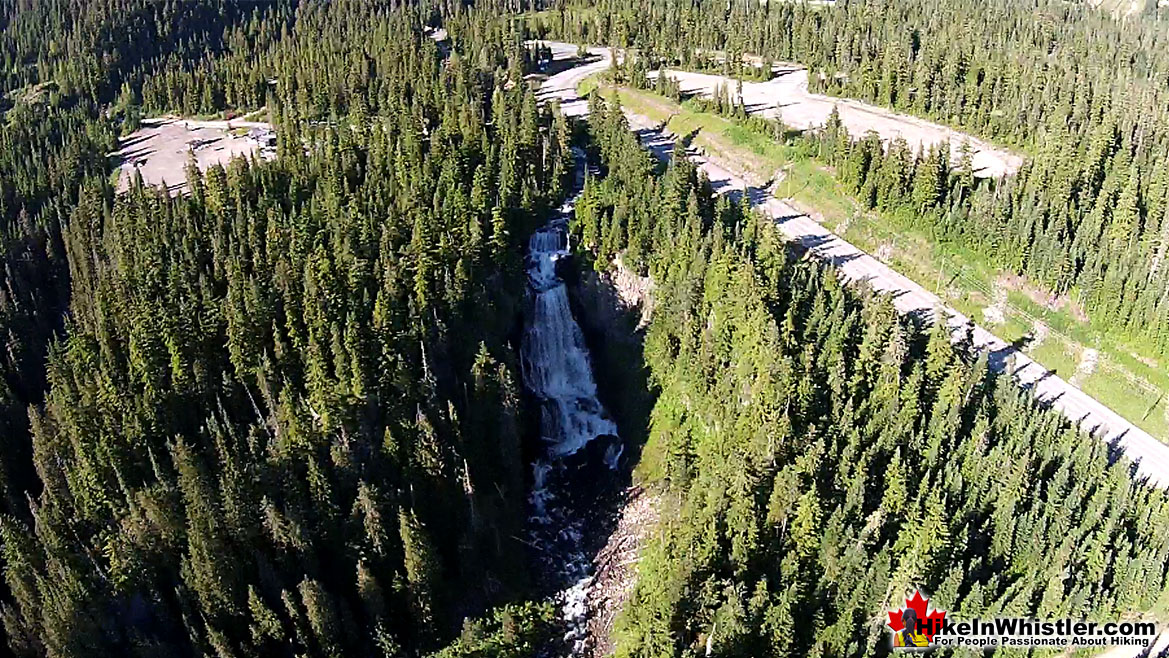 If you are interested in driving south to Vancouver there are some great places to hike there in November.  Certainly a lot warmer than Whistler, and most have great ocean views.  The Lions, West Lion Trail is only an hours drive south of Whistler in Lions Bay between Squamish and North Vancouver.  It's a fairly long, though well marked trail, 15k roundtrip with an elevation gain of 1282 metres in 7.5k.  You can't actually reach the summit of the West Lion in the winter, but the plateau before the summit has spectacular views of Howe Sound.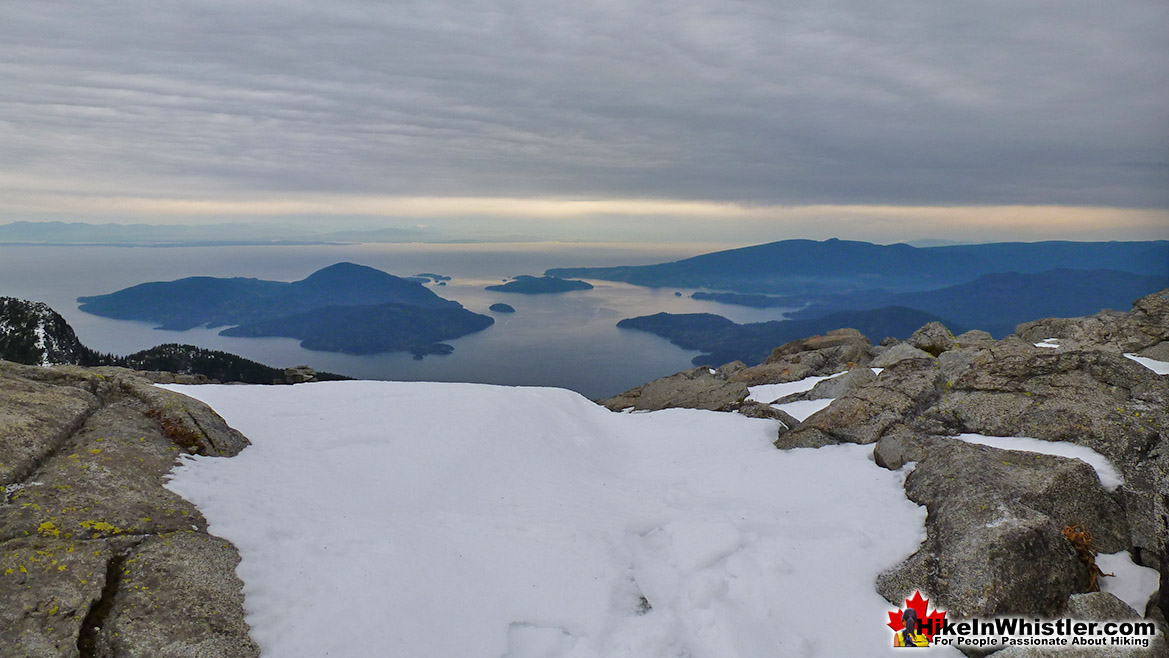 Best Whistler Hiking November – Cheakamus Lake

Cheakamus Lake is usually accessible to hike until mid November, but of course that depends on the 8k access road.  Once it gets snow on it, it becomes difficult to drive.  Even a couple centimetres makes it difficult for cars that would have had no problem weeks before.  So check the weather or look outside in Whistler Village. If the snowline on Whistler Mountain and Blackcomb Mountain is up around mid-station then you should be fine to drive to Cheakamus Lake and go hiking.  Once you reach the trailhead/parking lot to Cheakamus Lake the hike to the lake only gains minimal elevation, so if you don't have snow at the trailhead, you shouldn't get significant snow on your hike.  November does vary quite a lot for snowfall and some years you can hike to Cheakamus Lake, almost snow-free until early December.  Other years find snow on the access road to the trailhead.  Even a small amount of snow can block access to most cars.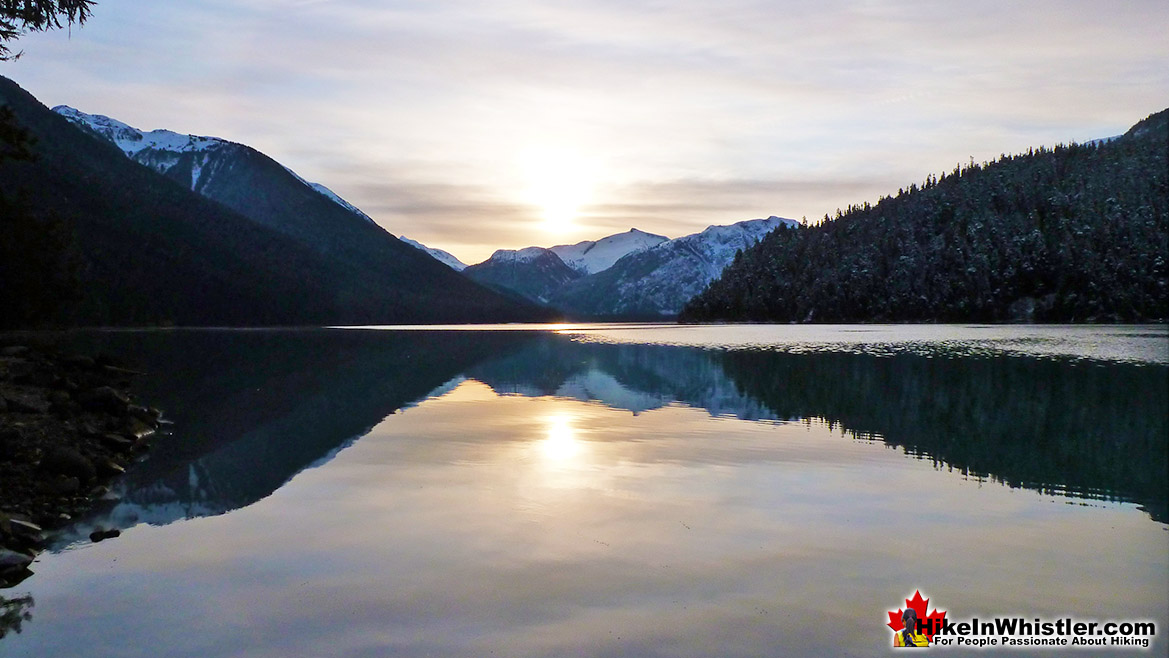 If you want to head out hiking in the Cheakamus Lake area and there is too much snow to get to the lake, then you can find some great hiking or snowshoeing along Cheakamus River.  In November you can either find the Cheakamus River trails buried in snow or completely free of snow.  Every year is different and November is particularly hard to predict.  With snow or without, Cheakamus River is beautiful to see anytime of the year.  Located just off of the Sea to Sky Highway just 8 kilometres south of Whistler Village, the trailhead is easy to find.  From Whistler, drive south on the Sea to Sky Highway for 8 kilometres.  At the Function Junction intersection, turn left and you will see the Cheakamus Lake Rd on your left in about 300 metres.  If there is snow you will have to park here, if there is no snow you can park a few metres further up the road.  (You will be aiming to walk across the first bridge across the river that you will see almost immediately).  There is a fantastic snowshoeing route that takes you 2 kilometres along one side of the beautiful Cheakamus River then crosses the wonderful Cheakamus River suspension bridge, then returns to where you started via the other side of the river.  This is a great 4k snowshoeing route that is full of nice, river viewpoints, gradual hills and valleys, and some great sights at the suspension bridge.  This trail is fantastic on either foot or snowshoes so you can't go wrong hiking in November on this route.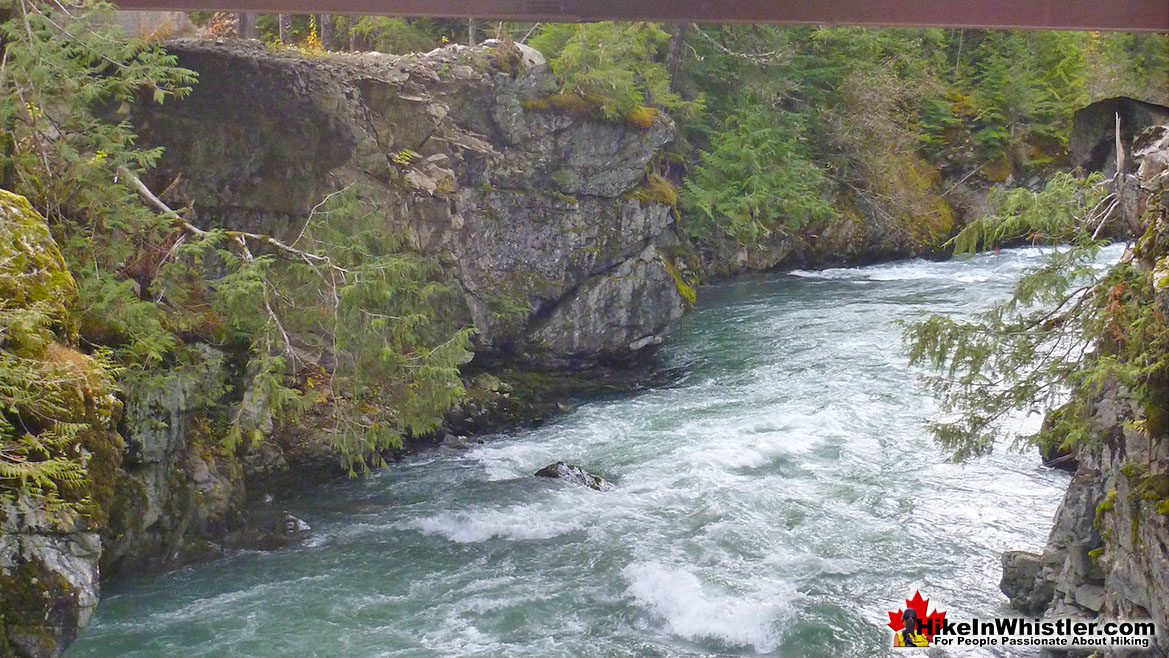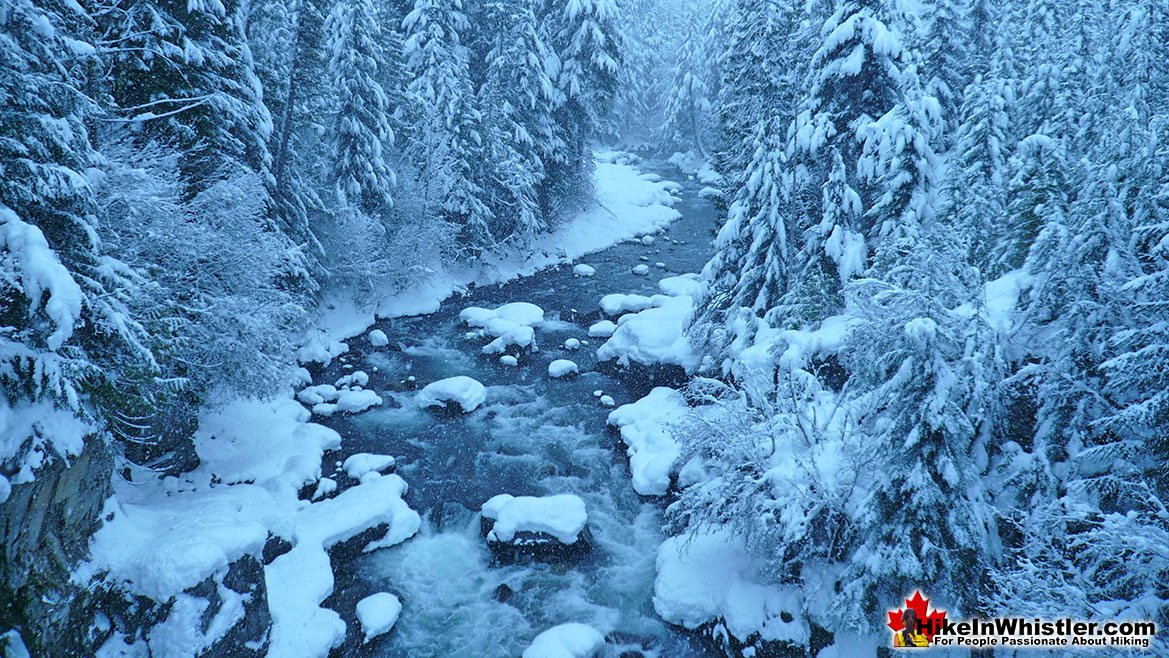 Best Whistler Hiking November – Train Wreck

Decades ago a train derailed south of Whistler, leaving seven train cars scattered in the forest next to Cheakamus River.  As it turns out, time and local effort has transformed this mess into a wonderful work of art, an extraordinary bike park, and a great place to hike.  The Whistler Train Wreck.  Cheakamus River winds its way, crashing and emerald green along the length of the Whistler Train Wreck, and there are several spectacular river vantage points that shouldn't be missed.  The whole length of the train wreck and Cheakamus River hike is 3 kilometres (each way) and the trails go along the beautiful river as well as several, widely spaced train wrecks.  The Whistler Train Wreck trailhead is best reached by the unmarked trailhead in Cheakamus Crossing, just 8k south of Whistler Village.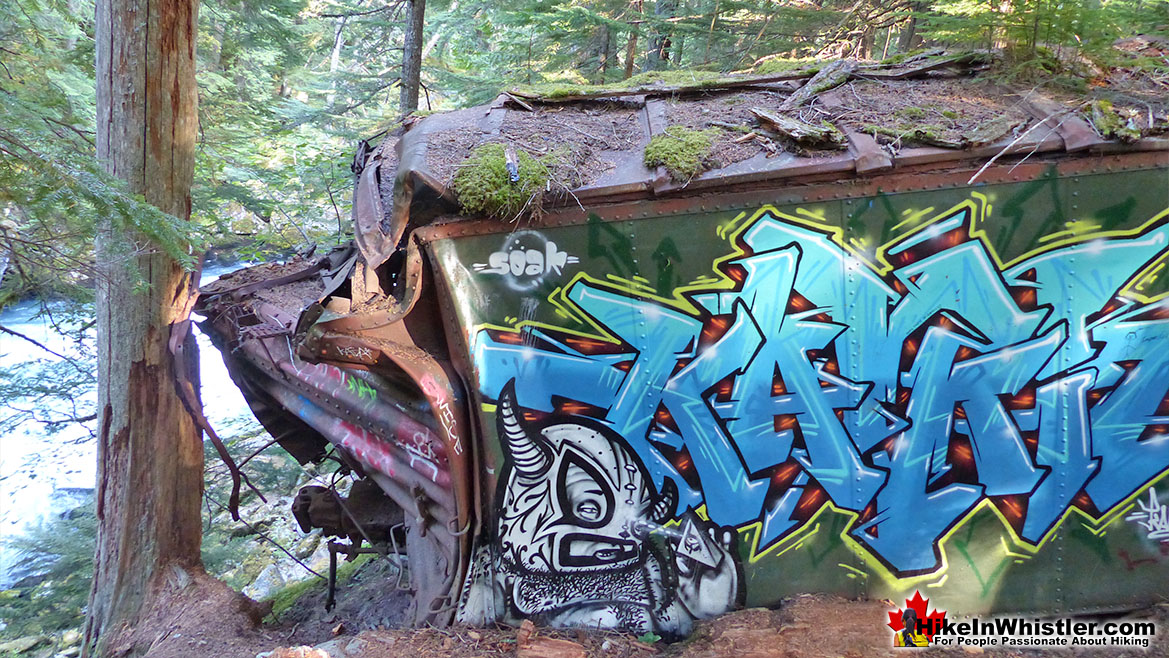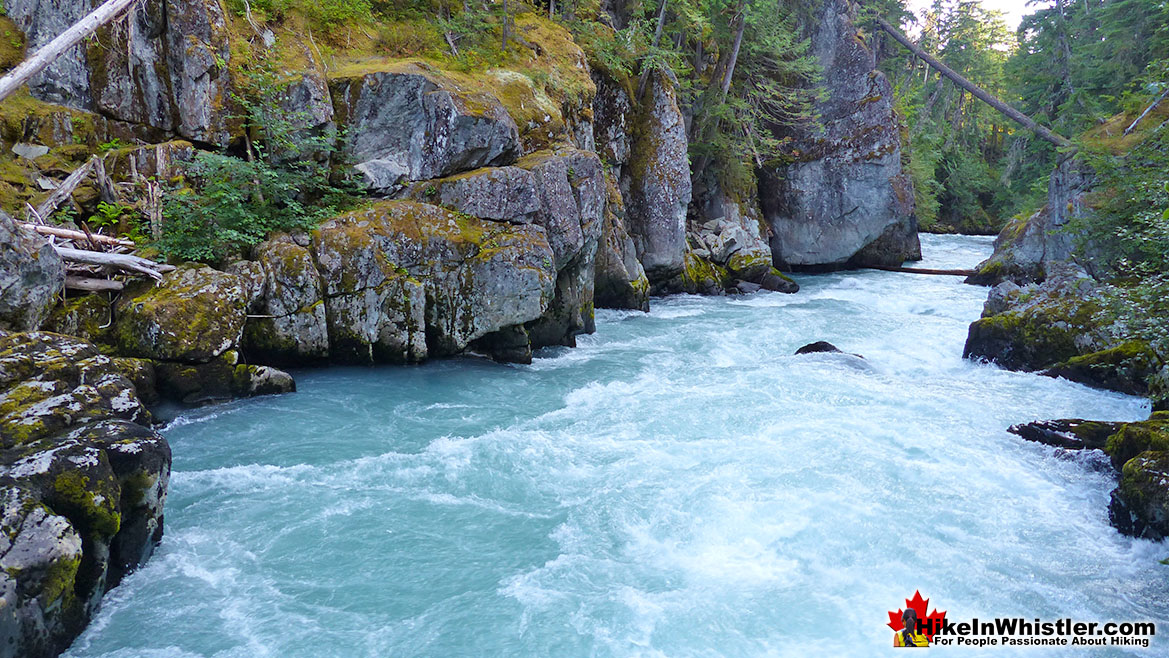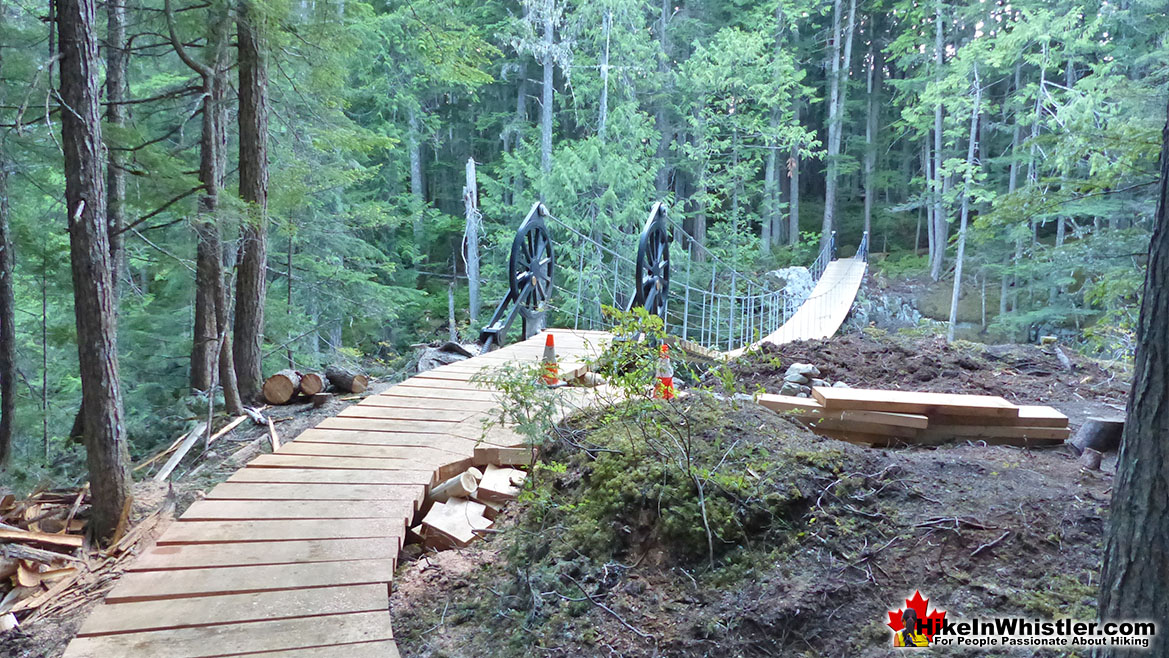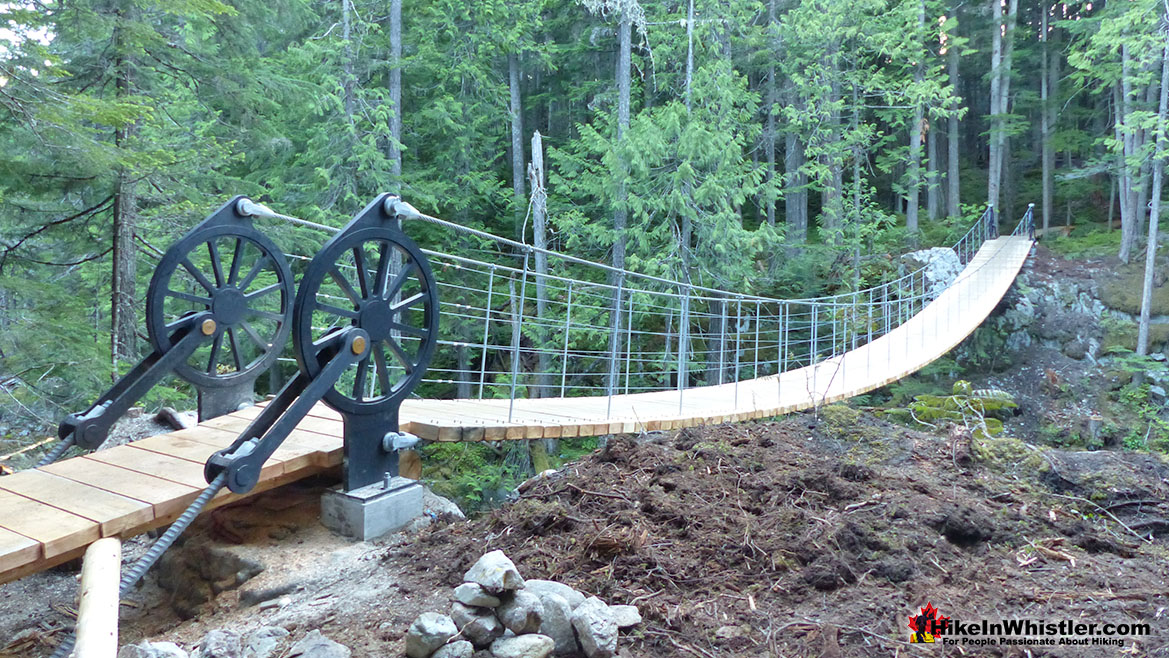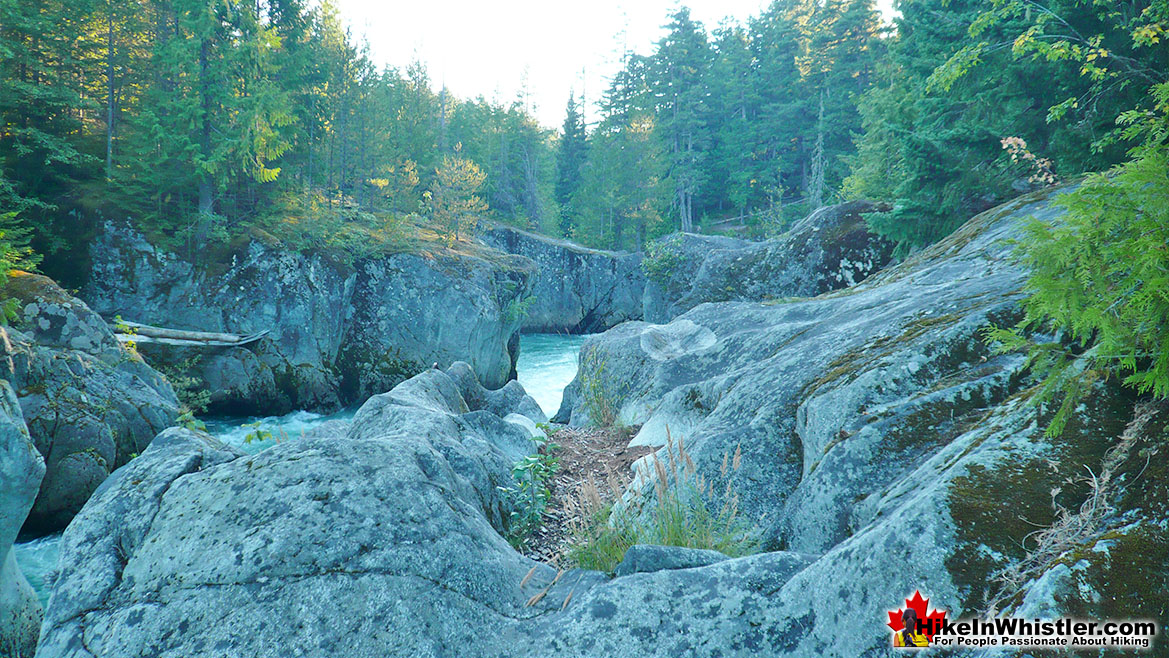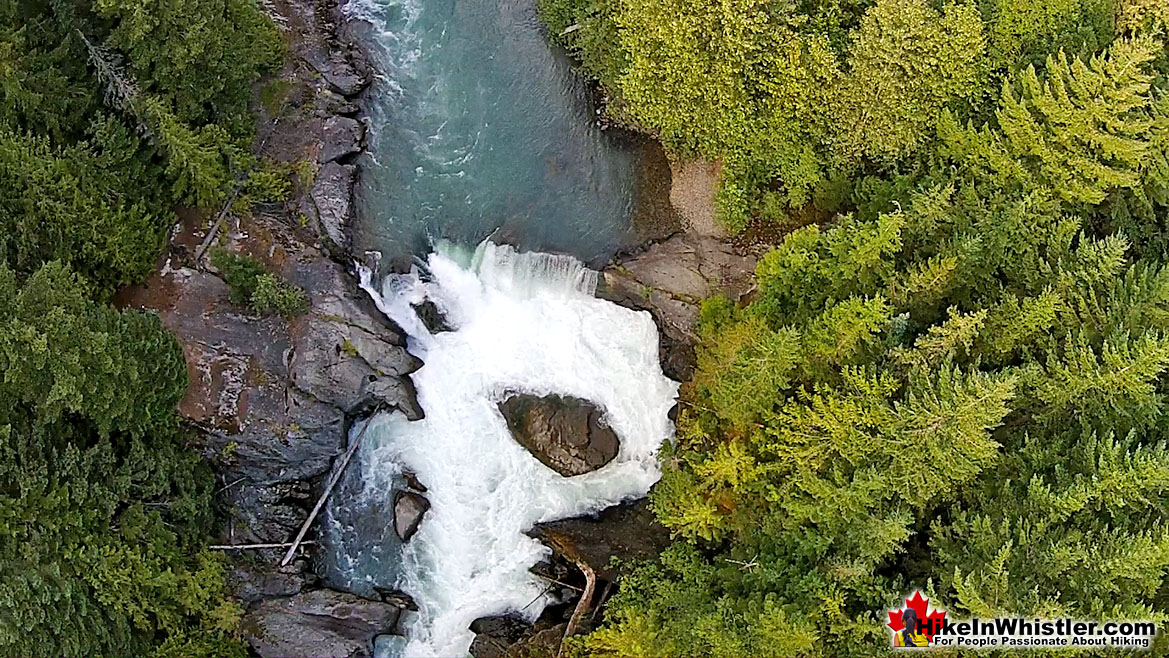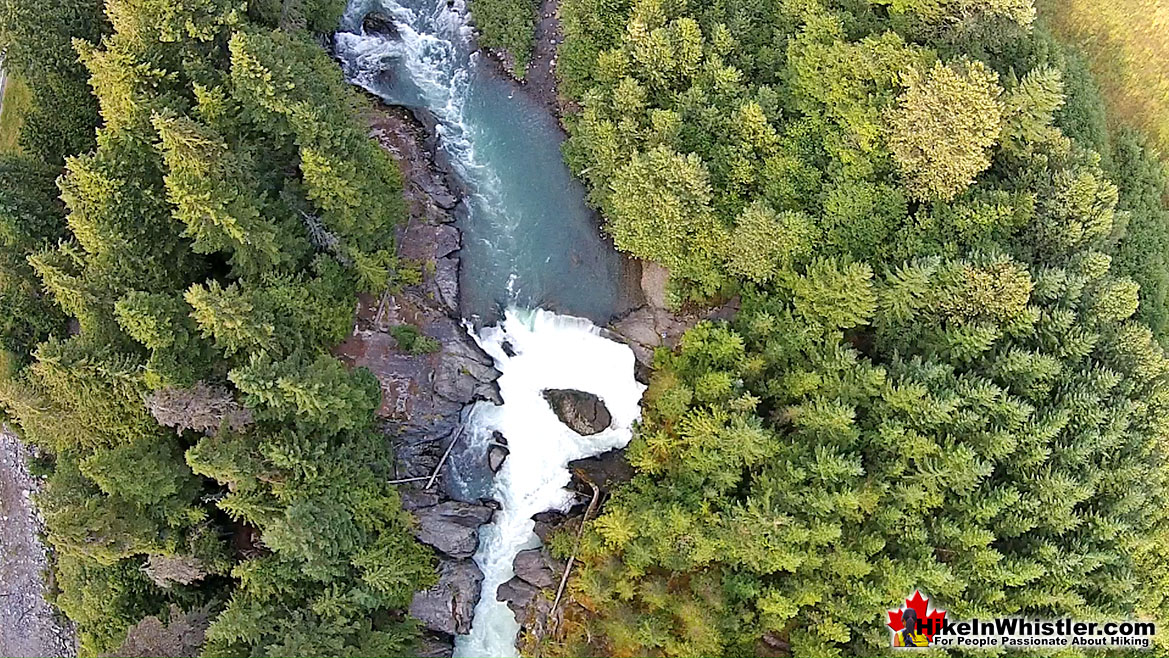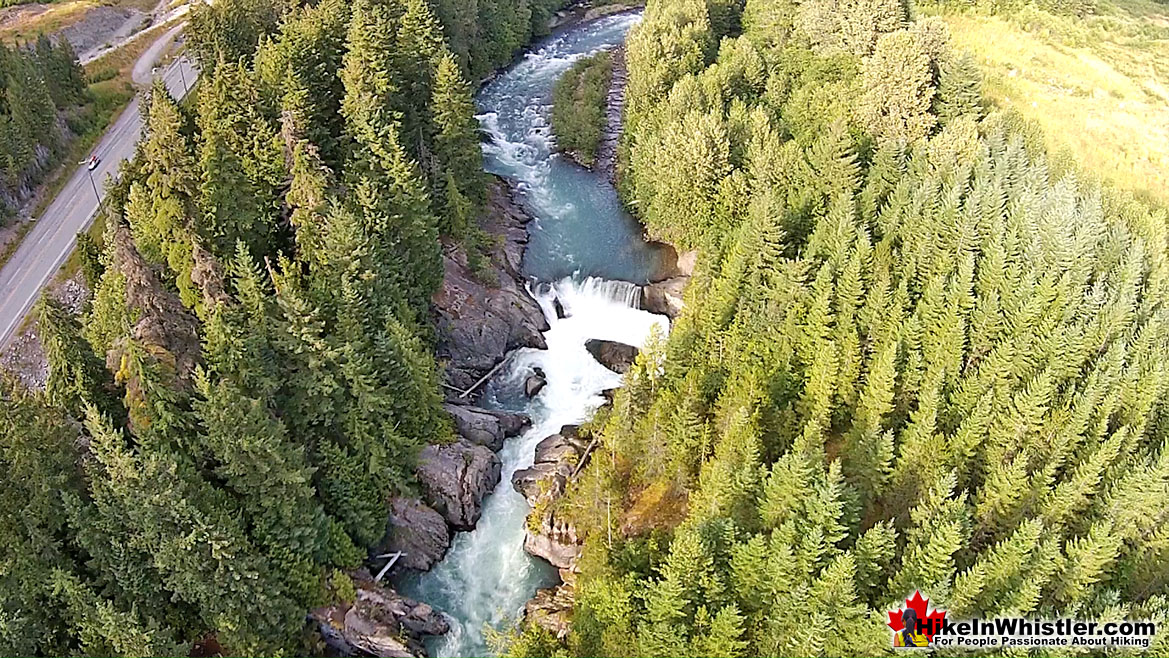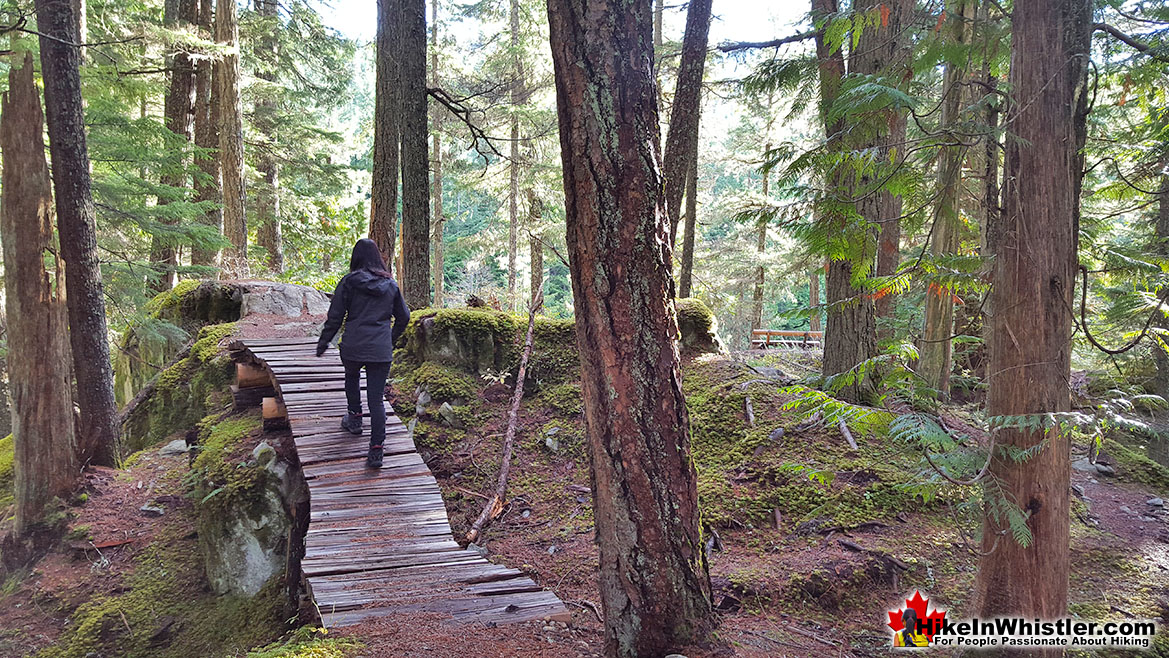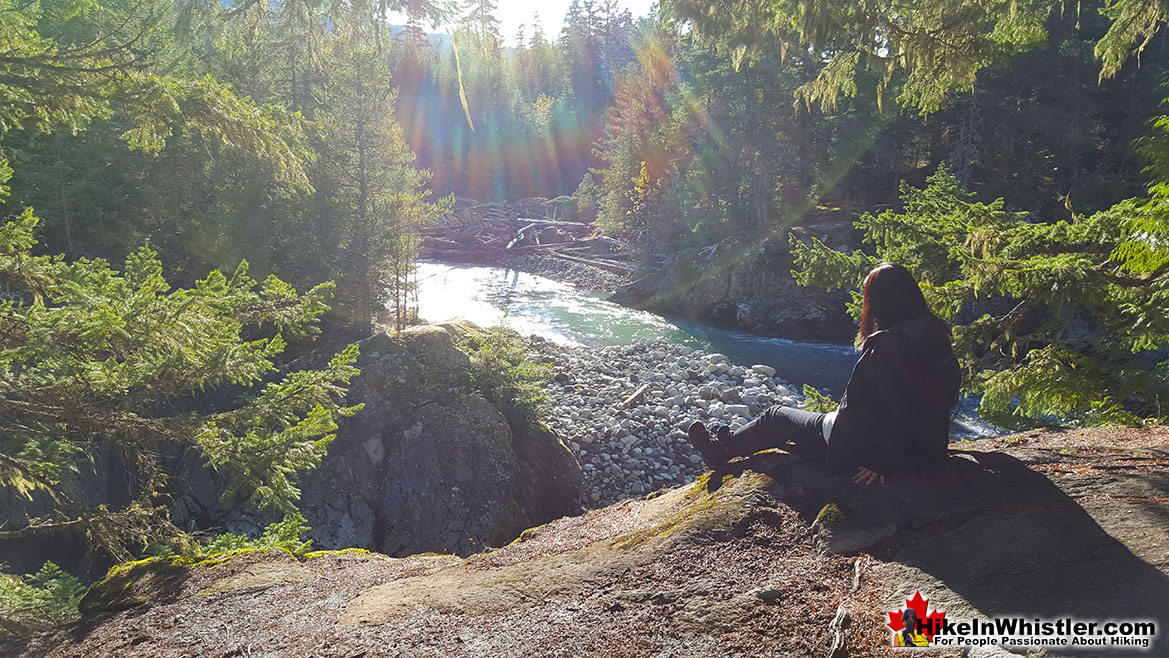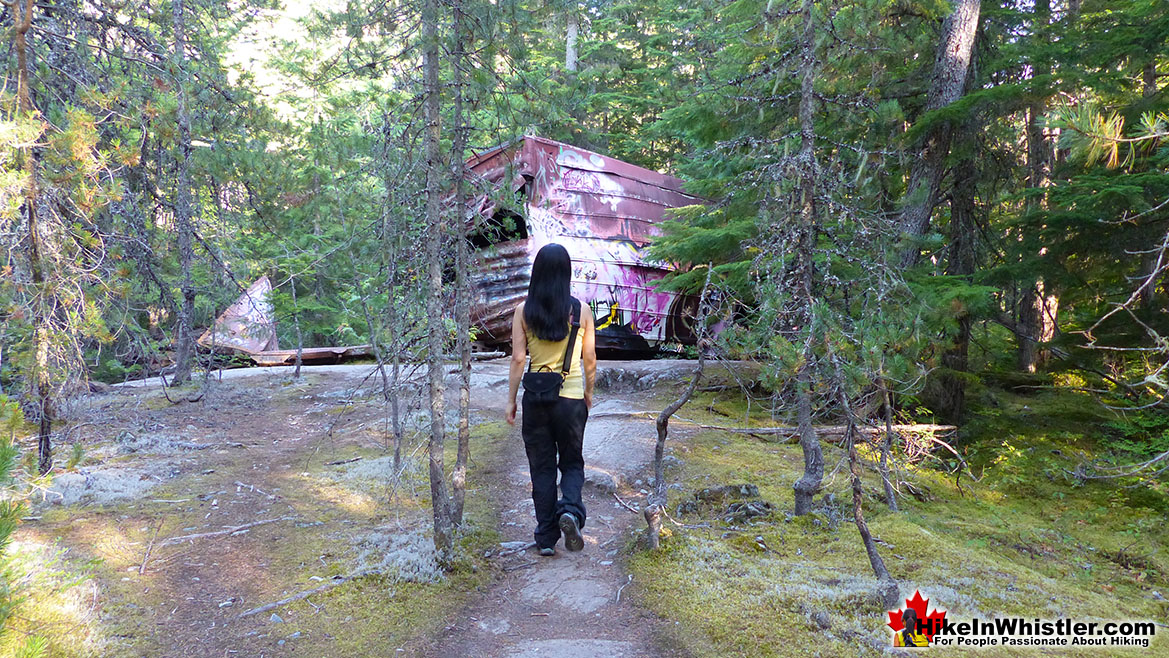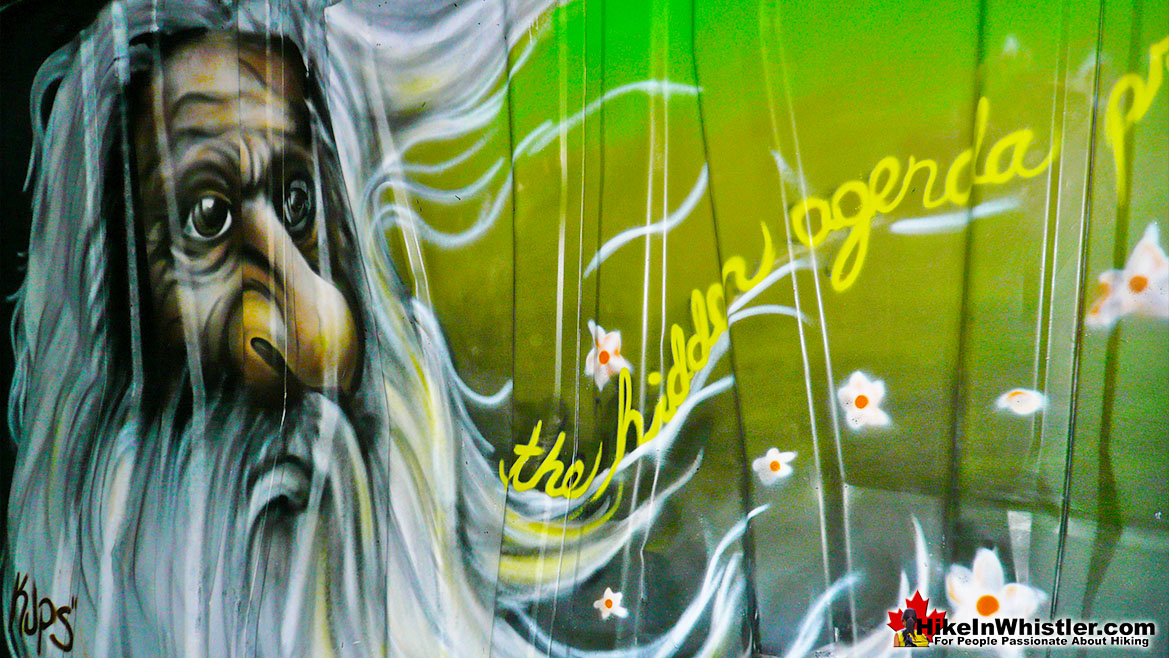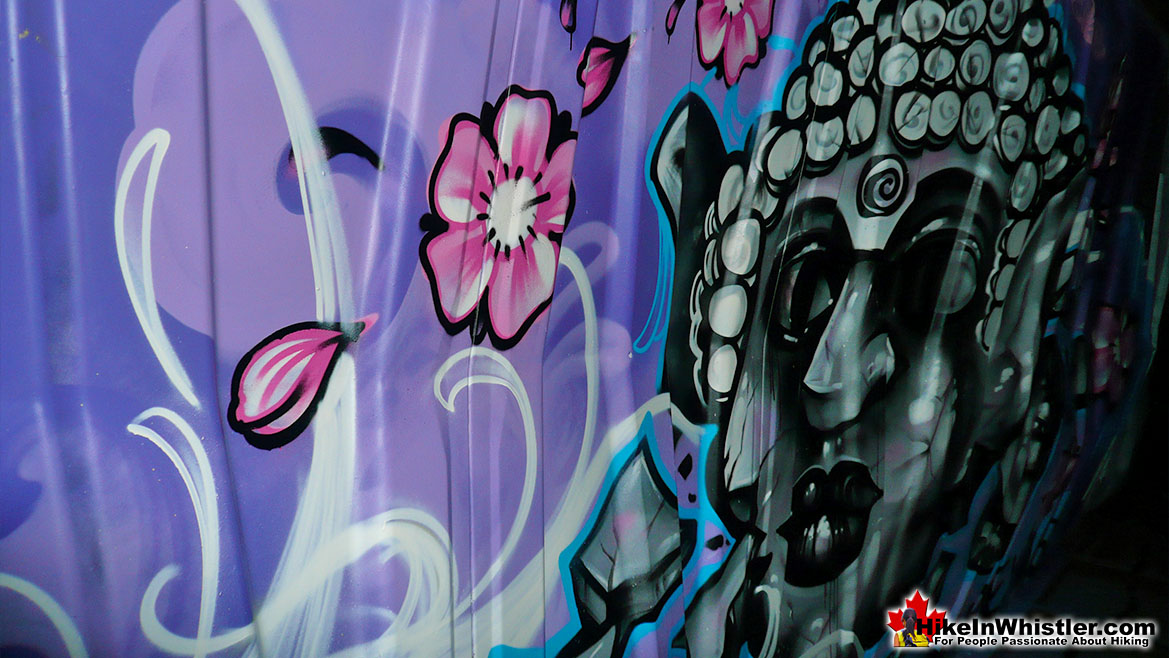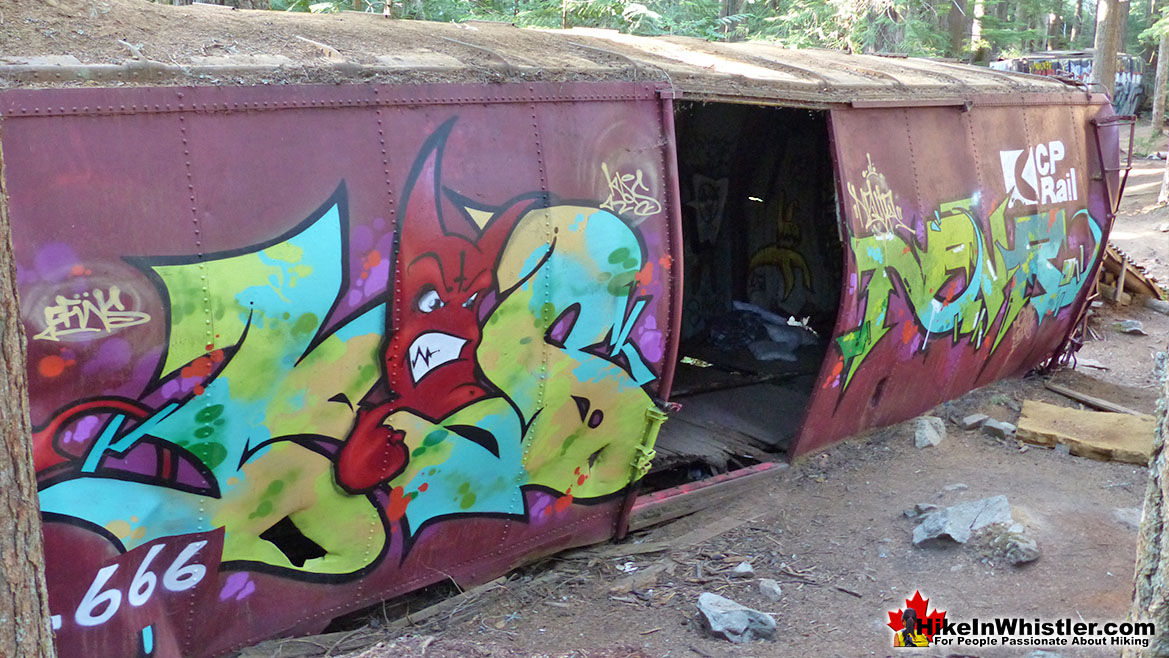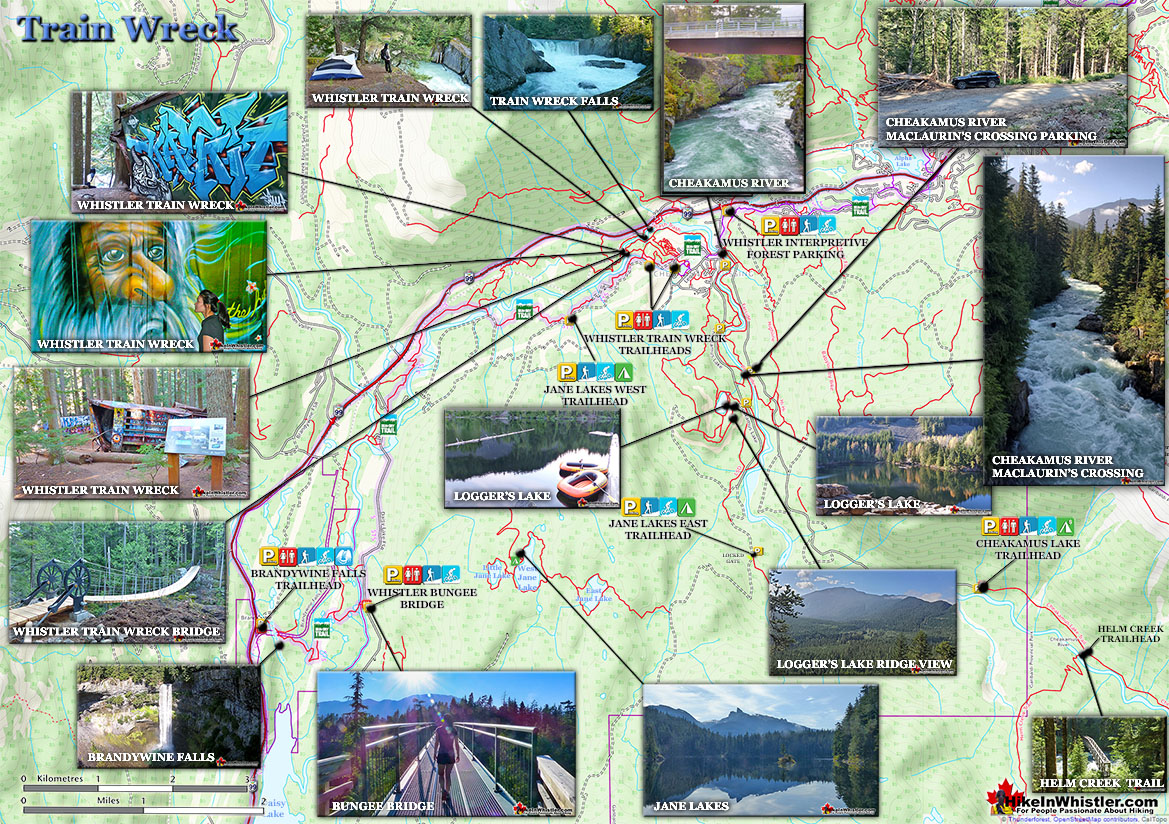 Best Whistler Hiking November – Taylor Meadows

Taylor Meadows is a wonderful place to snowshoe in November.  One reason for this is fact that the two kilometre access road to the Rubble Creek trailhead is consistently covered in snow from December to April making the roundtrip hike to Taylor Meadows or Garibaldi Lake four kilometres longer.  In November, however, you can often find this access road clear of snow and even some of the trail dry as well.  You will certainly need snowshoes in November though, certainly as you get higher up in the trail.  By the end of November the trailhead should have snow as well.  Taylor Meadows is beautiful to snowshoe and especially nice to camp out overnight in.  The brutal winter cold weather still hasn't taken hold yet, but Garibaldi Park is covered in a great blanket of snow.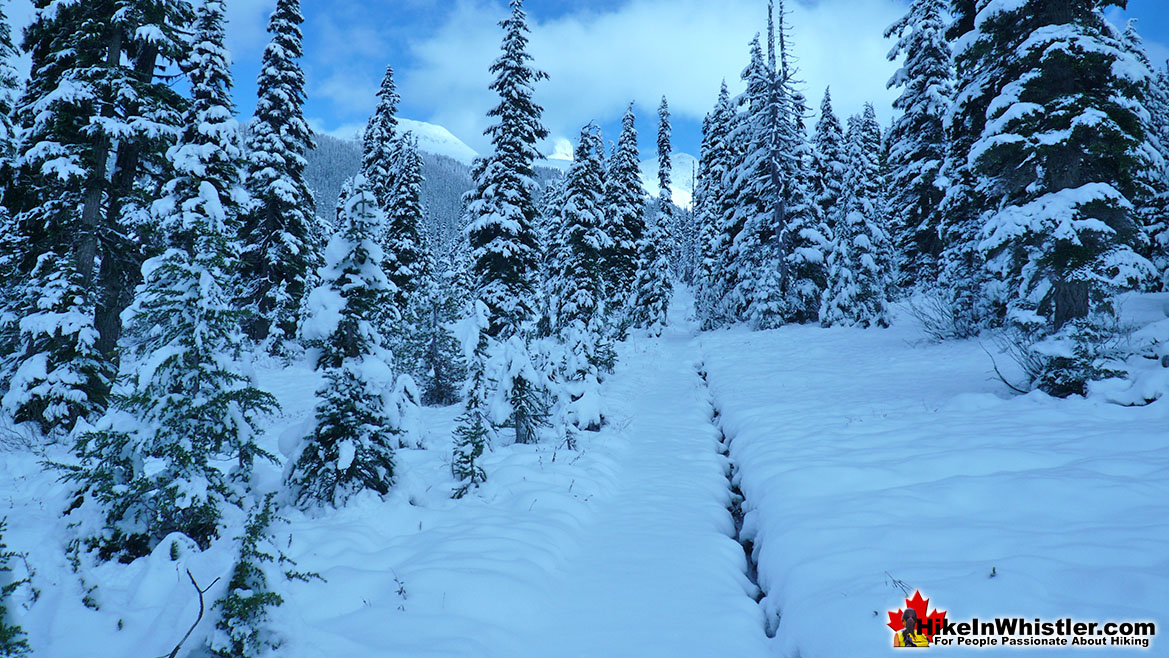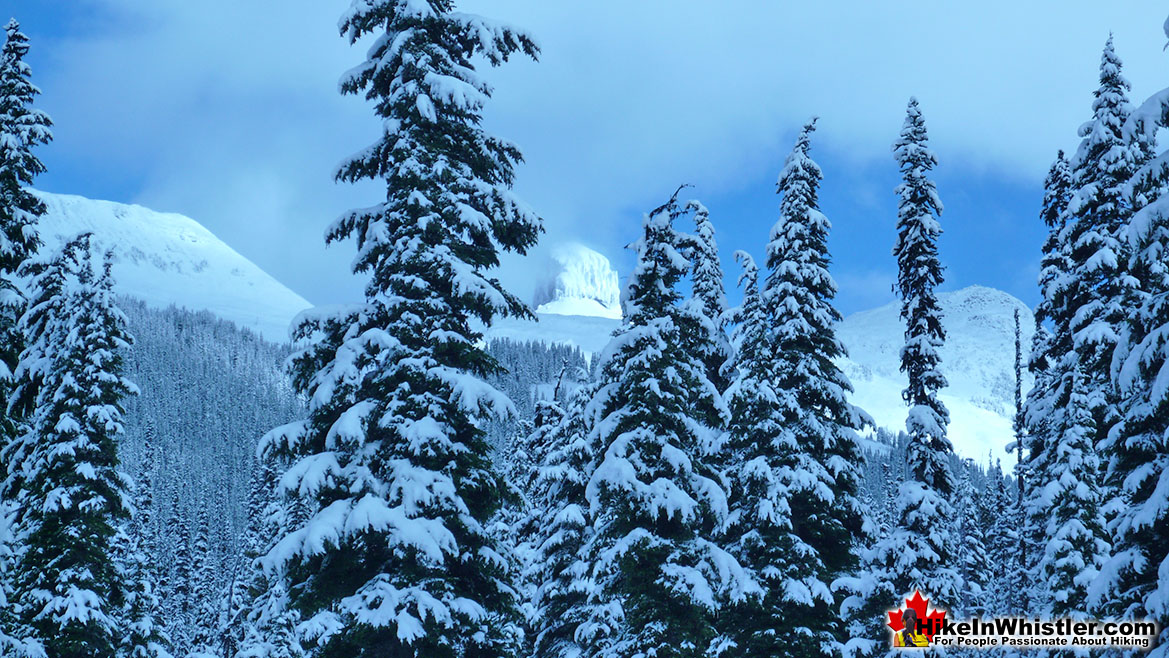 Best Whistler Hiking November – Joffre Lakes

Joffre Lakes Provincial Park is an absolutely stunning place to snowshoe in November.  You can drive to the partially snowplowed trailhead parking all year-round and Joffre Lakes is so popular with skiers that you can almost always rely on ski tracks in the snow to follow.  The trail is fairly well marked with tree markings but having a track in the snow to follow makes the journey much easier.  Joffre Lakes is a long, though beautiful 1.2 hour drive north of Whistler.  From the trailhead to the first of the three Joffre Lakes is just a few dozen metres so you almost immediately get some stunning views across the lake to distant mountains.  The trail then ascends a couple kilometres to the second lake which reveals even more amazing views.  The third of the Joffre Lakes is at the 5 kilometre mark and you will have gained 400 metres of elevation to get there.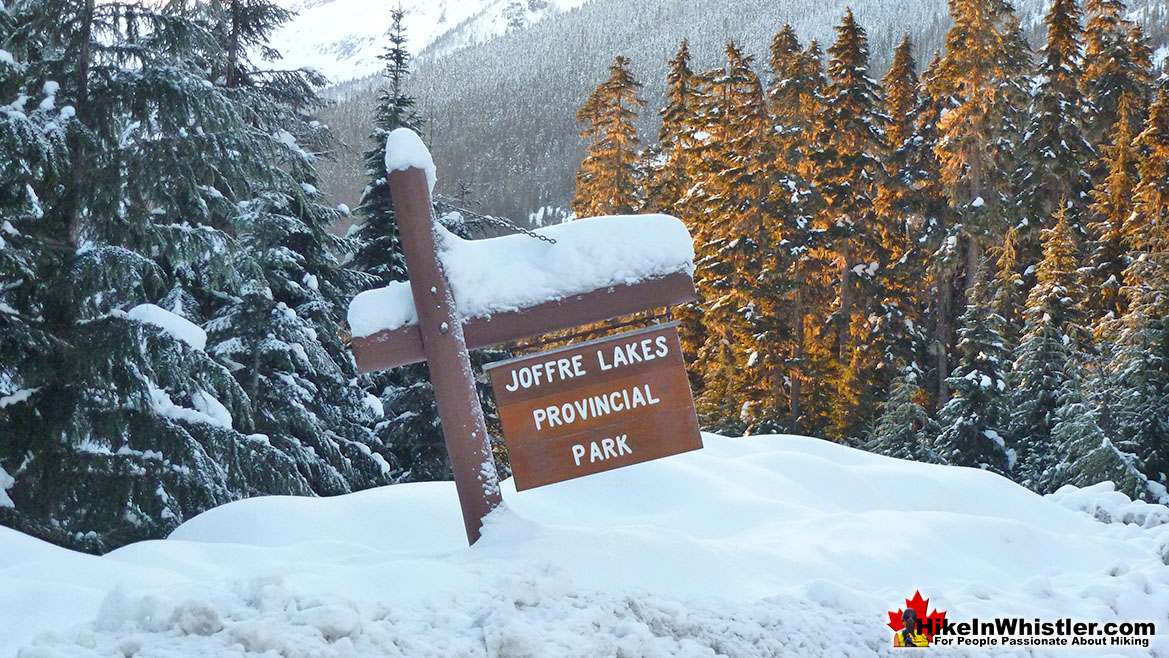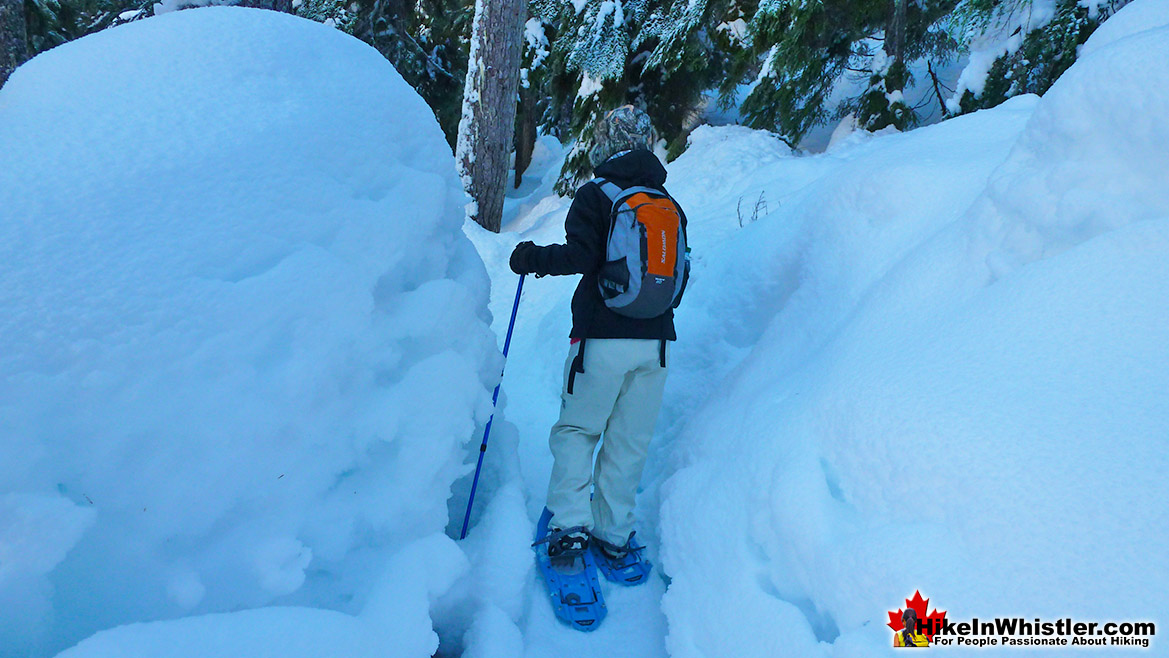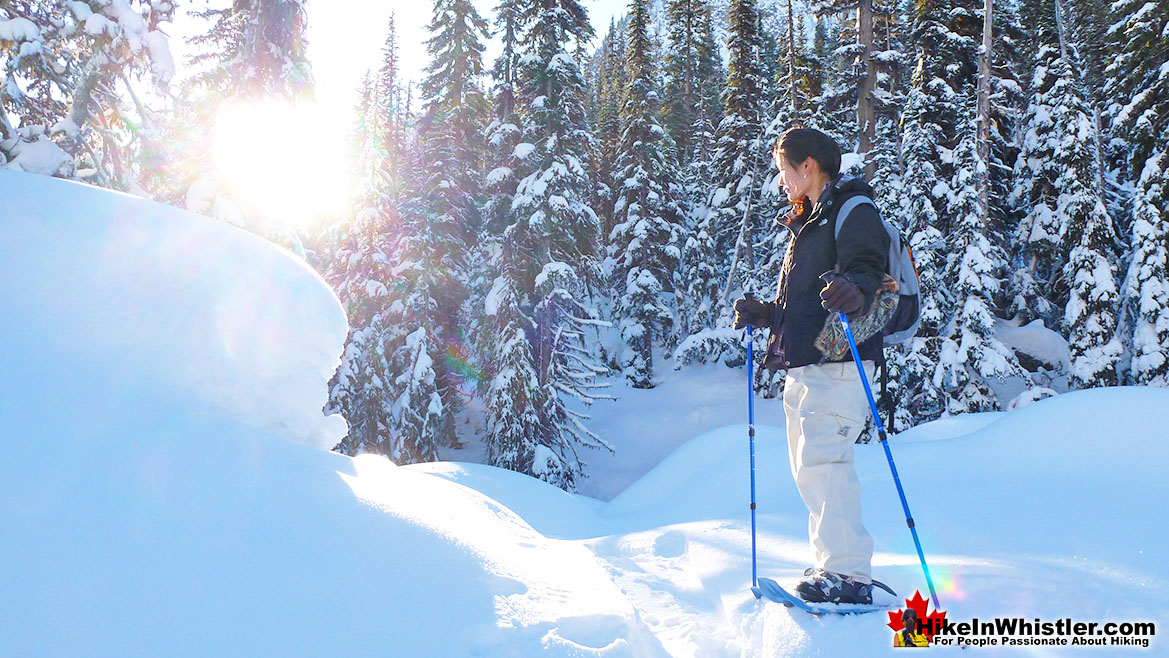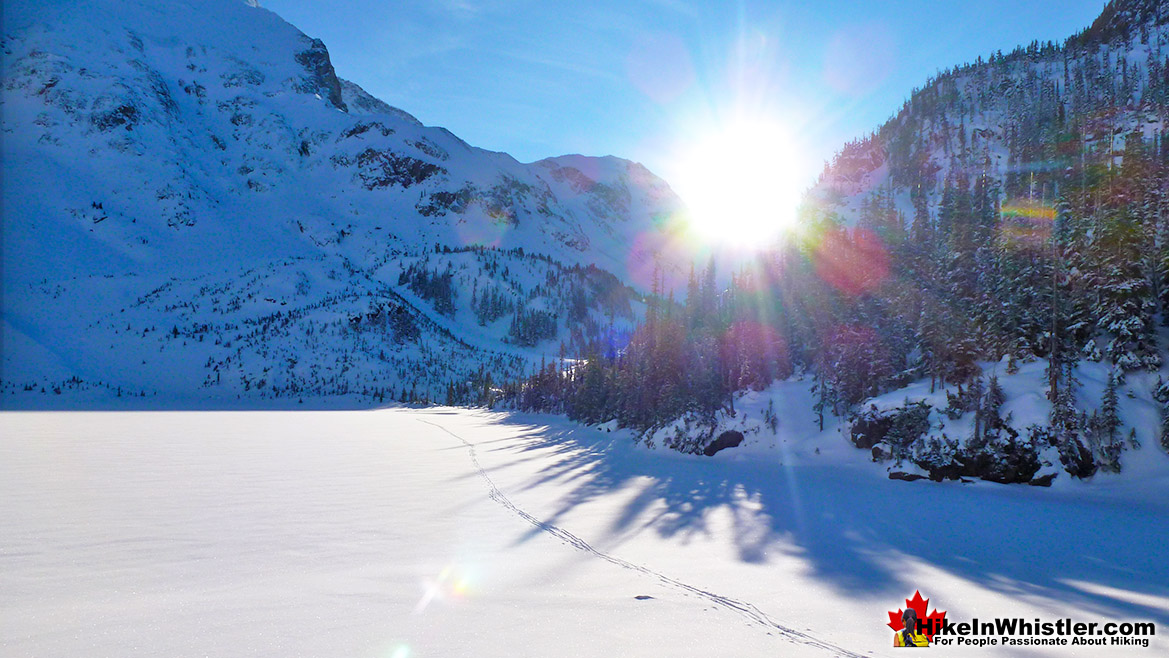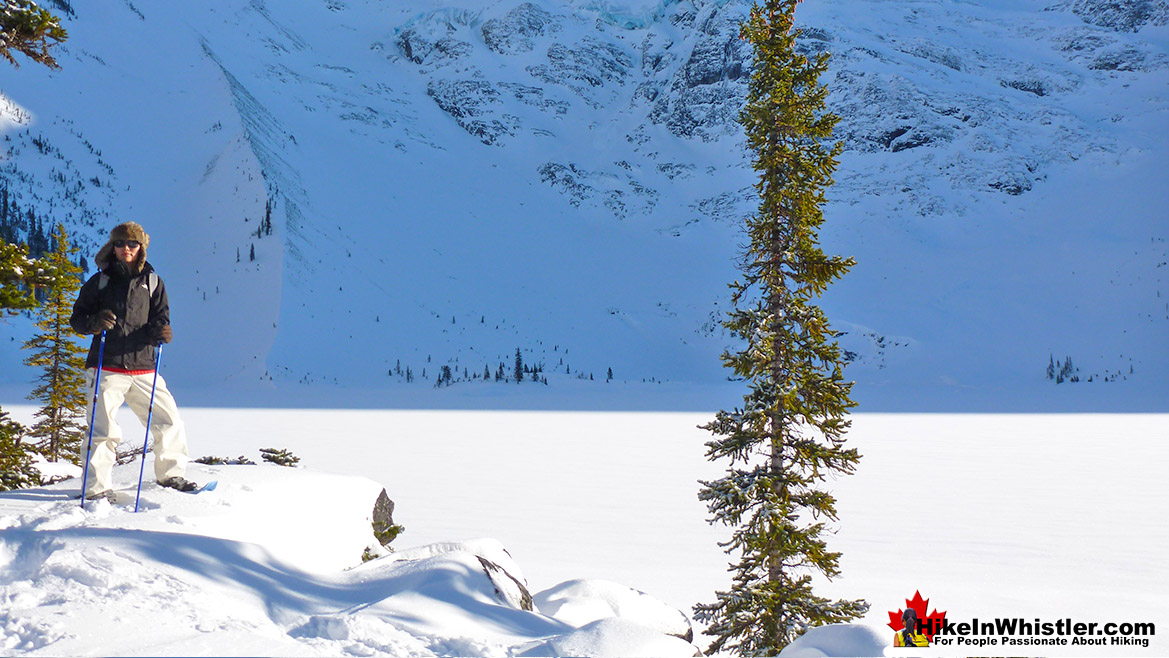 Best Whistler Hiking November – Wedgemount Lake

Wedgemount Lake is a steep and difficult hike in the summer when there is no snow.  It doesn't require technical skill, but it is just exhausting.  You gain 1220 metres of elevation in just 7 kilometres and hiking with a backpack takes about 2.5-3.5 hours to reach the lake.  In the winter, on snowshoes, the Wedgemount Lake trail is considerably harder.  In November the trail can be, first, hard to follow, despite the frequent trail markers.  Second, on snowshoes, each step on steep ground is one step forward, half a step backward.  You plod on slowly and with each step slipping back part way.  If you can get past the difficulty of the exhausting winter trek to Wedgemount Lake you will reach an amazing paradise in the mountains.  The Wedgemount Lake hut is an extraordinary oasis of warmth in the middle of the beautiful Wedgemount Lake valley...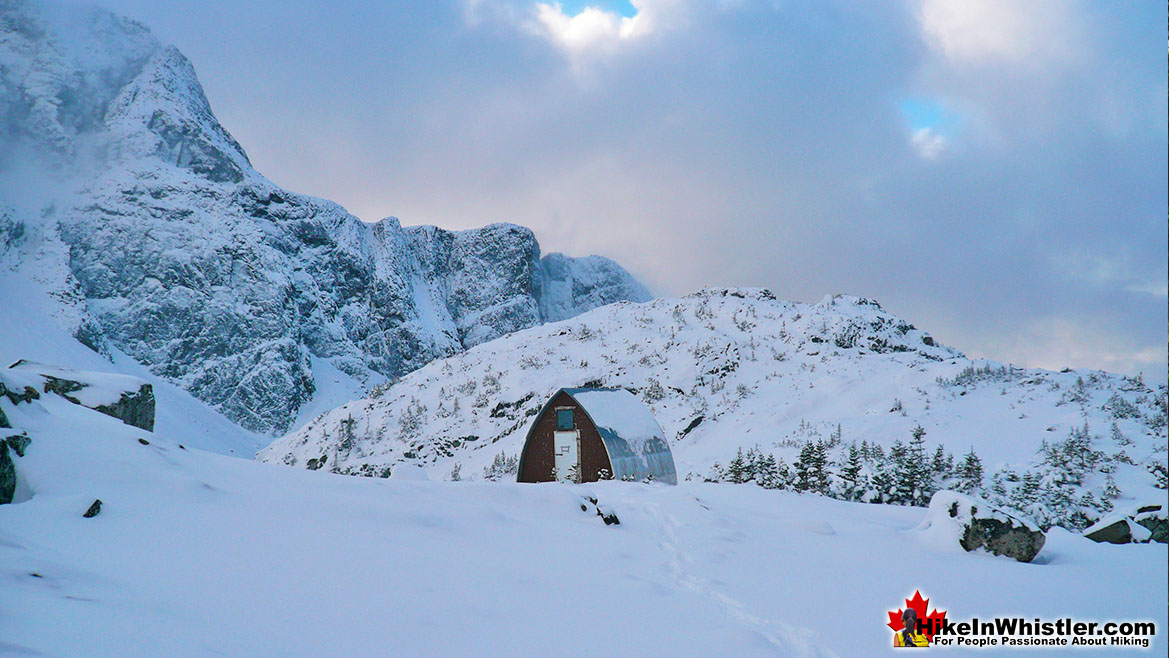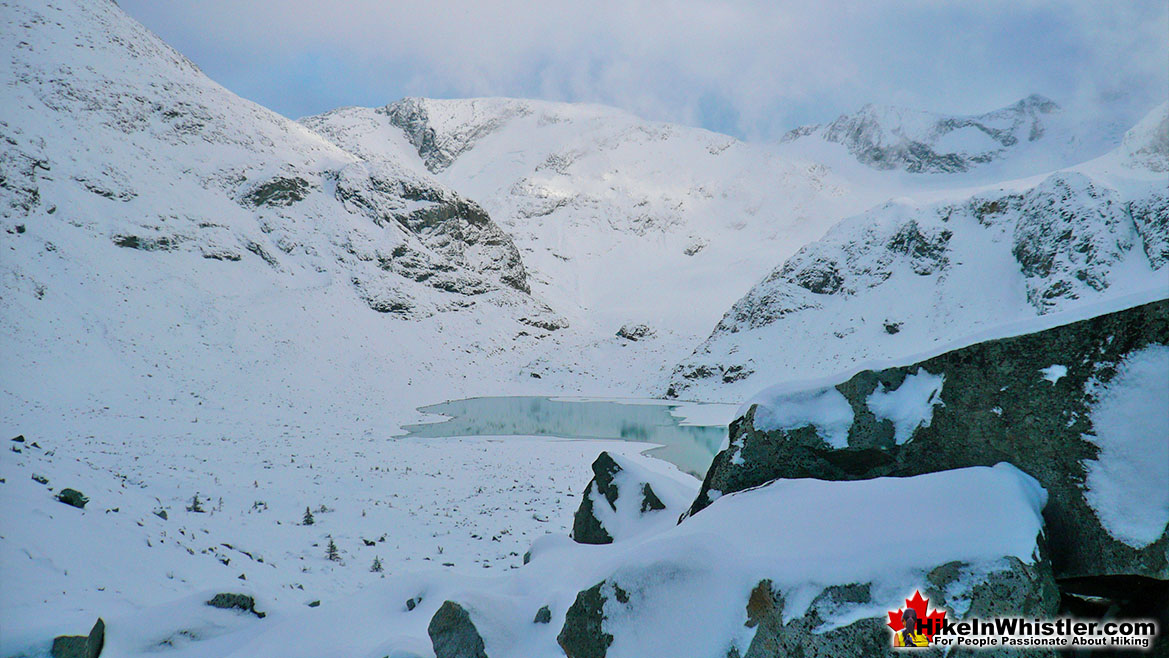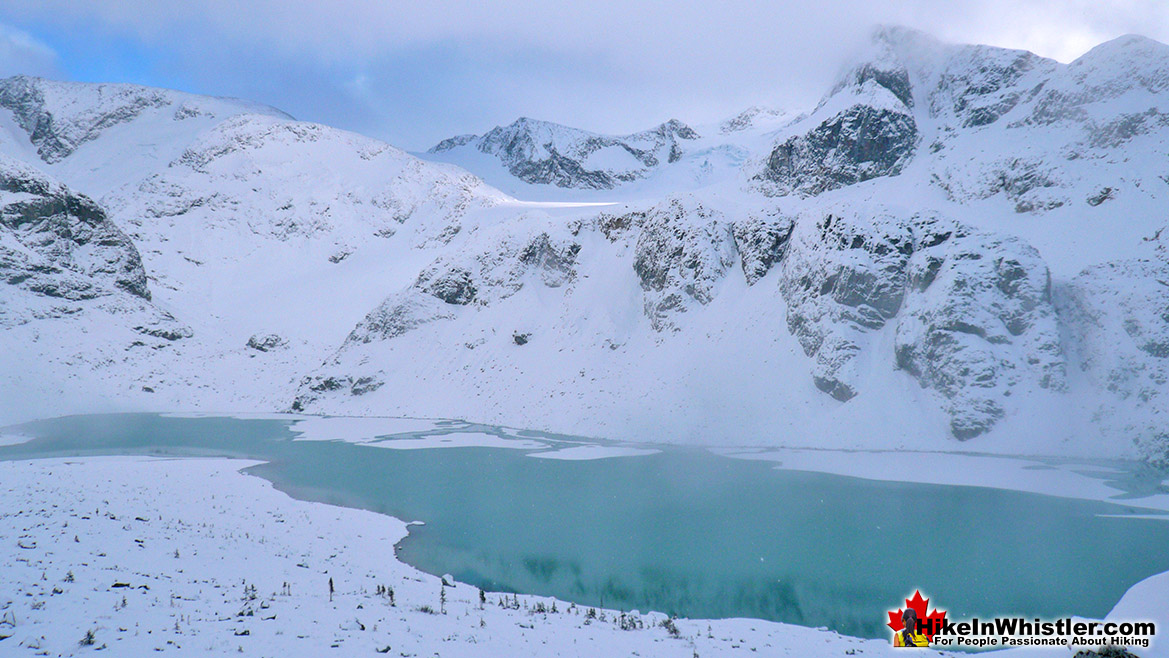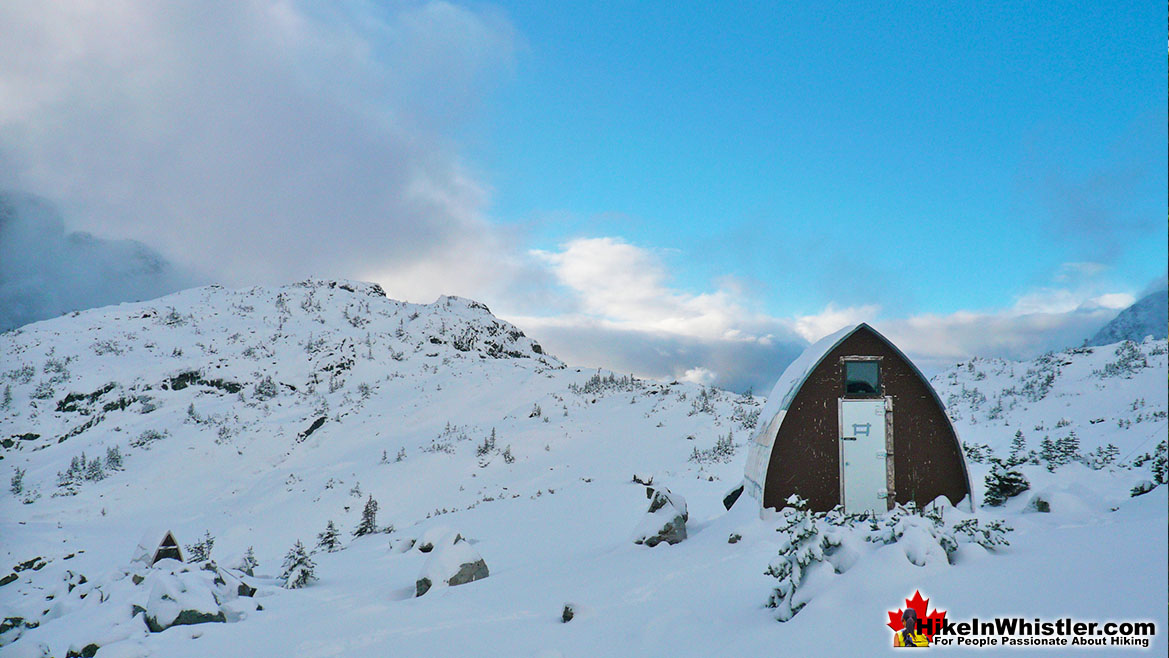 Best Whistler Hiking November – Whistler Parks
November is a beautiful time of year to wander from Whistler Village to one of Whistler's many parks and beaches.  Wayside Park in Whistler is one of several idyllic parks on Alta Lake.  Rainbow Park, Lakeside Park and Blueberry Park are also along the shore of this huge lake that cover much of the valley edged by Whistler Village.  These four parks, all on Whistler's beautiful Valley Trail system, ensure that you are never far from one of several amazing vantage points over Alta Lake.  Wayside Park sits near the bottom end of Alta Lake and at just 3 kilometres from Whistler Village is just an hours walk or 10 minute bike ride away.  The Valley Trail is a huge spider web network of paved walking/biking/running trails that connect Whistler Village to dozens of beautiful parks and sights.  Over 40 kilometres of trails throughout Whistler, with directions at every junction make the Valley Trail much more than just a transportation network.  It's an interpretive tour of the area, where you can wander on foot or by bike and use the signs at each junction to choose your route.  Wayside Park is one of several beautiful beach parks in Whistler on the Valley Trail.  You can reach all these parks by car or better yet you set out on foot or by bike from Whistler Village.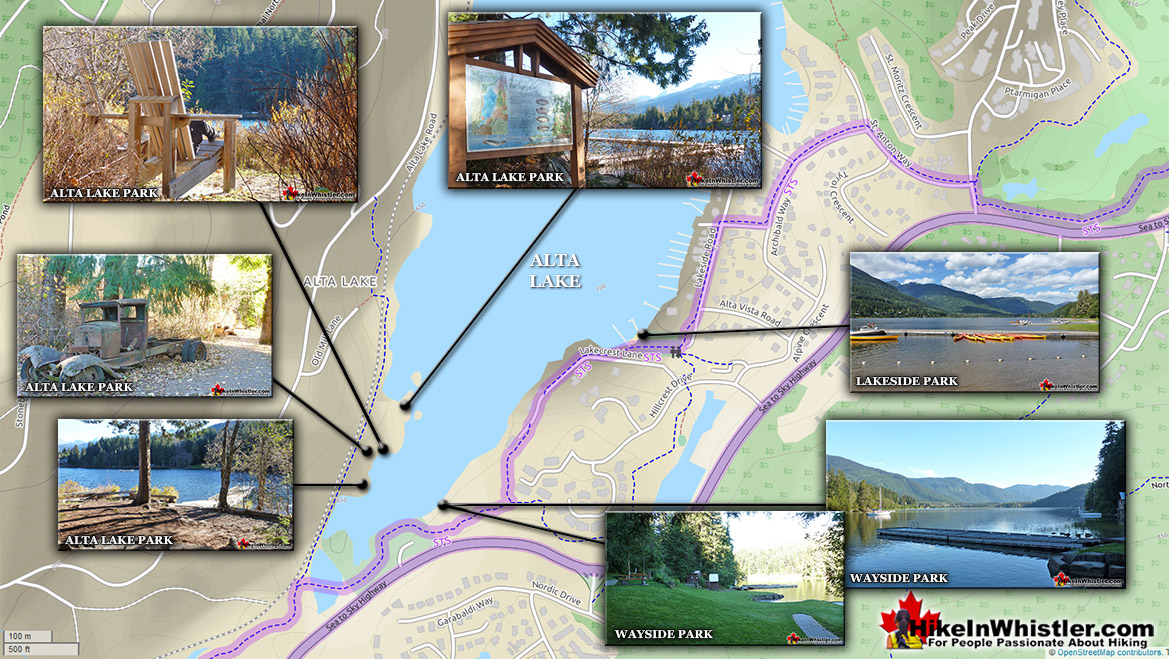 Lost Lake is a tranquil and secluded lake in the forest that extends from Whistler Village.  Just a 20 minute, leisurely walk or 5 minute bike ride along the well signed Valley Trail will lead you to this beautiful little lake.  The wide and paved Valley Trail turns into a wide and gravel trail as you enter Lost Lake Park.  The main trail around the lake is a popular running route from Whistler Village as roundtrip from the Village, around Lost Lake and back to the Village in just 6 kilometres.  There are plenty of nice viewpoints along the main trail as well as quite a few short trails that lead to several access points to the lake, some with great places to sit and relax in the sun and take in the view.  Lost Lake has a very popular beach at one end and in the height of summer can get busy as it is the most convenient beach from Whistler Village.  Lost Lake Park is a pay-use park when the snow falls deep enough to snowshoe and cross country ski.  Often then happens at some point in November.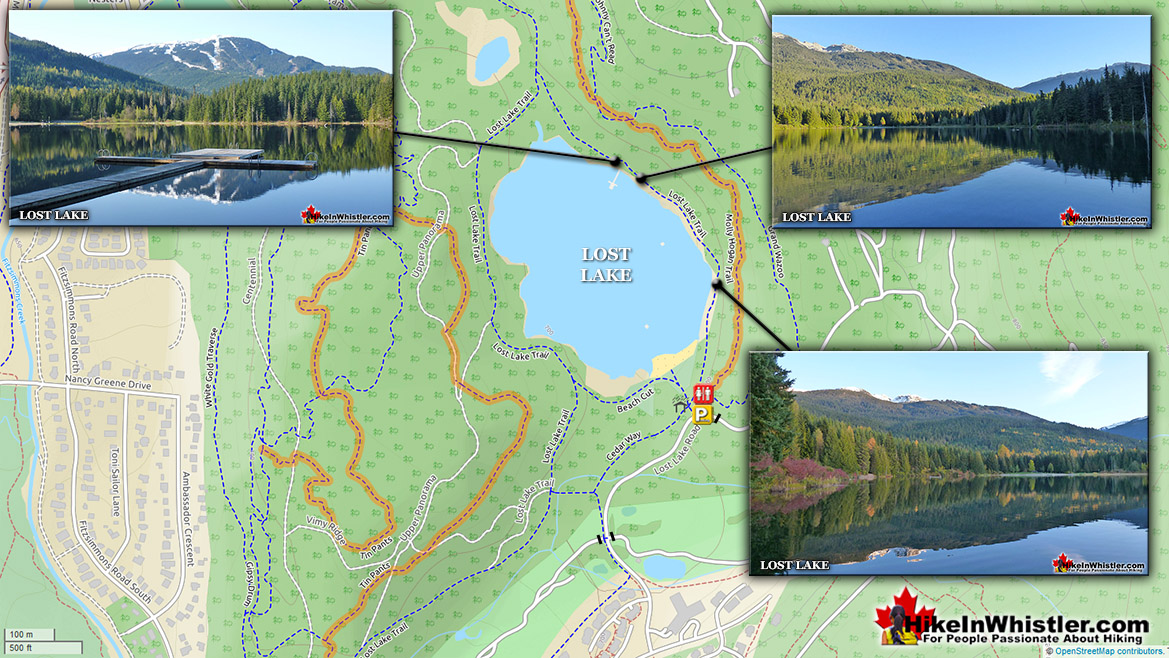 Blueberry Park is a very scenic and somewhat hidden park on Alta Lake just two kilometres from Whistler Village.  If you have been to Rainbow Park you would have noticed three piers across Alta Lake surrounded by forest.  These public piers sit at the edge of Blueberry Park, with the Blueberry Trail running from one side of the forest to the other.  The park covers most of the hill beyond these piers and stretches between and connects the neighbourhoods of Whistler Cay and Alta Vista.  The beautiful, deep forest trail runs from the shores of Alta Lake in Alta Vista, up and across Blueberry Hill and descends again to reach Whistler Cay.  Along the trail there are several beautiful viewpoints of Alta Lake in the foreground and the enormous Mount Sproatt beyond.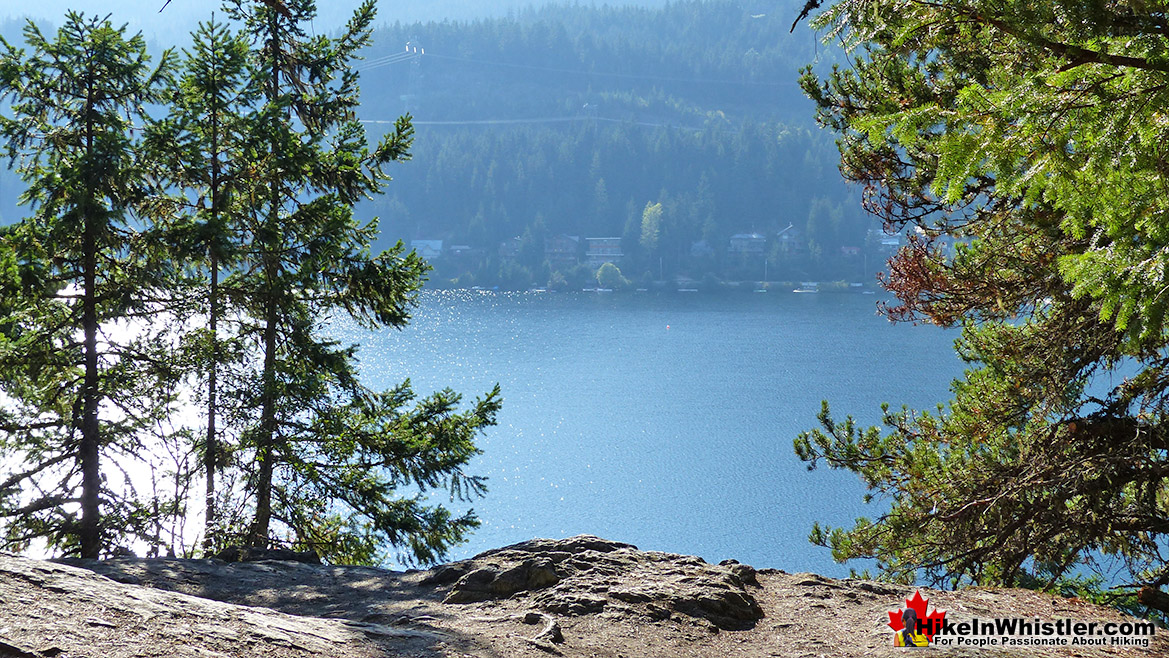 Lakeside Park at Alta Lake in Whistler is a pretty beach park just a short distance from Whistler Village.  Located on the Valley Trail, it is just 2 kilometres or a 30 minute walk, or 10 minute bike ride away.  Similar to Rainbow Park across the lake, Lakeside Park has a concession stand for food and drinks, picnic tables, BBQ stands, canoe and kayak rentals a huge grass field, pier, a sandy beach and an elaborate little kids play are.  Swimming and relaxing are the main draws to Lakeside Park, but fishing off the piers is a common sight as well. Alpha Lake Park is a nice park on the shores of Alpha Lake in Creekside, just 5 kilometres south of Whistler Village.  Located partway along Lake Placid Road just past the Husky and Nita Lake Lodge.  This quiet residential street leads to this park that is home to tennis courts, a basketball court, beach volleyball, dog park, a kids play park, a floating dock, a pier and biking/walking/running trails everywhere you look.  Alpha Lake Park has a much more local feel to it than other Whistler parks such as the popular Rainbow Park, Lakeside Park and Lost Lake Park.  The abundance of trees and the irregular shoreline make the relatively small size of Alpha Lake seem quite a bit bigger than it is.  Trails run around both sides of Alpha Lake.  The wide and paved Valley Trail runs along the shore on the near side and a gravel trail runs along the far side.  For more walking trails, parks and beaches in Whistler click here..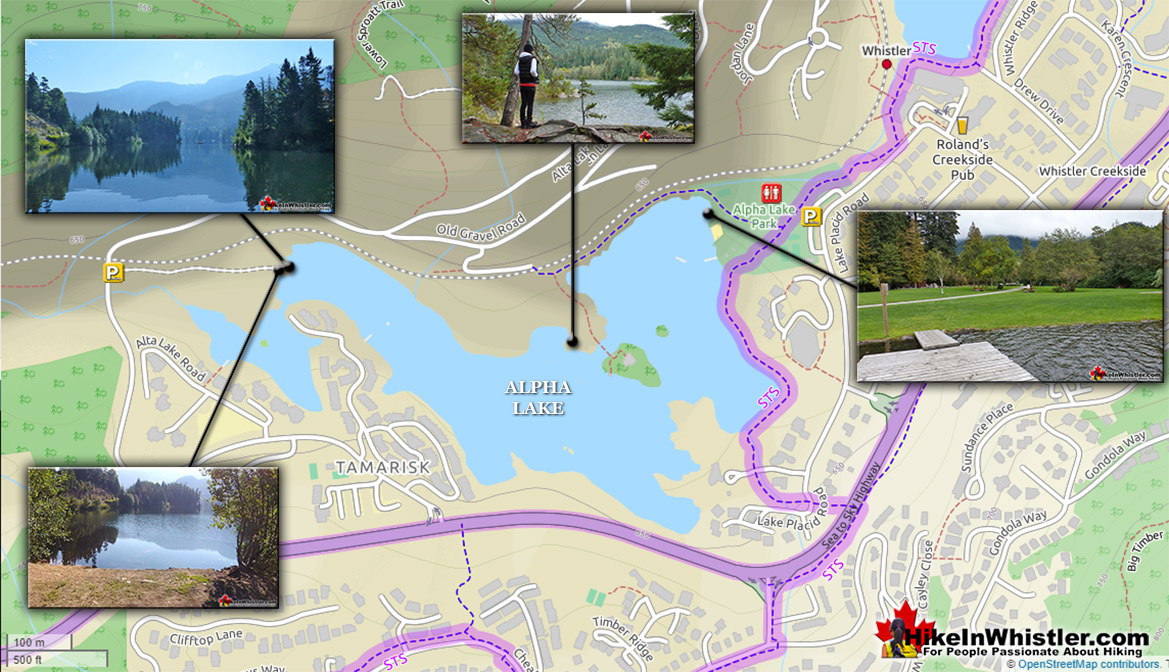 Of all the parks in Whistler in November, Rainbow Park is often the most beautiful.  The fall leaves are especially bright with Alta Lake and Wedge Mountain, Blackcomb Mountain and Whistler Mountain filling the view beyond.  This usually bustling park is wonderfully serene and quiet in November.  There are the restored log cabins from the original settlement that existed here a century ago and you can wander through the park and hear nothing but the rustle of leaves under your feet.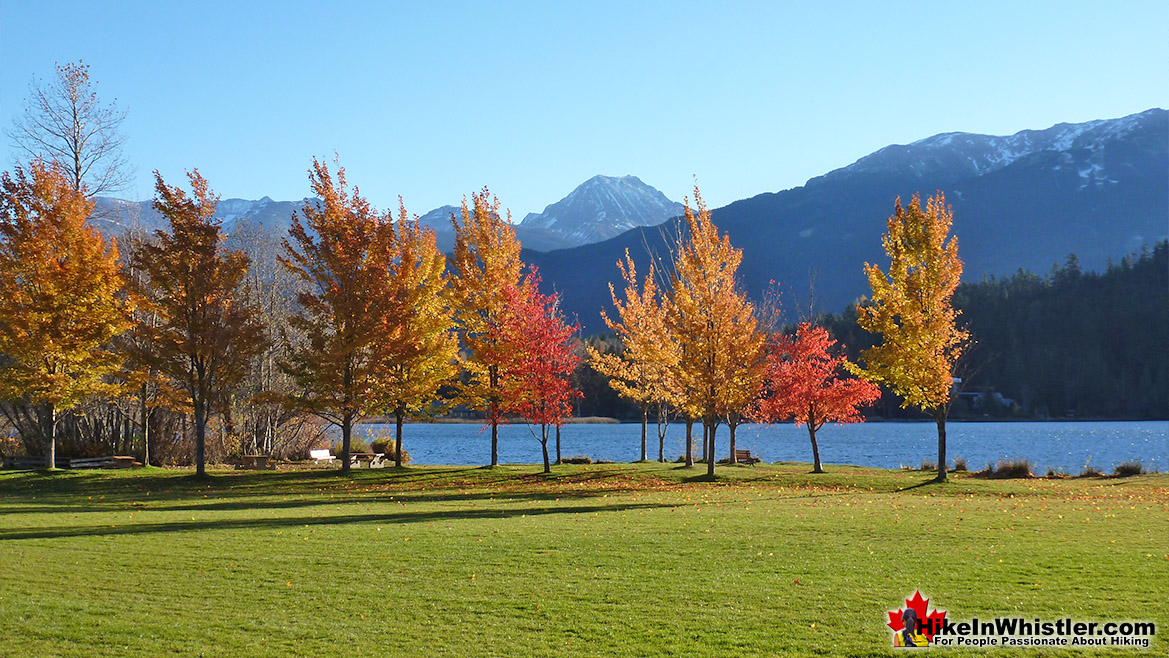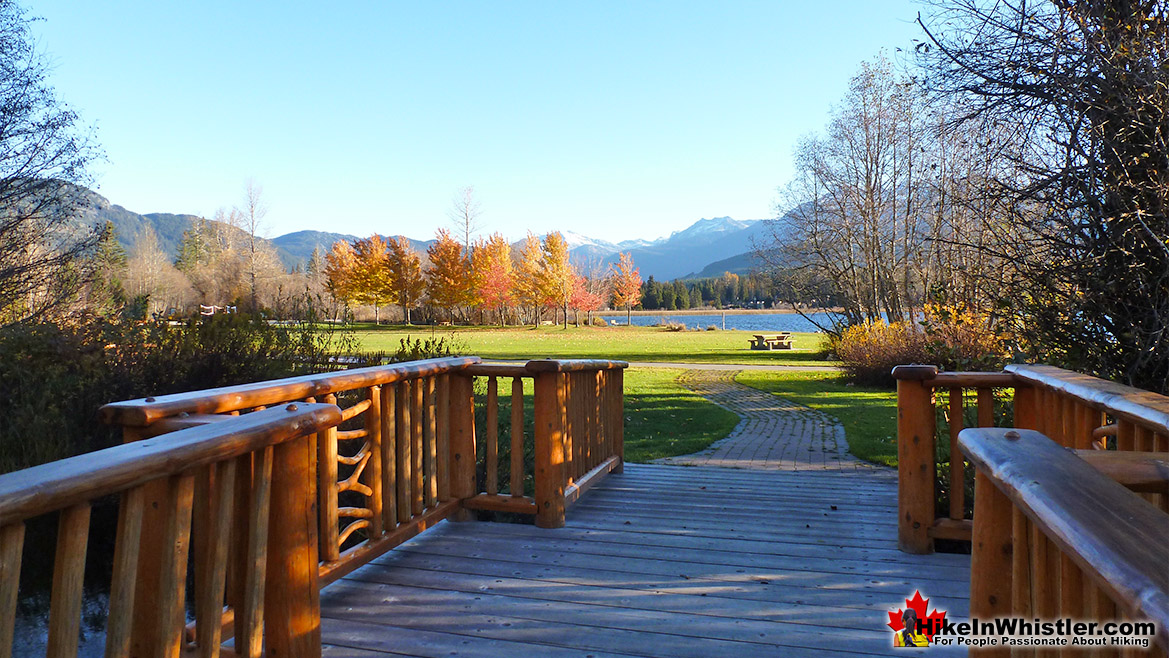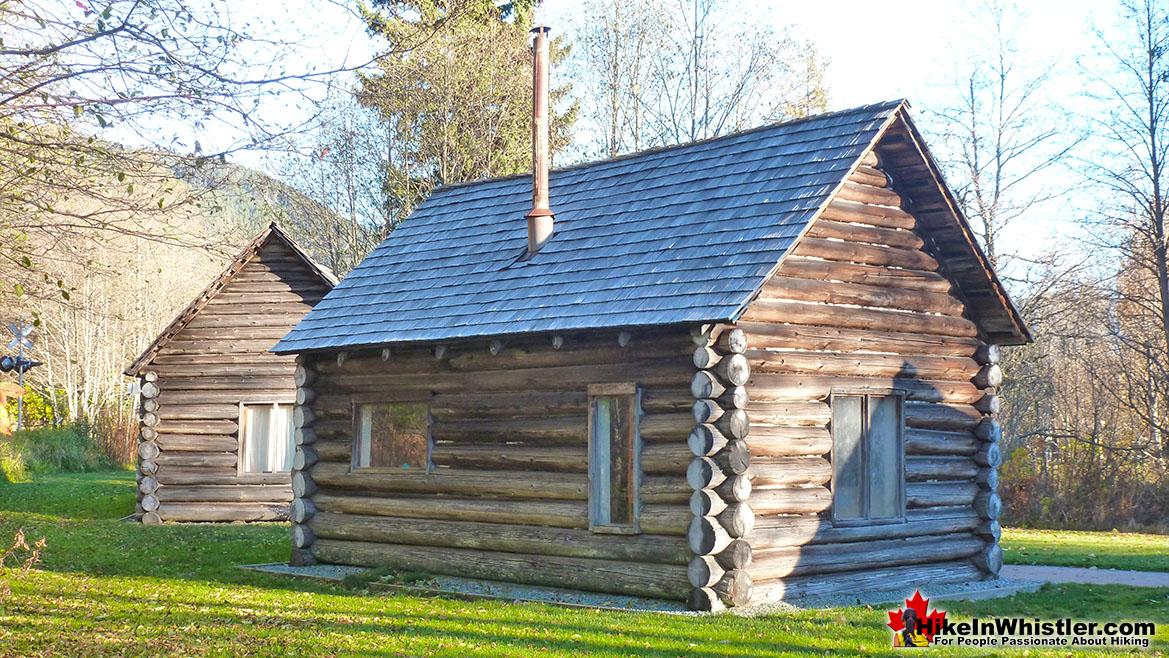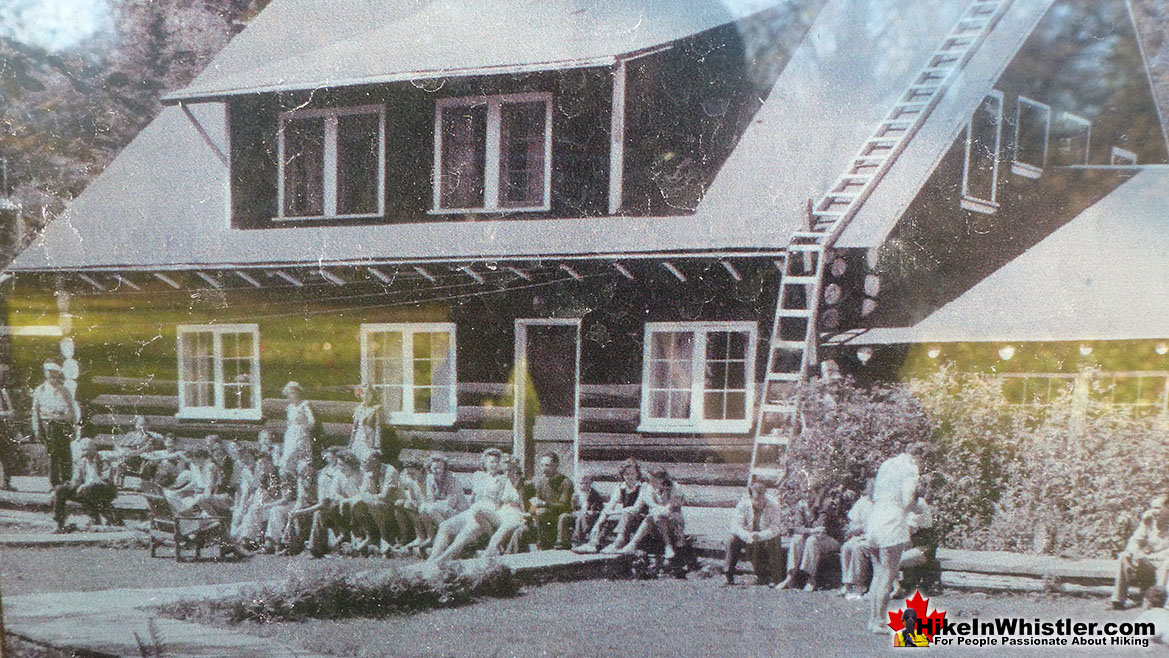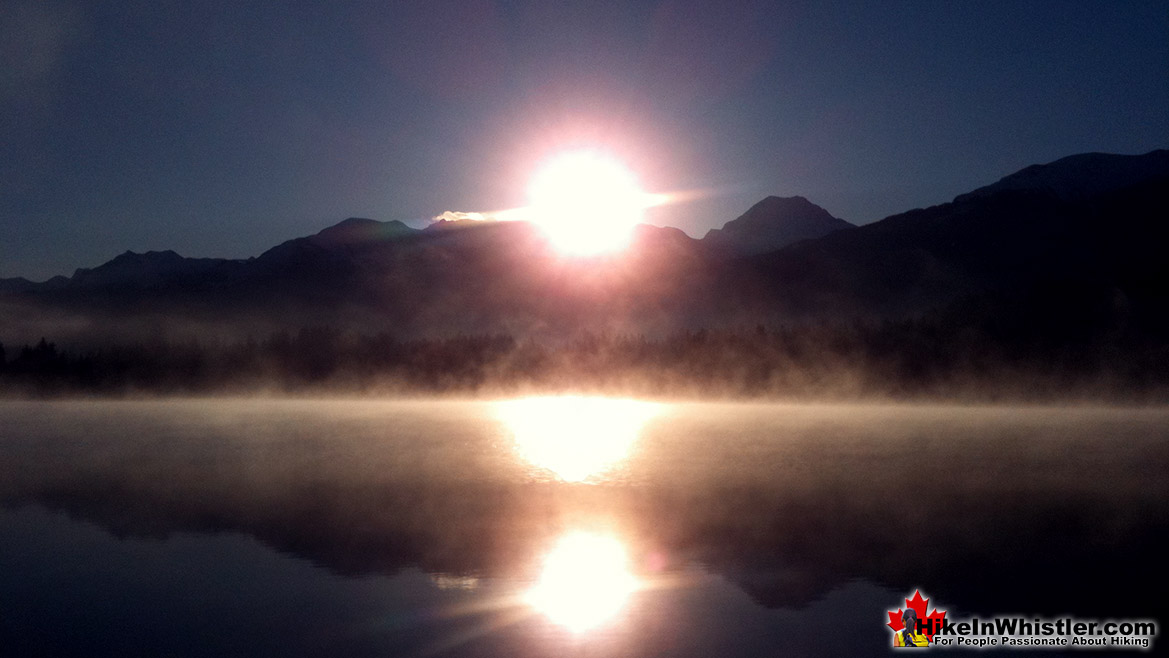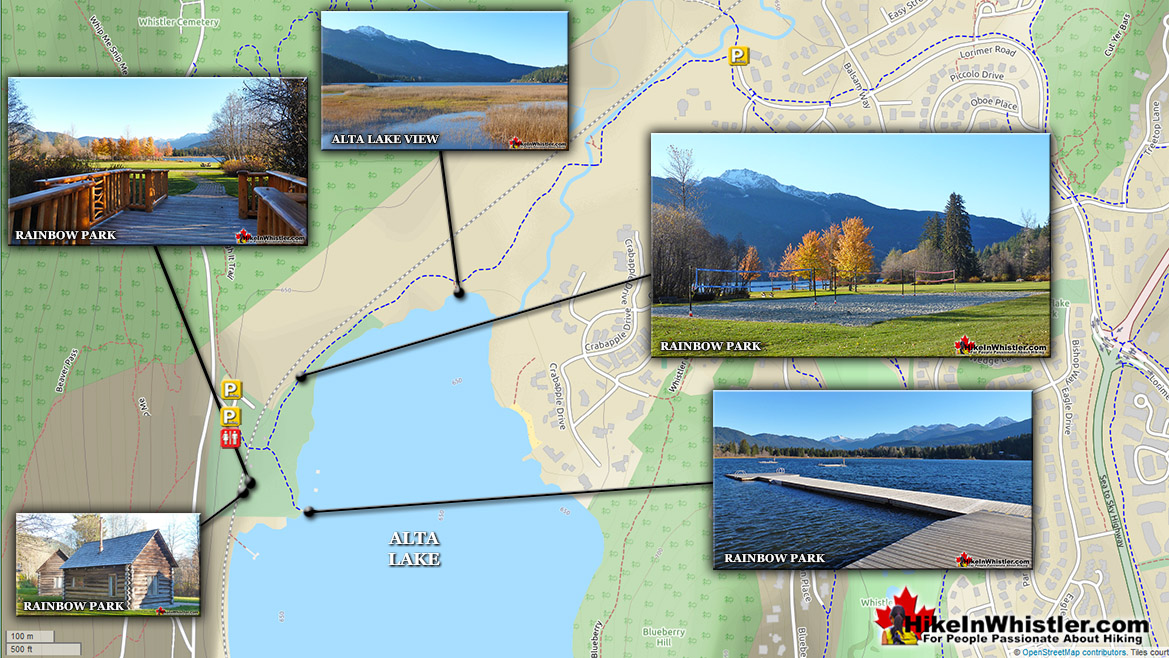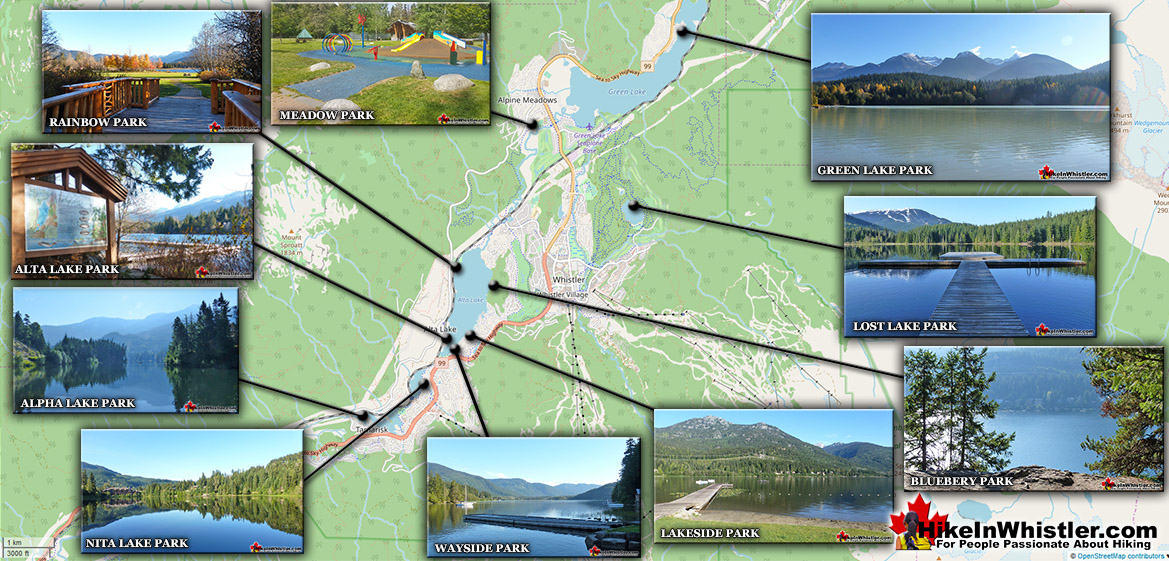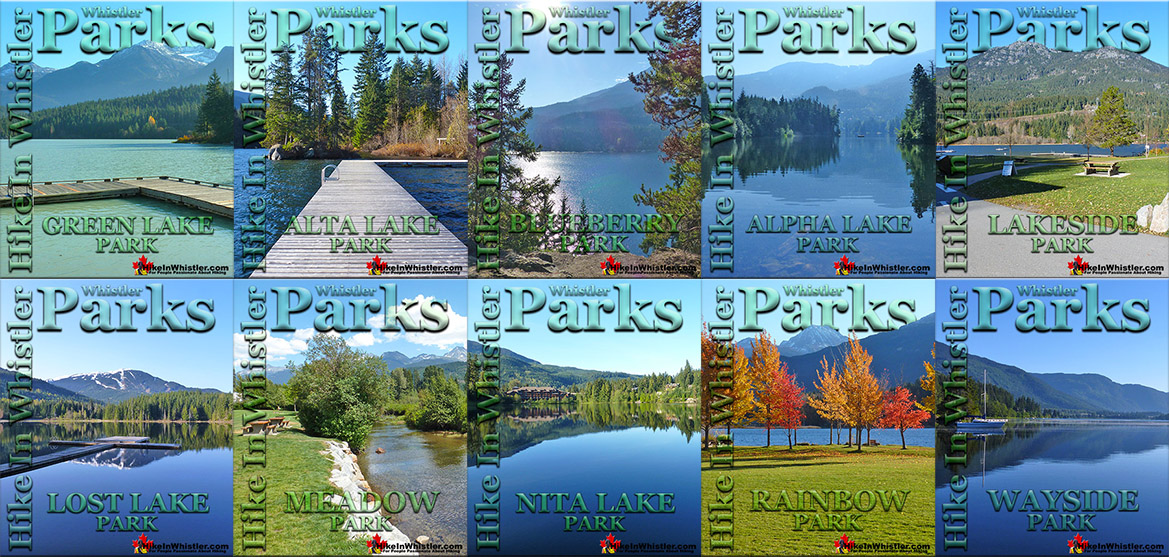 Two Interesting Historical Books!


If you have been to Sloquet Hot Springs, you likely had no idea that you were in the midst of a century old mystery of a lost gold mine.  Several books have been written about it and the History Channel even made a six episode show called Curse of the Frozen Gold.  The show was quite entertaining with the characters exploring the mountains around Sloquet.  The hot springs even appeared in one episode as they searched nearby for the mysterious hidden vein of gold.  The excellent book, Slumach's Gold: In Search of A Legend lays out the history and theories in enticing detail.  The next time you find yourself lounging in Sloquet Hot Springs, you will inevitably glance around and wondering if you are sitting near the hidden gold mine.  A Passion for Mountains by Kathryn Bridge is a fascinating look at Don and Phyllis Munday's prolific exploration of the mountains in BC.  Based out of Vancouver, they were dominant figures of the climbing community in the early 1900's.  In 1923 they visited their friend Neal Carter in Alta Lake(Whistler) and explored the mountains around the valley.. many for the first time!
**We participate in the Amazon Services LLC Associates Program and earn a small commission on purchases we link through to Amazon at no extra cost to you.  We only link to books and products we love and highly recommend.  Thanks for your support!**
The Coast Mountains run from the Yukon down to Vancouver along the west coast of British Columbia in a band that averages 300 kilometres wide(190 miles).  ...
Read more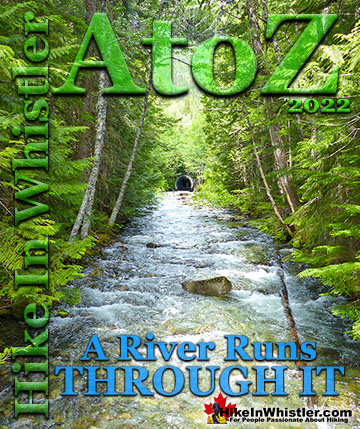 Read more
Hoary Marmots are the cute, pudgy, twenty plus pound ground squirrels that have evolved to live quite happily in the hostile alpine areas around Whistler.  ...
Read more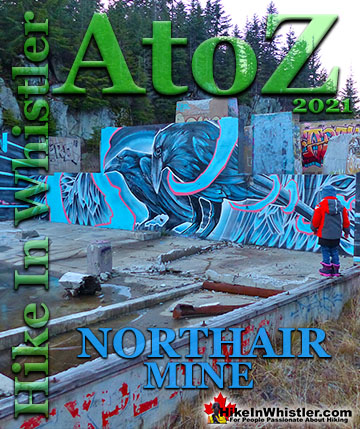 Northair Mine is a surreal little world of colourful murals on abandoned cement foundations, surrounded by an astoundingly tranquil little lake in a ...
Read more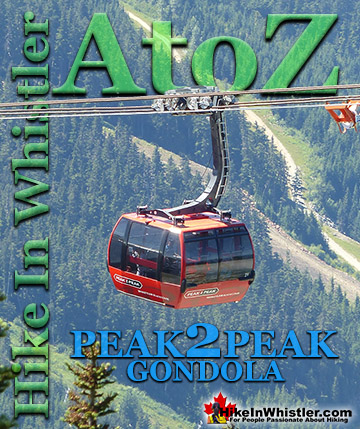 Read more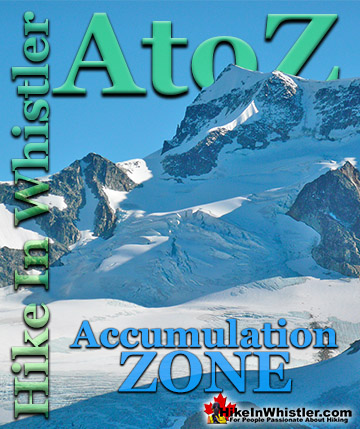 Accumulation Zone: the area where snow accumulations exceeds melt, located above the firn line.  Snowfall accumulates faster than melting, evaporation and ...
Read more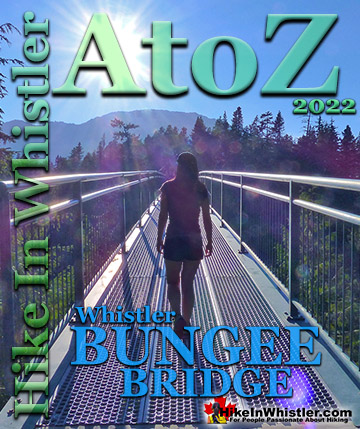 Whistler Bungee Bridge, also known as the Cheakamus Bungee Bridge is a very convenient and beautiful attraction on the way to or from Whistler from ...
Read more
Whistler & Garibaldi Hiking

Alexander Falls  

Ancient Cedars  

Black Tusk  

Blackcomb Mountain  

Brandywine Falls  

Brandywine Meadows  

Brew Lake  

Callaghan Lake  

Cheakamus Lake  

Cheakamus River  

Cirque Lake 

Flank Trail 

Garibaldi Lake 

Garibaldi Park 

Helm Creek  

Jane Lakes 

Joffre Lakes  

Keyhole Hot Springs  

Logger's Lake  

Madeley Lake  

Meager Hot Springs 

Nairn Falls  

Newt Lake 

Panorama Ridge 

Parkhurst Ghost Town 

Rainbow Falls  

Rainbow Lake 

Ring Lake  

Russet Lake  

Sea to Sky Trail 

Skookumchuck Hot Springs  

Sloquet Hot Springs 

Sproatt East 

Sproatt West  

Taylor Meadows  

Train Wreck  

Wedgemount Lake  

Whistler Mountain

January 

February 

March 

April 

May 

June 

July 

August 

September 

October 

November 

December