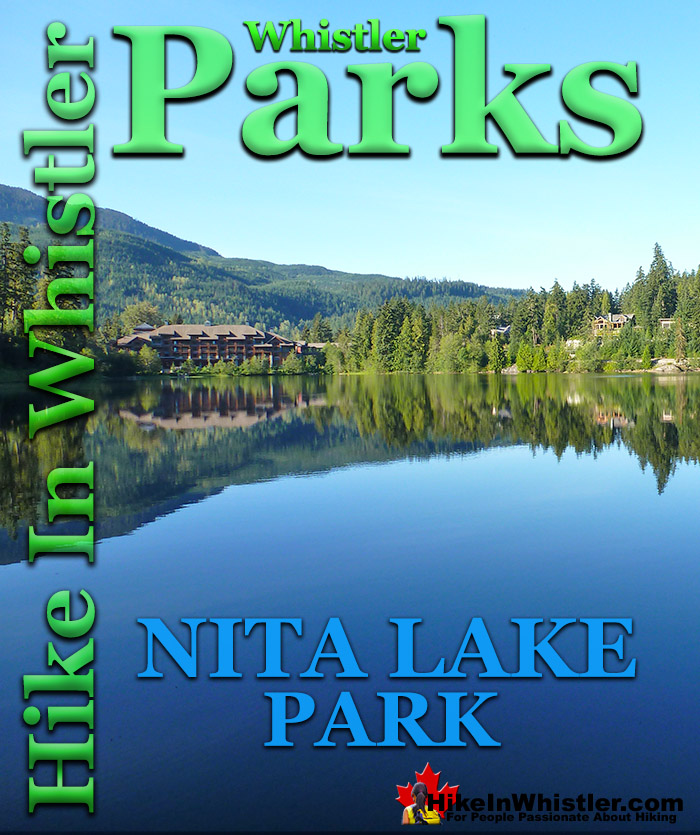 Nita Lake is a tranquil little lake located in Creekside, just 4 kilometres south of Whistler Village.  Whistler's beautiful Valley Trail runs right along the edge of Nita Lake and continues past the beautiful Nita Lake Lodge.  A small gravel beach with a creek flowing through it gives the park consistently good fishing.  Two picnic tables sit in a forest clearing next to the creek.  At the end of the lake there are two piers.  One is a public pier and the other is for Nita Lake Lodge guests.
Whistler & Garibaldi Hiking

Alexander Falls  

Ancient Cedars  

Black Tusk  

Blackcomb Mountain  

Brandywine Falls  

Brandywine Meadows  

Brew Lake  

Callaghan Lake  

Cheakamus Lake  

Cheakamus River  

Cirque Lake 

Flank Trail 

Garibaldi Lake 

Garibaldi Park 

Helm Creek  

Jane Lakes 

Joffre Lakes  

Keyhole Hot Springs  

Logger's Lake  

Madeley Lake  

Meager Hot Springs 

Nairn Falls  

Newt Lake 

Panorama Ridge 

Parkhurst Ghost Town 

Rainbow Falls  

Rainbow Lake 

Ring Lake  

Russet Lake  

Sea to Sky Trail 

Skookumchuck Hot Springs  

Sloquet Hot Springs 

Sproatt East 

Sproatt West  

Taylor Meadows  

Train Wreck  

Wedgemount Lake  

Whistler Mountain
Whistler Parks & Lakes

Alpha Lake Park  

Alta Lake Park  

Blueberry Park  

Green Lake Park  

Lakeside Park  

Lost Lake Park  

Meadow Park  

Nita Lake Park  

Rainbow Park  

Wayside Park
Nita Lake is comparatively quiet as compared to other Whistler lakes and parks.  The main reason is that it lacks a sizable beach and facilities to go along with it.  Though this may seem like a drawback, it is also an attraction.  On a busy summer day you may find hundreds of people in and around the neighbouring Alpha Lake, yet less than a dozen on Nita Lake.  It is relaxing and serene when everywhere else is not.  Nita Lake Park is just 4 kilometres from Whistler Village along the Valley Trail and walking, running or biking there is a great option.  From the Village the Valley Trail takes you along the edge of Whistler Golf Course, then past Blueberry Park, Lakeside Park and Wayside Park.  Blueberry Park is a wonderful, deep forest and secluded feeling park on the edge of Alta Lake.  Lakeside Park is a big, lively and fun park on Alta Lake with boat rentals, concession stand, piers and a sandy beach.  Wayside Park is similar to Lakeside Park, though a bit smaller, and is near the end of Alta Lake.  Alta Lake and Nita Lake are separated by just a few dozen metres and the Valley Trail branches in three directions here.  Nita Lake to the south and to the north the Valley Trail goes on either side of Alta Lake.
On foot, expect to take an hour or two to walk from the Village to Nita Lake.  On a bike you could easily bike there in 20 minutes.  If you would rather drive you can park at the end of Drew Drive, just steps from the public pier.  This is also the best place to park if you have a canoe, paddleboard or boat to use on the lake.  There are two interesting information boards in Nita Lake Park.  One depicts the the amazing work of the Whistler Fisheries Stewardship Group.  Established in 1996, the group assessed local creeks to find potential spawning habitats.  Development in the area of Nita Lake in the past century disturbed what was once a thriving kokanee and rainbow trout population.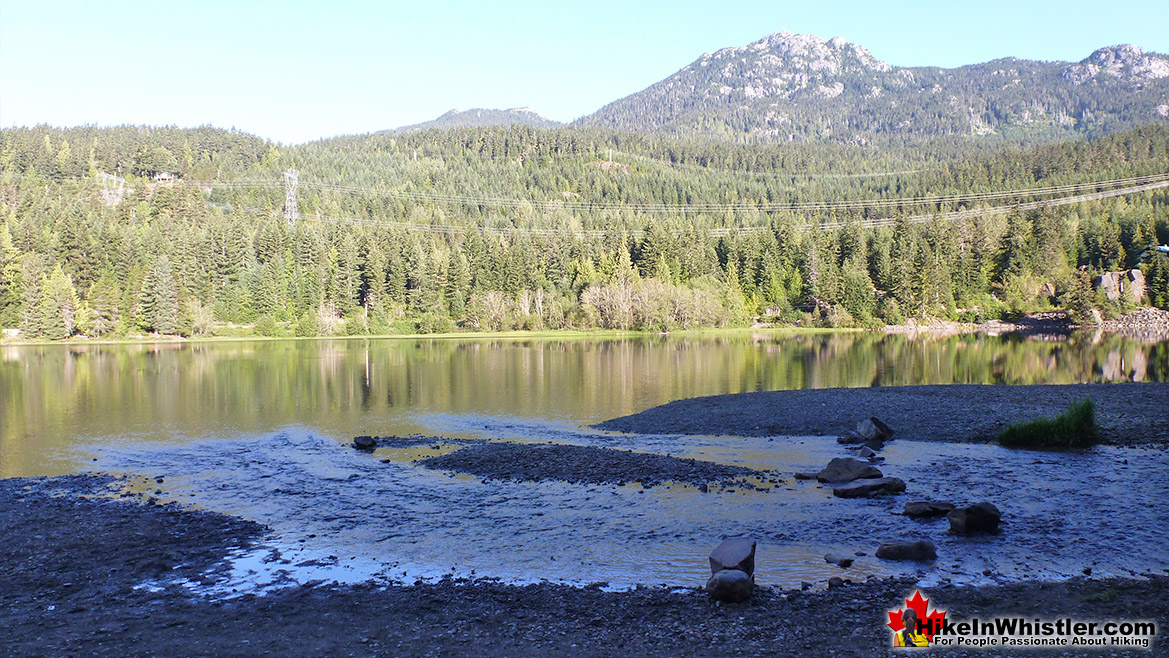 In 2000, the group went to work restoring spawning areas in the hopes of encouraging kokanee to return to spawn.  In 2009 they reported success and continuing efforts are underway to protect and enhance the areas fish population.  Another informational board tells of the construction process involved in building the Valley Trail past the lake...  "The construction of the Valley Trail was no easy task.  It called for the excavation of land in areas that were difficult to access and blasting through substantial amounts of rock.... One morning Jack Demidoff worked his excavator along the shoreline, he lost his grip on a tree he was attempting to remove.  The 20,000 pound excavator tipped backwards and fell towards the lake, breaking through eighteen inches of ice and sinking to the bottom.  Jack managed to maintain his composure enough to remain in the machine until it came to a rest, break a window and swim to the surface.  Apart from cold and shock, the only injury he sustained was a missing finger."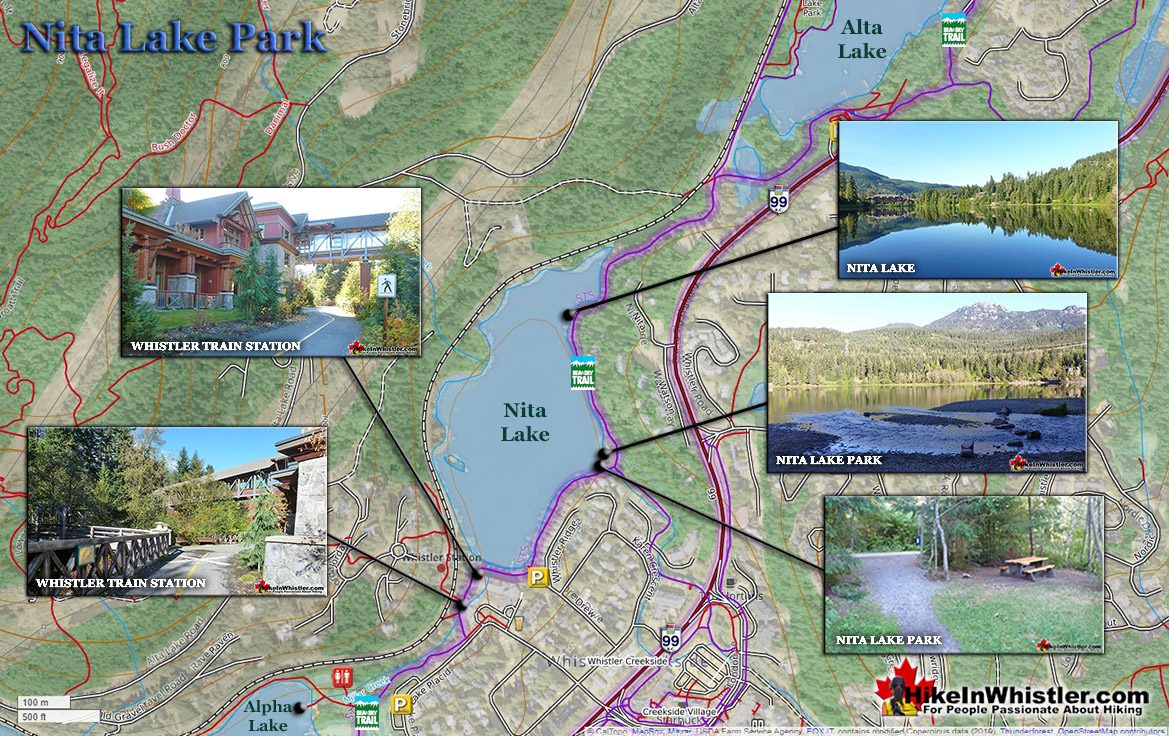 There are a few parking options for Nita Lake Park and all of them are pretty good.  The dead end of Drew Drive has a room to park just steps from the lake.  This is the best place if you have a canoe or paddleboard to drop in the lake.  There is the main above ground and underground parking area in Creekside near the base of Whistler that is convenient and free to use and just a short, 5 minute walk to the lake.  Keep in mind that some sections have a two hour time limit on parking.  You can also park at the beautiful Nita Lake Lodge parking lot, however you should be staying or eating at the hotel to do that, which of course is a great idea.  Just a 5 minute walk from the Nita Lake Lodge is Alpha Lake, where you will find lots of room for parking and Nita Lake Park is just a 10 minute stroll along the beautiful Valley Trail.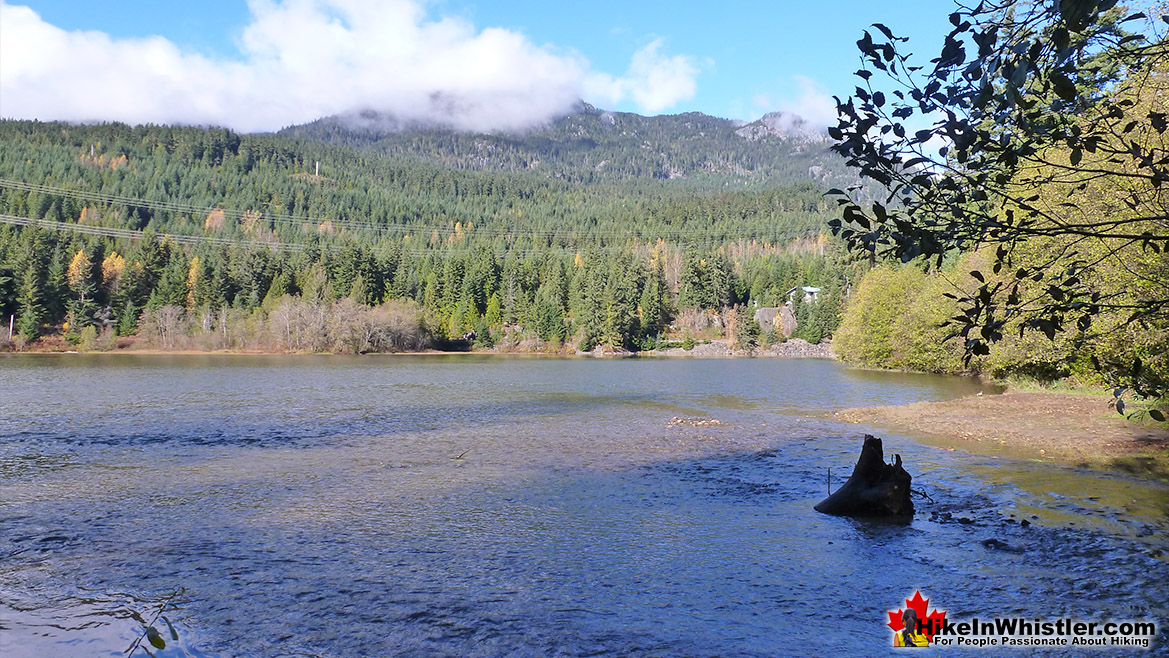 Nita Lake Park is dog friendly, especially as it sits on the beautiful, huge and very dog friendly Valley Trail system.  Other Whistler parks such as Rainbow and Alpha Lake, that have specific areas within them that are dog friendly.  At Blueberry Park the whole place is a dog paradise.  Dogs are not welcome in many of the nearby hiking trails such as the Rainbow Lake trail as well as all of the Garibaldi Provincial Park trails, so finding a hiking trail in Whistler to go with your dog can be annoyingly restrictive.  Some good dog friendly trails in Whistler to try are the Sea to Sky Trail, Whistler Train Wreck, Nairn Falls Provincial Park, and Ancient Cedars.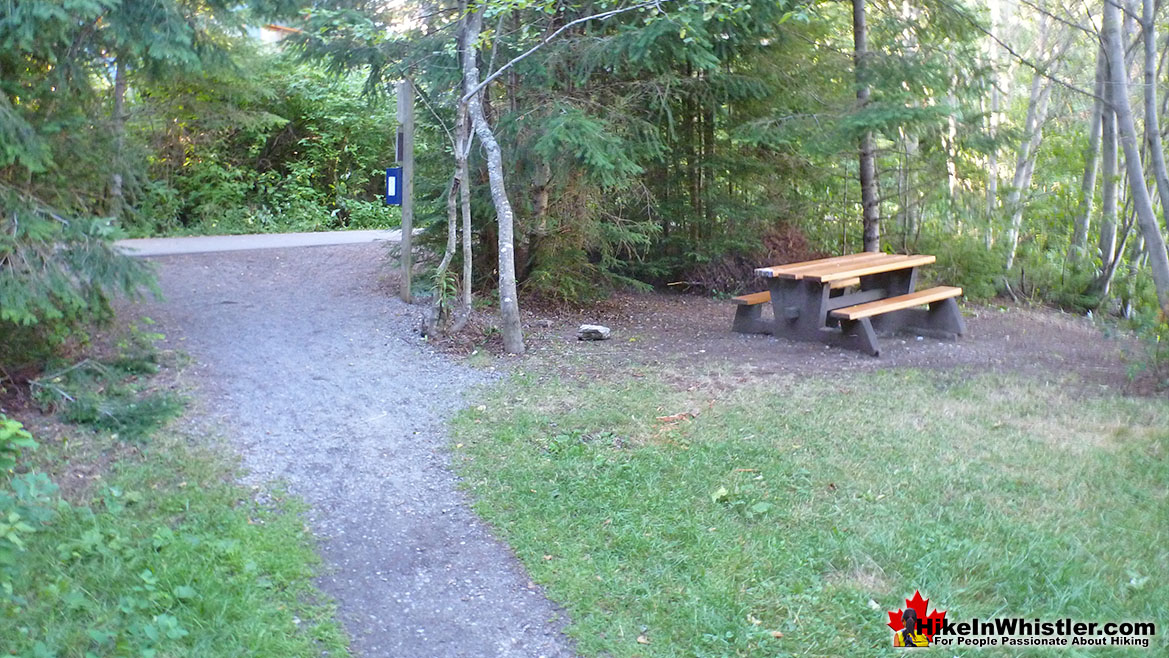 There are no toilet facilities at Nita Lake Park, however, there are excellent toilet facilities at nearby Alpha Lake Park.  Proper toilets and sinks located at the main beach area next to the kids play park.  These are open during daylight hours.  If they are closed, you will find washrooms just a short 5 minute walk away from Alpha Lake, along the Valley Trail at the beautiful Nita Lake Lodge.  It has an amazing restaurant with views of Nita Lake as well as a fantastic lounge area with excellent food that is surprisingly reasonably priced considering the upscale atmosphere and views.  There is also a great little take-away sandwich shop near the entrance to the hotel with a great selection of sandwiches.  The Nita Lake Lodge is adjacent to Whistler's train station which has convenient restrooms as well.  If you are on the Valley Trail you will see the train station between Alpha Lake and Nita Lake.  It is hard to miss as there is an enclosed pedestrian overpass, over the Valley Trail.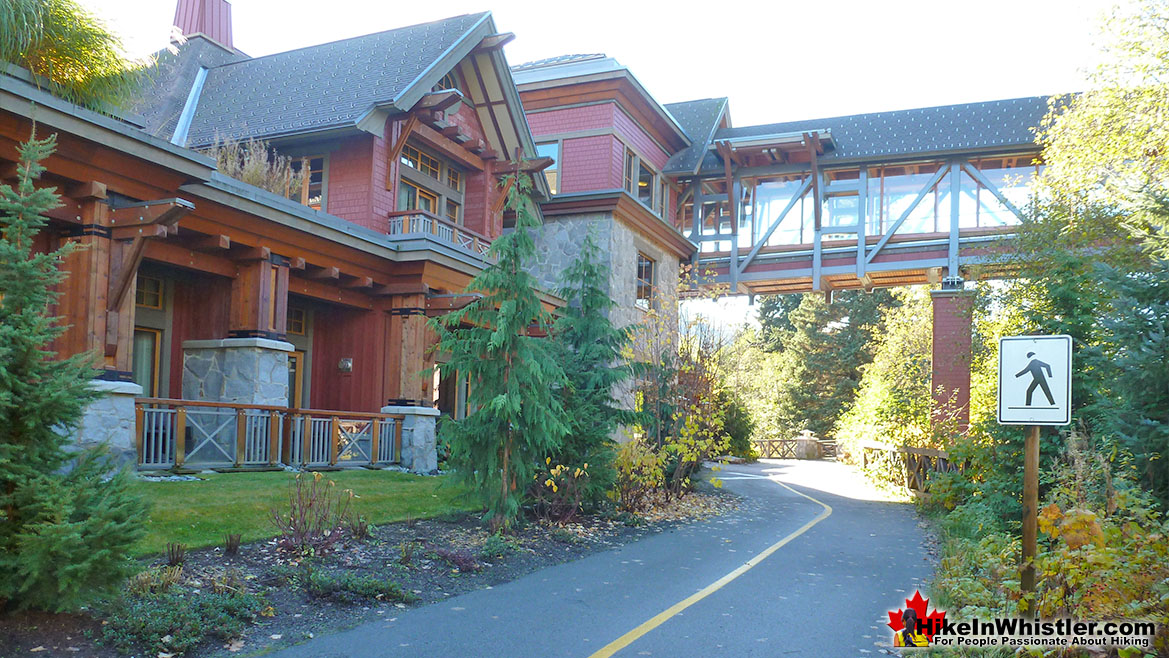 Nita Lake Park is very small and not for camping.  If you want a place to put up your tent you have to look a little beyond Creekside.  Whistler Train Wreck is a great place to try, just four kilometres south of Creekside.  Green River has some amazing spots for a tent near the turnoff to Wedgemount Lake 8 kilometres north of Creekside.  Parkhurst Ghost Town is amazing for camping, located on the far side of Green Lake not far from the Sea to Sky Trail.  These are free places to camp so don't expect visible camping facilities or signs.  Hotels, B&B's and hostels are of course plentiful in Whistler.  Nita Lake Park is located in Creekside, four kilometres south of Whistler Village.  The Nita Lake Lodge is a beautiful hotel that sits at one end of the lake and a great, though expensive place to stay.  Legends Hotel is a short, five minute walk away at the base of Whistler Mountain.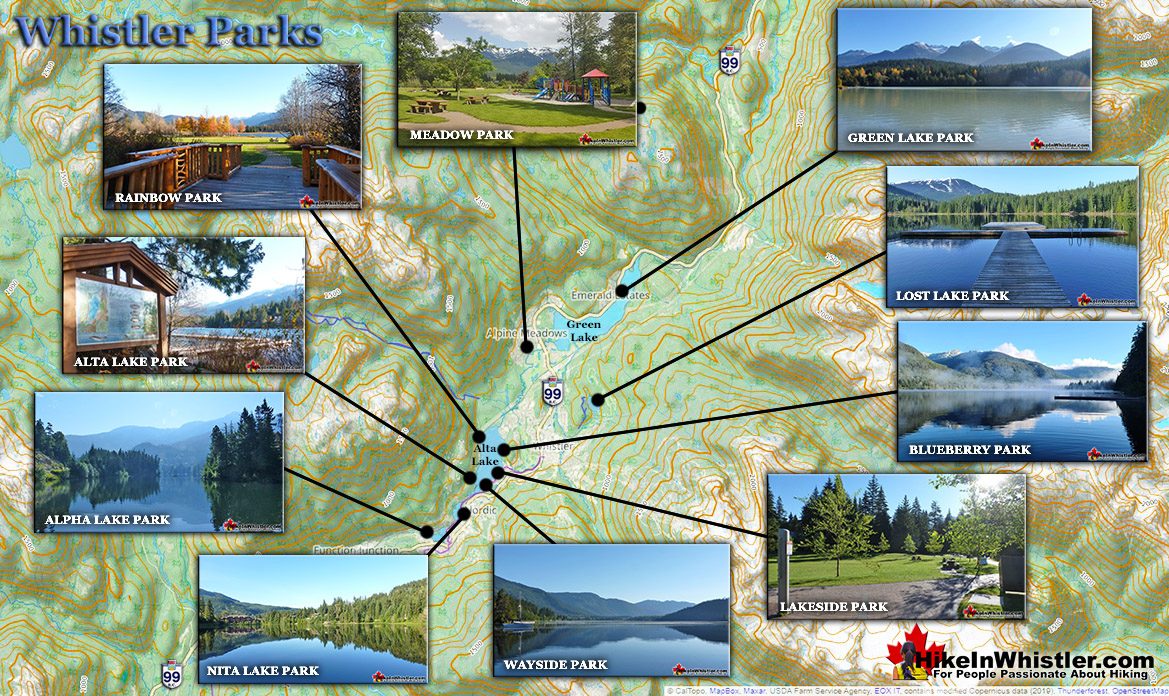 Whistler Parks & Beaches!
Whistler's Best Hiking Trails!
Whistler & Garibaldi Park Best Hiking by Month!

Explore BC Hiking Destinations!