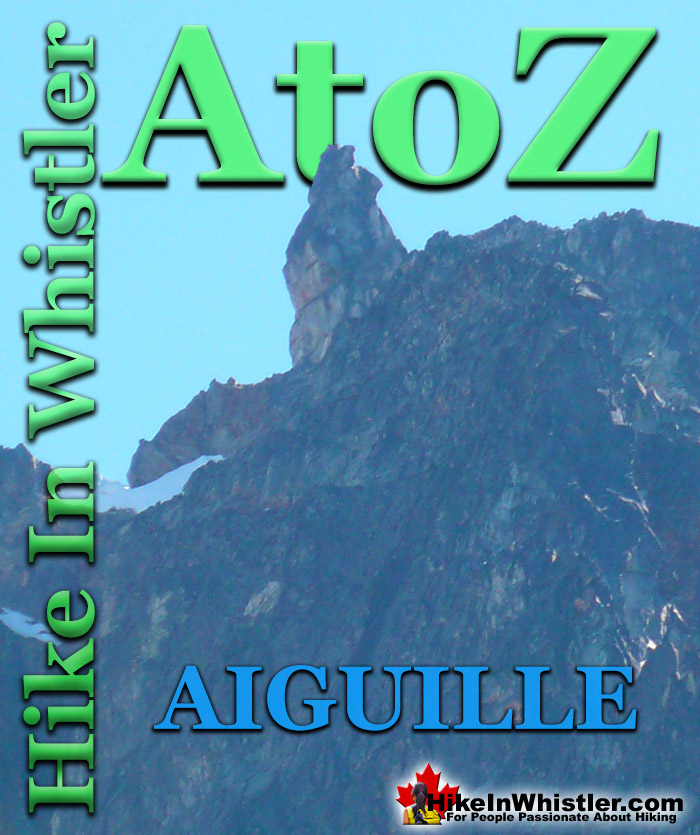 Aiguille: a tall, narrow, characteristically distinct spire of rock. From the French word for "needle". Used extensively as part of the names for many peaks in the French Alps.  Around Whistler and in Garibaldi Park you will find several distinct aiguilles.  Shown here is the prominent aiguille that stands like a tower at the summit of Rethel Mountain above Wedgemount Lake.  Standing near the hut at Wedgemount Lake, Rethel is the towering mountain directly across the lake.
Whistler & Garibaldi Hiking

Alexander Falls  

Ancient Cedars  

Black Tusk  

Blackcomb Mountain  

Brandywine Falls  

Brandywine Meadows  

Brew Lake  

Callaghan Lake  

Cheakamus Lake  

Cheakamus River  

Cirque Lake 

Flank Trail 

Garibaldi Lake 

Garibaldi Park 

Helm Creek  

Jane Lakes 

Joffre Lakes  

Keyhole Hot Springs  

Logger's Lake  

Madeley Lake  

Meager Hot Springs 

Nairn Falls  

Newt Lake 

Panorama Ridge 

Parkhurst Ghost Town 

Rainbow Falls  

Rainbow Lake 

Ring Lake  

Russet Lake  

Sea to Sky Trail 

Skookumchuck Hot Springs  

Sloquet Hot Springs 

Sproatt East 

Sproatt West  

Taylor Meadows  

Train Wreck  

Wedgemount Lake  

Whistler Mountain

January 

February 

March 

April 

May 

June 

July 

August 

September 

October 

November 

December
If you are looking at Wedge Mountain from Whistler Village, Rethel Mountain is the second mountain to the left of Wedge.  In order they are Wedge Mountain, Parkhurst Mountain and Rethel Mountain.  Parkhurst Mountain stretches down the valley to Parkhurst Ghost Town at the shore of Green Lake.  Across Wedgemount Lake and still visible from Whistler are Mount Weart, Armchair Glacier and Cook Mountain.  If you are new to Whistler and are unfamiliar with Wedge Mountain, it is the strikingly wedge-shaped mountain that dominates the skyline from many places in Whistler.  The highest mountain in Garibaldi Provincial Park and easily spotted next to Blackcomb Mountain, which in turn is next to Whistler Mountain.  Shown here is Wedge Mountain and Blackcomb Mountain as seen from Rainbow Lake across the valley.  The first glimpse of Wedge Mountain, for most, is from the highway as they drive into Whistler.  At Function Junction 8 kilometres south of Whistler Village you catch your first beautiful view of this towering mountain.  The Sea to Sky Highway lines up with Wedge Mountain a few times as you drive through Whistler and north of Whistler Village you see it almost constantly on your right as you pass Green Lake and continue north toward Pemberton.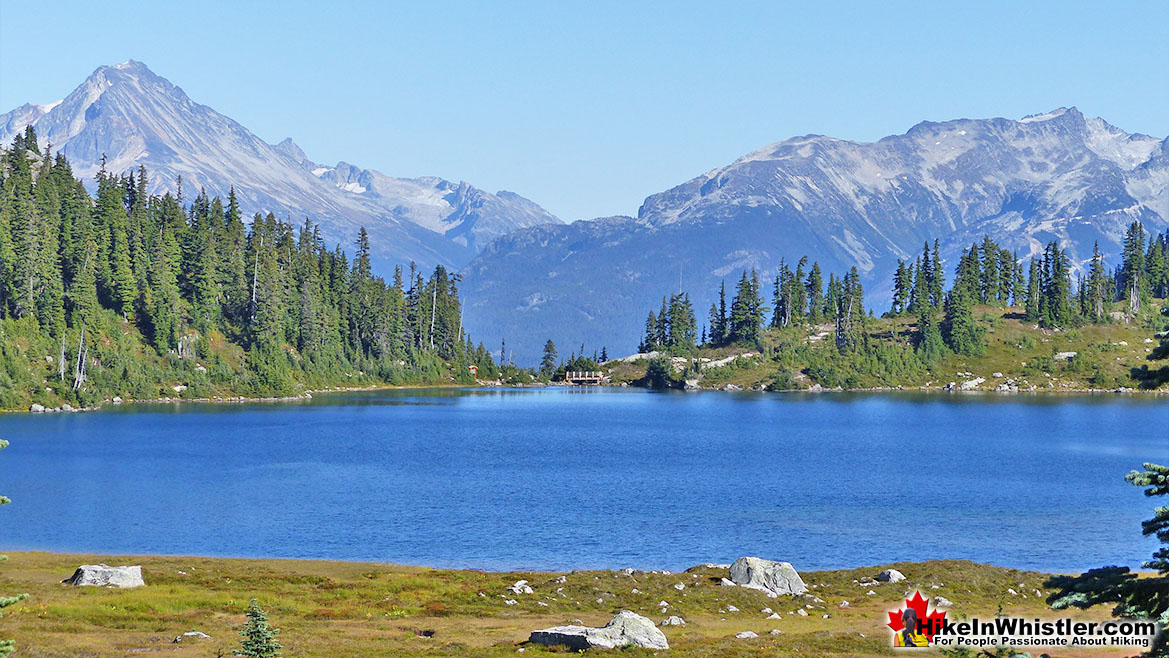 Rethel Mountain Aiguille from Wedgemount Lake
From the shore of Wedgemount Lake the aiguille on Rethel Mountain is easily visible and quite distinct.  Rethel Mountain and its neighbour to the left, Parkhurst are strikingly beautiful mountains to see and even hear.  While camping at the shore of Wedgemount Lake, you will be startled occasionally to hear quite large boulders tumbling down these mountains and into the lake.  It happens fairly regularly and you never quite get used to the unnerving sound of falling rocks.  It tends to add to the interesting and hostile beauty of this wonderful place.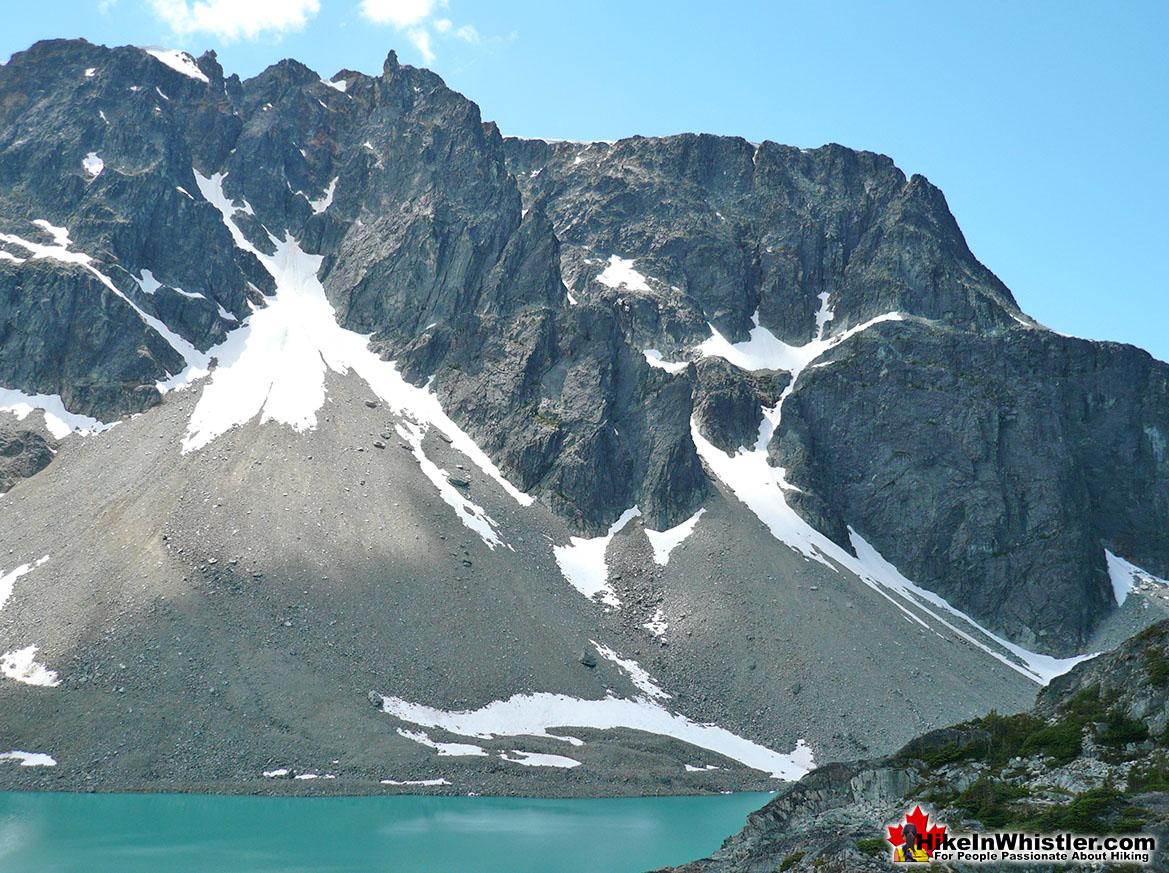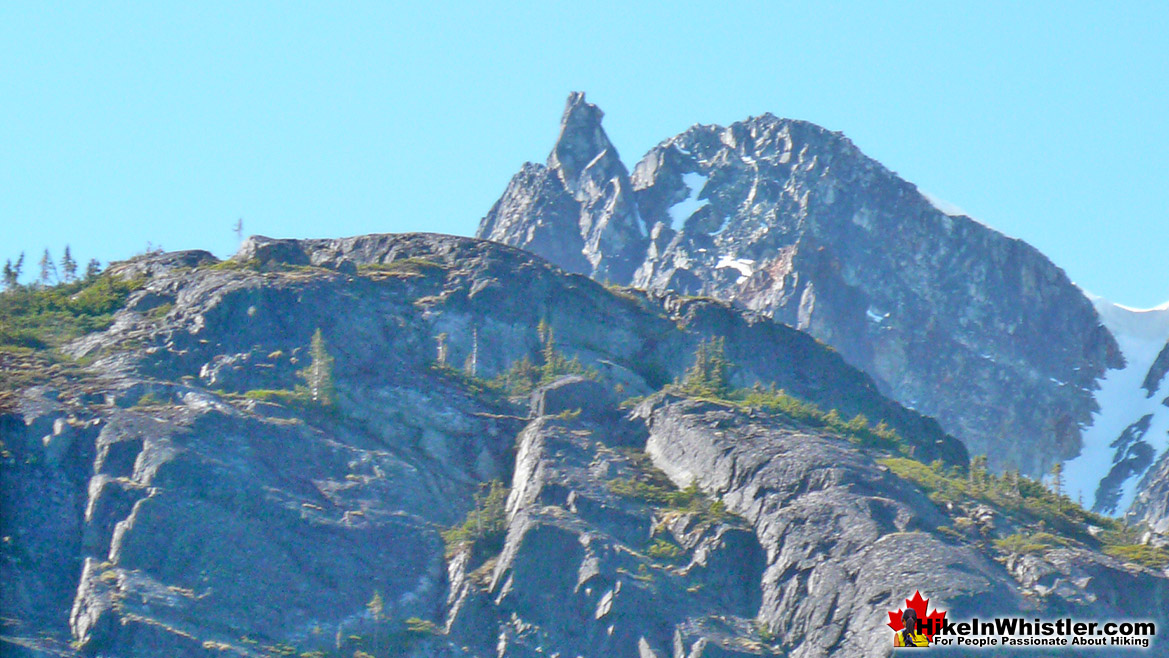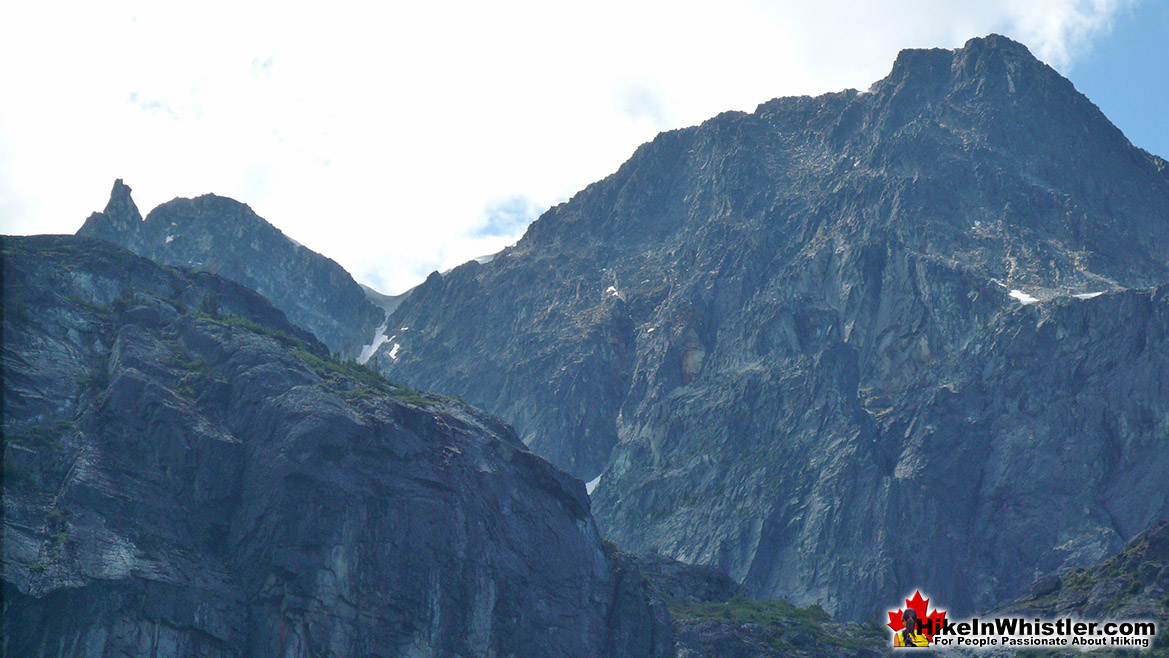 Wedgemount Lake Maps
Below is a map showing Wedgemount Lake from several vantage points.  The upper tent pad view looking across to Wedgemount Glacier, an iceberg in July, the beautiful glacier window, the amazing view from the lower tent pads along Wedgemount Lake.  The map also shows the various routes up Wedgemount Glacier to Wedge Mountain.  These routes are potentially very dangerous and glacier travel is always unpredictable and hazardous, so make sure you know what you are doing before venturing beyond the glacier window.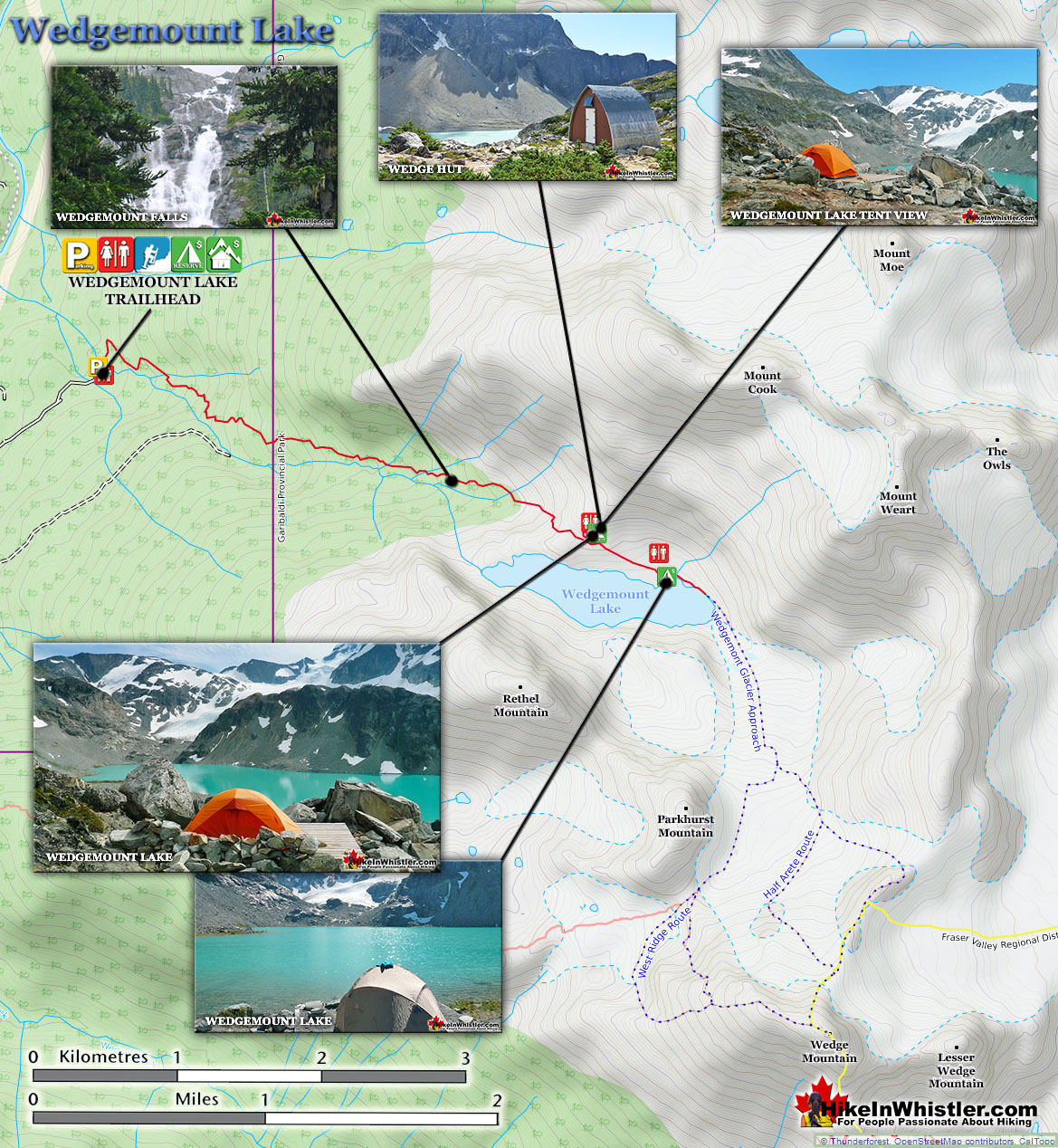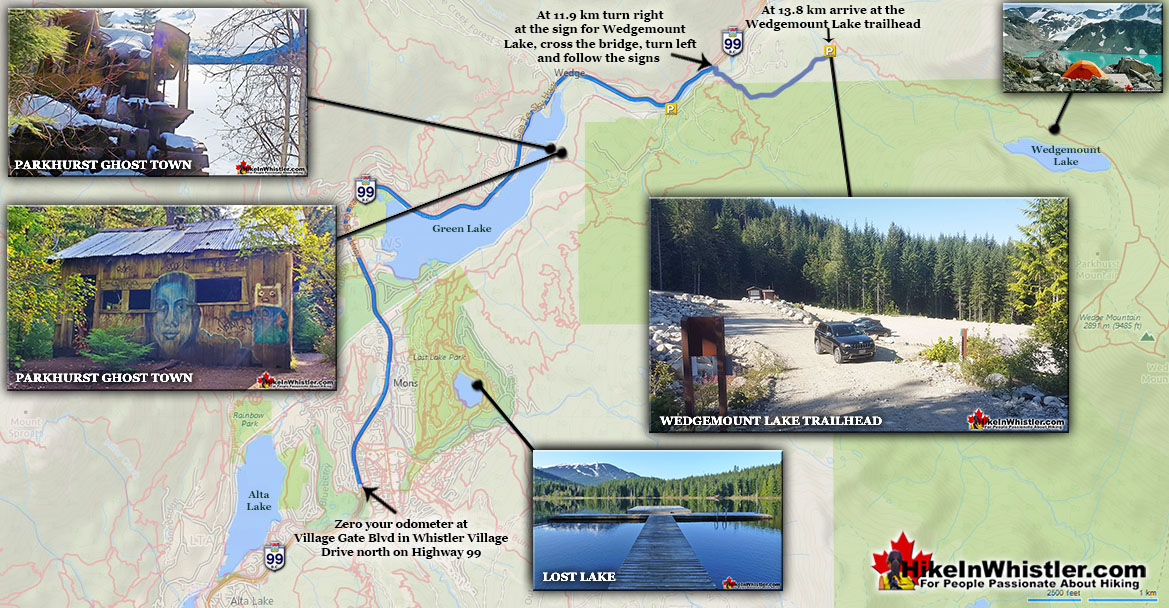 Levette Lake View of a Tantalus Range Aiguille
Another good place to see an aiguille is at Levette Lake, south of Whistler, near Squamish.  Looking across the lake you get a great view of the Tantalus Range and this marvellous aiguille shown here.  Levette Lake is a hidden little lake found just a short drive up Squamish Valley Road.  Details, maps and directions can be found at HikeInSquamish.com.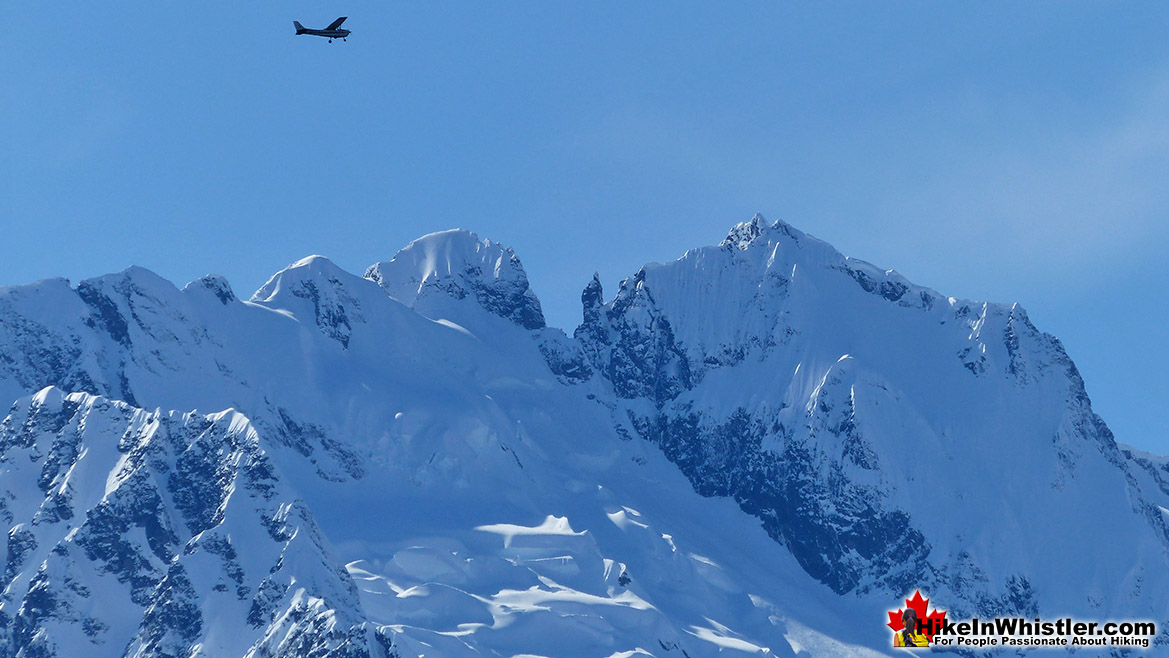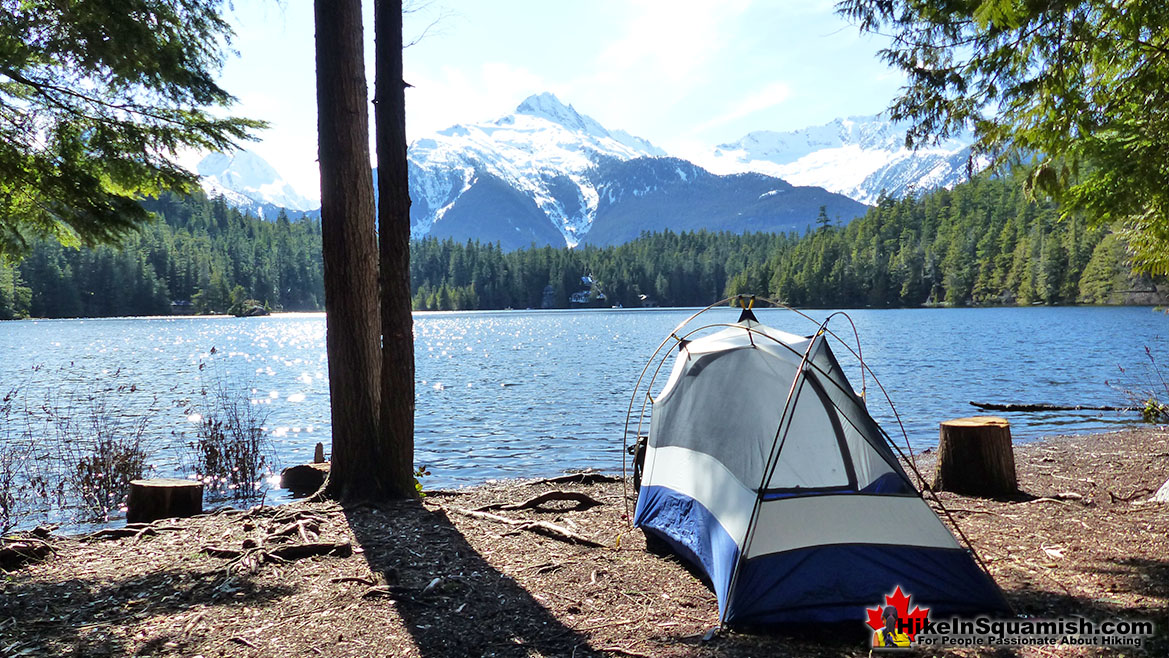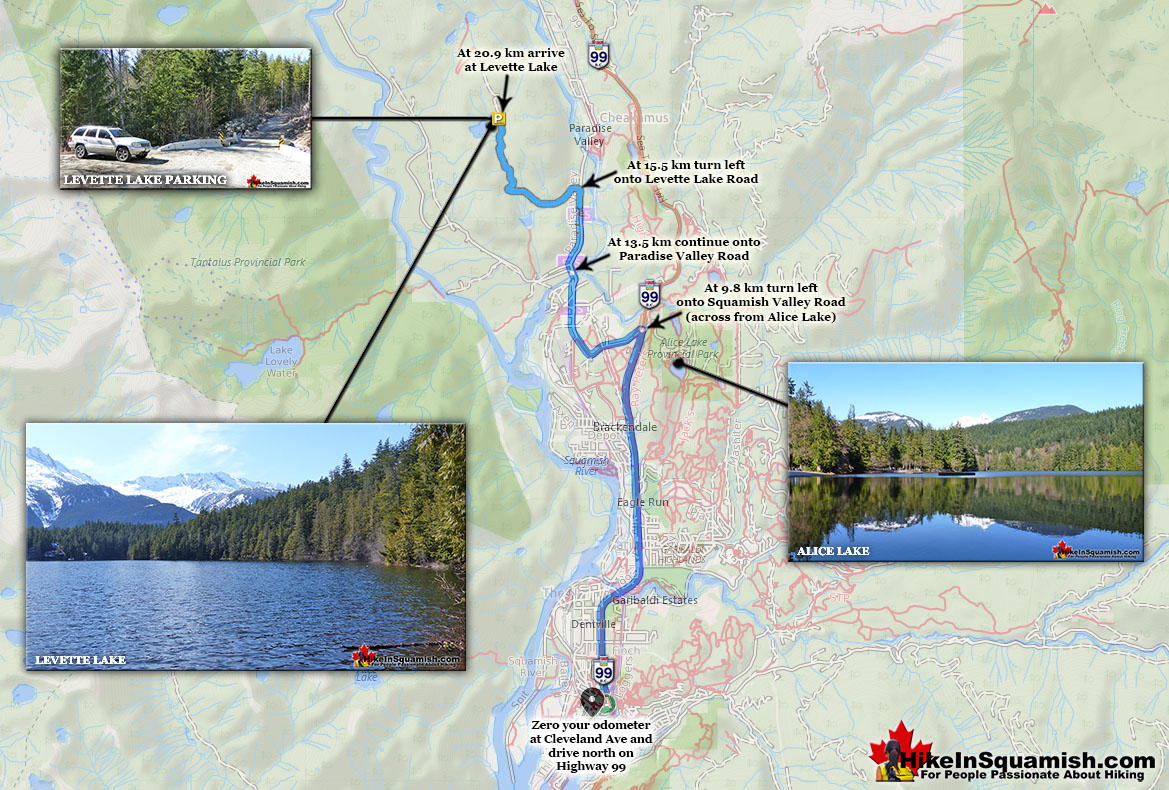 More Whistler & Garibaldi Park Hiking A to Z!

The Best Whistler & Garibaldi Park Hiking Trails!
Whistler & Garibaldi Park Best Hiking by Month!

Explore BC Hiking Destinations!