The three Joffre Lakes are some of the most stunning lakes you are likely to ever see. Each lake gets progressively more beautiful and impossibly turquoise from one to the next.  By the third lake the intense colour is breathtaking. The mighty Matier Glacier rises above and beyond the third lake, making the experience even more spectacular with such a looming presence.  
Very scenic drive to get there
Less challenging than most other trails
Amazing lakes to marvel at their colour
The campsite is in a very natural setting
Free of snow & hikeable as early as April
Alpine terrain extends in many directions
One tent site is on an island!
Stunning glacier looms above the campsite
No longer dog friendly as of summer 2018

Overcrowded much of the summer
The Joffre Lakes trail is rough and tricky in some parts, but not terribly difficult. It is also short compared to Whistler area trails at just 5.5 kilometres(one way).  Hiking at a moderate pace, give yourself 1.5 - 2 hours to get to the third lake and campsites. Lots of trail construction work has been done in the past few years as a new trail has replaced much of the old trail. The old boulder section between the lower and middle lakes has now been covered with a new dirt trail.  Joffre Lakes Provincial Park is centred around the three Joffre Lakes. All of them are beautiful on their own and each more beautiful than the last. The amazing turquoise colours of the lakes are caused by light reflecting off of the particles of glacial silt suspended in the water. On the trail you will immediately catch glimpses of the massive glaciers that feed these gorgeous lakes.  In the winter, with the lakes frozen and the trees weighed down with snow, Joffre Lakes takes on a serene beauty, with the low sun cutting through the trees and the forest brightly reflecting.  Upper Joffre Lake ends in a U-shaped valley where you will find the far side of the lake towering with glaciers relentlessly crushing down on the lake.  The sun fills the valley and the silence is wonderful.  At Upper Joffre Lake there are several nice, though rugged places to camp. In a hilly, lightly forested section of paradise in between the impossibly turquoise Upper Joffre Lake and the abruptly monstrous Matier Glacier descending from Mount Matier beyond. A waterfall cascades near the camping area. The campsite has one nice and well maintained outhouse.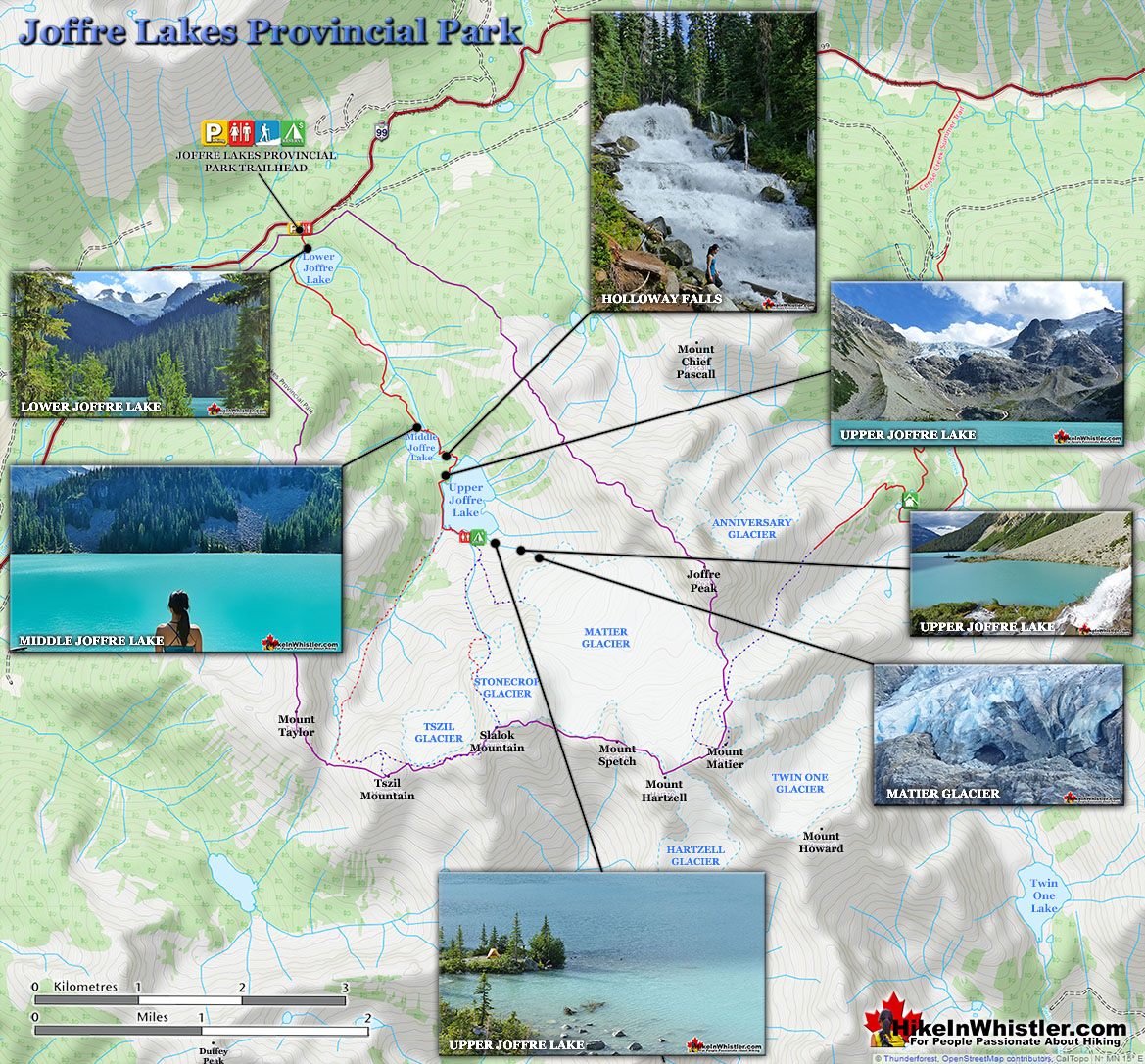 You will notice several clearings for tents in the gravel and boulder strewn landscape. Each one barely enough room for a tent, but the ruggedness adds to the beauty of Joffre Lakes. The park is wonderfully untouched by people. With the exception of the trail, some signs, outhouse and bridges, Joffre Lakes Provincial Park is beautifully wild and picturesque. There is also a prominent helicopter pad close by as a reminder of how many injuries occur on the trail and the accessible mountains and glaciers around. There are in fact four distinct glaciers close by, Matier, Anniversary, Stonecrop and Tszil. Beyond Mount Matier there are two more, Twin One and Hartzell.
The Joffre Lakes trail is surprisingly busy most of the summer, which is a testament to how extraordinarily beautiful the lakes are, and how relatively easy the hike is. Unlike Wedgemount Lake, Black Tusk or Cirque Lake, which are to difficult for many hikers, Joffre Lakes is comparatively easy and certainly relaxing. Many hikes in the nearby Garibaldi Park are not family friendly and easy, but Joffre Lakes is.  Certainly the scenic drive to the trailhead from Whistler is part of the fun.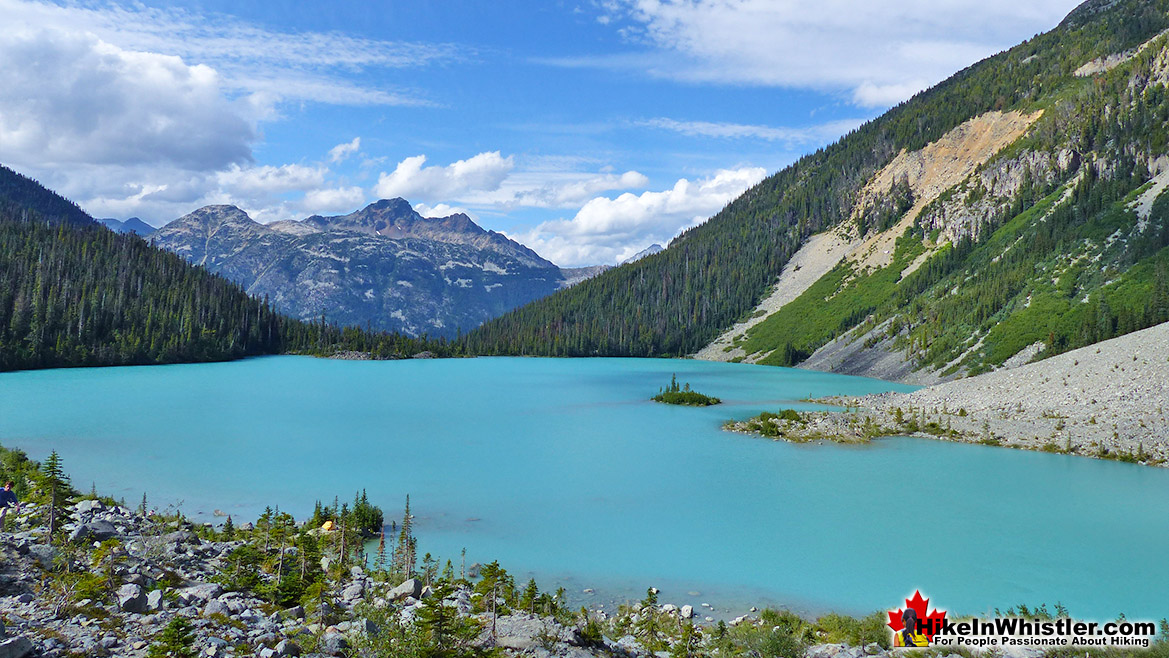 In terms of difficulty, Joffre Lakes is easier than most other Whistler and Garibaldi Park hiking trails.  Wedgemount Lake, Black Tusk, Panorama Ridge, Brew Lake and Brandywine Meadows are all considerably more strenuous, steeper and longer trails.  Like the trails in Garibaldi Park and Whistler, the Joffre Lakes trail is very well marked and easy to follow.  Expect to take two or three hours to hike up and one or two hours to hike back down.  The beautiful lake views and the foot of Matier Glacier will add an hour or two of exploring.  There are a couple very challenging hiking routes that veer off from Upper Joffre Lake that take you further up in the mountains.  There is a difficult route to Tszil Mountain and Tszil Glacier as well as a route to Stonecrop Glacier.  These two connect at Slalok Mountain via the Slalok Scramble Route.  These are tough and challenging places to hike with considerably more hazards to contend with than the relatively mild Joffre Lakes trail.  Because these two routes connect at the top, you can start and finish at Upper Joffre Lake and never have to retrace your route.  A beautiful option if you are experienced, well equipped and adventurous.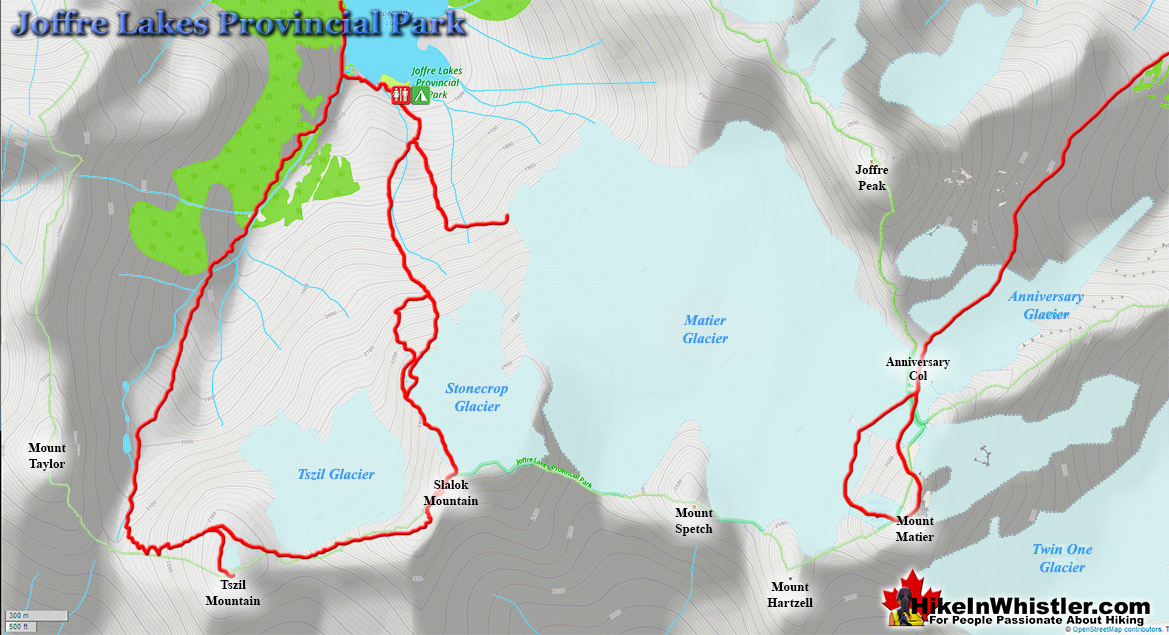 More hiking info for Joffre Lakes...
Madeley Lake
, misnamed "Powell Lake" on some maps, is a well hidden, though easily drivable lake in beautiful 
Callaghan Valley
. Unlike the terrible gravel road(4x4 ...
Read more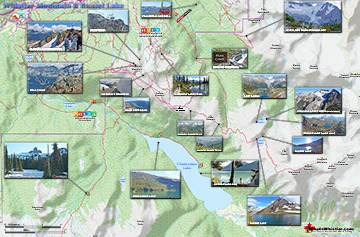 Russet Lake
is a surreal little paradise that lays at the base of
The Fissile
.
The Fissile
is the strikingly bronze mountain visible from Whistler Village.  From the Village ...
Read more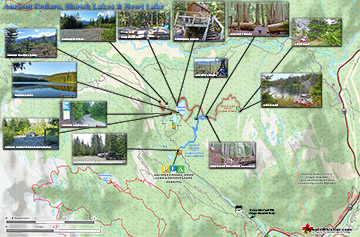 Ancient Cedars
is a nice, easy/moderate 2.6 kilometre(1.6 mile) hiking trail on the far side of Cougar Mountain, just 13.1 kilometres north of Whistler Village. A small, ...
Read more
Two Fantastic Books About British Columbia!


Here are two excellent books on hiking and geology of British Columbia.  Matt Gunn's Scrambles in Southwest British Columbia includes the various routes to the summit of Wedge Mountain as well as summit routes to the neighbouring peaks, Weart, Cook, Parkhurst and Rethel.  Mount Weart is the second highest mountain in Garibaldi Park and is located just north of Wedge Mountain, separated by the Wedge-Weart Col.  Published in 2005, Scrambles in Southwest British Columbia is still the best guide in print or online.  Geology of British Columbia: A Journey Through Time by Sydney Cannings, JoAnne Nelson and Richard Cannings is a beautiful history of BC's geology and the 200 million year history of creatures living in this extraordinary corner of the world.  The authors take us on a journey through time, describing the collisions of island chains called terrains, the sliding of plates, the erupting of volcanoes, and the movement of glaciers that created British Columbia as we know it today.  They also describe the rich legacy of fossils left behind as a result of all this geological activity.
**We participate in the Amazon Services LLC Associates Program and earn a small commission on purchases we link through to Amazon at no extra cost to you.  We only link to books and products we love and highly recommend.  Thanks for your support!**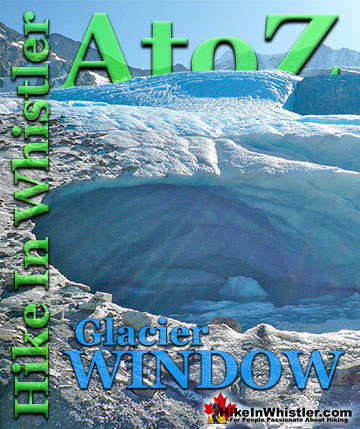 Glacier Window: the cave-like opening at the mouth of a glacier where meltwater runs out.  Glacier windows are often extraordinarily beautiful.  A blue glow ...
Read more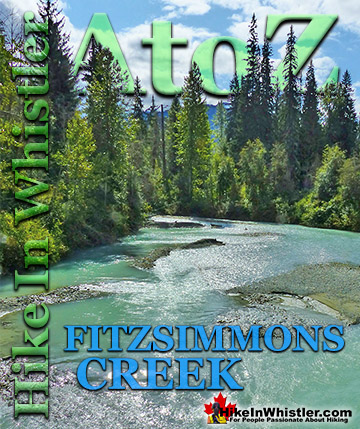 Fitzsimmons Creek is the beautiful and huge creek that crashes through Whistler Village.  When walking from Whistler Village to the Upper Village, you will cross ...
Read more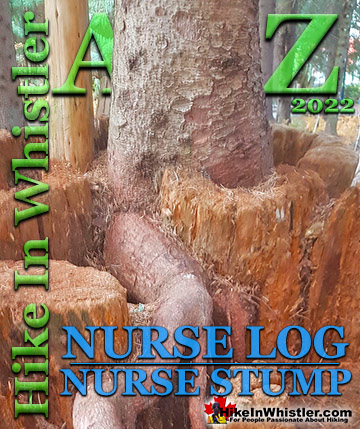 Surprisingly often in Whistler's forests you will find a tree growing on an old fallen tree or out of a decaying tree stump. Decaying logs and stumps in ...
Read more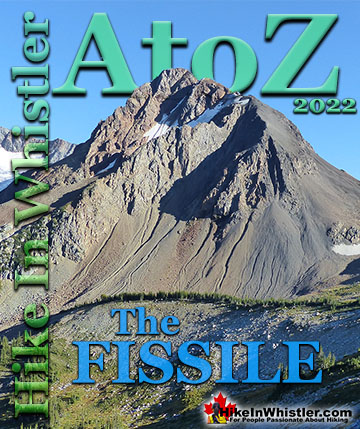 The Fissile is the stunning Matterhorn-looking mountain that is visible from Village Gate Boulevard in Whistler.  Looking up from Village Gate you will see ...
Read more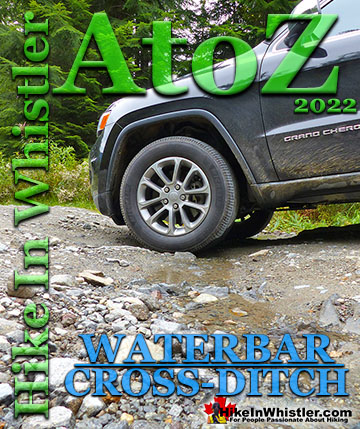 Waterbar and Cross-Ditch: the purpose of a waterbar or cross-ditch is to capture and redirect surface water from the road and channel it across the road ...
Read more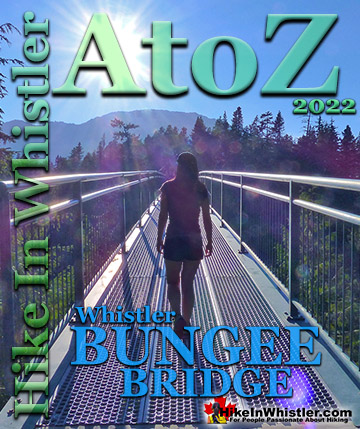 Whistler Bungee Bridge, also known as the Cheakamus Bungee Bridge is a very convenient and beautiful attraction on the way to or from Whistler from ...
Read more
Whistler & Garibaldi Hiking

Alexander Falls  

Ancient Cedars  

Black Tusk  

Blackcomb Mountain  

Brandywine Falls  

Brandywine Meadows  

Brew Lake  

Callaghan Lake  

Cheakamus Lake  

Cheakamus River  

Cirque Lake 

Flank Trail 

Garibaldi Lake 

Garibaldi Park 

Helm Creek  

Jane Lakes 

Joffre Lakes  

Keyhole Hot Springs  

Logger's Lake  

Madeley Lake  

Meager Hot Springs 

Nairn Falls  

Newt Lake 

Panorama Ridge 

Parkhurst Ghost Town 

Rainbow Falls  

Rainbow Lake 

Ring Lake  

Russet Lake  

Sea to Sky Trail 

Skookumchuck Hot Springs  

Sloquet Hot Springs 

Sproatt East 

Sproatt West  

Taylor Meadows  

Train Wreck  

Wedgemount Lake  

Whistler Mountain

January 

February 

March 

April 

May 

June 

July 

August 

September 

October 

November 

December