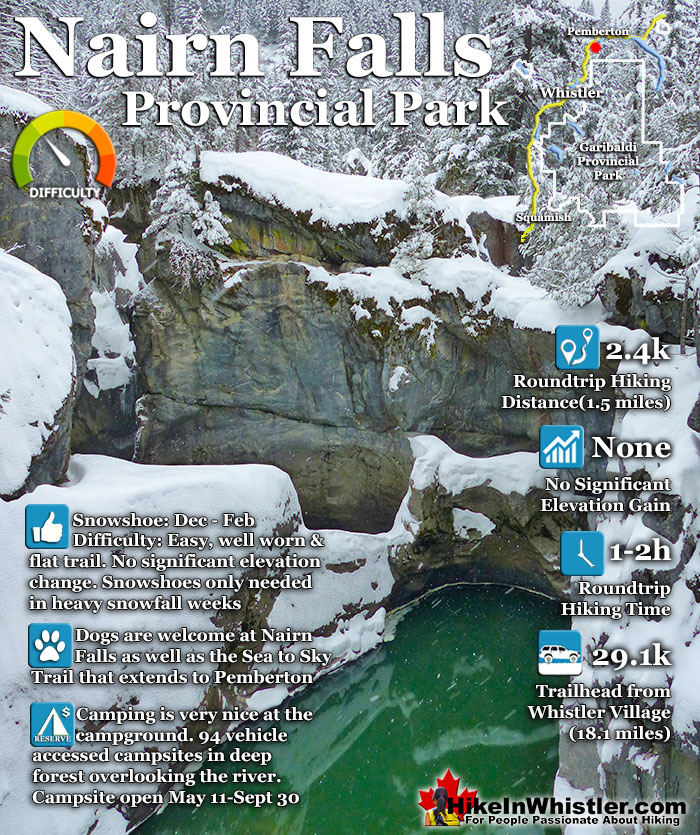 Nairn Falls Provincial Park is located just a twenty minute drive north of Whistler Village.  There is a nice, relaxing 1.2 kilometre hiking/snowshoeing trail that runs along Green River to a gorgeous viewing area in the midst of Nairn Falls.  The popular trail is actually hike-able year-round, so you most likely will not need your snowshoes unless there has been lots of new snow in the last couple days.  The trail is well marked and doesn't gain any significant elevation, making it a very easy, kid friendly trail. 
Trail to the falls is scenic & flat

Nice info murals explaining geology of the falls

Accessible year-round, even during snowy days
Campground is serene(closed) in winter

Easy, family friendly hiking trail

Very dog friendly trails

Sea to Sky Trail runs through the park

Not too much to see except the falls

No bus service to the park from Whistler

A bit of a drive from Whistler
Whistler Snowshoe Trails

Blueberry Trail 

Brandywine Falls 

Cheakamus River 

Elfin Lakes 

Flank Trail 

Joffre Lakes 

Nairn Falls 

Parkhurst Ghost Town 

Rainbow Falls 

Rainbow Lake 

Rainbow Park 

Sproatt East 

Taylor Meadows 

Train Wreck 

Wedgemount Lake 

January 

February 

March 

April 

May 

June 

July 

August 

September 

October 

November 

December
The viewing area is located within a bend in the falls/river and the churning waters rushes around where you stand, far below.  The water crashes through deep cuts in the rock and rushes into deep, green pools.  There is a wonderful sign depicting how the area was formed over thousands of years.  A short side trail from the main viewing area takes you over to an abrupt edge, where you can look down on the Green River below.  Railings have been constructed as a precaution to prevent people falling off the cliffs.  Nairn Falls is one of several amazing waterfalls in the Whistler area that can be seen year-round.  Other waterfalls in the area include, Rainbow Falls near Whistler Village, Alexander Falls and Brandywine Falls, both about 30-40 minutes south of Whistler.  From the parking lot, a hiking trail also goes along the Green River in the opposite direction to Nairn Falls.  This 2 kilometre trail takes you to One Mile Lake, a cute little lake next to the highway just before Pemberton.  Most visitors to Nairn Falls Provincial Park just see Nairn Falls, however, to the left, beyond the campsites the Green River is beautiful.  A short trail takes you down to a wide bend in the river and you find yourself in what looks like a large beach.  It is a hidden bit of paradise with the crystal clear, green water flowing over polished rocks.  The whole are is in almost constant sunlight despite being in the middle of the forest.  On warm, summer days you will find people swimming, sipping beers on the rock cliffs across the river and generally having an amazing time in this usually forgotten corner of the park.  The 180 kilometre, Sea to Sky Trail that runs from Squamish, up through Whistler to well beyond Pemberton passes through Nairn Falls Provincial Park.  You will spot the Sea to Sky Trail signs at a couple spots in the park with excellent maps showing you where you are about to go.  The trails around the park have for years been gaining popularity as bike trails and you will spot Lumpy's Epic ascend quickly in the direction of Pemberton's One Mile Lake.
Nairn Falls Provincial Park on a Beautiful Winder Day!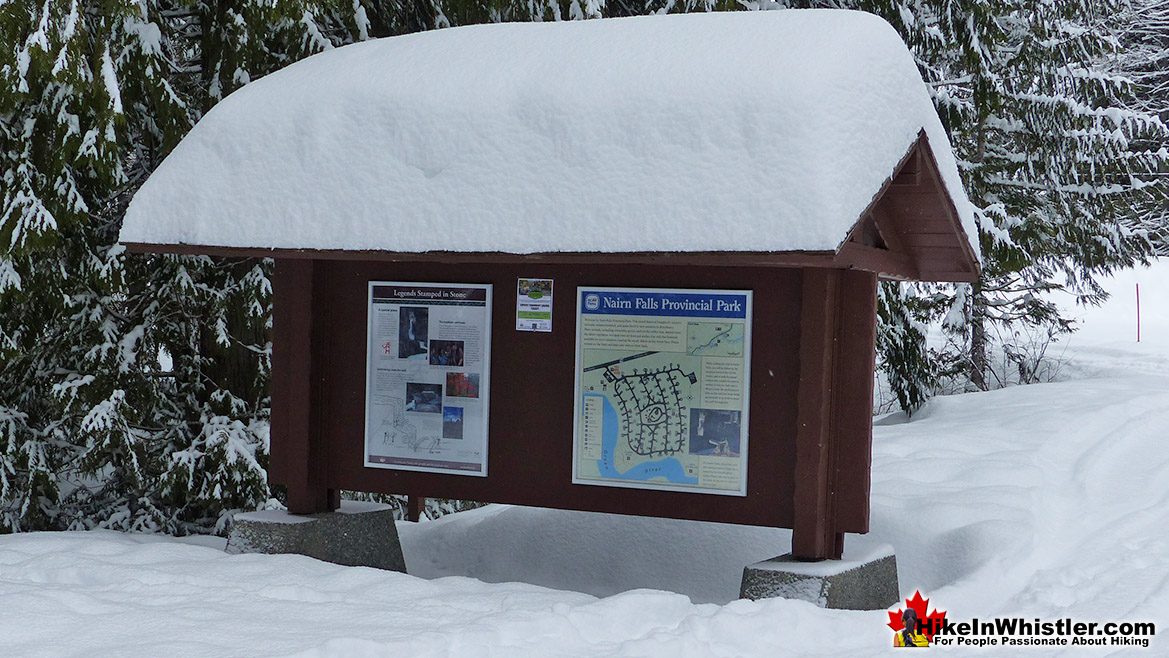 Snowshoeing the Nairn Falls Trail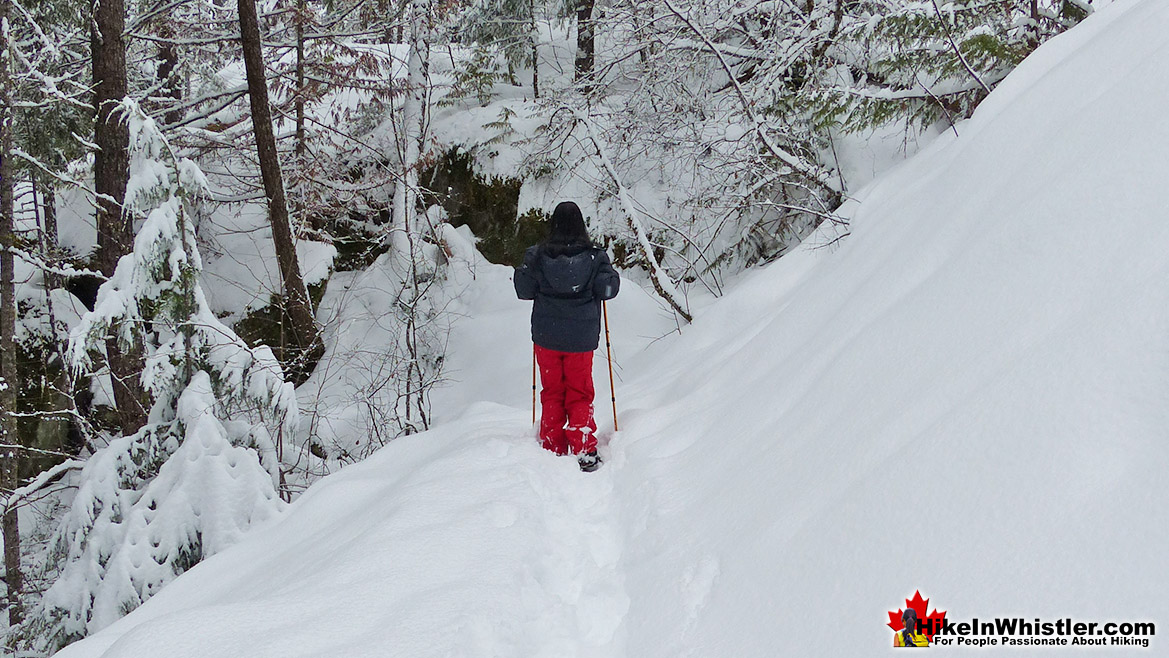 Nairn Falls Winter Wonderland!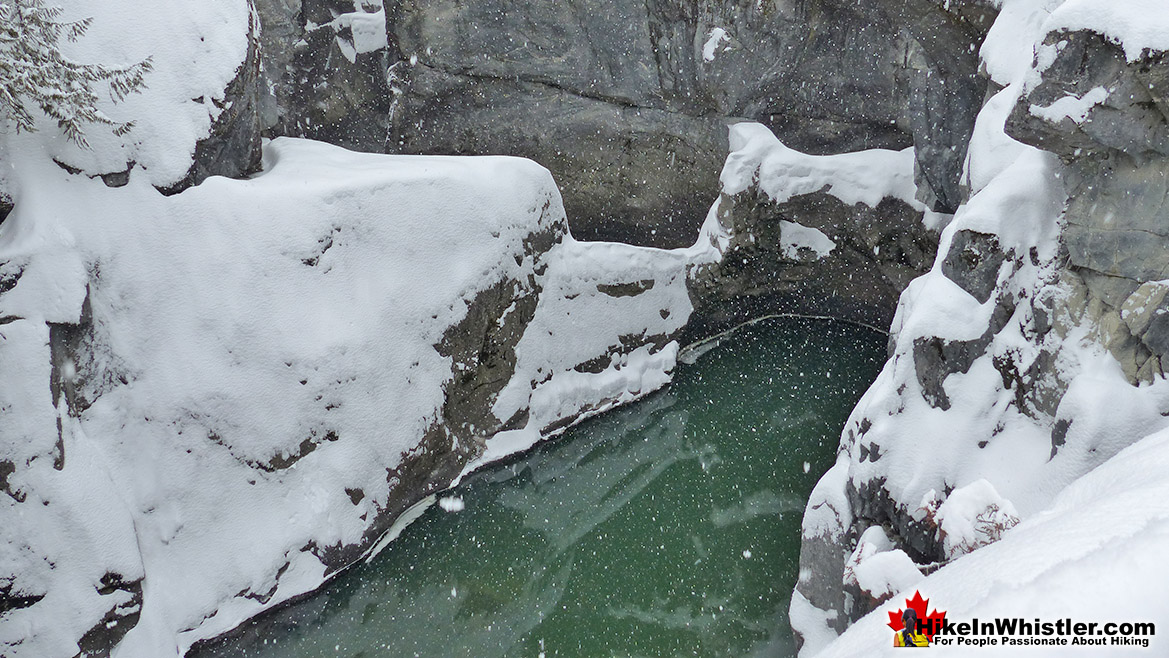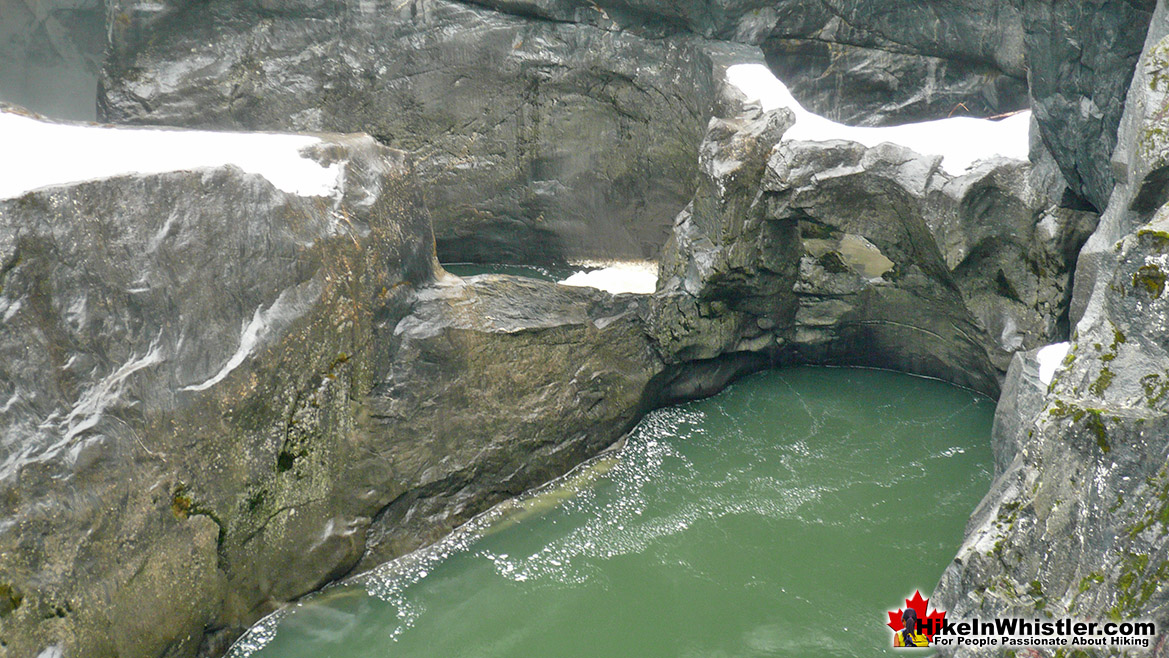 Nairn Falls Provincial Park Snowshoe Trail Map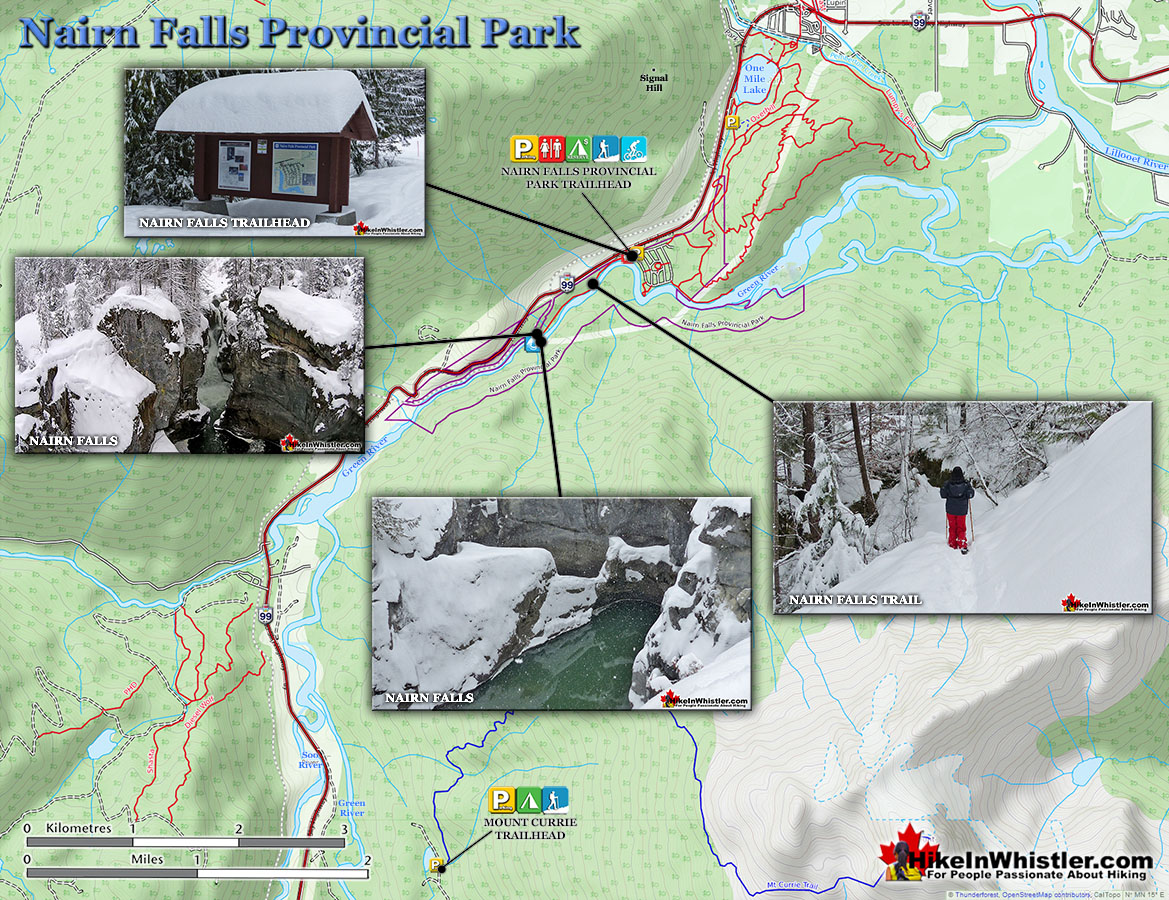 Parking & Trailhead Directions to Nairn Falls

Nairn Falls is very easy to find, just a 20-30 minute drive north of Whistler. From Whistler Village, zero your odometer at Village Gate Boulevard and head north on Highway 99(towards Pemberton), 29.1 kilometres from Whistler Village you will see the parking lot on your right and a huge Nairn Falls Provincial Park highway sign. There is a large, free parking area as you enter the park. If you drive further into the park you will find all the drive-to camping areas as well as the park warden's cabin. If you are just visiting the falls, parking at the main area just off the highway is best.  If you find the gate locked(after hours and in the winter), you can park along the edge of the highway.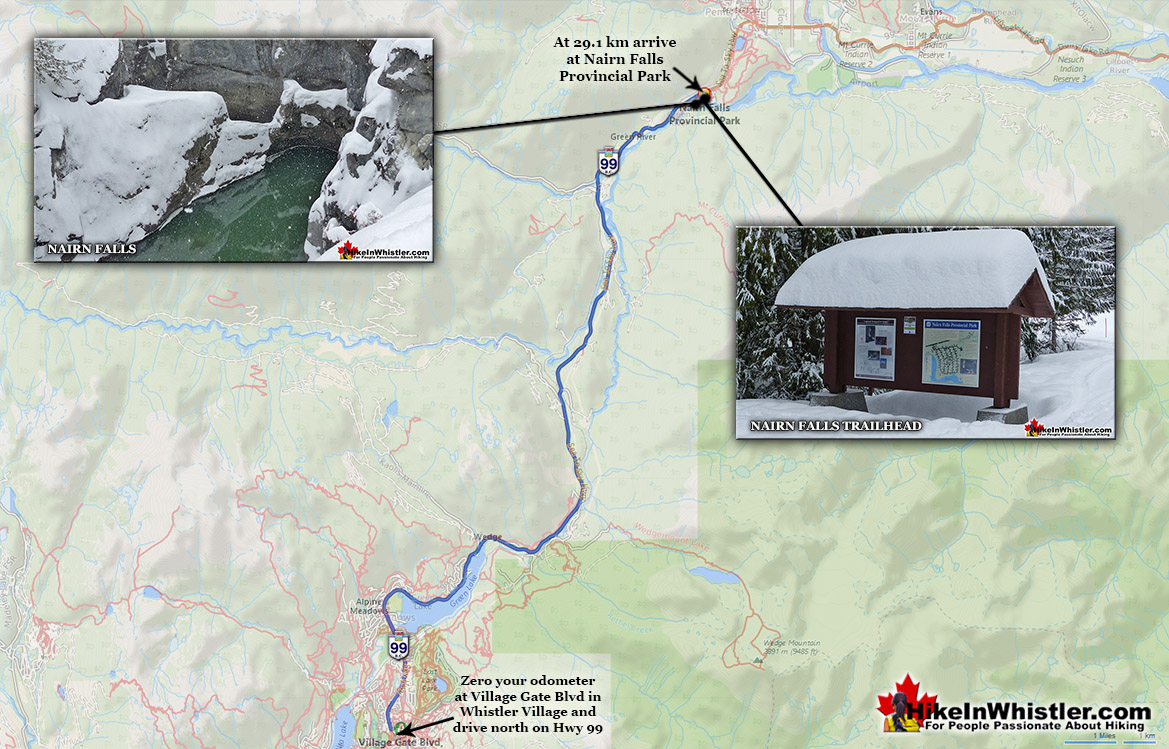 More Whistler Snowshoe Trails

There are plenty of beautiful and free snowshoe trails in Whistler and Garibaldi Provincial Park.  From the surreal paintings of Whistler Train Wreck to the magnificent mountain serenity of Wedgemount Lake in Garibaldi Park.  Trails range from extremely easy, like the short, flat trails to Brandywine Falls and Rainbow Park.  To challenging and long trails to places like Elfin Lakes, Taylor Meadows and Wedgemount Lake.  Whistler even has a growing network of snowshoe trails to Parkhurst Ghost Town on the far side of Green Lake.  There are a couple pay-use snowshoeing areas in Whistler, however most free trails are as good or better.  Whistler Train Wreck is an easy/moderate snowshoe trail that takes you through a deep forest, over Cheakamus River via a very pretty suspension bridge, and to a series of decades old, wrecked train cars.  Elfin Lakes in Garibaldi Provincial Park is another beautiful place to snowshoe.  Located at the south end of Garibaldi Park, the Elfin Lakes trailhead is found in Squamish.  The trail is not overly difficult, however it is quite long.  A consistently uphill, 11 kilometre(13.7 mile) trail through some spectacular scenery takes you to the marvellous Elfin Lakes hut.  For easier snowshoeing, Rainbow Falls is a good option.  Located just a short drive from Whistler Village, the Rainbow Trail is a beautiful trek through the forest in a winter wonderland to a hidden waterfall surrounded by deep pillows of powdery snow.  For more challenging snowshoeing, Joffre Lakes Provincial Park is hard to beat.  A long, though beautiful drive into the mountains, north of Pemberton takes you to this moderately challenging, 11 kilometre(6.8mile) roundtrip snowshoe trail.  The frequently steep, winding trail takes you through a winter paradise and around, or over three frozen lakes.  Back in Whistler, an excellent place to snowshoe is to Parkhurst Ghost Town.  Sitting on the far side of Green Lake, Parkhurst was a thriving logging community several decades ago.  It has since been abandoned except for intermittent squatter communities over the years.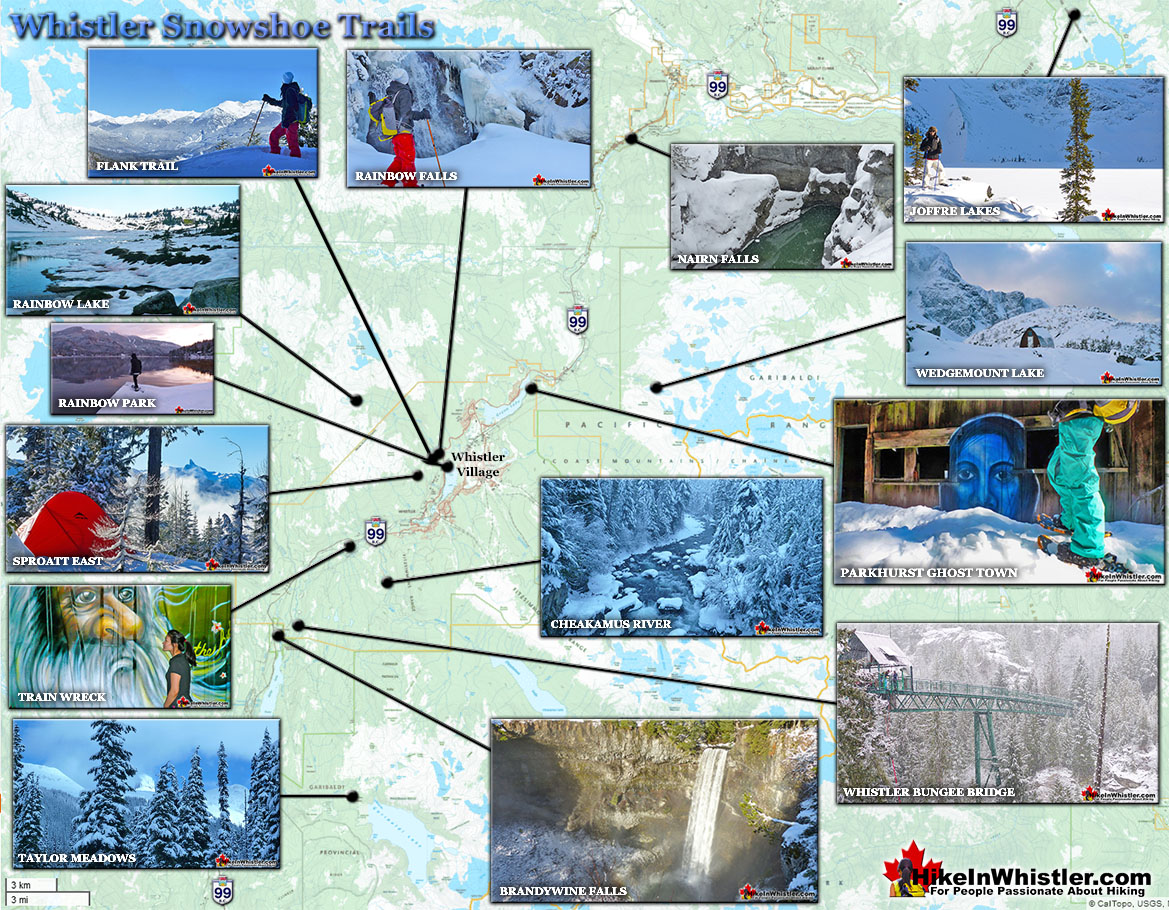 More Whistler & Garibaldi Park Snowshoe Trails!
Where to Hike in Whistler & Garibaldi Park by Month

Amazing Whistler & Garibaldi Park Hiking Trails!