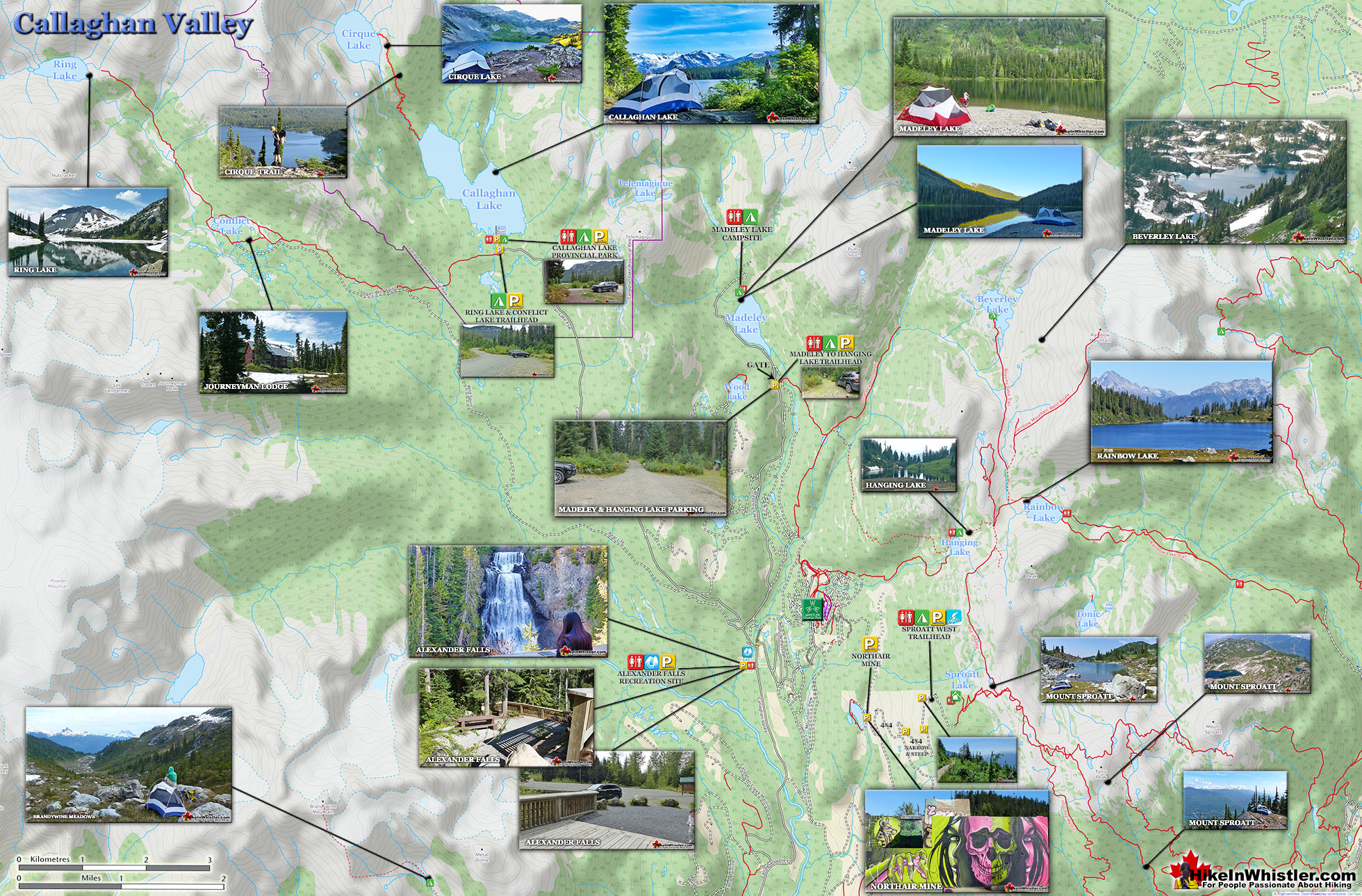 Alexander Falls is a very impressive 43 metre/141 foot waterfall just 30 to 40 minutes south of Whistler in the Callaghan Valley. Open year-round and located just before Whistler Olympic Park where several of the 2010 Olympic events were held. There is a nice viewing platform on the edge of the cliff across from the falls which crash fantastically into the valley below.
Very scenic drive to get there with bear sightings

Impressively beautiful falls in the wilderness

Amazing place for a picnic or glass of champagne
Lots of other sights to see in the Callaghan Valley
Effortless sightseeing as you drive to viewpoint
Beautiful & free camping nearby

Interesting history & information display

Not much to see except the falls

Camping is no longer allowed

No visible connecting route to base of the falls
The parking area and viewing platform at Alexander Falls is one big area just 40 metres from the main road, just before Whistler Olympic Park.  The adventurous can find the obscure trail that leads to both the top of the falls as well as, with great difficulty, to the base of the falls.  Alexander Falls is certainly one of the nicest spots for a picnic in Whistler.  The picnic areas are numerous, the surrounding forest is gorgeous and wild and Alexander Falls crashes loud and beautiful in the background.  Several picnic tables are located in forested clearings that were once used as campsites, so if you have a big group, you will have lots of room to spread out and enjoy the surroundings.  The free parking lot at Alexander Falls is enormous. Keep in mind that it is a day-use only parking area and camping or campfires are prohibited. If you are looking for a place to park overnight in the area the possibilities are endless.  Callaghan Valley is very wild, devoid of people and the spider-web of logging roads that cover the valley run for hundreds of kilometres.  Continued here...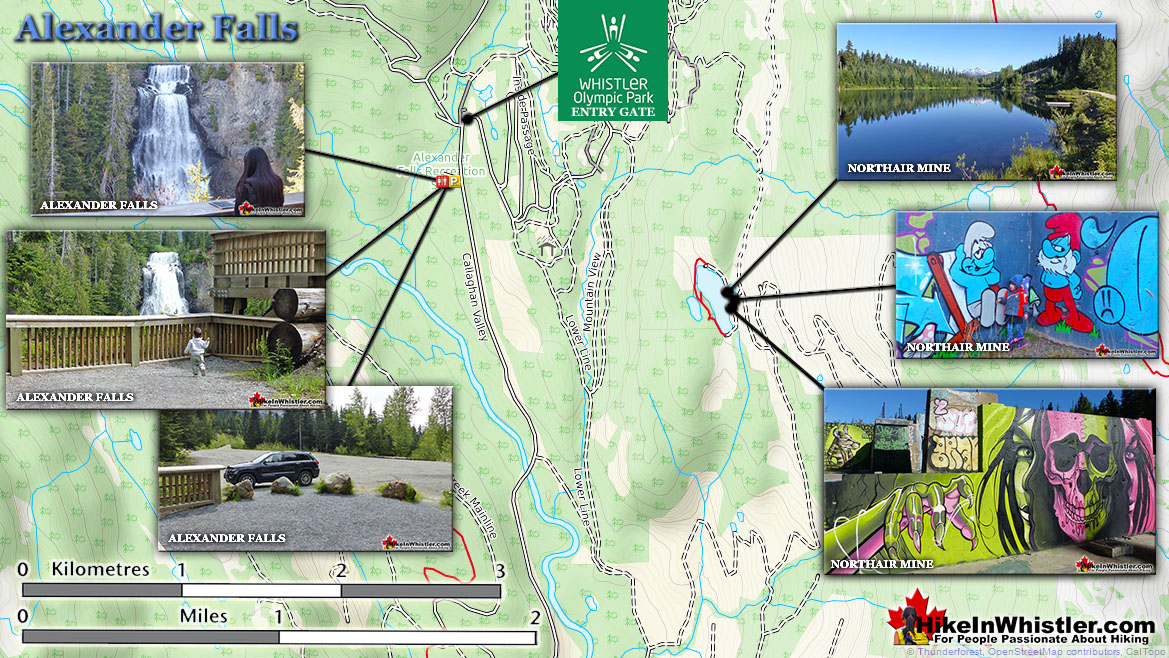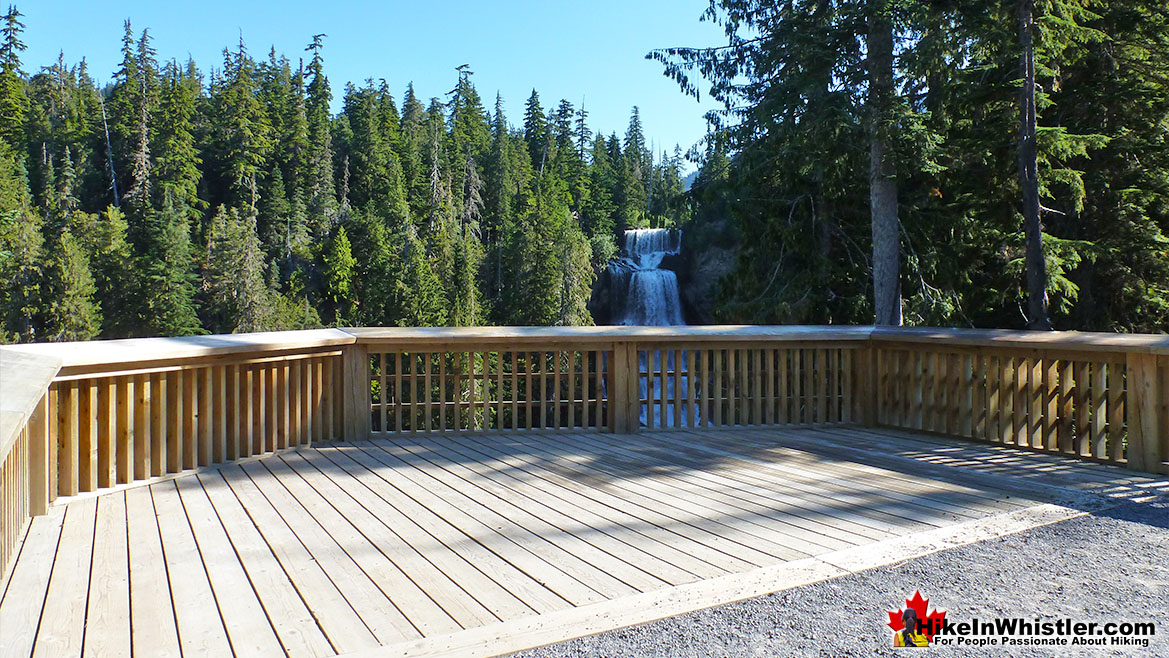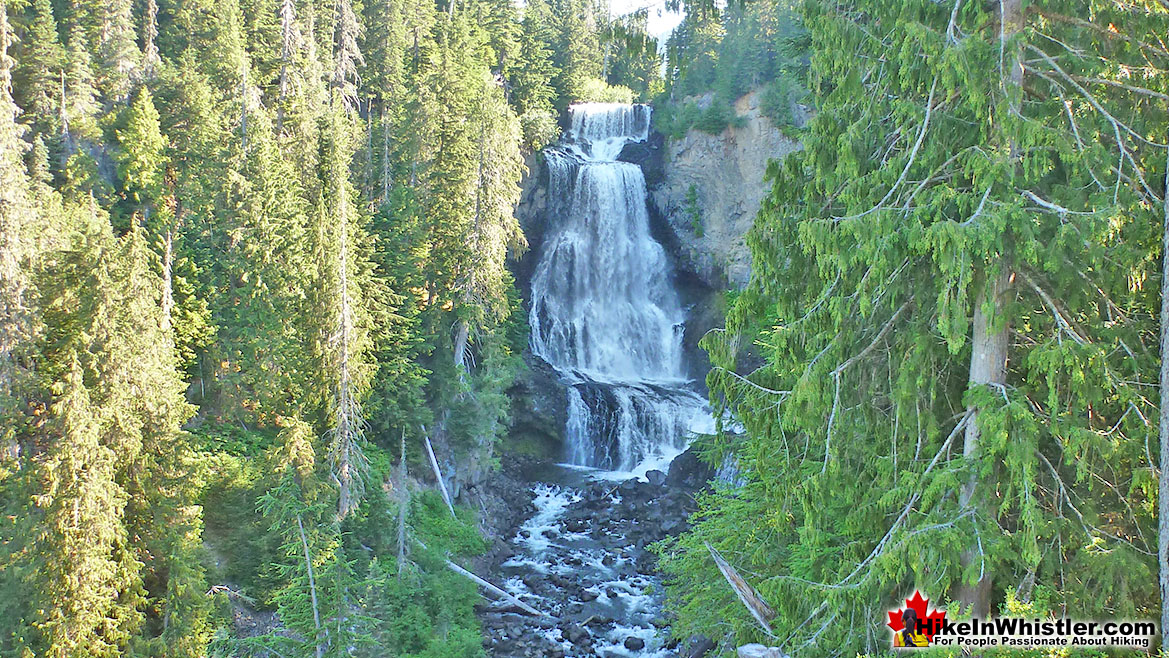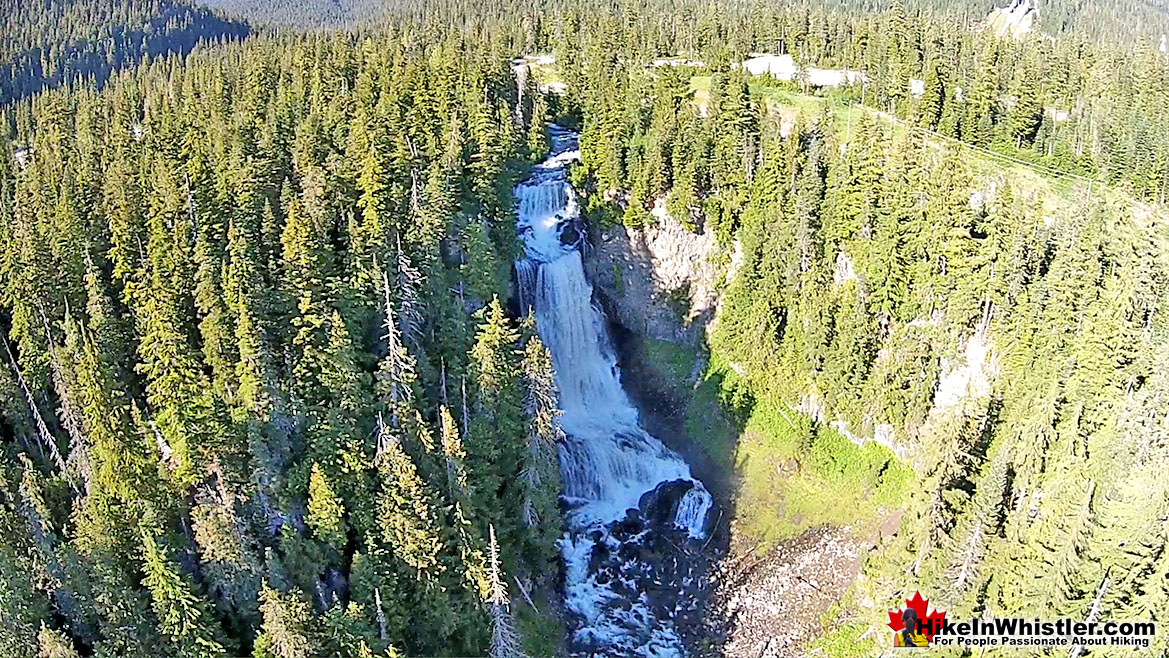 More Sights Near Alexander Falls

The Callaghan Valley is home to some other great places to visit. Just past the Alexander Falls parking lot on your left you will see a sign for Callaghan Lake Provincial Park. If you turn left here you can either drive straight up a very bad logging road for 8.5 kilometres to Callaghan Lake. Callaghan Lake Provincial Park has only a couple short trails.  There is, however, a the Cirque Lake trail at the end of the lake takes you to paradise! Cirque Lake is found high above Callaghan Lake and up quite a steep, but short 2 kilometre trail.  Well worth the hike, but you have to have a canoe/kayak to get to the trailhead.  If you want a quick look at a very pretty mountain lake, take the first right at the start of this logging road that takes you to Madeley Lake. On a sunny summer day, few places in Whistler are more serene and beautiful. A short trail from the end of the road, behind the lake takes you down to a lovely and sunny shore of this crystal clear lake. It is also a free campground that is very nice. Northair Mine is close by and a very interesting place to see, though you need a 4x4 to get up the increasingly deteriorating forest service road.
Callaghan Lake Near Alexander Falls
Callaghan Lake is a big and beautiful, remote lake high up beyond Alexander Falls.  A free, drive-to campsite and parking area are located on one end of the lake and the rest of the lake is wild and untouched wilderness.  There are few trails around the lake and most visitors travel by canoe, kayak or paddleboard.  There is one significant trail to hike at the far end of Callaghan Lake and it is very nice.  The somewhat hard to find trail starts at the far end of the lake and takes you up to a stunning glacier carved lake appropriately called Cirque Lake.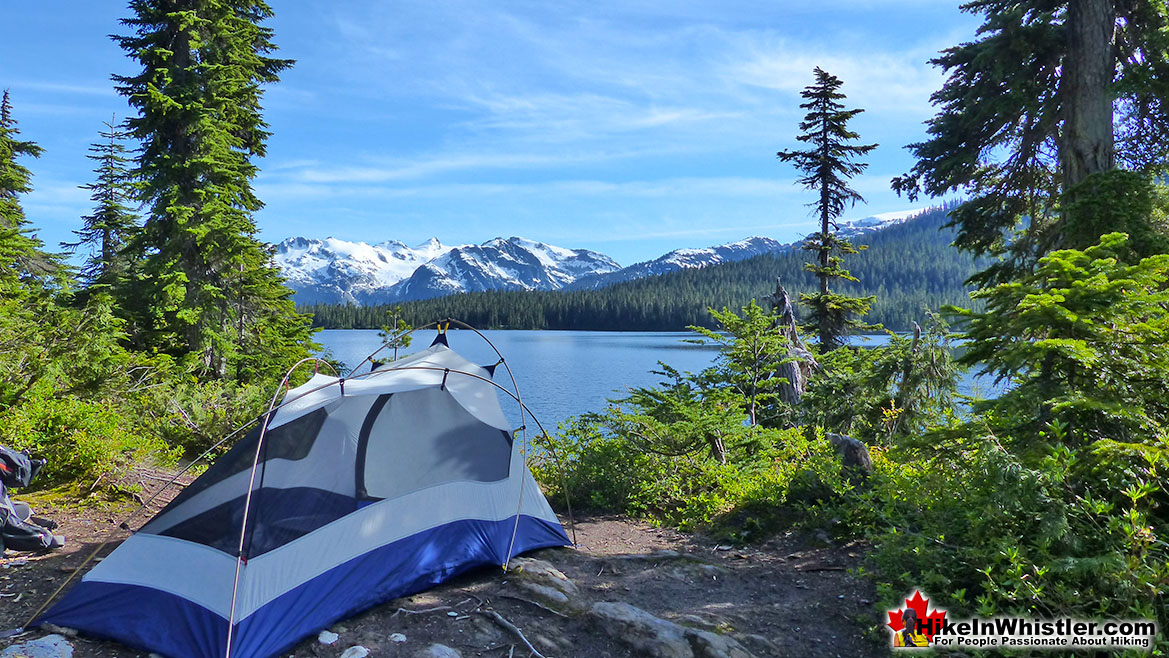 Cirque Lake Near Alexander Falls
Cirque Lake gets its name from the term 'cirque', which is a glacier-carved bowl or amphitheatre in the mountains.  To form, the glacier must be a combination of size, a certain slope and more unexpectedly, a certain angle away from the sun. In the northern hemisphere, this means the glacier must be on the northeast slope of the mountain, away from the suns rays and the prevailing winds. Thick snow, protected in this way, grows thicker into glacial ice, then a process of freeze-thaw called nivation, chews at the lower rocks, hollowing out a deep basin.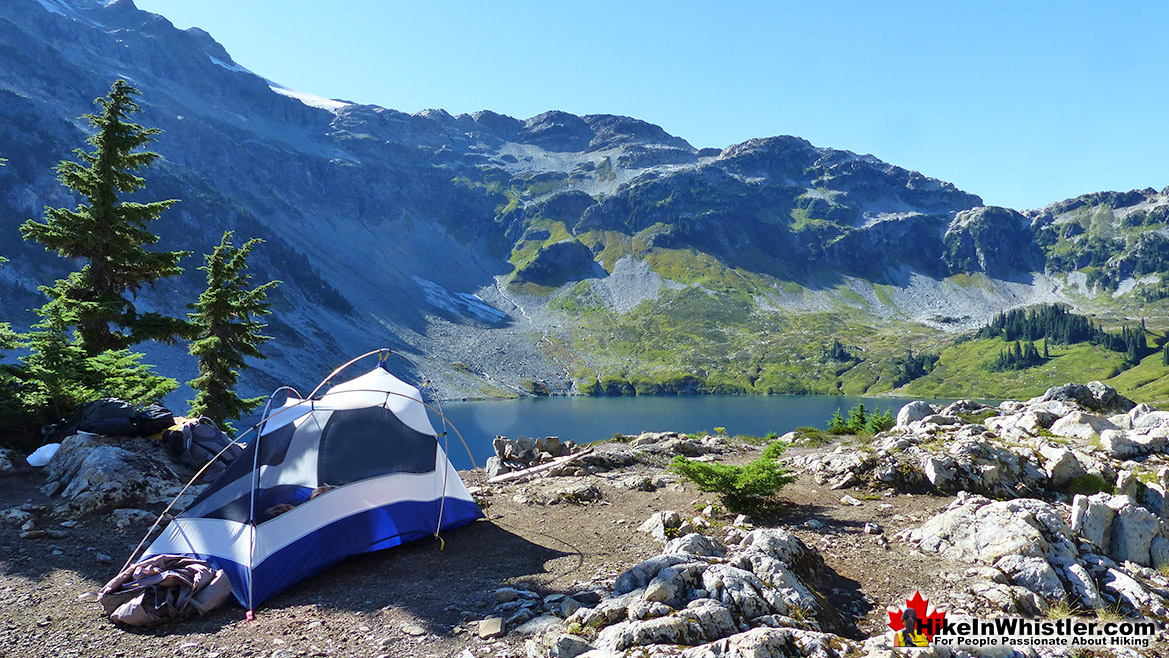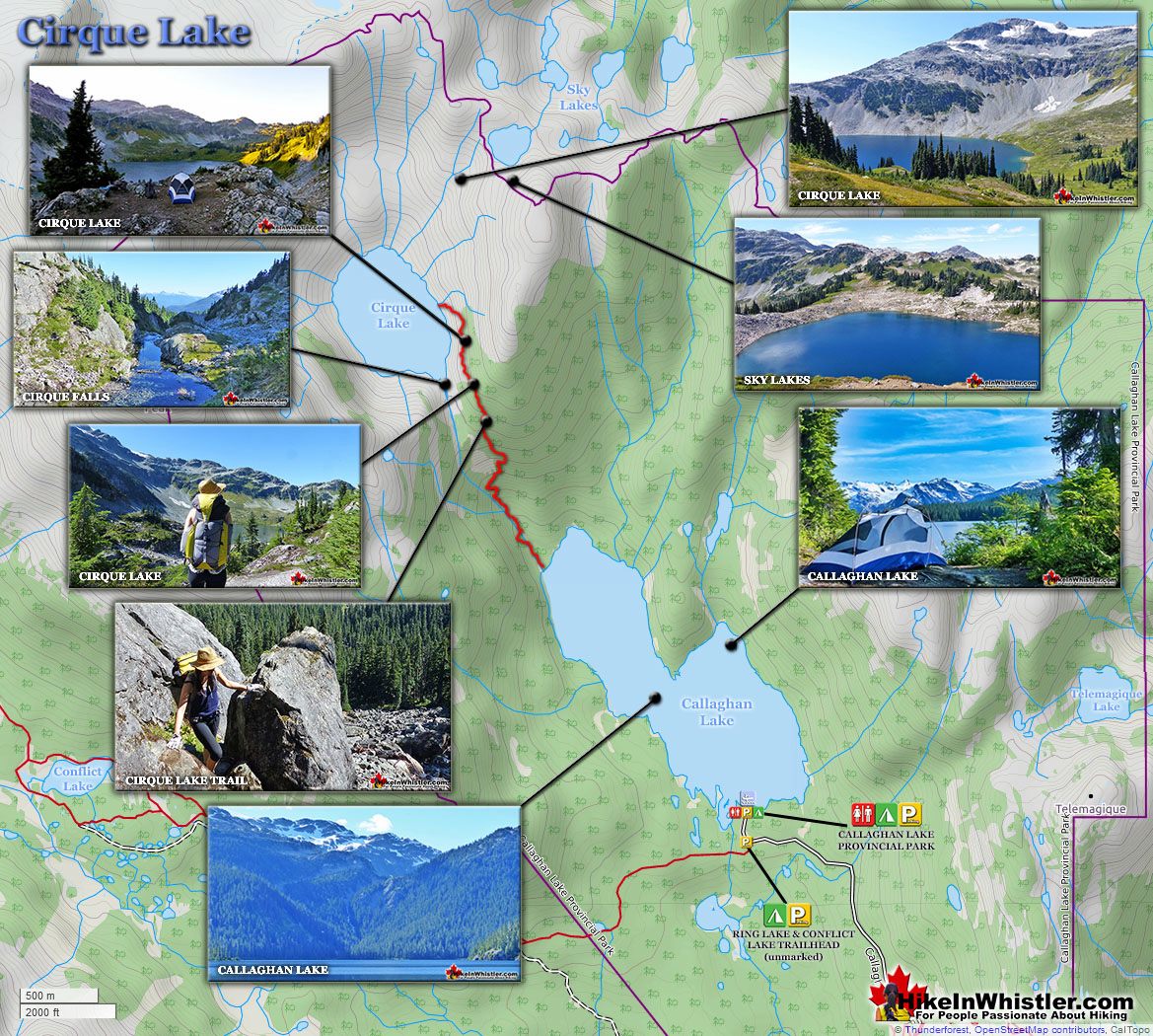 Madeley Lake Near Alexander Falls
Madeley Lake is a beautiful alpine lake just a 10 minute drive past Alexander Falls.  A free, serene and hidden feeling campsite hides in the forest at the far end of the lake.  Whistler Olympic Park has recently wrestled control over the access road and in 2020 and barricaded the access road.  They attempted to require an access fee to the lake and quickly backtracked when they realized their quiet takeover of Madeley Lake would cause a public outcry and force the Resort Municipality of Whistler to coerce Whistler Olympic Park to return free access to the decades old regional park.  The sign on the gate that stated "WARNING ENTERING WHISTLER OLYMPIC PARK CORE AREA YOU ARE REQUIRED TO HAVE A TICKET OR YOU ARE TRESPASSING" was quickly removed by WOP shortly after it was discovered by the public in 2020.  They have since moved the gate much further up the road and it is now just one kilometre from the start of Madeley Lake and another kilometre to the end of the lake near the campsite.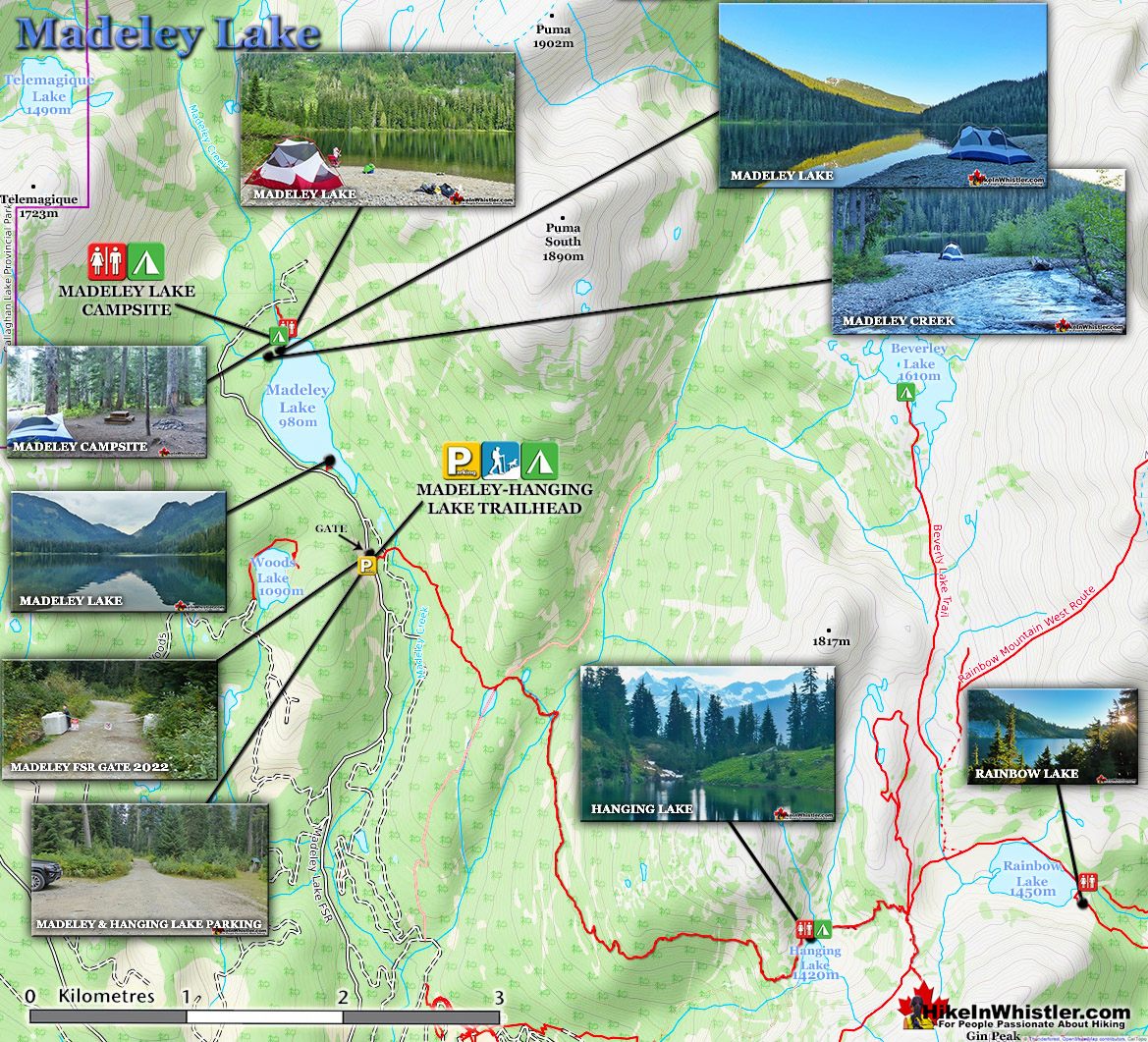 Northair Mine Near Alexander Falls
Northair Mine is a strangely beautiful old goldmine near Alexander Falls.  Abandoned several decades ago, the cement foundations are now adorned in colourful graffiti and stunning murals.  In 2019 Kups, a professional Whistler muralist, painted a stunning mural across one of the largest and broadest cement walls.  Along with the beautiful and surreal foundations, Northair Mine is also home to a surprisingly beautiful lake.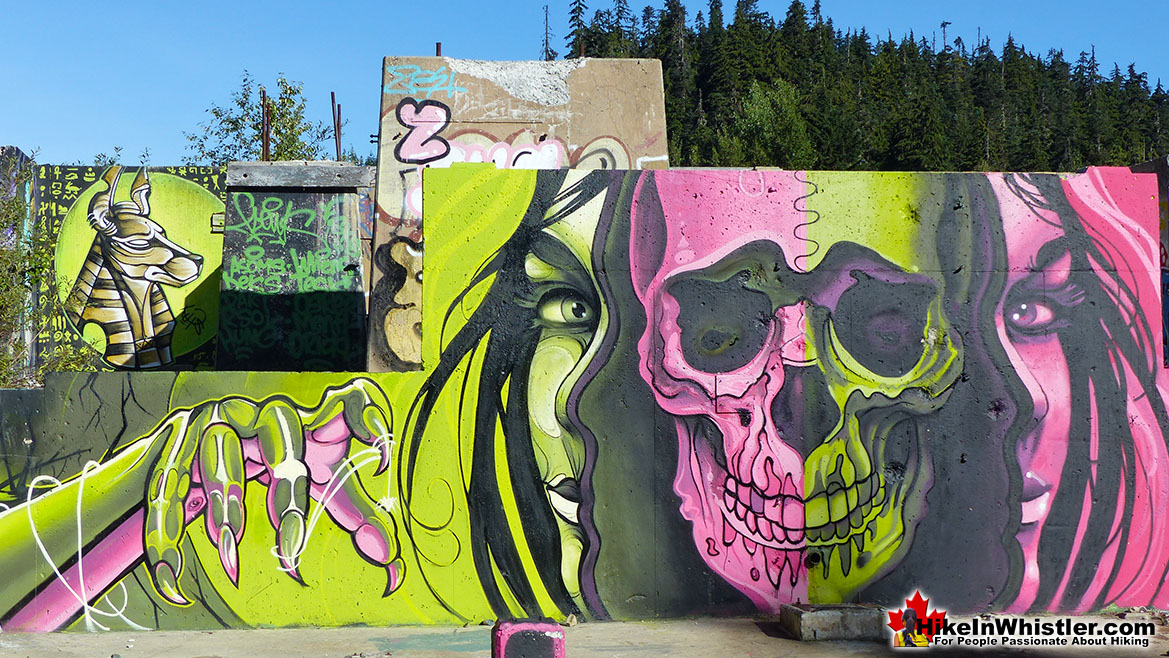 Alexander Falls Directions

Cell coverage is reliable on the road and at the viewpoint to Alexander Falls so you will be able to access the internet if you have a data plan, however saving this map to your smartphone or tablet might be helpful. From Whistler Village: Drive south on Hwy 99(Sea to Sky Highway), 13.8 kilometres from Village Gate Boulevard, turn right onto Callaghan Valley Road at the sign to Whistler Olympic Park. Follow this road for 9.6 kilometres, keep an eye out on your left for a little sign that directs you to Alexander Falls. The sign/turnoff is just before Whistler Olympic Park.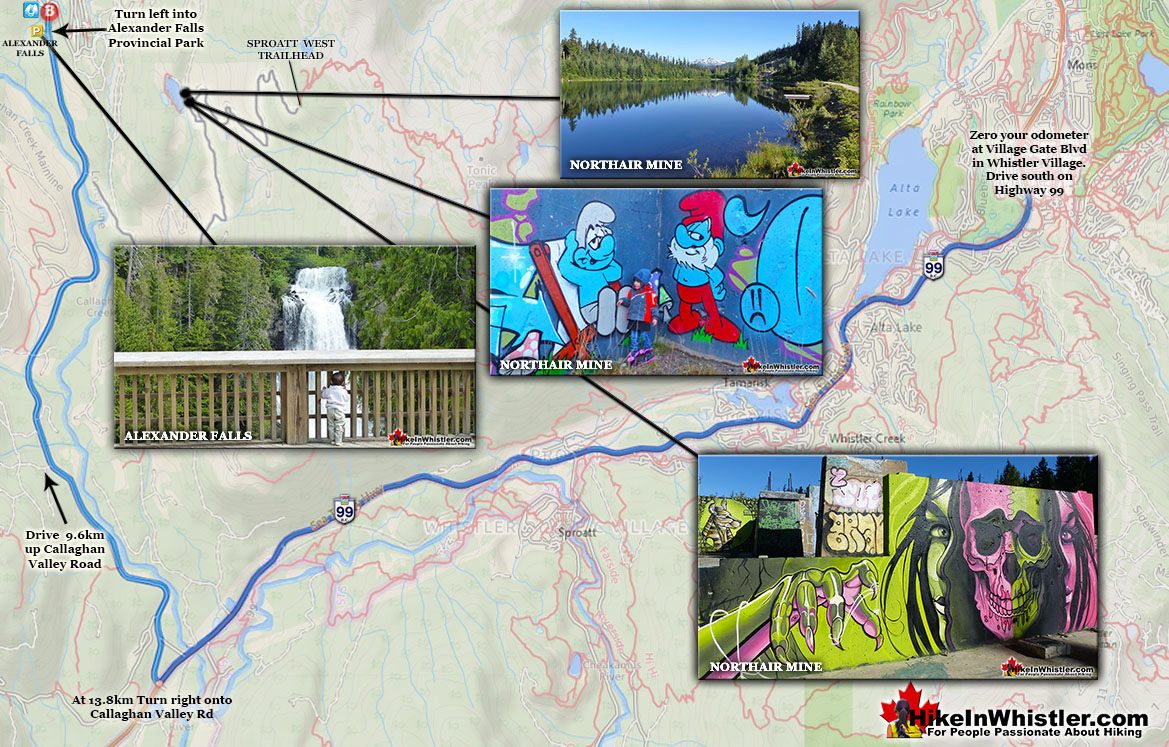 Alexander Falls Provincial Park Continued Here...
More Whistler & Garibaldi Park Hiking Maps!

Whistler & Garibaldi Park Glossary A to Z

The Best Whistler & Garibaldi Park Hiking Trails!