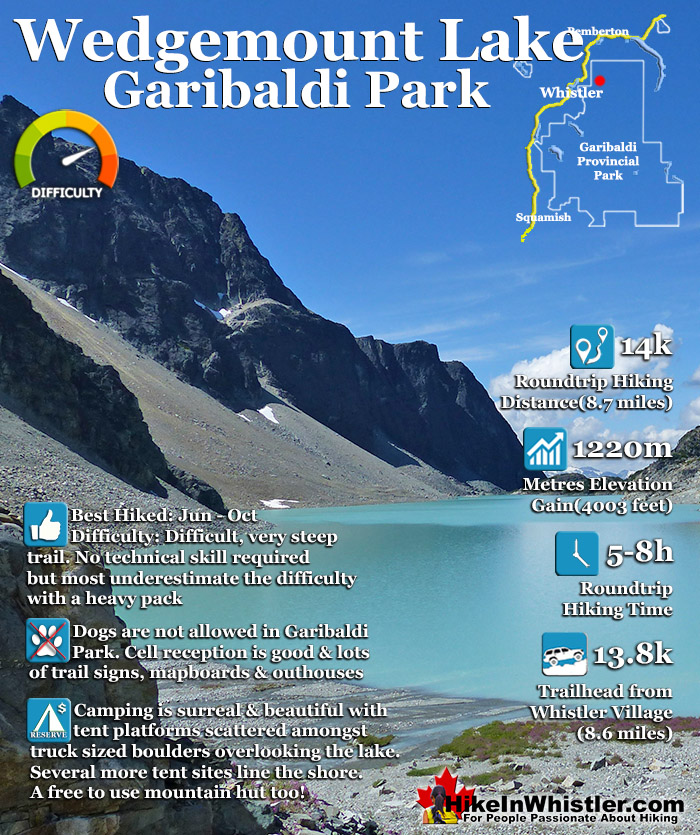 Wedgemount Lake itself is a magnificent destination for a day hike or spectacular overnight beneath the dazzling mountain peaks and stars above Garibaldi Provincial Park. Many sleep under the stars on one of the many beautiful tent platforms that dot the landscape. Solidly built, wooden tent platforms are everywhere you look at Wedgemount Lake. Strategically positioned, these platforms manage to maintain a secluded feel despite their numbers.
Tough, steep, yet relatively short trail to hike
Extraordinary turquoise coloured water
Amazing little hut free to use by anyone
Several peaks around the lake are climbable
Wedge Mountain is the highest peak in the range
Incredibly cute hoary marmots surround you frequently
You can easily walk up to the impressive Wedge Glacier
The boulder field by the lake is dramatically beautiful
Extraordinary array of alpine terrain to explore

Trail is steep, hard & not very scenic

Whistler & Garibaldi Hiking

Alexander Falls  

Ancient Cedars  

Black Tusk  

Blackcomb Mountain  

Brandywine Falls  

Brandywine Meadows  

Brew Lake  

Callaghan Lake  

Cheakamus Lake  

Cheakamus River  

Cirque Lake 

Flank Trail 

Garibaldi Lake 

Garibaldi Park 

Helm Creek  

Jane Lakes 

Joffre Lakes  

Keyhole Hot Springs  

Logger's Lake  

Madeley Lake  

Meager Hot Springs 

Nairn Falls  

Newt Lake 

Panorama Ridge 

Parkhurst Ghost Town 

Rainbow Falls  

Rainbow Lake 

Ring Lake  

Russet Lake  

Sea to Sky Trail 

Skookumchuck Hot Springs  

Sloquet Hot Springs 

Sproatt East 

Sproatt West  

Taylor Meadows  

Train Wreck  

Wedgemount Lake  

Whistler Mountain

January 

February 

March 

April 

May 

June 

July 

August 

September 

October 

November 

December
In all Wedgemount Lake has 20 of these tent areas. Most are wooden, but several down by the lake shore are gravel, yet every bit as nice.  Wedgemount Lake is one of the most spectacular hikes in Garibaldi Park. Though it is a relentlessly exhausting, steep trail, it is mercifully short at only 7 kilometres one way. The elevation gain in that short distance is over 1200 metres which makes it a much steeper hike than all the other Whistler area hiking trails. Compared with other Whistler and Garibaldi Provincial Park hikes, Wedgemount Lake is half the roundtrip distance of either Black Tusk or Panorama Ridge, for example, at 13.5 kilometres and 15 kilometres respectively one way.  At a fast hiking pace you can reach Wedgemount Lake from the trailhead in just an hour and a half but at a leisurely or backpack laden pace you will likely take over two hours. The trail is well marked and well used.  The steepness of the trail doesn't require any technical skill, however that last kilometre before the lake you will be scrambling on all fours quite a bit. The elevation gain makes a tremendous difference when carrying a heavy backpack and unprepared for the exertion.  There is hardly a section of the trail that is not steeply uphill. The first 15 minutes takes you into the deep forest as you run along Wedgemount Creek.
Beautiful Wedgemount Falls Along Trail to Wedgemount Lake
Wedgemount Creek and Wedgemount Falls
This crashing creek can be heard from quite a distance and gives you a hint of the steepness of the trail to come. The source of Wedgemount Creek is of course Wedgemount Lake which tumbles down almost 300 metres in the spectacular Wedgemount Falls. You will be able to see Wedgemount Falls around the 5 kilometre mark along the trail.  Unfortunately, it is far off to the right in the distance. Despite the distance, you will hear it loud and clear and occasionally get a great, though distant, view of it.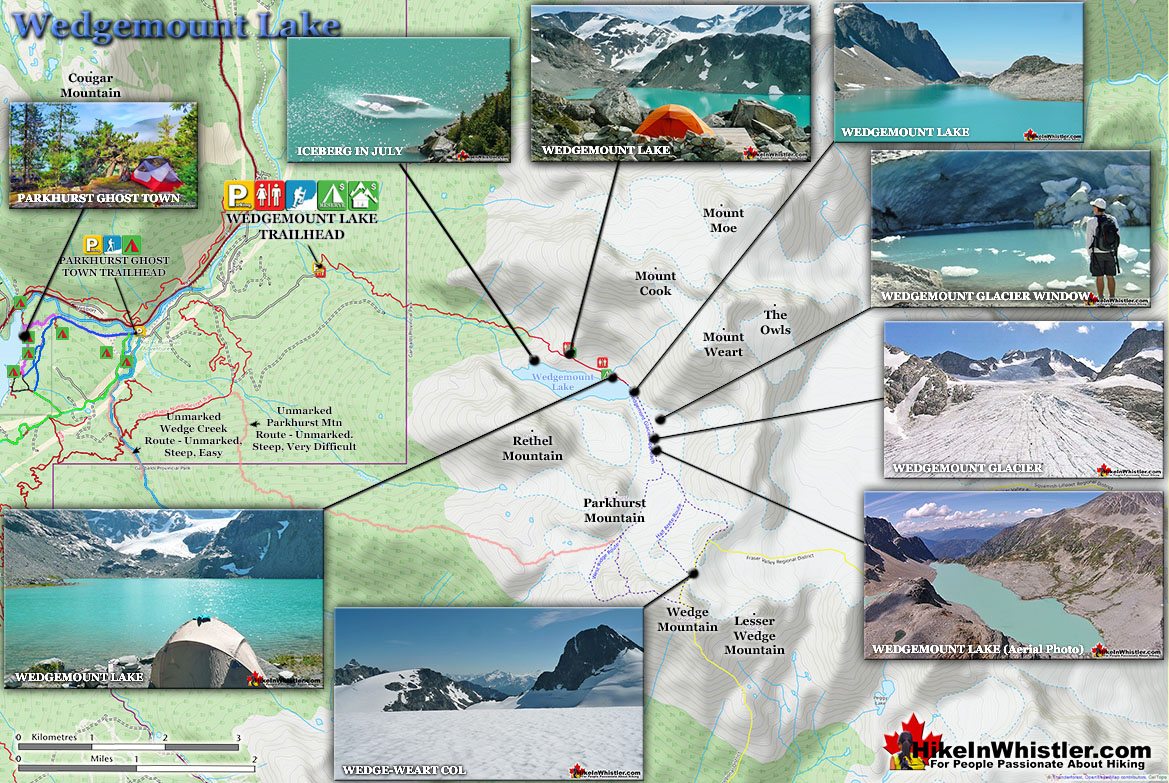 Aerial View of Wedgemount Lake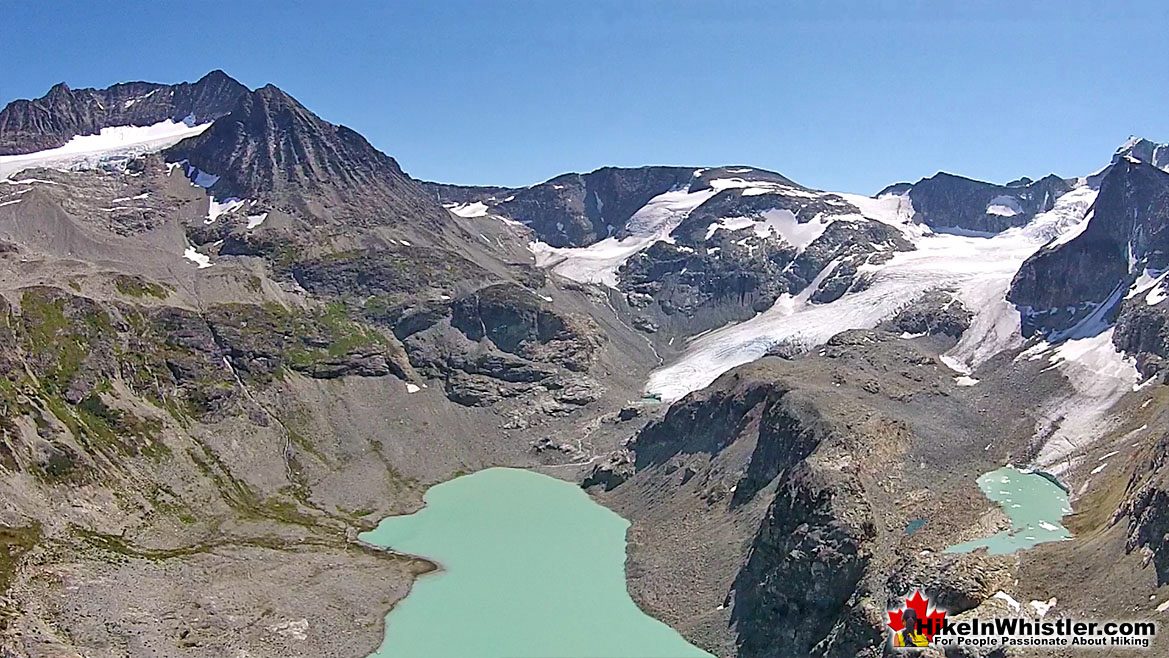 Beautiful Wedgemount Lake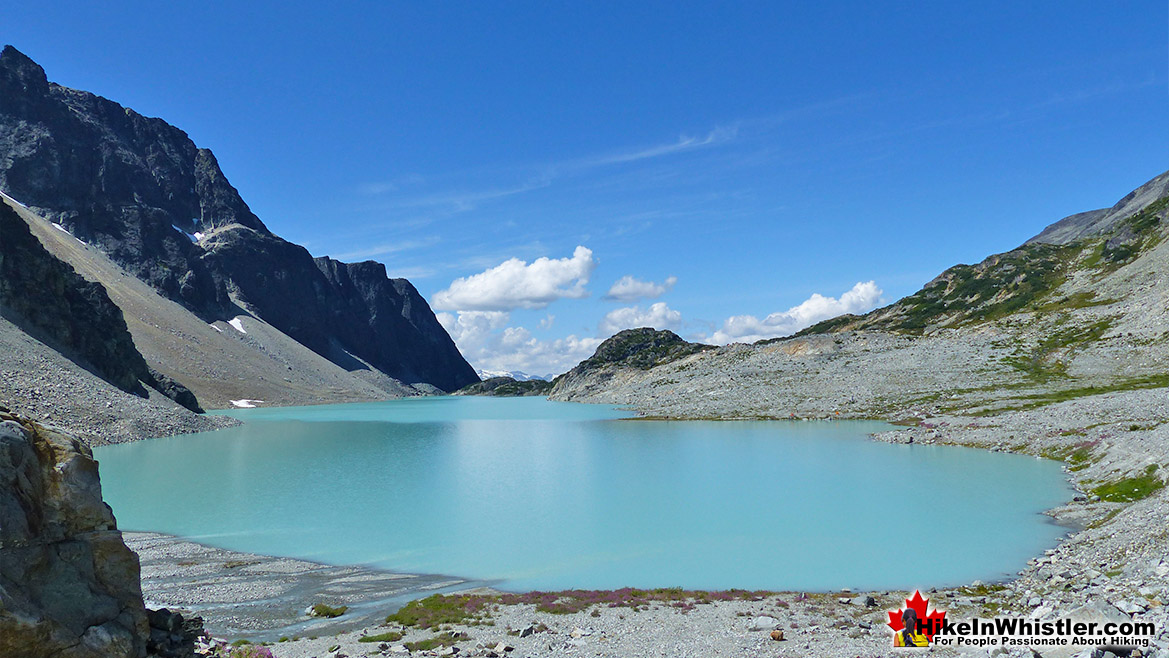 Wedgemount Lake Campsite View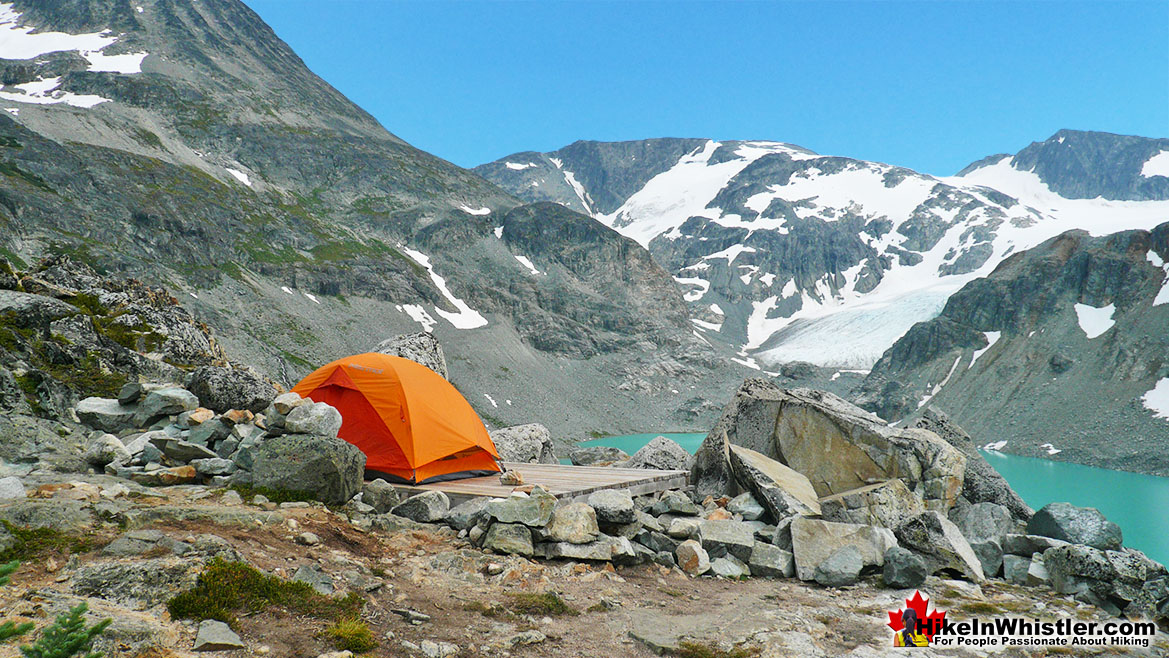 Mountains Around Wedgemount Lake
One of the defining features of Garibaldi Provincial Park, and Wedgemount Lake in particular, is the staggering number of branching hikes from the main destination of the lake itself. For many, Wedgemount Lake and the Wedge Hut is the base for hikes to Wedge Mountain, Mount Cook, Mount Weart, Mount Moe, Mount James Turner and Mount Currie in Pemberton, crossing glaciers such as Wedge Glacier, Weart Glacier, Armchair Glacier, Mystery Glacier and the Needles and Chaos Glacier to name a few. Dozens of unforgettable peaks can be reached from this quiet little hut overlooking this perfect, turquoise lake.  In short, if you were to design a paradise in the mountains, Wedgemount Lake would be the standard to which all others would pale.  The sheltered valley, beautiful turquoise lake, wonderfully huge glacier across the valley and brutally jagged mountains all around all contribute to making Wedgemount Lake something special.  It's challenging and exhausting to hike to and an absolute paradise to relax in. Down by the lakeside you can actually find two recliner chairs, built out of the rocks by the lake.  Such a perfect way to enjoy the sun rising over the not-so-distant glacier across the lake.
Towering Rethel Mountain Across Wedgemount Lake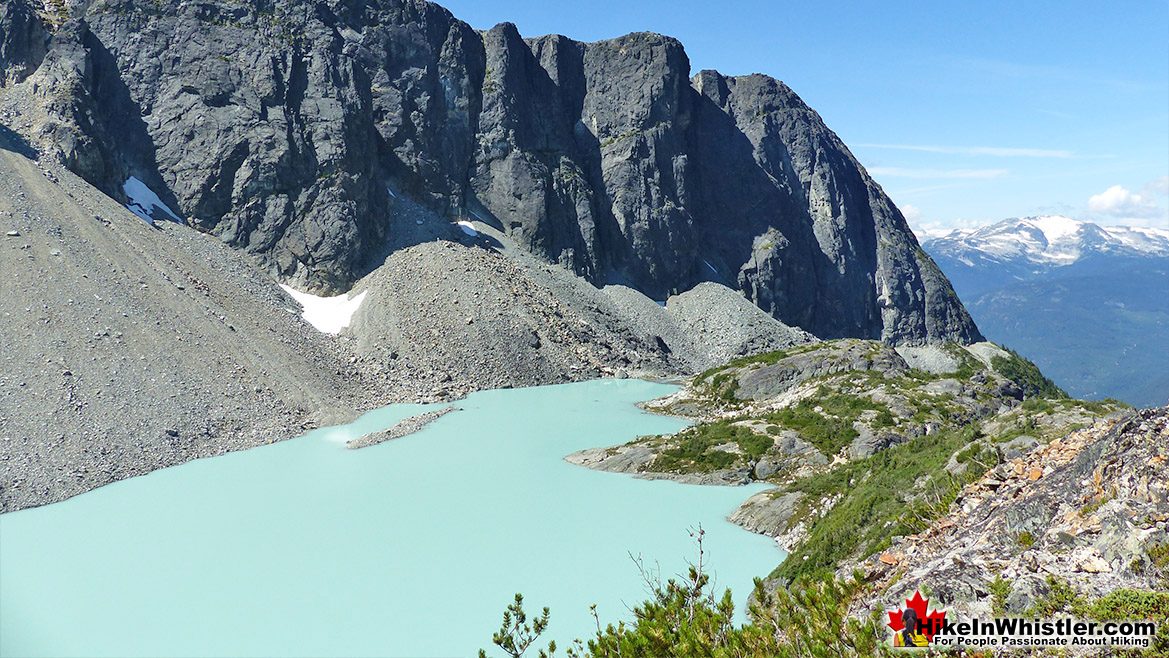 The Wedge Hut
The hut at Wedgemount Lake is a wonderful thing. Built by the BC Mountaineering Club in 1970, and since donated to Garibaldi Park, it is free to use by anyone, however you still have to pay the overnight camping fee to stay overnight in Garibaldi Park.  The hut is cosy with two large tables and a loft. Often, during busy times you will find the tables used as beds, a couple on the floor and four people up in the loft.  The Wedge hut is positioned in a spectacular part of the world. High up overlooking Wedgemount Lake.  In the massive shadow of Wedge Mountain, the highest mountain in the entire Garibaldi Ranges.  It's a cute and compact little house in the middle of the carnage of massive rocks, erratics left over the centuries by glaciers and rock slides.
Inside the Wedge Hut at Wedgemount Lake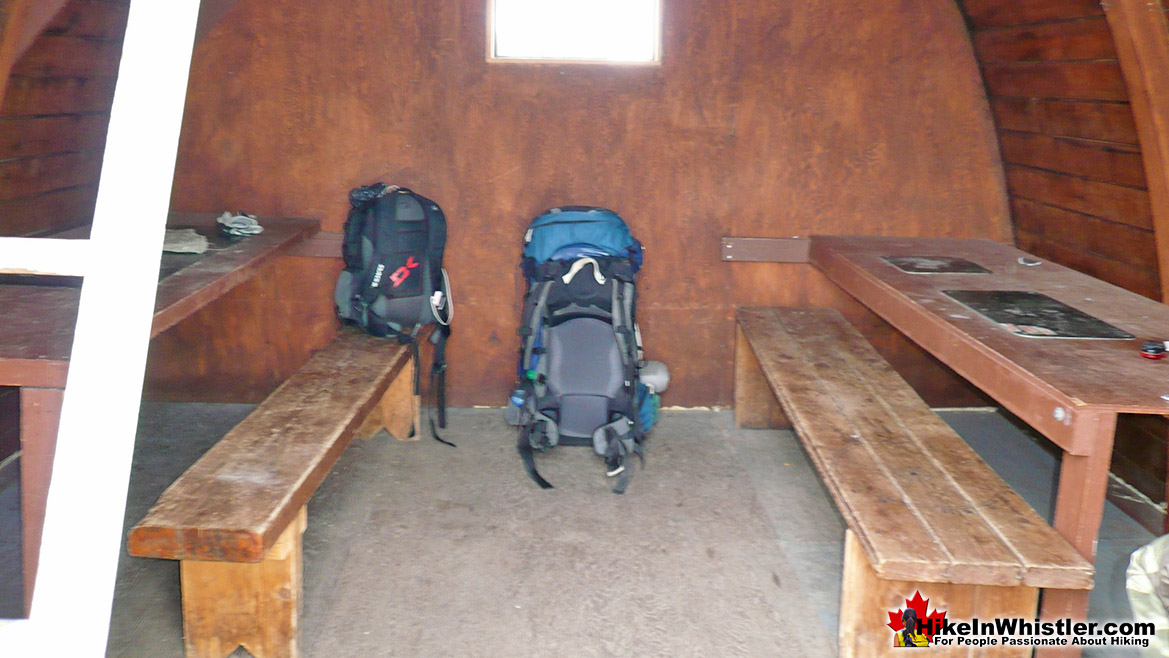 Garibaldi Park Huts
Back in the late 60's the British Columbia Mountaineering Club went forward with building five huts in the Coast Mountains of BC.  Two of the five were built in Garibaldi Provincial Park, they were The Russett Lake hut in 1968 and the Wedgemount Lake hut in 1970.  Sadly, the Russett Lake hut was removed when the huge new Kees and Claire hut was built, however the Wedge hut is still intact and hopefully will be for years to come. The Wedge hut has two large wooden tables along the left and right walls and a little window across from the door.  On entering you notice a ladder going straight up to the loft.  Everything is bare, weathered wood, but tidy and secure.  It's simply a nice, solid, secure little house in a hostile wasteland of beauty.  As you walk in you notice right away a feeling of warmth hits you.  The Wedge hut is as wonderful thing.
The Wonderful Wedge Hut at Wedgemount Lake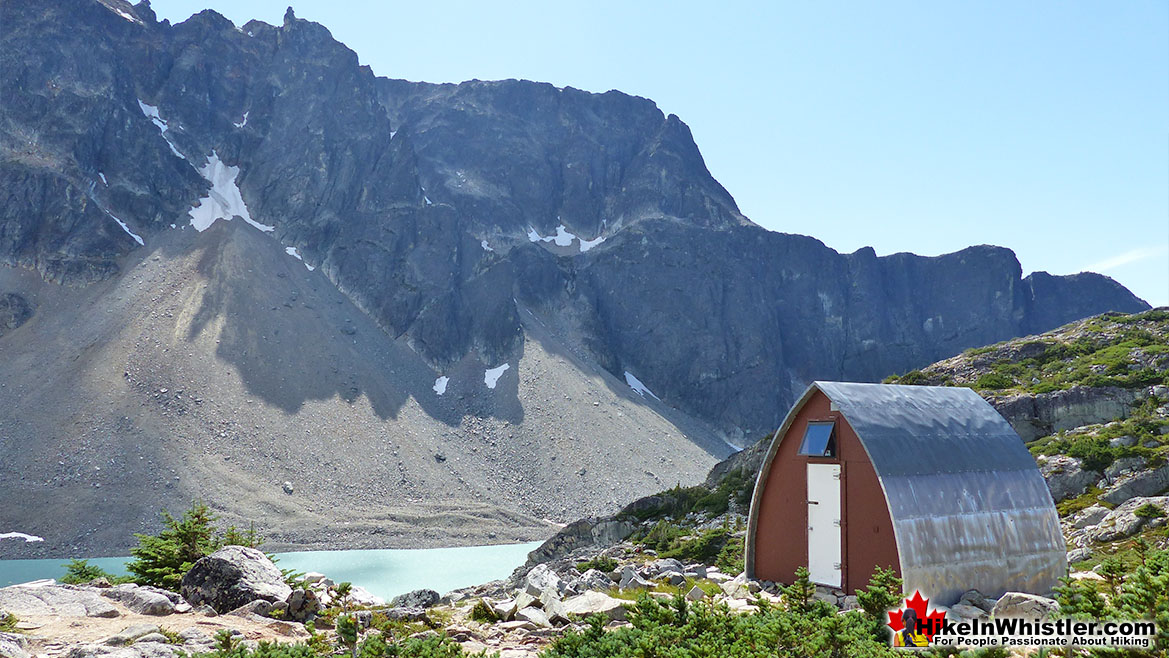 Unmarked Scrambling Routes Around Wedgemount Lake
Wedge Mountain is a very difficult scramble from the Wedge hut up steep boulder fields, long glacier and the narrowly abrupt ridge to the summit of Wedge.  Elevation gain is 1300 metres from the Wedge hut!  Allow 6 or 7 hours hut to hut and make sure you know what you are doing.  Wedge Mountain is a very popular summit to conquer as it is the highest mountain in all of Garibaldi Park and the Garibaldi Ranges.  It's quite daunting as to reach it you have to make your way along the spectacular wedge-shaped spine that gives it its name. The Wedge-Weart Col is possibly the easiest hike from Wedgemount Lake.  It is a long scramble through the boulder strewn terrain to the Wedgemount Glacier, then a long ascent up Wedgemount Glacier.  It is deceptively far so allow 5 hours roundtrip, hut to hut.
Wedge-Weart Col View of Mount James Turner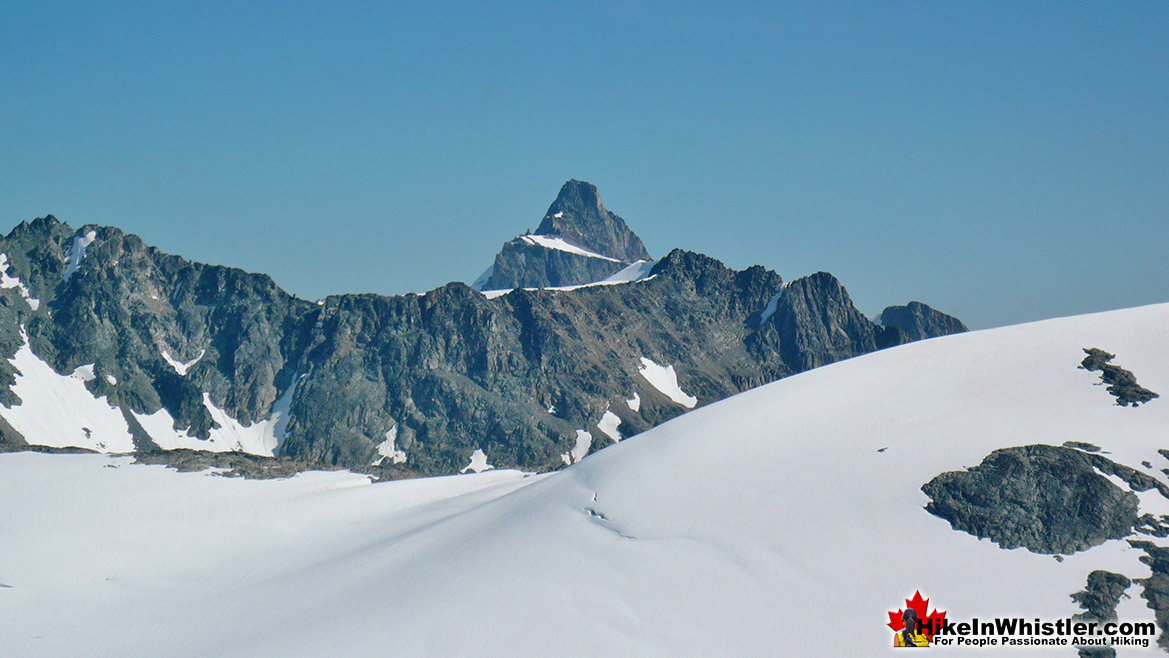 Wedge-Weart Col View of Parkhurst Mountain and Rethel Mountain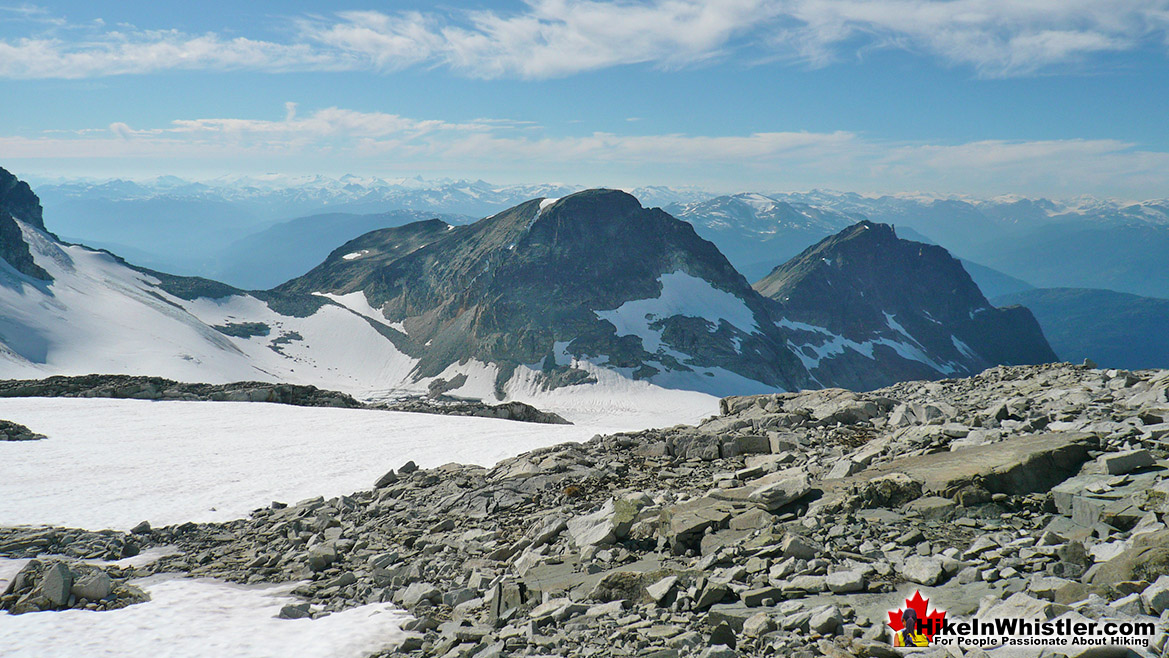 Wedgemount Lake Route to Mount Cook
Mount Cook is probably the easiest mountain to hike from Wedgemount Lake.  It is a relatively easy and even partly marked trail leading to a scramble up the logical ascent of Mount Cook.  Tremendous views of Wedgemount Lake and surrounding mountains from the summit.  It is a long and challenging scramble up steep boulder fields along a partly marked, though easy to lose trail. Mount Weart is probably the most popular of the branching hikes from Wedgemount Lake.  This is because of its extraordinarily beautiful views from its summit.  It is quite difficult and some tricky route finding is involved as you leave Wedgemount Glacier for the Weart ascent.  But you will have trouble finding more beautiful views from another peak in the area.  It is a difficult and long scramble from the Wedgemount Lake hut and a considerable elevation gain of 780 metres from the Hut.  Give yourself at least four hours roundtrip, hut to hut.
Amazing Views Along the Route Up Mount Cook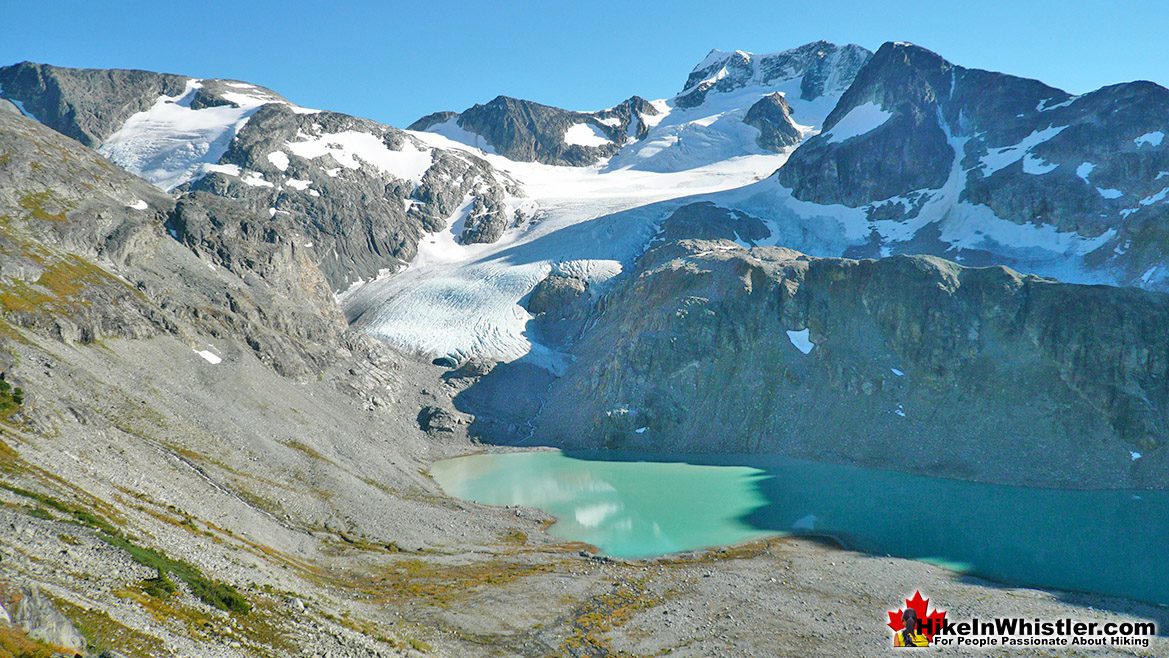 Wedgemount Lake Trail Map

Beautiful Wedgemount Lake is surrounded by towering mountains and the always impressive Wedgemount Glacier. From the campsite high above the lake you get gorgeous views of Rethel Mountain and Parkhurst Mountain directly across the lake. Wedgemount Glacier ascends up the valley at the end of the lake with Wedge Mountain, the highest mountain in the Garibaldi Ranges, towering above. Mount Weart, across from Wedge Mountain has Armchair Glacier easily visible from the campsite stretching across to Mount Cook.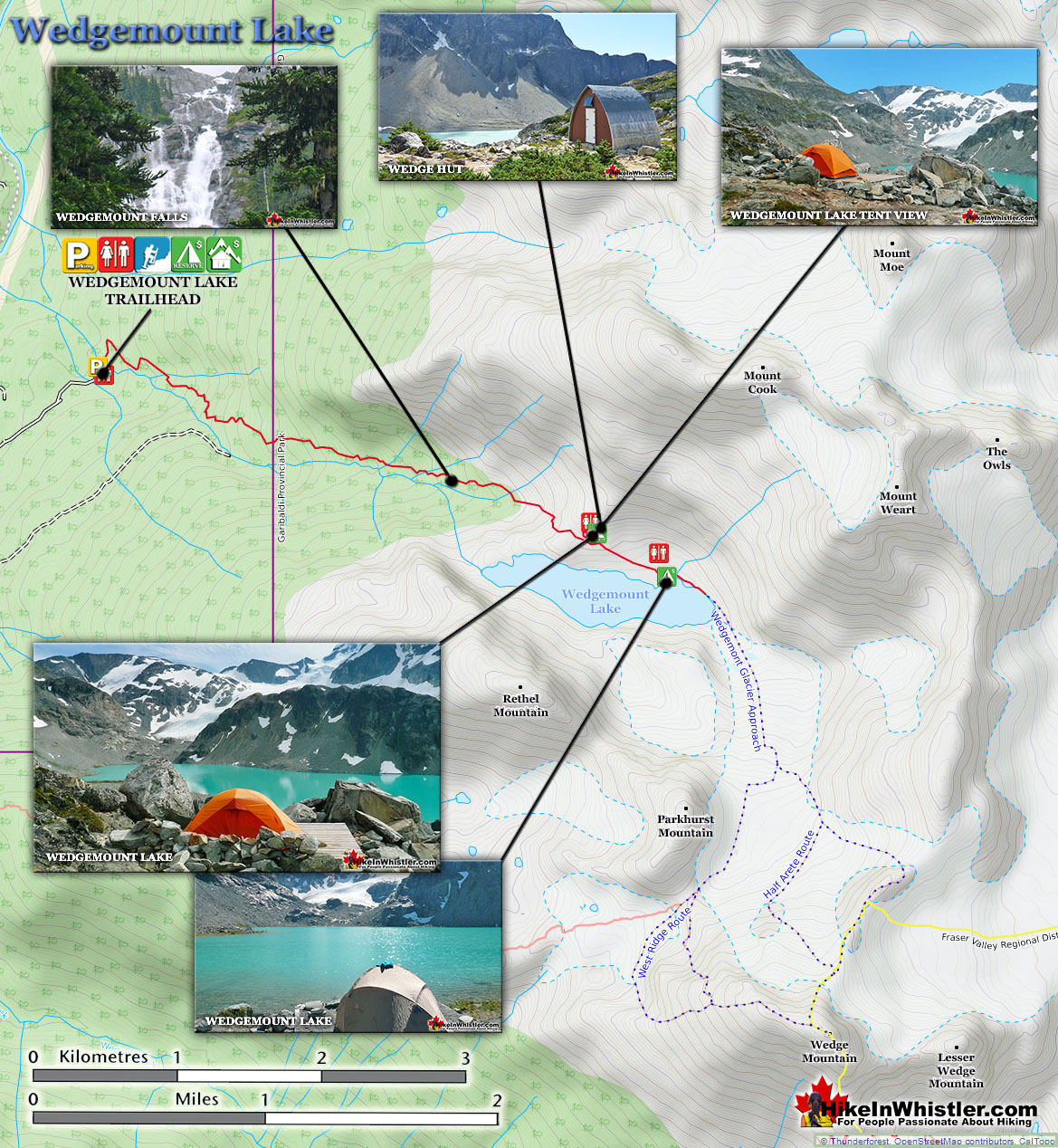 Camping at Wedgemount Lake

Camping in Garibaldi Park is generally very good and at Wedgemount Lake the facilities are spectacular. There are 20 designated tent spots and each one with a million dollar view of paradise. Half of these spots are located near the Wedge hut, up along the dramatic scree, boulder and enormous erratic field about 300 metres from Wedgemount Lake. These tent spots are made of beautiful, wooden tent platforms and arranged to maximize both privacy and view.  Nestled in alpine trees about 50 metres up the slope from the hut, three wooden tent platforms hide. Closer to the hut, nestled in the massive erratics are three more platforms. The more you explore among the gnarled and dramatically beautiful krummholz, the more perfectly positioned tent platforms you find.  Down at the shore of Wedgemount Lake, just across from the foot of the glacier are several wood framed, gravel tent platforms lined majestically along the shore. Strategically positioned to line your tent view directly across the lake to Wedgemount Glacier. The wonderful silence broken only by distant waterfalls and the occasional rock slide from Rethel Mountain across the lake. The foot Wedgemount Glacier is just a short walk away.  Fees Per Night: $10 Adult - $5 Kids(6-15)  Campsite fees must be paid online in advance at the BC Parks Garibaldi Provincial Park reservations page.
Spectacular View from the Edge of Wedgemount Lake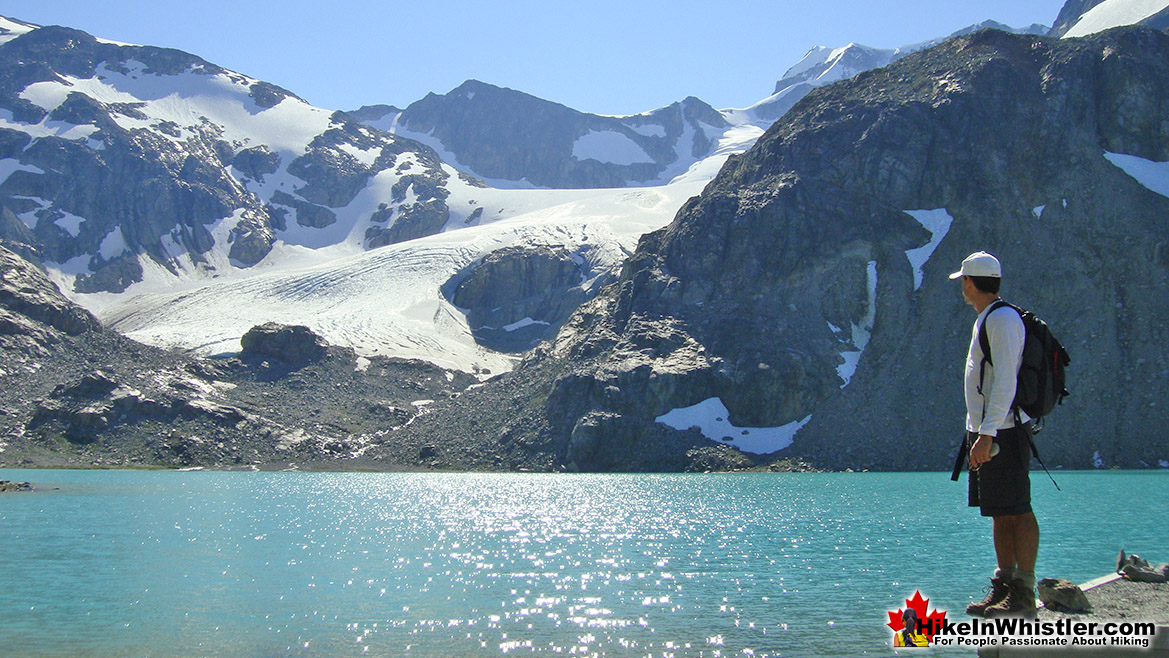 Camping in Garibaldi Provincial Park
Day hiking in Garibaldi Provincial Park is free and parking at all the trailheads is free as well.  If you are camping overnight in Garibaldi Park you will have to pay a campsite fee.  There are ten official BC Parks campsites in Garibaldi Park with dedicated and very well designed tent pads, platforms or clearings at each.  They are all now reservable year-round, with the exception of the Red Heather campsite near Elfin Lakes which is only open for winter camping.  In 2018, for the first time you can legally register and pay to camp in the backcountry beyond the official campsites.  The areas you can wilderness camp is quite restricted in an effort to not overrun the park and maintain some control over the massive numbers of hikers in the park.  Backcountry Camping Permits for Garibaldi Park cost $10 per person, per night.  Children 6-16 years old pay $5 per person, per night and kids under 6 years old are free.  Staying at the Elfin Lakes hut costs a bit more at $15 per adult, per night and kids 6-15 pay $10 per person, per night.  Kids under 6 are free.  The Elfin Lakes hut fee includes your backcountry camping permit, so one adult staying in the Hut pays a total of $15.  Campsite fees must be paid online in advance at the BC Parks Garibaldi Provincial Park reservations page.
Camping in Paradise at Wedgemount Lake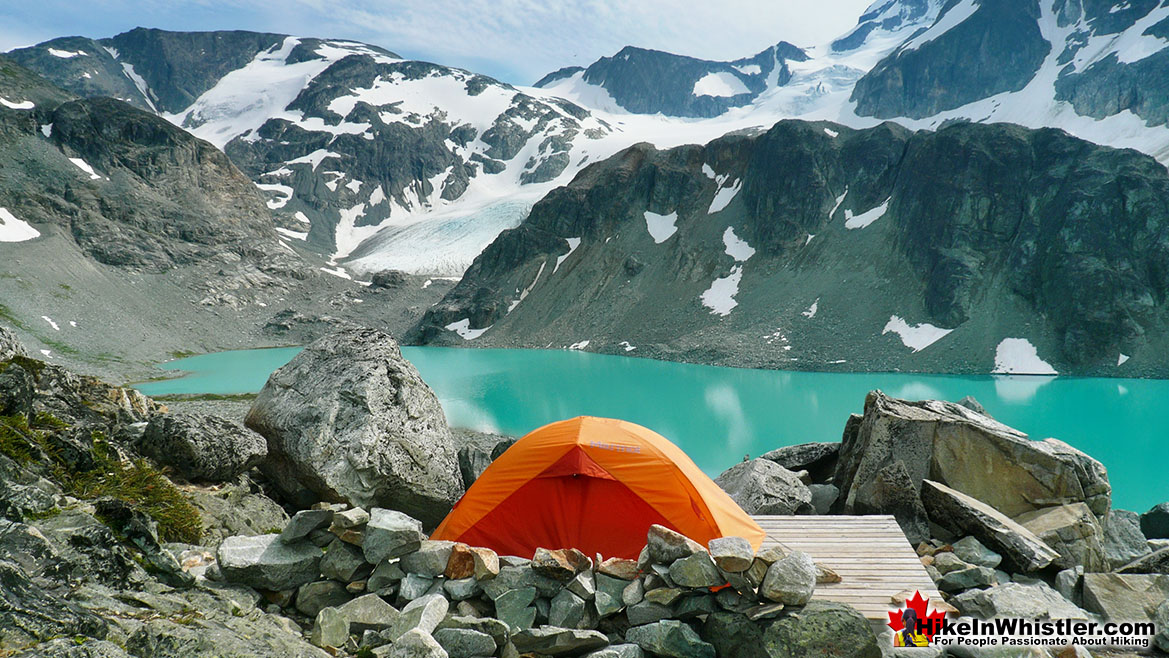 Year-Round Campsites at Wedge
The campsites open year-round in Garibaldi Provincial Park include: Garibaldi Lake campground which has 50 well laid out tent pads and clearings in the beautiful forest just steps from the shore of Garibaldi Lake.  Not far from the campsite at Garibaldi Lake you have another large and very beautiful campground at Taylor Meadows.  The Taylor Meadows campground has 40 very nice tent clearings and platforms dispersed in the marvellous forest with Black Tusk looming in the distance.  Beyond Black Tusk and Panorama Ridge you come to another beautiful Garibaldi Park campground at Helm Creek.  Helm Creek has 30 tent pads is a nice meadow with stunning views of Black Tusk.  Down the valley from Helm Creek you cross Cheakamus River and have two more campgrounds along the shore of Cheakamus Lake.  The Cheakamus Lake campground has 8 tent clearings in a beautiful forest along the edge of the lake.  Further along the shore of Cheakamus Lake you come to another campground, the Singing Creek campground with another 6 beautiful tent clearings at the edge of the lake near Singing Creek.  High up in the alpine of Whistler Mountain you have Russet Lake with 7 nice tent clearings near the shore of the lake and overlooking the mighty Overlord Glacier far below.
Wedgemount Lake Campsite Tent Platform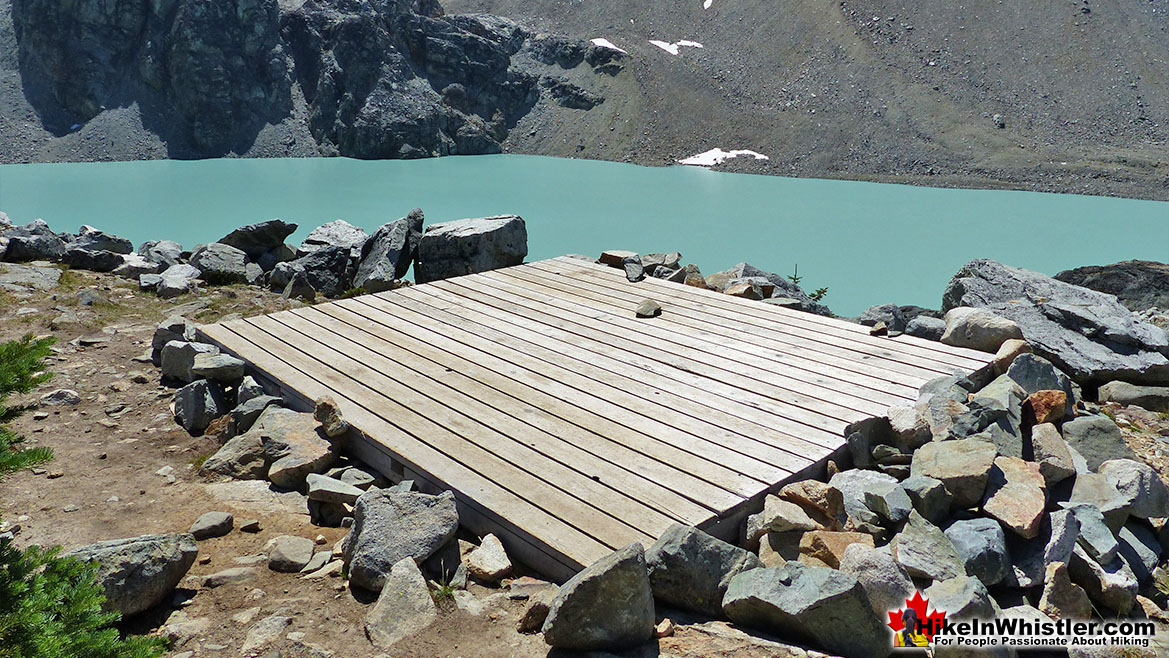 The Wedgemount Lake Hut
Garibaldi Park is home to an ever increasing number of mountain huts. Russett Lake has a new one, Elfin Lakes has a massive one, Garibaldi Lake has one at the far end of the lake mainly used in the winter. The Spearhead Range that connects Blackcomb Mountain and Whistler Mountain in in the process of constructing several more huts. The Wedgemount Lake hut is free to use and there is no reservation system. It has an upper loft area that could fit four people in a pinch and the main floor has two large tables that are used as beds as well. The hut can comfortably accommodate 6 people, however more can fit if needed. Due to the tent pads being so numerous and beautiful, the Wedge hut often goes unused.  It is of course quite dark inside despite having some small windows and is just equipped with a shovel, broom, logbook and a few odds and ends left by previous hikers. The door locks from both the inside and outside making it secure from rodents, bears, sasquatches and mosquitoes.  Due to the Wedgemount Lake trail being so steep, the Wedge Hut allows you to lighten your load by not having to carry a tent if you choose to. Also, in poor weather the hut is a wonderful, dry and secure retreat from the elements. Hikers often hike to Wedgemount Lake without a tent, hoping to sleep under the stars with just a sleeping bag.  Relying on the Wedge Hut as just a backup in the event of rain or snow. In the spring and winter months, when Whistler is deep with snow, the Wedge Hut is an indispensable refuge for skiers and snowboarders.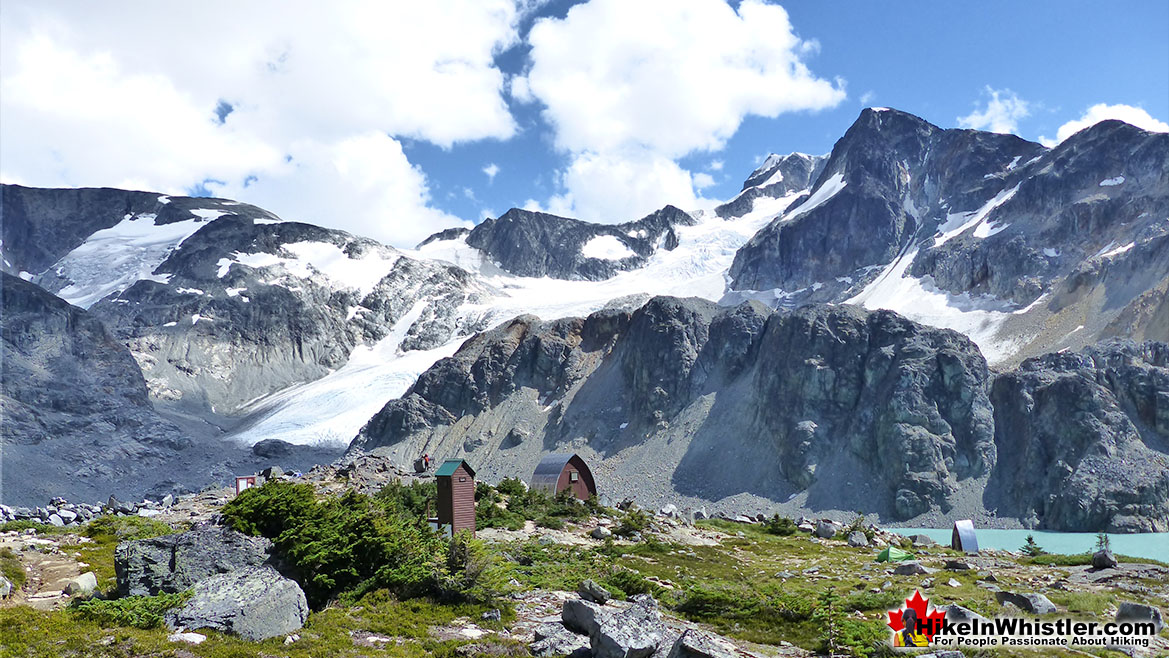 Facilities at Wedgemount Lake

There is an outhouse (toilet), at the trailhead to Wedgemount Lake.  Another one a few metres from the Wedge Hut and tent platforms at Wedgemount Lake.  And a third, almost hidden toilet down near the lakeside tent platforms.  You will spot an unusual looking, plastic box in the scree slope along the trail to the lake.  This is a futuristic looking outhouse that is more convenient to the campsites at the lake.  All the outhouses in Garibaldi Park are serviced frequently and even equipped with toilet paper, however, bringing your own is always a good idea as it inevitably runs out sometimes.  If you are unfamiliar with outhouses, they consist of, (usually) a very small wooden room with a small window for light.  Sometimes the outhouse is built above a pit in the ground for waste, but in the case of the Wedgemount Lake outhouse it is raised above a massive waste tank that is routinely replaced by helicopter.  They are unavoidably disgusting and fly ridden despite the frequent and heroic efforts of excellent BC Parks staff.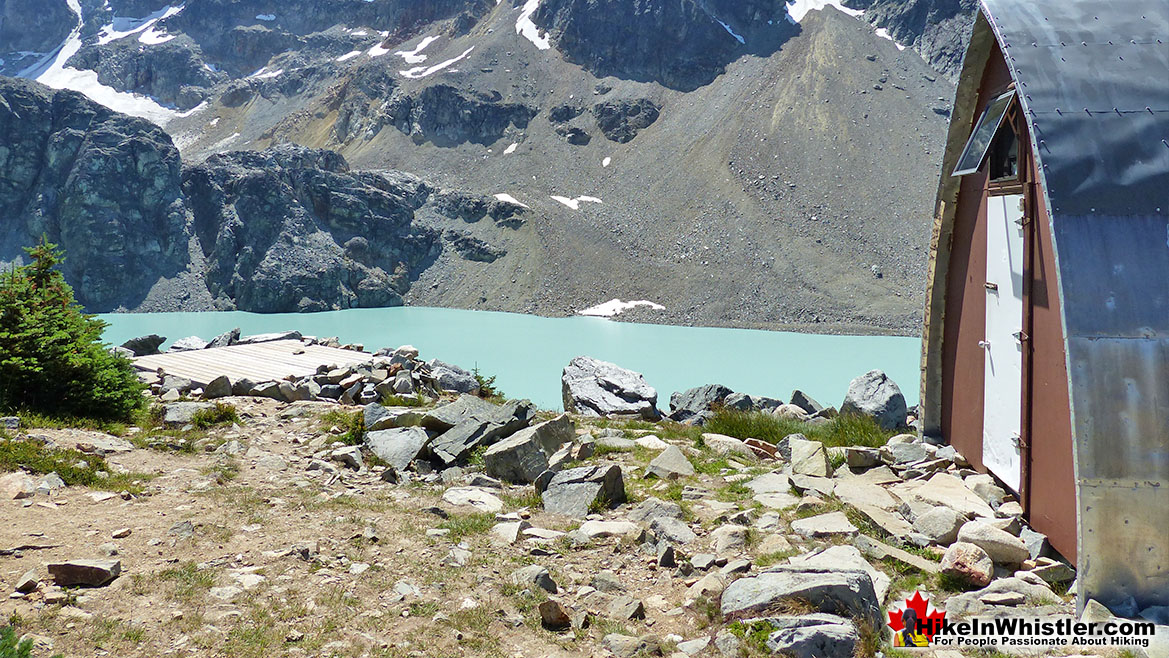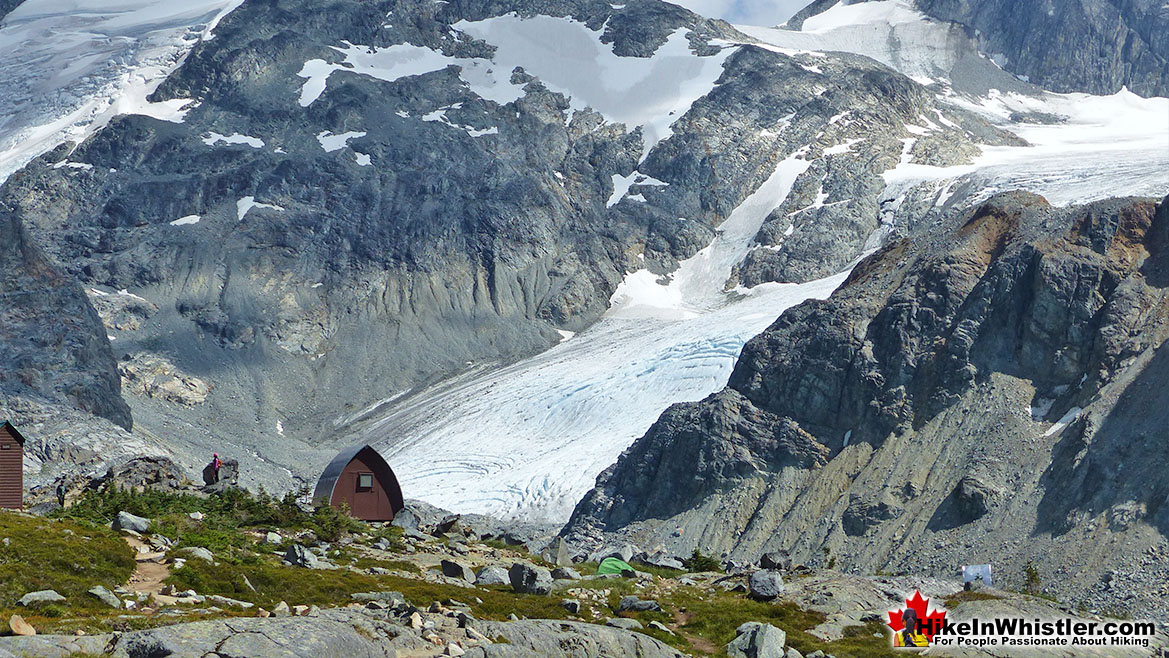 Restrictions and Concerns at Wedgemount Lake



Dogs are not permitted on the Wedgemount Lake trail or any other Garibaldi Provincial Park trails out of courtesy to the resident animals of the park. There are a large number of black bears in the park and encounters with dogs result in unpredictable and potentially dangerous conflicts. There are quite a few excellent hiking trails in Whistler that are dog friendly. Whistler's Valley Trail and Lost Lake trails are dog friendly and run throughout Whistler. The Sea to Sky Trail, which runs over 30 kilometres through Whistler is a paradise trail for dogs as it runs through numerous parks, beaches and forests. Ancient Cedars is a nice, dog friendly hike that is 5 kilometres roundtrip and takes you into a thousand year old forest. Whistler Train Wreck is also dog friendly. The trailhead, marked Flank Trail is located in Function Junction, just a short drive south of Whistler Village. Further south you will come to Brandywine Falls, which is a short, 2 kilometres (roundtrip) dog friendly hike to the amazing falls. About 25 minutes north of Whistler, Nairn Falls is another beautiful and dog friendly hiking trails.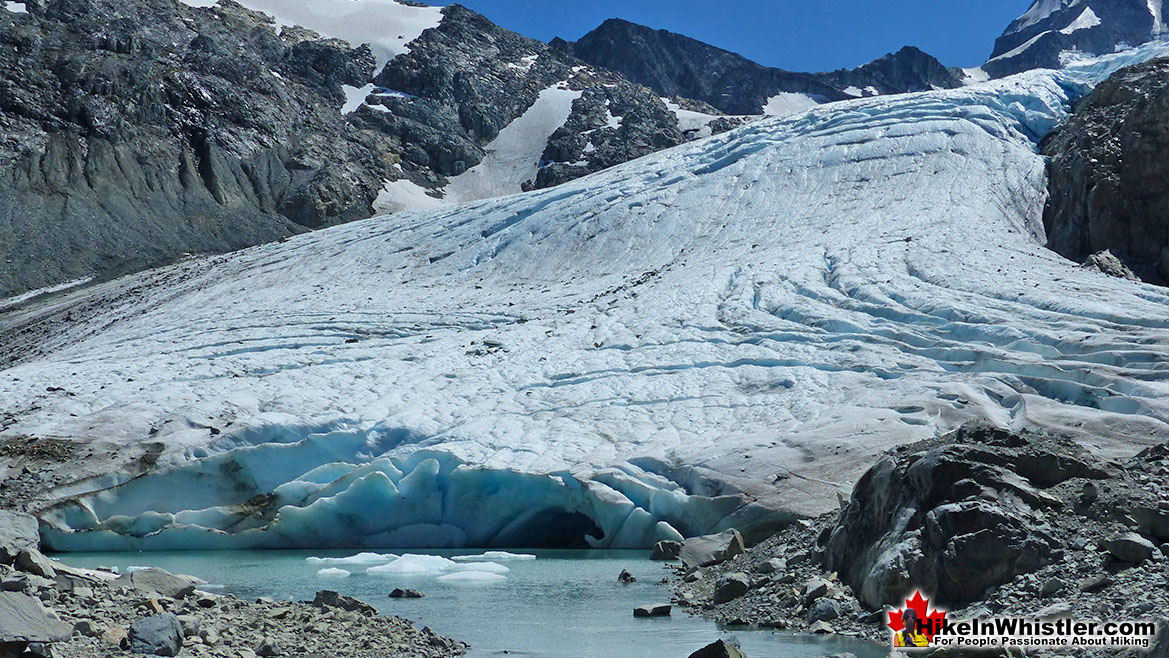 Trailhead & Parking Directions to Wedgemount Lake



The free parking at the trailhead to Wedgemount Lake, or "Wedge" as it is commonly called is easy to find as there are easy to spot Garibaldi Provincial Park signs on the Sea to Sky Highway.  Located just a short and scenic, ten minute drive north of Whistler Village.  An excellent place to see Wedge Mountain on the way to the Wedgemount trailhead is the Green Lake viewpoint at the edge of Highway 99.  Look for the obvious and large pullout on the right side of the Sea to Sky Highway at the far end of Green Lake. The pullout is easy to spot shortly after you lose sight of Green Lake.  The views across to Whistler Mountain, Blackcomb Mountain and Wedge Mountain are amazing.  There is also a nice information board indicating what you are looking at. Also, just after the highway turnoff to Wedgemount Lake there is a beautiful picnic area on Green River.  Picnic tables, serenity and the hugely crashing Green River make this a great spot to relax before your hike.  This is also a superb and free place to camp before and/or after hiking Wedgemount Lake.  Beautiful freshwater river and lots of places to put up a tent near the Green River bridge make it an ideal setting.  From Whistler Village at Village Gate Boulevard, zero your odometer proceed north on Highway 99. At 11.9km a sign will direct you to turn right to "Wedgemount(Garibaldi)". Cross the train tracks and the bridge over Green River and immediately turn left onto the Wedge Creek Forest Service Road. After another couple hundred metres you will turn right and head up the bumpy but drivable old forest service road to the parking lot at 13.8km.  In the winter months (December to March) this last portion of road will likely be too deep with snow to drive, so parking down at the highway turnoff may be as close as you can get. The trailhead parking lot is large and well maintained with an information board and outhouse.  Though crime is almost non-existent in Whistler, be sure to secure your vehicle as leaving valuables visible in your car at a hiking trailhead is asking for trouble.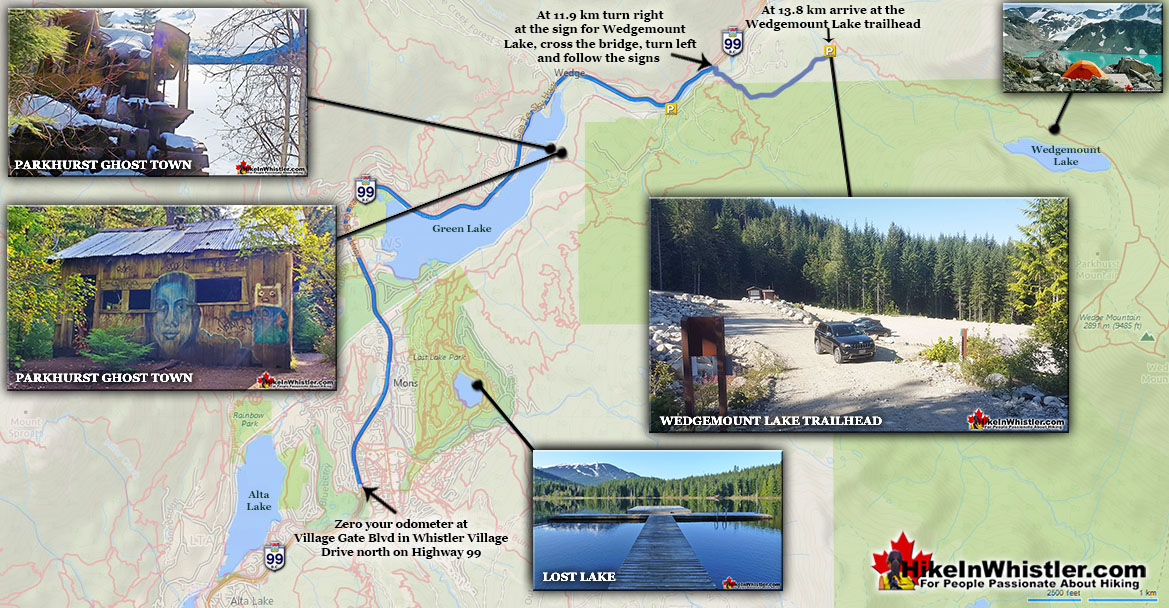 Whistler's Best Hiking Trails!
Whistler & Garibaldi Park Best Hiking by Month!

Explore BC Hiking Destinations!