July is a wonderful time to hike in Whistler and Garibaldi Provincial Park.  The weather is beautiful and the snow on high elevation hiking trails is long gone.  The average temperatures in Whistler Village range from 11c to 27c(52f to 80f).  Located in the Coast Mountains, Whistler gets warm summer days and cool nights.  On a hot July day of 25c(77f) often switches to a cool 12c(54f) night. 
Whistler & Garibaldi Hiking

Alexander Falls  

Ancient Cedars  

Black Tusk  

Blackcomb Mountain  

Brandywine Falls  

Brandywine Meadows  

Brew Lake  

Callaghan Lake  

Cheakamus Lake  

Cheakamus River  

Cirque Lake 

Flank Trail 

Garibaldi Lake 

Garibaldi Park 

Helm Creek  

Jane Lakes 

Joffre Lakes  

Keyhole Hot Springs  

Logger's Lake  

Madeley Lake  

Meager Hot Springs 

Nairn Falls  

Newt Lake 

Panorama Ridge 

Parkhurst Ghost Town 

Rainbow Falls  

Rainbow Lake 

Ring Lake  

Russet Lake  

Sea to Sky Trail 

Skookumchuck Hot Springs  

Sloquet Hot Springs 

Sproatt East 

Sproatt West  

Taylor Meadows  

Train Wreck  

Wedgemount Lake  

Whistler Mountain

January 

February 

March 

April 

May 

June 

July 

August 

September 

October 

November 

December
Something locals tend to love and something to keep in mind when hiking in the alpine in Whistler.  When you are in the alpine you can generally subtract 6 degrees from the high and low temperatures expected in Whistler Village.  With such great weather and all the snow gone from the trails, picking the best hiking trails in Whistler and Garibaldi Park is easy.  Wedgemount Lake is a great place to start.  Due to its high elevation and steep trail, Wedgemount Lake is too arduous for most until the snow is fully gone from the trail in late June.  This means that July is the first month where you will be able to hike a snow free trail and swim in a ice free lake.  Though it is not unusual to have huge chunks of ice floating in Wedgemount Lake in early July.  For the best hiking in Whistler and Garibaldi Provincial Park in July, Wedgemount Lake, Black Tusk, Cirque Lake, Panorama Ridge, Russet Lake, Whistler Mountain, Blackcomb Mountain, Garibaldi Lake, Mount Sproatt and Cheakamus Lake are all highly recommended!  Check out the short summary of each below and follow the links for everything you need to know before setting out hiking in July in beautiful Whistler.
Wedgemount Glacier Meltwater View of Wedgemount Lake in July
In early July, depending on the weather and snowfall of the previous months, you often find Wedgemount Lake surrounded in snow and partly frozen.  Usually by the middle of July the snow has mostly melted and this is the view you get from the glacier end of the lake.  During hot days in July there will be a torrent of water flowing out of the glacier window at the toe of Wedgemount Glacier.  The water crashes down several hundred metres over the boulder strewn valley into the extraordinarily turquoise coloured lake.  The valley is a wonderful contrast of a boulder strewn, chaotic looking valley and perfectly smooth and brightly coloured lake.  If you are hiking in Whistler in July, Wedgemount Lake is hard to beat.  Far quieter than Garibaldi Lake or Joffre Lakes, and definitely more wildly beautiful.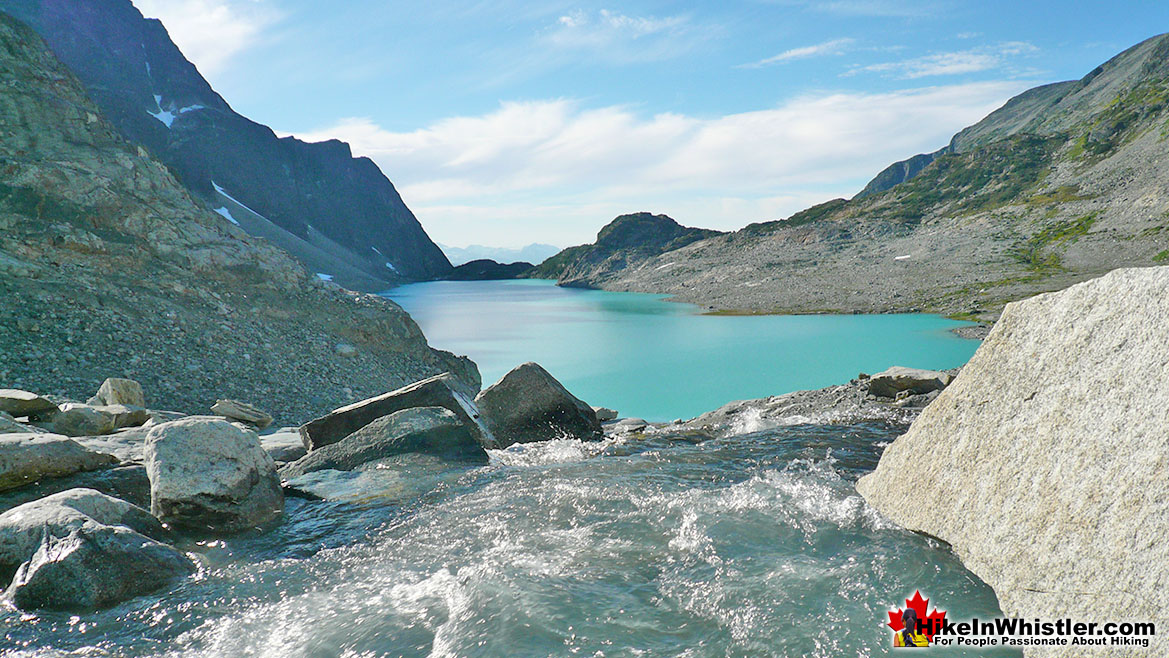 Best Whistler Hiking July - Wedgemount Lake

Wedgemount Lake is absolutely spectacular in July.  Pick a couple days where clear skies are expected and sleep under the stars on one of the many perfect tent platforms.  Wooden tent platforms are scattered in the huge boulder field that fills much of the hillside next to the lake.  High above the lake, the views are sensational.  In the dead of night, the stars are magnificent.  Just bring a warm sleeping bag for an extraordinary night in the mountains you won't soon forget.  There are plenty of tent platforms in the boulder field and several more on gravel clearings down along the shore of Wedgemount Lake.  Every tent by the lake has a million dollar view of Wedge Glacier.  The water in Wedgemount Lake is close to freezing even in July, so you have to be brave or bold to jump in.  Though on a hot, sunny, July day after hiking, you don't have to be too brave.  Wedge Mountain is the highest mountain in the Garibaldi Ranges, the mountain range that surrounds Whistler and stretches from Pemberton to Vancouver.  More hiking and camping info for Wedgemount Lake click here.
Beautiful Wedgemount Lake in July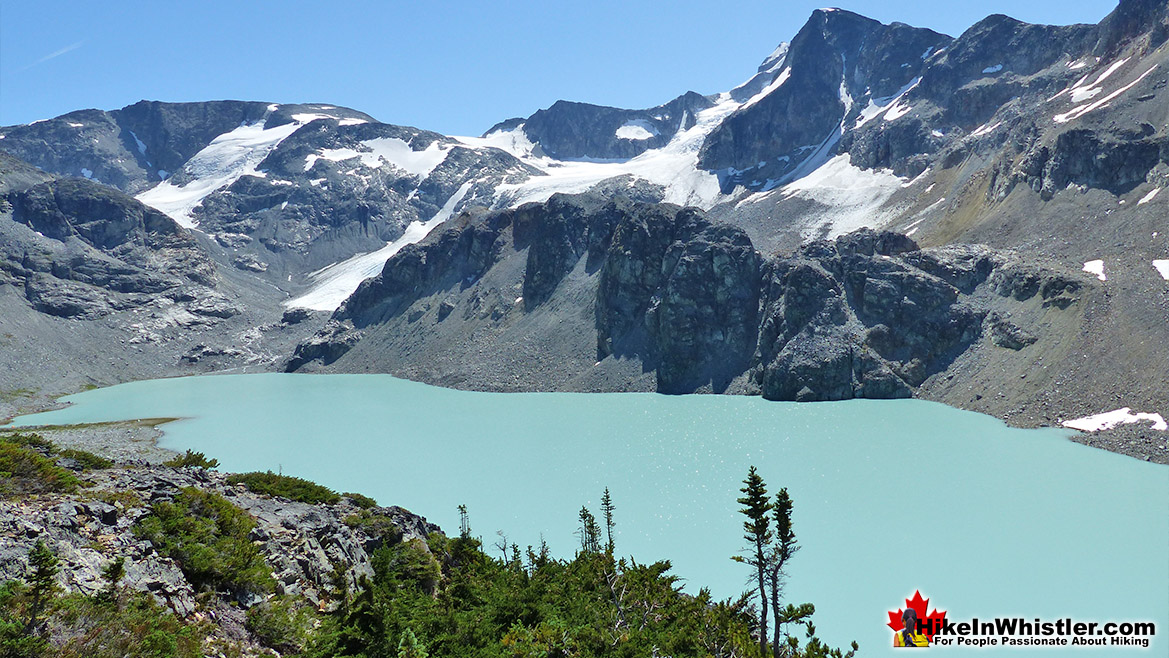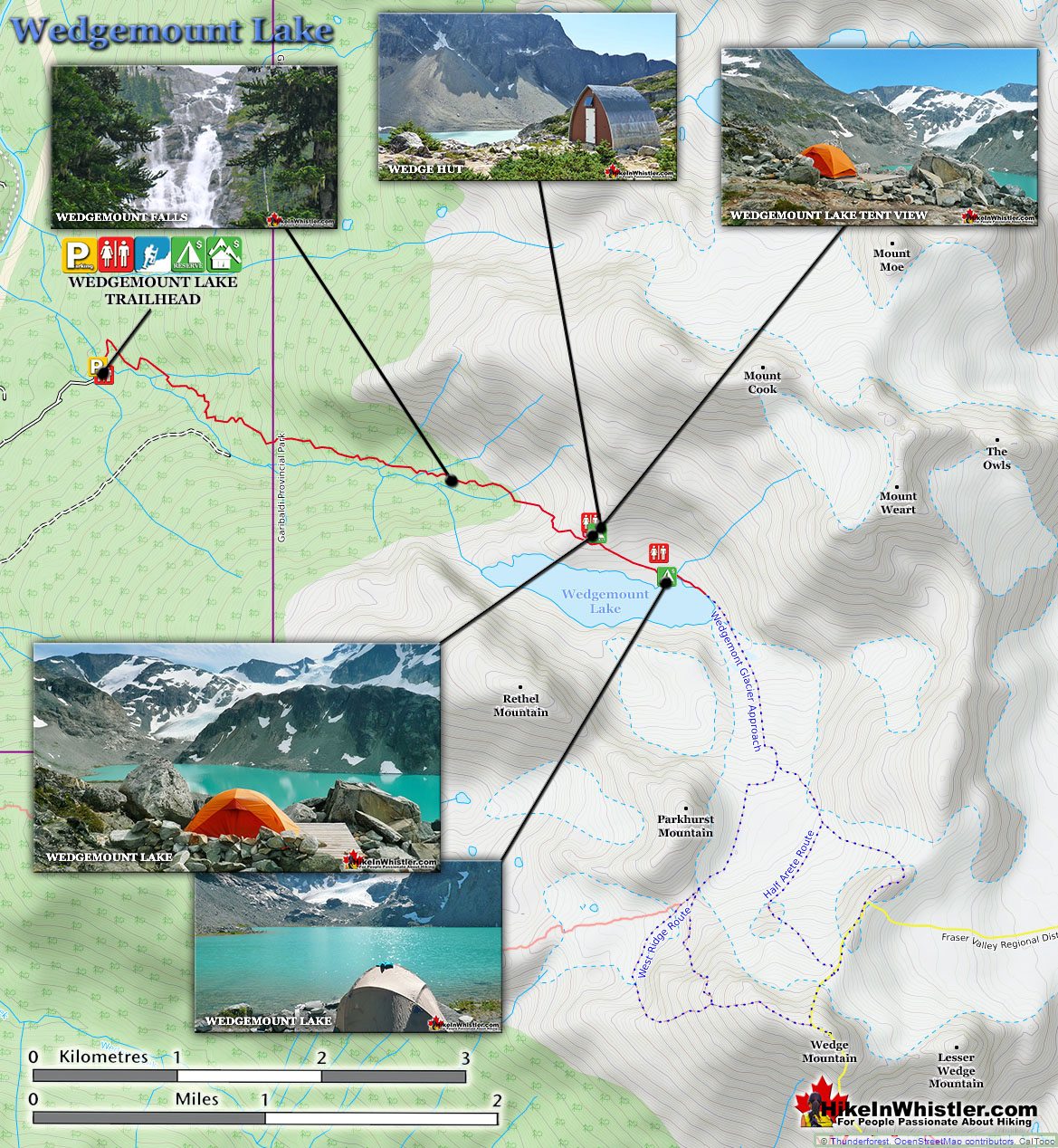 Best Whistler Hiking July - Black Tusk

Black Tusk is another unforgettable hiking destination in Whistler that is recommended to do in July.  Hot, beautiful weather, and a hiking destination that feels like the top of the world.  Standing on the top of Black Tusk is a surreal experience.  Way up in the alpine of Garibaldi Provincial Park, even in July you may find yourself putting on a jacket as you near Black Tusk.  On a windy day, which is not unusual high up in the mountains of the Garibaldi Ranges, even a hot day feels cold.  Then as you scramble up the final chute up to the top of Black Tusk, you notice something strange.  You are no longer cold, despite the wind still howling.  After a moment you figure it out.  It's the heat from Black Tusk under your feet.  The sun sinks in to Black Tusk and radiates heat back up again.  Where you needed a sweater and jacket a few minutes ago, now you don't.  Fantastic.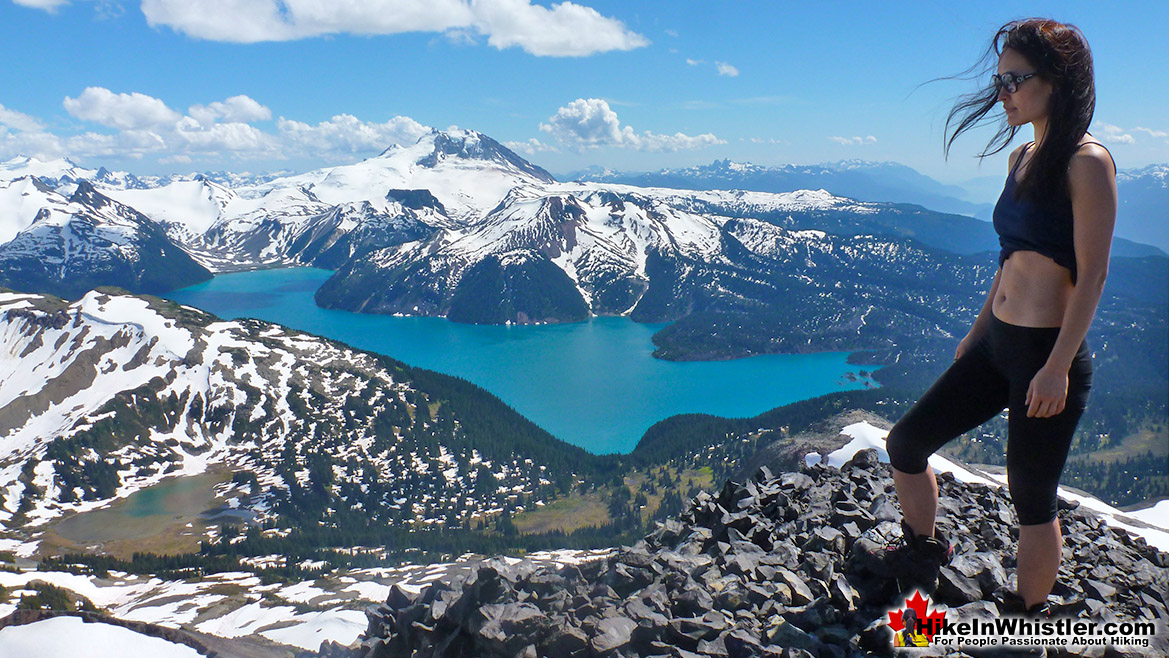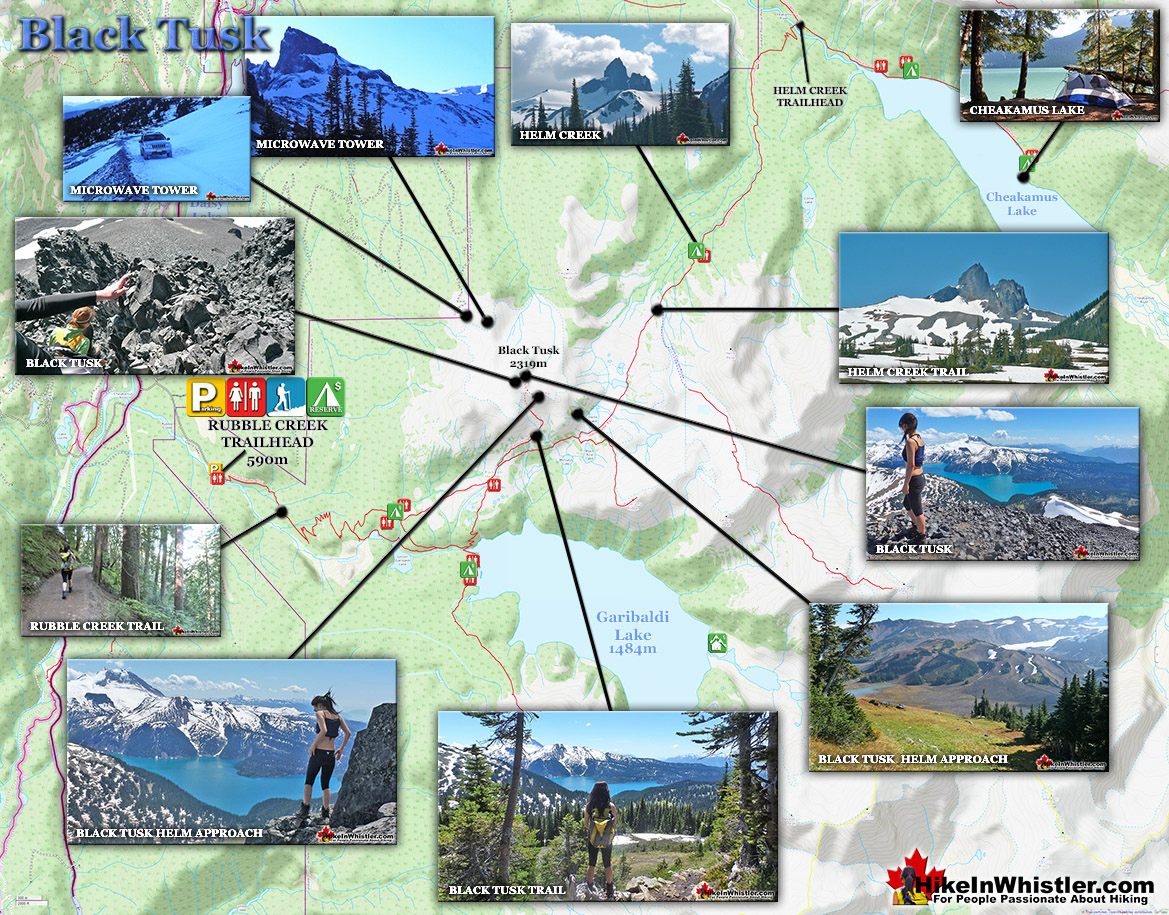 Best Whistler Hiking July - Cirque Lake

Cirque Lake sits high up in the Callaghan Valley, high above Callaghan Lake.  A wonderful hiking destination in July as with the winter snow in fast retreat, the brilliantly green slopes around the lake seem to glow in the evening sun.  A cirque is a valley carved out by glaciers that often form on the north side of mountains.  Centuries of grinding weight of a glacier, under the right circumstances will carve out a huge amphitheater in the side of the mountain valley.  Occasionally a near perfect lake forms in the cirque.  On a sunny day in July, Cirque Lake is as close to perfectly beautiful as a lake can get.  Huge, astoundingly perfect round shape, filled with deep green coloured water, glowing green hillsides from the lush vegetation recently thriving in July.  Sitting in front of your tent at the edge of Cirque Lake staring down at such an impossibly peaceful and remote feeling place is a great way to spend a July day in Whistler.
Cirque Lake Tent View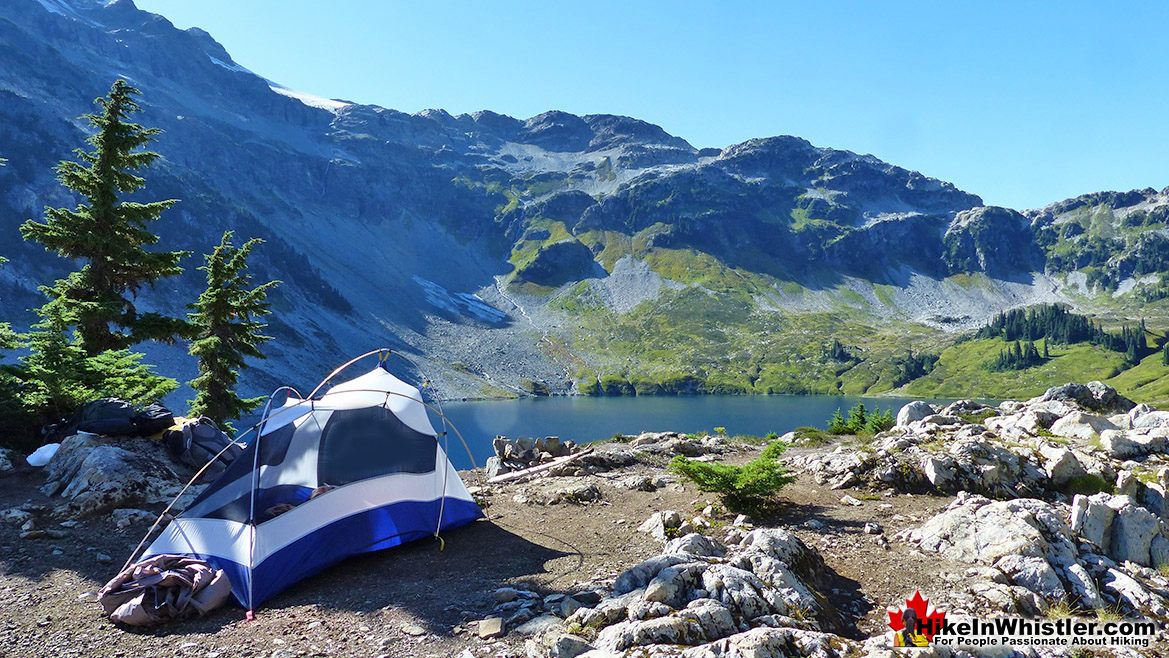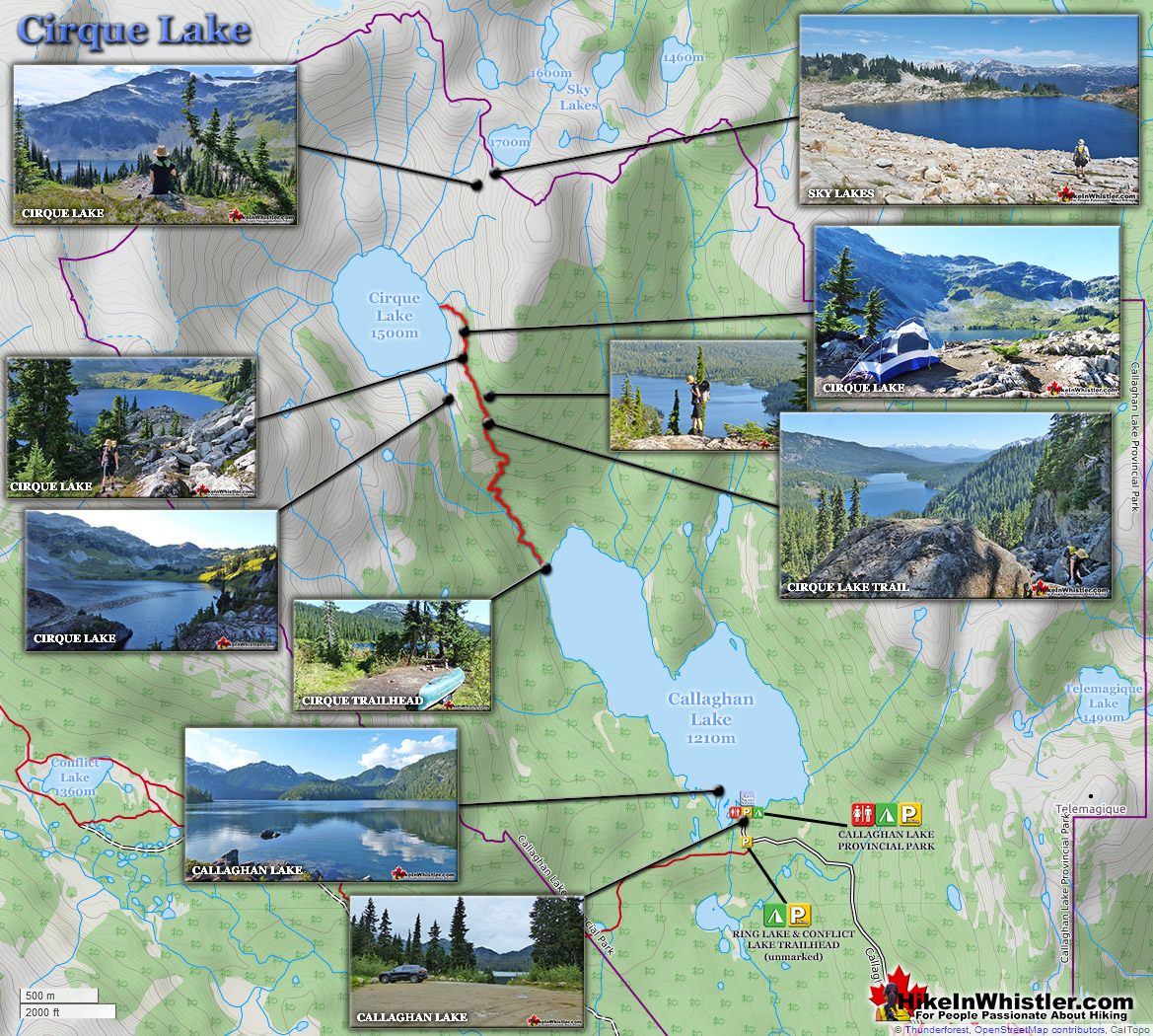 Best Whistler Hiking July - Panorama Ridge

Panorama Ridge is another beautiful hiking destination close to Whistler in Garibaldi Provincial Park.  Most hike in from the Rubble Creek trailhead, however there is another, somewhat quieter Garibaldi Park access point worth considering.  The Cheakamus Lake trailhead is located at the southern end of Whistler, just 8 kilometres south of Whistler Village near the newish neighbourhood of Cheakamus Crossing.  Just a couple hundred metres from the Sea to Sky Highway you will see a gravel road on your left.  This is the Cheakamus Lake forest service road that goes 8 kilometres up to the BC Parks Garibaldi Provincial Park, Cheakamus Lake trailhead.  From the trailhead you have a short 1.5 kilometre hike to a branching trail that leads to Panorama Ridge.  The Helm Creek trail crosses Cheakamus River then quickly ascends up to the Helm Creek campground.  From the campground you have about a two hour hike to Panorama Ridge and the views are pretty amazing.
Panorama Ridge is Amazing in July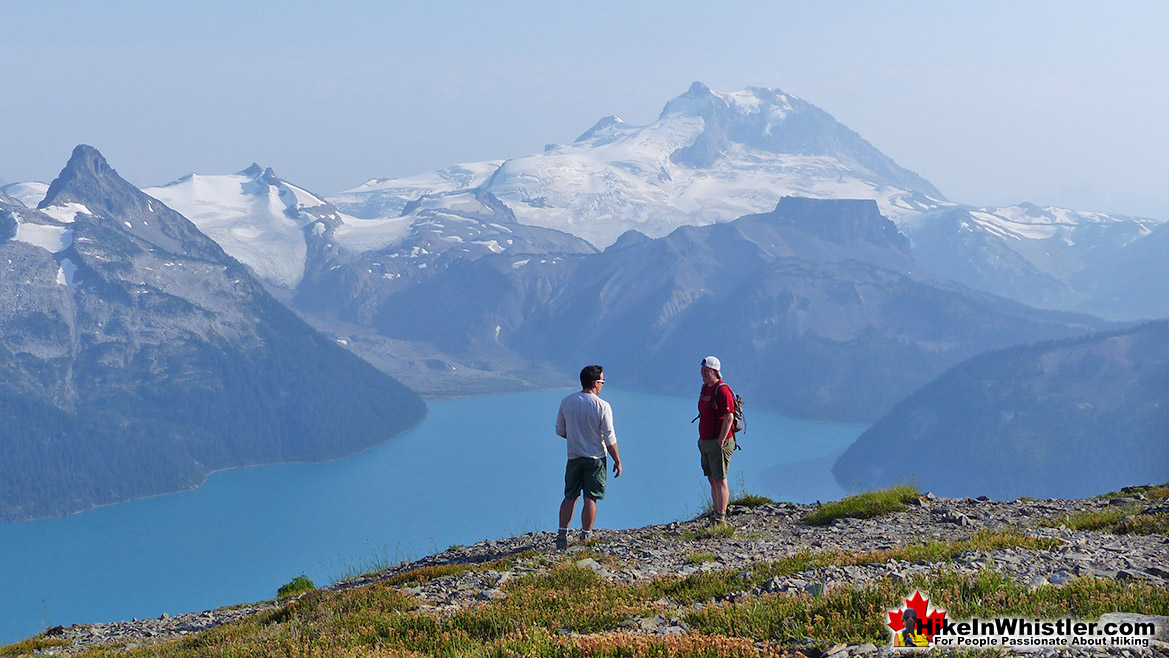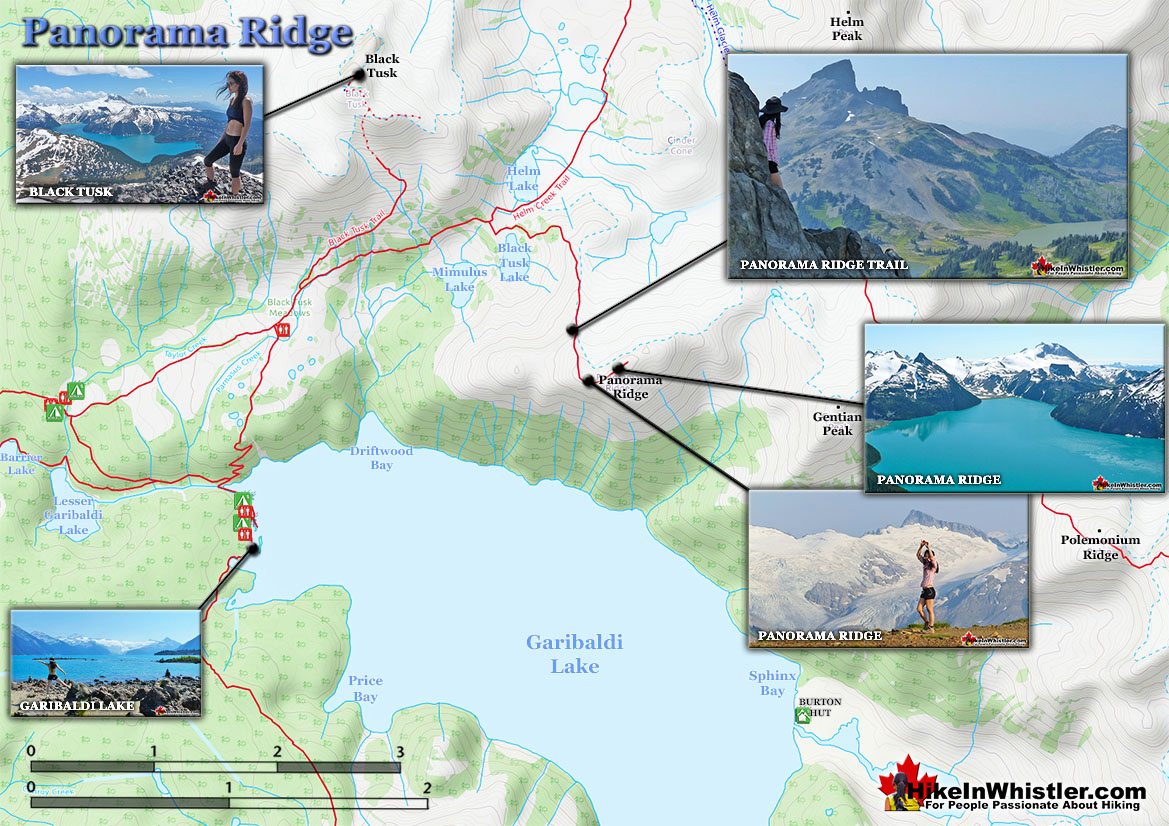 Best Whistler Hiking July - Russet Lake

Russet Lake is a fantastic hiking destination in July.  Located close to where the Fitzsimmons Range meets the Spearhead Range and at the foot of The Fissile.  The Fitzsimmons Range is the range of mountains that includes Whistler Mountain.  The Spearhead Range is the mountain range that lays across the valley, cut by Fitzsimmons Creek.  If you have ever been on the Peak2Peak Gondola that connects Whistler Mountain and Blackcomb Mountain, you would have noticed at the mid-point a river that runs down the valley.  This is Fitzsimmons Creek which is fed by Russet Lake and Overlord Glacier as well as hundreds of small streams.  Russet Lake can be hiked to via the free, BC Parks Garibaldi Provincial Park trail that starts a couple hundred metres up from the base of Whistler Mountain.  The big bus stop on Blackcomb Way has a trailhead mapboard for the Singing Pass trail to Russet Lake.  It is quite a long and boring trail that constantly ascends for about a dozen kilometres through the forest before getting scenic.  A nicer alternative is to buy a lift pass and ride the Whistler Gondola up Whistler Mountain, then hike the Musical Bumps trail or the High Note trail to Russet Lake.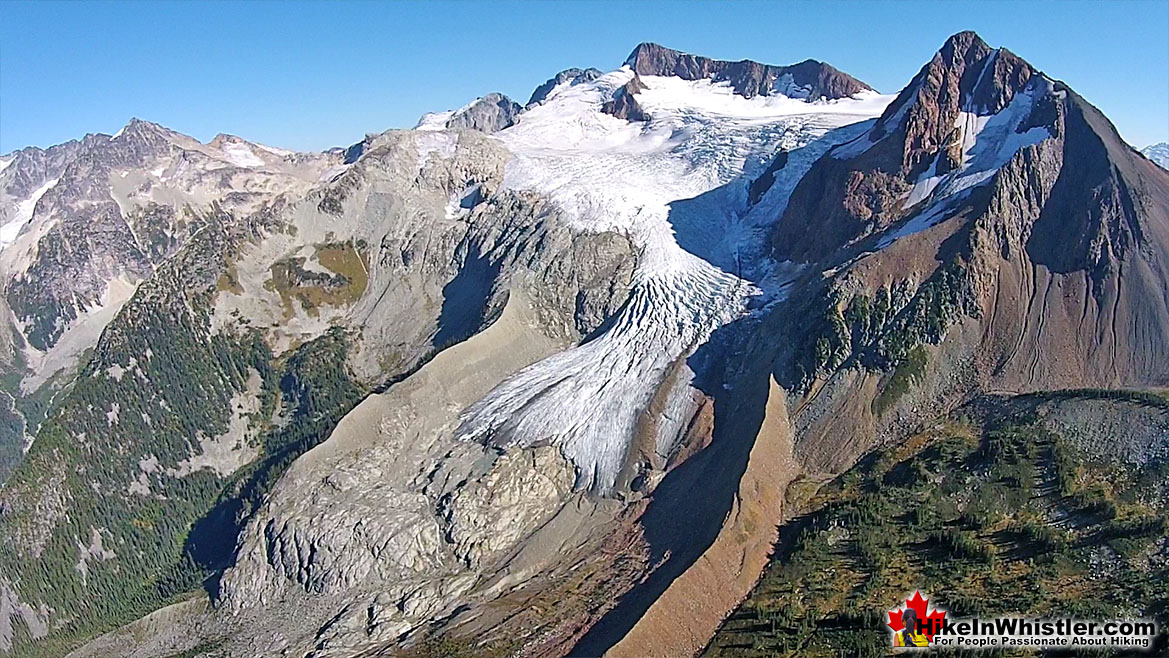 Both are shorter than the Singing Pass trail, and constantly amazing.  Also, you ride most of the ascent by gondola.  No matter what way you hike to Russet Lake, if you do it in July you will likely have gorgeous weather and a wonderful time at the lake.  The campsite sits near the base of The Fissile, at the shore of Russet Lake, and overlooking Overlord Glacier.  A small stream runs along the campsite that you can drink straight from.  From the campsite you can hike in several directions to see some incredible sights.  The Fissile is a challenging scramble.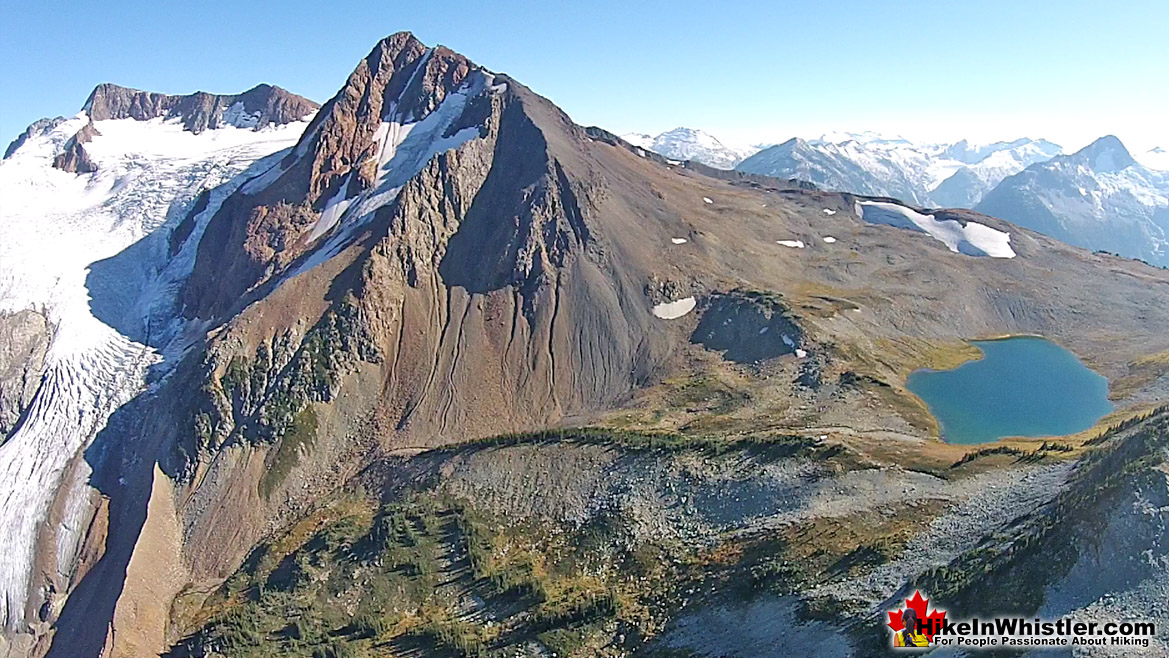 Overlord Glacier is just an easy hike down the valley.  The small and comparatively warm, Adit Lakes sit up from Russet Lake on the opposite side of the valley from The Fissile.  Russet Lake is paradise in July, but keep in mind that it can get busy, especially on weekends.  If you are camping, get your BC Parks camping permit ahead of time.  If you are day hiking, you don't have to pay a think, except the Whistler lift pass if you hike in that way.  If you hike up Singing Pass, it is of course free, and you can return via Whistler Mountain on the Peak Express Chair and/or the Whistler Gondola for free.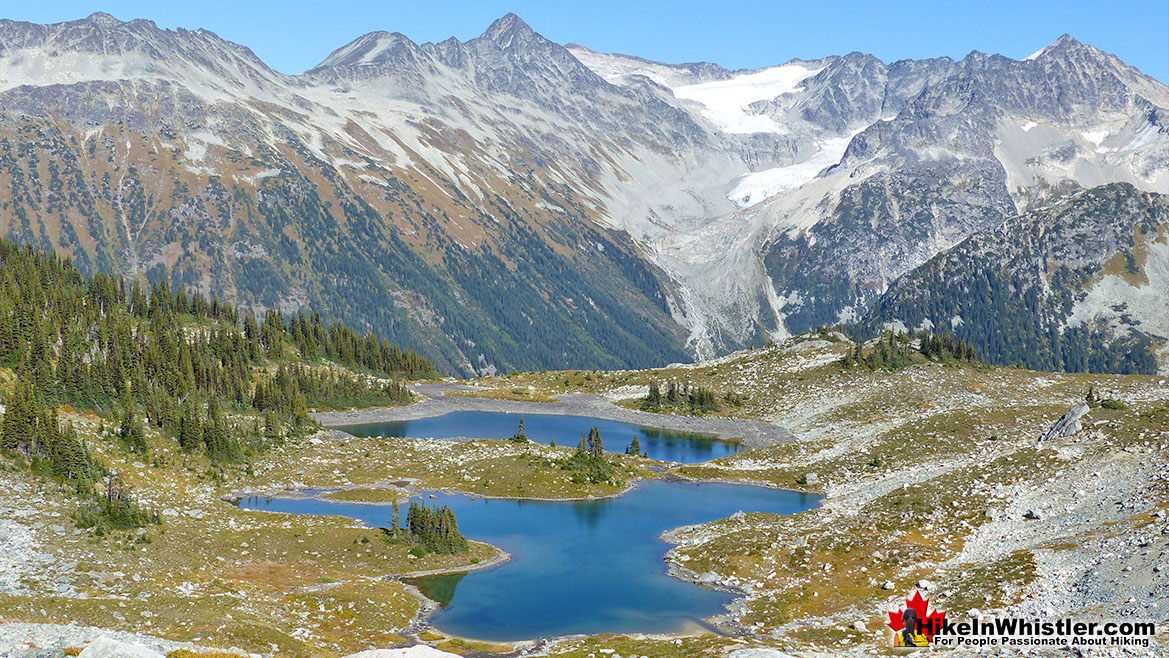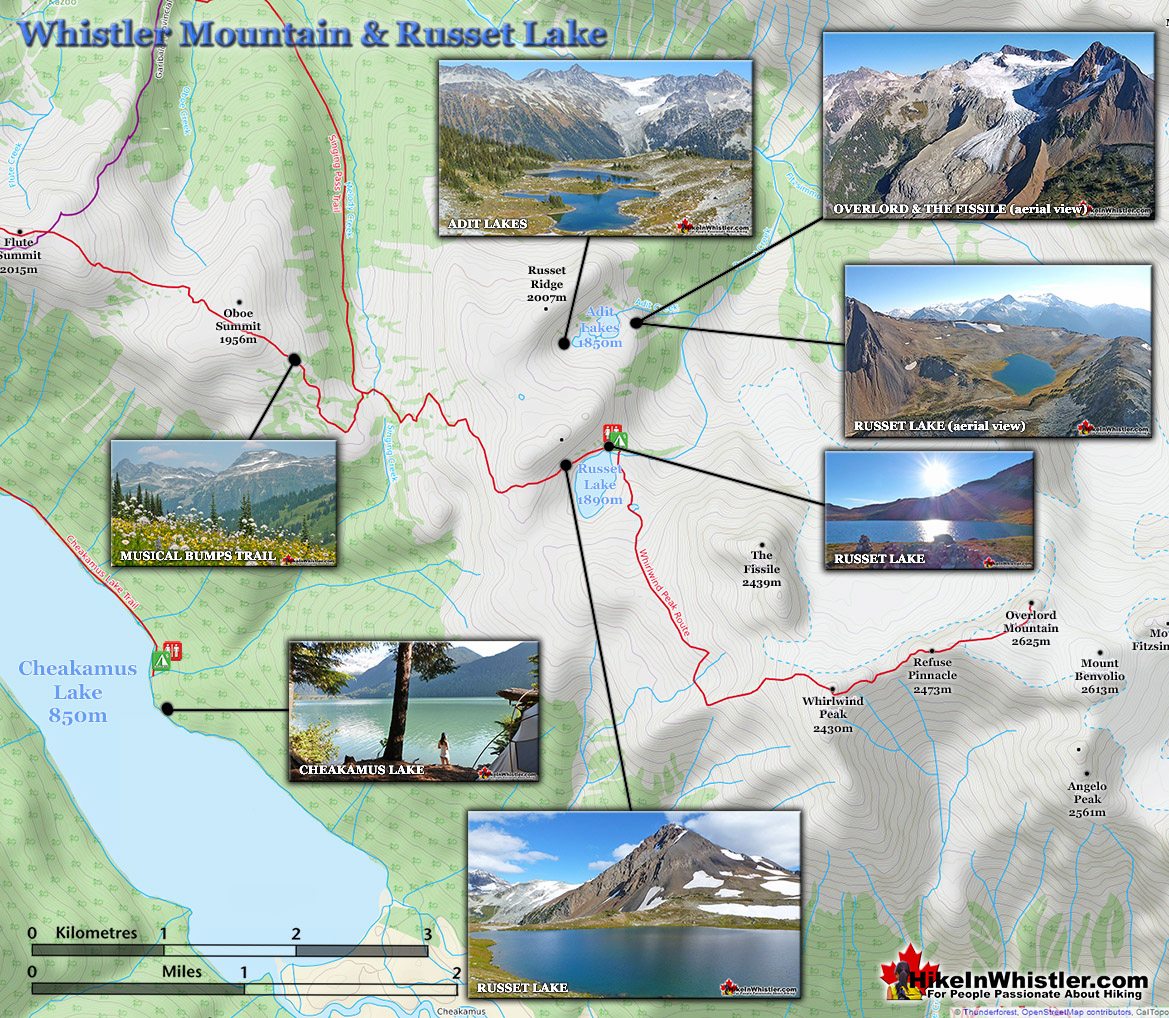 Best Whistler Hiking July - Whistler Mountain

Whistler Mountain's huge winter snowfalls mean that alpine hiking usually takes until late June to open up.  So July and August are the months where the Whistler Mountain hiking trails are clear of snow and beautiful.  Valleys of flowers, distant glaciers, alpine lakes, and plenty of hiking trails to choose from.  From the Roundhouse you can start hiking the Musical Bumps trail towards Russet Lake or hike down to the Peak Express Chair and ride up to the summit of Whistler Mountain.  An easy interpretive hiking trail loops around the summit and the more challenging Half Note and High Note trails run out along the ridge that overlooks the Whistler valley and Cheakamus Lake.  The High Note trail eventually links to the Musical Bumps trail which takes you to Russet Lake in Garibaldi Provincial Park. 
Whistler Mountain View of Cheakamus Lake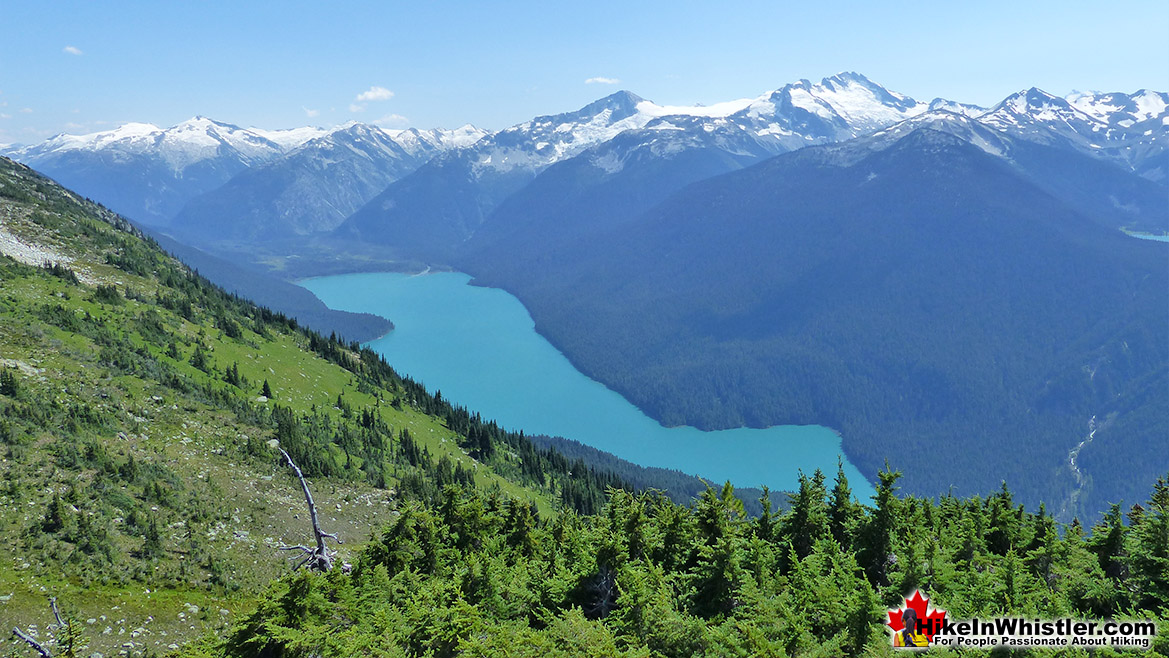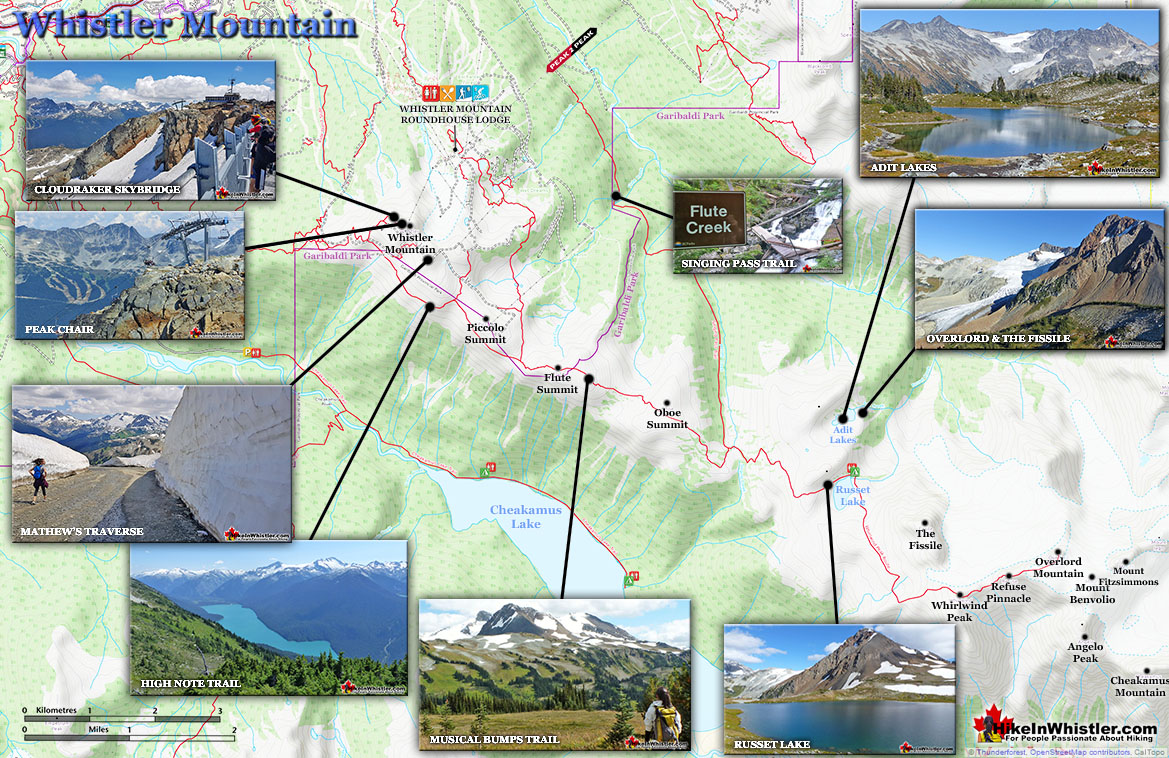 Best Whistler Hiking July - Blackcomb Mountain

Blackcomb Mountain in July is a stunning place to hike.  The Blackcomb Gondola, completed in 2018, takes you all the way to Rendezvous Lodge and Peak2Peak Gondola.  The Blackcomb Mountain trails start the moment you exit either the Blackcomb Gondoal or the Peak2Peak Gondola, and immediately give you stunning views of Whistler valley.  The trail then ascends up and along a winding route that opens up to great views across to Whistler Mountain.  At every trail junction you can circle back to where you started or continue another leg.  At each turn you have very nice mapboards and signs indicating where to go and how long you likely will take to hike it and return in time for the Peak2Peak which stops around 4pm.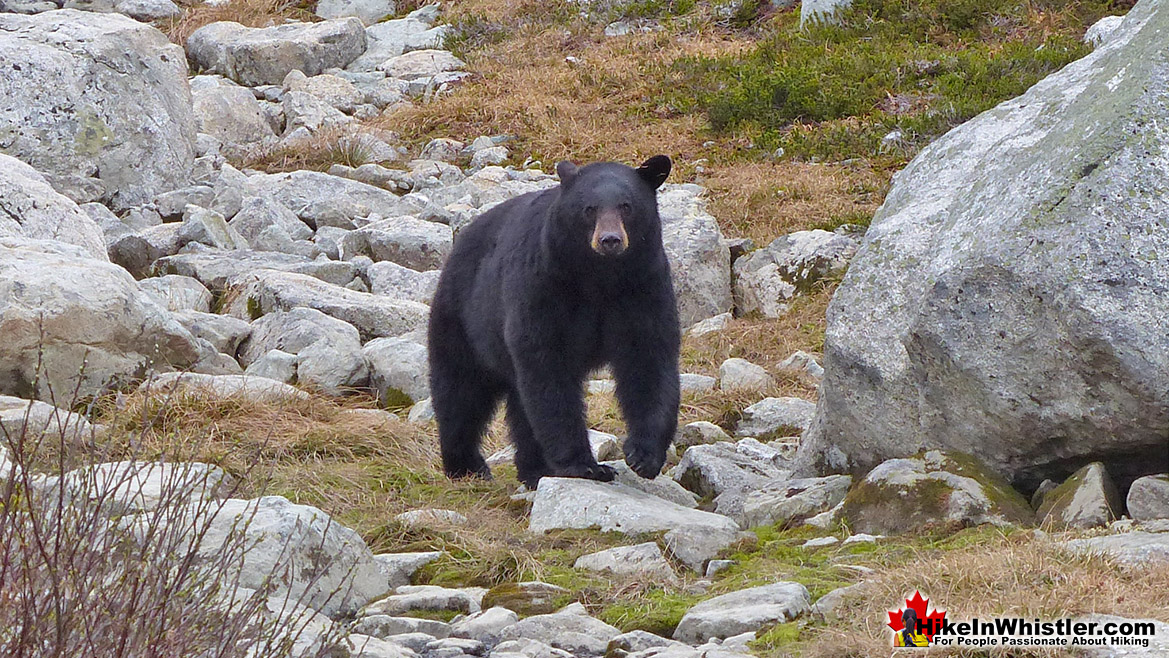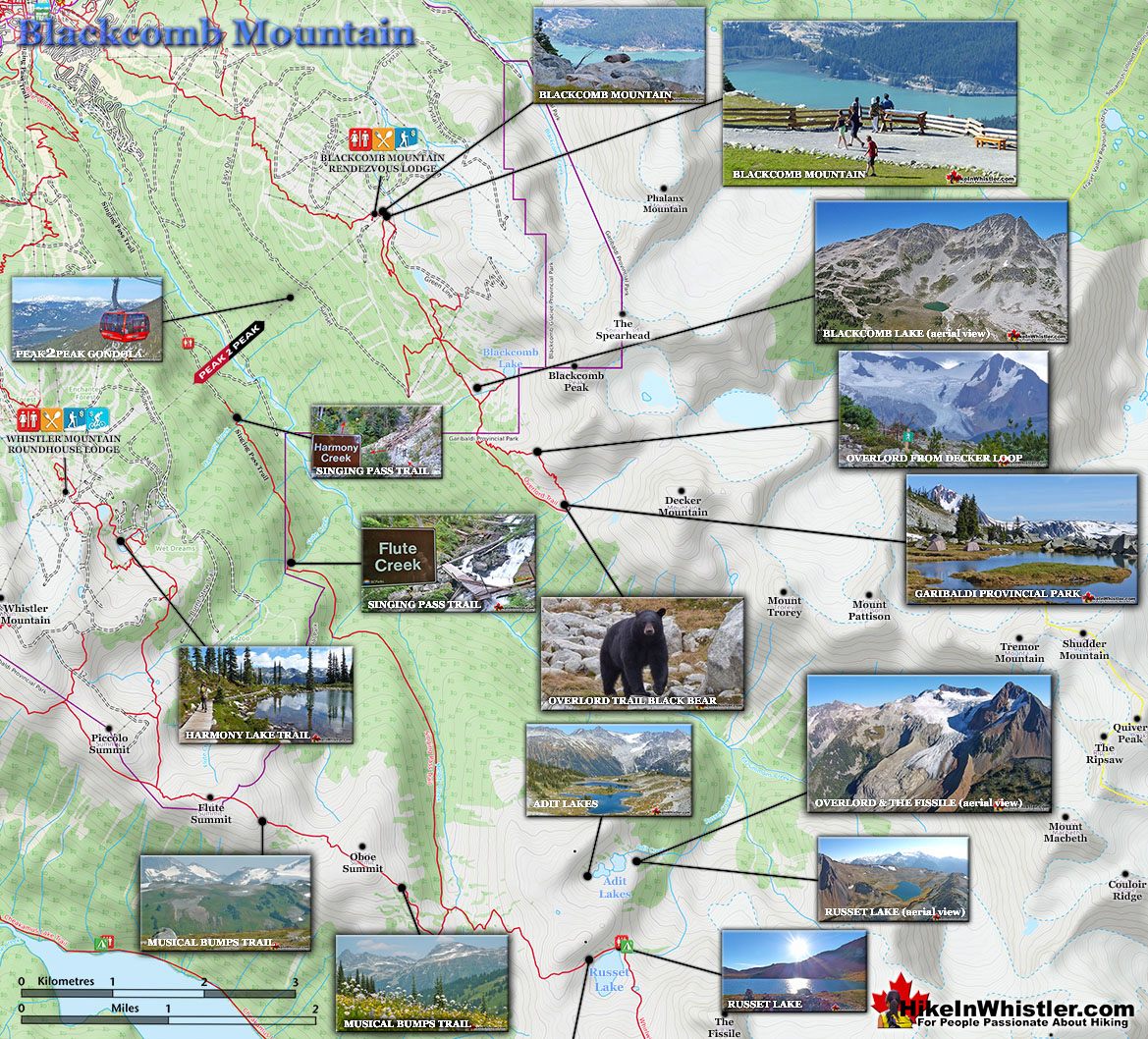 Best Whistler Hiking July - Garibaldi Lake

Garibaldi Lake and Taylor Meadows can both be hiked to in June, however July and August is when both are the nicest.  Flowers bloom in the valleys and hillsides and the weather is warm enough to brave swimming in glacier fed, Garibaldi Lake.  Both Garibaldi Lake and Taylor Meadows are home to Garibaldi Provincial Park campsites and good setting off points for Black Tusk and Panorama Ridge.  Garibaldi Lake is the centre and base for much of the hiking in Garibaldi Provincial Park. The Garibaldi Lake campsite is located on the amazing, turquoise shores of this massive and mostly still wild mountain lake. There are no trails around the edge of the lake except the small section leading to the campsites, so your view is an impossibly coloured lake edged by swaths of forest and a magnificent glacier towering in the distance.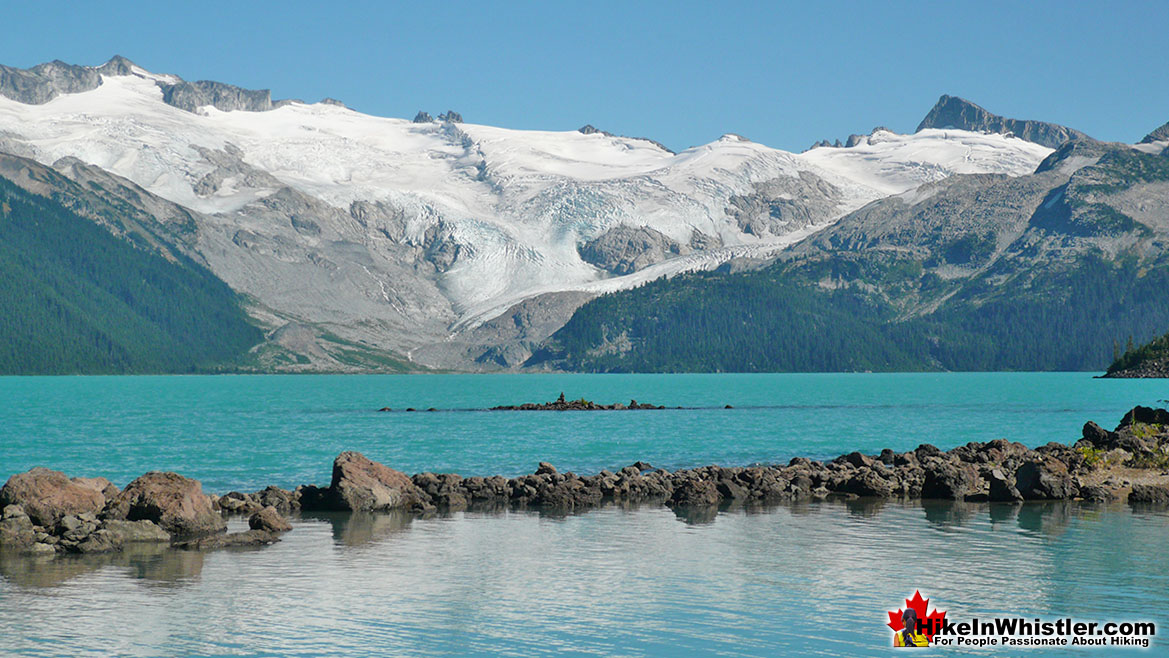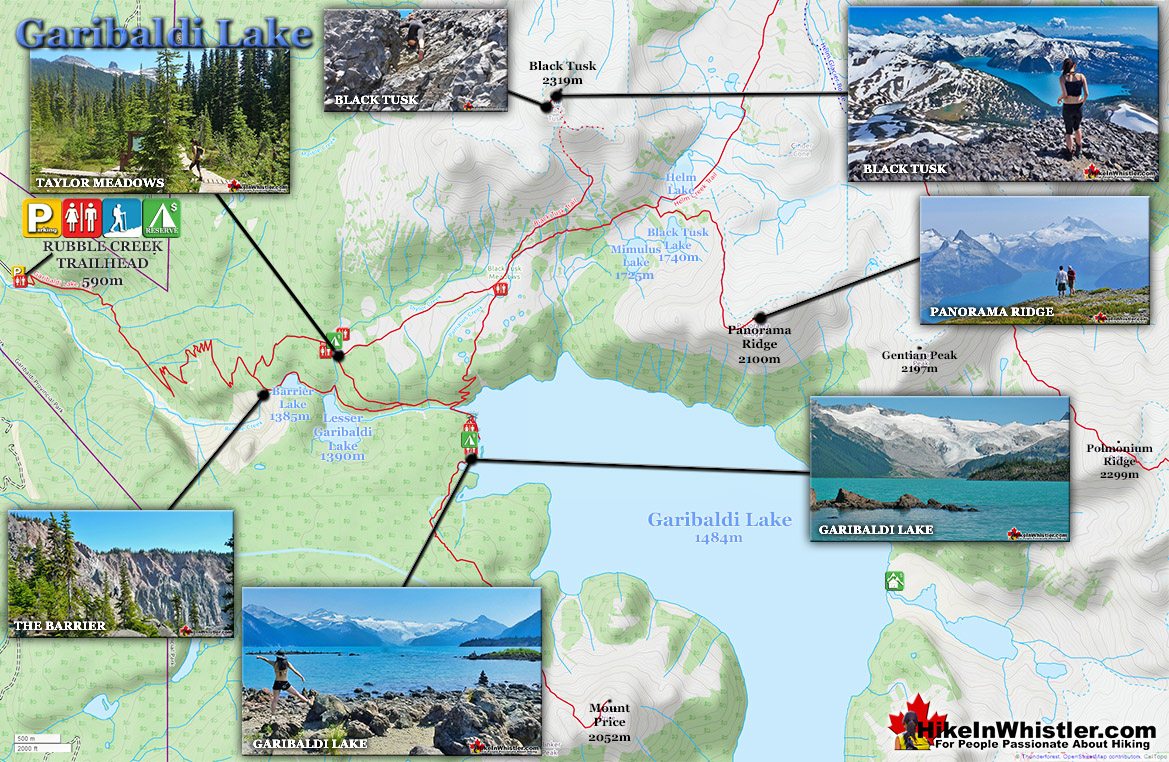 Best Whistler Hiking July - Sproatt

Mount Sproatt and Rainbow Mountain are in the opposite side of the valley from Whistler Mountain and Blackcomb Mountain.  There are some nice hiking and biking trails that take you to the alpine of Sproatt and connect through to Rainbow Lake.  The Mount Sproatt trails are spread over the vast wilderness up in the somewhat remote feeling, alpine paradise of Sproatt.  Access to Sproatt is not terribly straight forward and the hiking is hard, steep and covers great distances.  Unlike most other Whistler area hiking trails and in Garibaldi Park, you don't have to worry too much about getting lost or running into trouble.  On Sproatt, however, you can easily get lost in the disorienting alpine terrain.  Or wander from the trail in a direction that leads to dangerously steep terrain.  There is a very nice trailhead on the Callaghan Valley side of Sproatt which involves a few kilometres of 4x4 roads and a road that narrows into a ATV road.  This road is a bit tricky to navigate and tough to decide when to park and hike.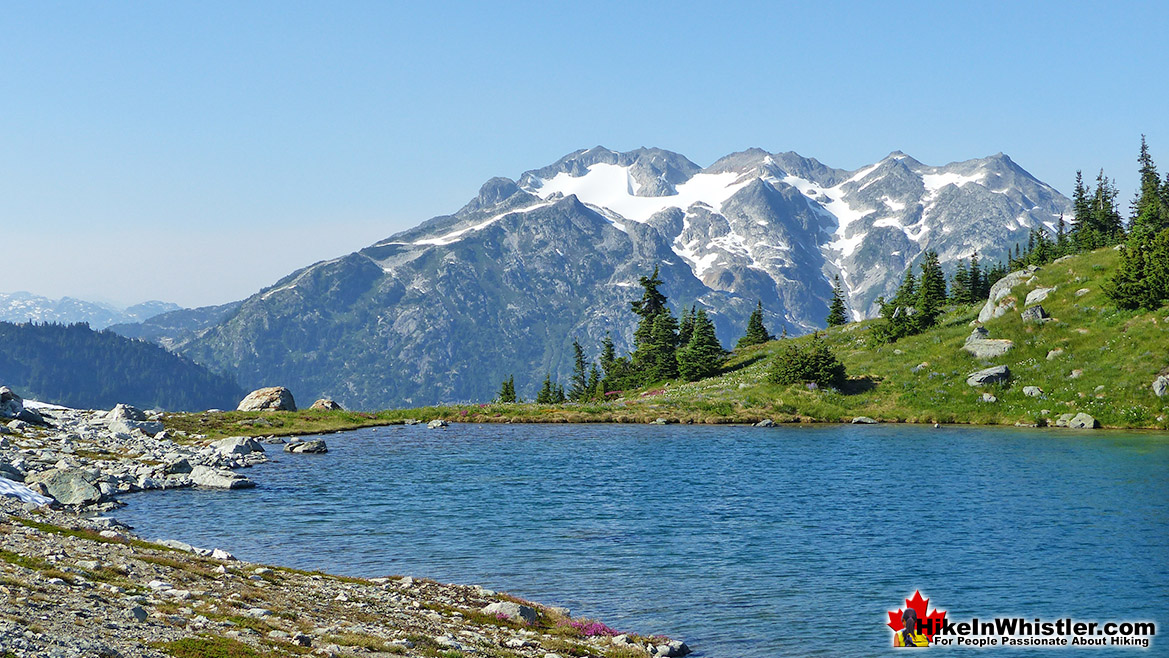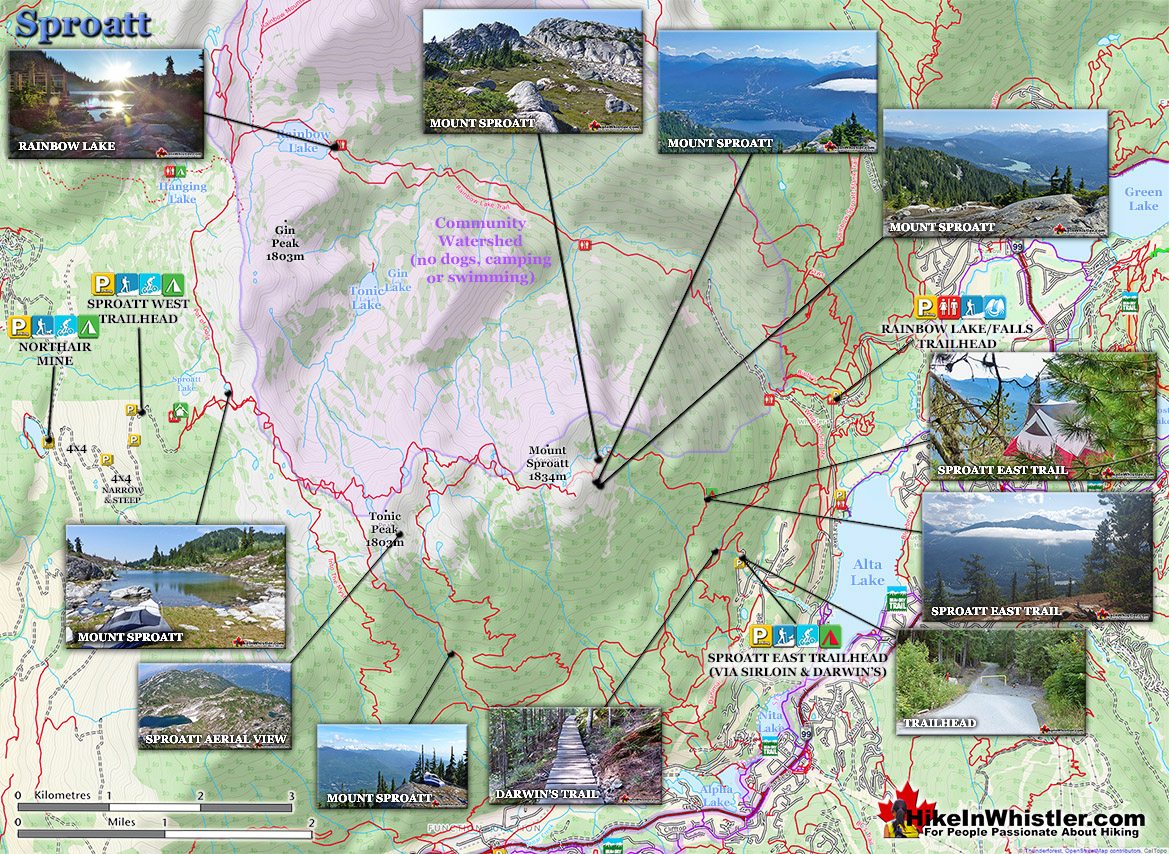 Best Whistler Hiking July - Callaghan Lake

Callaghan Lake is a beautiful park in July and will have only recently emerged from ice and snow in the previous weeks.  Way up in the alpine of the Callaghan Valley in Callaghan Lake Provincial Park.  The terrible, bumpy, potholed logging road to Callaghan Lake ends at the campsite and lake.  The drive to campsite is at the shore of the lake and having a canoe/kayak or paddleboard at the lake is a great way to see it.  Only a few short trails run near the campsite and if you want to hike around the lake you will have to do quite a lot of bushwhacking to get anywhere.  The Cirque Lake trail starts at the far end of Callaghan Lake and is a short, steep and tough trail to paradise.  Especially in July.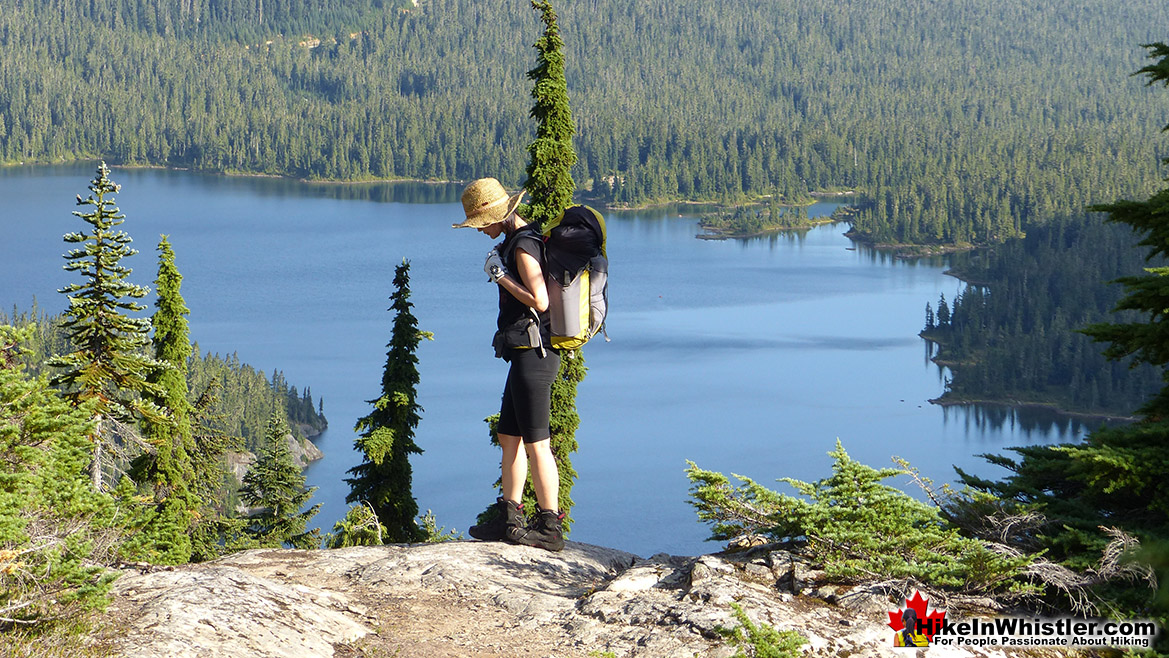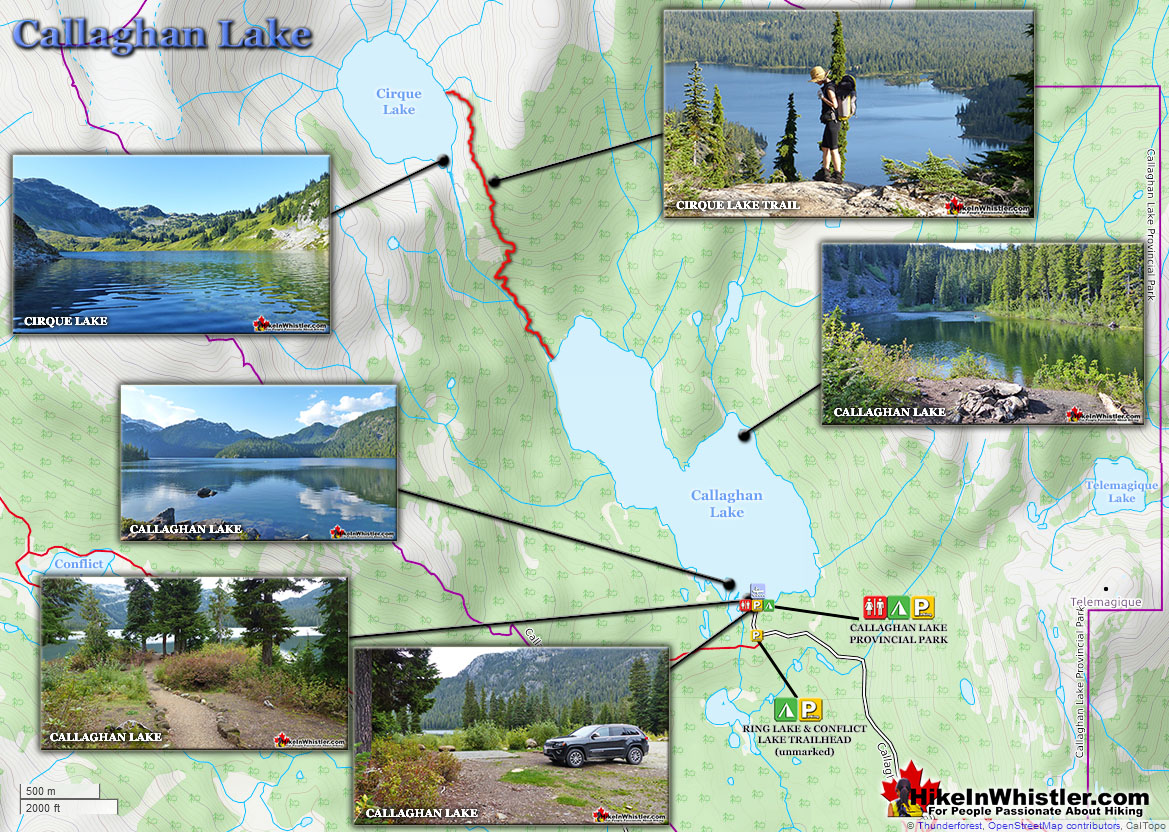 Best Whistler Hiking in July - Train Wreck

The trail to Whistler Train Wreck is an easy, yet varied route through deep forest, across a great suspension bridge over Cheakamus River, to a stunning array of wrecked train cars. The trail from your car to the wrecks only takes about 15 minutes, however once you reach one wreck, you see another, then another. There are seven wrecks in total that are spread over an area about 400 metres long.  Along with the surreal train wrecks painted with stunning murals, you find yourself in a thick forest that runs along Cheakamus River. Cheakamus River is a beautiful, wild and crashing river that snakes past the train wrecks. Numerous side trails take you to some marvellous viewpoints, several metres above the rushing water below.  If you follow a trail past the wrecks(heading north or in the direction of Whistler Village) you will emerge at the train tracks. If you are adventurous you will then walk along, beside the tracks for a couple hundred metres and some truly breathtaking views of Cheakamus River.  Continued here...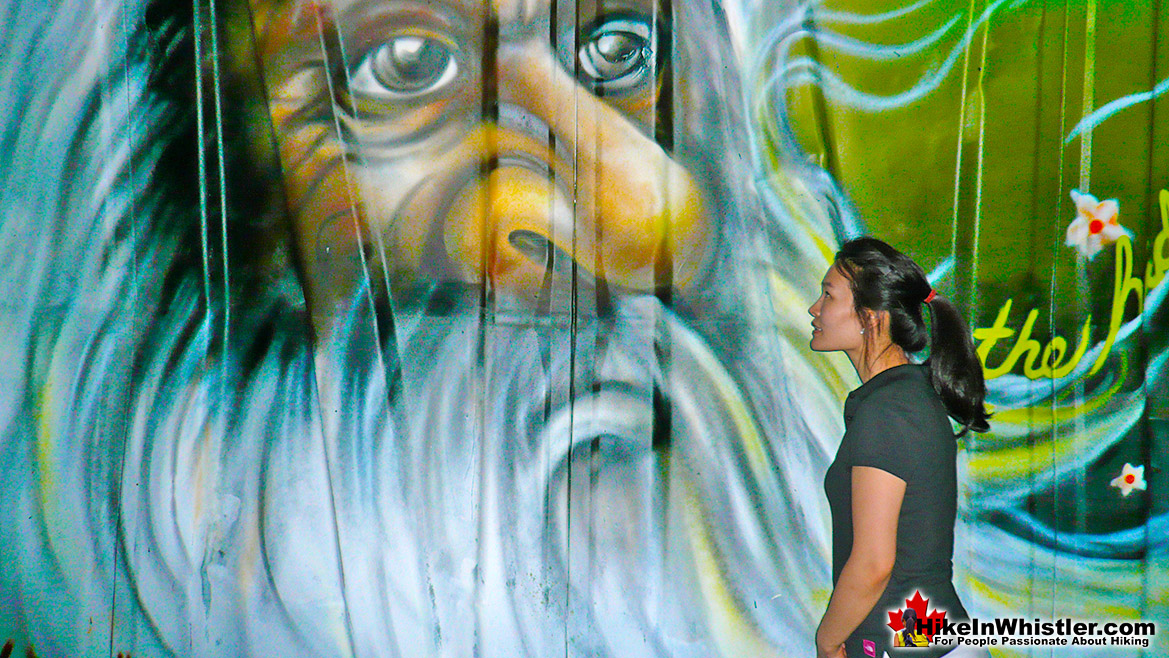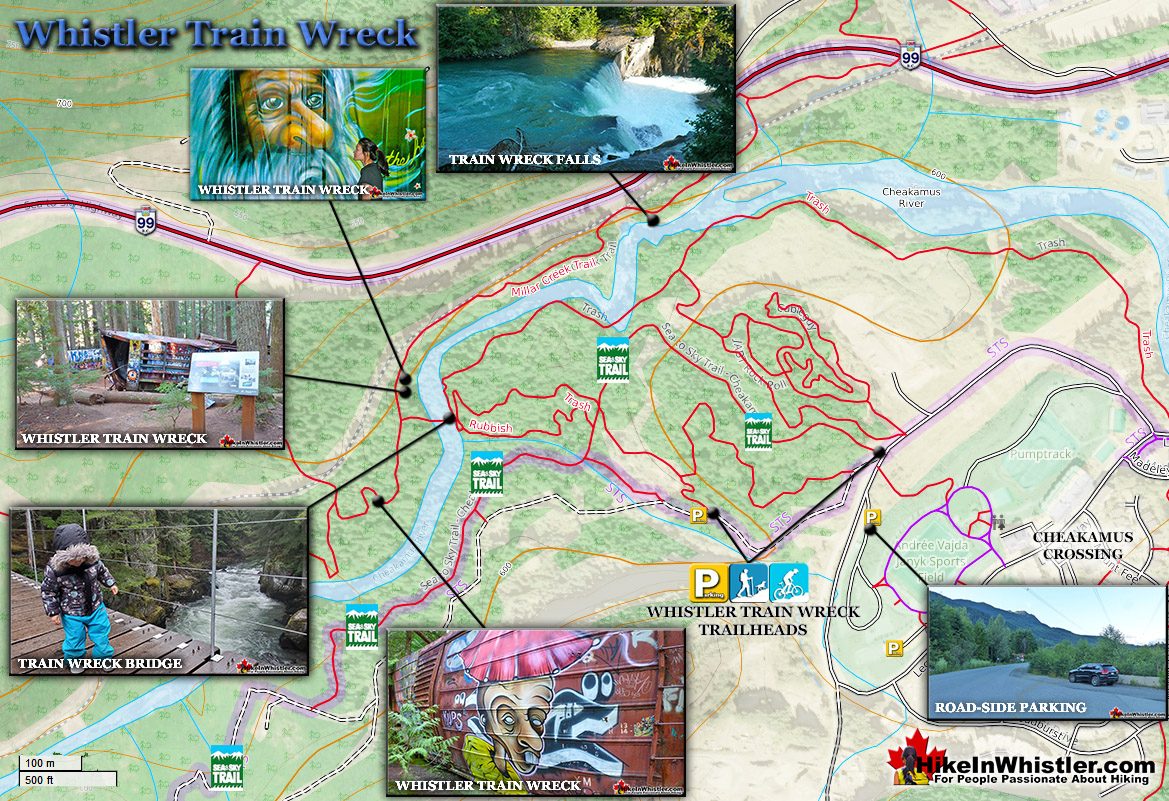 Best Whistler Hiking July - Cheakamus Lake

Cheakamus Lake is a wonderfully relaxing way to get in the wilderness easily and quickly from Whistler Village. The trail begins on the far side of Whistler Mountain, 8 kilometres from the Sea to Sky Highway at Cheakamus Crossing across from Function Junction.  This 8 kilometre stretch of logging road is fairly bumpy and potholed, but does have the benefit of allowing you to drive the elevation gain instead of hiking it.  You can easily manage this road in a car, however carefully and very slowly in parts. Once you reach the trailhead/parking the entire 7 kilometre hiking trail to the end of the maintained Cheakamus Lake trail has barely any elevation gain. Just plenty of gradual inclines and declines along the winding route. In fact, this makes it one of the few trails in Whistler and Garibaldi Park that can boast that.  The nearby Garibaldi Lake trail and the Wedgemount Lake trail make you work for the views, however, the Cheakamus Lake trail hardly makes you work at all.  The trail to Cheakamus Lake takes you through an amazing forest of giant cedars that fill the forest with their amazing aroma.  This forest is so packed with ancient giants that year to year the trail is adjusted by a monster of a tree fallen across the trail during some winter storm.  Sometimes the trail bends around these behemoths, but more often they are laboriously chainsawed by BC Parks staff.  The more enormous of these remain as fixtures of the trail.  Either edging the trail or as a mighty obstacle to climb over.  Continued here...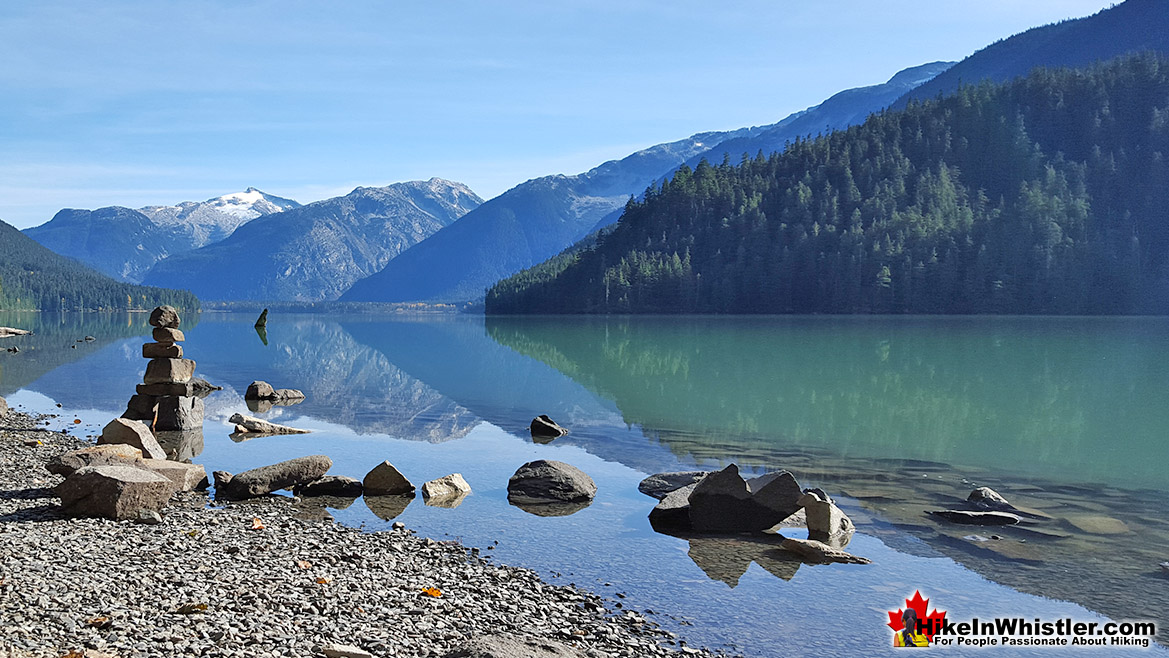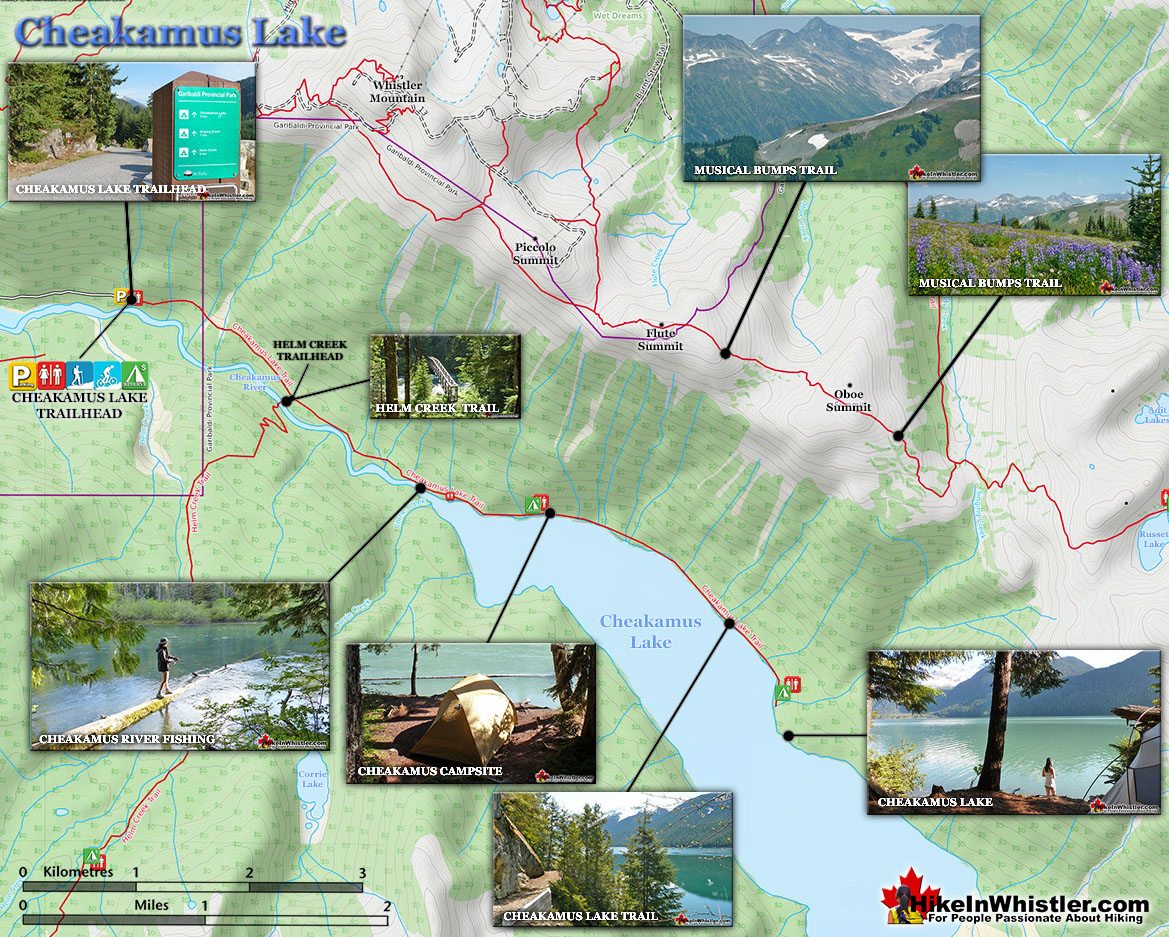 Best Whistler Hiking July - Meager Hot Springs

Meager Hot Springs(aka: Meager Creek Hot Springs) is located 93 kilometres northwest of Whistler, was beautifully developed into gorgeous pools, with a caretaker and usage charge.  At its height of popularity, Meager Hot Springs had 30,000 yearly visitors. Unfortunately, due to two recent massive landslides it seems unlikely to ever officially reopen.  Just a decade ago, in 2009, a nice, expensive access bridge was installed.  A few months later it was dramatically obliterated from another slide in 2010. In 2014 the new VOC Harrison Hut Trail was mostly completed, allowing access to Meager Hot Springs once again. Currently this access road is in a bit of a construction zone, so don't be surprised if the road is blocked by a rock slide or road construction.  The old access bridge over the Upper Lillooet River which cost nearly a million dollars was wrecked in seconds in 2010.  In 2014 a new route was built to Meager Hot Springs by the UBC Varsity Outdoor Club. In the last couple years BC Ministry of Forests and Recreation Sites and Trails BC have been aggressively blocking public access to both Meager Hot Springs and Keyhole Hot Springs. Currently, in 2023 they have blocked both access roads with gates to the trailheads and are threatening to issue violation tickets. The warning reads: SITE CLOSED: Meager Hot Springs are within Lil̓wat Nation territory. This is a place of cultural and spiritual significance for Lil̓wat Nation. The site closure supports the protection of important cultural, environmental, and wildlife values. The Meager Creek Drainage is prone to extremely large landslides, avalanches, and flooding/washouts. The Province will be enforcing this closure and will issue violation tickets to anyone caught ignoring the restrictions. They don't appear to have any legitimate reasons for the closures and are clearly making up vague things to justify blocking public access. For example: "Mineral licks at the hot springs provide wildlife with year-round nutrients. The hot springs are also home to the vivid dancer damselfly, a species of special concern that is threatened by intensive recreational use. Meager Creek Hot Springs is the only known location within BC where the American bulrush (Schoenoplectus americanus) grows". Continued here...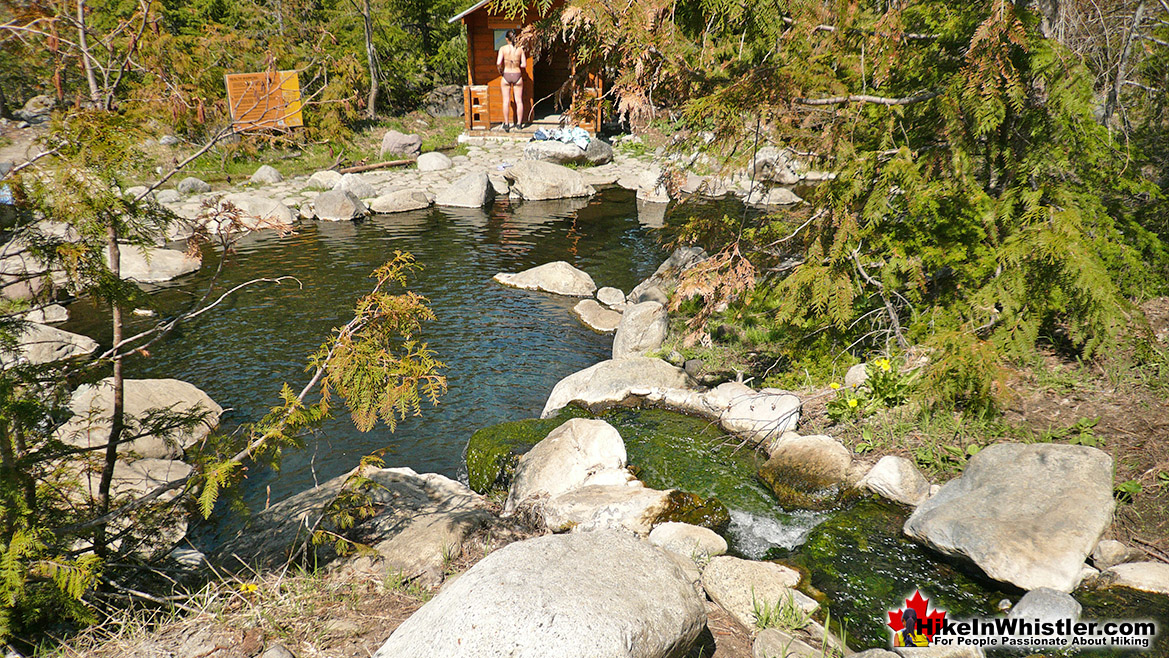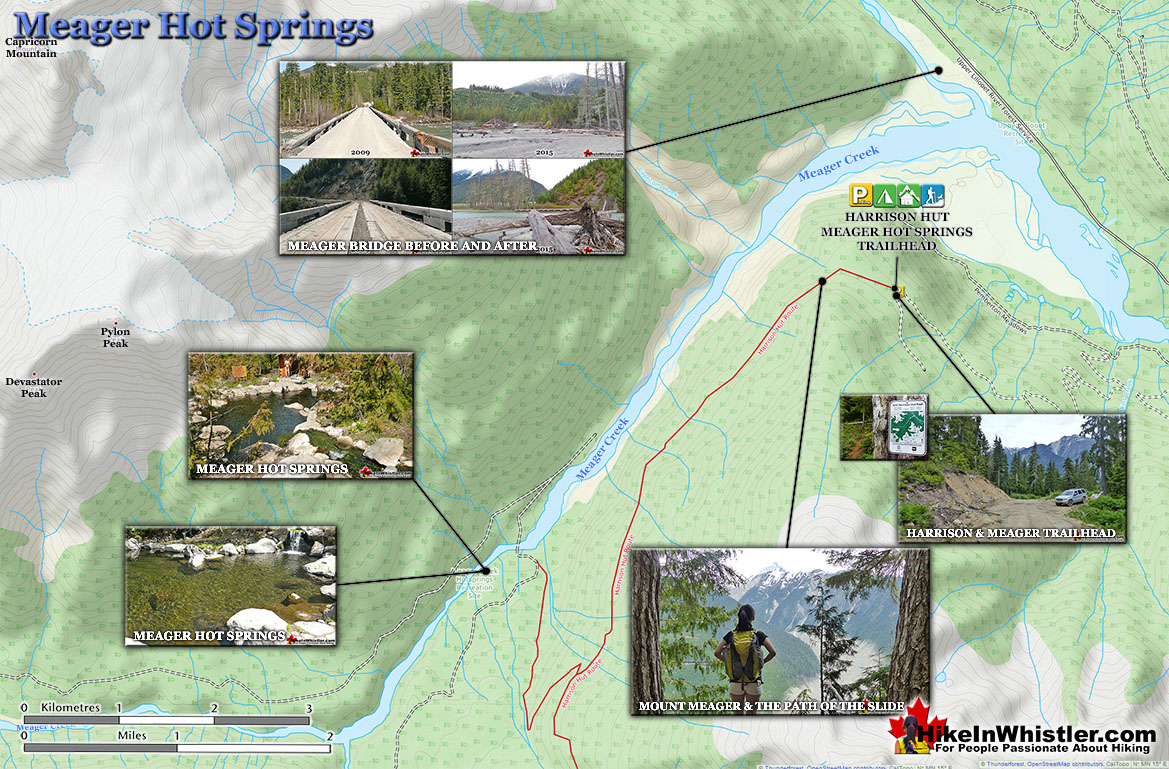 Best Whistler Hiking July - Madeley Lake

Madeley Lake is a beautiful, remote mountain lake hidden high up in the Callaghan Valley.  From Whistler Village expect to take 40 minutes to drive there.  You can drive directly to the lake, however the access road is pretty bad with deep waterbars.  An average 4x4 can make it quite easily, though most cars with have great difficulty driving over the numerous deep water cut gouges in the road.  Located near Alexander Falls, Madeley Lake is close to several beautiful places.  This is an amazing place to camp.  If looking for solitude at a paradise, mountain lake, Madeley Lake is hard to beat. Though somewhat popular with fishing, you are still likely to rarely see anyone at the lake in the summer and never in the fall.  Once in a while you will see a car or two at the trailhead to Hanging Lake.  If you have a canoe, Madeley Lake is a great place to paddle around or just float in the sun.  Continued here...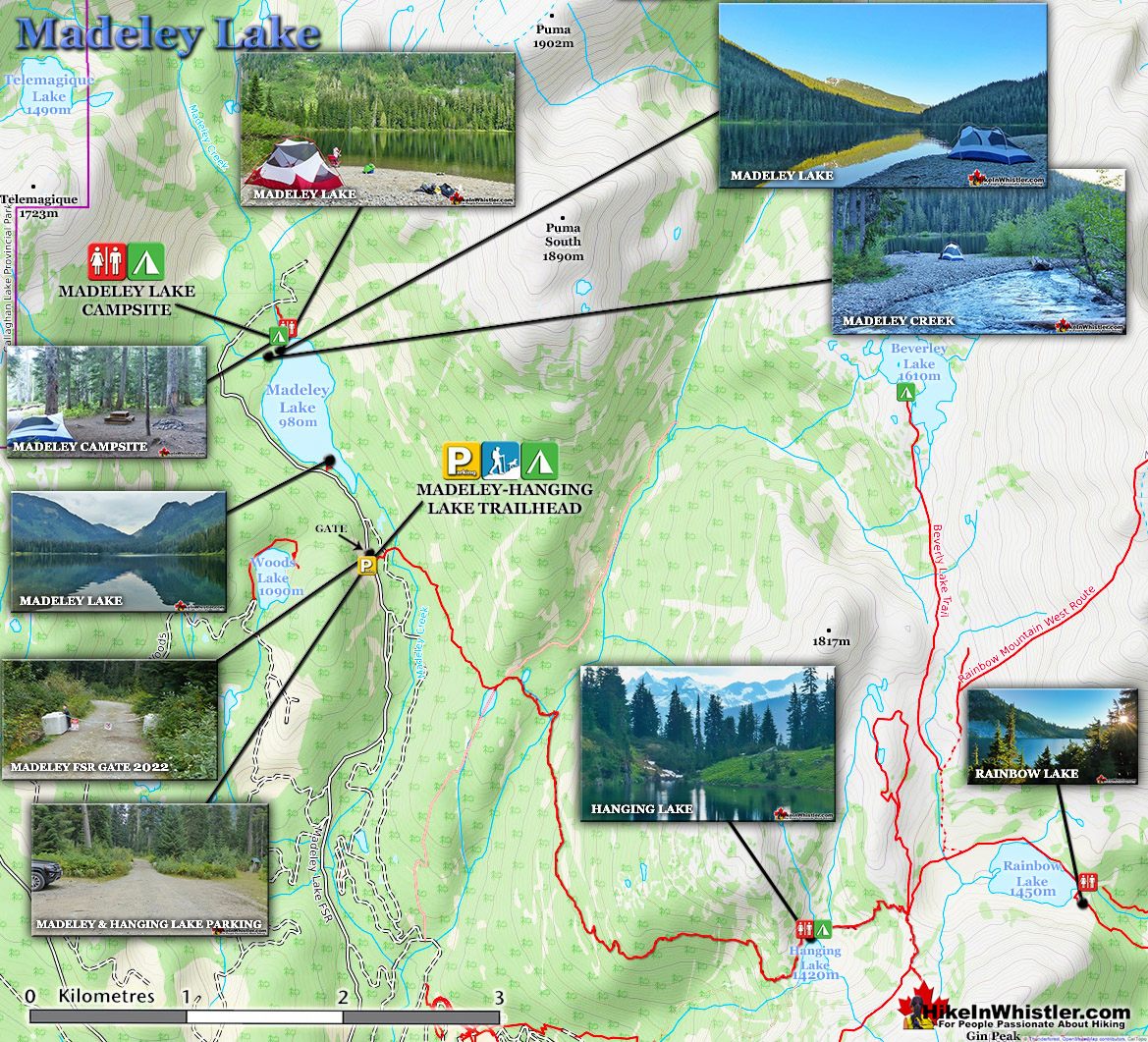 Best Whistler Hiking July - Sloquet Hot Springs

Sloquet Hot Springs is a wonderfully wild set of shallow, man-made pools fed by a small, all natural, and very hot, waterfall. The pools stretch from the waterfall to the large and crashing Sloquet River. The large, spread out campsite for the hot springs lies a short 5 minute walk from the springs. You have to follow a dark and quickly descending trail toward the crashing river.  As you near, you can smell the unusual, but kind of nice hot springs scent, and you see steam rising all around you, some steam rising, bizarrely, out of the grass clearing on the edge of the river. On your left a rising cliff, on your right the crashing river.  The path narrows and steepens, leading to a large fallen tree which the trail seems to run to. So huge though as to not worry you walking the length of. Then, there it is. The massive fallen tree flanks it. Nestled between the tree and a cliff, in a large triangular area, with the river forming the third side are the Sloquet Hot Springs.  Continued here...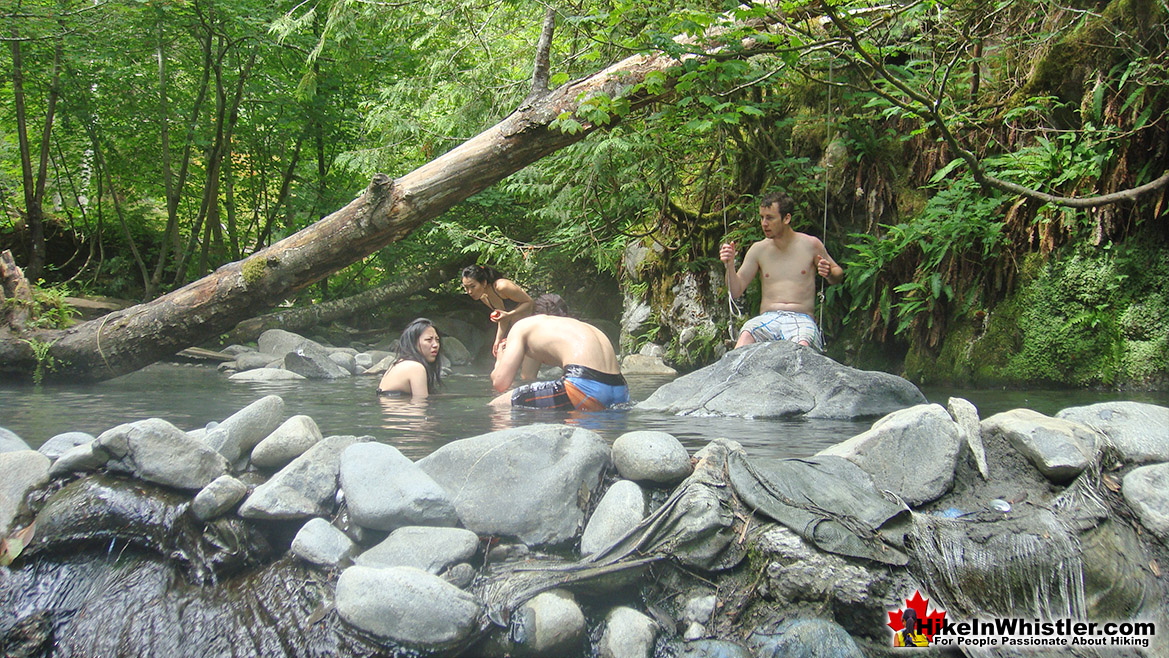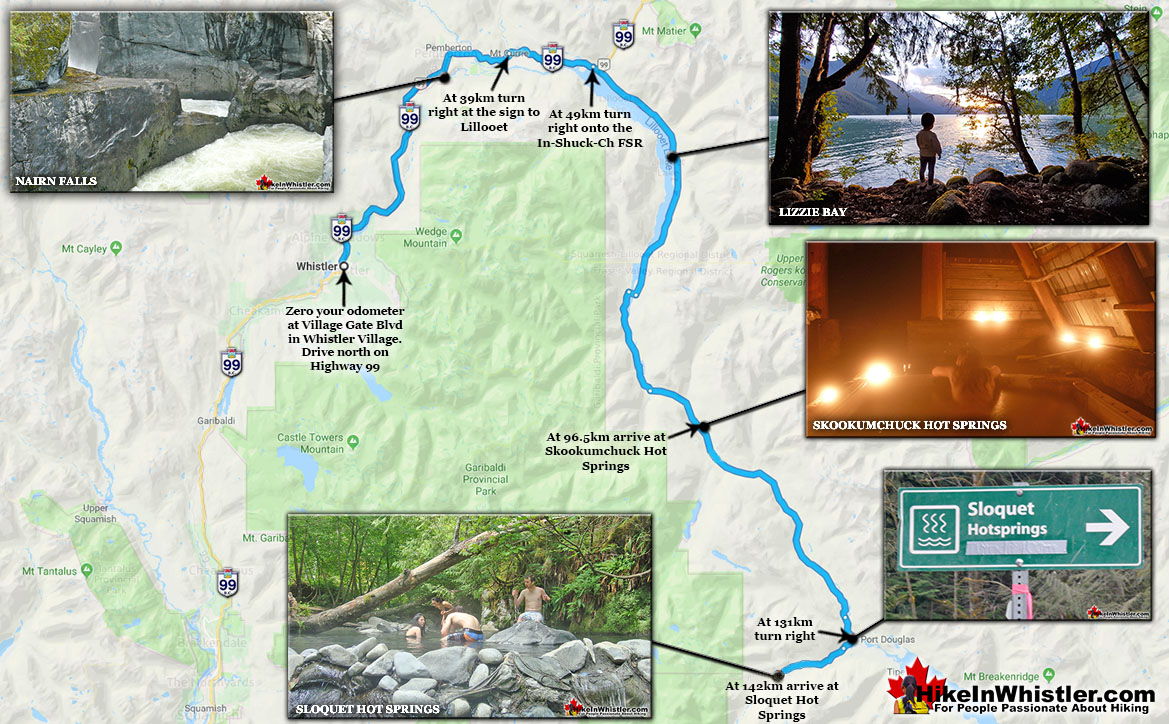 Best Whistler Hiking July - Brandywine Falls

Brandywine Falls is one of the must see sights on the way to or from Whistler. The falls drop from a 66 metre(216 feet), unnaturally abrupt looking cliff to the valley below. Brandywine Falls Provincial Park is such a popular, accessible and beautiful sight that it has a large and elaborate viewing platform directly opposite the falls. Located just 20 minutes south of Whistler, Brandywine Falls is just off of the Sea to Sky Highway.  The impressive falls are just one of a few sights to see in Brandywine Falls Provincial Park. Swim Lake, the Whistler Bungee Bridge and the Sea to Sky Trail running through the park make it a hiking, biking, jogging, snowshoeing paradise.  You can set off from Whistler Village by bike on the Sea to Sky Trail and reach the falls in about an hour or two.. and rarely emerge from forest!  The Sea to Sky Trail miraculously avoids roads and civilisation for most of its 33 kilometres!  Continued here...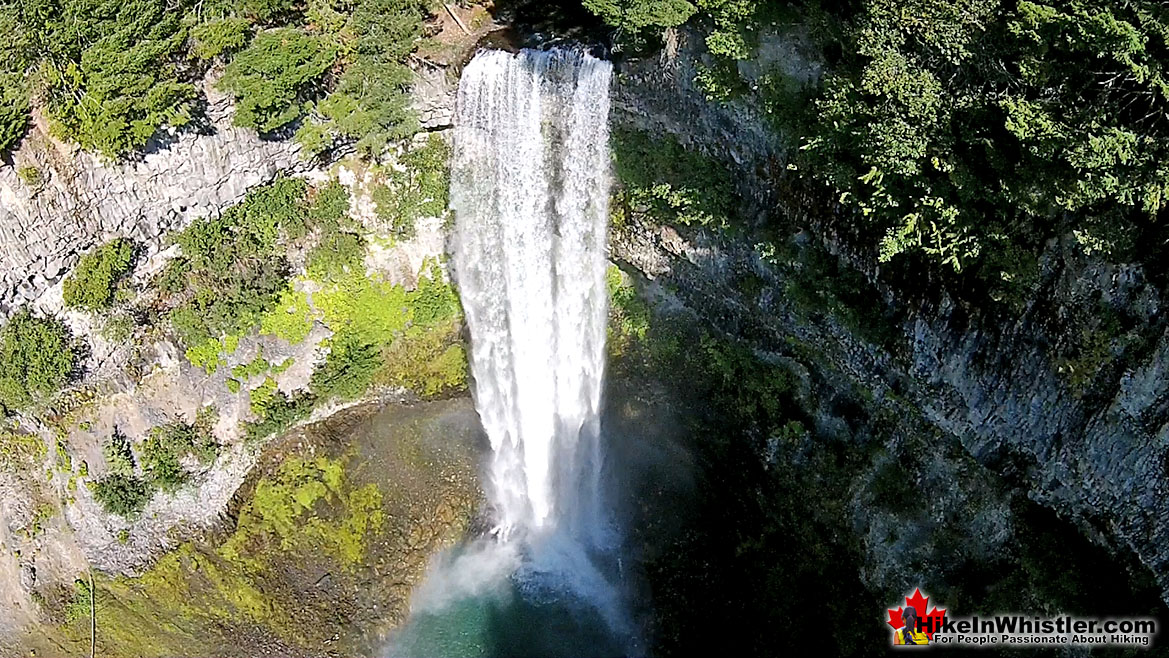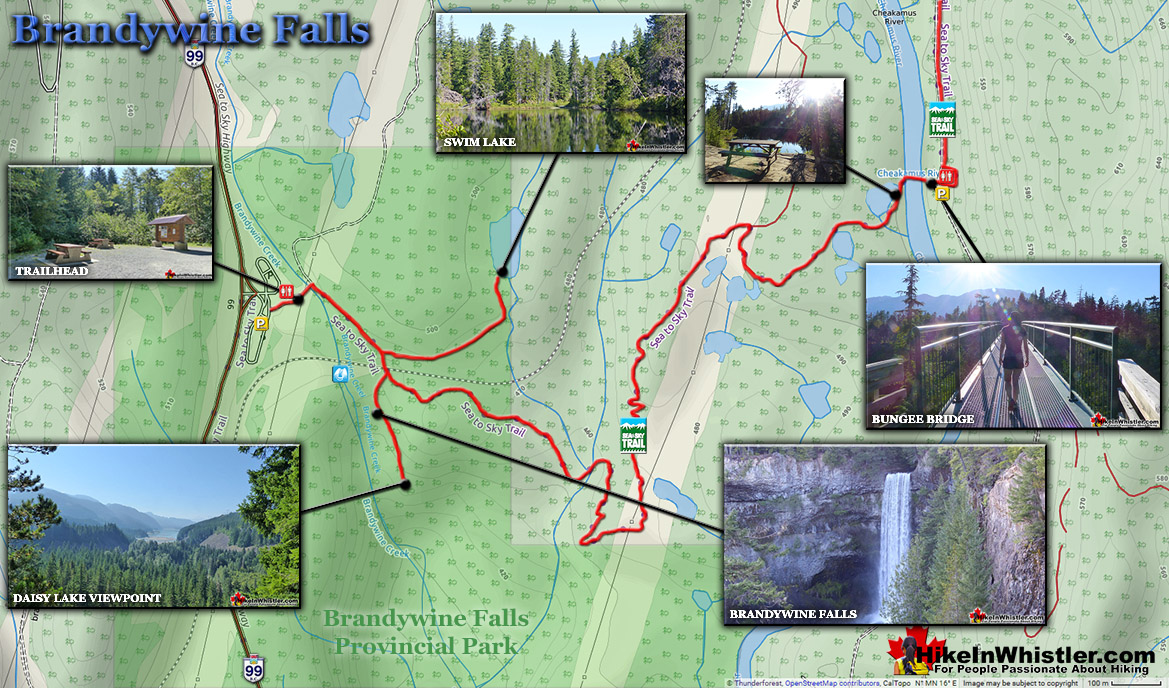 Best Whistler Hiking July - Joffre Lakes

Joffre Lakes Provincial Park is a gorgeous park with extraordinarily coloured lakes, waterfalls, stunning mountain peaks and ominous glaciers pouring into the valley.  Joffre Lakes is one of those incredible places that makes it hard to take a boring picture.  The three Joffre Lakes are some of the most stunning lakes you are likely to ever see.  Each lake gets progressively more beautiful and impossibly turquoise from one to the next.  By the third lake the intense colour is breathtaking. The mighty Matier Glacier rises above and beyond the third lake, making the experience even more spectacular with such a looming presence.  Located an hours drive north of Whistler in the vast wilderness of mountains split by the Duffy Lake Road.  Expect to take an hour to drive the 61 kilometres to the trailhead.  There are three lakes in Joffre Lakes Provincial Park and all of them beautiful on their own.  The first lake, Lower Joffre Lake is just steps from the parking lot/trailhead and the views are already fantastic.  It has a wonderful turquoise colour that comes from light reflecting off particles of rock suspended in the glacier meltwater.  The lake is surrounded by pristine wilderness of uniformly idyllic trees.  Looking across the lake, two mountains frame a distant glacier, which looks strangely close and ominously huge.  It is the Matier Glacier which fills the steep valley above the third of the Joffre Lakes, Upper Joffre Lake, and marks the end of the trail that you just started.  Continued here...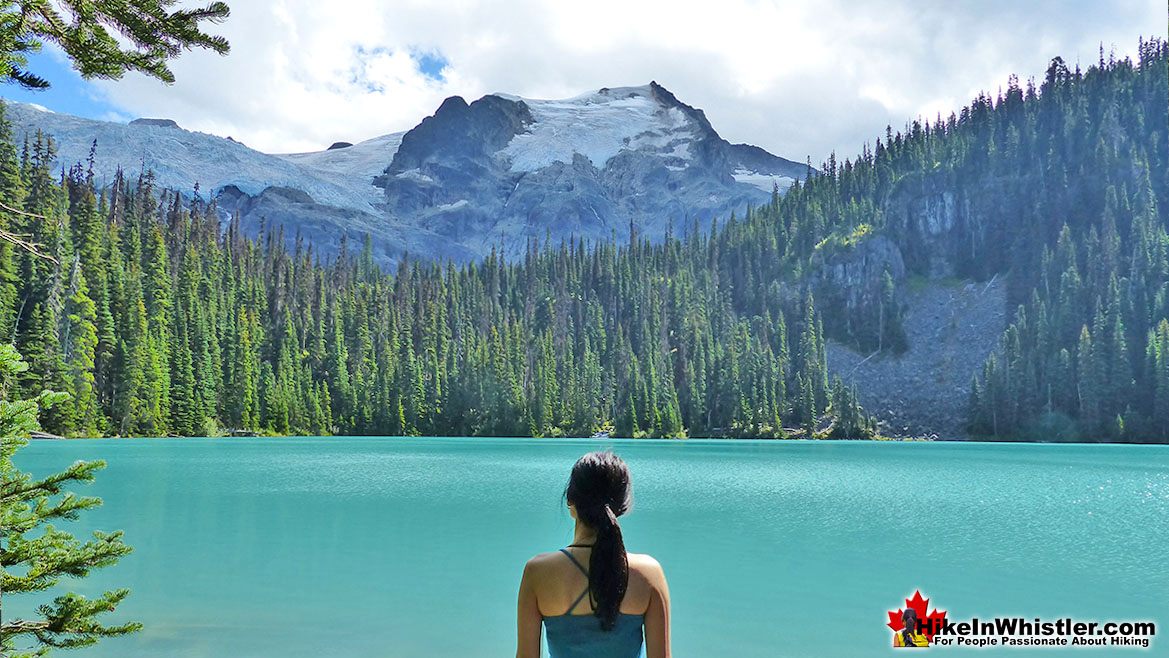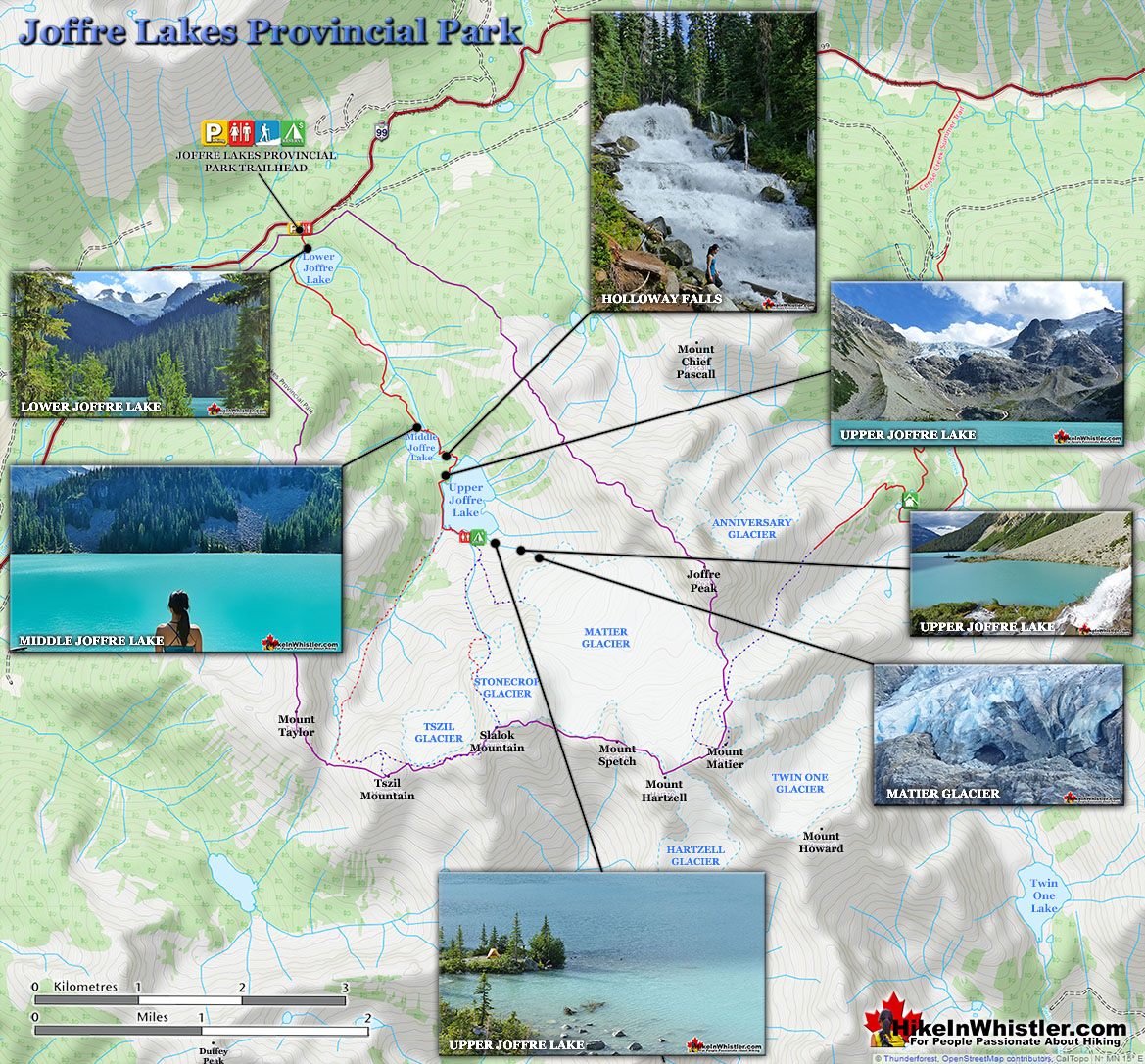 Best Whistler Hiking July - Sea to Sky Trail

The Sea to Sky Trail is a 180 kilometre multi-use trail that runs from Squamish to D'Arcy. The trail is still under construction in many parts, however, the amazing route through Whistler is finally in place. The Whistler section of the Sea to Sky Trail is 33 kilometres long between Brandywine Falls Provincial Park and WedgeWoods Estates just north of Green Lake(north of Whistler Village).  The 33 kilometre Whistler section of the Sea to Sky Trail is either paved, dirt or crushed rock and often very wide. Much of the trail just north and south of Whistler Village is wide, two lanes and paved with plenty of signs and occasional mapboards.  North of Whistler Village the trail can be challenging with several hills as it rises above and beyond Parkhurst Ghost Town.  South of Whistler, the paved trail ends at Cheakamus Crossing and becomes a narrow at times dirt trail with some wider sections of crushed rock. This beautiful section follows Cheakamus River making four dramatically beautiful river crossings. The Cal-Cheak area south of Cheakamus Crossing is more challenging and sometimes narrow and hilly, dirt trails. South of Cal-Cheak the forest opens up and the trail widens to the luxurious feeling, wide and hard packed gravel all the way to Brandywine Falls Provincial Park where the trail joins with the Sea to Sky Highway. The Whistler section of the Sea to Sky Trail passes near and through an amazing array of whistler sights. The always impressive Brandywine Falls Provincial Park at the southern end of the 33 kilometre area shown here. Heading north from Brandywine Falls you cross the huge bungee jumping bridge that spans the enormous chasm over the Cheakamus River. Soon after you cross the suspension bridge at the Cal-Cheak Recreation area.  Continued here...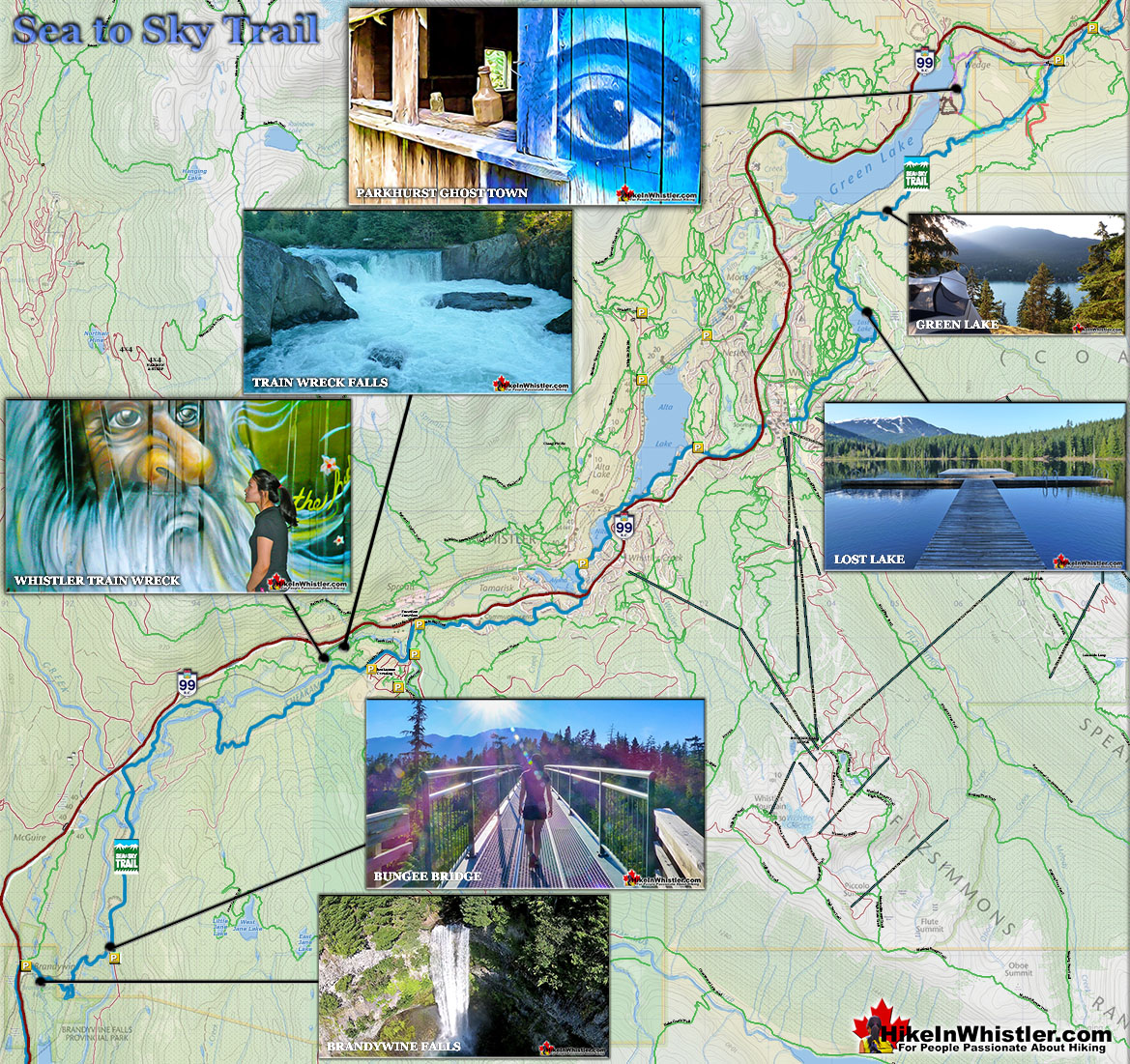 Best Whistler Hiking July - Brandywine Meadows

Brandywine Meadows is a nice, relatively short hike to a massive flower filled valley high up in Callaghan Valley. Located 40 minutes south of Whistler, this tough and sometimes muddy trail gains a huge 550 metres of elevation in just 3 kilometres(1.9 miles), trailhead to meadows.  The trailhead is tricky to find and involves a fairly long gravel road journey that is passable without a 4x4, but barely. If you have a dog, you will find that Brandywine Meadows is one of the few really nice, dog friendly hiking trails in and around Whistler. Garibaldi Provincial Park prohibits dogs, as well as both Whistler Mountain and Blackcomb Mountain. Here you won't be bothered by anyone and find no signs of humanity beyond some leftover remnants of the snowmobile season.  Continued here...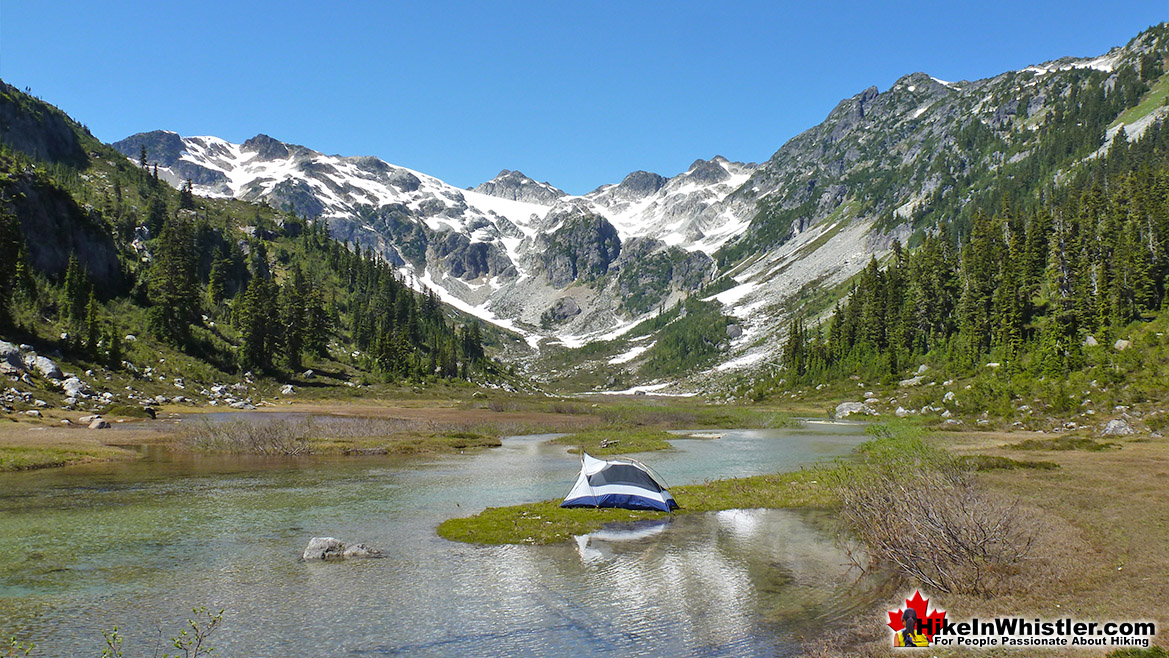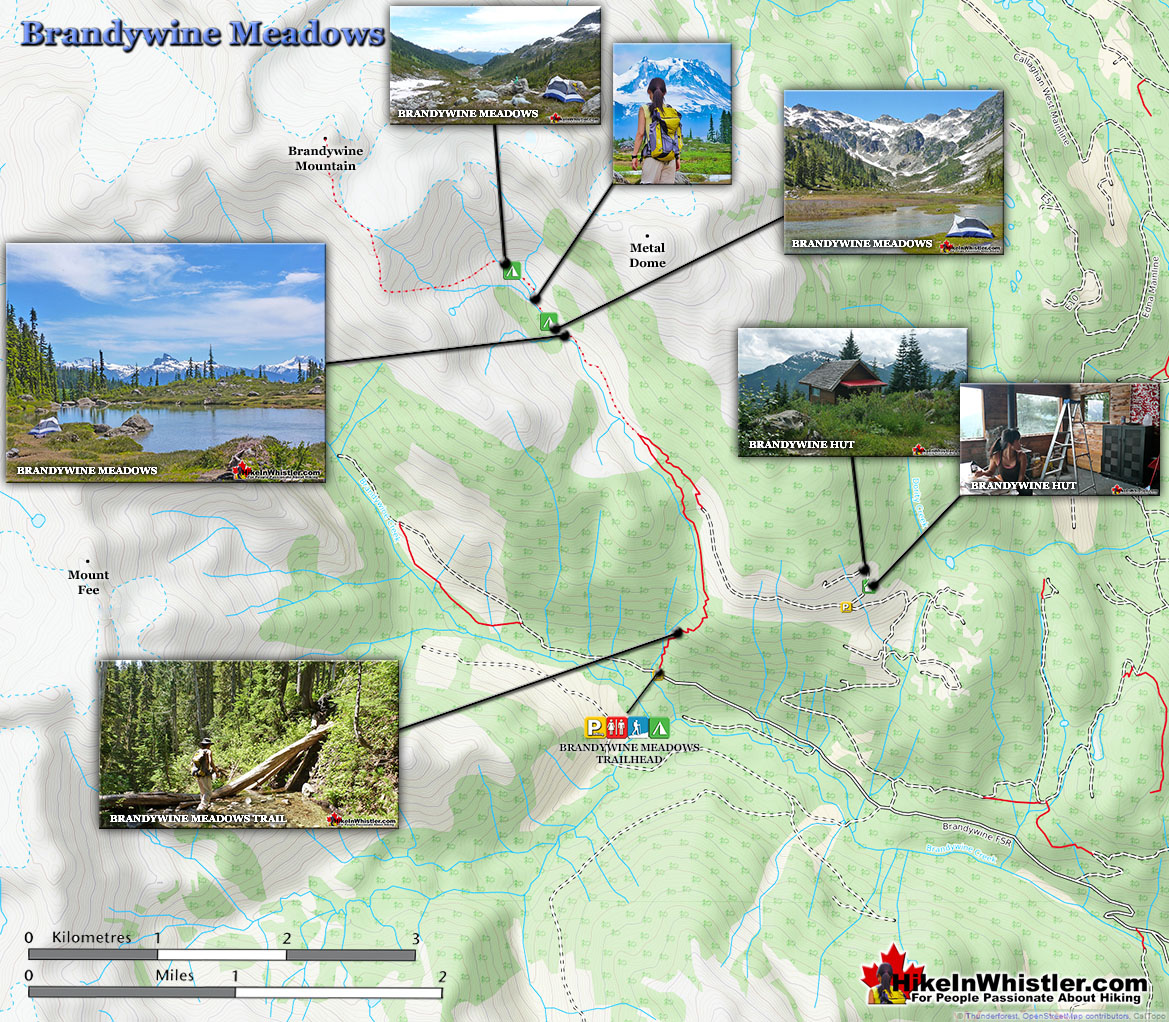 Ancient Cedars - Best Whistler Hiking

Ancient Cedars is a nice, easy/moderate 2.5 kilometre(1.6 mile) hiking trail on the far side of Cougar Mountain, just 10.8 kilometres north of Whistler Village. A small, untouched grove of huge western red-cedars hidden high up in the mountains. Often overlooked by hikers, certainly there are other groves of massive cedars found in other Whistler area hikes.  If you hike the short 3 kilometre trail to Cheakamus Lake and you will marvel at the size, frequency and wonderful aroma of these massive and numerous giant cedars. The Wedgemount Lake trail also has some majestic cedars along the hike. You can even walk through an impressive grove of huge cedars on the Valley Trail at the north end of the Whistler Golf Club. None of them compare, however, to the giants at Ancient Cedars.  They are extraordinarily huge and some are estimated to be a thousand years old.  Most of these giants stretch toward the sky, but some lay along the forest floor giving you an even closer grasp of their size.  Continued here...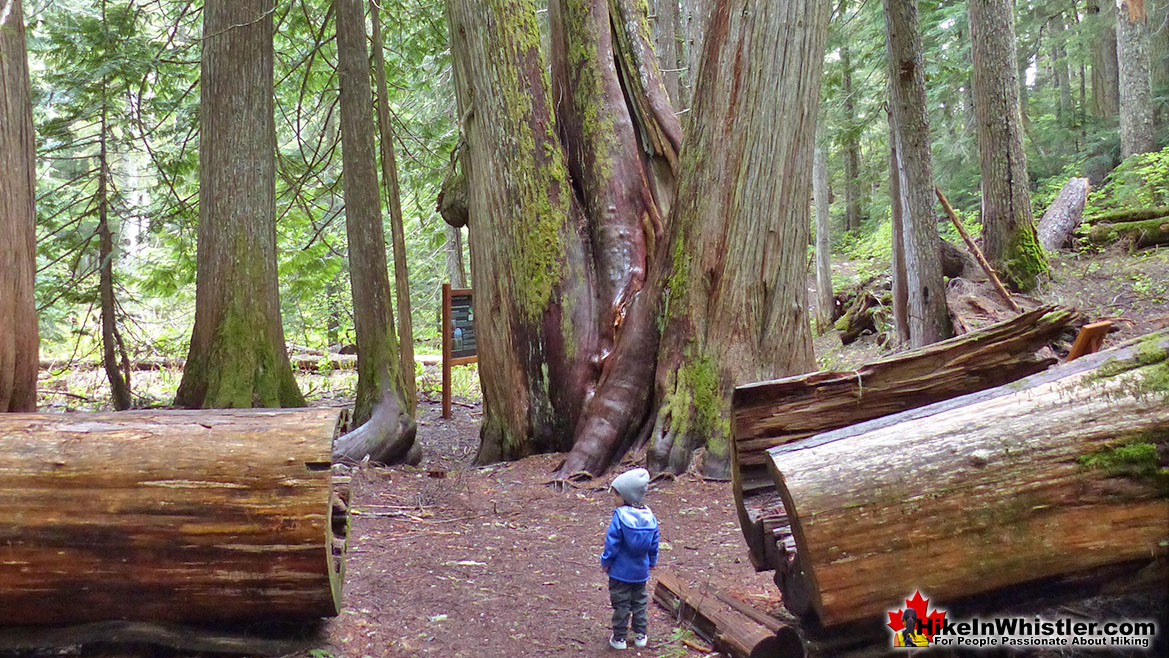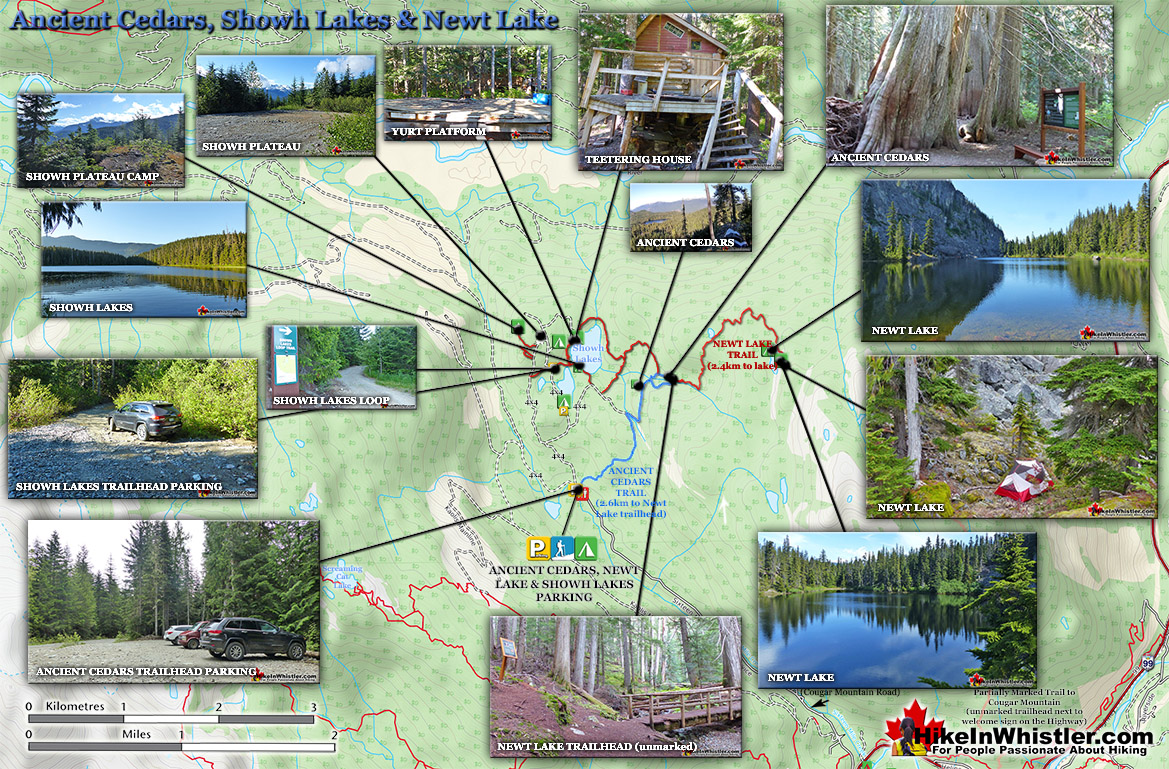 Hiking in Whistler and Garibaldi Park by Month!
Whistler Hiking Glossary A to Z

Whistler, Garibaldi Park & Sea to Sky Hiking Trails!