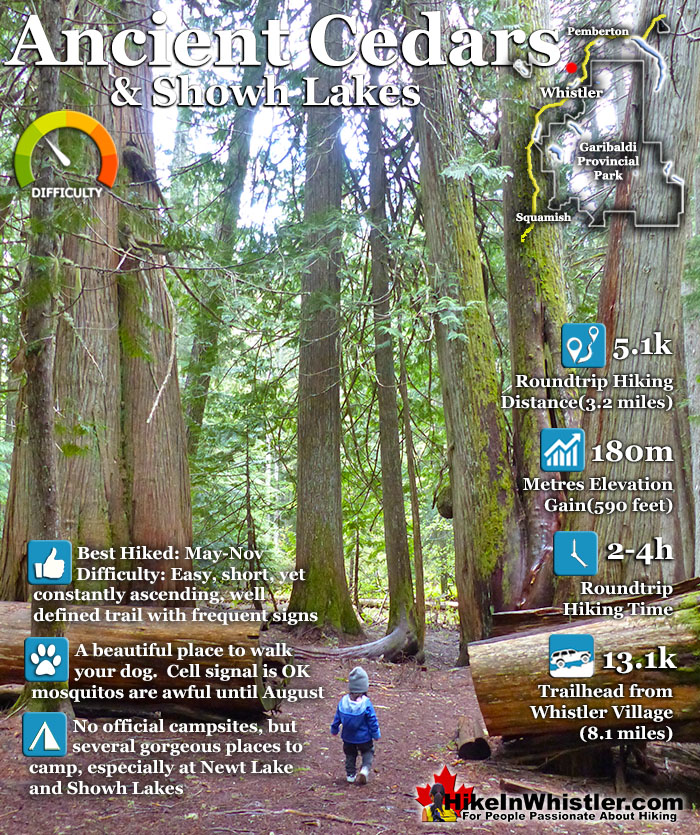 Ancient Cedars is a nice, easy/moderate 2.5 kilometre (1.6 mile) hiking trail on the far side of Cougar Mountain, just 13.1 kilometres north of Whistler Village. A small, untouched grove of huge western red-cedars hidden high up in the mountains. Often overlooked by hikers, certainly there are other groves of massive cedars found in other Whistler area hikes.
Easy trail to huge & ancient trees

A quick, far feeling escape from civilisation
A relatively quiet hiking trail that is dog friendly!
Serene backcountry, drive-in camping for free
Lots of hidden & amazing tent sites

Newt Lake is wild, hidden & serene

Abandoned cabin at Showh Lakes

Lots of mosquitoes in June to August
ATV's tours in the area are noisy

The access logging road is brutally potholed

Whistler & Garibaldi Hiking

Alexander Falls  

Ancient Cedars  

Black Tusk  

Blackcomb Mountain  

Brandywine Falls  

Brandywine Meadows  

Brew Lake  

Callaghan Lake  

Cheakamus Lake  

Cheakamus River  

Cirque Lake 

Flank Trail 

Garibaldi Lake 

Garibaldi Park 

Helm Creek  

Jane Lakes 

Joffre Lakes  

Keyhole Hot Springs  

Logger's Lake  

Madeley Lake  

Meager Hot Springs 

Nairn Falls  

Newt Lake 

Panorama Ridge 

Parkhurst Ghost Town 

Rainbow Falls  

Rainbow Lake 

Ring Lake  

Russet Lake  

Sea to Sky Trail 

Skookumchuck Hot Springs  

Sloquet Hot Springs 

Sproatt East 

Sproatt West  

Taylor Meadows  

Train Wreck  

Wedgemount Lake  

Whistler Mountain

January 

February 

March 

April 

May 

June 

July 

August 

September 

October 

November 

December
If you hike the short, three kilometre trail to Cheakamus Lake and you will marvel at the size, frequency and wonderful aroma of these massive and numerous giant cedars. The Wedgemount Lake trail also has some majestic cedars along the hike. You can even walk through an impressive grove of huge cedars on the Valley Trail at the north end of the Whistler Golf Club. None of them compare, however, to the giants at Ancient Cedars.  They are extraordinarily huge and some are estimated to be a thousand years old.  Most of these giants stretch toward the sky, but some lay along the forest floor giving you an even closer grasp of their size. If you bring kids along, they will disappear into the endless, natural playground.  Ancient Cedars is great to visit in the spring and fall months as you rarely see people and never feel mosquitoes. The problem is the trailhead is up a long way into the mountains and snow at this elevation persists until April and sometimes May. Snow, along with the steep access road make driving to the trailhead impossible for most cars until it disappears. Summer is great for seeing Ancient Cedars and Showh Lakes in particular.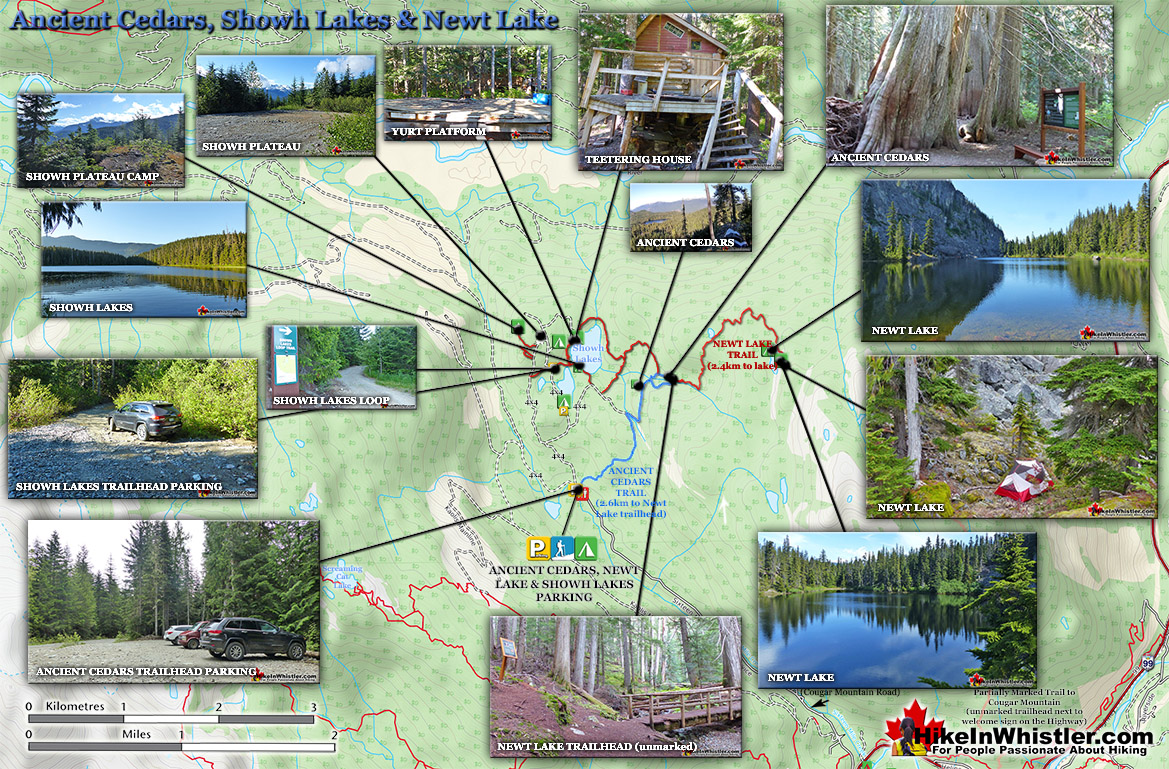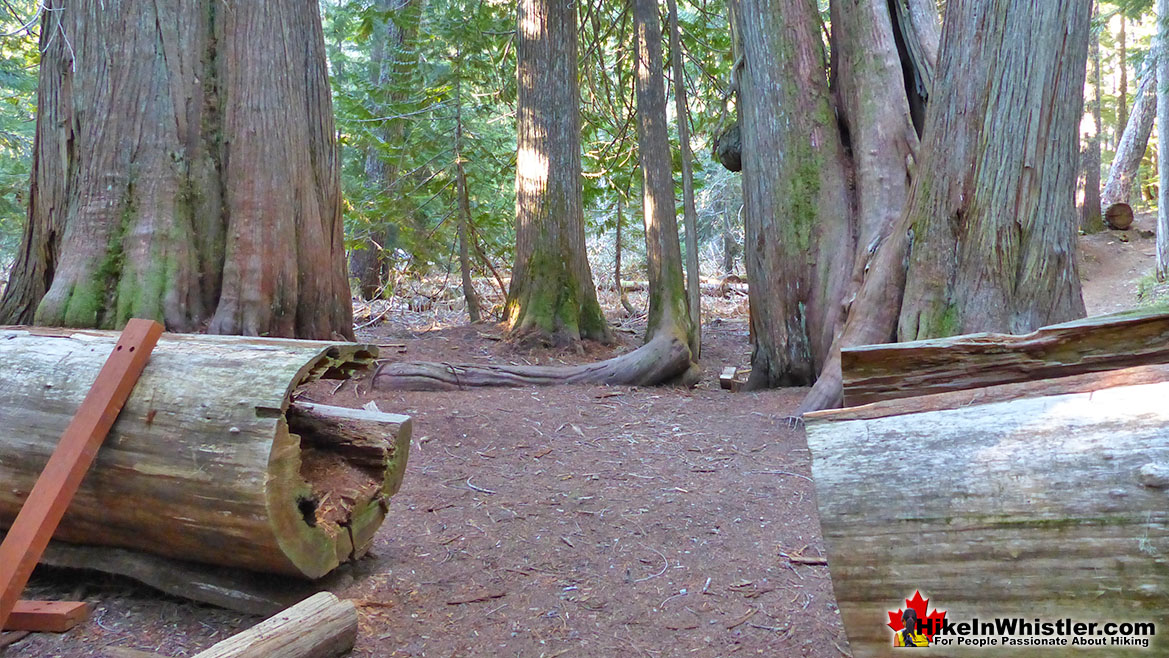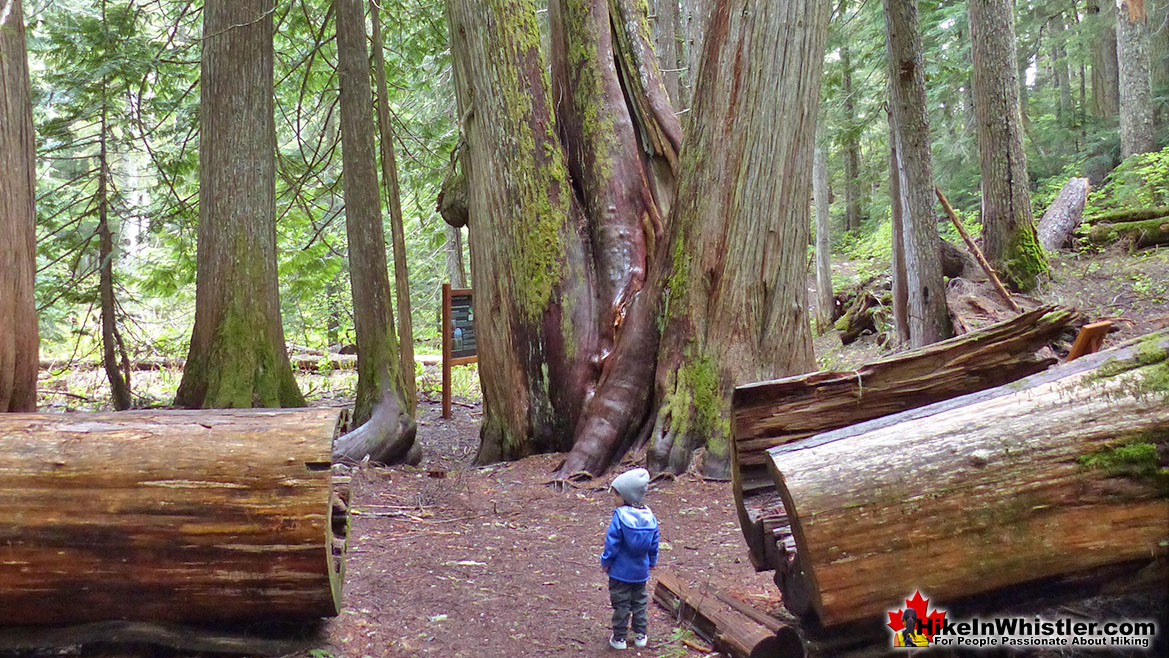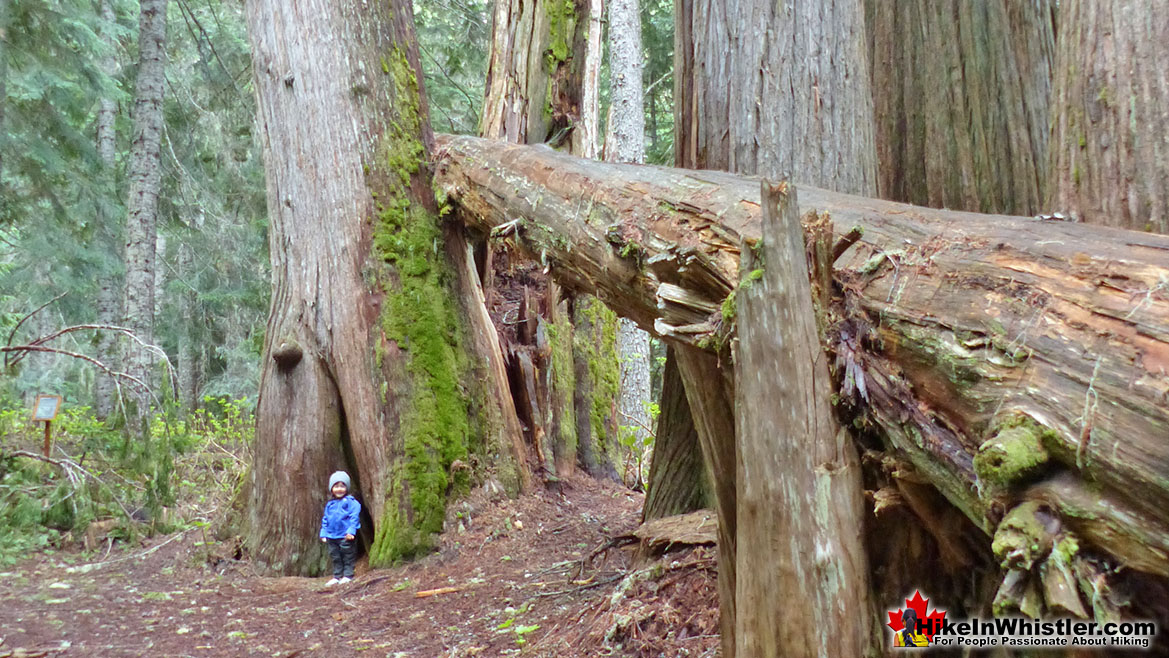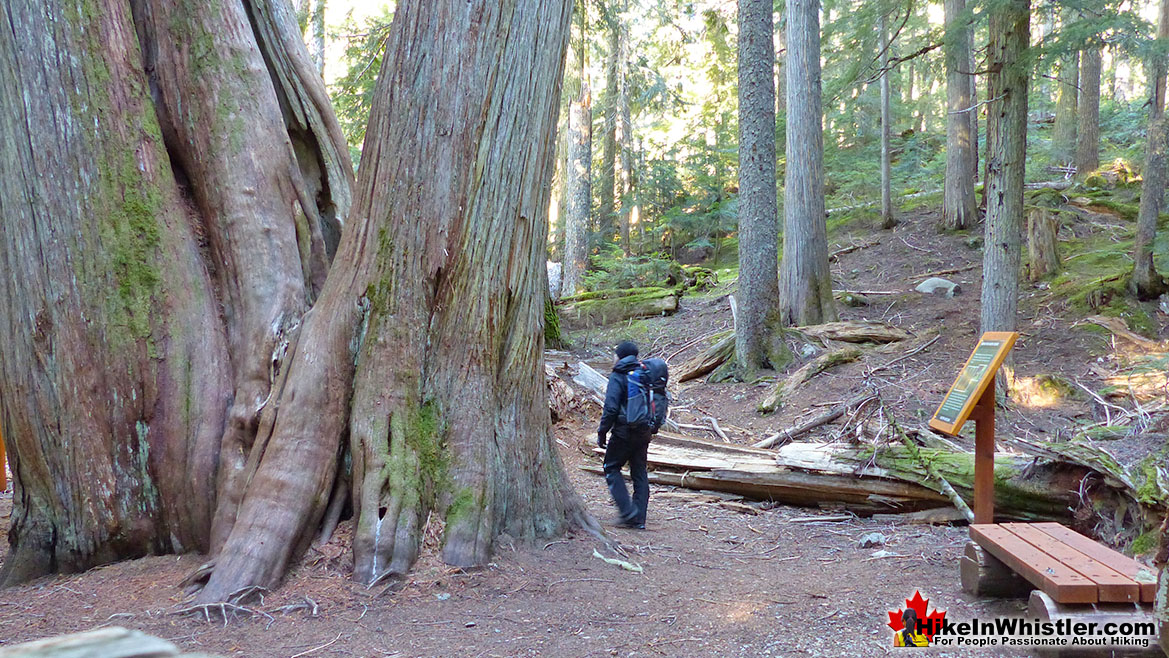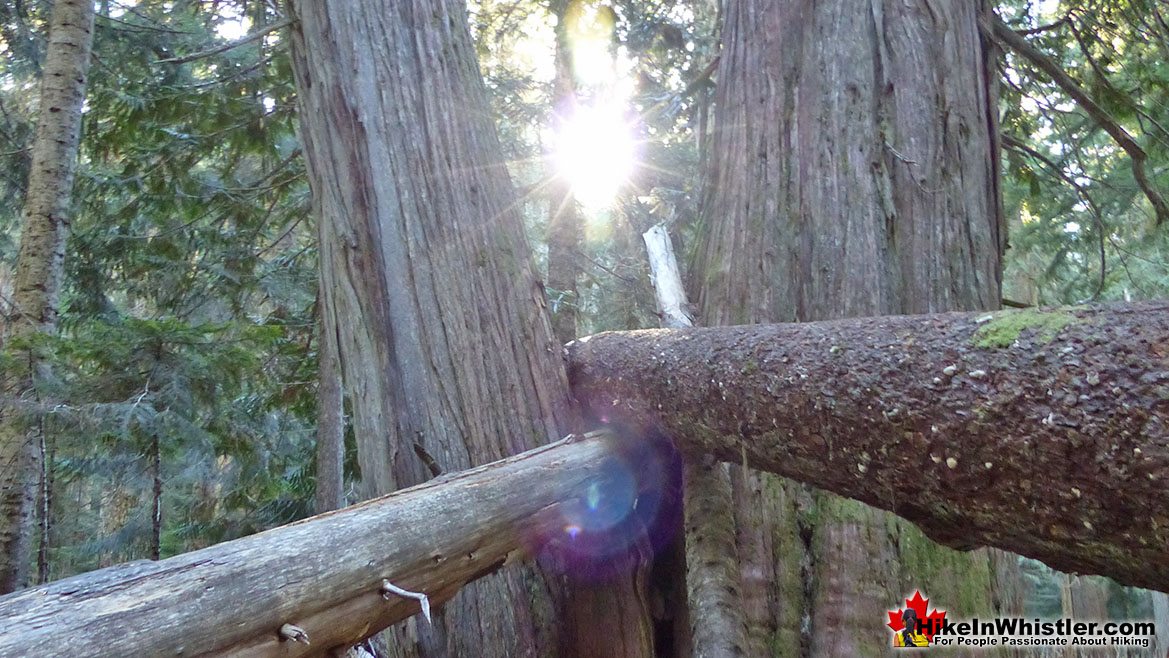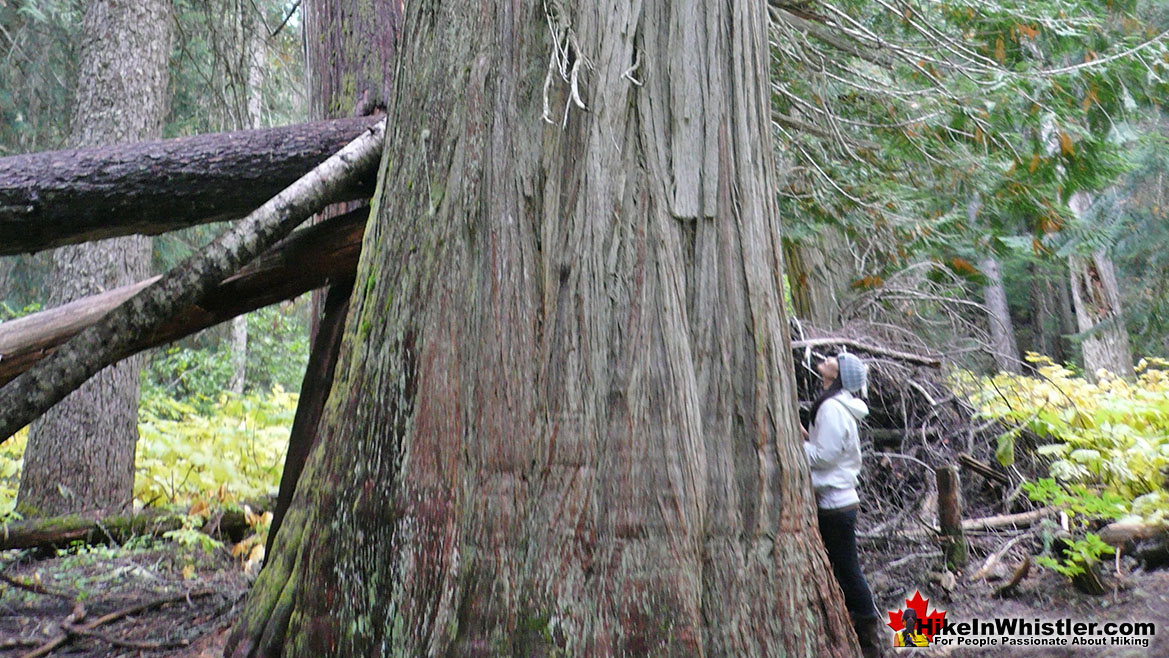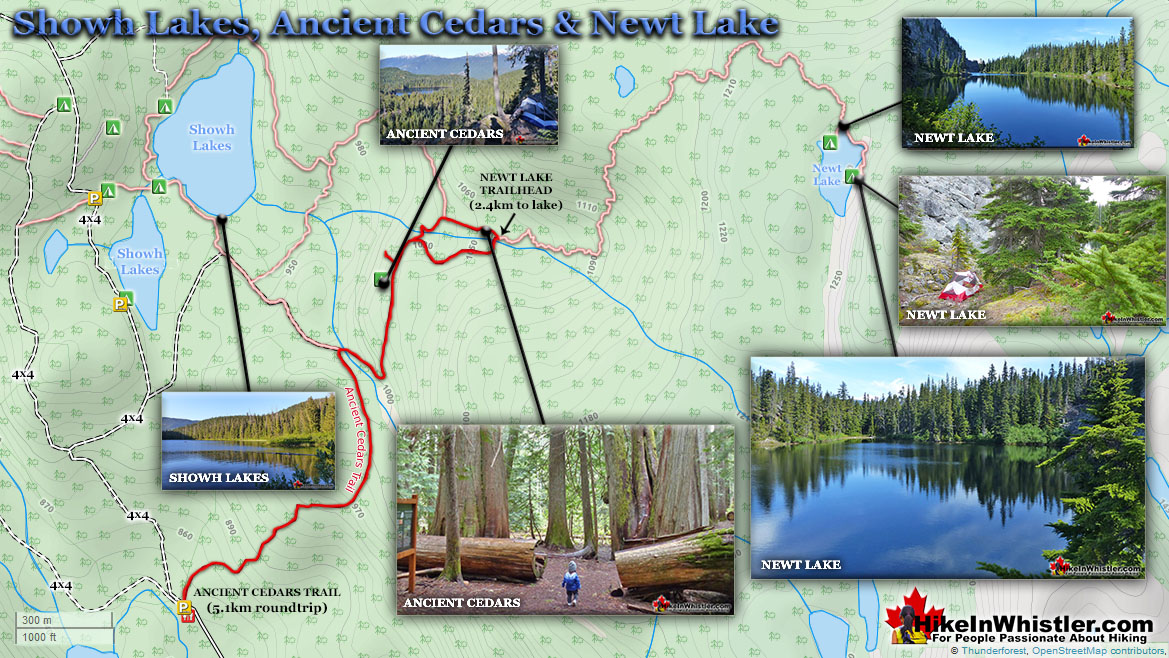 The Ancient Cedars Trail

The Ancient Cedars trail is well marked and well worn and only gradually uphill for the 2.5 kilometre hike, trailhead to ancient forest. At the Ancient Cedars forest there is a short circle trail that takes you throughout the giants then leads you back to the main trail for the return journey.  The whole trail takes you through the tranquil and remote forest that hides up on the side of Cougar Mountain. Cougar Mountain is home to TAG and Superfly Ziplines. The rows of atv's you will pass while driving up the Cougar Mountain Forest Service Road will belong to TAG. Superfly Ziplines is worth a look here too as they boast the "Longest, highest, fastest ziplines in Canada." The whole 5.1 kilometre(3.2 mile) Ancient Cedars roundtrip should take you less than three or four hours. Unlike most other Whistler hiking trails, Ancient Cedars is dog friendly. Unfortunately snow makes the road undrivable much of the year, so you can only reliably get up there around mid June to early to mid November. The main attraction to the Ancient Cedars trail is of course the monster cedars at the end of the trail. The trail itself is scenic and at least a couple times the forest opens up to some great views of the Soo Valley and snow capped mountains beyond. With the trail improvements in late 2013, you will now find more trail signs and kilometre markers. Some interpretive information about the beautiful forest around and above you, as well as some strategically placed benches to sit and appreciate the grandeur of the trees.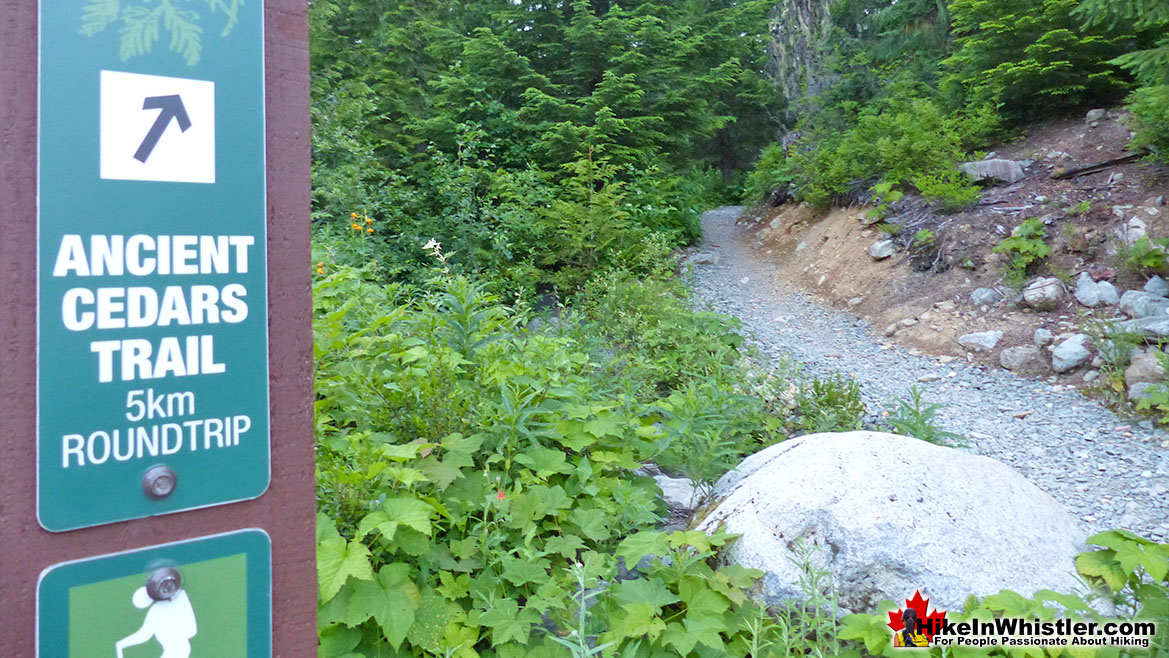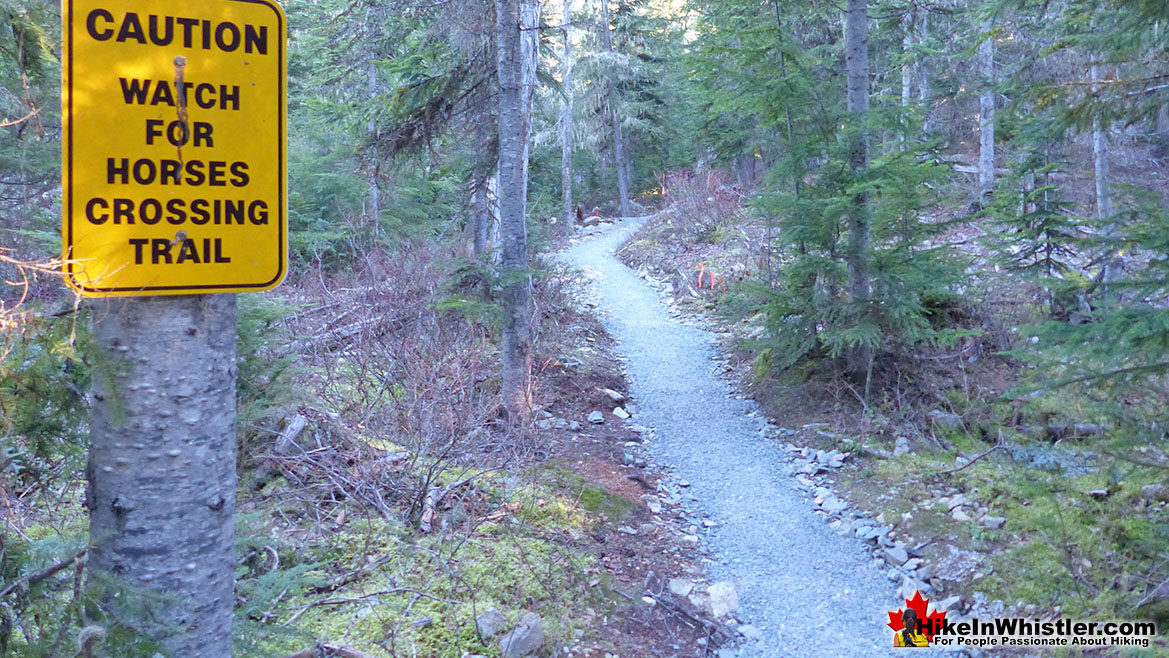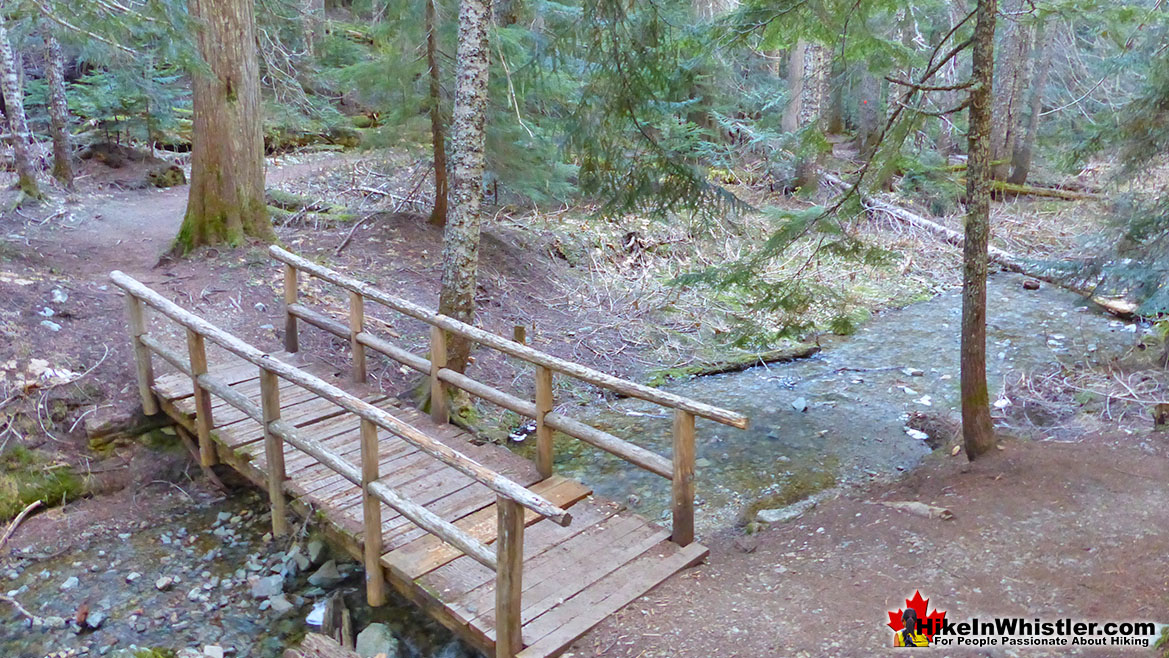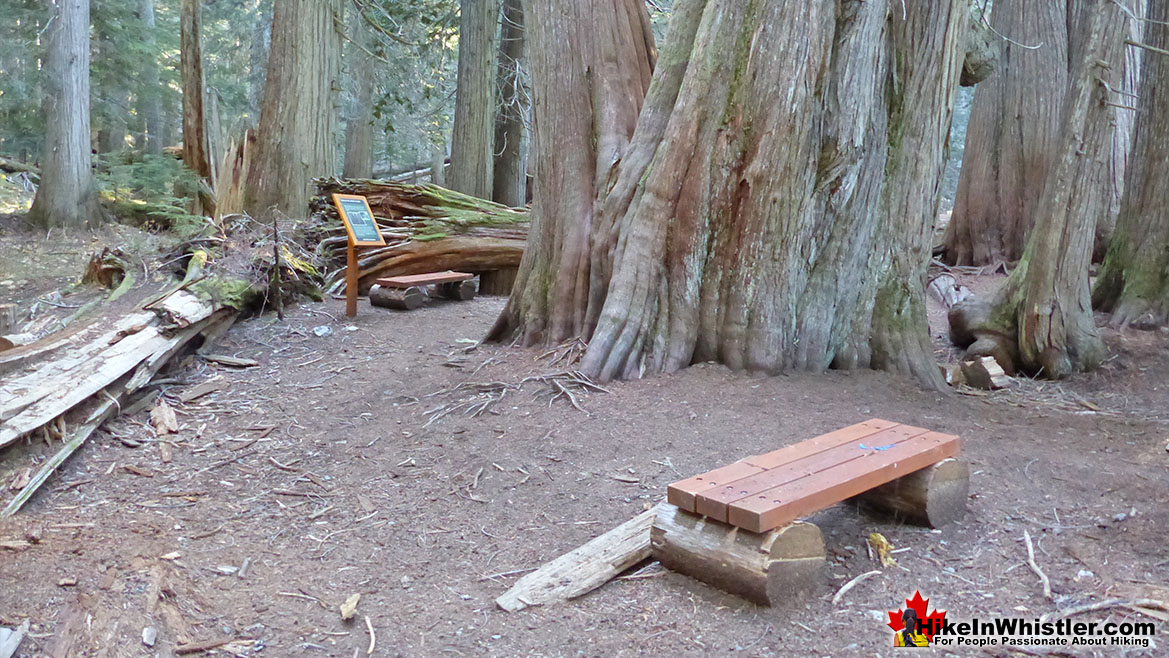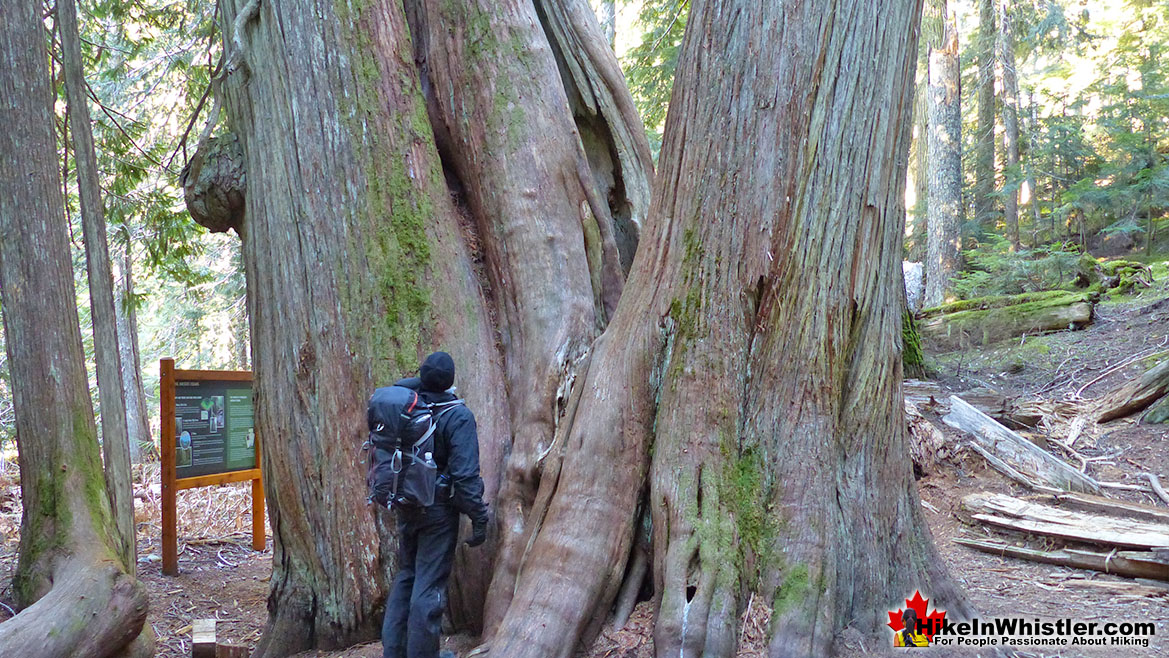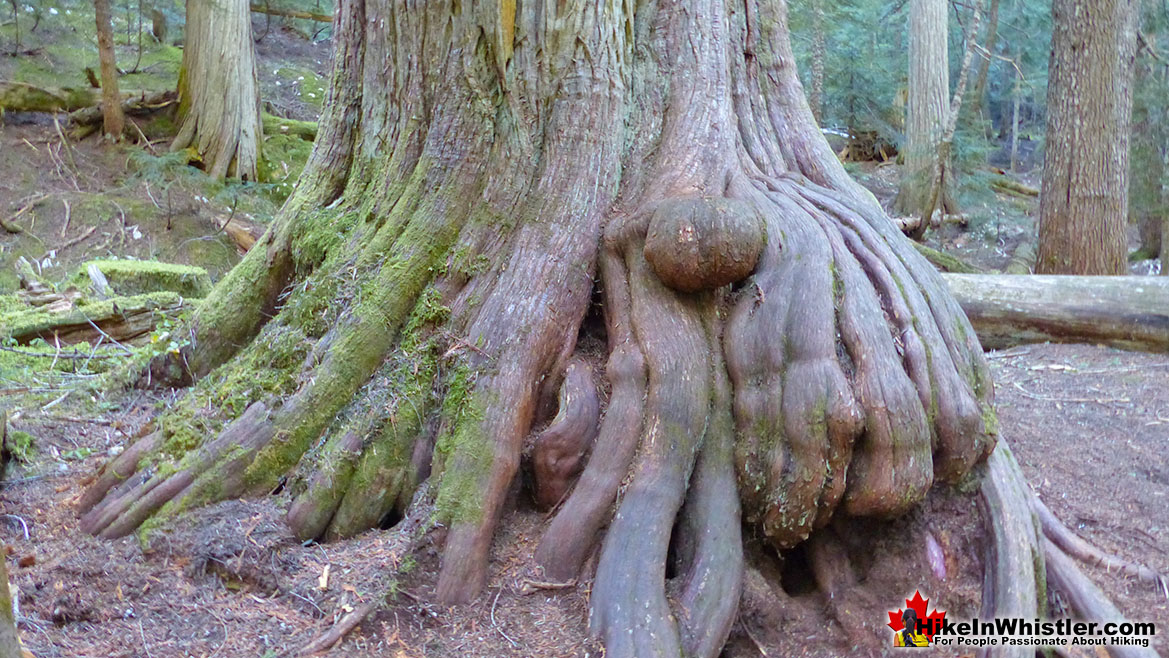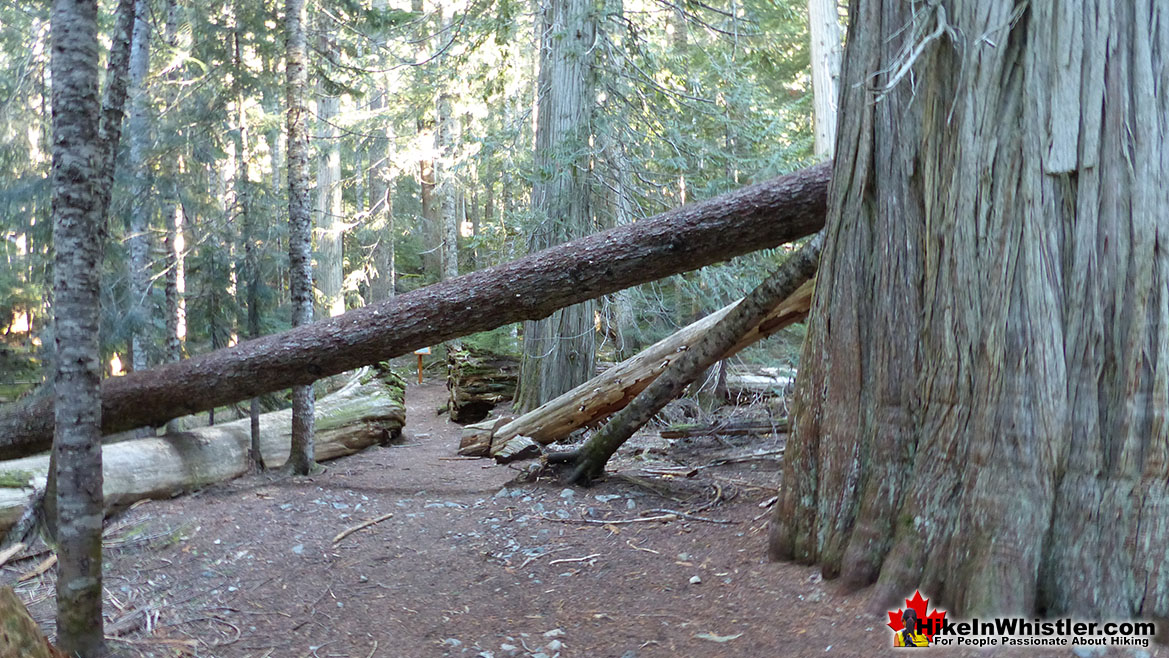 Showh Lakes(aka Cougar Lakes)


T

he obvious draw of Ancient Cedars trail tends to make hikers overlook the connecting trail to Showh Lakes. After hiking to Ancient Cedars, halfway along the trail take the connecting trail to Showh Lakes(sometimes known as Showh Lake and Cougar Lake). The trail runs along the left side of the larger lake on your right and then veers left, crosses a creek and circles around the smaller lake on your left where it connects with the logging road and Showh Lakes parking area. You can either follow the road back to your car at the Ancient Cedars trailhead or continue rounding this smaller Showh Lake and rejoin the main trail you came in on and hike back to your car. Showh Lakes are very remote and wild feeling lakes which certainly ads to their draw as fishing lakes. They are stocked with trout every year and your average summer day will find a couple fly fishermen out on the water floating inside those funny little one-man rubber float tubes having a great time catching lots of fish. Swimming is not the best at Showh Lakes, however, the wonderful remote setting more than makes up for the lack of inviting beach.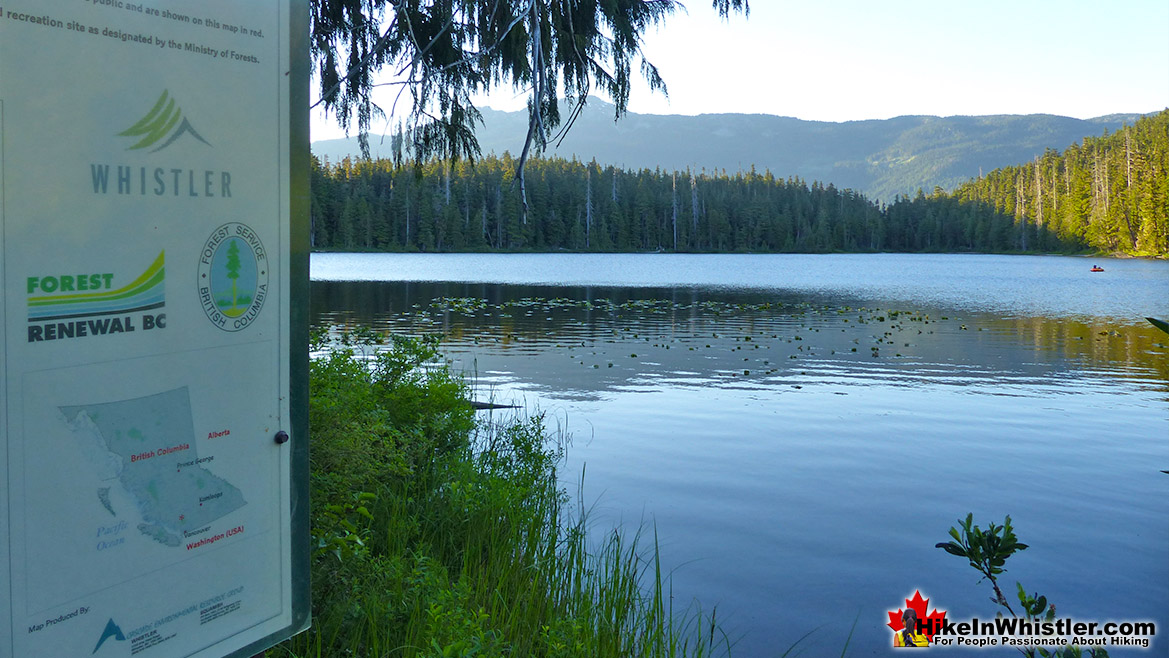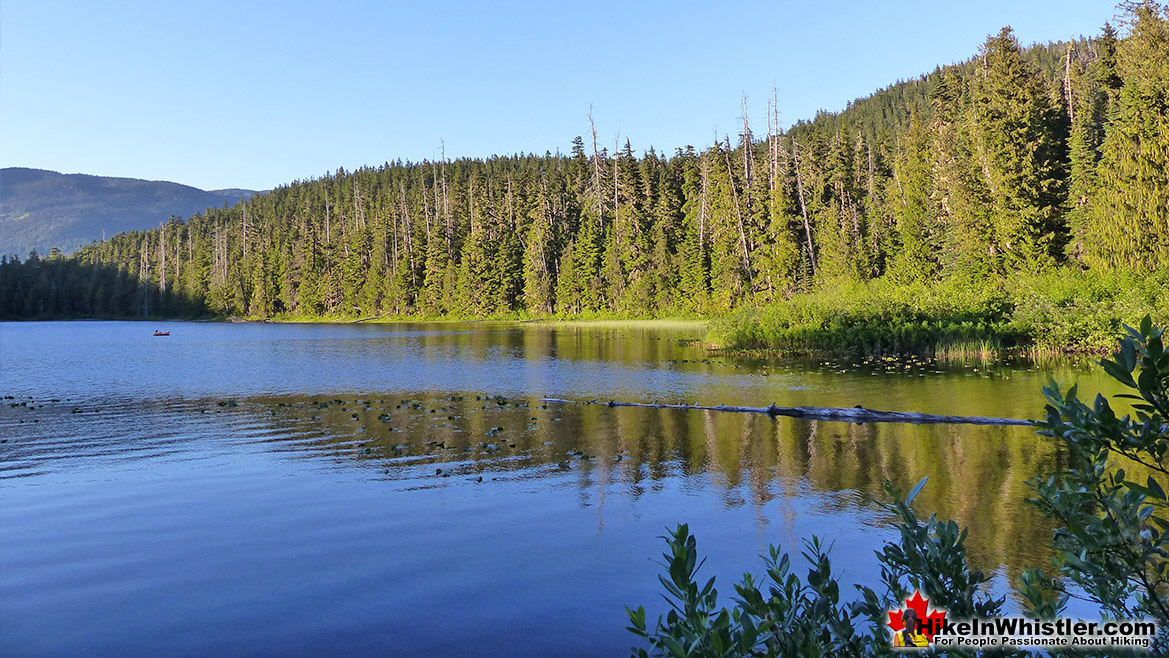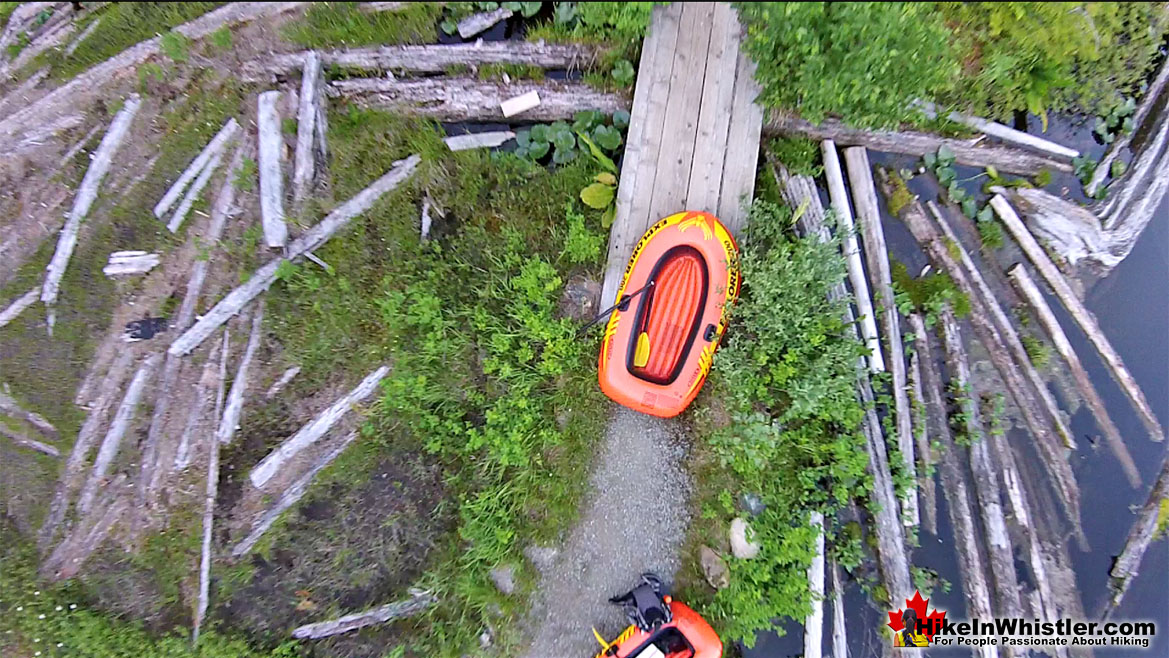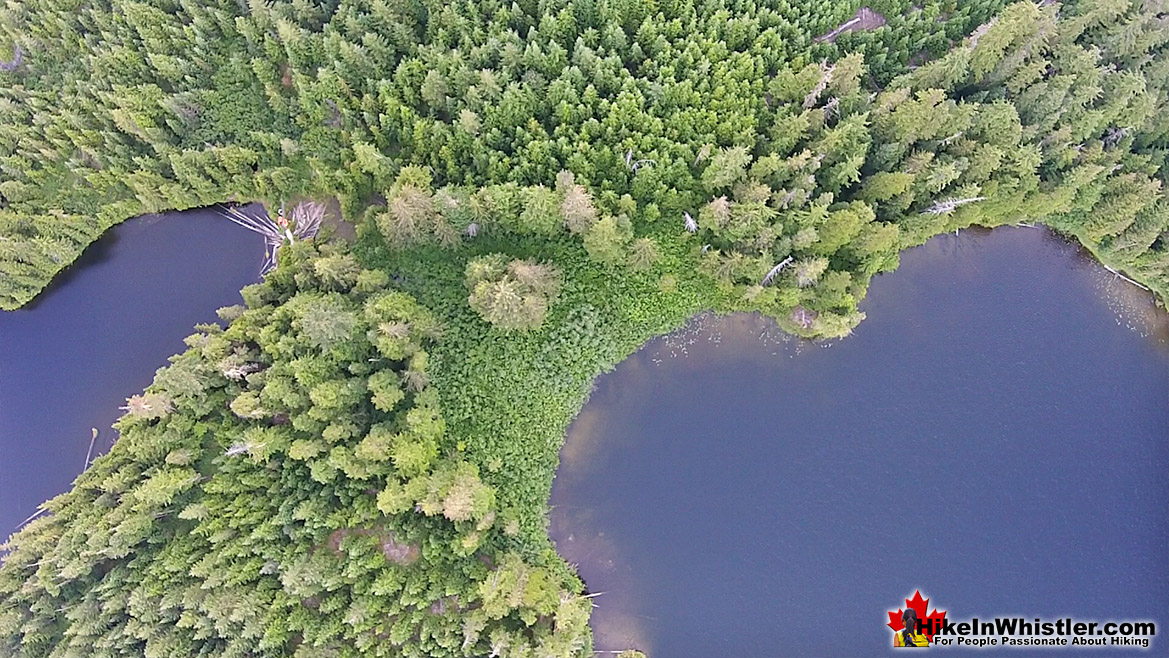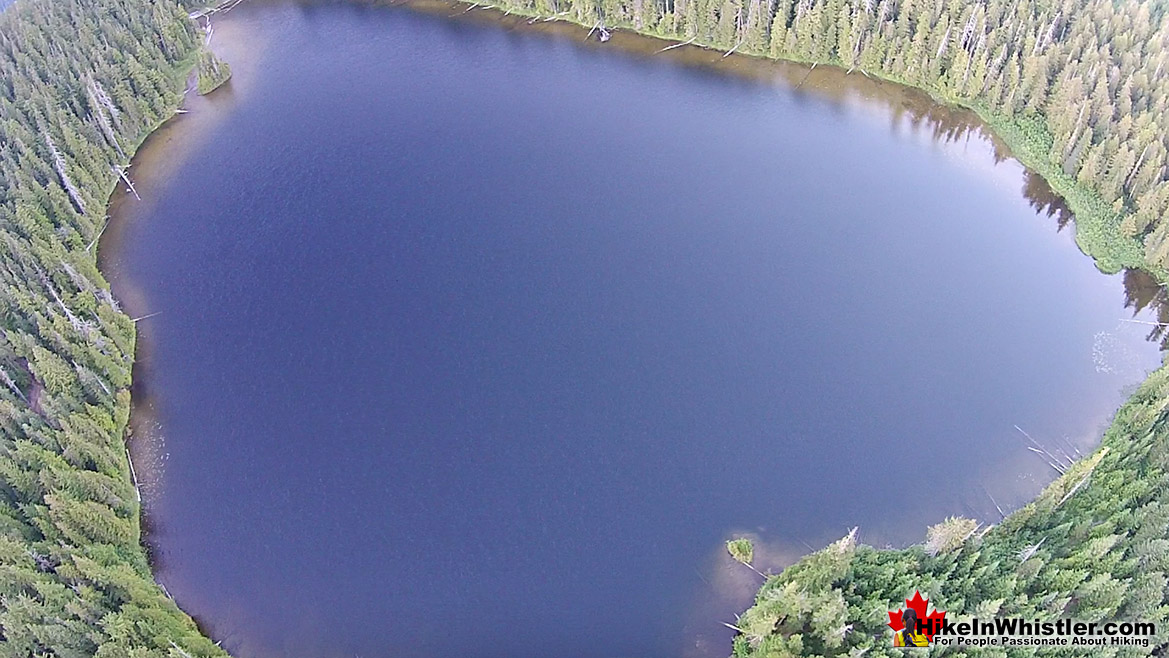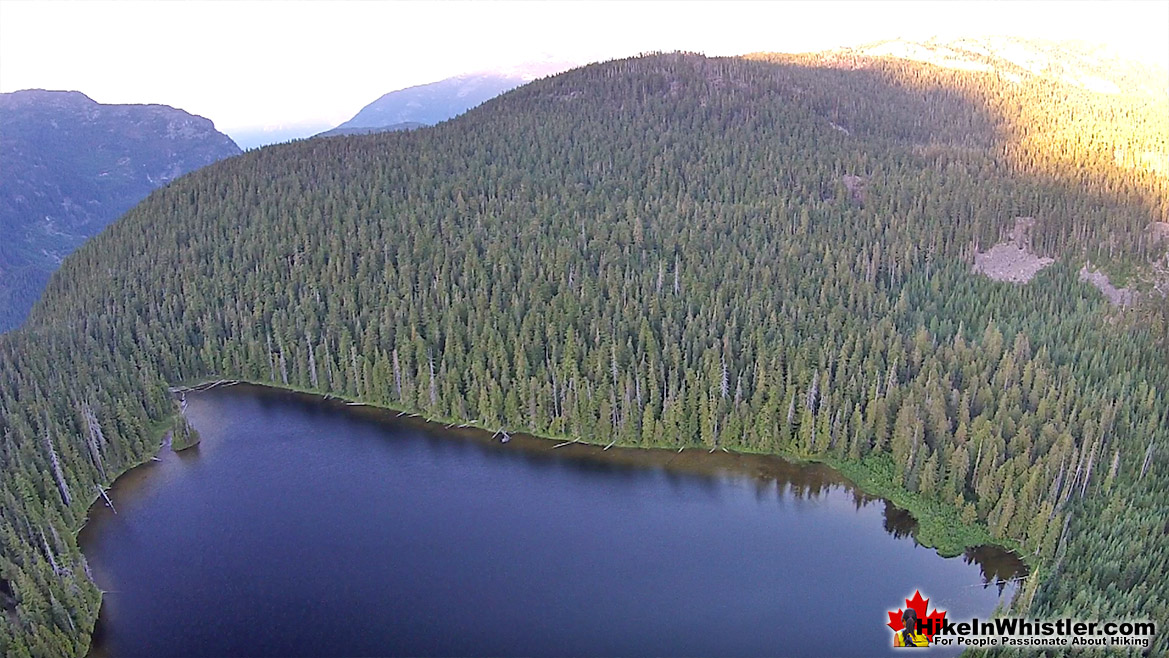 If you have a 4x4, you can drive right to the shores of Showh Lakes and crack a beer with little chance of humanity disturbing you. If you don't have a 4x4, you can make it to a short walk to the lakes and if you have some sort of inflatable boat or canoe, you will find yourself in paradise. Floating in a mirror under a blue sky, surrounded by deep and wild forest.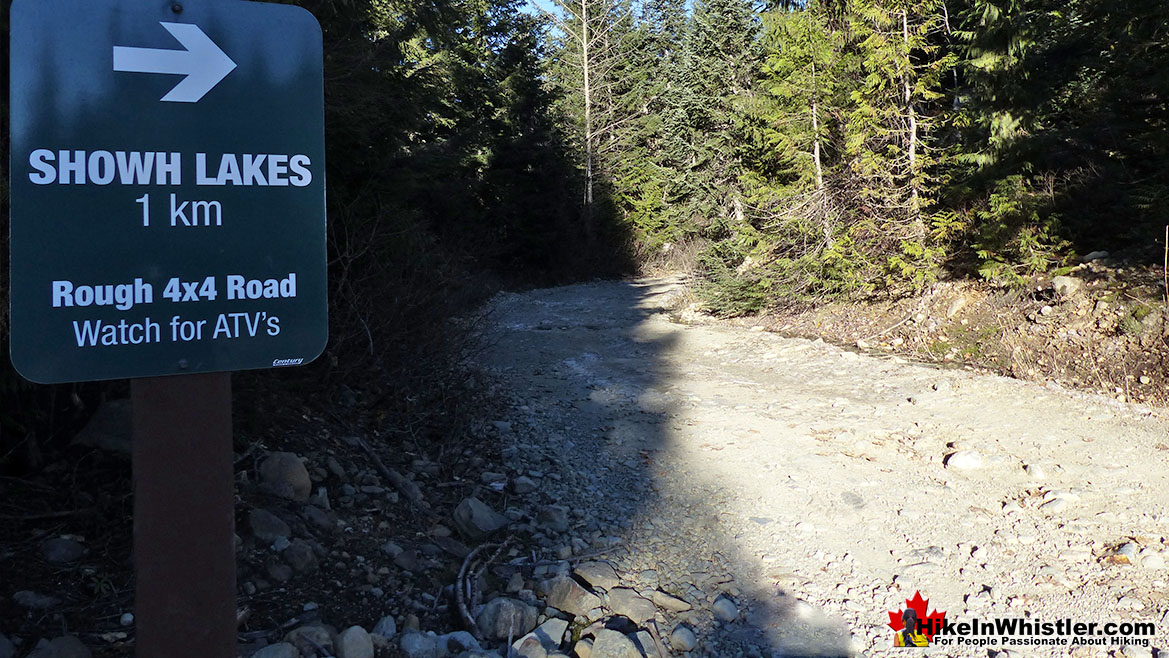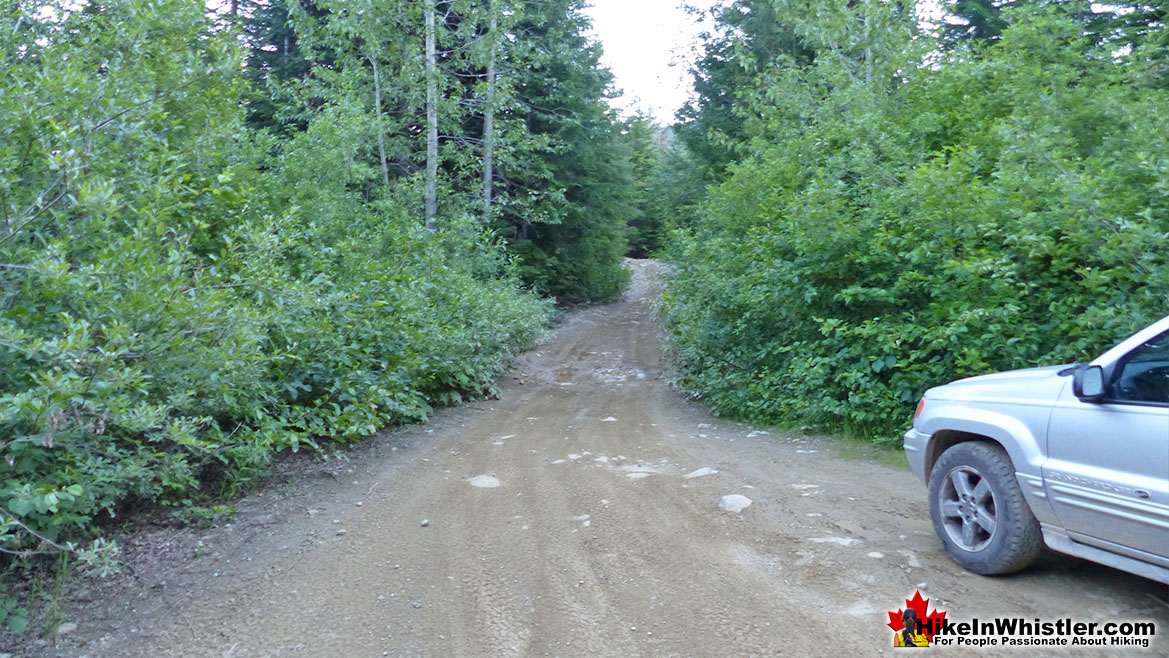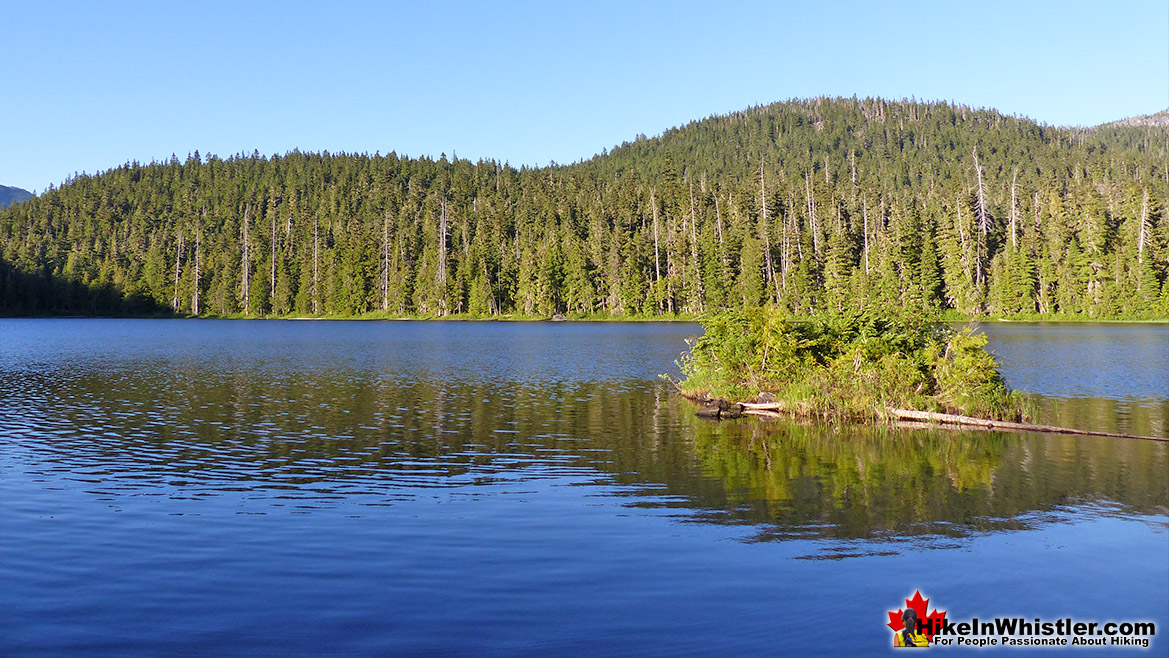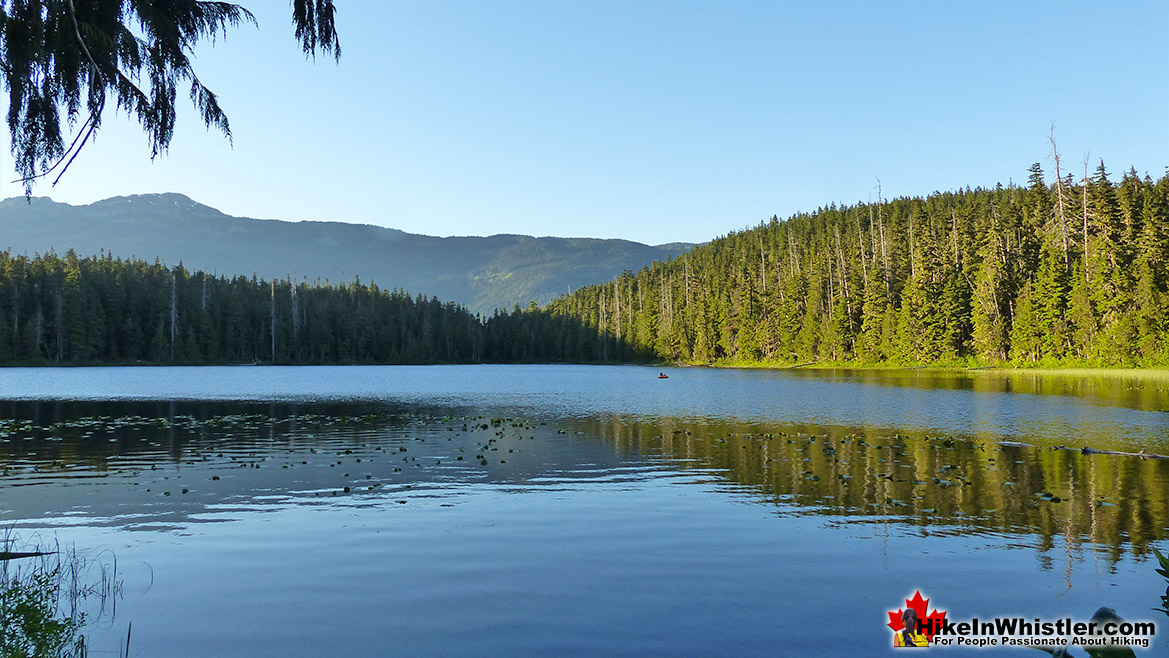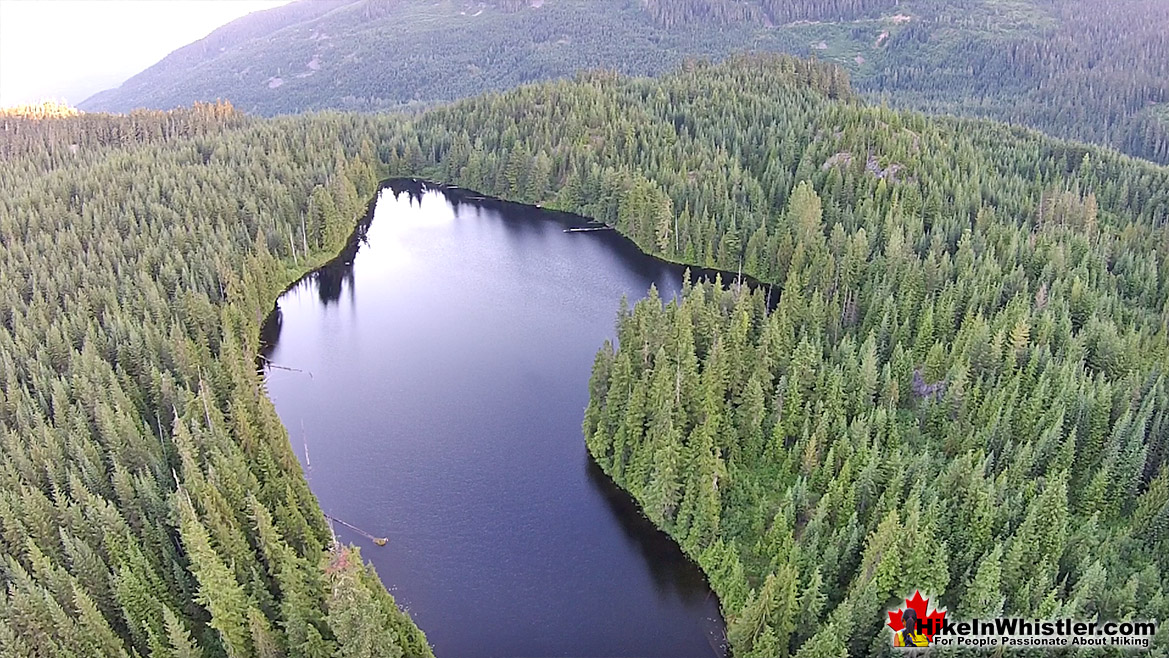 Showh Lakes & Ancient Cedars Trail Map

Ancient Cedars is somewhat well known, however Showh Lakes is not. Very wild and back of beyond feeling, Showh Lakes is definitely worth a look if you want more hiking beyond the Ancient Cedars trail. Another great draw for Showh Lakes is the great places(though small and unmarked) to put up a tent. There is a good mapboard at the Ancient Cedars trailhead, as well as good signs directing you along the trail. Having a map in your pocket is probably not necessary unless you are venturing up Showh Lakes, where you could end up on a gravel ATV/horse trail and get a bit lost. Most cars will have no trouble with the drive to the trailhead, though the road is spectacularly potholed. The forest service road to Showh Lakes is very bad and even high clearance 4x4's will have difficulty getting through the narrow, winding and boulder strewn road. This road is more appealing to ATV's or horses. Both of which you occasionally see passing through from the tour operators nearby.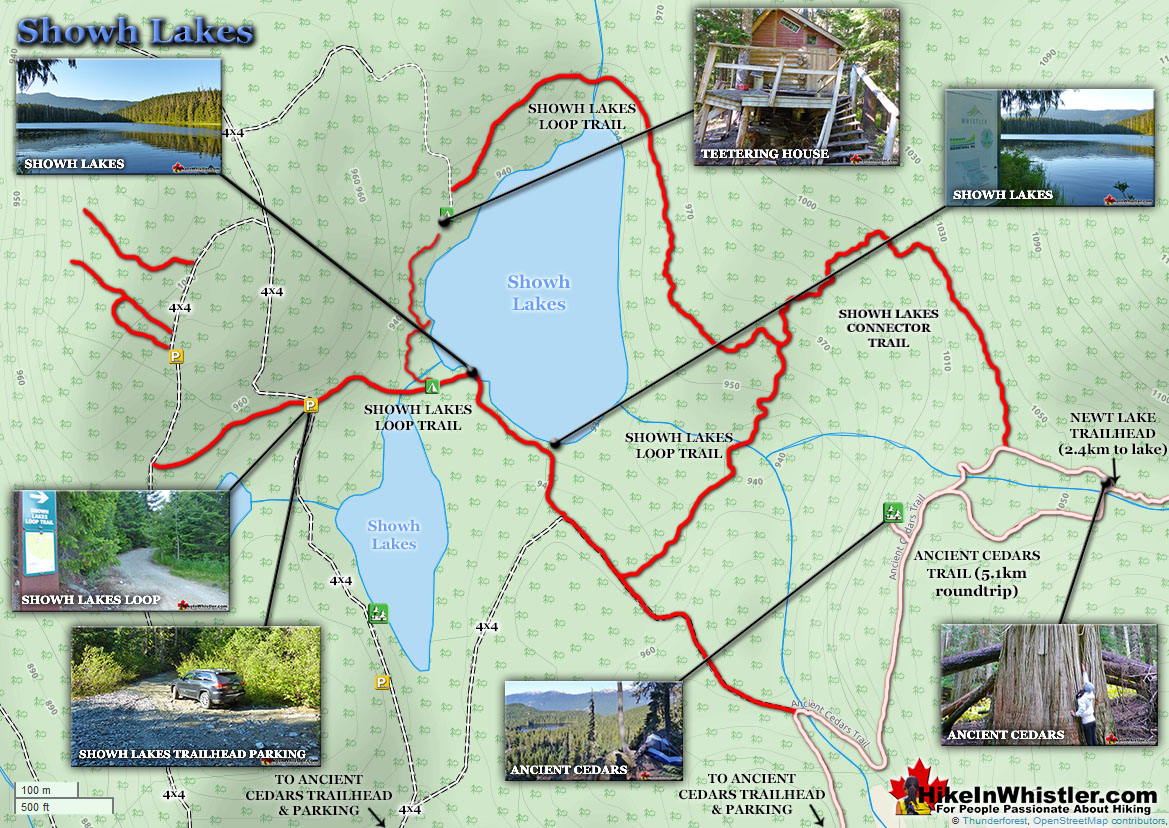 History of Ancient Cedars

Back in the late 1980's workers building a bike trail on the lower part of Cougar Mountain discovered a small grove of stunningly enormous western redcedars.  Several noted at the time were over 10 feet in diameter.  Core samples were taken and indicated that the trees were likely close to 1000 years old. The Douglas Firs in the grove were similarly ancient and estimated to be no less than 650 years old.  Suddenly it became evident that word of these monsters would reach the logging companies and the magnificent ancient grove would be turned into lumber.  On March 25th, 1988 a meeting was held in Squamish between the Forest Service(logging interests) and the Pocket Wilderness Coalition(a group dedicated to preserving this ancient forest).  The PWC came with two requests: to protect the Cougar Mountain and Rainbow Mountain areas and prevent logging activity, road building and other development on these two mountains.  Predictably the local Forest Service Operations Manager, Don Kinnear refused.  Kinnear went on to inform the PWC that logging permits have already been issued for Cougar Mountain and logging would commence as soon as weather permits.  Worried that Mr Kinnear would speed up logging in the area in order to destroy the ancient forest and therefore avoid further opposition, the PWC asked to be notified when new logging plans were submitted to the Forest Service.  Kinnear refused, and some argued that this went against his professed goal of keeping the public involved.  We can be grateful to the PWC's relentless effort.  Against all odds it seems, they prevailed.  Cougar Mountain, with Ancient Cedars nestled high up in the beautiful wilderness, remains today.  The victory was partly owing to public perceptions of usefulness and profitability from tourism from natural wonders, such as this forest.  Locals in Whistler recount the steady growth of tourism operators around Whistler's third mountain.  So much so, that today the area is home to Ziplines, tree-top adventures, ATVing, snowmobiling, as well as criss-crossed by dozens of hiking and biking trails.  All this development and Ancient Cedars has survived.  The bewilderingly huge ancient cedars are protected and we can watch these monsters continue to grow for generations to come.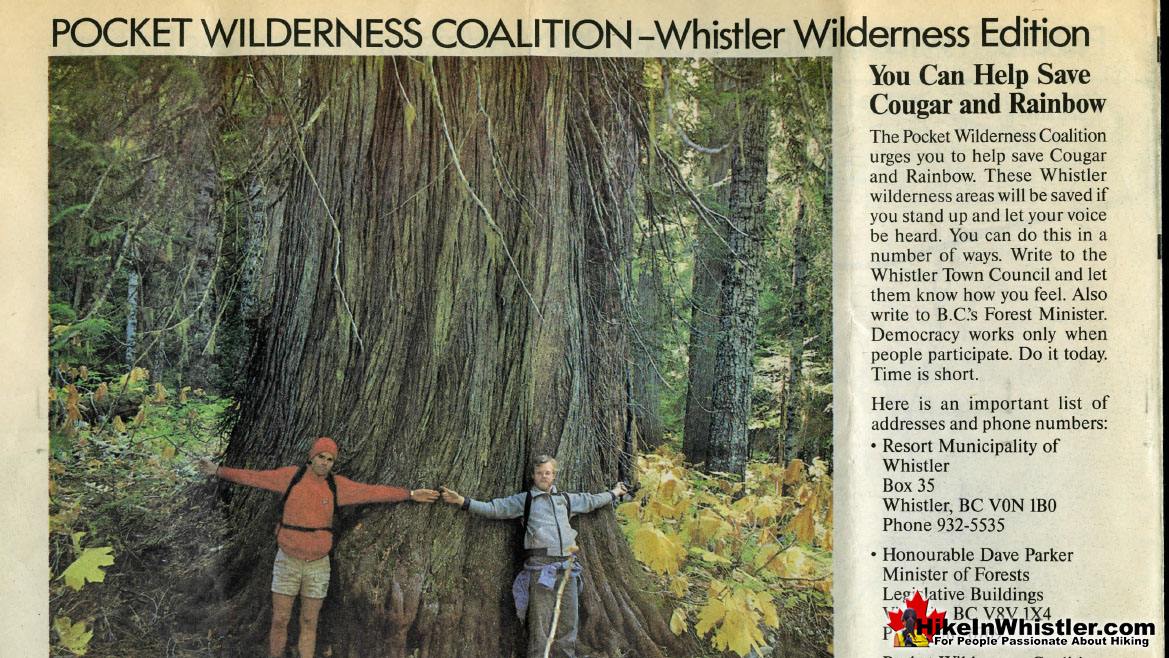 Geology of Ancient Cedars

What would eventually be known as Cougar Mountain was consumed by ice as two kilometre thick glaciers filled Whistler valley during the last great Ice Age, roughly 10000 years ago.  Just the upper reaches of the mountain would have been above the glacier for hundreds of years as the glacier pulverized the valley and carved the terrain all the way to Porteau Cove, down past Squamish!  You can stand anywhere in Whistler with a view over the valley and imagine the depth of the glacier that once filled the valley.  The alpine mountain peaks, visible by their treeless terrain, are a good marker of where the glacier once rose to.  Another indication is the shape of the mountains.  Rounded mountain peaks were likely glacier covered, whereas jagged peaks, such as Wedge Mountain, Blackcomb Mountain, and Whistler Mountain were not.  Looking around at Whistler's mountains give you a vivid look into the look of the valley thousands of years ago.
Camping & Bivouacking at Ancient Cedars

There are no dedicated camping options in and around Ancient Cedars, however you can find some very rugged areas to put up a tent well away from the Ancient Cedars trail.  The tent shown here is just a few dozen metres off of the main trail and has an amazing view over Showh Lakes.  Down at Showh Lakes you will find several good spaces for a tent.. but it takes a little looking, and none are exceptional.  The terrain is too irregular and just not ideal for camping, however there is a good clearing in the forest just before you arrive at the far lake.  What the lakes lack in flat, tent-friendly ground, they more than make up for with amazing wilderness serenity.  With the exception of seasonal engine sounds from atv's or snowmobiles, you will rarely see or hear any hint of mankind.  If you are a fan of taking your 4x4 to your campsite, Showh Lakes will suit you as well.  Depending on your 4x4, you may be able to drive right to where you plan to camp.  If not, you will just have to park a 3 minute walk from where you camp.  Either way, it is a very convenient and unexpectedly remote feeling, wilderness setting to camp for free, so close to Whistler.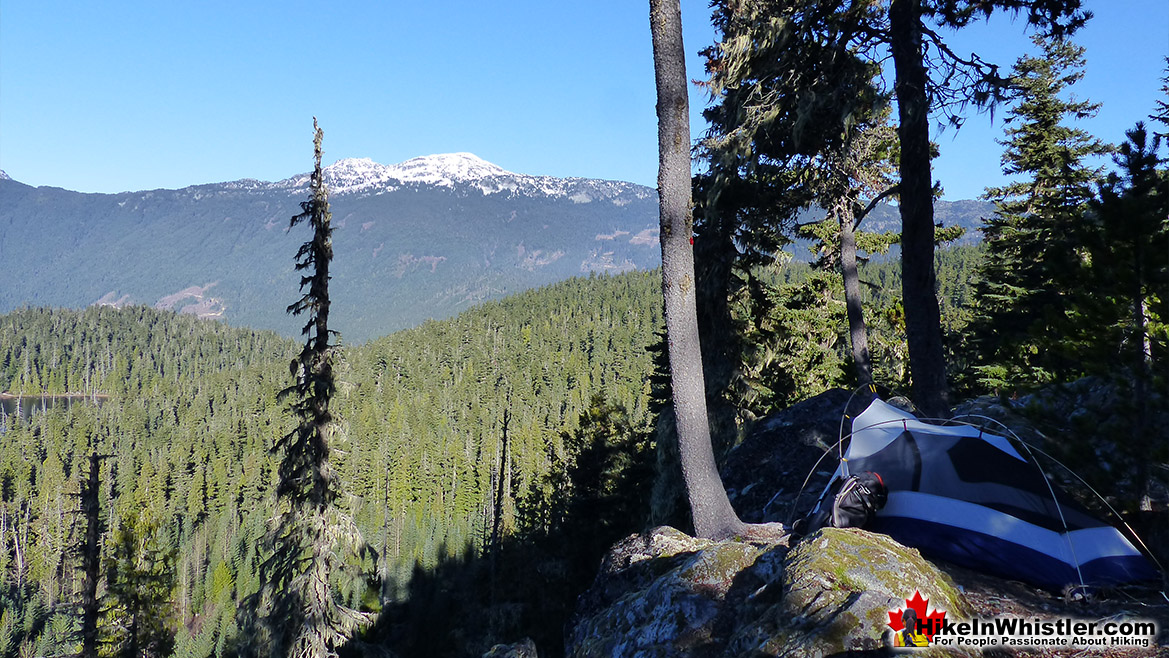 Newt Lake is an excellent option to camp for free near Ancient Cedars.  The unmarked trailhead is found at the end of the Ancient Cedars trail next to the far bridge.  The trail is tough, steep, wild, but short at just 2.4 kilometres.  Newt Lake is wild and beautiful, though finding a flat spot for a tent takes a bit of searching.  More info, details and directions to Newt Lake here...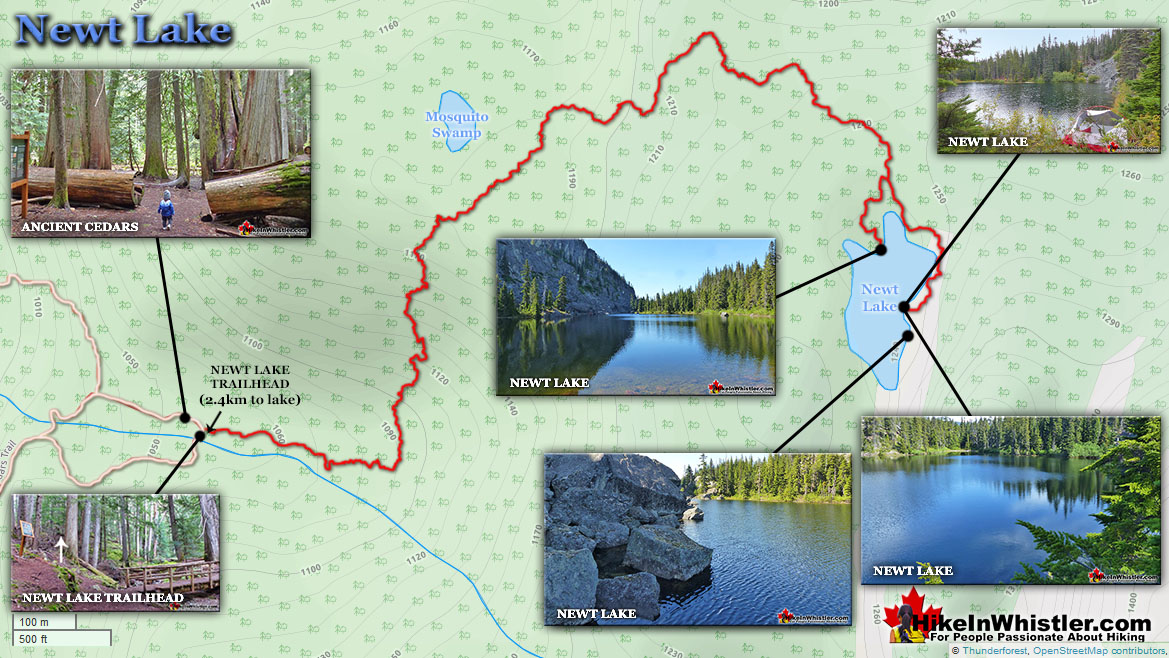 Another decent place to camp would be back down to the Sea to Sky Highway, turn left(north) and in a couple kilometres watch for the Wedgemount Lake turnoff on your right. Turn here and cross the train tracks and park next to the Green River.  There are several places on both sides of the river that are very nice and perfect for a tent.  If you are more adventurous, cross the river and turn right.  Drive along this bumpy logging road for about 1 kilometre, pass Whistler Paintball on your left and at the yellow gate, park on the clearing on the right.  You will see the Sea to Sky Trail head up along the gated gravel road.  If instead you follow the old gravel road on the right.  After a few hundred metres running parallel to the train tracks, you will come to the trail to Parkhurst Ghost Town, leading to Parkhurst Ghost Town and a very interesting and beautiful place to camp overlooking Green Lake.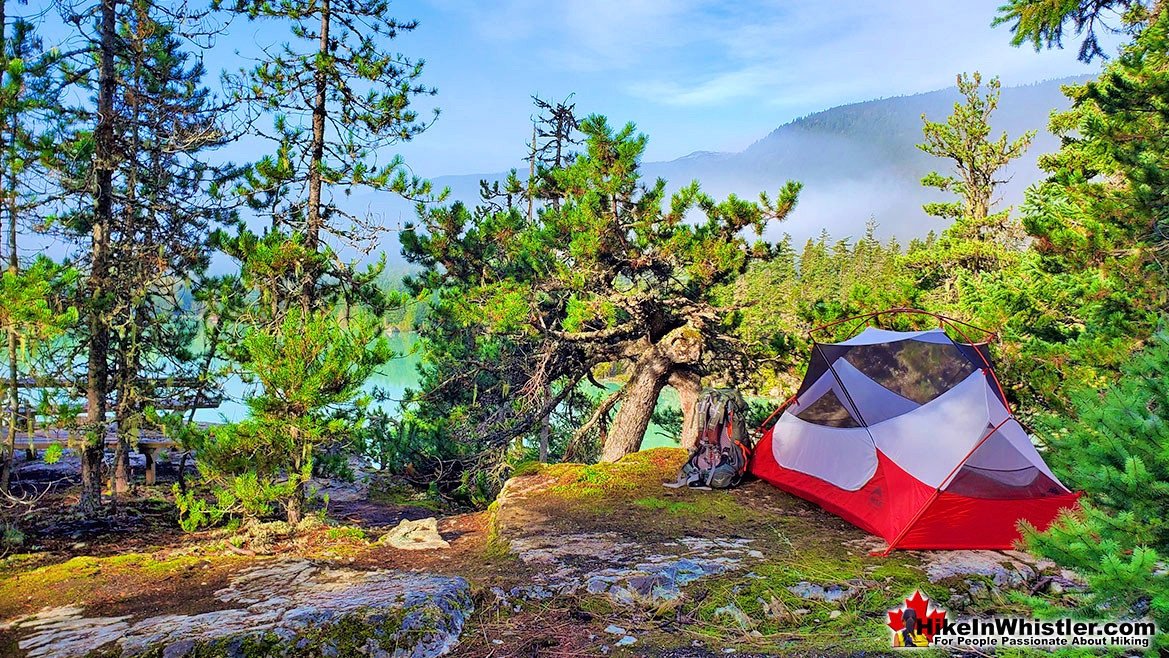 Further north on the Sea to Sky Highway you will come to Nairn Falls Provincial Park.  This is a huge, pay-to-use campground with plenty of facilities and located on Green River, just a short hike to Nairn Falls.  In Whistler, just north of the Village near the south end of Green Lake, is Riverside Resort.  This deluxe campground has tent spots on the Fitzsimmons Creek as well as RV camping, yurts and log cabins to rent.  A bit pricey and often crowded in the summer with wall to wall RV's.  But if you are OK with that, Riverside Resort is pretty amazing because of its great location close to Whistler Village and nice forest setting along Fitzsimmons Creek.
Facilities at Ancient Cedars

There is an outhouse across from the trailhead to Ancient Cedars.  The tour operators further down towards the highway turnoff may let you borrow their deluxe facilities if you ask nicely.  A couple kilometres south on the Sea to Sky Highway, at the entrance Alpine, you will find the closest real washrooms.  Alpine Cafe and Alpine Market are just off the highway(south from Ancient Cedars), turn right into Alpine and then immediately right again. The Alpine Cafe has been a locals favourite since it opened in 2004.  A small, but very cute and warm feeling cafe with great coffee and lots of cafe style food for great prices.  You will want to order everything on the menu.  Open everyday 630am to 9pm.  There is a small waterfall and several clean mountain streams at Ancient Cedars with fresh, clean water.
Restrictions and Concerns at Ancient Cedars

Ancient Cedars and Showh Lakes are located in a somewhat quiet and forgotten corner of Whistler that is remarkably easy to access.  The forest service roads cut through the wilderness, allowing you to drive to the middle of nowhere.  But the middle of nowhere is a wonderful thing.  At Showh Lakes you will find a tranquil paradise free of signs to not do this and not do that.  Ancient Cedars and Show Lakes are very dog friendly.  The hiking trails are less busy than the Garibaldi Provincial Park trails across the valley which don't allow dogs.  The amazing Sea to Sky Trail is another dog friendly option close by.  This 180 kilometre trail cuts right through Whistler and there are several access points.  The closest access from Ancient Cedars is just north on the Sea to Sky Highway.  Turn right at the sign for Wedgemount Lake, cross the train tracks and bridge over Green River and look for the Sea to Sky Trail signs.  For a list of the best dog friendly hiking trails in Whistler try here.
Wildlife at Ancient Cedars

Cougar Mountain and the surrounding wilderness that encompasses Ancient Cedars and Showh Lakes is a wonderfully remote and wild corner of Whistler. Bears are frequently seen in the summer, spring and fall months.  Whistler black bears are timid and almost certainly will retreat away from humans. Doing the same yourself is your best bet to avoid being the first unprovoked bear attack statistic in Whistler.  It's true.  With black bears numbering in the hundreds and people numbering in the thousands in this cozy valley, there has never been an unprovoked bear attack. Cougars are known to roam the mountains around Whistler as well, though very rarely seen as they are very reclusive.  Many locals will laugh at the danger of black bears, while getting very serious about potential cougar attacks.  Just like with bears, there has never been any cougar attacks in Whistler, however having a 150 pound, hungry cat roaming in the forest is always unnerving.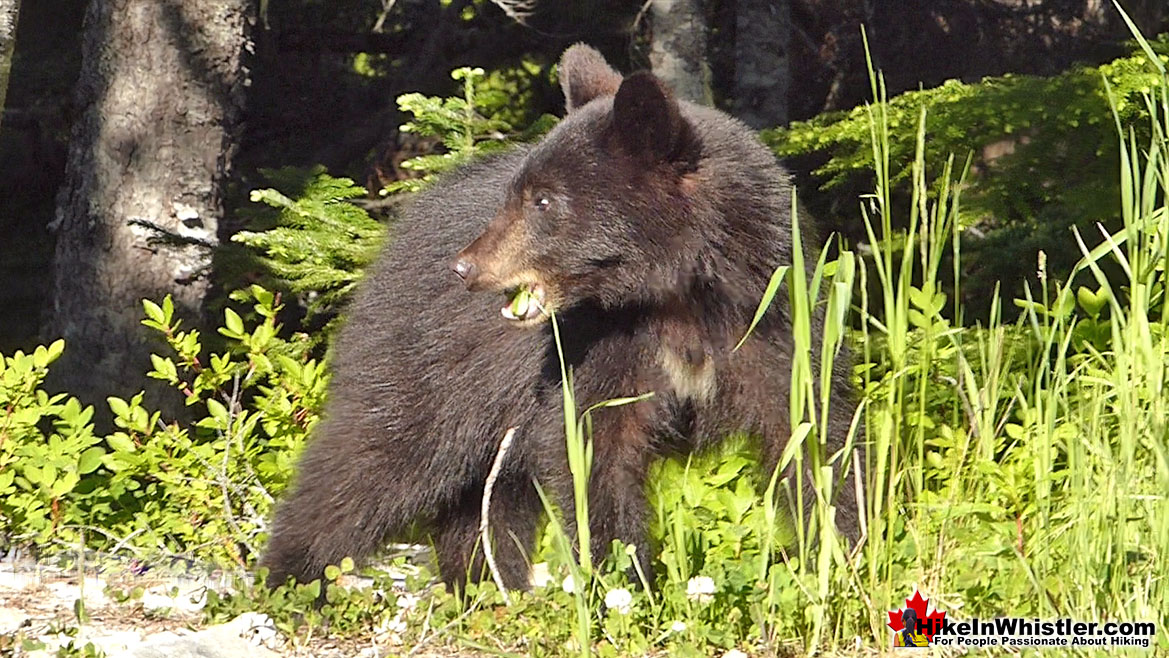 Ancient Cedars Parking & Trailhead Directions



To find the Ancient Cedars trailhead parking, zero your odometer at Village Gate Boulevard in Whistler village then drive north on Highway 99, towards Pemberton.  At 8.6km you will see on your left Cougar Mountain Road(Sixteen Mile Creek Forest Service Road).  If you keep your eyes out for the big Cougar Mountain sign on your left, you should spot this turn easily.  There is no turn lane, however the highway is wide and safe enough to slow and stop if needed while turning left.  Turn here and continue straight for 4.5 kilometres(passing through some busy tour operator areas) until you see the sign for Ancient Cedars. This road is very bad with potholes after you pass the tour operators.  Though the potholes are brutal, most cars should be fine reaching the parking area as long as you drive carefully and slow.  The parking lot to Ancient Cedars is well marked and, unless you have a serious 4x4, this parking lot is as far as you will be able to drive. If you have a serious 4x4, you can continue to the shores of Showh Lakes and potential car-camping or wilderness camping options.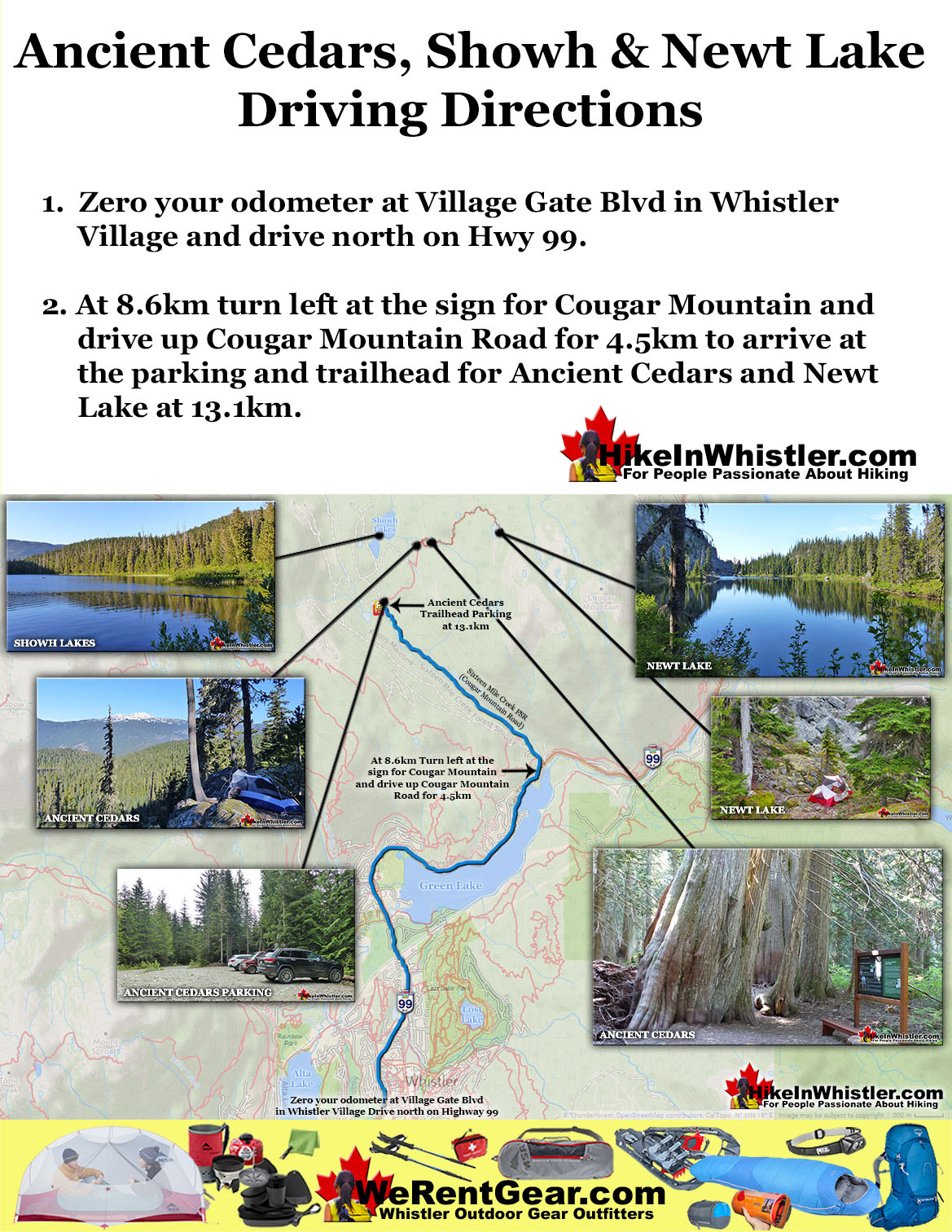 Ancient Cedars is too far for most to walk to from Whistler Village. You would be looking at about 3 hours each way. Biking, however, is an excellent option to get yourself there. Whistler's beautiful Valley Trail takes you almost to the Cougar Mountain turnoff from the highway. From the turnoff you just have an uphill slog for a couple kilometres to the trailhead. The ride from the Village to the turnoff, however, is remarkably beautiful. Much of the route is through forests and along the shore of Green Lake. If you hate biking along highways, you will only have to do this for a couple short sections. The rest is unexpectedly serene and scenic. From the Village to the highway turnoff to Cougar Mountain should take you anywhere from 20 to 40 minutes, with many potential pit stops along the way.  Public transit is not a very realistic option to get to Ancient Cedars.  Whistler Transit buses don't stop even close to the highway turnoff to the forest service road to the trailhead. The closest stop is in Emerald, a couple kilometres before the turnoff. Taxis are a good option to get to the trailhead, however depending on the driver, you may get dropped off close to the highway as the forest service road scares some drivers. So you may have an extra 2 kilometres to hike up to the trailhead. About 30 minutes walking time.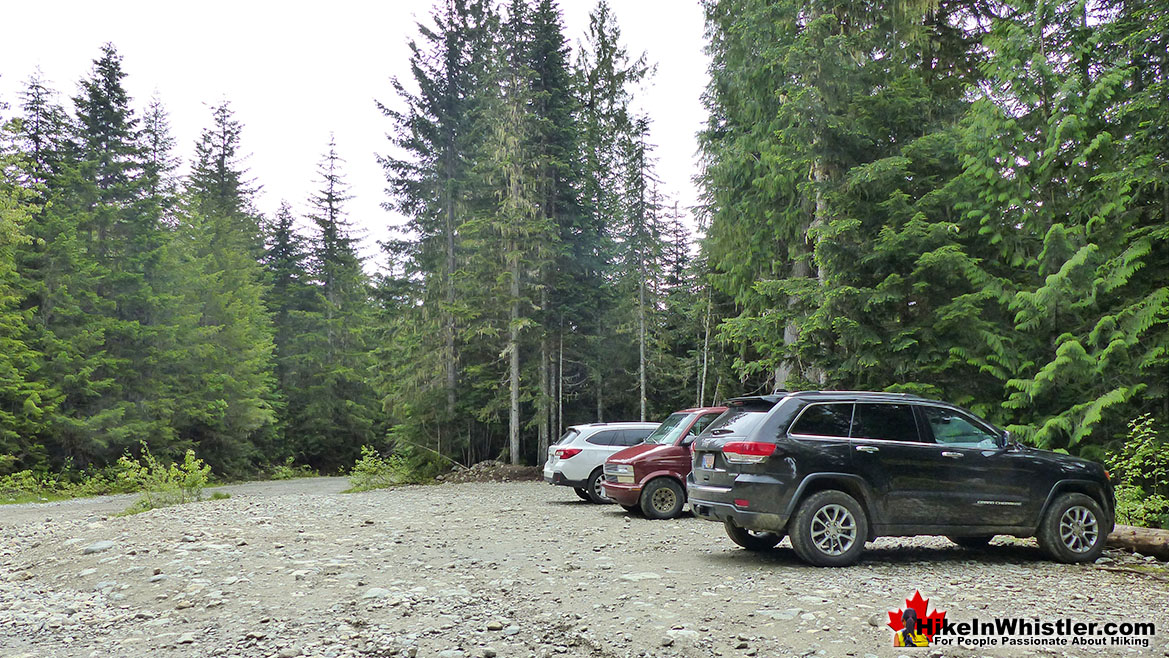 Guided Hiking Tours for Ancient Cedars

Mountain Skills Academy offers half day guided tours of Ancient Cedars.  Trips run daily from Whistler Village at 830am and 130pm all summer long.  The tour costs $129 per person(minimum two people).  Kids 12 and under are $99 and private tours for 1 to 6 people costs $549.  If you are after this tour for just yourself it costs $249.  As the Ancient Cedars trail is easy and family friendly, this tour is great for families or hikers looking for a relaxing and informative tour of this hidden little forest of thousand year old trees.  The tour also stops at the impressive Green Lake lookout where you will get a tremendous, panoramic view of Wedge Mountain, Blackcomb Mountain, Whistler Mountain and quite a lot more.  Book online at mountainskillsacademy.com or call to reserve 604 938 9242.  Mountain Skills Academy also does similar half day tours to Parkhurst Ghost Town, Whistler Train Wreck, Brandywine Falls, Cheakamus Lake and the Half Note Trail on Whistler Mountain.
More Hiking Near Ancient Cedars

Ancient Cedars is north of Whistler Village and sits effectively at one end of the mighty Rainbow-Sproatt Flank Trail(aka the Flank Trail). This wonderful trail flanks Whistler Valley for several kilometres. On the Flank Trail you can hike or bike from Ancient Cedars all the way to Whistler Olympic Park in the Callaghan Valley. Along this route, you will see few signs of humanity, except far below and across the valley. Known for its amazing vantage point to see Whistler Mountain and Blackcomb Mountain, this wild and winding trail was once an access road for logging. Often the Flank Trail is a narrow and winding trail, and other parts are wide and flat as a road. The Flank Trail passes over the Rainbow Trail, which is another great trail that extends to the Callaghan Valley, emerging at the idyllic Madeley Lake. The Callaghan Valley is also home to one side of the Sproatt Alpine Trail, Northair Mine, Alexander Falls, Ring Lake, Callaghan Lake, Cirque Lake. Further down the valley you will come to Brandywine Meadows and Brew Lake. The Callaghan Valley is the wild and untamed side of Whistler valley, compared with the busy and rule-driven Whistler, Blackcomb and Garibaldi Lake trails.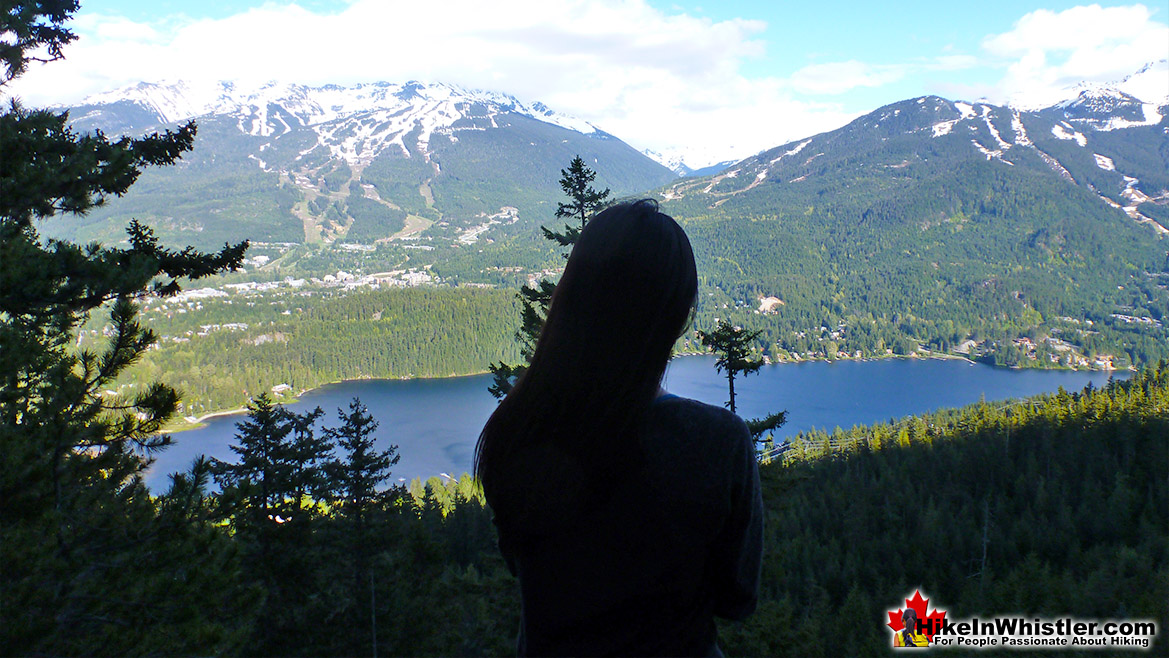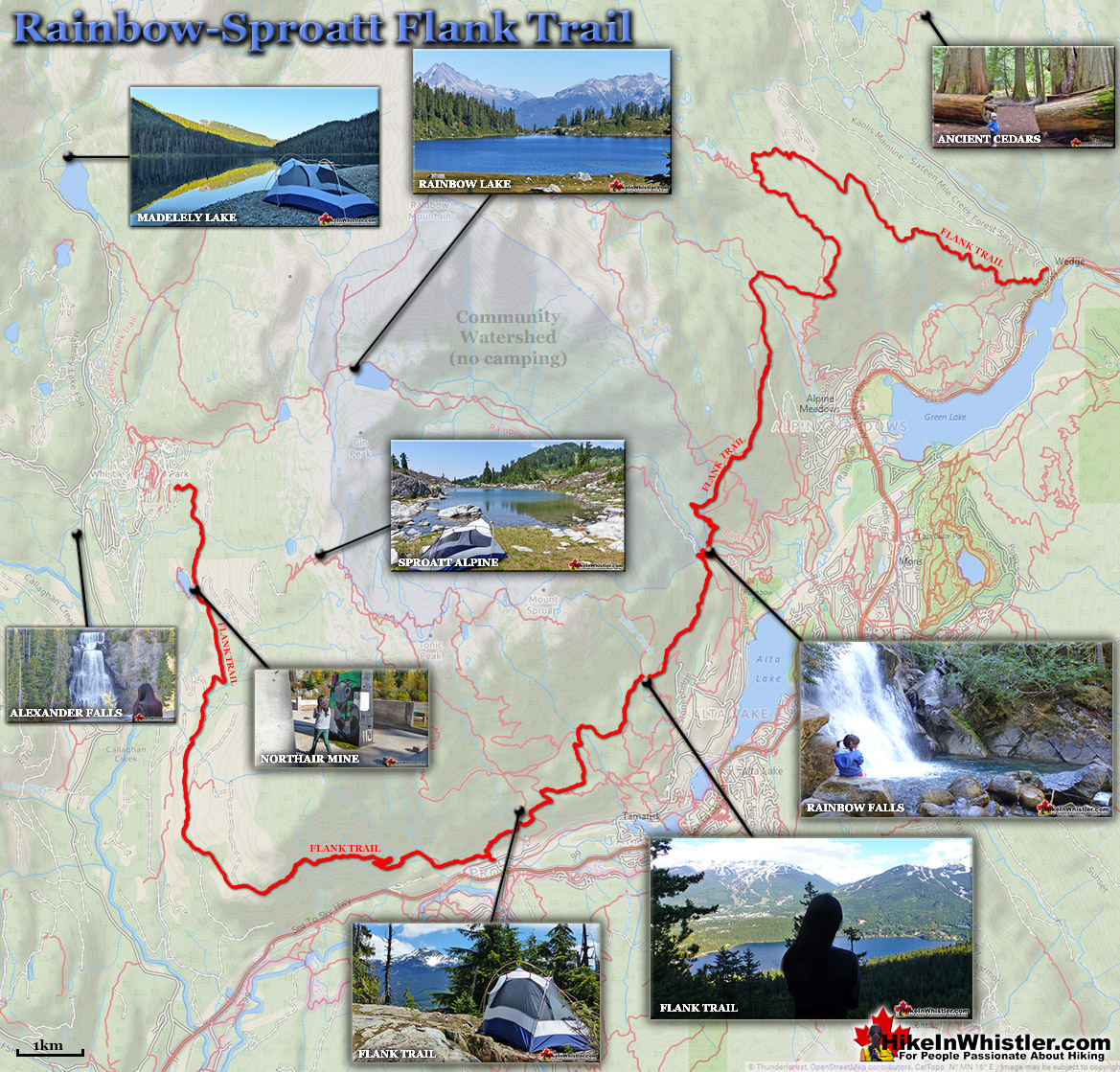 Whistler's Best Hiking Trails!
Whistler & Garibaldi Park Best Hiking by Month!
Explore BC Hiking Destinations!