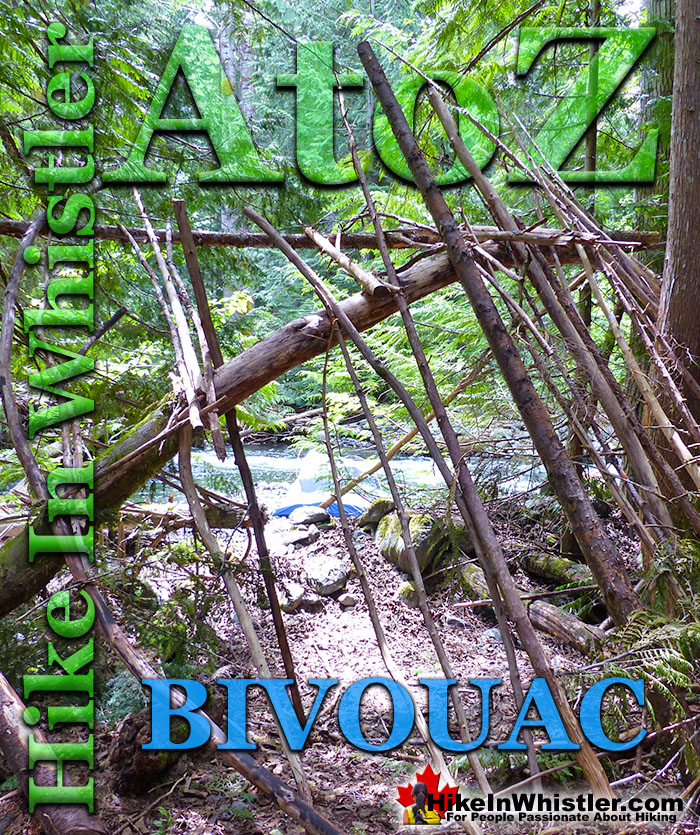 Bivouac or Bivy: a primitive campsite or simple, flat area where camping is possible.  Traditionally used to refer to a very primitive campsite comprised of natural materials found on site such as leaves and branches or simply sleeping under the stars.  Often used interchangeably with the word camp, however, bivouac implies a shorter, quicker and much more basic and naturally constructed camp setup.  
Whistler & Garibaldi Hiking

Alexander Falls  

Ancient Cedars  

Black Tusk  

Blackcomb Mountain  

Brandywine Falls  

Brandywine Meadows  

Brew Lake  

Callaghan Lake  

Cheakamus Lake  

Cheakamus River  

Cirque Lake 

Flank Trail 

Garibaldi Lake 

Garibaldi Park 

Helm Creek  

Jane Lakes 

Joffre Lakes  

Keyhole Hot Springs  

Logger's Lake  

Madeley Lake  

Meager Hot Springs 

Nairn Falls  

Newt Lake 

Panorama Ridge 

Parkhurst Ghost Town 

Rainbow Falls  

Rainbow Lake 

Ring Lake  

Russet Lake  

Sea to Sky Trail 

Skookumchuck Hot Springs  

Sloquet Hot Springs 

Sproatt East 

Sproatt West  

Taylor Meadows  

Train Wreck  

Wedgemount Lake  

Whistler Mountain

January 

February 

March 

April 

May 

June 

July 

August 

September 

October 

November 

December
For example, at the Taylor Meadows campground in Garibaldi Park, camping is the appropriately used term to describe sleeping there at night as you have constructed tent platforms and are using a tent.  If instead you plan to sleep on the summit of Black Tusk, bivouacking would be more accurately used to describe what you are doing as you are not using a tent.  In the warm summer months around Whistler you will find people bivouacking under the stars in various places with just a sleeping bag.  Pier bivouacking is the memorable experience of spending the night on one of Whistler's many piers on lakes such as Alta Lake, Lost Lake, and Alpha Lake.  The wonderful, wooden tent platforms at Wedgemount Lake are also ideal places to bivouac under the stars.  Along the world renowned West Coast Trail on Vancouver Island you will find several very interesting places previous hikers have bivouacked.  From constructed driftwood shelters to idyllic, yet haunting caves, finding a refuge from the harsh west coast weather requires a lot of creativity.  Finding one is always interesting as you feel like you have stumbled upon a hidden world.  Whether in a dark, but inviting cave with a driftwood seats around the remnants of a campfire or a large, yet strangely cozy lean-to driftwood house with a million dollar view.  Entering one of these always fills you with a sense of wonder about who was here before you and curiosity makes you peer into every dark corner.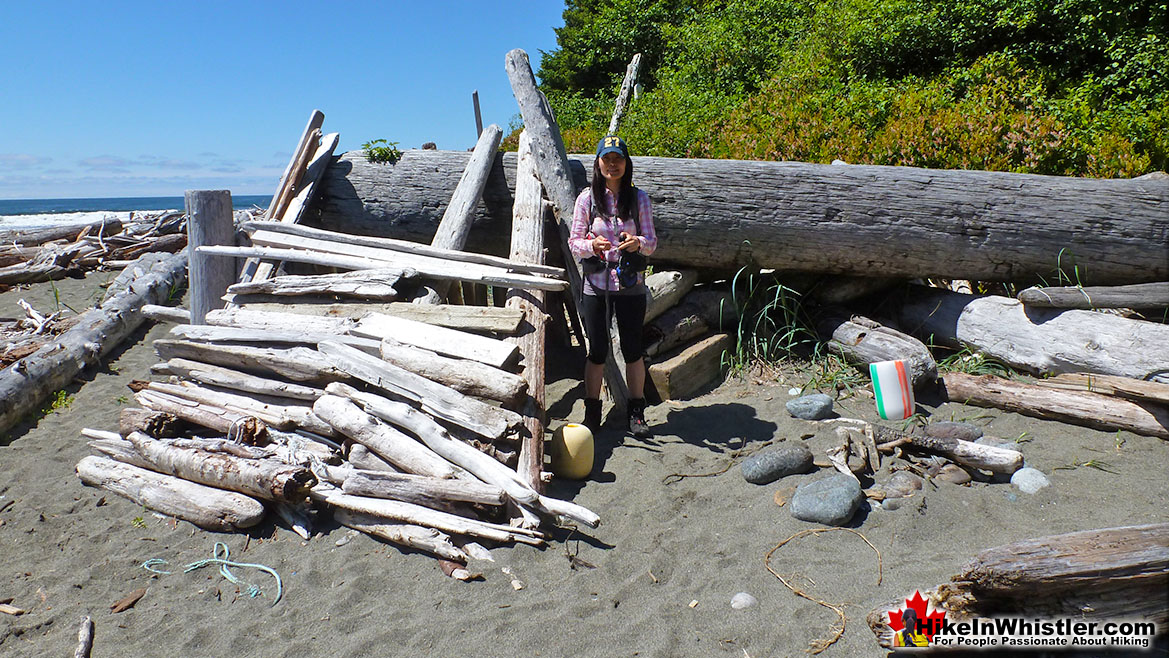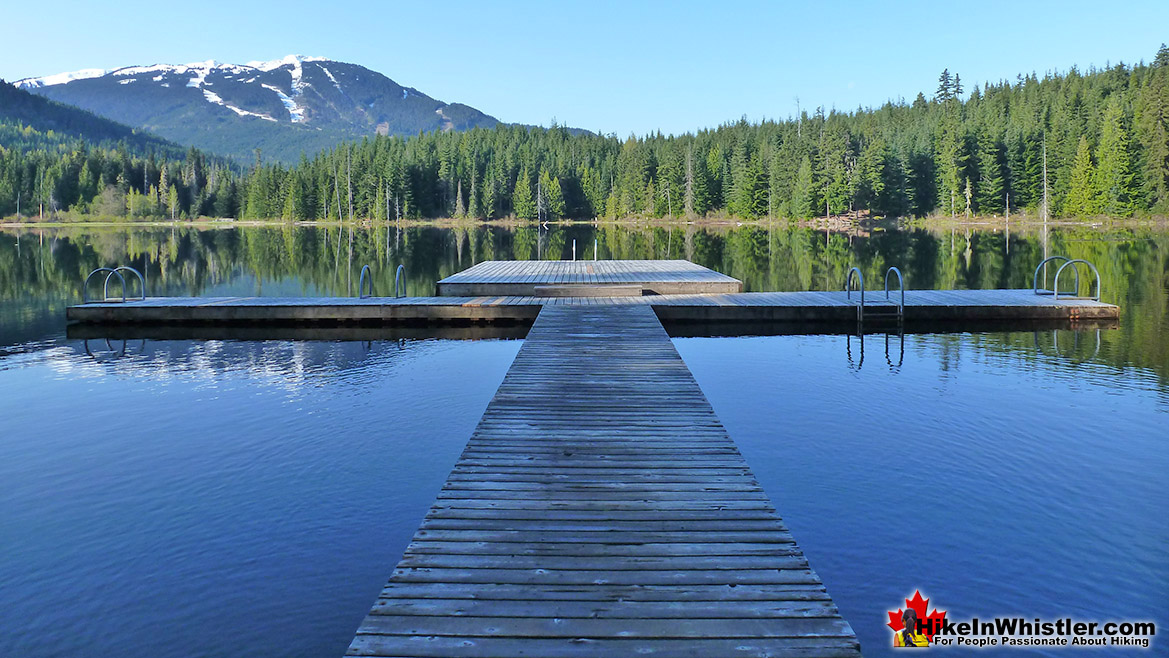 Twentyone Mile Creek Bivouacking
For the most part bivouacking leaves no trace, but occasionally in Whistler you come across something more lasting.  In the deep, dark, hidden forest trail A River Runs Through It, between Emerald Forest and Rainbow Park you occasionally stumble upon interesting curiosities.  Just a few metres from the beautiful and winding Twentyone Mile Creek a large, fairly elaborate, yet nearly invisible lean to has been long abandoned.  Thin, but long trees, about four metres long lay against a cross beam between two big trees.  With the addition of a tarp over one side, you can imagine it being quite cozy as well as pretty big.  Just a few steps away you have the crashing creek flowing past and a nice, clean rocky shore to make a campfire.  A beautifully picturesque place to camp and an ancient, overgrown dirt road and various old and new trails lead in a few directions and out to civilization unexpectedly quickly.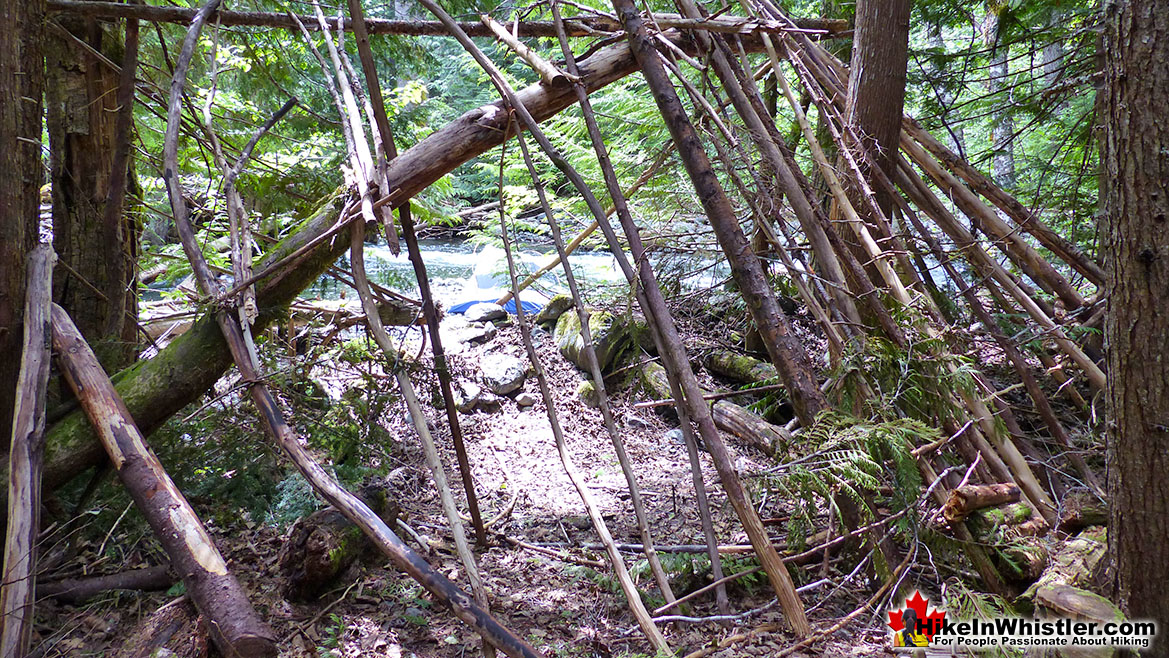 Winter Bivouacking at Elfin Lakes
In the winter months in Whistler, bivouacking can take the form of a snow cave or quinzee.  People bivouacking in snow caves are pretty common around Whistler and in Garibaldi Park in the winter.  Outside the Eflin Lakes Hut in Garibaldi Park in the winter you will usually find several snow caves dug out of the snowbank outside the hut.  A quinzee is a low-tech version of an igloo that is made from a pile of loose snow.  The pile of snow is shaped into a round, igloo shaped dome, then the inside is dug out.  Because the snow is not terribly compacted on the inside it does not take a huge amount of effort or skill to make.  The name quinzee is a Canadian term for what other parts of the English speaking world would call a snow hut.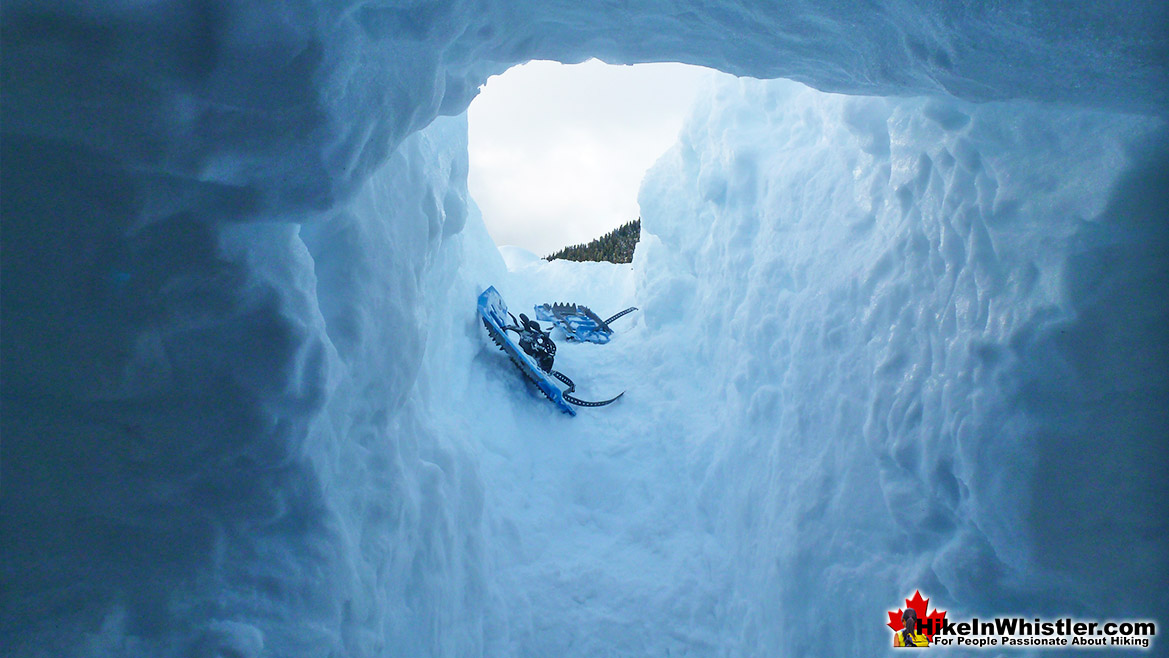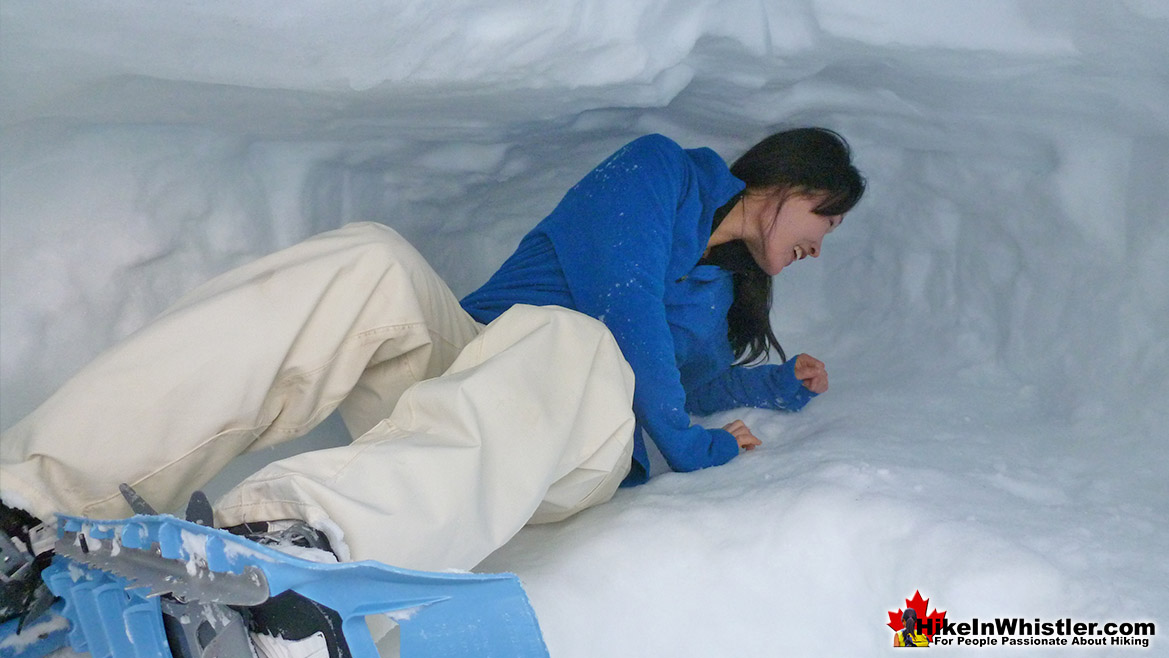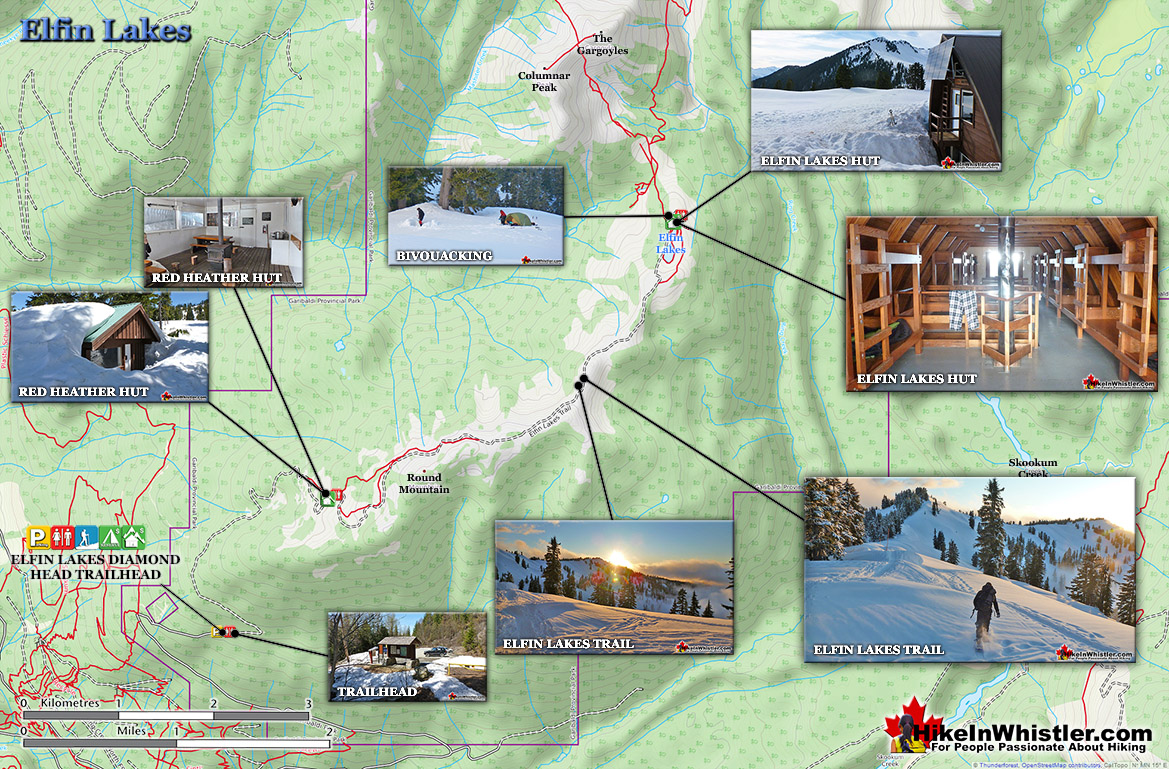 More Whistler & Garibaldi Park Hiking A to Z!

The Best Whistler & Garibaldi Park Hiking Trails!
Whistler & Garibaldi Park Best Hiking by Month!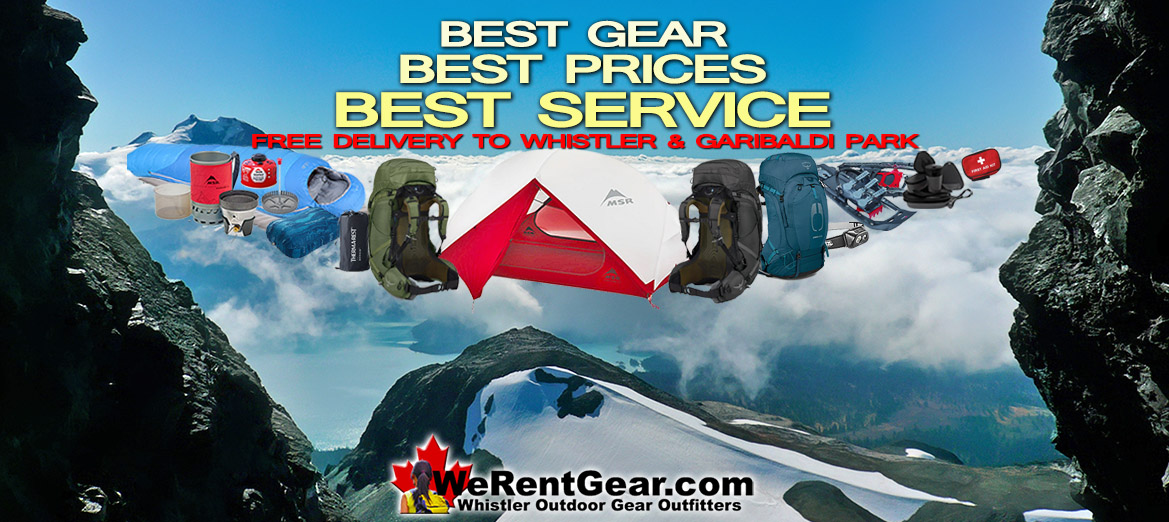 Explore BC Hiking Destinations!