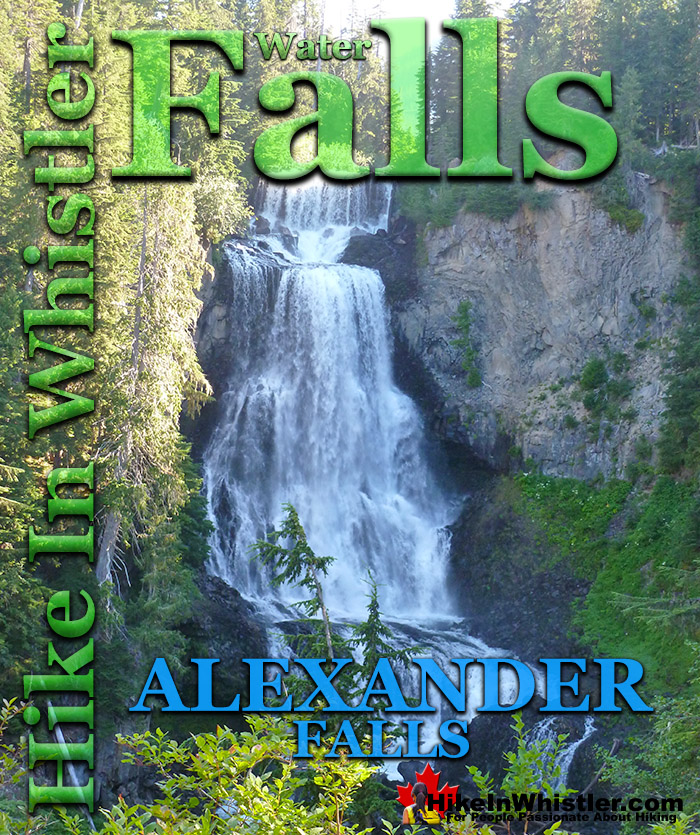 Alexander Falls is a very impressive 43 metre/141 foot waterfall just 30 to 40 minutes south of Whistler in the Callaghan Valley.  Accessible year-round, the falls are just 9.6 kilometres from the Sea to Sky Highway, up the very scenic Callaghan Valley Road.  The parking lot is just steps from the nice viewing platform on the edge of the cliff across from the falls which crash fantastically into the valley below.
Whistler & Garibaldi Hiking

Alexander Falls  

Ancient Cedars  

Black Tusk  

Blackcomb Mountain  

Brandywine Falls  

Brandywine Meadows  

Brew Lake  

Callaghan Lake  

Cheakamus Lake  

Cheakamus River  

Cirque Lake 

Flank Trail 

Garibaldi Lake 

Garibaldi Park 

Helm Creek  

Jane Lakes 

Joffre Lakes  

Keyhole Hot Springs  

Logger's Lake  

Madeley Lake  

Meager Hot Springs 

Nairn Falls  

Newt Lake 

Panorama Ridge 

Parkhurst Ghost Town 

Rainbow Falls  

Rainbow Lake 

Ring Lake  

Russet Lake  

Sea to Sky Trail 

Skookumchuck Hot Springs  

Sloquet Hot Springs 

Sproatt East 

Sproatt West  

Taylor Meadows  

Train Wreck  

Wedgemount Lake  

Whistler Mountain
Whistler Area Waterfalls

Alexander Falls 

Brandywine Falls  

Cirque Falls  

Holloway Falls 

Keyhole Falls 

Nairn Falls 

Rainbow Falls 

Shannon Falls 

Train Wreck Falls 

Wedgemount Falls
Alexander Falls is certainly one of the nicest spots for a picnic in Whistler.  The picnic areas are numerous, the surrounding forest is gorgeous and wild and Alexander Falls crashes loud and beautiful in the background.  The Callaghan Valley is home to some other great places to visit. Just past the Alexander Falls parking lot on your left you will see a sign for Callaghan Lake Provincial Park. If you turn left here you can either drive straight up a very bad logging road for 8.5 kilometres to Callaghan Lake. If you want a quick look at a very pretty mountain lake, take the first right at the start of this logging road that takes you to Madeley Lake. On a sunny summer day, few places in Whistler are more serene and beautiful. A short trail from the end of the road, behind the lake takes you down to a lovely and sunny shore of this crystal clear lake. It is also a free campground that is very nice.  Callaghan Lake is well worth the bumpy drive.  Very high up the mountains, it is a pretty great way to get deep into the wilderness around Whistler with little effort.  Almost the entire Callaghan Valley is pristine looking in the winter, with snowy trees, and snowy mountains as far as you can see.  Springtime is when you see the volume of water crashing over the falls increase rapidly.  More dramatic, more beautiful and much louder.  The fall months can be quite beautiful as well. Despite the deteriorating weather and frequent rainfall, the drive up the Callaghan Valley will be flanked by fall coloured leaves. Another benefit of going to Alexander Falls in the fall is that you will likely have the valley to yourselves.
The Alexander Falls Viewpoint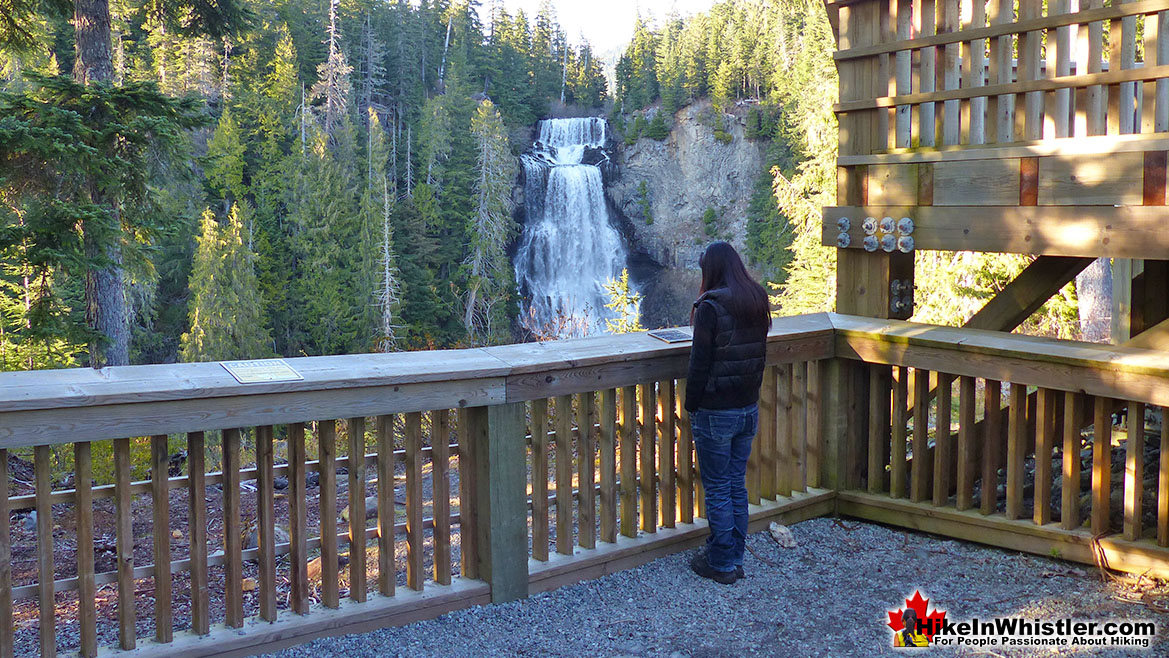 Beautiful Alexander Falls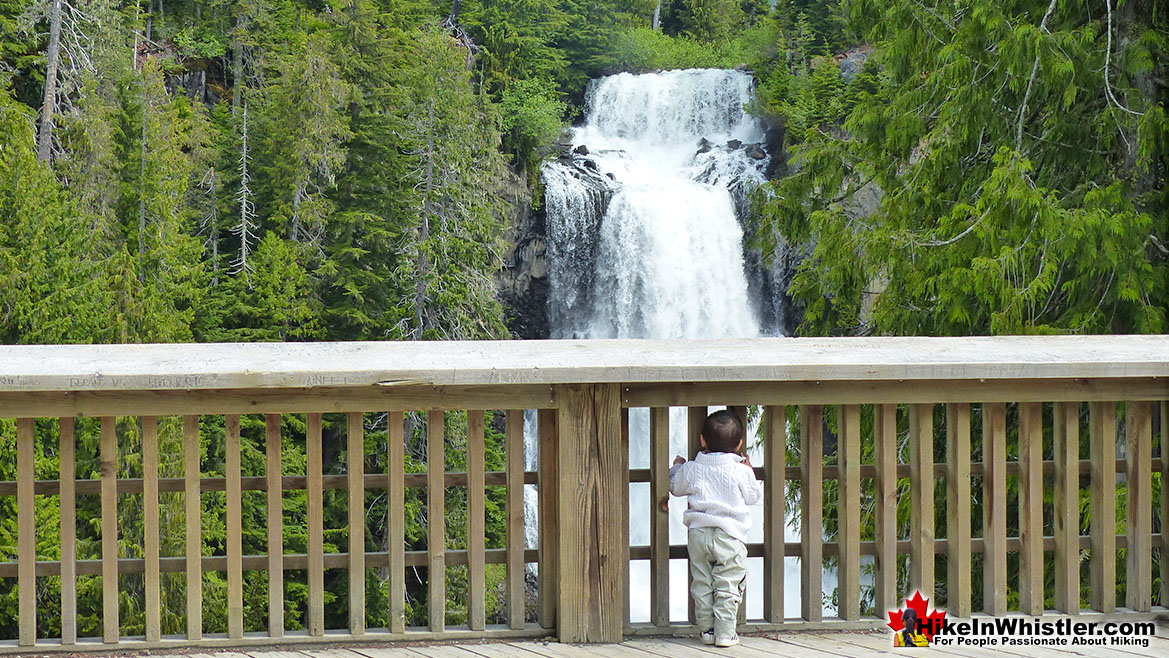 Aerial View of Alexander Falls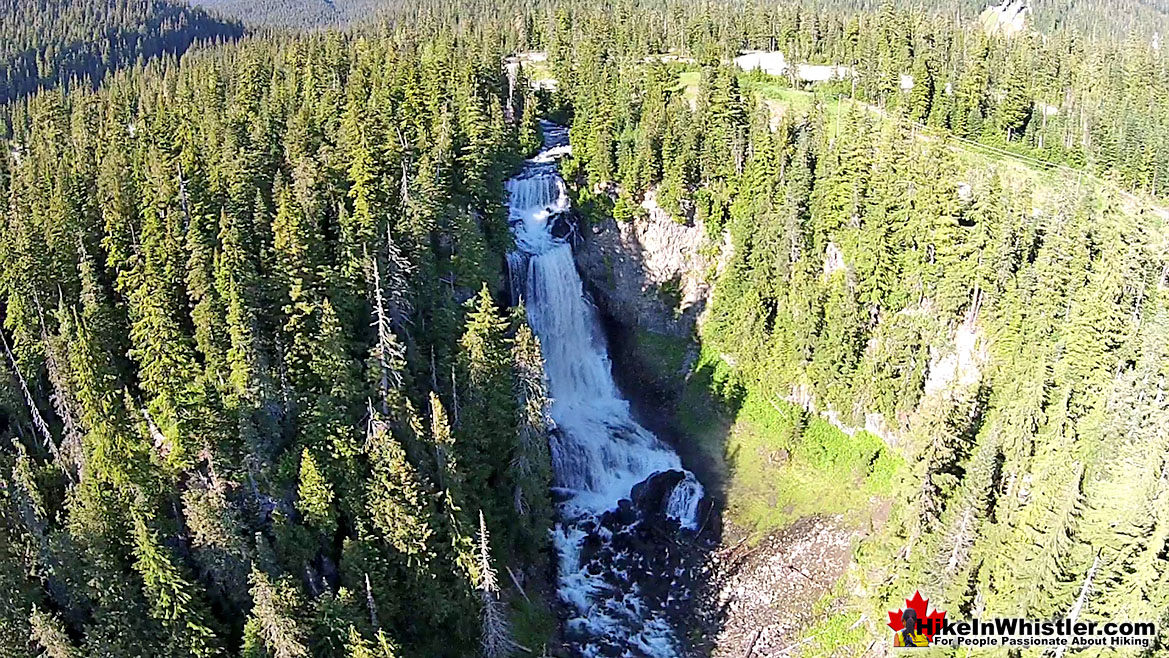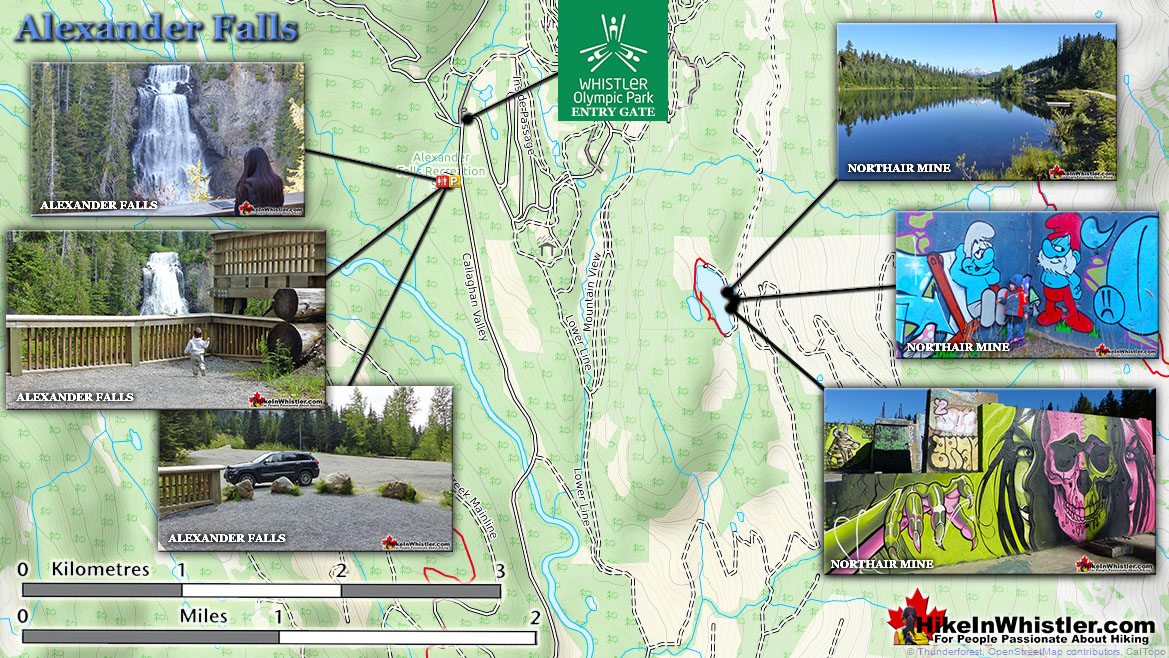 Alexander Falls in Winter Snow
In the winter months the Callaghan Valley is a winter wonderland with deep snow everywhere.  Callaghan Valley Road is snow plowed all winter, which allows easy access to Alexander Falls even in the depths of winter!  The parking lot is not plowed, so you just have to park in a cleared section just off the road and walk a couple hundred metres to the viewpoint.
Winter Parking for Alexander Falls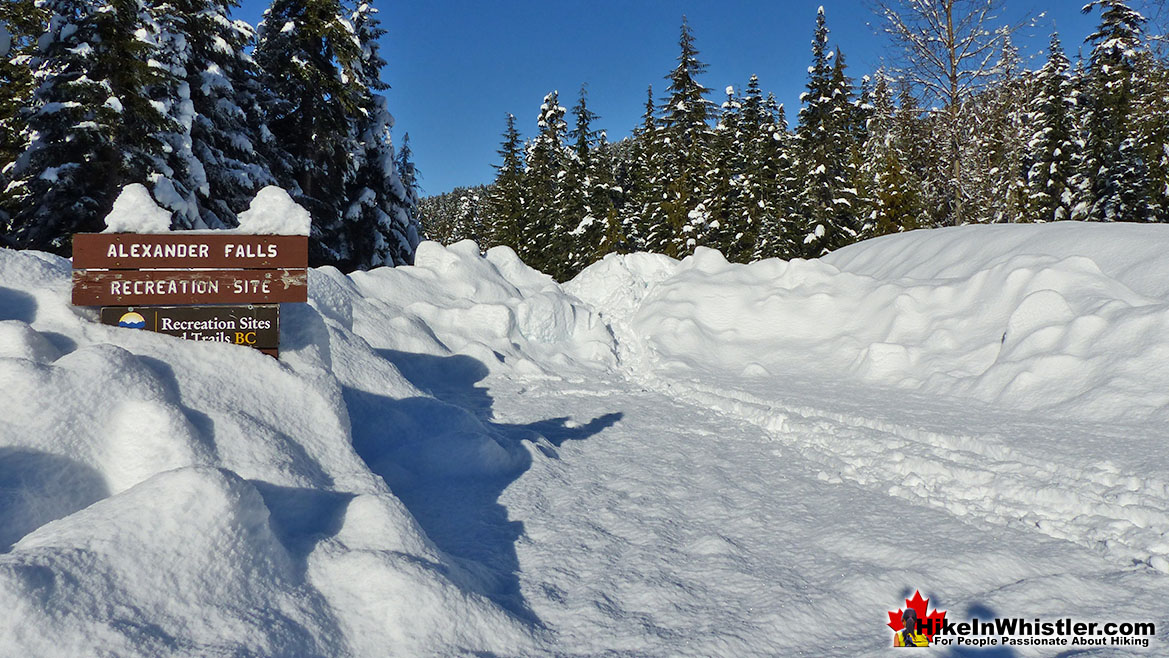 Walking through the Alexander Falls parking lot covered in almost 2 metres of snow on a beautiful, sunny winter day.  The outhouses can be seen on the right almost entirely buried in snow.  The viewing platform just past the outhouses is completely obscured by snow.
Outhouses Almost Completely Buried in Snow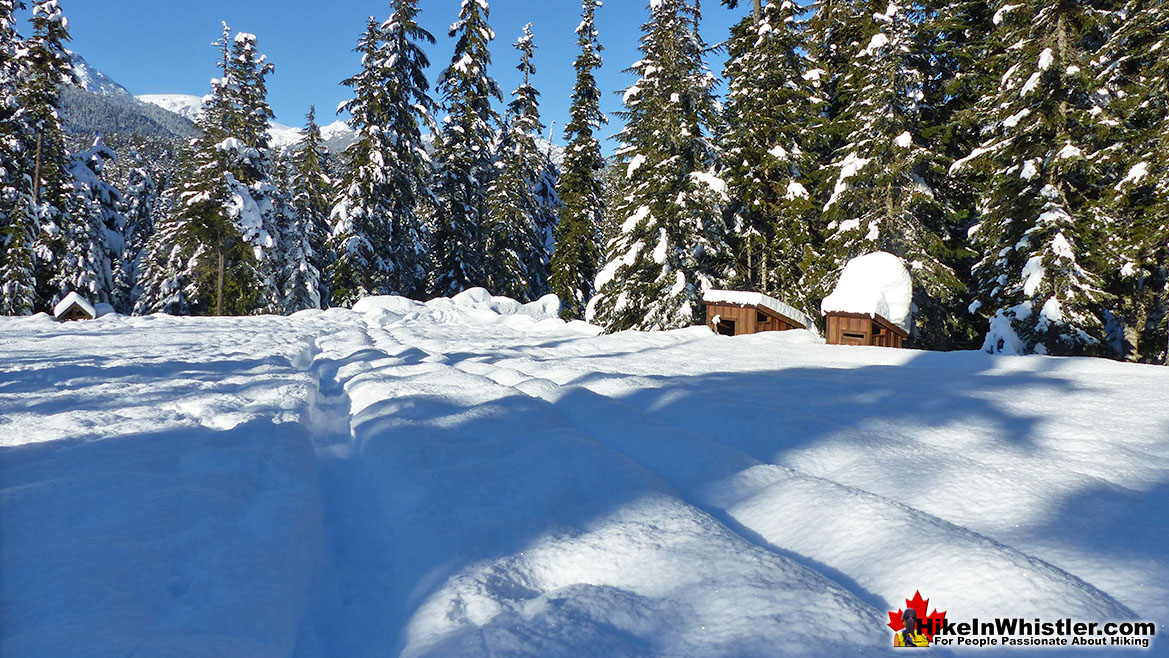 Winter Wonderland at Alexander Falls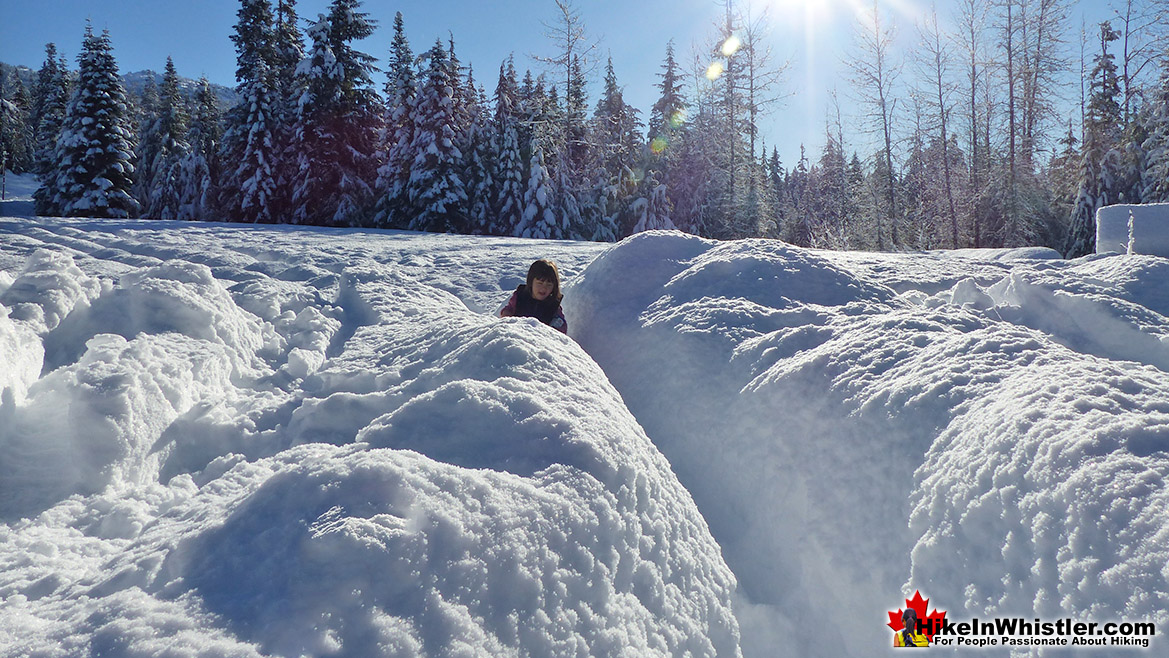 Alexander Falls Snowy Viewpoint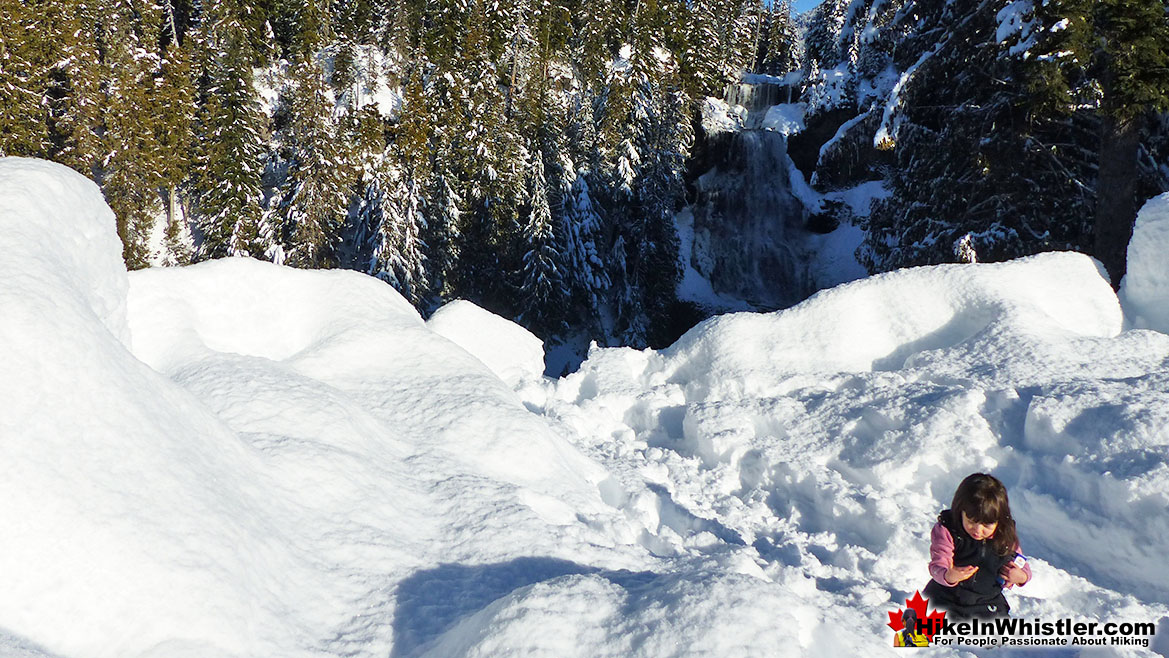 Alexander Falls in the Winter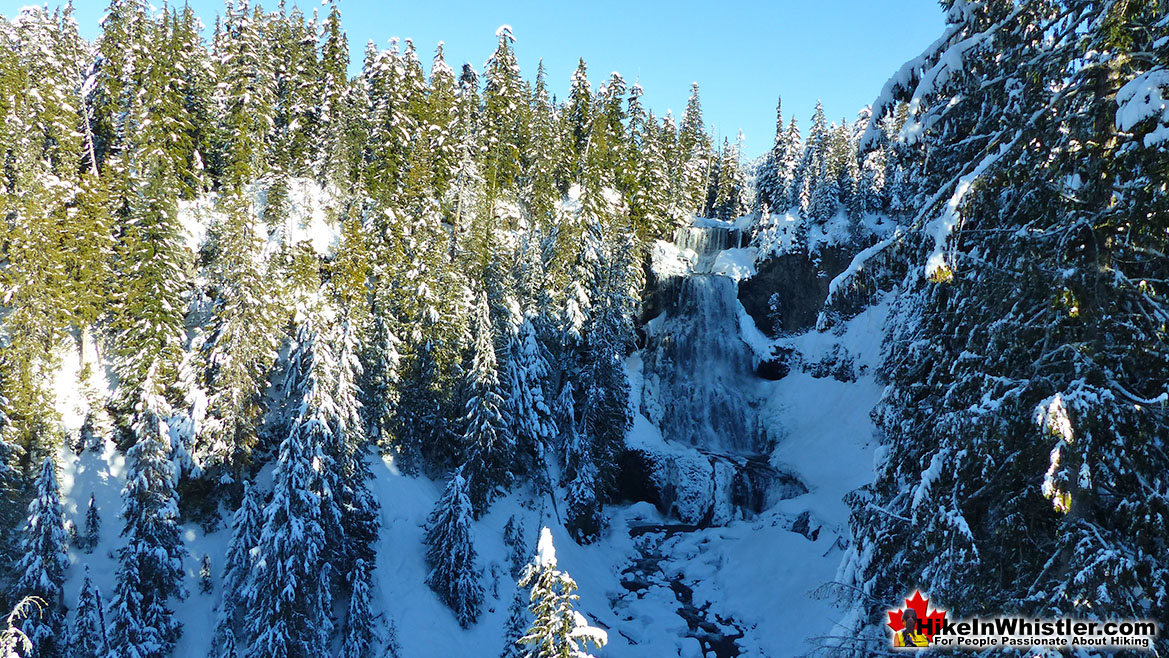 Railing Walkway to the Viewpoint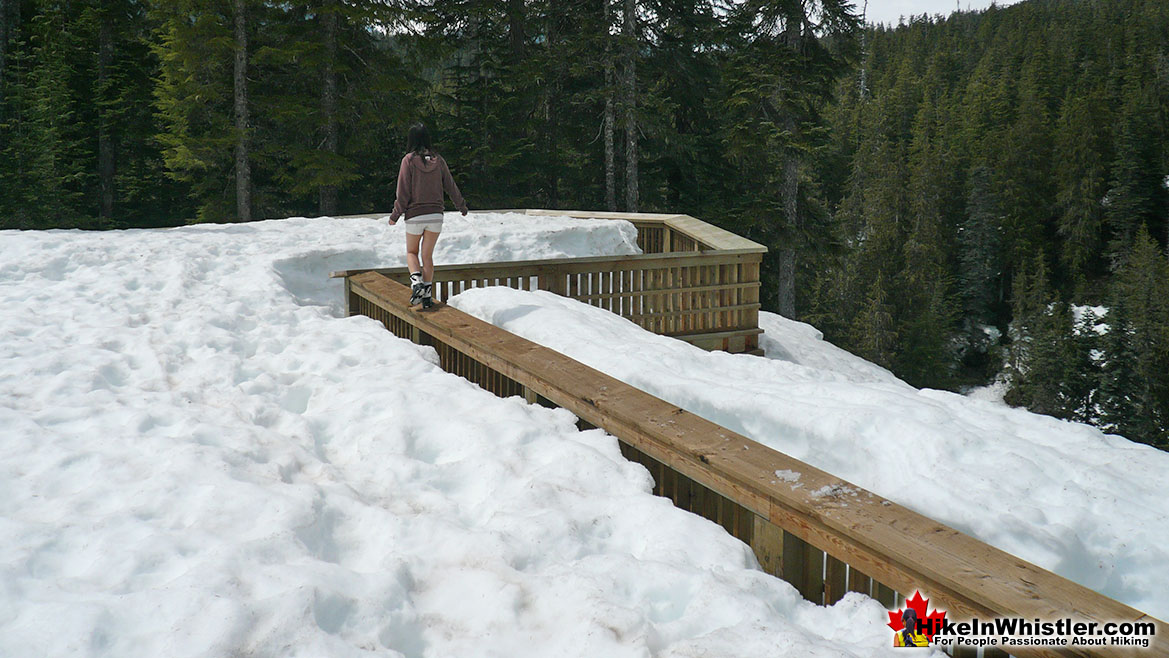 Alexander Falls Wintertime View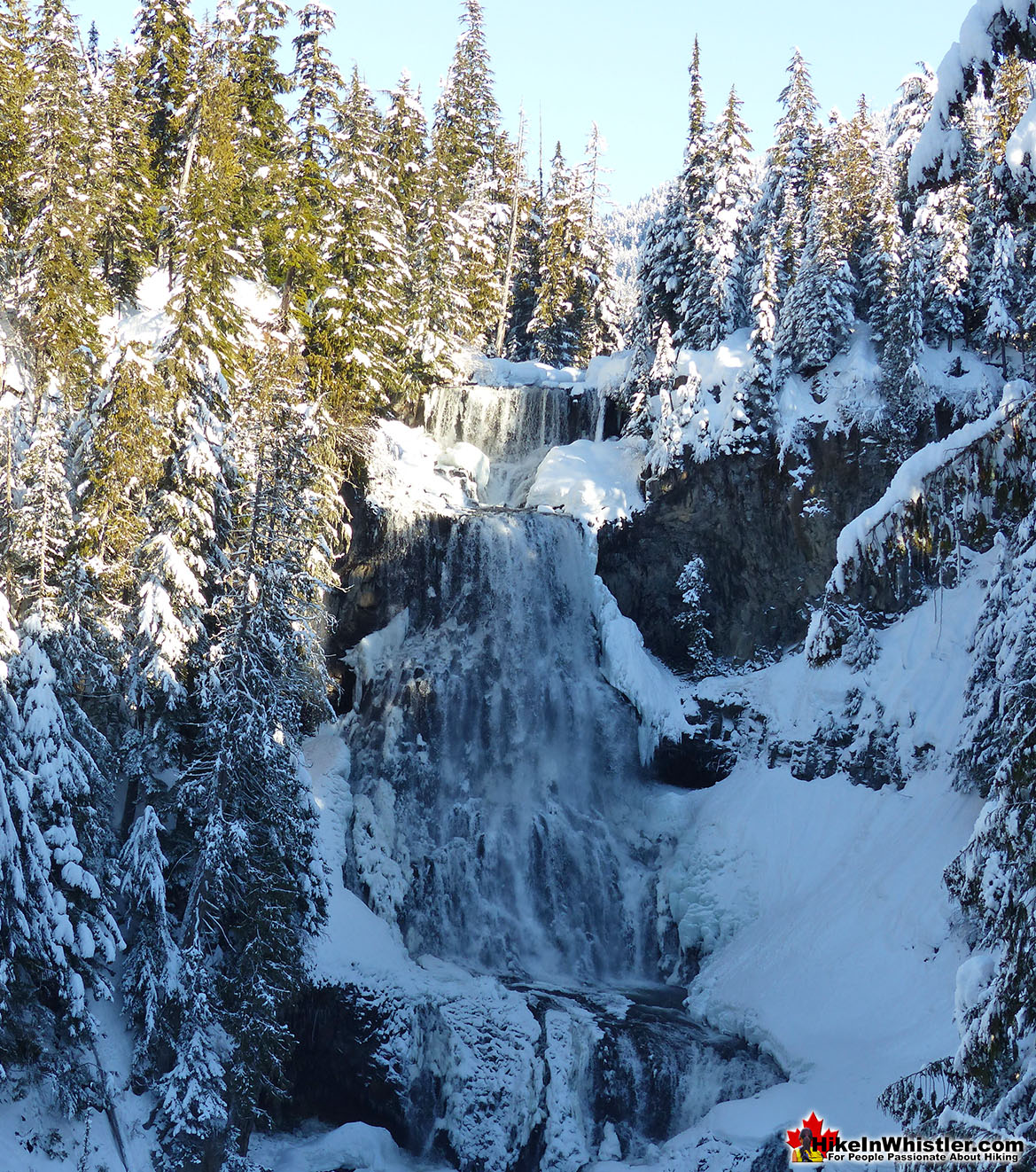 Alexander Falls Driving Directions

From Whistler Village: Drive south on the Sea to Sky highway, 13.8 kilometres from Village Gate Boulevard, turn right onto Callaghan Valley access road at the sign to Whistler Olympic Park. Follow this road for 9.6 kilometres, keep an eye out on your left for a little sign that directs you to Alexander Falls. The sign/turnoff is just before Whistler Olympic Park.  From Vancouver/Squamish: Head north on Highway 99 towards Whistler. Turn left onto Callaghan Valley road at the sign for Whistler Olympic Park, 40 kilometres from the set of lights at Garibaldi Way in Squamish. Follow this road for9.6 km, keep an eye out on your left for a little sign that directs you to Alexander Falls.  The sign/turnoff is just before Whistler Olympic Park.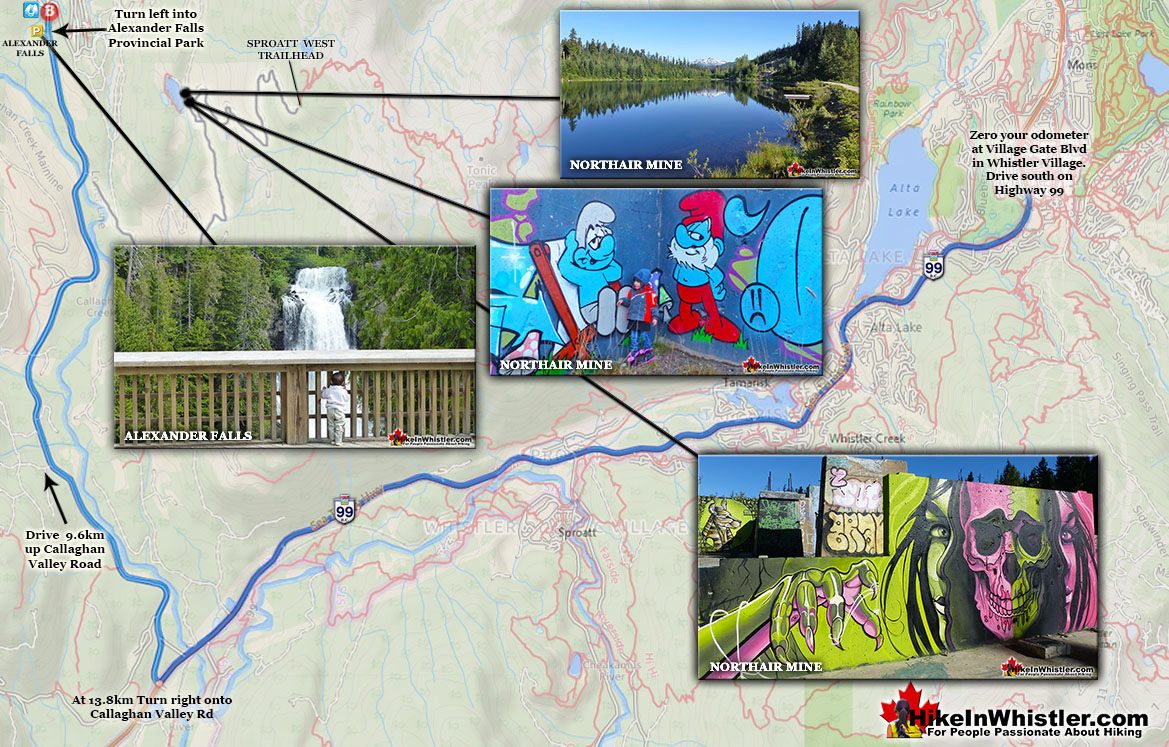 When To Go See Alexander Falls
Anytime of the year is great to go to Alexander Falls.  In the summer, the weather makes the drive more scenic and you are likely to see bears on the way there.  At the viewing area you have several picnic tables that are wonderful in the summertime.  In the winter months, the valley is a massive, snowy playground.
Black Bear Along Callaghan Valley Road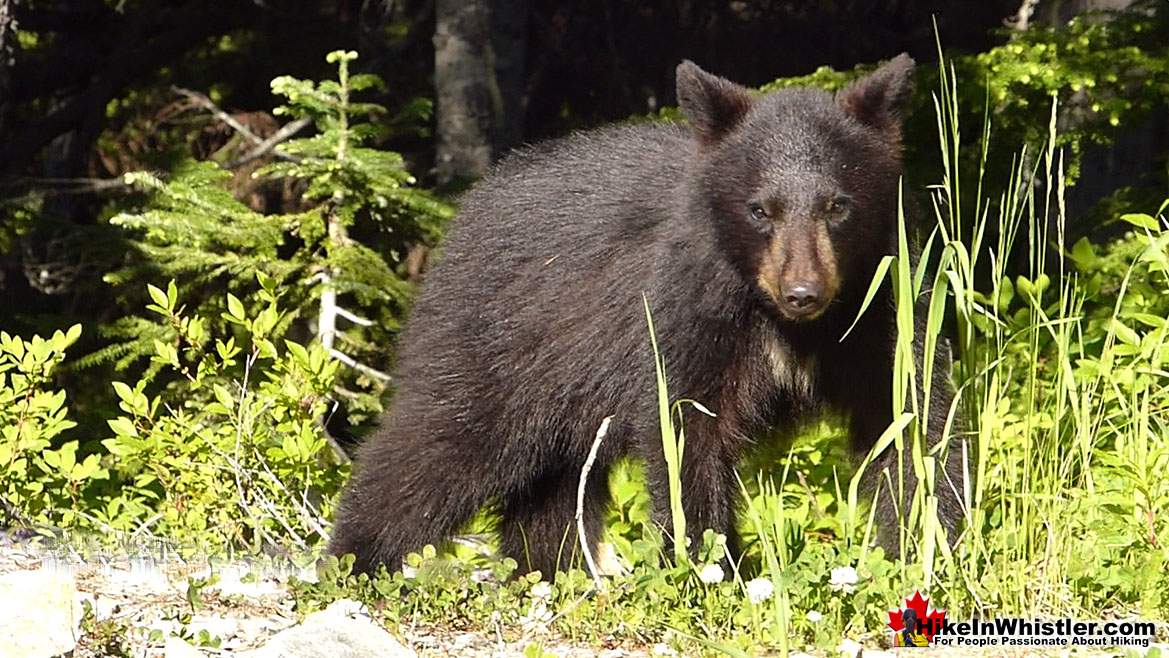 Callaghan Lake Near Alexander Falls
Alexander Falls lays in the heart of Callaghan Valley with lots of interesting sights.  Callaghan Lake is a beautiful mountain lake just 8.5 kilometres up the logging road past Alexander Falls.  Camping is free at this wonderfully remote feeling Provincial Park.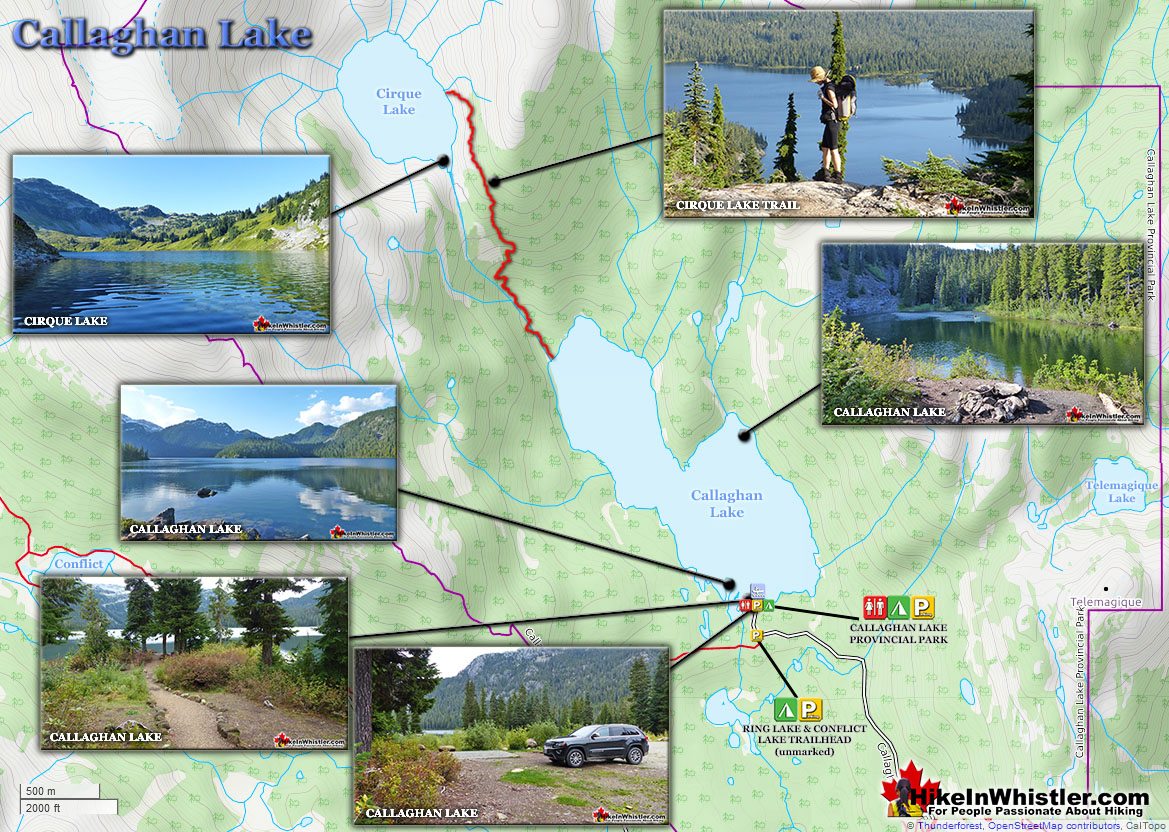 Madeley Lake Near Alexander Falls
Madeley Lake is another gorgeous mountain lake near Alexander Falls with a free campsite.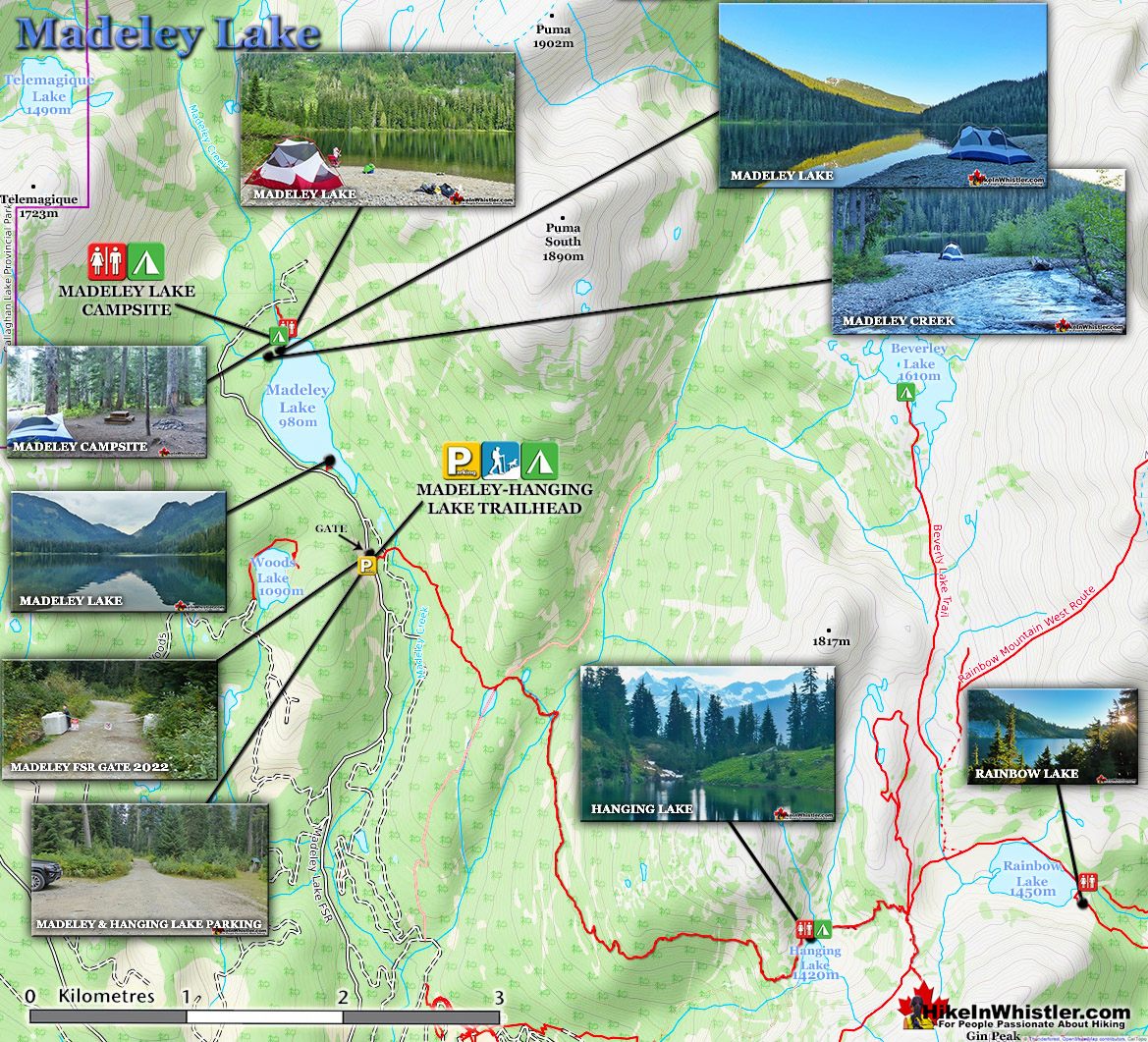 Northair Mine Near Alexander Falls
Another great place to see near Alexander Falls is the old, abandoned Northair Mine.  Northair Mine is a surreal little world of colourful murals on abandoned cement foundations, surrounded by an astoundingly tranquil little lake in a secluded forest.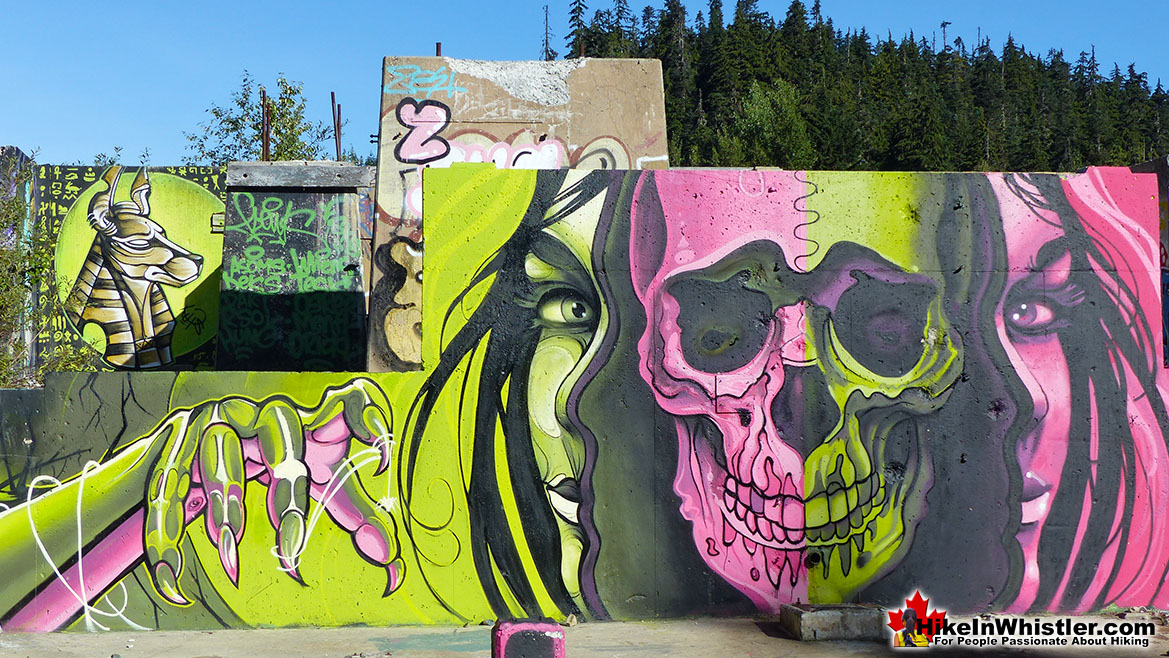 Must See Whistler Waterfalls!
Guides to the Best of Whistler, Garibaldi Park & Sea to Sky!
Explore BC Hiking Destinations!