Logger's Lake is an amazing little lake hidden up in the deep forest above the more well known Cheakamus River. The lake, almost unbelievably exists in a long extinct volcano. However, as soon as you see the lake up close, you quickly come to believe it. The lake sits in a beautifully volcano-shaped bowl, with one side of the bowl a crumbling array of huge, cube shaped boulders leading down to, and spilling into the lake.
Whistler & Garibaldi Hiking

Alexander Falls  

Ancient Cedars  

Black Tusk  

Blackcomb Mountain  

Brandywine Falls  

Brandywine Meadows  

Brew Lake  

Callaghan Lake  

Cheakamus Lake  

Cheakamus River  

Cirque Lake 

Flank Trail 

Garibaldi Lake 

Garibaldi Park 

Helm Creek  

Jane Lakes 

Joffre Lakes  

Keyhole Hot Springs  

Logger's Lake  

Madeley Lake  

Meager Hot Springs 

Nairn Falls  

Newt Lake 

Panorama Ridge 

Parkhurst Ghost Town 

Rainbow Falls  

Rainbow Lake 

Ring Lake  

Russet Lake  

Sea to Sky Trail 

Skookumchuck Hot Springs  

Sloquet Hot Springs 

Sproatt East 

Sproatt West  

Taylor Meadows  

Train Wreck  

Wedgemount Lake  

Whistler Mountain
Whistler Aerial Views

Alexander 

Brandywine 

Blackcomb 

Callaghan 

Cirque 

Joffre 

Keyhole 

Logger's 

Madeley 

Panorama 

Sproatt 

Parkhurst

Rainbow 

Russet 

Train Wreck 

Wedge Glacier 

Wedgemount 

Whistler
The crater that Logger's Lake sits in was a volcano that pushed through the glacial ice in this valley about 10000 years ago.  As the lava cooled it formed the wonderful basalt ridge that is crumbling into valley. As Logger's Lake sits deep in this ancient volcano's vent, it is sheltered from the wind and soaks up the suns rays into the dark boulders all around.  As a result makes it the warmest lake in Whistler, though most other lakes around are glacier fed(via rivers and creeks), so the comparison is not entirely fair. The surrounding cliffs and forest also add to the tranquility of the lake. Located a bit off the radar for most and requiring a short logging road drive and then a very steep, but short hike to get to also contributes to its serenity.  Another, though unexpected draw to Logger's Lake, is its good fishing. Occasionally the lake is stocked with rainbow trout and because of the steep shoreline, casting from almost anywhere along the shore is easy and effective. There is also an ancient and disintegrating log that is a pier of sorts that leads to a tiny wooden platform out in the lake. A good spot to cast from as well, though you will be standing in a centimetre of water as the platform partially sinks under your weight. Logger's Lake has a surprisingly large network of hiking trails around it. As the area was logged quite extensively in past decades, you often hike along trails near the lake that are in fact overgrown logging roads.
Logger's Lake Aerial Views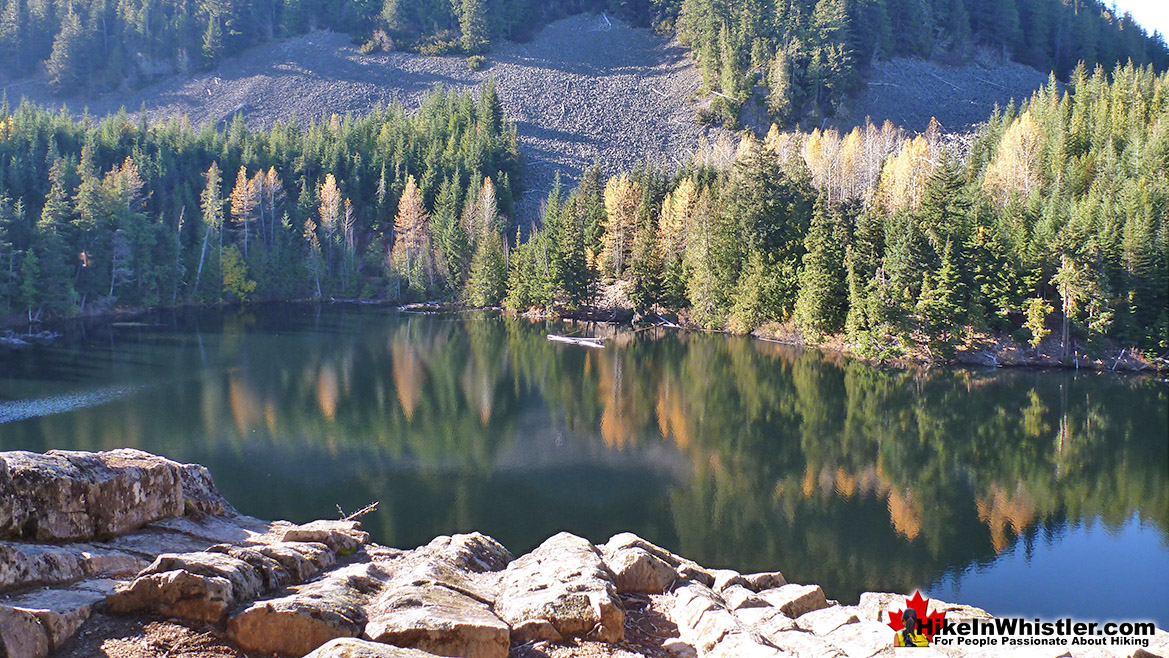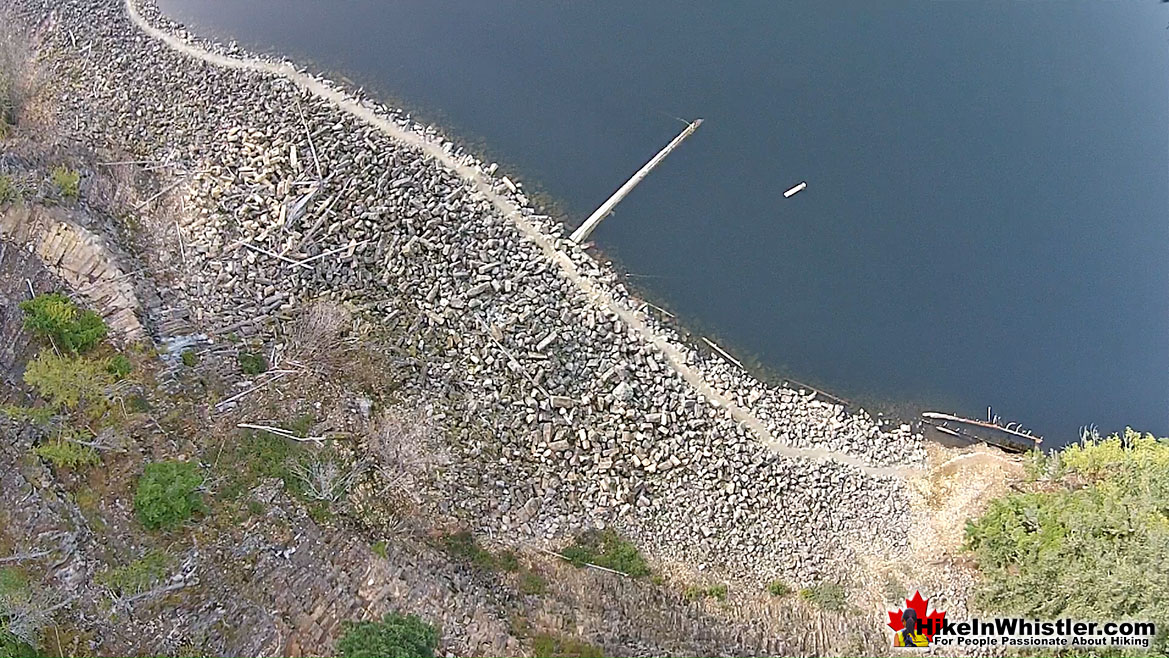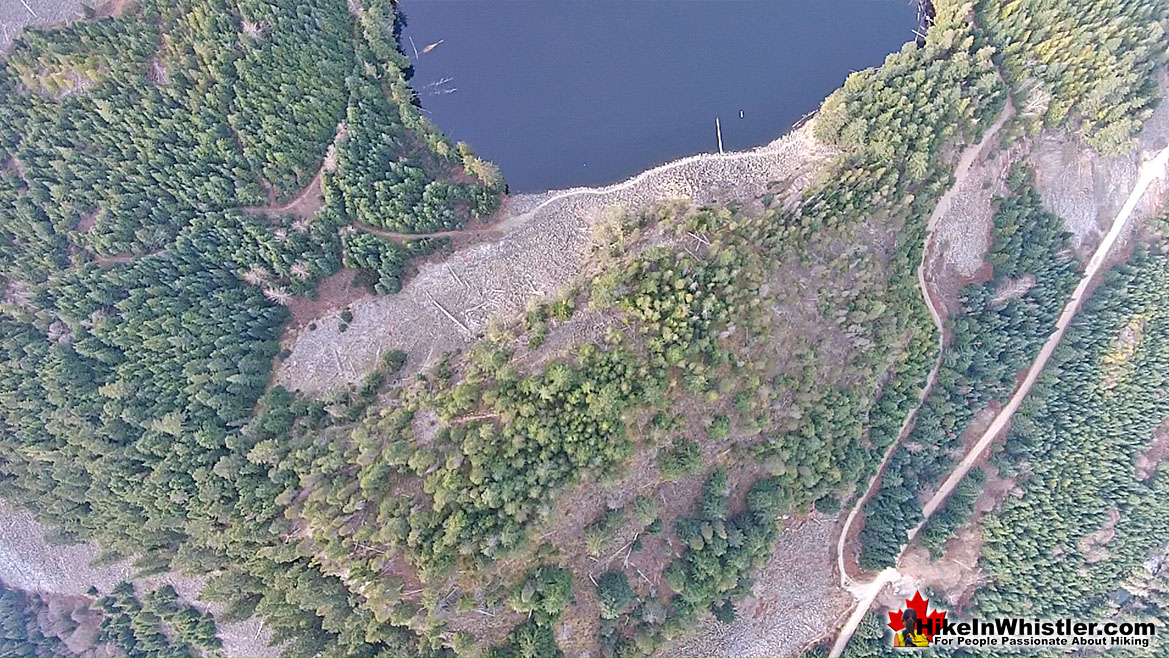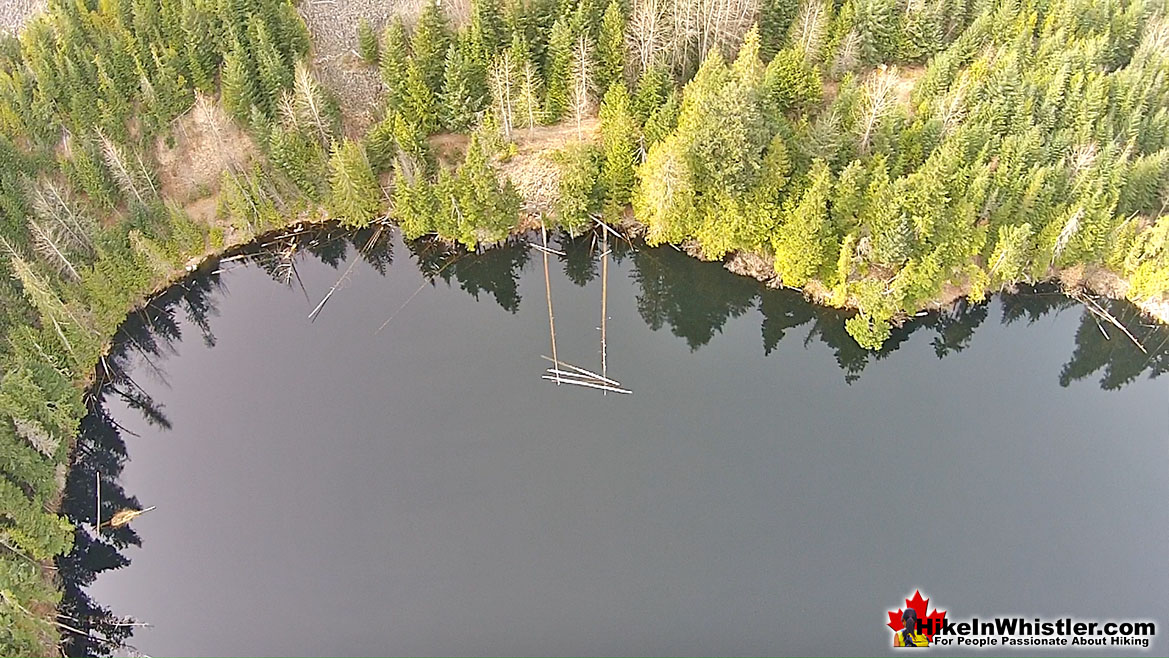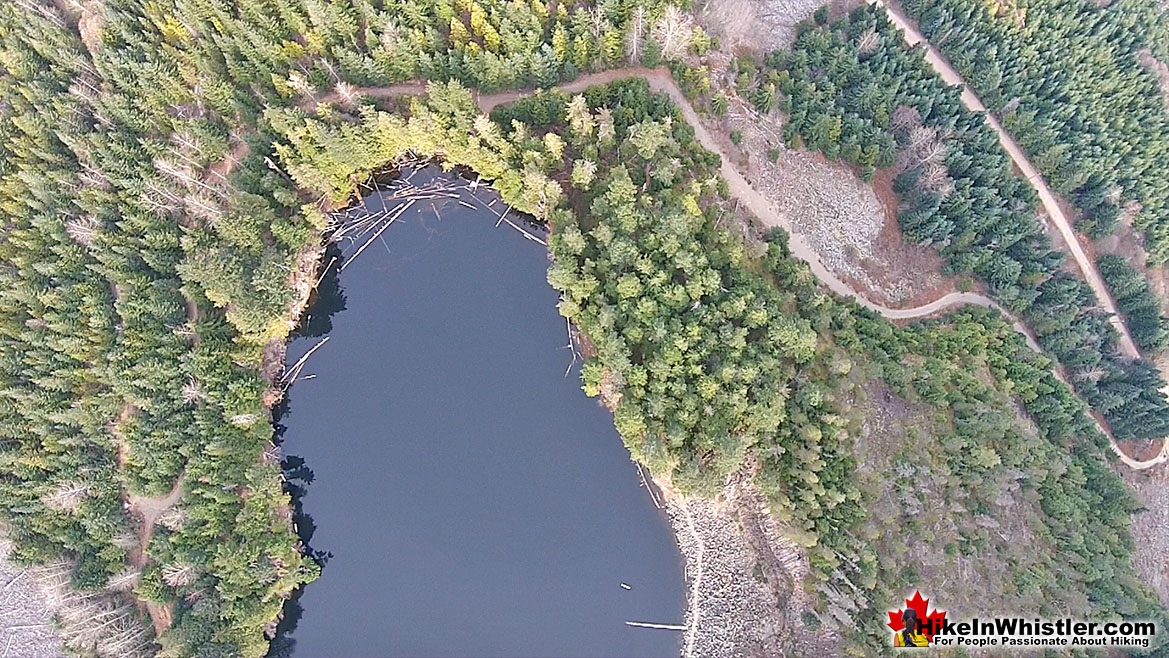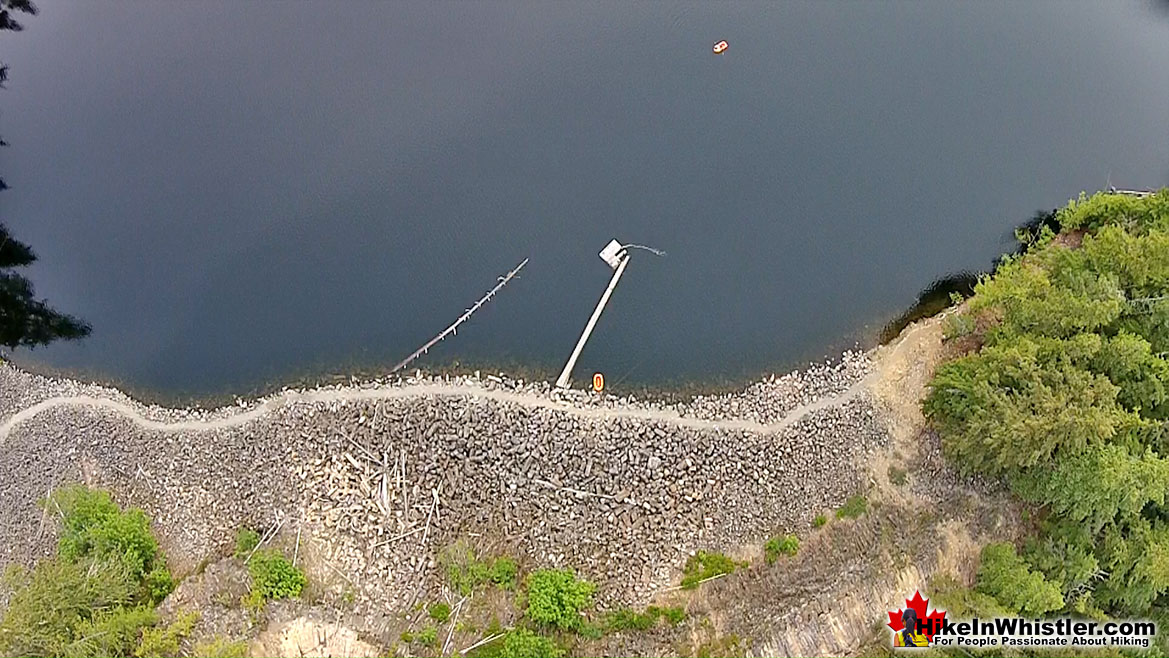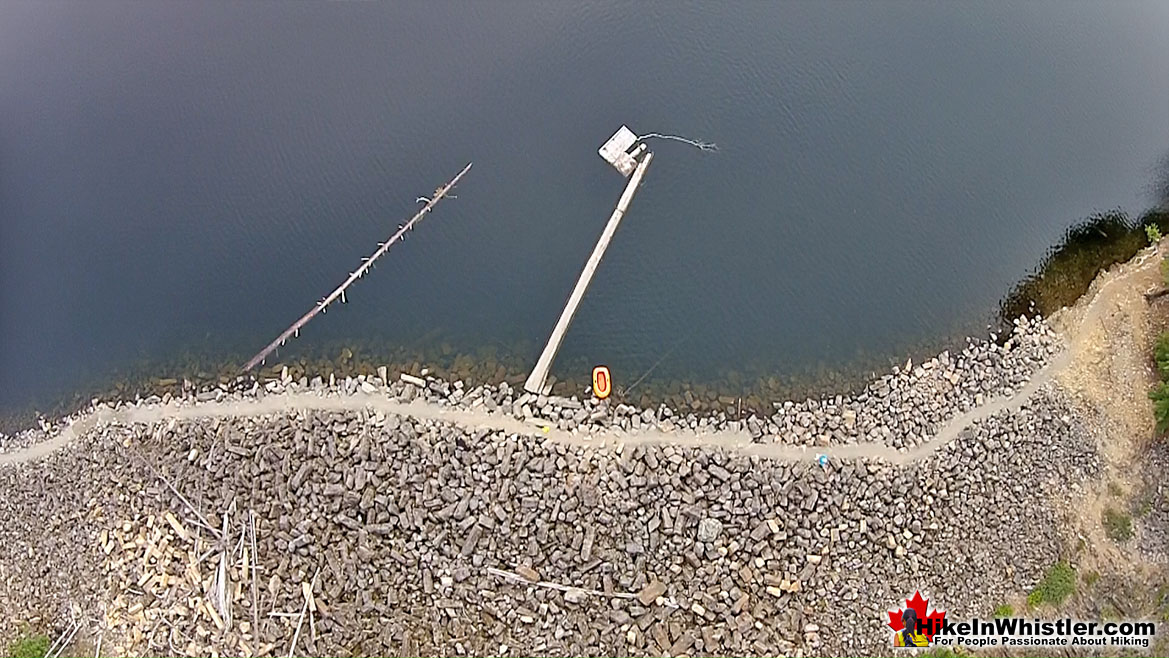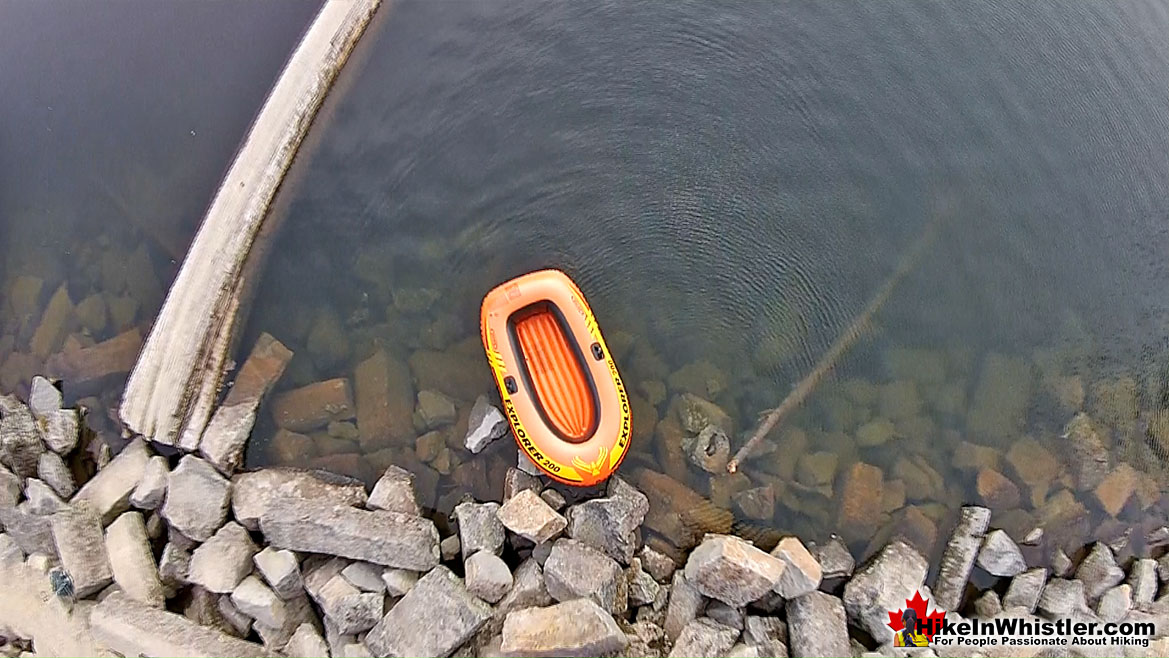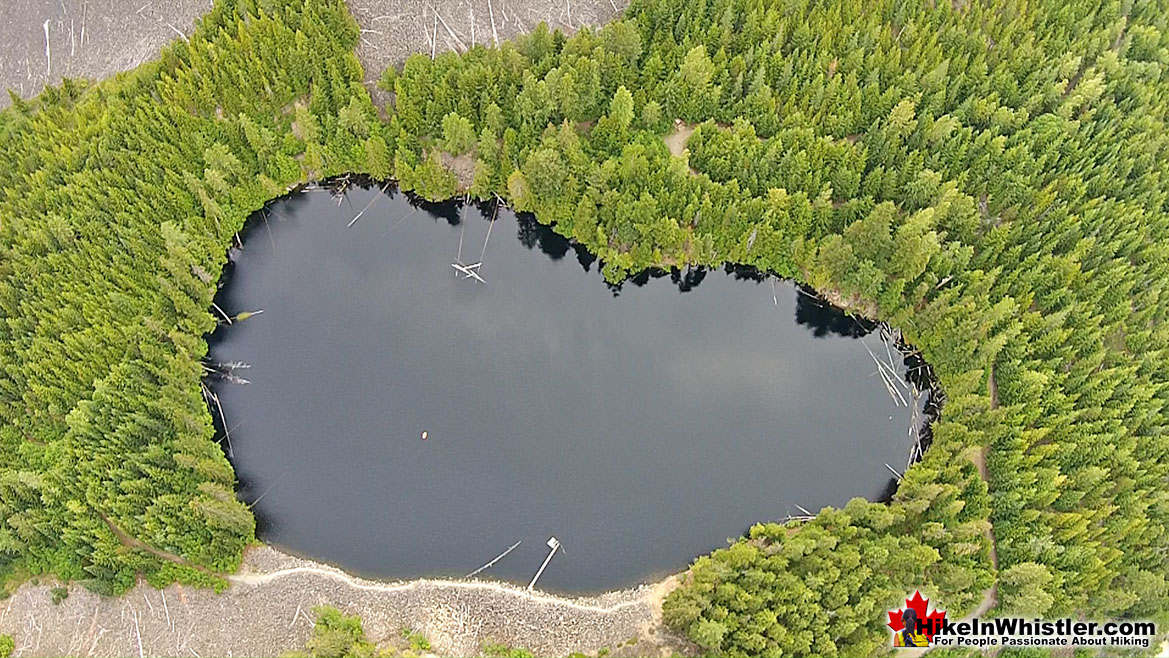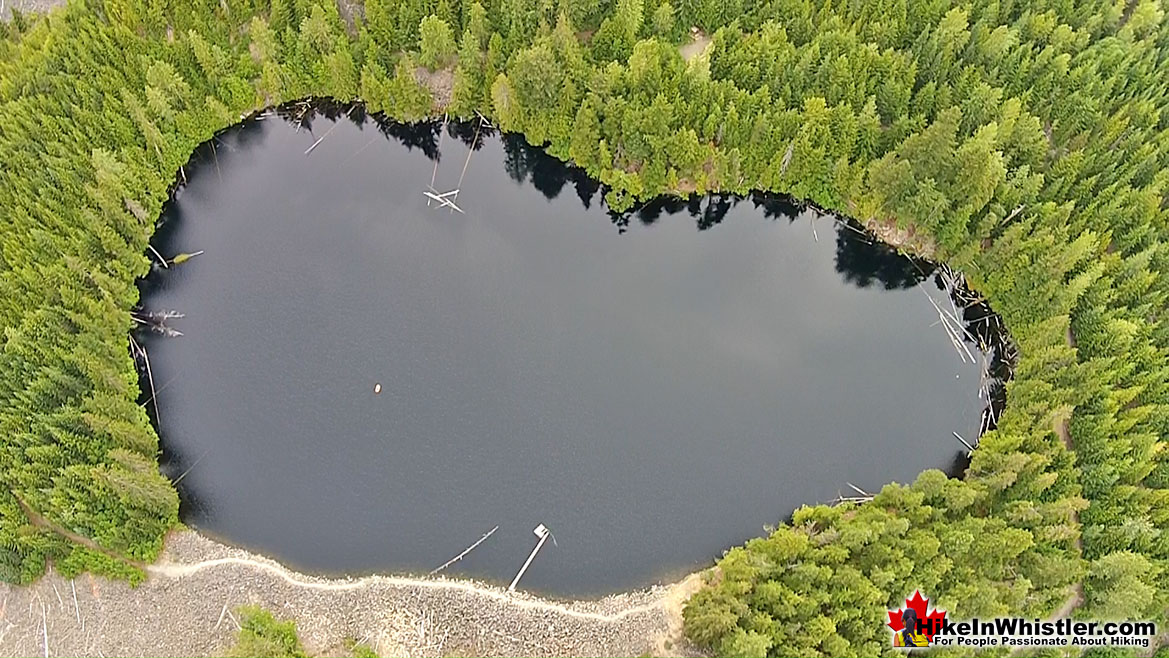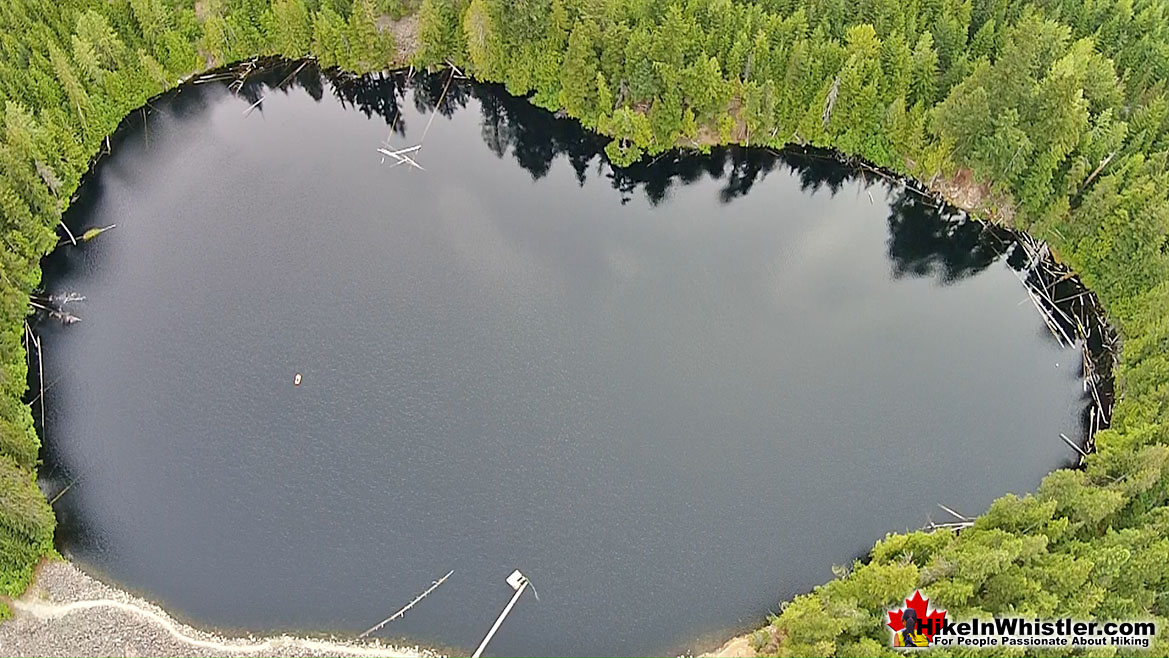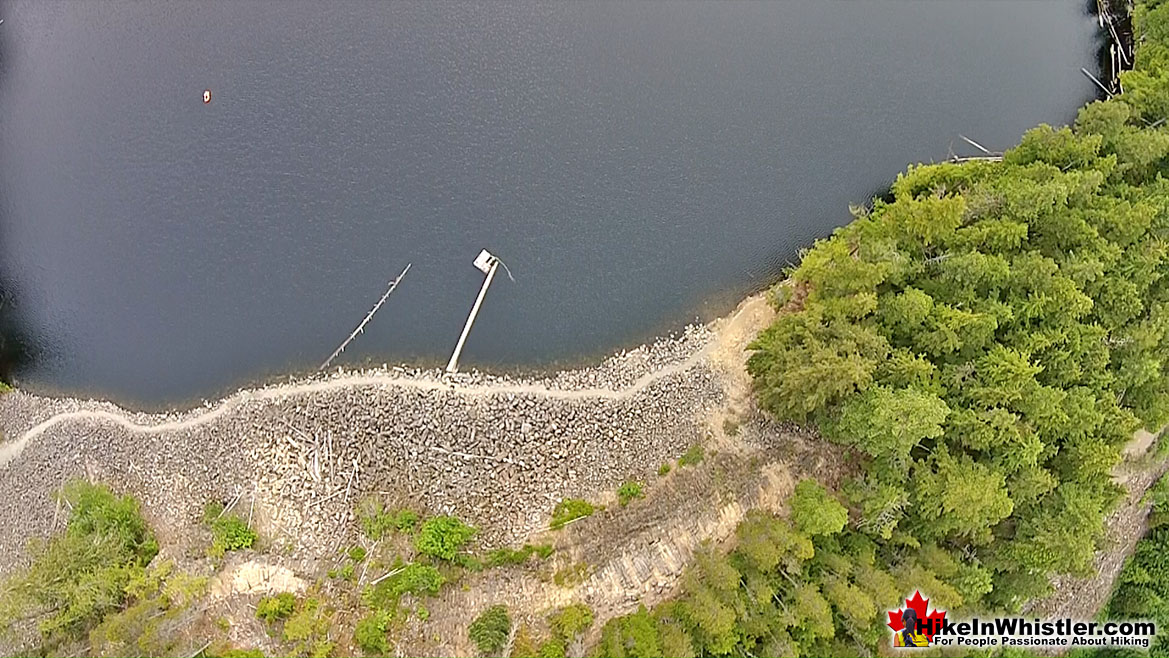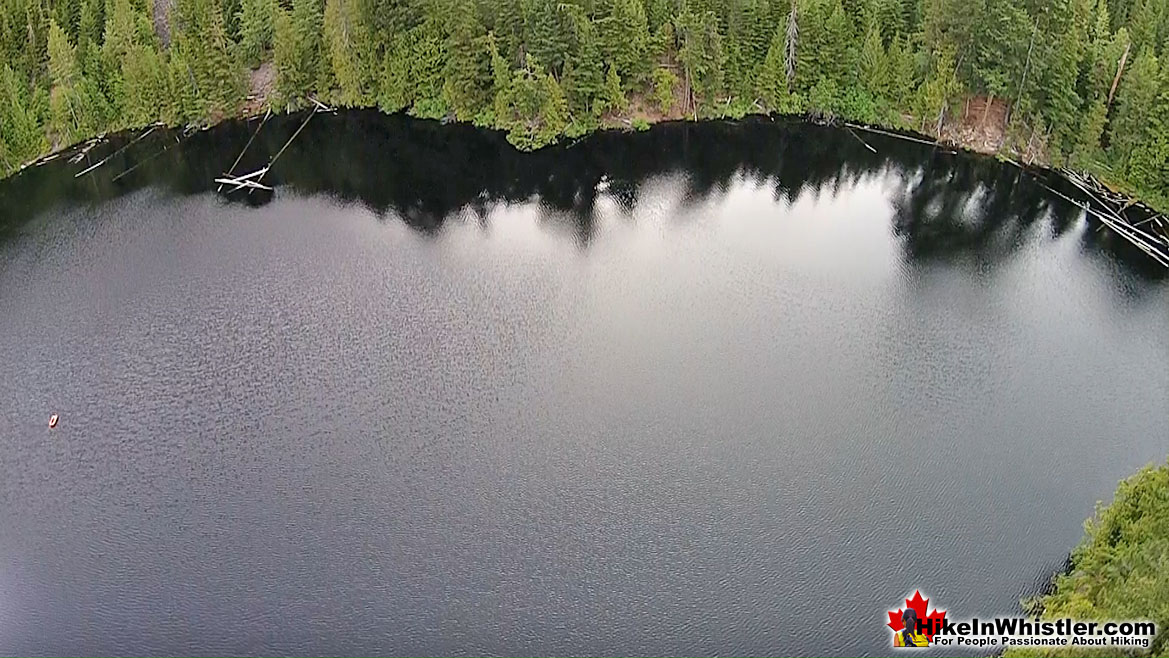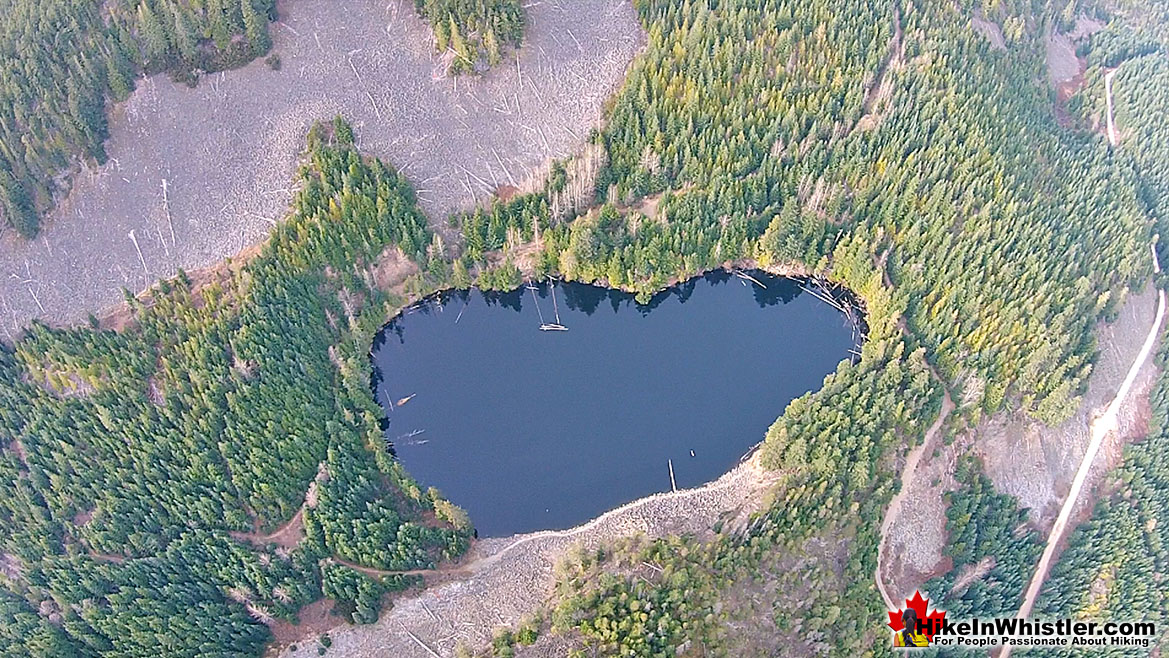 More info, details, maps and directions to Logger's Lake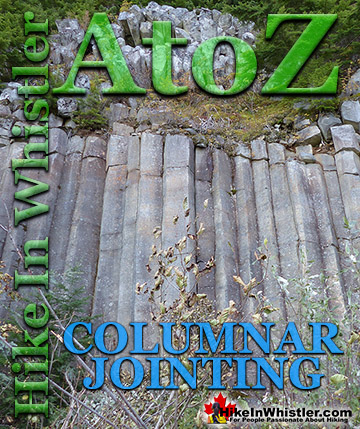 Columnar Jointing: bizarre looking columns of oddly angular rock formations that can be found in many places around Whistler and worldwide.  Generally ...
Read more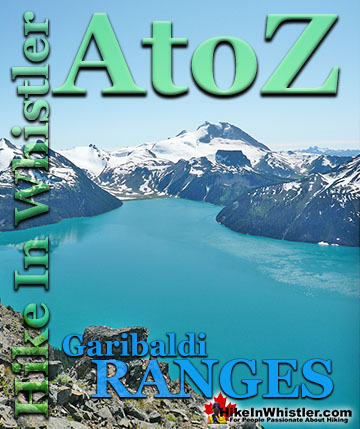 The Garibaldi Ranges are a subdivision of the Pacific Ranges of the
Coast Mountains
.  Deriving its name from
Mount Garibaldi
, the Garibaldi Ranges cover ...
Read more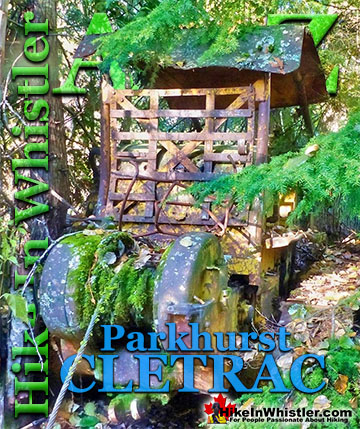 Read more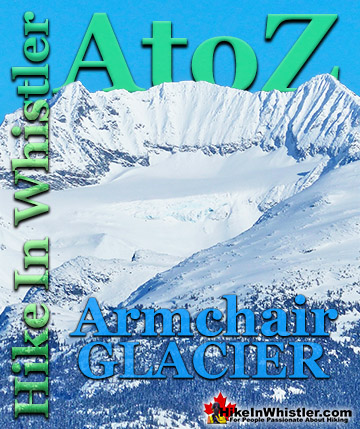 Armchair Glacier is one of the many easily identifiable mountain features around Whistler.  Along with
Wedge Mountain
and
Black Tusk
, Armchair Glacier has a ...
Read more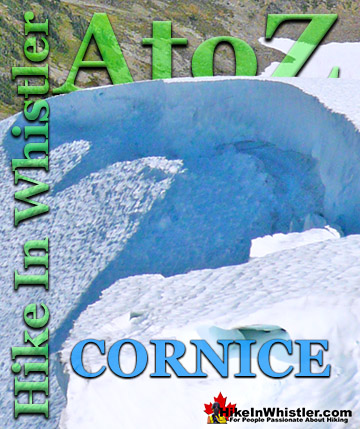 Cornice: a wind deposited wave of snow on a ridge, often overhanging a steep slope or cliff.  They are the result of snow building up on the crest of a ...
Read more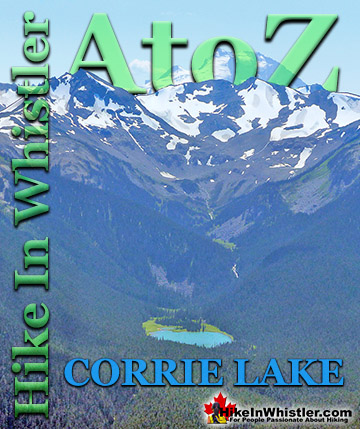 Read more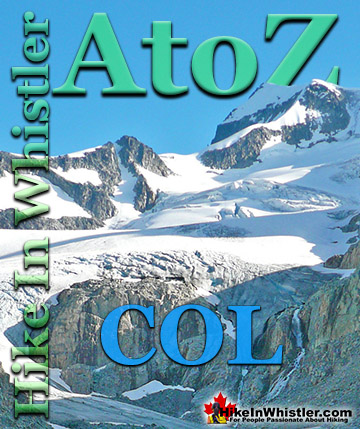 Col: a ridge between two higher peaks, a mountain pass or saddle.  More specifically is the lowest point on a mountain ridge between two peaks.  Sometimes ...
Read more
Whistler & Garibaldi Hiking

Alexander Falls  

Ancient Cedars  

Black Tusk  

Blackcomb Mountain  

Brandywine Falls  

Brandywine Meadows  

Brew Lake  

Callaghan Lake  

Cheakamus Lake  

Cheakamus River  

Cirque Lake 

Flank Trail 

Garibaldi Lake 

Garibaldi Park 

Helm Creek  

Jane Lakes 

Joffre Lakes  

Keyhole Hot Springs  

Logger's Lake  

Madeley Lake  

Meager Hot Springs 

Nairn Falls  

Newt Lake 

Panorama Ridge 

Parkhurst Ghost Town 

Rainbow Falls  

Rainbow Lake 

Ring Lake  

Russet Lake  

Sea to Sky Trail 

Skookumchuck Hot Springs  

Sloquet Hot Springs 

Sproatt East 

Sproatt West  

Taylor Meadows  

Train Wreck  

Wedgemount Lake  

Whistler Mountain

January 

February 

March 

April 

May 

June 

July 

August 

September 

October 

November 

December