The alpine hiking trails on Whistler Mountain are the ultimate in luxurious, quick-access alpine hiking. Little effort gets you amazing views of turquoise lakes, snowy mountains, valleys of flowers and distant glaciers.  The Whistler Gondola takes you to the Roundhouse Lodge where you find gift shops, restaurants, viewing decks and the new Umbrella Bar.  Just steps from the Roundhouse Lodge is one end of the Peak2Peak Gondola which takes you across to Blackcomb Mountain and another nice array of beautiful hiking trails. 
Whistler & Garibaldi Hiking

Alexander Falls  

Ancient Cedars  

Black Tusk  

Blackcomb Mountain  

Brandywine Falls  

Brandywine Meadows  

Brew Lake  

Callaghan Lake  

Cheakamus Lake  

Cheakamus River  

Cirque Lake 

Flank Trail 

Garibaldi Lake 

Garibaldi Park 

Helm Creek  

Jane Lakes 

Joffre Lakes  

Keyhole Hot Springs  

Logger's Lake  

Madeley Lake  

Meager Hot Springs 

Nairn Falls  

Newt Lake 

Panorama Ridge 

Parkhurst Ghost Town 

Rainbow Falls  

Rainbow Lake 

Ring Lake  

Russet Lake  

Sea to Sky Trail 

Skookumchuck Hot Springs  

Sloquet Hot Springs 

Sproatt East 

Sproatt West  

Taylor Meadows  

Train Wreck  

Wedgemount Lake  

Whistler Mountain
Whistler Aerial Views

Alexander 

Brandywine 

Blackcomb 

Callaghan 

Cirque 

Joffre 

Keyhole 

Logger's 

Madeley 

Panorama 

Sproatt 

Parkhurst

Rainbow 

Russet 

Train Wreck 

Wedge Glacier 

Wedgemount 

Whistler
In the summer months, Whistler Mountain is somewhat divided in two.  The lower half of the mountain is for biking and the upper half is more for hiking, sightseeing, trail running, eating and drinking.  There are three main directions you can hike from the Roundhouse Lodge.  Just past the Peak2Peak Gondola building you will see the Spearhead Loop trail that is 1.2 kilometres or 0.7 miles long and with not a lot of elevation gain/loss at roughly 20 metres or 66 feet overall.  Following it to the left you will descend down an easy trail toward Harmony Lake where you can link to the Harmony Lake Loop trail or veer back to where you started.  If you follow the Spearhead Loop trail to the right you will quickly ascend a gravel road and after a couple hundred metres find the junction to Pika's Traverse Road.  This gravel access road takes you up to the summit of Whistler Mountain via a constantly ascending, though very beautiful 3.2 kilometre or 2 mile route.  New in 2018 the Cloudraker Skybridge was built spanning the gap between cliffs just steps from the top of the Peak Express Chair.  At 130 metres long and with Whistler Bowl directly below, the bridge sways as you walk across the dizzyingly high gap to the new Raven's Eye Cliff Walk.  The Raven's Eye Cliff Walk gives you wonderful views over the Whistler valley as well as an excellent vantage point to see the Peak Express Chair with Blackcomb Mountain and the Spearhead Range in the background.  The Spearhead Range encompasses Blackcomb Mountain, while the Fitzsimmons Range includes Whistler Mountain and extends to Overlord Mountain.  Overlord Mountain is where the two mountain ranges meet, separated by Fitzsimmons River that flows from Overlord Glacier down to Whistler Village before pouring into Green Lake.  The Fitzsimmons River gives Green Lake its wonderful glacier green colouring.  Glacier water contains particles of rock that reflect light producing dazzlingly vivid colours.  With Green Lake it is a brilliant light turquoise greenish colour, similar to Cheakamus Lake and Wedgemount Lake.  Garibaldi Lake has more of a turquoise blue colour to it. More info, details and maps for hiking Whistler Mountain.
Whistler Mountain Aerial Views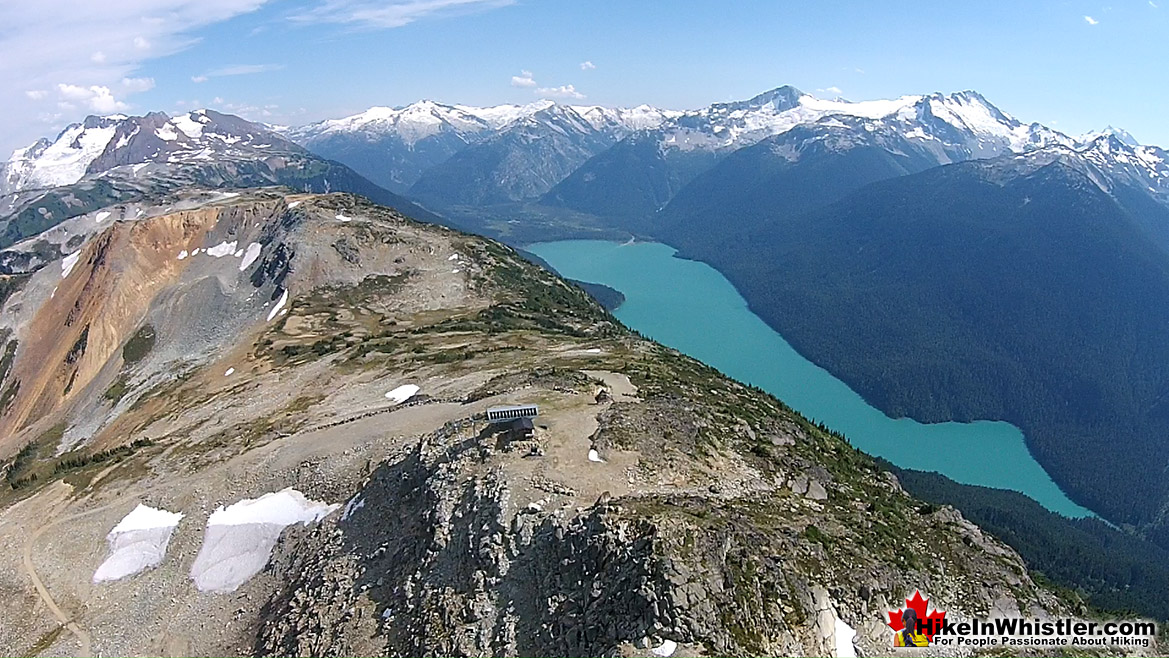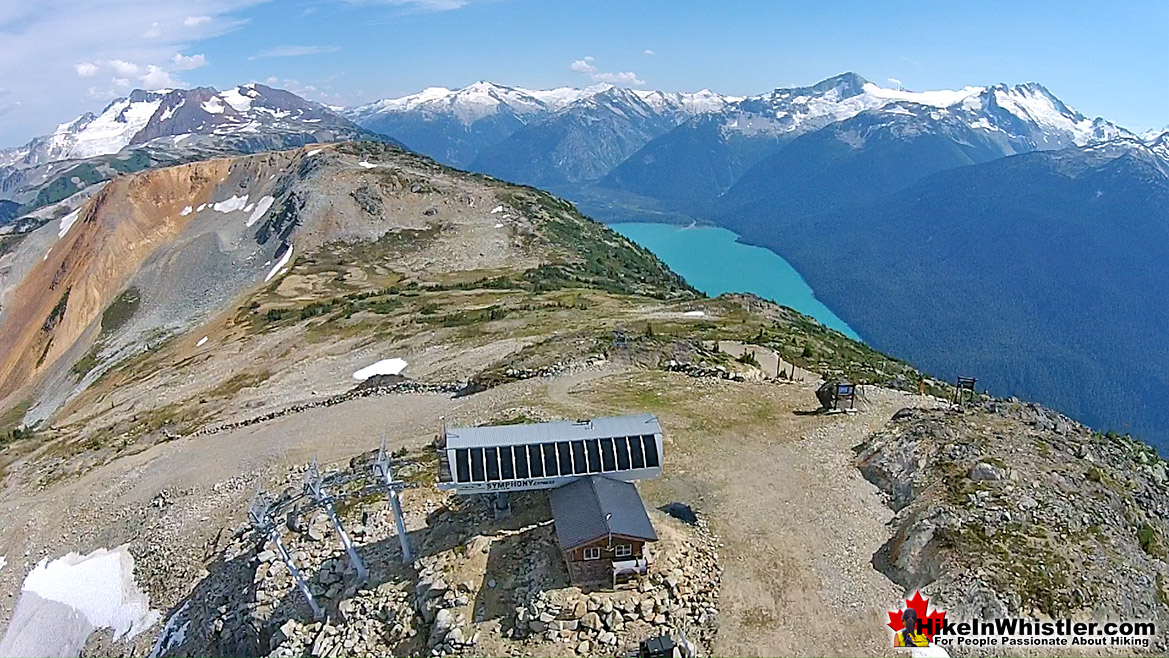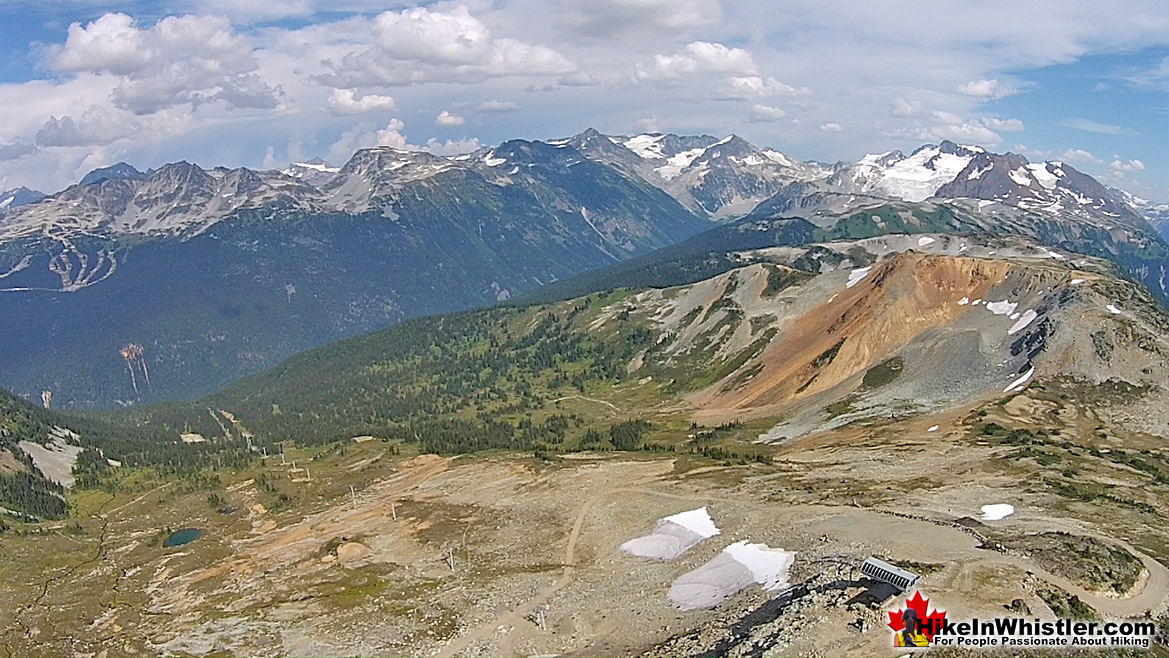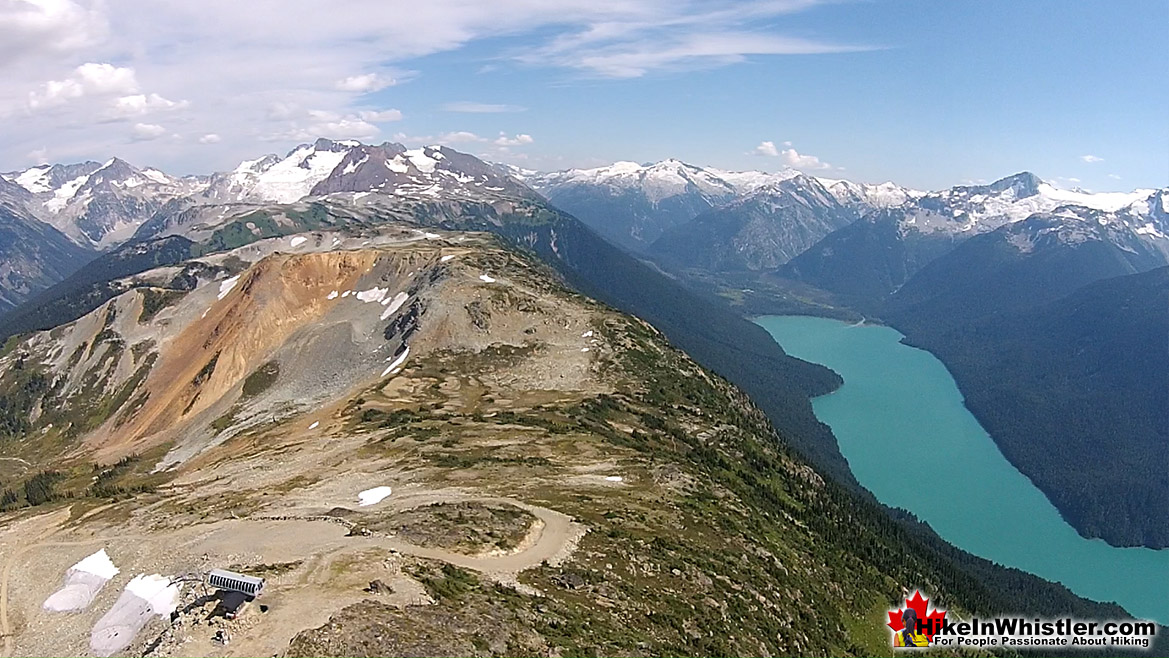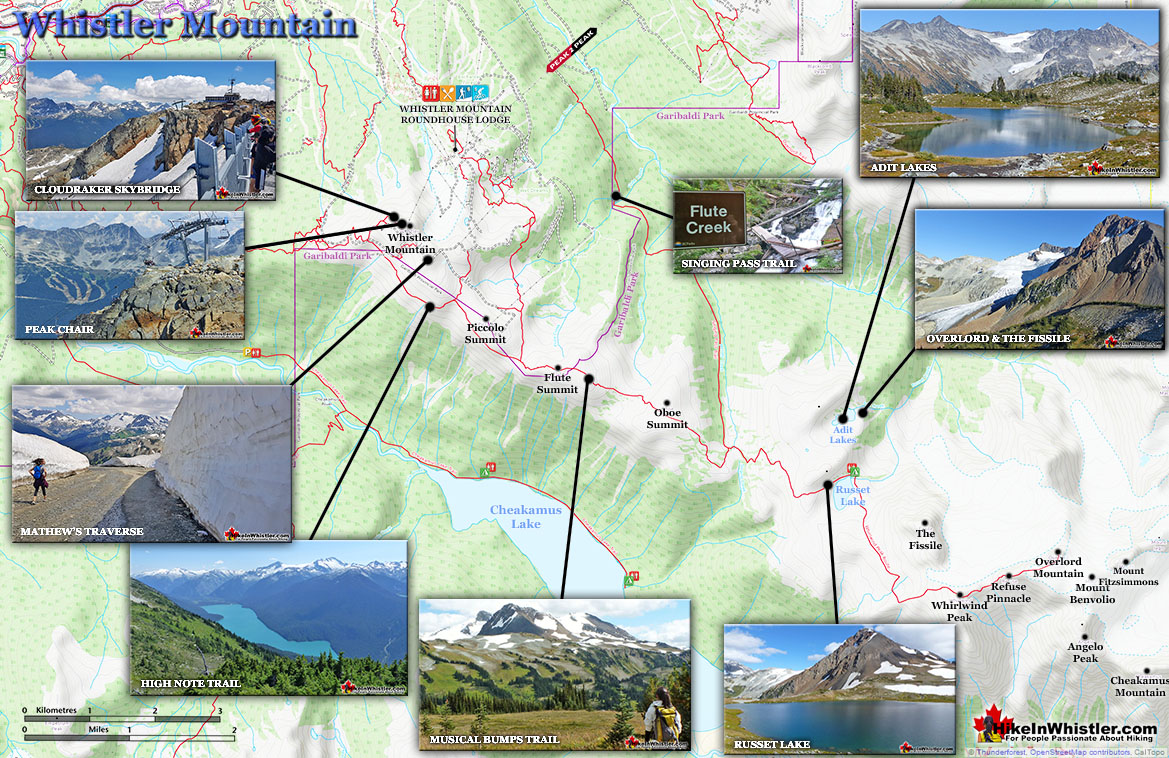 More info, details and maps for hiking Whistler Mountain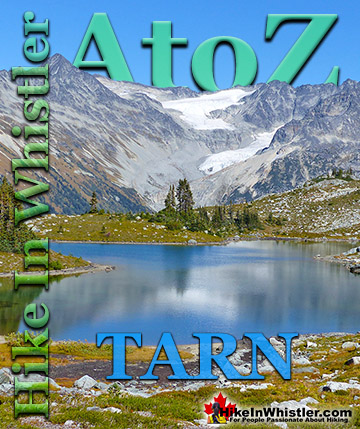 Tarn: a small alpine lake.  The word tarn originates from the Norse word tjorn which translates to English as pond.  In the United Kingdom, tarn is widely ...
Read more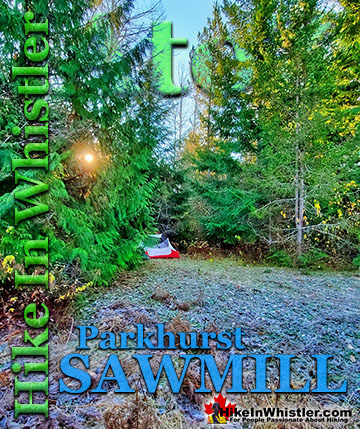 The sawmill at
Parkhurst
operated on the triangle of land that juts out into 
Green Lake
and also extended north between the train tracks and the lake.  The ...
Read more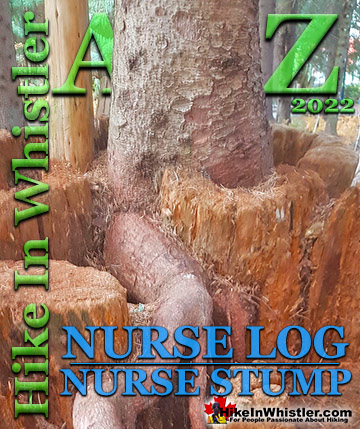 Surprisingly often in Whistler's forests you will find a tree growing on an old fallen tree or out of a decaying tree stump. Decaying logs and stumps in ...
Read more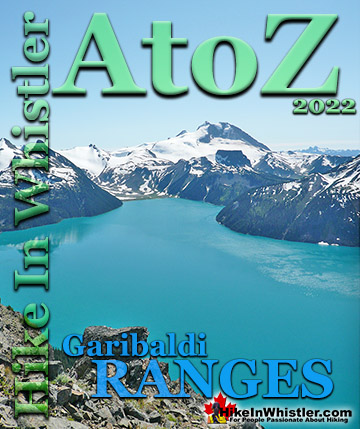 The Garibaldi Ranges are a subdivision of the Pacific Ranges of the
Coast Mountains
.  Deriving its name from
Mount Garibaldi
, the Garibaldi Ranges cover ...
Read more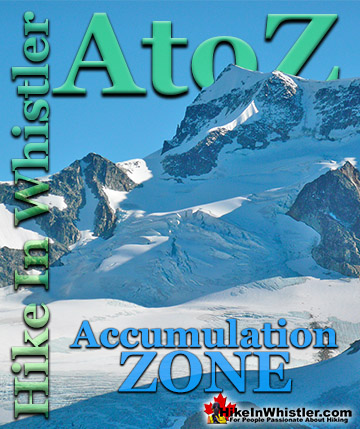 Accumulation Zone: the area where snow accumulations exceeds melt, located above the firn line.  Snowfall accumulates faster than melting, evaporation and ...
Read more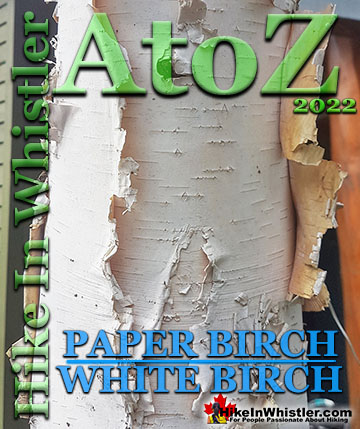 Paper birch, also known as white birch is a type of birch tree that grows in northern North America. Named for its paper-like, white or cream coloured ...
Read more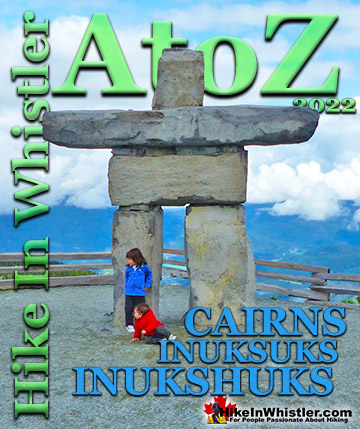 Cairns, inukshuks or inuksuks are a pile or arrangement of rocks used to indicate a route, landmark or a summit.  The word cairn originates from the ...
Read more
Whistler & Garibaldi Hiking

Alexander Falls  

Ancient Cedars  

Black Tusk  

Blackcomb Mountain  

Brandywine Falls  

Brandywine Meadows  

Brew Lake  

Callaghan Lake  

Cheakamus Lake  

Cheakamus River  

Cirque Lake 

Flank Trail 

Garibaldi Lake 

Garibaldi Park 

Helm Creek  

Jane Lakes 

Joffre Lakes  

Keyhole Hot Springs  

Logger's Lake  

Madeley Lake  

Meager Hot Springs 

Nairn Falls  

Newt Lake 

Panorama Ridge 

Parkhurst Ghost Town 

Rainbow Falls  

Rainbow Lake 

Ring Lake  

Russet Lake  

Sea to Sky Trail 

Skookumchuck Hot Springs  

Sloquet Hot Springs 

Sproatt East 

Sproatt West  

Taylor Meadows  

Train Wreck  

Wedgemount Lake  

Whistler Mountain

January 

February 

March 

April 

May 

June 

July 

August 

September 

October 

November 

December