Keyhole Falls are found just a couple kilometres upriver from Keyhole Hot Springs.  The unmarked trailhead and parking area for Keyhole Falls are just a couple kilometres past the parking area for Keyhole Hot Springs.  If you don't have a rough idea where it is, or expect an obvious sign, you will likely get lost in the maze of logging roads in the area.  Mount Meager looms high above Keyhole Hot Springs and it, and the surrounding peaks are known collectively as the Mount Meager Complex.
Whistler & Garibaldi Hiking

Alexander Falls  

Ancient Cedars  

Black Tusk  

Blackcomb Mountain  

Brandywine Falls  

Brandywine Meadows  

Brew Lake  

Callaghan Lake  

Cheakamus Lake  

Cheakamus River  

Cirque Lake 

Flank Trail 

Garibaldi Lake 

Garibaldi Park 

Helm Creek  

Jane Lakes 

Joffre Lakes  

Keyhole Hot Springs  

Logger's Lake  

Madeley Lake  

Meager Hot Springs 

Nairn Falls  

Newt Lake 

Panorama Ridge 

Parkhurst Ghost Town 

Rainbow Falls  

Rainbow Lake 

Ring Lake  

Russet Lake  

Sea to Sky Trail 

Skookumchuck Hot Springs  

Sloquet Hot Springs 

Sproatt East 

Sproatt West  

Taylor Meadows  

Train Wreck  

Wedgemount Lake  

Whistler
Whistler Aerial Views

Alexander 

Brandywine 

Blackcomb 

Callaghan 

Cirque 

Joffre 

Keyhole 

Logger's 

Madeley 

Panorama 

Sproatt 

Parkhurst

Rainbow 

Russet 

Train Wreck 

Wedge Glacier 

Wedgemount 

Whistler
The Meager Complex produced the most recent, major volcanic event in Canada in the last 10,000 years. The eruption 2400 years ago spread ash as far as Alberta. More recently, in 2010 a massive debris flow swept down and into the valley causing Pemberton to be evacuated. The eruption 2400 years ago left a huge pumice outcrop 2 kilometres long and 1 kilometre wide.  Keyhole Hot Springs is located 100 kilometres from Whistler(Village Gate Blvd). Though most of the 100 kilometres is on logging roads, it is driveable by most cars without any trouble. The massive Innergex hydroelectric project has turned this once quiet wilderness into a war-zone. On the plus side, the old logging roads near Keyhole Hot Springs and Keyhole Falls are now well maintained and smooth.  The hot springs at Keyhole flow out of the ground adjacent to the swirling, crashing and wonderfully glacier coloured water of the Lillooet River.  The colour varies with the season, but for the most part it is a wonderful, deep, milky turquoise.  When the sunlight penetrates the deep valley, the milky turquoise changes to an unnaturally bizarre, emerald green colour as it swirls all around you.  Sitting in the springs you look across to the vertical rock face and the massive, truck sized chunks of it that lay in the river next to you. The Lillooet is fed from various glaciers and snowy mountains visible all the way to Pemberton. At the Lillooet River crossing in Pemberton Meadows take a look in the distance and you will make out the spectacularly jagged and violent looking peak of Mount Meager. It is also a good place to reflect on the fact that Mount Meager produced the larges volcanic eruption in Canada, in the last ten thousand years. It occurred about 2400 years ago and Keyhole and Meager Hot Springs are symptoms of current volcanic activity and another major eruption is possible.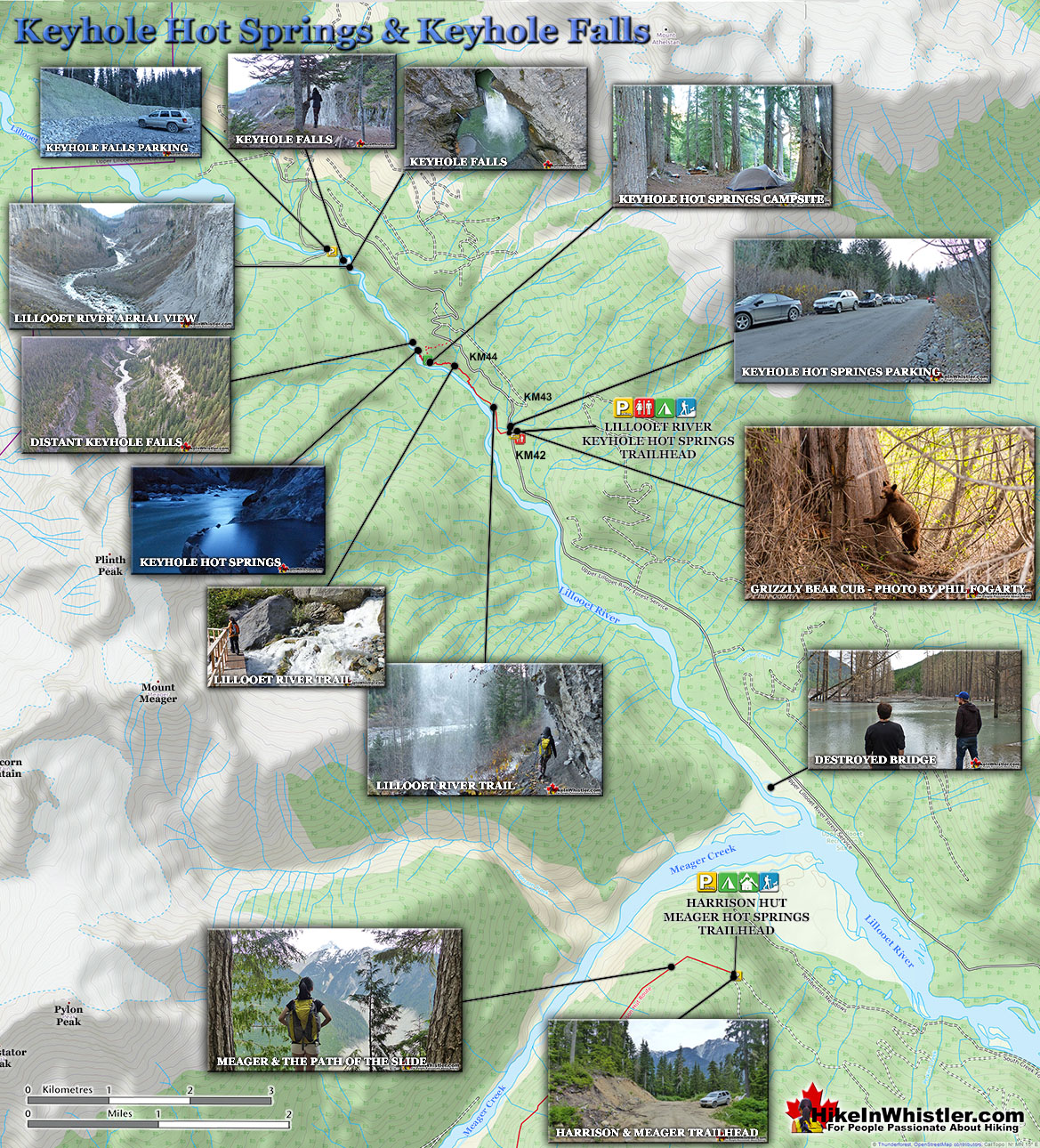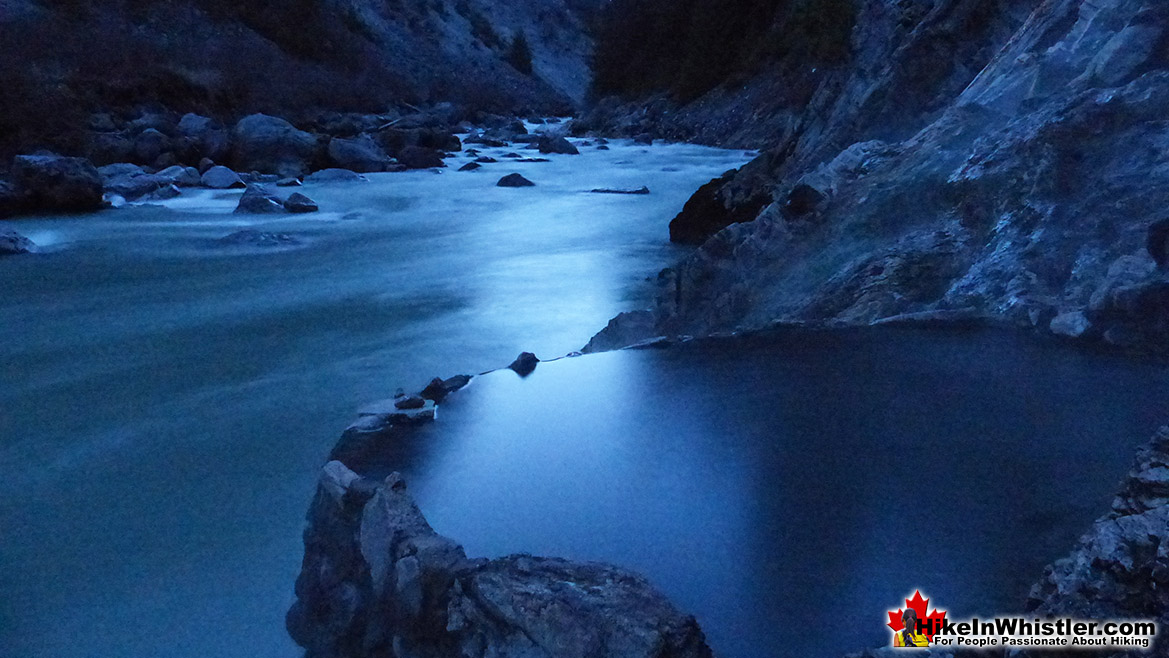 Keyhole Falls Aerial Views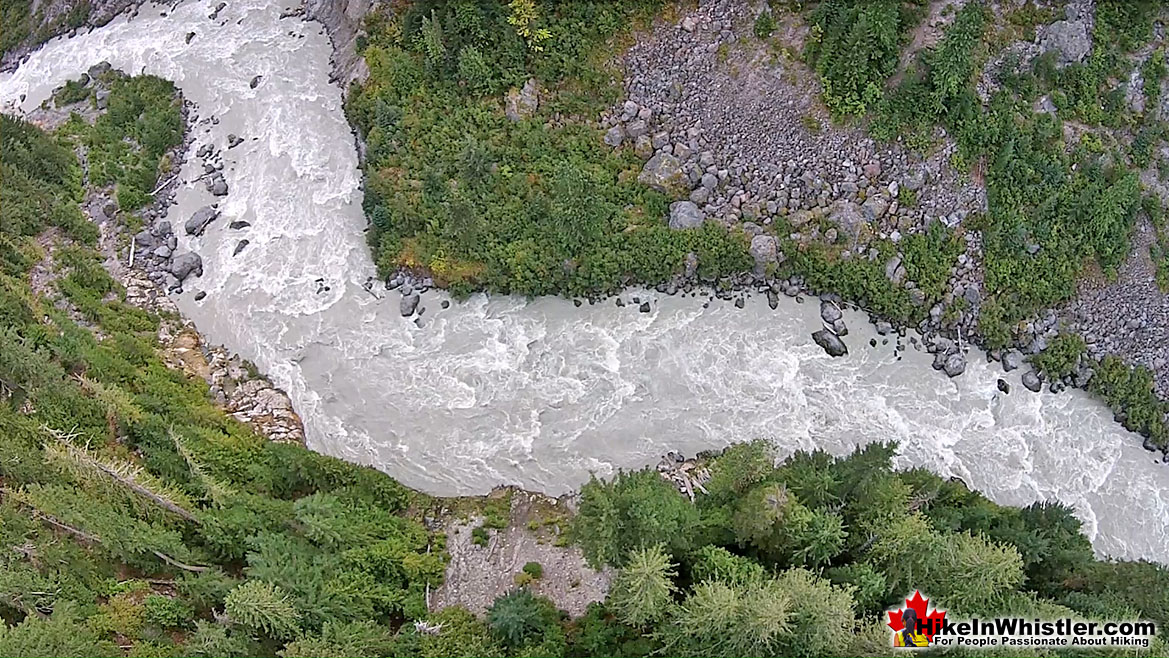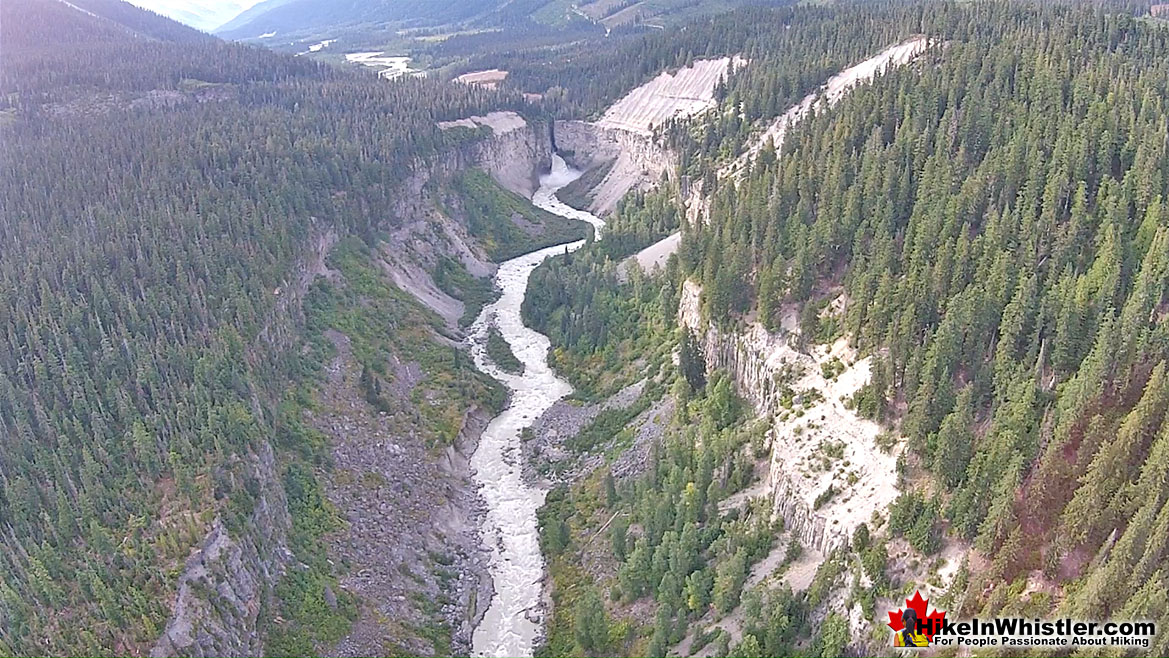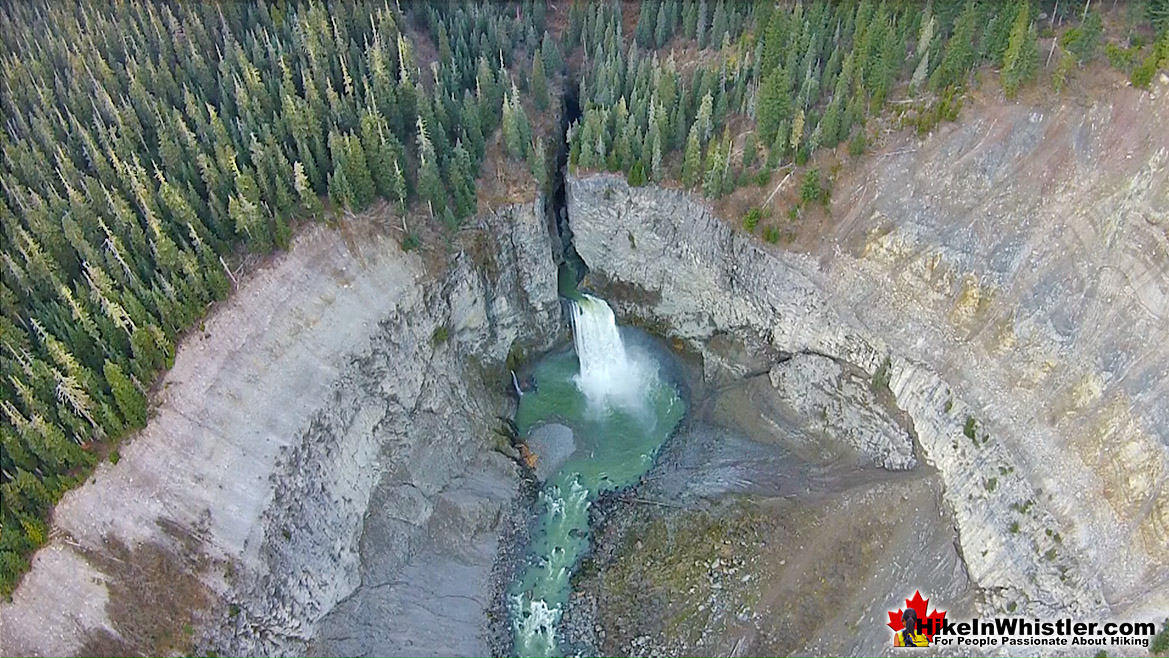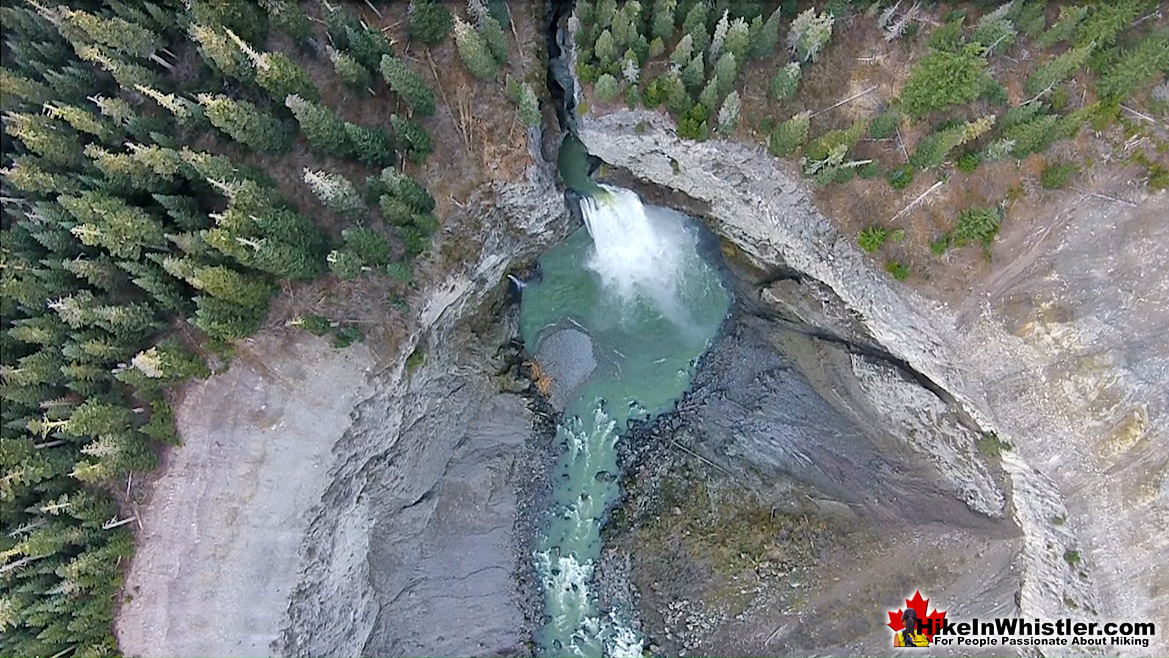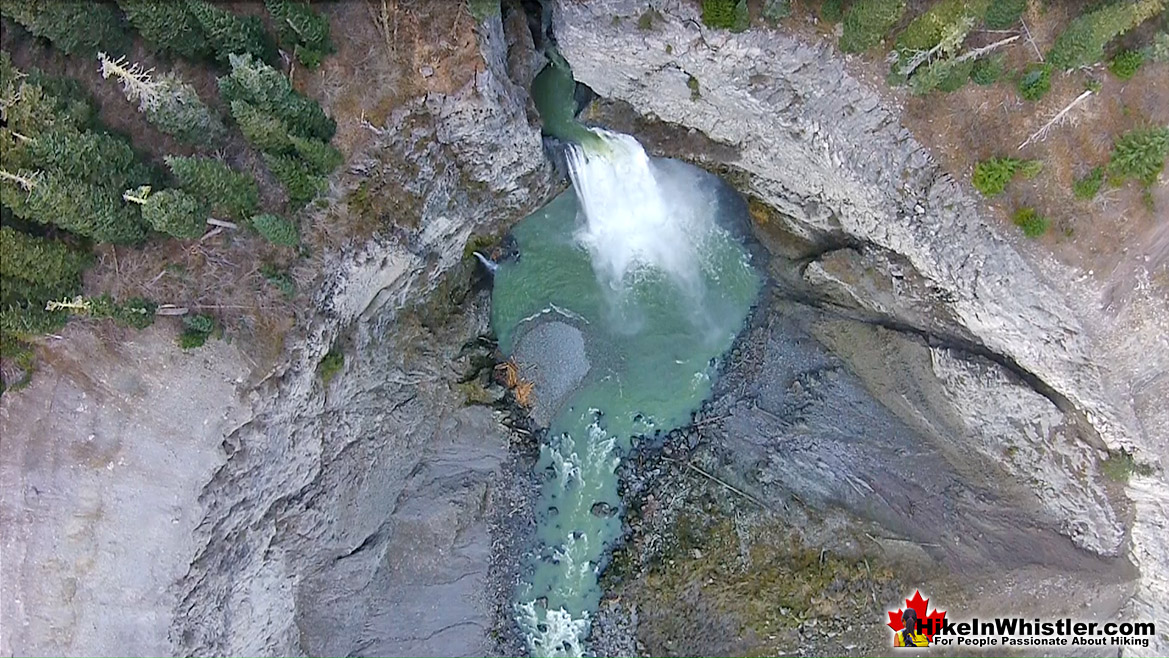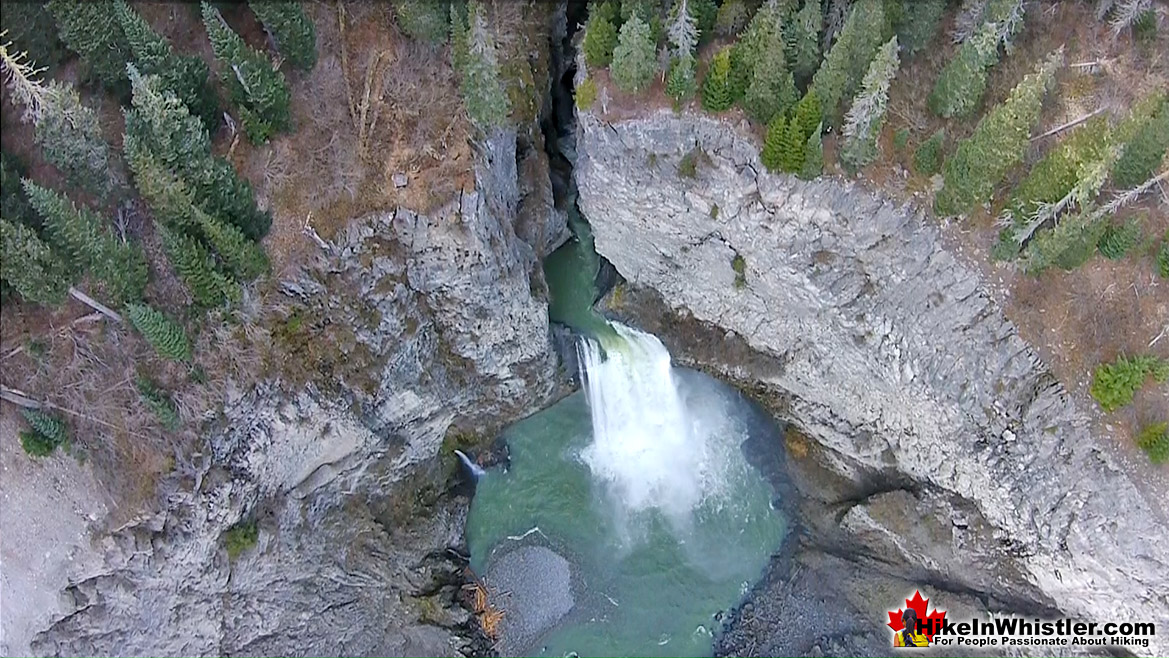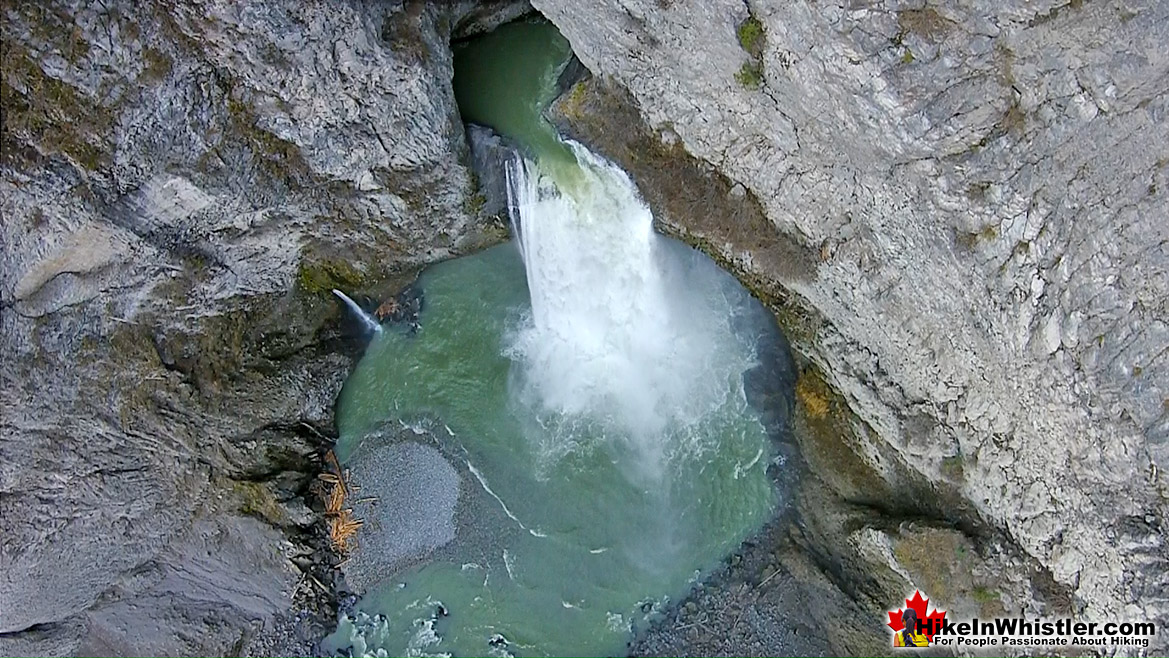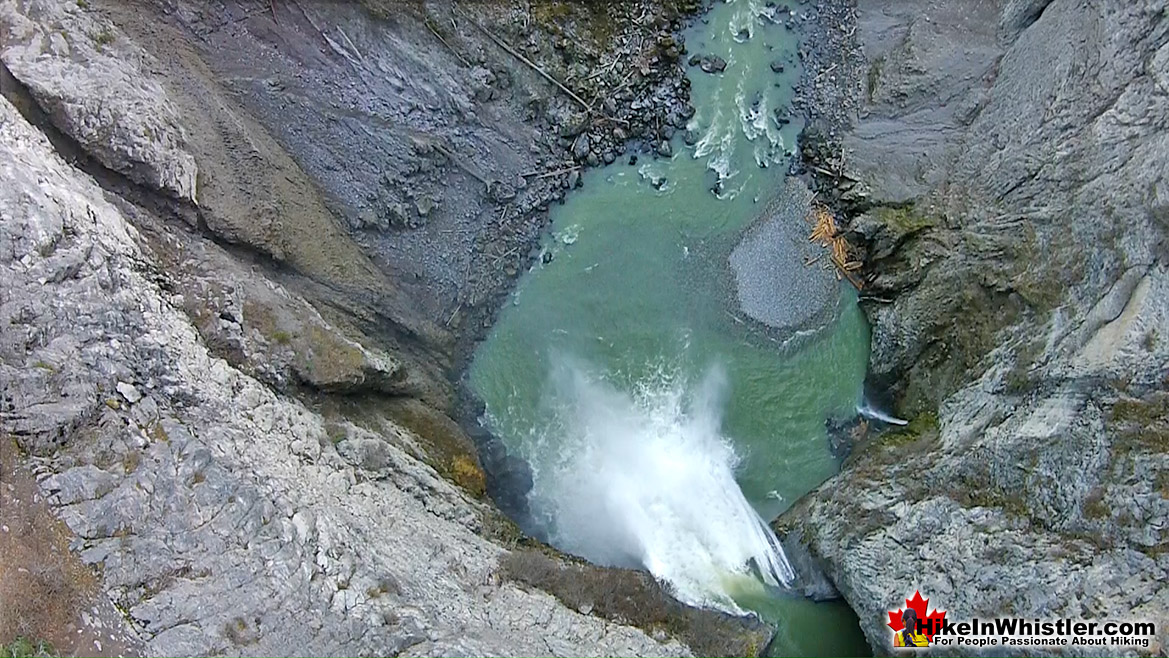 Meager Slide Debris Field Aerial Views
Meager Hot Springs(aka: Meager Creek Hot Springs) is located 93 kilometres northwest of Whistler, was beautifully developed into gorgeous pools, with a caretaker and usage charge.  At its height of popularity, Meager Hot Springs had 30,000 yearly visitors.  Unfortunately, due to two recent massive landslides it seems unlikely to ever officially reopen.  Below is a picture of Meager Hot Springs in 2009.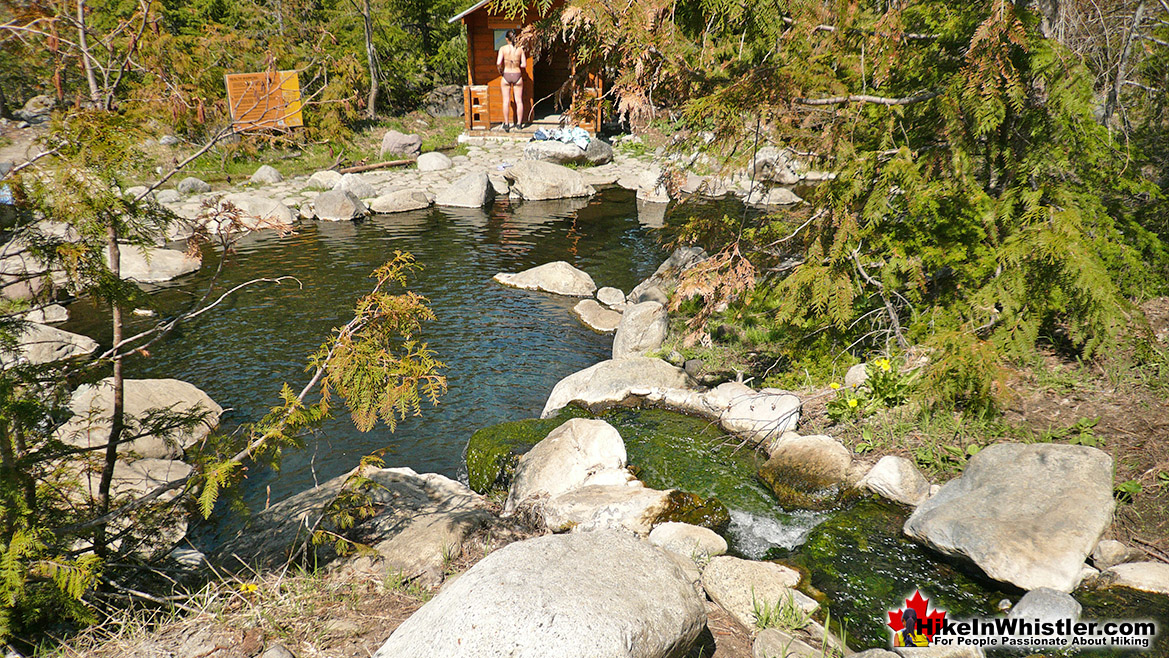 Just a decade ago, in 2009, a nice, expensive access bridge was installed.  A few months later it was dramatically obliterated from another slide in 2010.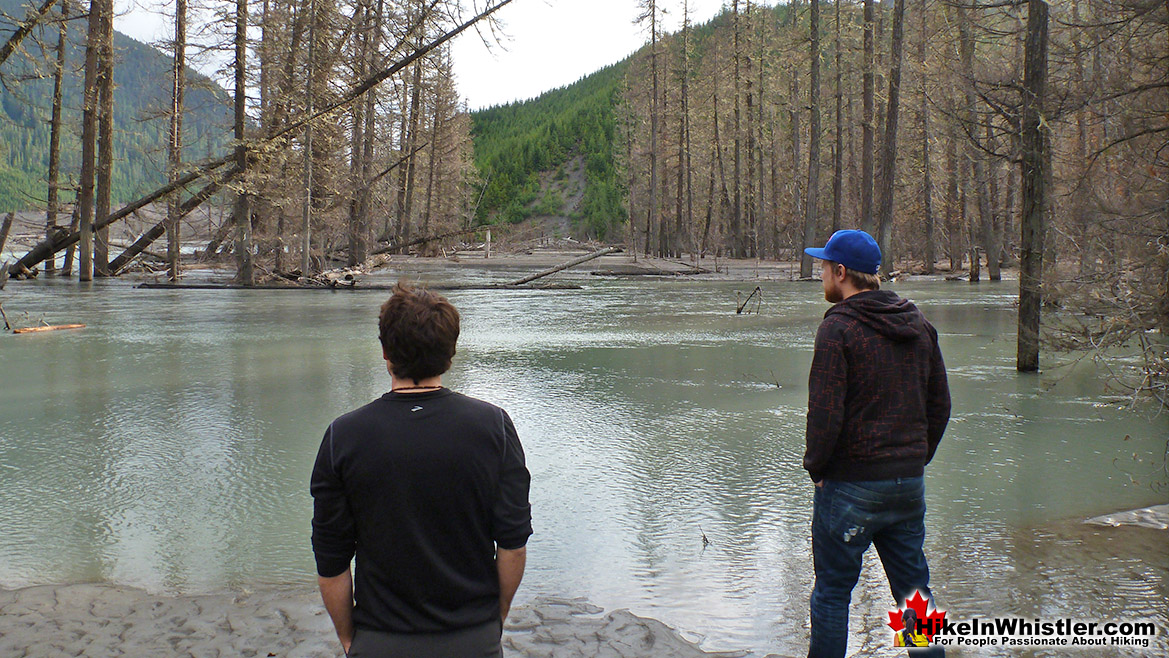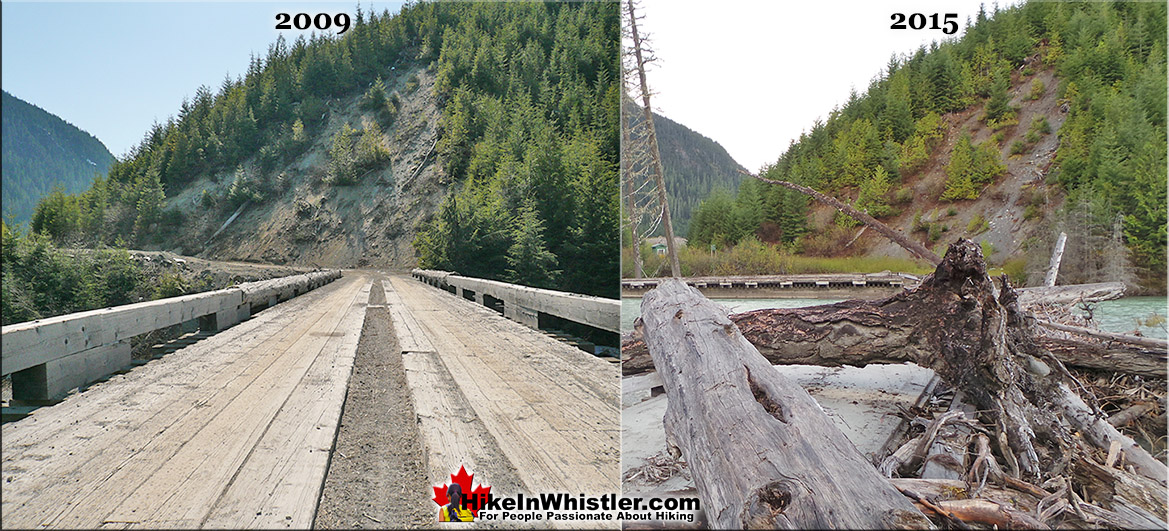 New Access Trail to Meager Hot Springs
In 2014 the new VOC Harrison Hut Trail was cut through the forest, allowing reasonably convenient access to Meager Hot Springs once again. Unfortunately this access road is in a bit of a logging and construction zone, so don't be surprised if the road is blocked by a rock slide or road construction.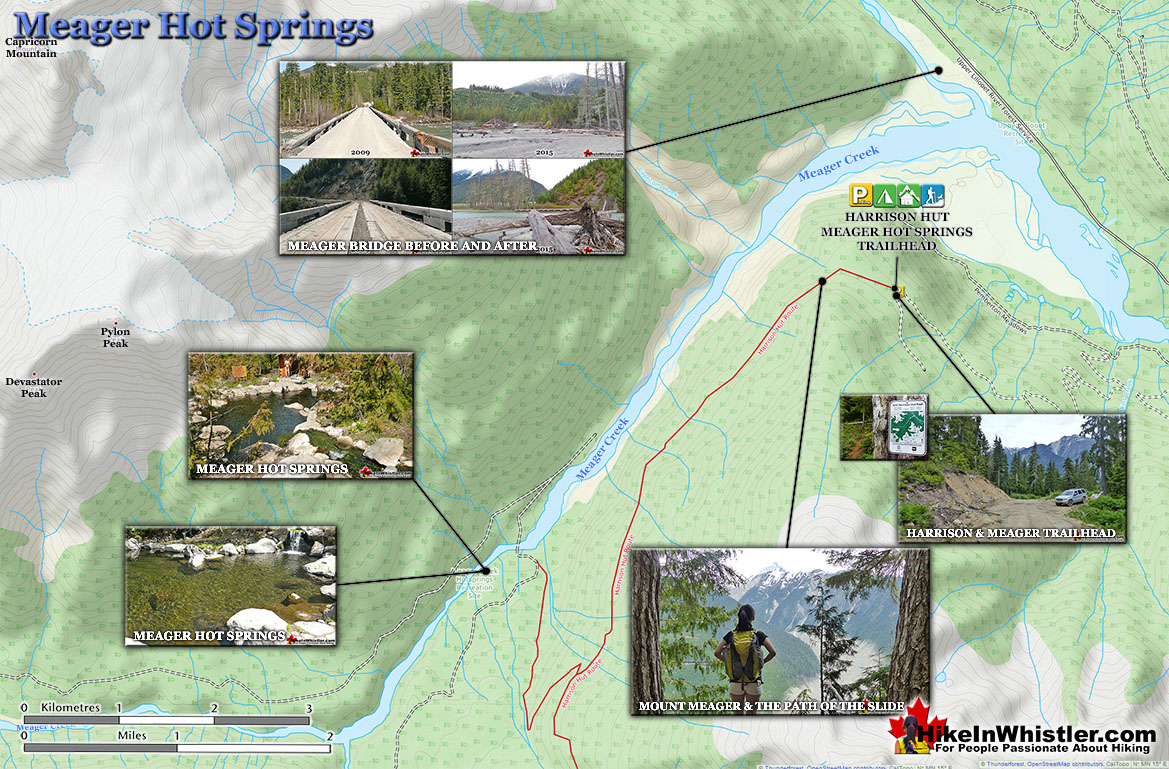 The old access bridge over the Upper Lillooet River which cost nearly a million dollars was wrecked in seconds in 2010.  There was considerable wrangling and negotiating to get it built in in 2009, but now it will almost certainly never be rebuilt.  The area is far too active.  Access to the springs is now via the Harrison Trail via the south side of Upper Lillooet River, above and beyond the still visible, still awe inspiring, mudslide carnage. With the catastrophic mud and debris slide let loose from Devastator Peak in 2010, the nice new (in 2009) million dollar bridge to the Meager Creek Hot Springs was destroyed.  Though destroyed doesn't even begin to describe it. Looking on the now, dead end road, where the bridge once stood, the place still looks a mess. "Meager Creek FSR is closed indefinitely; no access to the hot springs." This is from the BCParks Upper Lillooet Provincial Park site, and evidently quite accurate.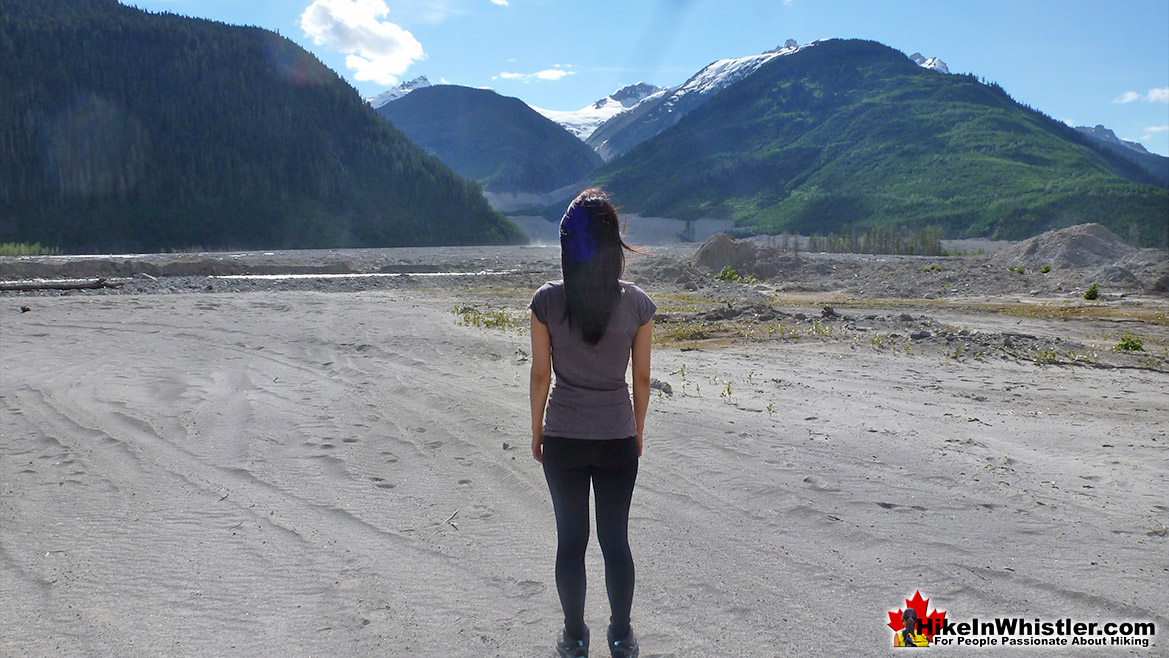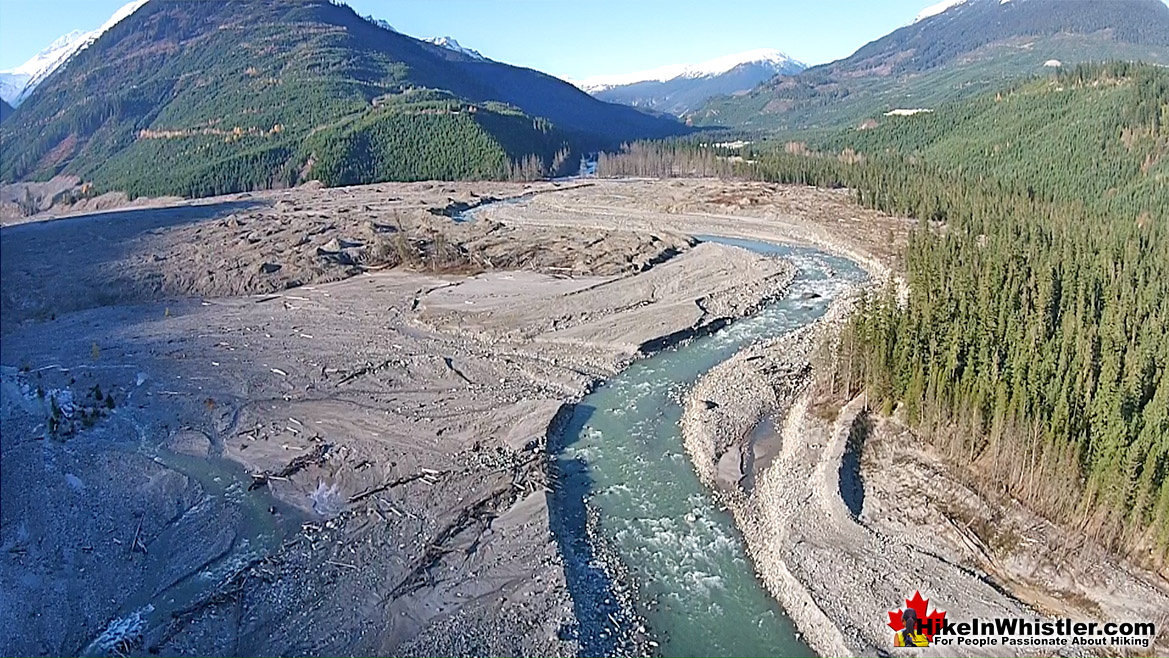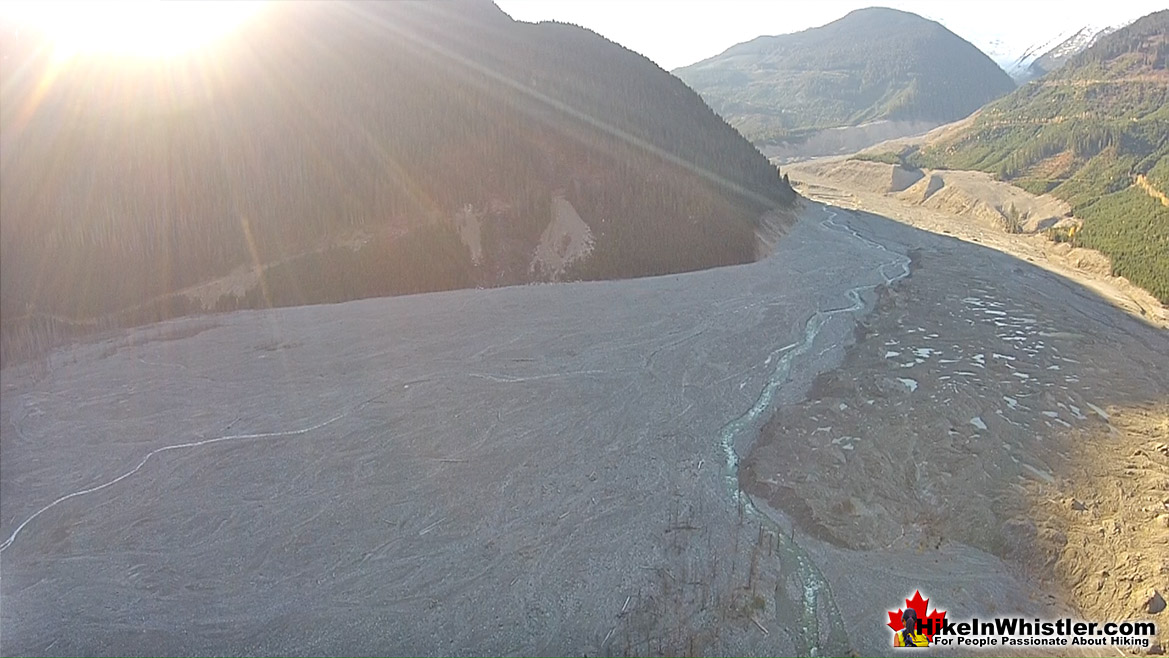 More info, details, maps and directions to Keyhole Falls
Fantastic Books About Geology in BC


Here are two excellent books on the Geology of British Columbia.  In Search of Ancient British Columbia by Barbara Huck is one of our favourites.  It focuses on southern BC and covers each individual region separately.  The Lower Mainland chapter explains the geology, paleontology and archaeology of the region stretching from Vancouver, Sea to Sky, Garibaldi Park and north to Mount Meager and Meager Hot Springs.  Quite a lot of the book is devoted to how the last ice age shaped the land and inhabitants of southern BC.  The chapters on Vancouver Island are particularly good as the geological history was particularly chaotic and the history of glaciation around present day Victoria is very interesting.  Geology of British Columbia: A Journey Through Time by Sydney Cannings, JoAnne Nelson and Richard Cannings is a beautiful history of BC's geology and the 200 million year history of creatures living in this extraordinary corner of the world.  The authors take us on a journey through time, describing the collisions of island chains called terrains, the sliding of plates, the erupting of volcanoes, and the movement of glaciers that created British Columbia as we know it today.  They also describe the rich legacy of fossils left behind as a result of all this geological activity.
**We participate in the Amazon Services LLC Associates Program and earn a small commission on purchases we link through to Amazon at no extra cost to you.  We only link to books and products we love and highly recommend.  Thanks for your support!**
Whistler & Garibaldi Hiking

Alexander Falls  

Ancient Cedars  

Black Tusk  

Blackcomb Mountain  

Brandywine Falls  

Brandywine Meadows  

Brew Lake  

Callaghan Lake  

Cheakamus Lake  

Cheakamus River  

Cirque Lake 

Flank Trail 

Garibaldi Lake 

Garibaldi Park 

Helm Creek  

Jane Lakes 

Joffre Lakes  

Keyhole Hot Springs  

Logger's Lake  

Madeley Lake  

Meager Hot Springs 

Nairn Falls  

Newt Lake 

Panorama Ridge 

Parkhurst Ghost Town 

Rainbow Falls  

Rainbow Lake 

Ring Lake  

Russet Lake  

Sea to Sky Trail 

Skookumchuck Hot Springs  

Sloquet Hot Springs 

Sproatt East 

Sproatt West  

Taylor Meadows  

Train Wreck  

Wedgemount Lake  

Whistler Mountain

January 

February 

March 

April 

May 

June 

July 

August 

September 

October 

November 

December