Tom Fyles (27 June 1887 - 27 March 1979) was an astoundingly skilled climber that figured prominently in the climbing community of Vancouver for more than two decades.  From his apparent introduction to climbing and mountaineering in 1912, to his prolific array of elite level climbing ascents that began in earnest just four years later.  In 1916 he solo climbed The Table in Garibaldi Park, a mountain almost universally considered to be too difficult and dangerous to climb.
Whistler & Garibaldi Hiking

Alexander Falls  

Ancient Cedars  

Black Tusk  

Blackcomb Mountain  

Brandywine Falls  

Brandywine Meadows  

Brew Lake  

Callaghan Lake  

Cheakamus Lake  

Cheakamus River  

Cirque Lake 

Flank Trail 

Garibaldi Lake 

Garibaldi Park 

Helm Creek  

Jane Lakes 

Joffre Lakes  

Keyhole Hot Springs  

Logger's Lake  

Madeley Lake  

Meager Hot Springs 

Nairn Falls  

Newt Lake 

Panorama Ridge 

Parkhurst Ghost Town 

Rainbow Falls  

Rainbow Lake 

Ring Lake  

Russet Lake  

Sea to Sky Trail 

Skookumchuck Hot Springs  

Sloquet Hot Springs 

Sproatt East 

Sproatt West  

Taylor Meadows  

Train Wreck  

Wedgemount Lake  

Whistler Mountain

January 

February 

March 

April 

May 

June 

July 

August 

September 

October 

November 

December
Those that knew Tom Fyles well admired his friendliness, enthusiasm, boundless endurance and incredible ability to read a mountain and navigate the best route to the summit.  Despite, or possibly because of, the difficulty and danger of The Table, many attempts were made in the years after 1916.  In 1922 a second successful ascent was finally achieved and it was Tom Fyles once again.  Fyles managed to make it to the top and this time he fixed a rope to a small tree and Neal Carter and Bill Wheatley climbed up to join him.  This made Fyles, Carter and Wheatley the second mountaineering party to successfully climb The Table.  They left their rope from the summit attached to the stubby tree and jagged, firm rock for their ascent and future climbers.  The following year, in 1923 Wallace Burr and Clarence Fisher made the next recorded ascent with the help of this rope.  It is thought that the next successful ascent on The Table wasn't made again until 1926, when Tom Fyles led another team of three to the top.  The fixed rope that Fyles left in 1922 was apparently last used in 1932 when Don Woods, Bestor Robinson, John Yeon and P. Desiata used it to reach the summit, then replaced it with a new one before making the perilous descent back down.  Though there may be other ascents of The Table lost to history, it appears that Fyles was the only climber to free climb the table, ever..  And he did it twice before fixing the rope in 1922.  Famous BC climber Dick Culbert appears to have climbed The Table in 1959 when the fixed rope was long gone, though unlike Fyles, he judiciously hammered pitons into the rock and fixed a rope along the way.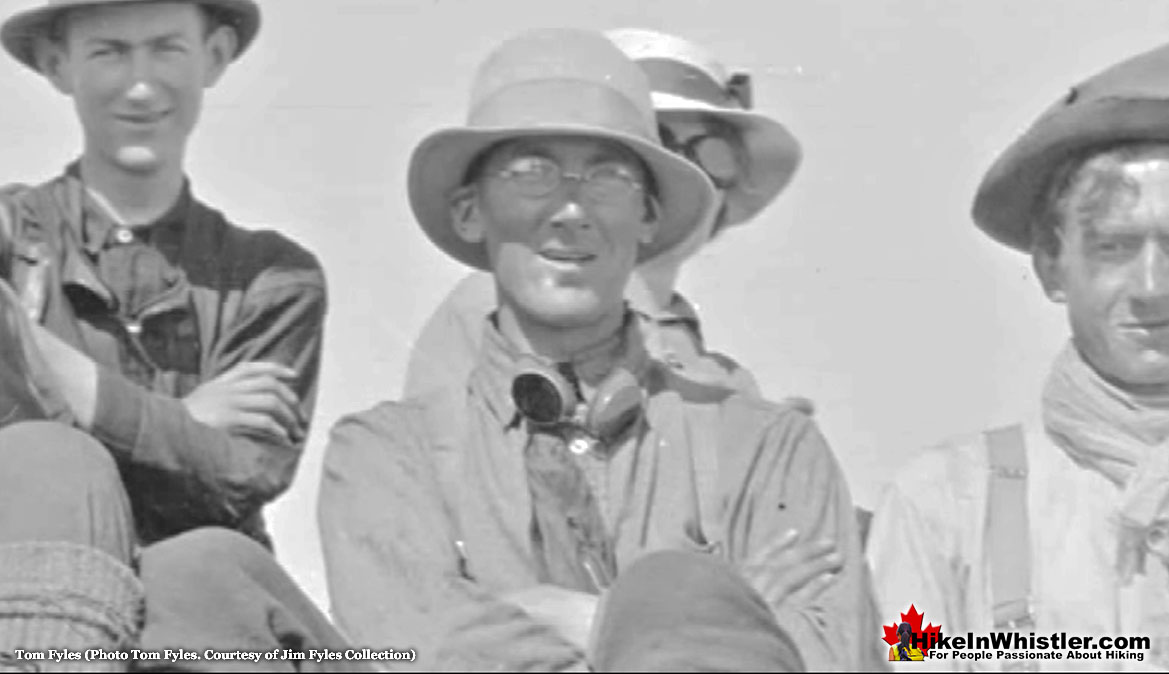 The list of first ascents by Tom Fyles is considerable, and it is believed owing to his modest personality, that many first ascents credited to large BCMC parties were led by him.  For example, the first recorded ascent of Mount Elsay was on May 6, 1923 by a BCMC group of 29 hikers led by Tom Fyles.  Some of his first ascents include, the true summit (North Peak) of Black Tusk and The Table, both solo.  In the Tantalus Range across the valley from Garibaldi Park, beyond Squamish he made first ascents of Mount Pelops, Mount Dione and Mount Omega.  Closer to Whistler, Fyles led two groups, one in 1928 and the second in 1931, to the first ascent of Mount Cayley and Tricouni Mountain.  They made several attempts on the very dangerous Mount Fee, but were unsuccessful.  During the two forays into the mountains they named all three mountains, Fee and Cayley after fellow mountaineers who recently died.  Down in the mountains around Vancouver he was the first to climb American Border Peak, Widgeon Peak and Mount Judge Howay.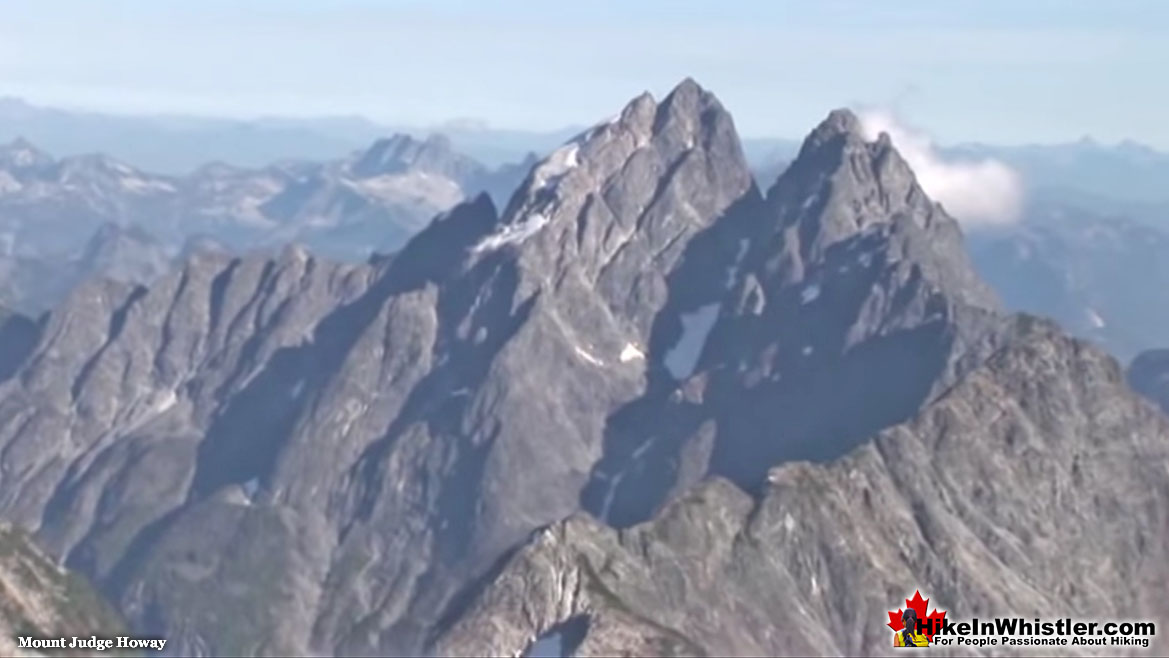 Perhaps as significant an achievement to Tom Fyles' mountaineering talent was his incomparable passion and devotion to encouraging new climbers.  His enthusiasm and leadership seemed to propel newcomers to mountaineering into well rounded experts in short periods of time.  Alec Dalgleish, Stan Henderson, Eric Brooks, Mills Winram, Bill Wheatley and Neal Carter to name just a few out of countless people he inspired to become giants in BC mountaineering.  Neal Carter, who at just 17 years old, was introduced to the BCMC by Tom Fyles, would make first ascents of Wedge Mountain and Mount James Turner and go on to explore and name countless peaks around Whistler.  Neal Carter was the driving force behind massively extending Garibaldi Park to include the mountains north of present-day Whistler.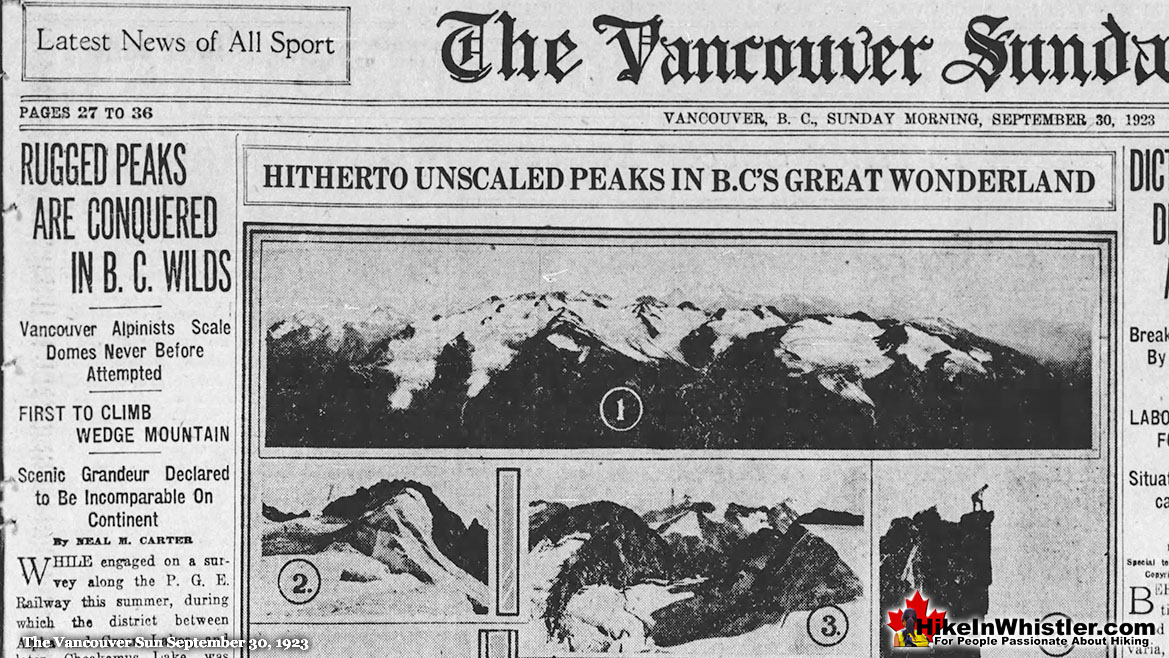 Tom Fyles and Alec Dalgleish partnered in three remarkable expeditions into the unknown wilderness of the Coast Mountains of BC in the early 1930's.  In 1930 they, along with Stan Henderson explored deep into the mountains at the head of Bute Inlet.  In 1932, Tom Fyles, Alec Dalgleish, Neal Carter and Mills Winram went on an amazing expedition into the mountains at the head of Lillooet River.  The following year, in 1933, the same four explored the mountains at the head of Toba Inlet.  All of these expeditions would result in first ascents and the naming of many previously unnamed mountains.  Decades later, Mills Winram would describe Tom Fyles personality and style with undisguised respect and admiration.  "Tom was a natural leader.  If he said we can do this or we can't do that, you realized he had assessed all the possibilities.  He had the complete and utter confidence of the people he went with."
Tom Fyles Discovers Mountaineering
Tom Fyles grew up in Bolton, a town in Manchester, England, where he was born in 1887.  In his early twenties he worked as a joiners apprentice, and at 23, in 1910 he and his brother emigrated to Vancouver.  In an interview in 1973 Tom Fyles recalled his first impressions of Vancouver and the surrounding mountains. 
It was all so new.  I can remember going down Granville Street looking at the stores.  They were all so different than what they were in Bolton.  I particularly noticed the mountains the first time we were on Powell Street.  It was a beautiful, bright day, breezy and the mountains across the way.  We though t i was wonderful, and we were quite sure we were going to go up there.  I didn't know anything about how to get up [to the mountains] but we went across on the ferry and got on the street car at the terminus and then we walked.  First time we didn't even get to Mosquito Creek.  But we soon got over that.  There was a man in the Post Office - I worked in the Post Office not long after I came here, in 1912- and he was a member of the Mountaineering Club.  He suggested I went up with him to the cabin on Grouse, which I did on a snowy Saturday evening. and that was the start.  I joined the Club.  In 1914 I went to Garibaldi with the Mountaineering Club.  We came out just [at] the beginning of August, just when war had been declared.  The party went in on the weekend and I couldn't go till the following Tuesday.  The PGE was just being built and only went as far as Cheakamus, 'bout 12 miles up from Squamish.  But you could get a coach to there, and then I walked along the Pemberton Trail and found my way in to Garibaldi.  I had a little confusion getting in but I got there.  I was all alone.  I hadn't been beyond Squamish before that.  But I knew that looks of the mountains when I saw them from up above.  I could tell what they all were because I'd read about them.  And of course, I joined the party.  We did a number of things and then decided that we might have a look at The Table.  We went round the Panorama Ridge and down to the Barrier and down to The Barrier and over to The Table.  We spent some time looking at The Table.
Fyles was an early member of BC Mountaineering Club and planned and led nearly all the hikes for several years.  As one member recalled, "In the old days, Tom was the club.  He led every trip."  Susan Leslie recalled in an article in the Canadian Alpine Journal in 1980, shortly after his death, "..by most reports, he was an unimpressive man – quiet, plain-spoken, without ambition.  But in the mountains, Tom Fyles seems to expand.  He became a man whom other people instinctively recognized as a leader.  It wasn't just that Tom could climb anything, or outwalk anyone, or find his way out of anywhere.  It was that Tom seemed never to be afraid or discouraged.  He had an ample, natural confidence that pervaded the people around him.  With Tom people felt safe."  In 1917, H.B. Hinman of the Mountaineers wrote, "Too much praise cannot be given Mr. Tom Fyles, on whom the chief responsibility of the climbs rested.  Never have I seen a more indefatigable and efficient worker, a more genial personality, a more skillful and daring climber, yet careful and considerate of his party." (The Mountaineer Volume X – 1917 p55)
In December 1926 a conflict developed between the old and new members of the BCMC, leading to Fyles and eight other prominent members walking out of a general club meeting and quitting. Tom Fyles was the director, Bill Wheatley and J. H Speer were vice presidents, R. E Knight was the club's secretary, Neal Carter was the editor, Mrs. Carter was the reporter, Beverley Cayley and W. E Martin were members of the executive committee.  Most, including Fyles would join the Alpine Club in Canada, where he would eventually be honoured as a lifetime member.  In 1977, with Tom Fyles approached his 90th birthday, Neal Carter pushed to have Mount Taillefer, near Bella Coola, renamed Mount Fyles.  Tom Fyles, his brother and two other companions first climbed the area in 1919 and the mountain had appeared on early maps as Mount Fyles.  As the Canadian Permanent Committee on Geographical Names has a general principle to not allow names of living people, the name Mount Taillefer became the official name.  The following year, in 1978, Tom Fyles received official notification that Mount Fyles and Fyles Glacier were officially approved on August 25th, 1977.
First Ascent of The Table 1916
The Table, in Garibaldi Provincial Park is an extremely difficult mountain to climb owing to its steep sides and disintegrating rock.  The very few written accounts are terrifying and without exception conclude that it is too dangerous to climb.  The first ascent in 1916 was led by one of Canada's greatest rock climbers and possibly the most underappreciated ascent in the history of climbing.  Unfortunately, Tom Fyles was as modest as he was an expert climber and a detailed account from him of the legendary climb is surprisingly hard to find.  The few details known, added with the astoundingly harrowing ascents that followed in the next few decades, make his initial ascent of The Table border on miraculous. Joseph T. Hazard, in his excellent book, Snow Sentinels of the Pacific Northwest, recalls that Fyles made that solo ascent after his two BC Mountaineering Club companions gave up and watched for hours as he surmounted the final 240 terrifying feet!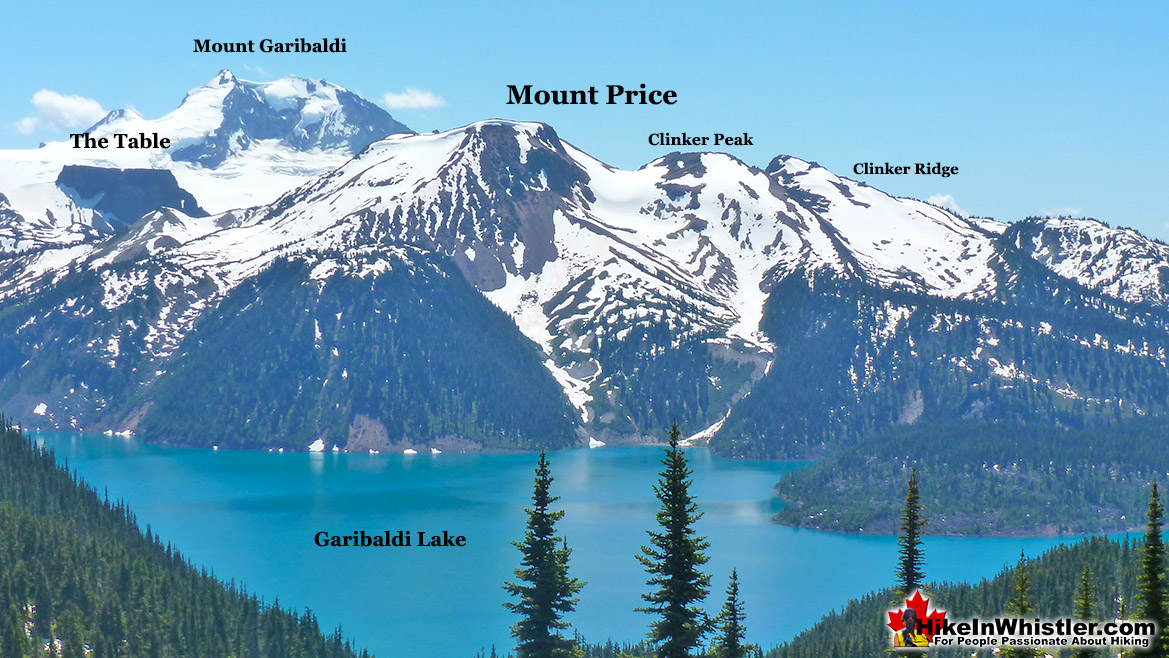 Words seem unable to grasp how difficult The Table is to climb; however Hazard illustrates it well when he described the 1923 ascent he witnessed made by Wallace Burr and "Happy" Fisher. "Wally and Happy climbed a fifty-foot face of scaling rock, of disintegrating, columnar structure, to a sharp edge. Here Happy lay on his back for thirty minutes, bracing himself in position by hooking his legs to both sides of the knife-edge of rock. He held Wally's legs in his arms while for a half-hour Wally cast the middle of a hundred-foot rope at a point of rock, thirty-five feet above."  Hazard continues to describe how, "Climbing The Table is one near impossible obstacle after another." And, "Each requiring a tremendous feat of courage and expertise to overcome."  Hazard's admiration of Tom Fyles' skill and bravery is subtly expressed when he concludes, "How he did it alone, he can only tell.  He is modest and will not give the whole story."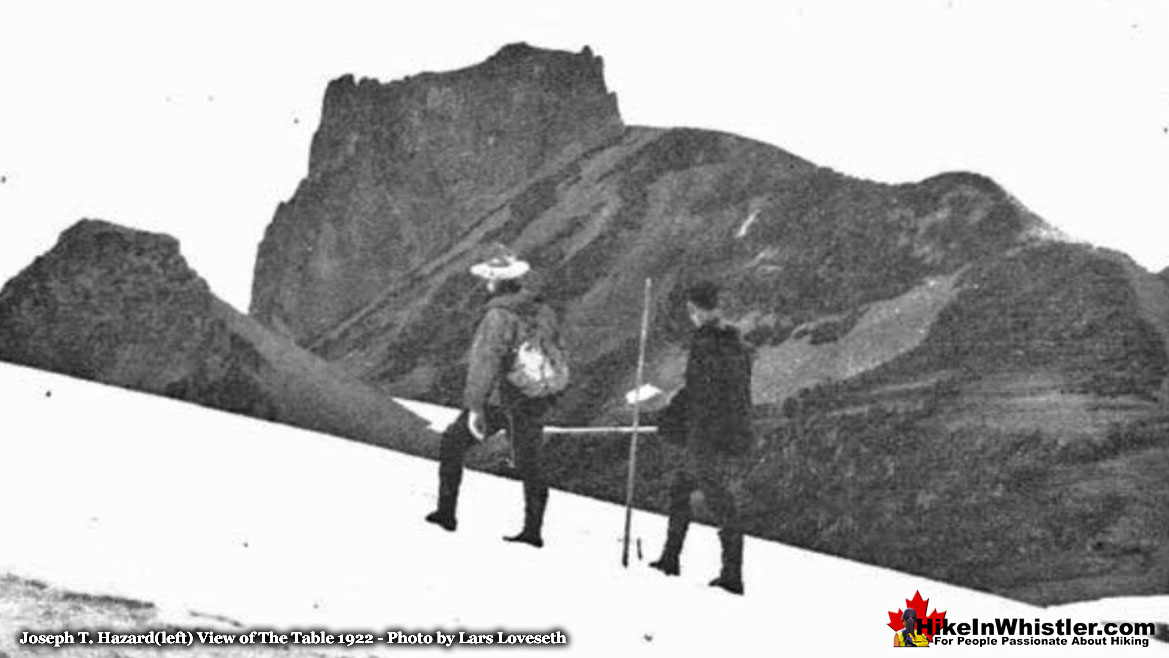 The first organized hiking into the Black Tusk/Garibaldi Lake region of Garibaldi Park was done by the BC Mountaineering Club in 1912.  Led by the club president Mr. W.J. Gray who, in 1914, described The Table with a mixture of awe and terror.  "The dark forbidding walls of the "Table" have defied our most expert rock climbers.  The slightest disturbance is sufficient to bring down a shower of sharp stones upon the head of the unwary climber."  He goes on to compare Black Tusk and The Table and concludes that Black Tusk is comparatively easy while "The Table on the other hand, offers but a succession of somber cliffs on all sides, the lower slopes of which are covered with a heavy talus, and are swept by stone avalanches at intervals."  Gray later recalled how the most determined rock climber in their party was, "slowly progressing up the western face when he was summarily arrested by the next man in line, who intimated that "if he had fifty lives, he would not climb any further." So, The Table remains as the only peak within reach of the camp which has not been climbed."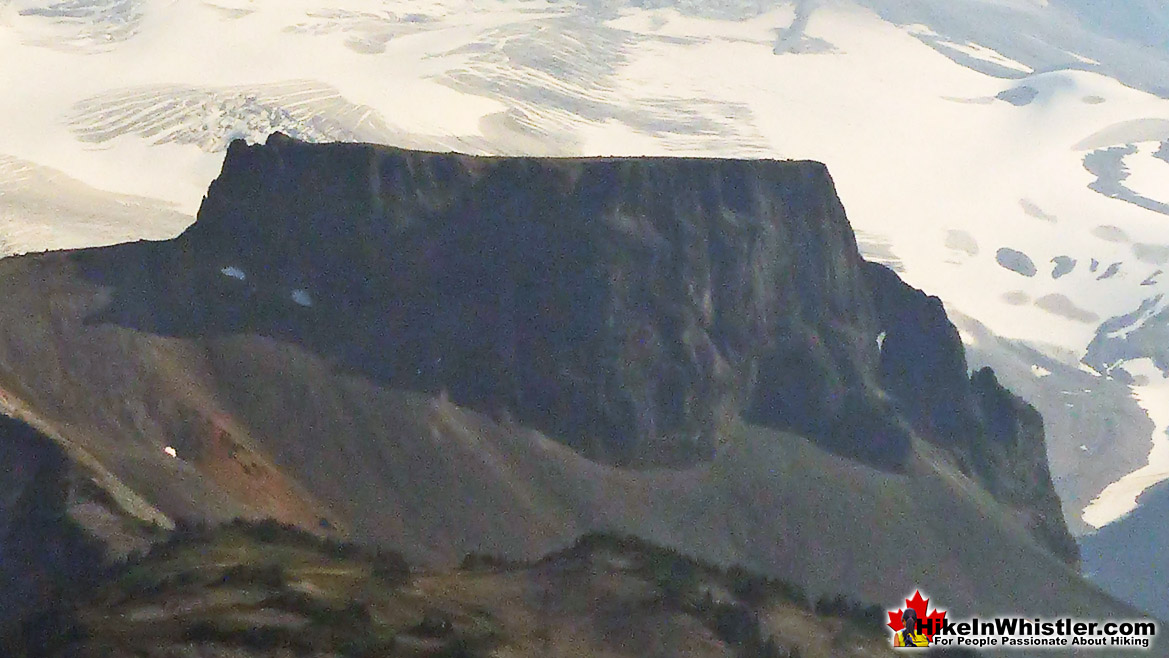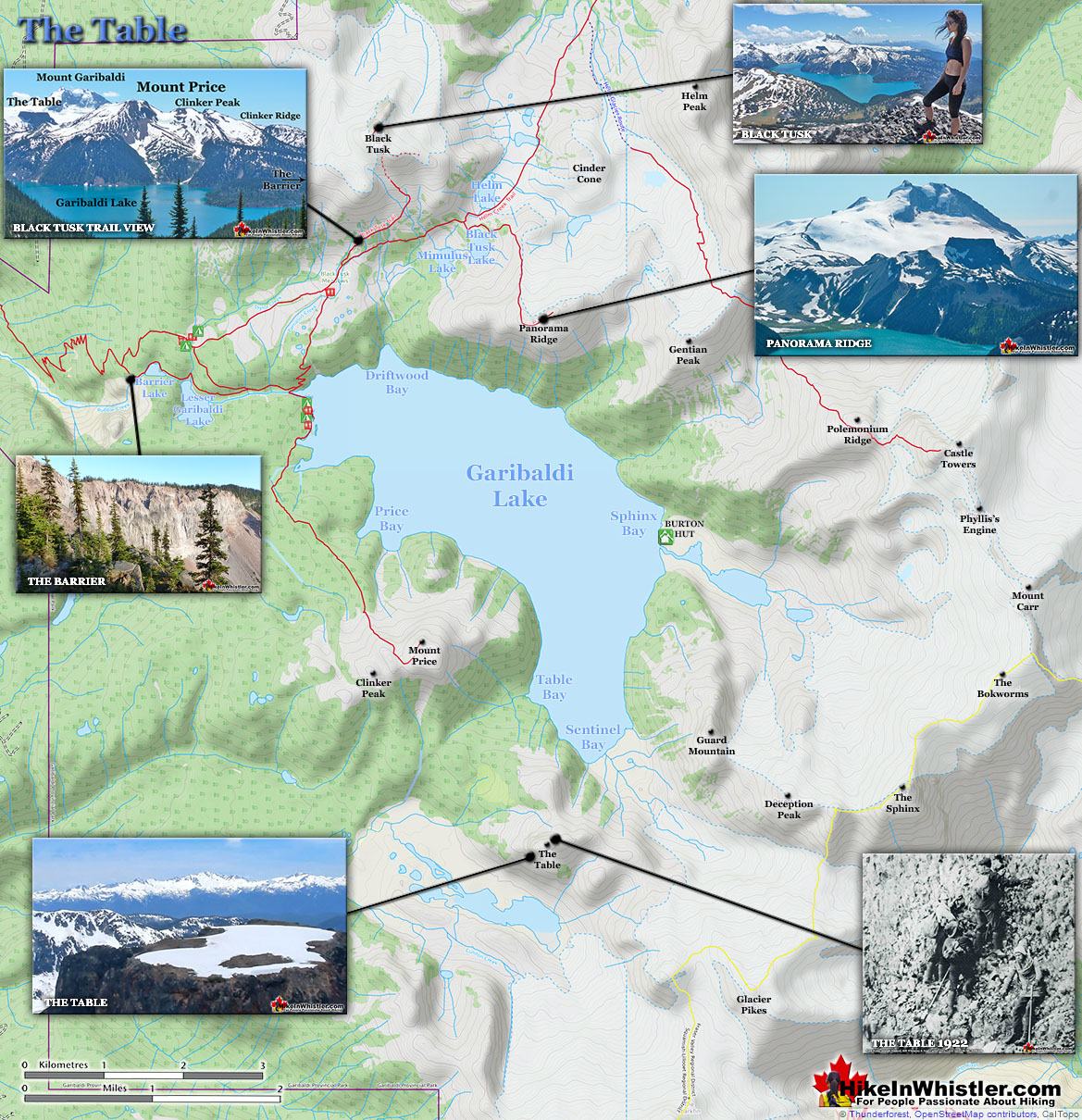 The first ascent of The Table would be achieved just four years later by a newcomer, and by all accounts, a novice climber. Tom Fyles, in 1916 made the solo ascent alone while his two BCMC climbing companions watching from below.  One good contemporary account of the first ascent of The Table on August 7, 1916 was published just a couple weeks later in the Vancouver Daily World newspaper with the byline, "Written by a Member of the Party."  The article strangely doesn't mention the other two climbers in Tom Fyles' party.  "A party of three left the camp on the morning of August 7th and made their way around the shores of Garibaldi Lake to the base of The Table.  Early in the afternoon the leader had marked a course up the eastern end, and began to climb upwards by means of a narrow chimney.  The rocks were very loose and progress correspondingly slow.  It soon became apparent that there was great danger from falling fragments, and it was decided to allow the leader to attempt the climb alone, while the rest of the party sought shelter.  Above the chimney the climber ascended over the eastern arête, then traversed diagonally up the perpendicular north face till a point was reached almost level with the summit.  Ten minutes more and The Table was conquered.  The descent was even more dangerous, and some idea of the difficulties may be gathered from the fact that three hours were spent climbing up 300 feet and down again, allowing sufficient time to build a small cairn and leave a record."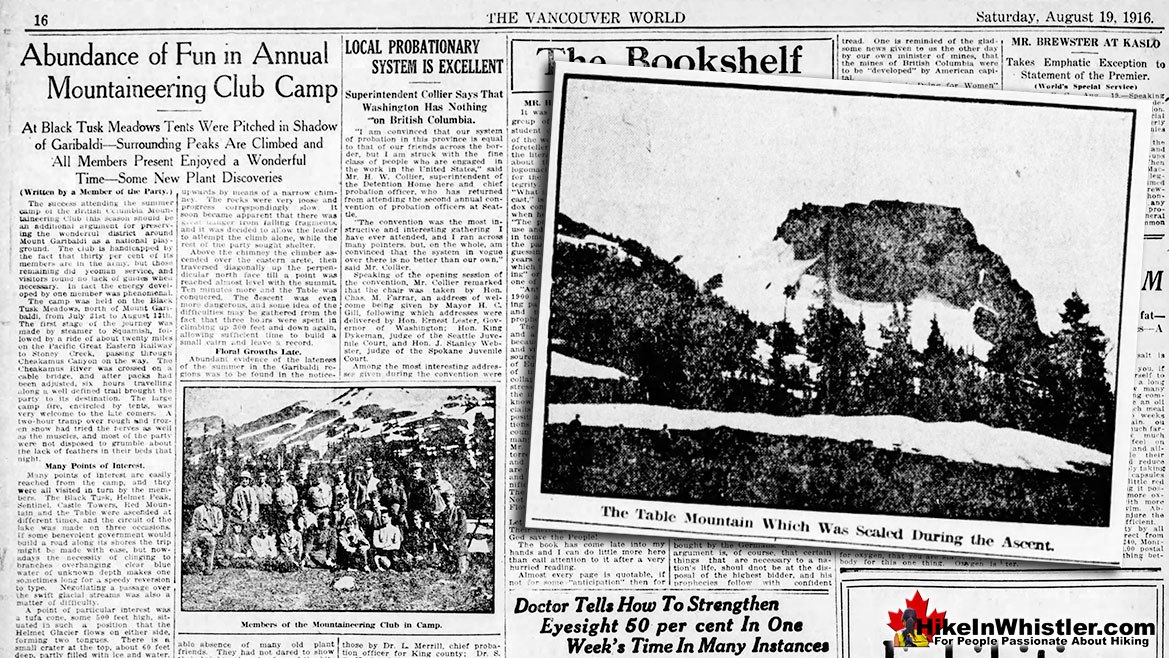 In an interview with Dan Bowers in 1973, Tom Fyles recalled the first ascent of The Table.  He described how two year previous, he attended the 1914 summer camp with the BCMC.  He was unable to travel with the club and had to get there four days later by navigating the route himself.  A pretty challenging feat when you consider that he had never been north of Squamish before and the walking route began along the Pemberton Trail about halfway between Squamish and Stoney Creek.  Today we call Stoney Creek, Rubble Creek, but in 1914 the route to Black Tusk Meadows began at Cheakamus River.  The route ascended over boulders in roughly the same direction as the 2 kilometre access road used today to reach the Rubble Creek trailhead parking.  The route then followed the recently cut trail through the wilderness 12 kilometres up to the alpine meadows near the base of Black Tusk.  Fyles recalled that he was able to find his way, at least partly, from recollections from what he read about the descriptions of the mountains.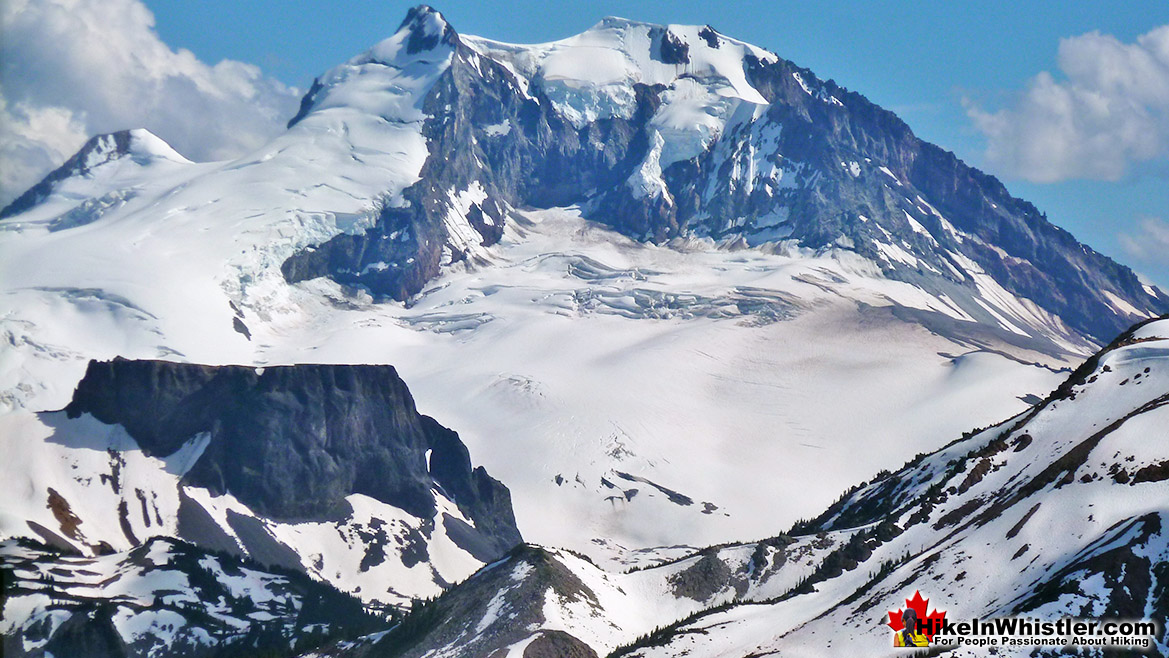 Fyles described his described his first look at The Table.  "The Table is a flat-topped mountain made of basalt and it has a rather peculiar opening at one end that's an archway. The whole area looks like an inverted cup with a handle. It's not very high. It's quite abrupt, and quite steep and made of loose rock.  Whilst we went most of the way around and looked at the different chimneys, we didn't do anything more on that trip. We were camped at Black Tusk Meadows and so it made an all-day journey going round the lake. We went round the lake and we came back over Red Mountain."  What we call Mount Price today, was called Red Mountain back then.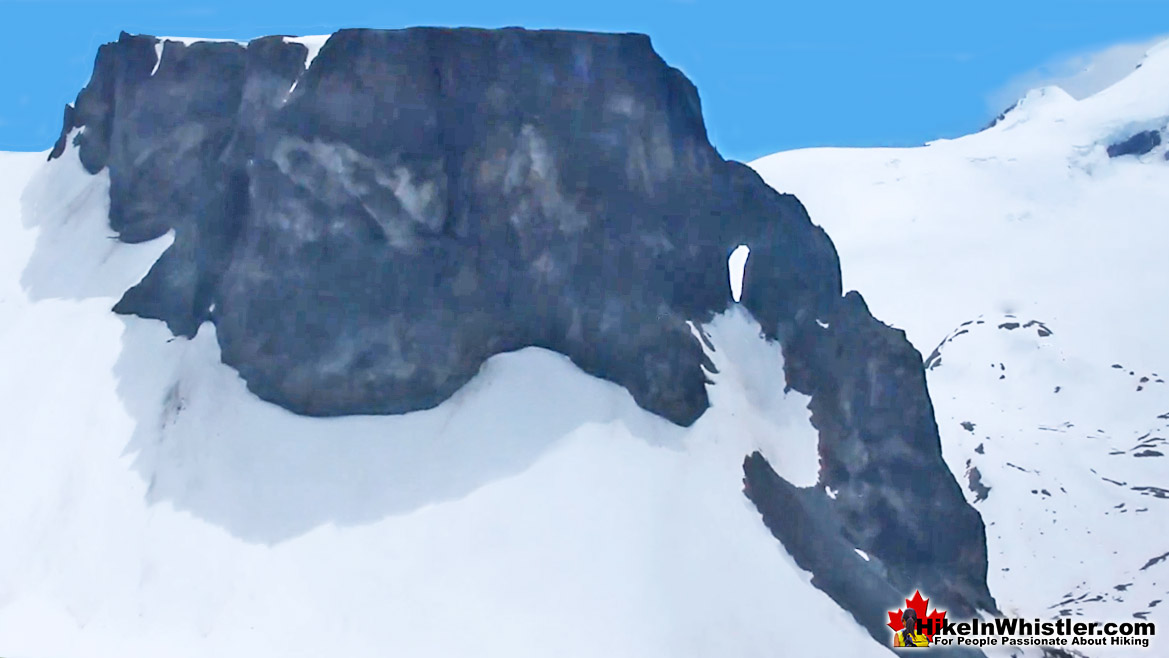 Tom Fyles recollection of the first ascent of The Table is wonderfully modest and conceals the terrifying difficulty.  "I had a long rope. The Mountaineering Club only had two ropes in those days.  One was a hundred feet; the other was sixty feet. I think I had the hundred-foot rope. So, I pulled this with me, and I intended to be able to help another man up with the end of the rope. I went up all the way alone, and then traversed across the face a little toward the west and managed to get into another gully which led to the top. The top, of course, was the big more or less level area, just one or two bits of scrubby trees and a few flowers. I walked all over it and I was able to talk to my friends who were there on the ridge below. They were making tea for the time when I got back. I was quite happy to have got to the top because it had been a challenge for some time to different members of the Club. I got down without any great difficulty. There were loose rocks, but by having two handholds and two footholds at the same time, it was possible for the odd piece of rock to give way. But we got down and had our tea and enjoyed it and walked back around the opposite side of the lake from what we'd come over."
Second Ascent of The Table 1922
In 1922 Tom Fyles, Neal Carter and Bill Wheatley made, almost certainly, the second ascent of The Table.  Thirty-seven years later, in 1959 Neal Carter wrote a letter to Karl Ricker, in which he briefly mentioned the remarkable day.  "I was on the second ascent (again in 1922 - I must have been crazy that year). That's one mountain that I never want to climb again! The only consolation was that it was in the fog, so we couldn't see how far the drop below us was as we three clung to the loose chunks of rock that kept threatening to pull out of the sheer wall."  Pictured here is the start of the successful 1922 ascent of The Table with Tom Fyles on the left, Bill Wheatley top middle and Neal Carter bottom right with the famous rope around his neck that remained fixed for a decade.
In an article written for The Province newspaper shortly after the 1922 ascent, Neal Carter wrote about the treacherous climb in detail.  Recalling how after the first ascent in 1916, "Mr. Fyles, pronounced it so rotten and loose as to warrant the name of an unjustifiable hazard; in 1920 he made two attempts to re-ascend it, but failed.  This time we started off with 180 feet of alpine rope and the slogan "Table or bust."  We nearly "bust.""  Carter then continues the story in beautifully vivid detail.
"The weather was most unpropitious and soon after commencing the ascent, rain began to fall.  Tom Fyles went up first, with a rope about his waist, and all went well up to the first little pinnacle.  Here it was deemed advisable to continue up the arête at the low end; said arête being about as solid as a child's house of blocks.  Sixty feet of rope brought the party to the next stopping place, a little dip in the sharp arête that made a niche just big enough for two of us while Tom continued the ascent with 120 feet of rope dragging behind him.  Shower after shower of rock whizzed past our heads as we sat almost motionless for fifty-five minutes during which only 110 feet were gained.  Finally, a dim shout was heard: "All right," and our stiffened bodies were given a chance to exercise themselves on a slanting traverse of a precipitous rock-face composed of the shakiest material imaginable.  Fully half a ton of rocks were unavoidably dislodged during the ascent and descent; and did not add much to the confidence of the climbers as they went singing past in the fog to fall uninterrupted on the scree slopes below.
As the rope was followed upward in the fog, it finally landed us beside Mr. Fyles in another niche on a level with the summit, but connected to it by about twenty-five feet of wobbly, knife-edged ridge.  One of these rocks was partially demolished to enable us to grip a reasonably firm rock as we straddled along it.  Once the summit was reached, it was like stepping on to a macadamized field.  We built a good-sized cairn on the edge in plain view from below, and placed our own as well as Mr. Fyles' previous record in a subsidiary cairn beside it, around which were transplanted a few erigeron, or mountain daisies.  Several meanings may be taken from this as to our feelings towards the descent; however, camp was reached again at 7 o'clock and The Table was conquered for the second time after a five and a half hour climb of 240 feet and back, though 120 feet of rope remain attached to the top as a mute token of a guaranteed safe descent for all three of us.  It may be some time before another name is added to the three already in the cairn."
When Neal Carter refers to the summit as like stepping on to a macadamized field, he was using a term evidently more common at the time than now.  Macadamize is defined in regards to road building as laying and compacting successive layers of broken stone, often with asphalt.  So, Carter's description of the surface of The Table is that of a paved road comprised of broken stones and asphalt.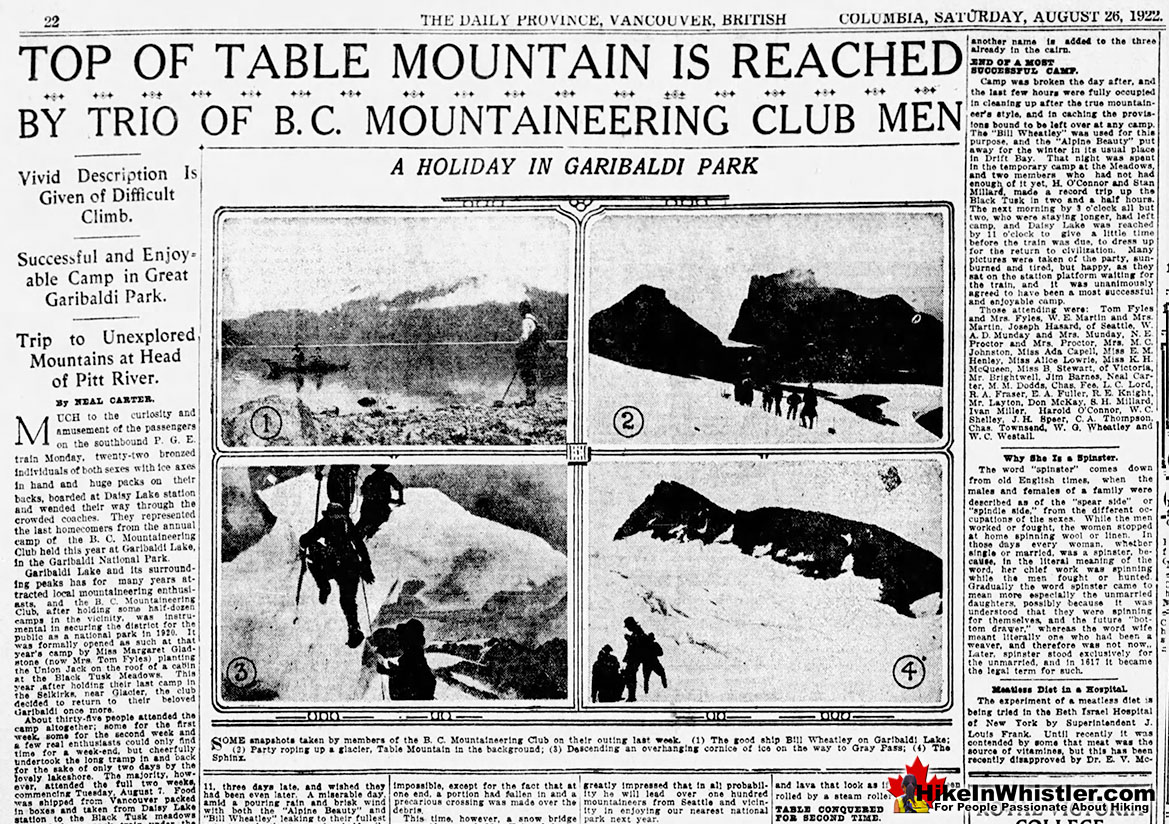 Mount Cayley & Mount Fee 1928
In July of 1928 Tom Fyles, Bill Wheatley and Eric Brooks bushwhacked their way from the train station at McGuire to the head of Brandywine Creek. McGuire is located 16 kilometres south of Whistler Village, off the Sea to Sky Highway, roughly between Brandywine Falls and Cal-Cheak. In 1928 it was a large community centred around several sawmills and was one of the main train stations that ran through the valley.  The head of Brandywine Creek that Fyles' party bushwhacked to in 1928 is now known as Brandywine Meadows. During this expedition they made the first ascent and named Mount Cayley, which Fyles modestly recalls it as, "an interesting mountain and a good climb." They named it after a friend and fellow club member who died just a month previously, Beverley Cayley. After Mount Cayley they set their eyes on another interesting and unnamed, jagged peak.  Fyles described it as a ridge of rock 500 feet above a snow ridge and resembled a, "crest of a wave just ready to break." They made two attempts but were defeated by the loose rock of the upper section. They named this forbidding peak, Mount Fee after another fellow BCMC member and friend that also recently passed away, Charles Fee(1865–1927).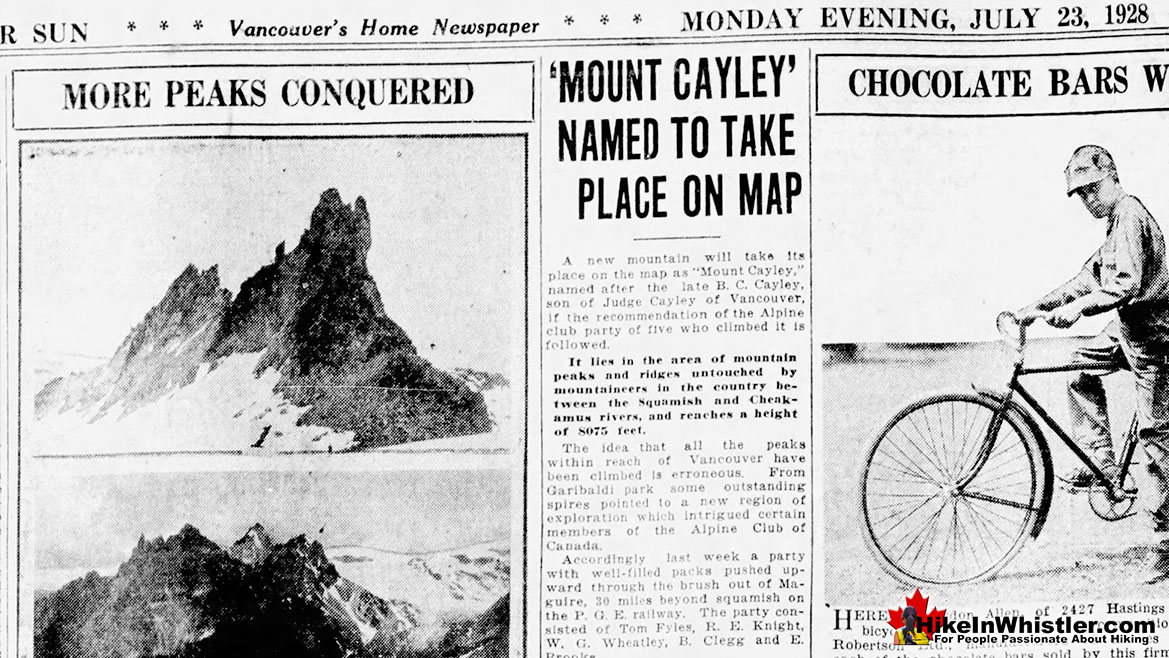 In the July 23rd, 1928 edition of the Vancouver Sun, the headline read, "More Peaks Conquered 'Mount Cayley' Named To Take Place On Map"
A new mountain will take its place on the map as "Mount Cayley" named after the late B.C. Cayley, son of Judge Cayley of Vancouver. If the recommendation of the Alpine Club party of five who climbed it is followed. It lies in the area of mountain peaks and ridges untouched by mountaineers in the country between the Squamish and Cheakamus rivers, and reaches a height of 8075 feet. The idea that all the peaks within reach of Vancouver have been climbed is erroneous. From Garibaldi Park some outstanding spire pointed to a new region of exploration which intrigued certain members of the Alpine Club of Canada. Accordingly, last week a party with well-filled packs pushed upward through the brush out of Maguire, 30 miles beyond S25quamish on the P.G.E. railway. The party consisted of Tom Fyles, R.E. Knight, W.G. Wheatley, B. Clegg and E. Brooks.  For six miles the going was easy over the old mining trail which linked up several claims. At a little over 5000 feet altitude, open meadowland was reached and here camp was pitched amongst heather. At the head of Brandywine Creek mountain peaks which offered exceptional difficulties beckoned the climbers. Several ridges of 6500 feet to 7200 feet were conquered. These divided the Brandywine, Callaghan and Squamish rivers and revealed delightful panoramas of the Garibaldi park peaks and the large glaciers and peaks of the upper Squamish valley.  The highest peak of the district proved to be a volcanic rim with spire-like towers, rising out of a snowfield which ran for many miles along the crest of the divide to the headwaters of Squamish valley. It required two attempts to climb this peak and an aneroid reading gave the height as 8075 feet. This is the new "Mount Cayley" in honor of B.C. Cayley who for several years was an ardent mountaineer. A second difficult volcanic flake of rock which rose to approximately 7500 feet, defied two determined efforts to climb it. It can be seen from Maguire station and remains unconquered. As a result of the trip local mountaineering circles will be interested in new photos and data available.
The Peaks of Bute Inlet 1930
Running up the coast from Vancouver between Vancouver Island and the mainland are several large inlets, also known as fjords.  Fjords are characterized as long, narrow arms of the sea that stretch far inland and are usually extremely deep. In Vancouver when you drive across the Lions Gate Bridge, you will be crossing Burrard Inlet, a relatively shallow-sided fjord formed during the last Ice Age. Up the coast from Burrard Inlet is Howe Sound, a huge fjord that extends to Squamish.  The Sea to Sky Highway famously runs along Howe Sound to Squamish before climbing into the mountains to Whistler. Called a 'sound' instead of an inlet or fjord because of its wide entrance. Particularly large and wide fjords/inlets are generally referred to as 'sounds' in the English language. Beyond Howe Sound are countless fjords stretching up to Alaska, though two in particular captured the attention of mountaineers from Vancouver in the 1930's, Toba Inlet and Bute Inlet.  Because these inlets cut so deep into the mainland of British Columbia, they provided comparatively easy access to scores of unnamed mountains that mountaineers in the previous decade had spotted from a distance. Geographically speaking, these inlets lead to regions that roughly extend to Mount Meager. Mount Meager lays near the headwaters of Lillooet River, which flows down the valley to the town of Pemberton.
Northwest of Vancouver the major inlets are Howe Sound, Jervis Inlet, Toba Inlet, Bute Inlet and Knight Inlet.  In the summer of 1930, Tom Fyles, Alec Dalgleish and Stan Henderson went on a two-week expedition into the relatively unknown mountains at the end of Bute Inlet.  At over 80 kilometres long and averaging 4 kilometres wide, Bute Inlet is a spectacularly wild and beautiful fjord that leads to 9000 foot mountains and glacier filled valleys.  Despite its beauty, even today, it is infrequently visited and relatively untouched.  In an article written by Fyles in the 1930 edition of The Canadian Alpine Journal, he describes the topography beautifully.  "In this group three or four peaks exceed perhaps 10,000 feet in height, and elevations of 8,000 or 9,000 feet are the general rule.  A large section is covered by a plateau of snow from which glaciers descend like the overflow of a generously iced cake.  Reference to a map might reveal in that section about half a dozen names and a few; short lines meant for rivers, but for the most part it is shown blank... This section is part of the Coast Range which stretches in an almost impenetrable line from the head of Howe Sound, 30 miles north of Vancouver to the Bella Coola valley, a distance of over 200 miles."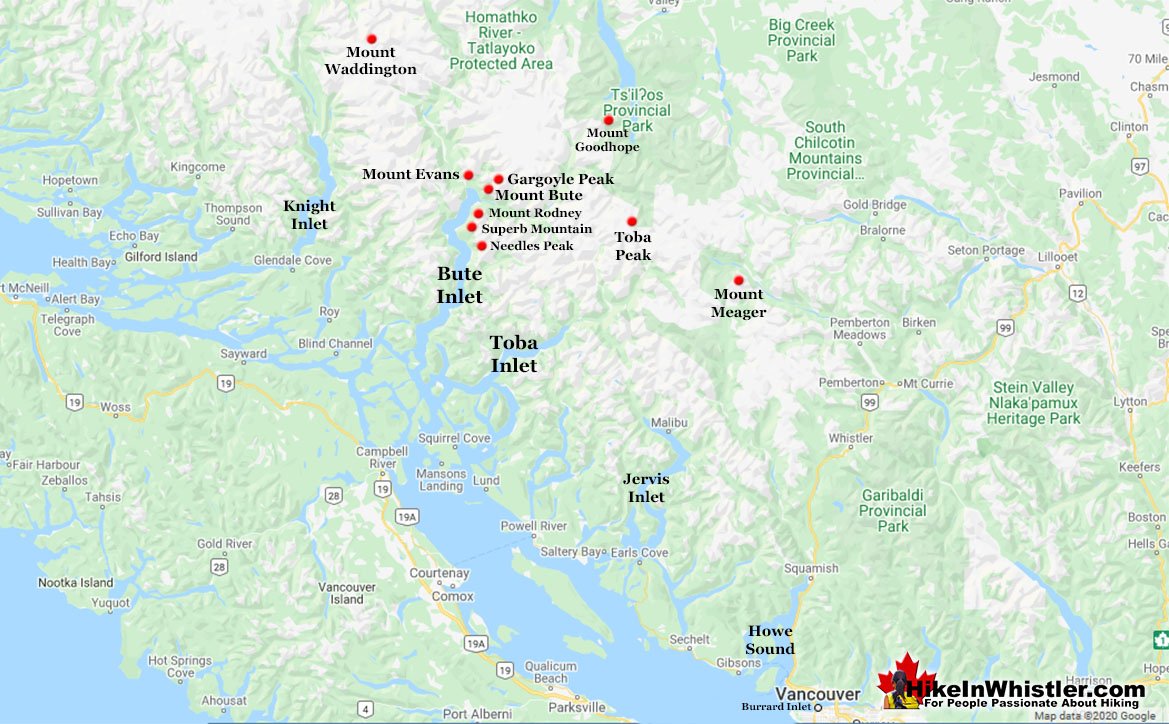 The journey to the head of Bute Inlet was by a weekly boat service that sailed every week from Vancouver on Saturday.  Sailing overnight, the Union Steamship "Chelosun" dropped them off on the small jetty at Homathko at the head of Bute Inlet.  From the ship they had hoped to get an idea of peaks to aim for and routes to navigate, but despite the clear weather, the steep sided inlet kept their planning to a minimum.  They decided that a relatively easy mountain should be climbed in order to gain a viewpoint over the region to plan their more ambitious climbs.  They decided on a modest sized 7000 foot mountain named Mount Evans, immediately north of their arrival point.  Fyles recalled,
The first problem was to row across the mouth of the Homathko River and find a landing sufficiently high on which to deposit our belongings and, as the tide was low, some time was lost.  It was almost noon when the base of the hillside was reached and the heat was excessive as we scrambled upwards through a tangle of brambles.  By continued effort a point overlooking the glacier was gained at 5pm and an hour and a half later from the crest of the snow-field above, at a height of 6,800 feet, we were rewarded by a splendid view of the surrounding country. Lengthening shadows emphasized the beauty of the array of mountains which had grown into our horizon as we ascended. Beyond the depression where the Homathko River moved seaward, 30 miles away, was Mt. Waddington and its high neighbors, and on all sides were mountain peaks 2,000 or 3,000 feet higher than the ridge on which we stood.
The next two days were spent hiking towards and climbing to the summit of Mount Bute. They recorded the altitude at the summit to be 9,200 feet, considerably higher than Mount Evans and they were able to see a lot more of the surrounding mountains.  "A jumble of peaks and glaciers spread in all directions as far as the eye could see. In a deep basin more than 9000 feet below, the head of Bute Inlet lay like a lake amidst a surrounding wall of mountains. Across the mouth of the Southgate River Mts. Rodney, Superb and the Needles Peaks rose from the east side of the Inlet, whilst behind them a fine unnamed group about 9000 feet high looked as if it would offer good climbing."
They returned to their camp and the following day made the long descent back down the valley to their starting point by the river at the head of Bute Inlet. They packed up more food and set off up the valley of the Teaquahan River. For two days, under heavy packs they bushwhacked their way into the unfamiliar wilderness along the wide and crashing river. By the end of the second day they had managed to just cover 10 or 12 miles before finally making camp and, "a cheery blaze and hot meal were very welcome after our strenuous endeavors."
The next morning, they followed a stream to its source which was an enormous glacier, which they were glad to hike on after miles of erratic, bushwhacking terrain. The easygoing glacier hiking was short lived however, as they came to an icefall a thousand feet high. They eventually skirted the obstacle by climbing a moraine and continuing further up the glacier to 5500 feet and another icefall. This obstacle was not to hard to cross and they once again continued up the glacier, which they named Eva after the name the locals use for Teaquahan River. Continuing along a ridge they soon reached an altitude of 8000 feet and finally got a good look at the difficulty that lay ahead. With the head of Eva Glacier blocked by an impossible to climb ridge, they decided to return back to camp. On their return journey along the moraine along the lower icefall, Henderson was bowled over by a large rock that he inadvertently disturbed. He received bad bruising to one leg and fortunately did not fall down the steep moraine. He was able to walk back to the camp, however was too battered to hike the following day. As Fyles later recalled,
The following morning, leaving Henderson to nurse his bruises, Dalgleish and I retraced our steps of the previous day and followed the upper part of Eva Glacier to where it merged into the great snow plateau at a height of 7,000 feet. Rising from the snowfield about a mile away, appeared a rocky blade 1,500 feet high, and as it was evident this would make an excellent viewpoint, the intervening distance was crossed and the southern arete climbed. It provided an interesting scramble. The highest point, a projecting rock about 50 feet high (which suggested the name Gargoyle for the peak) almost defeated our efforts to scale it but with the aid of a rope thrown over a convenient corner, the obstacle was overcome and a cairn built on the summit. The day was again perfect and for two and a half hours we stayed to enjoy the wonderful panorama, a sea of peaks wave on wave reaching to the horizon. The expanse of snow out of which our peak protruded spread in an undulating plateau 15 or 20 miles long and several miles wide, and formed the most interesting object of our view. Two or three peaks about 10,000 feet in height rose to the northeast; Mt. Goodhope near the south end of Chilko Lake farther east, while the big peak we had seen from Bute Mountain and which we had hoped to climb, looked temptingly near. Mt. Waddington again showed clearly to the northwest. Descending the rocks and picking up our trail on the snow below, we went down the slopes, reveling in the changing details of the snowy landscape with the deepening of evening shadows. On reaching camp we were rejoiced to find our friend much improved by his easy day. The following morning the journey out to the inlet was commenced and by taking easy stages to help our lame companion the trip was made in two days. Here we enjoyed the hospitality of Mr. and Mrs. Adkins, who were in charge of logging operations. The memory of a great feast from a table carrying a variety of food not included in our own bill of fare, will long remain.
Mount Cayley, Tricouni and & Mount Fee 1931
Three years after Tom Fyles, Bill Wheatley and Eric Brooks bushwhacked their way into the alpine of what we today call Brandywine Meadows, Tom Fyles returned. In the middle of July of 1931 Fyles pulled together another team of climbers to pick up where they left off in 1928.  Once again, they were unable to conquer Mount Fee, however they climbed Mount Cayley via a different route and climbed and named another mountain, Tricouni Mountain.  They chose the name tricouni, as it appears as three cones from a distance. Overall, the trip was a great success as the weather was perfectly sunny the entire time and they did considerable climbing and exploring.  They did however conclude that Mount Fee is too dangerous and an, "unjustifiable climb."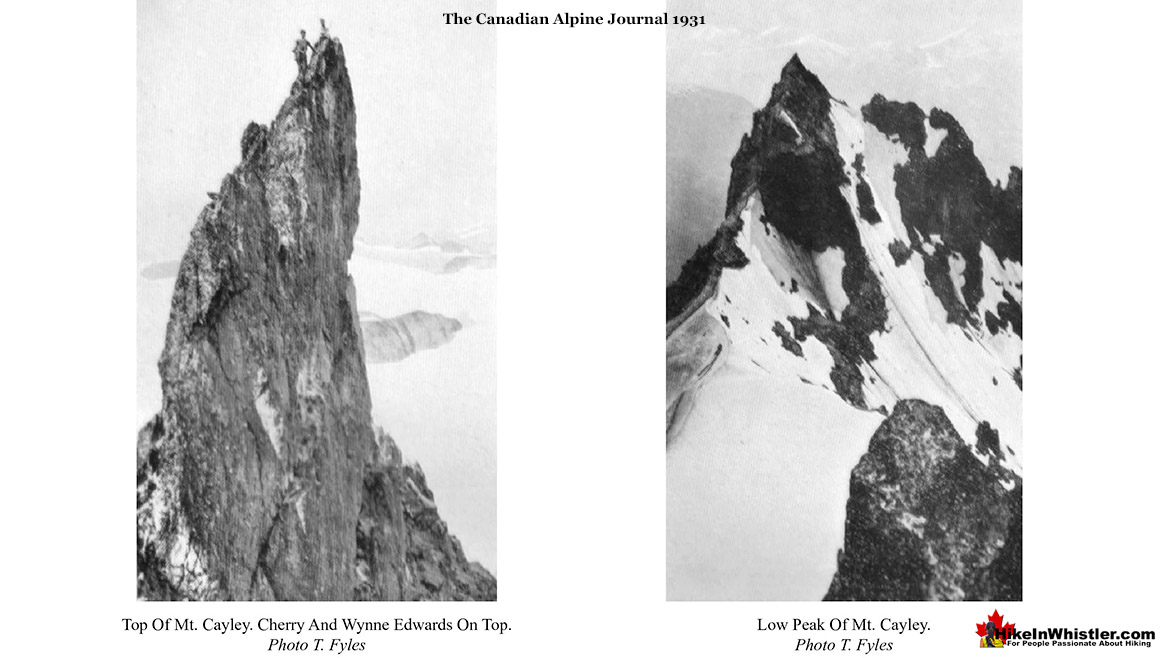 Explorations in the Lillooet River Watershed 1932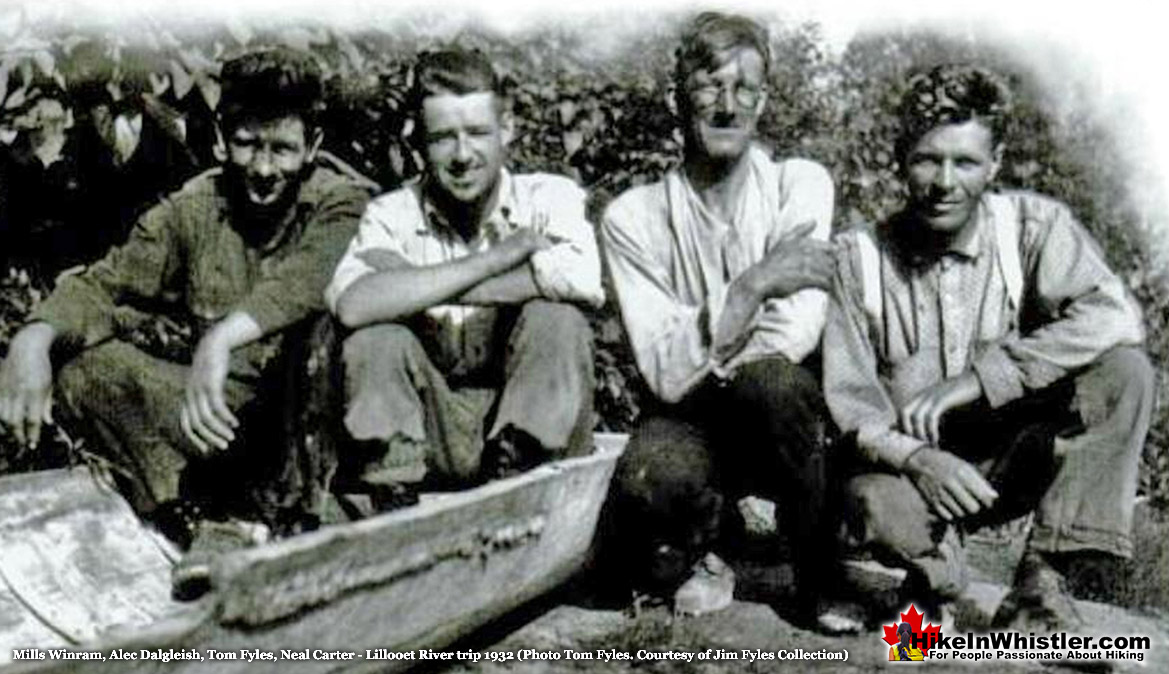 The Source of the Toba River 1933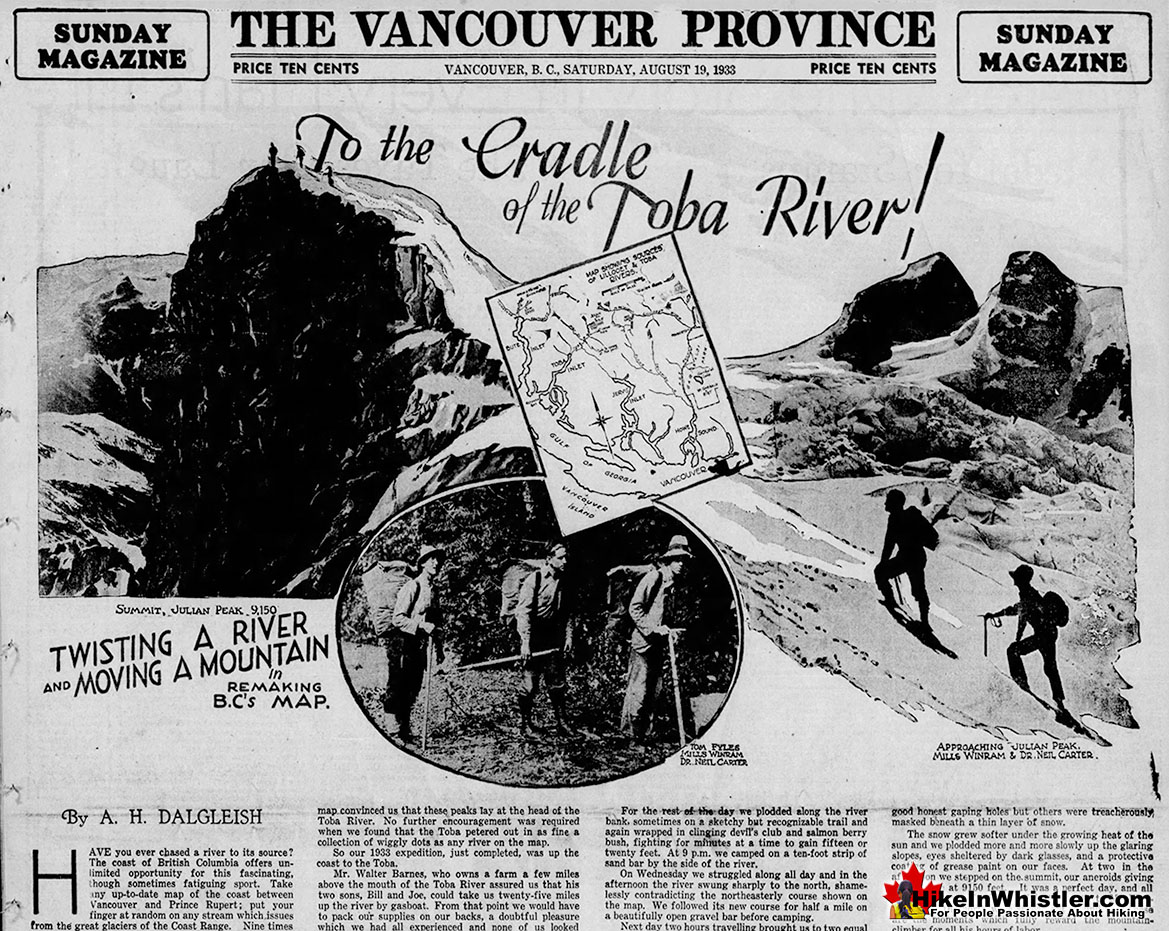 The Waddington Tragedy 1934
In the winter of 1933-1934 Alec Dalgleish and Alan Lambert laid out a plan to make an attempt on Waddington, a mountain that required a journey of several days to get to.  Eric Brooks and Neal Carter were to join them on this three week attack on the Coast Mountain's highest peak.  Mount Waddington is also British Columbia's highest mountain if you don't count Mount Fairweather and Mount Quincy Adams, which straddle the Alaska, BC border.  The assault on Mount Waddington would end in tragedy however, when Alec Dalgleish fell to his death while on a roped descent along a smooth, outwardly sloping ledge.  The belaying rope remained taut for just a moment before being cut by the sharp edge of a frost-shattered rock.  The cause of the fall was never determined as the only sound heard was a slight scratching of nailed boots on the rocks.  Lambert looked up and saw Dalgleish for just an instant before he disappeared over the cliff.  To quote Chic Scott again from Pushing The Limits, "Dalgleish was a very popular figure amongst Vancouver climbers, and could have drastically altered the course of Coast mountaineering had he lived."  After his death, Mount Julian was renamed Mount Dalgleish.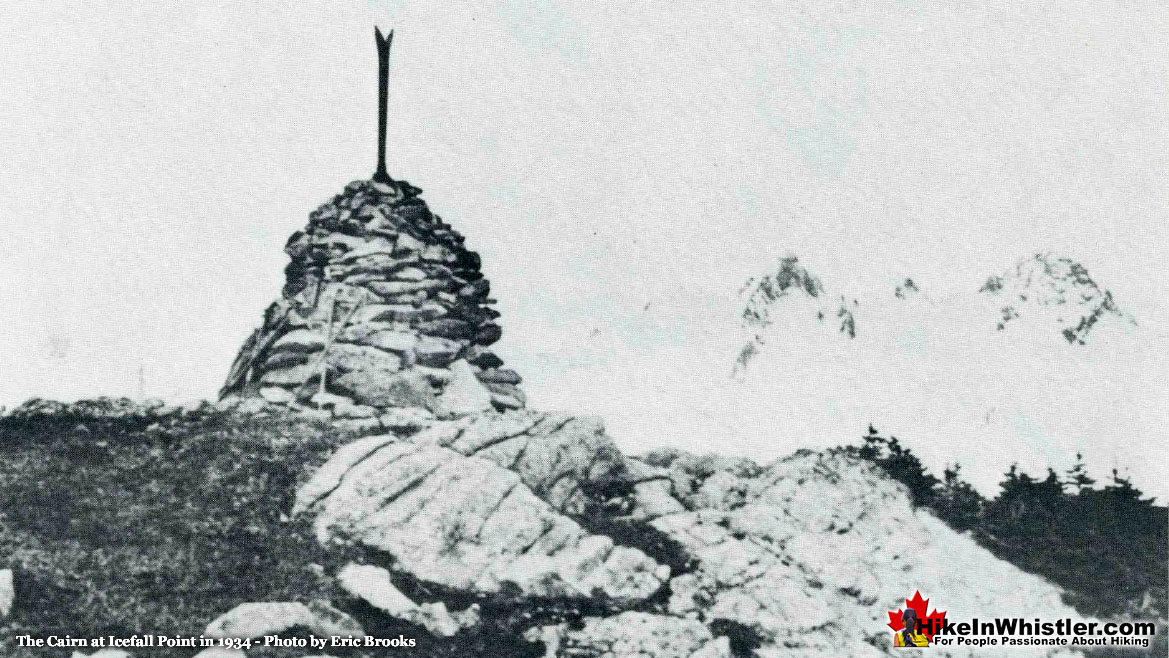 Several friends of Alec Dalgleish made the considerable journey to the scene of the accident just a few days later. Due to the precarious location of the accident it was estimated that it would take six men several hours to recover his body. As Neal Carter wrote later, "The slopes of Mount Waddington were chosen as the last resting place of Alec Dalgleish." Eric Brooks, Alan Lambert, Frank Smith, Stan Henderson and two of Dalgleish's work friends constructed a memorial cairn, "incorporating Dalgleish's skis and a suitably protected scroll now stands on a prominent elevation above Icefall Point, facing the scene of the last endeavor of a true mountaineer."
Great Books About BC Hiking!


Here are two excellent books on hiking and geology of British Columbia.  Matt Gunn's Scrambles in Southwest British Columbia includes the various routes to the summit of Wedge Mountain as well as summit routes to the neighbouring peaks, Weart, Cook, Parkhurst and Rethel.  Mount Weart is the second highest mountain in Garibaldi Park and is located just north of Wedge Mountain, separated by the Wedge-Weart Col.  Published in 2005, Scrambles in Southwest British Columbia is still the best guide in print or online.  A Passion for Mountains by Kathryn Bridge is a fascinating look at Don and Phyllis Munday's prolific exploration of the mountains in BC.  Based out of Vancouver, they were dominant figures of the climbing community in the early 1900's.  In 1923 they visited their friend Neal Carter in Alta Lake(Whistler) and explored the mountains around the valley.. many for the first time!
**We participate in the Amazon Services LLC Associates Program and earn a small commission on purchases we link through to Amazon at no extra cost to you.  We only link to books and products we love and highly recommend.  Thanks for your support!**
Whistler & Garibaldi Hiking

Alexander Falls  

Ancient Cedars  

Black Tusk  

Blackcomb Mountain  

Brandywine Falls  

Brandywine Meadows  

Brew Lake  

Callaghan Lake  

Cheakamus Lake  

Cheakamus River  

Cirque Lake 

Flank Trail 

Garibaldi Lake 

Garibaldi Park 

Helm Creek  

Jane Lakes 

Joffre Lakes  

Keyhole Hot Springs  

Logger's Lake  

Madeley Lake  

Meager Hot Springs 

Nairn Falls  

Newt Lake 

Panorama Ridge 

Parkhurst Ghost Town 

Rainbow Falls  

Rainbow Lake 

Ring Lake  

Russet Lake  

Sea to Sky Trail 

Skookumchuck Hot Springs  

Sloquet Hot Springs 

Sproatt East 

Sproatt West  

Taylor Meadows  

Train Wreck  

Wedgemount Lake  

Whistler Mountain

January 

February 

March 

April 

May 

June 

July 

August 

September 

October 

November 

December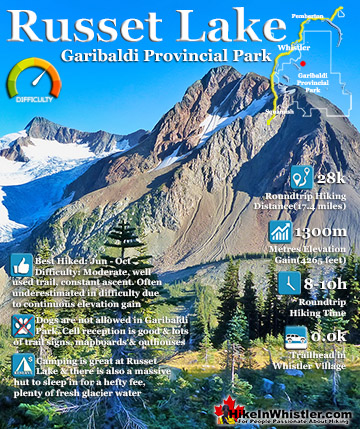 Read more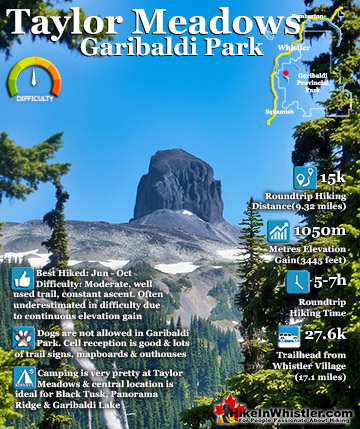 Read more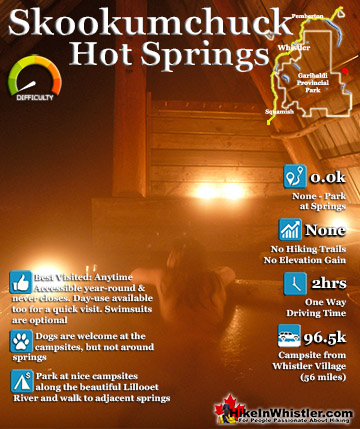 Skookumchuck Hot Springs(aka T'sek Hot Springs and St. Agnes Well), located two hours north of Whistler along the edge of the huge
Lillooet River
. The name Skookumchuck means "strong water" in the language ...
Read more