Squamish sits in the midst of some amazing places to hike. Garibaldi Park sprawls from Squamish up and beyond Whistler. Tantalus Provincial Park lays across the valley to the west and the beautiful and desolate, by comparison, Callaghan Valley to the north. Add to that the smaller and locally cherished Provincial Parks, Alice Lake, Stawamus Chief, Shannon Falls and Murrin, make Squamish a world class hiking destination.
Squamish & Garibaldi Hiking

Alice Lake

Black Tusk

Brandywine Falls

Brew Lake

Cirque Lake

Elfin Lakes

Garibaldi Lake

High Falls

Levette Lake

Panorama Ridge

Ring Lake

Sea2Sky

Shannon Falls

The Chief

Taylor Meadows

The Lions

Upper Shannon

Black Tusk is a mountain of unbelievable beauty. It possesses the incredible distinction of looking more impossible to climb the closer you get to it. Even when you are close enough to touch its vertical, black and foreboding sides, you wonder in amazement how anyone can ever reach the top. It's vertical on all sides. The barely distinguishable trail skirts its edge along the ledge of a perilous scree slope that runs around its trunk.  As you clamour carefully along the trail you come to a chute heading almost straight up. Again, even this close you will wonder, as almost everyone else at this spot, "I don't think this is a safe way to go." Then you pause and look around. Many take a seat at this moment and marvel at the view. Spectacular. Just spectacular.  Above the clouds, looking over the impossibly blue Garibaldi Lake, nestled in endless snowy mountains.
There is even snow just below you, in the valleys of scree that crumbled from Black Tusk. The scree is black, very black. Contrasted with the snow, clouds, lake and sky, the view is breathtaking.  Most people don't continue up the final chute to the top, it's that scary. This is justifiable. It is unquestionably unsafe.  Chunky rock holds pull free as you grip them. Above you jet black, jagged rocks tumble and ricochet down on and around you. And the view is so spectacular around you that it's easy to justify turning around.  But the final ascent is not really that hard. Keep your head down, three points of contact at all times, slow and steady and you reach the top of the world. The Rubble Creek trailhead is, for most hikers, the best trailhead option for Black Tusk. It is easy to find, clearly marked and the most direct route.  The Cheakamus Lake trailhead is a bit longer and you have to leave the marked trail to ascend to Black Tusk.  Though this unmarked route is straightforward and surprisingly easy, as it is unmarked it requires a bit of guesswork that may be intimidating.  The Cheakamus Lake trailhead route also lacks one other wonderful attribute that the Rubble Creek route has, a pit-stop at Garibaldi Lake.  This less than 30 minute detour(one way) allows for a spectacular place to cool off in an always frigid, glacier fed lake!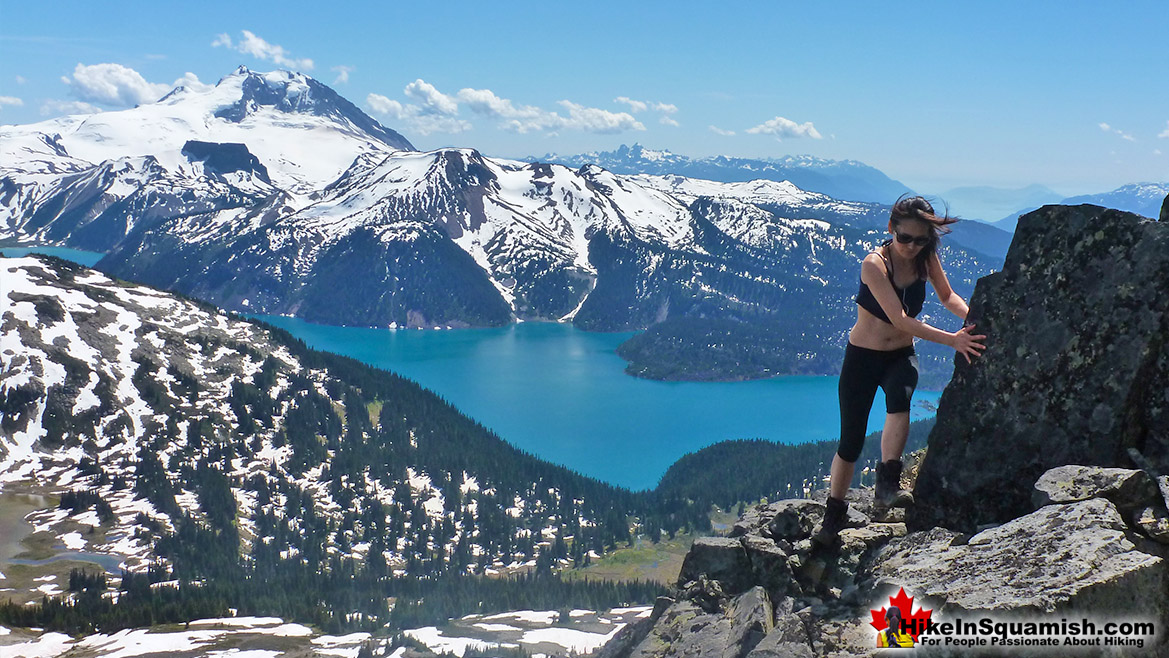 Brandywine Falls Provincial Park

Brandywine Falls Provincial Park is a beautiful stop in between Squamish and Whistler.  It's about 25 minutes north of Squamish, 11k south of Whistler.  The hike from the parking lot to the falls is less than a kilometre and on a wide and flat trail.  Most people miss the other viewpoint from above the falls, from the train tracks bridge.  To find it is easy.  As you walk toward the falls from the parking lot you will have to cross train tracks.  Standing at the train tracks look to your right and you will see a bridge that the train tracks cross.  Walk over to that to see the falls from above.  Amazing!  Brandywine Falls drop an amazing 66 metres (216 feet) into the chasm far below that the viewing platform extends over.  Another trail extends past this viewing area leading to another, quieter area overlooking Daisy Lake.  This area is just a short, minute or two walk from the first viewing area.  During the winter months the parking lot gate is locked and buried in snow.  The snowplows make room for cars at the edge of the highway making Brandywine Falls open year round.  With the deep snow however, you may need snowshoes.  Brandywine Falls is popular with cross country skiers and snowshoers in the winter.  The Sea to Sky Trail runs through Brandywine Falls Provincial Park and you will immediately see Sea to Sky Trail signs from the parking lot.  From the parking lot you cross the covered bridge, turn right and after just a couple hundred metres you will see a Sea to Sky Trail branch off to the left.  This trail meanders through the forest and rises up to a plateau with views of Black Tusk and the distant Daisy Lake.  Further along, (3 kilometres from the trailhead), you will come to the amazing Bungee Bridge that crosses the Cheakamus River from a dizzying height.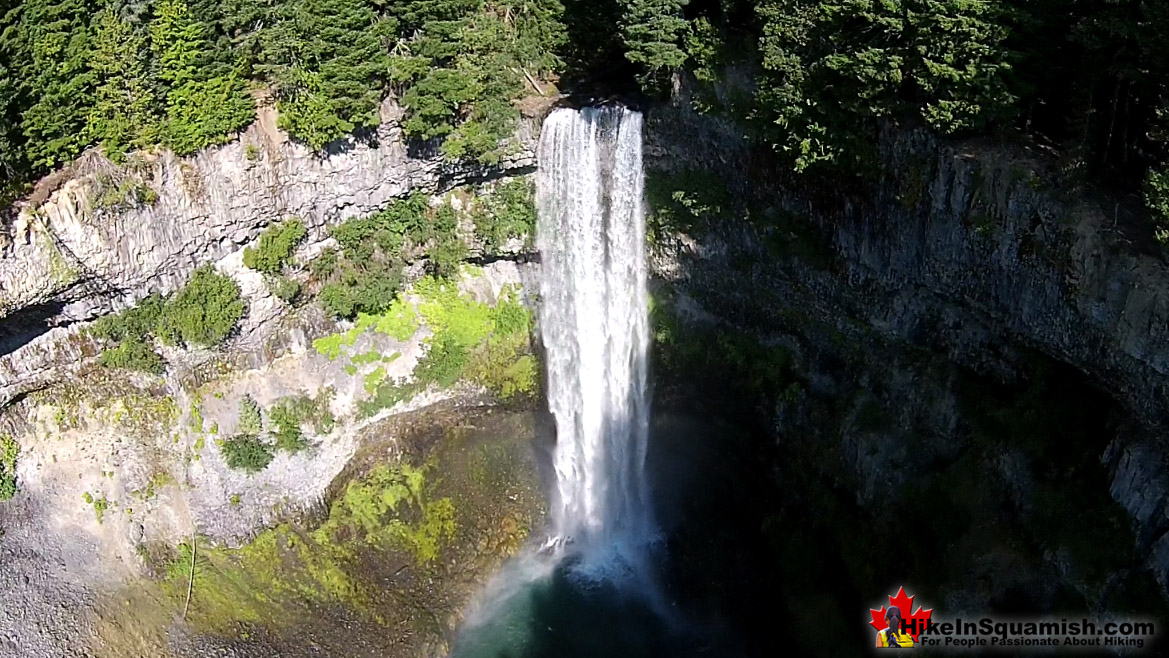 Brew Lake

Brew Lake is beautiful mountain lake in the Callaghan Valley, north of Squamish.  Compared to Garibaldi Provincial Park across the valley, the Callaghan Valley is relatively unknown and seldom hiked.  Brew Lake lays in a massive alpine valley of enormous erratics scattered around and in the lake.  On first seeing it, it looks serene, yet wild and hostile.  The lake is surrounded on one side by idyllic tree covered hills and lakeside cliffs and on the other side a brutal looking wasteland of huge boulders sloping up from the lake to the skyline.  Hiking into this wasteland of erratics reveals an amazing paradise of small, island forests, cute streams and endless worlds within worlds to explore.  You find yourself wandering along like a kid mesmerized at what you will find next.  Brew Lake itself doesn't come close in wow factor to the postcard-perfect alpine lakes such as Wedgemount Lake, Joffre Lakes, Cheakamus Lake or Garibaldi Lake, but I does beat these lakes in other aspects.  Because Brew Lake is outside of Garibaldi Provincial Park, few people have heard of it.  More often than not you will have both the lake and entire valley to yourself.  An increasingly rare occurrence elsewhere that gives the place a quiet calm and that strange and satisfying feeling that there are no other humans for quite some distance.  You have that exhilarating wilderness feeling that sometimes gets lost on other Whistler area hikes when you start the trail from a parking lot packed with cars.  The fact that the Brew Lake trail doesn't have a parking lot or proper trailhead actually makes it more mysterious, adventurous and in some ways more fun...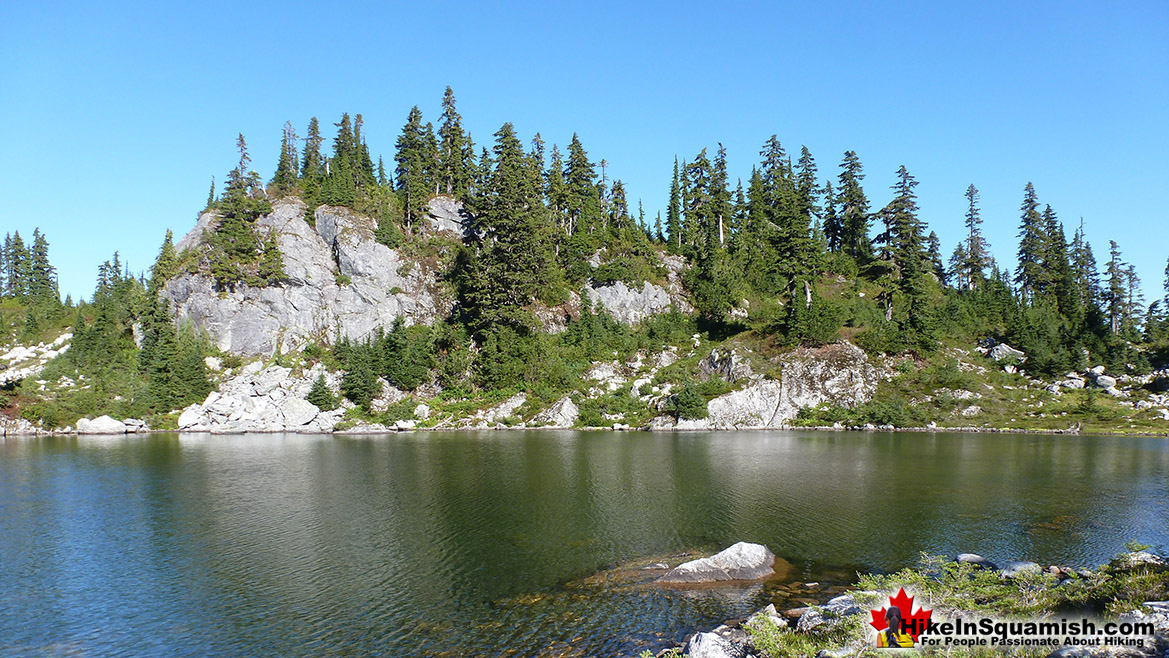 Garibaldi Lake in Garibaldi Park

Garibaldi Lake is the centre and base for much of the hiking in Garibaldi Park.  The Garibaldi Lake campsite is located on the amazing, turquoise shores of this massive and mostly undisturbed mountain lake.  There are no trails around the perimeter of the lake with the exception of the small section leading to the campsite, so your view of the lake is a sea of unnaturally coloured water ringed by swaths of forest and a magnificent glacier towering in the distance.  The water is painfully cold, though plenty of brave hikers swim here as well as camp.  The camping area is well laid out and stretches deep into the forest with 50 tent clearings.  You can, except for the busiest of days, put your tent out of earshot and sight of others. The trail to Garibaldi Lake from the Rubble Creek trailhead, just off of the Sea to Sky Highway takes about two hours.  You gain a fair amount of elevation, 900 metres in just 9k, trailhead to lake.  Partway along the trail to Garibaldi Lake the trail forks.  Right to Garibaldi Lake and left goes to another beautiful campground, Taylor Meadows.  Beyond Taylor Meadow and Garibaldi Lake is the amazing Black Tusk.  Black Tusk, Taylor Meadows and Garibaldi Lake can be done in one long 30k dayhike, trailhead to trailhead, but expect to take 8-10 hours.  The Garibaldi Lake trailhead is located just 25 minutes north of Squamish.  Keep your eye out for the hard to miss highway sign.  Preview All Squamish Hiking Trails Here...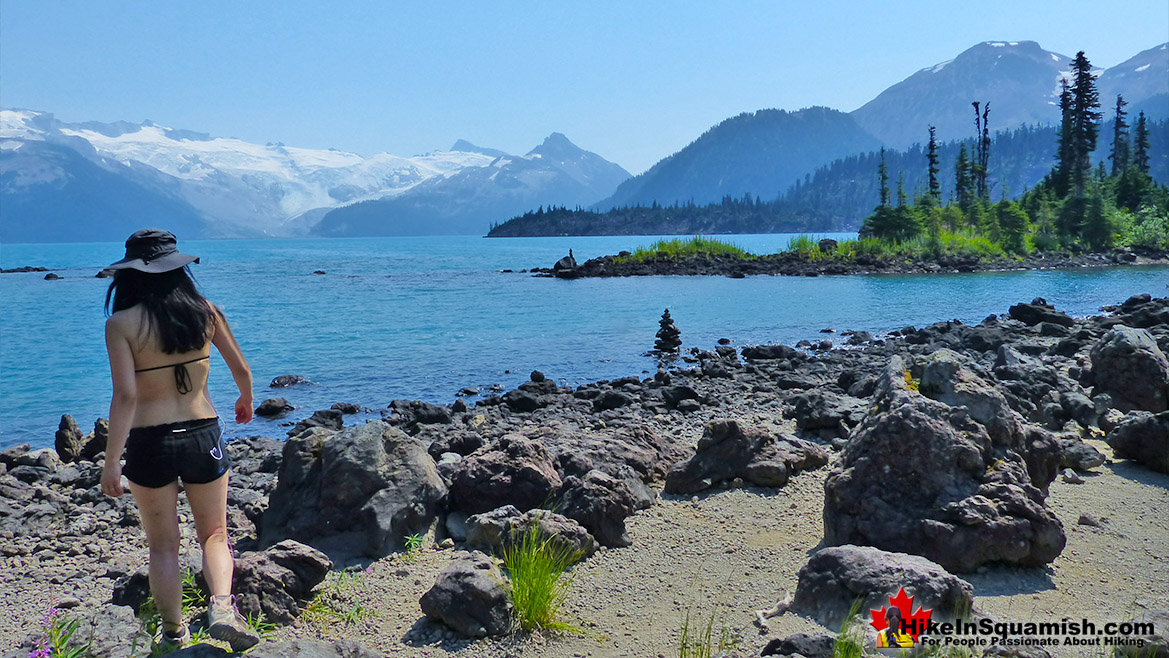 Whistler   

Squamish  

Vancouver  

Clayoquot  

Victoria 

West Coast Trail
Hike in Squamish & Garibaldi Provincial Park

Alice Lake

Black Tusk

Brandywine Falls

Brew Lake

Cirque Lake

Elfin Lakes

Garibaldi Lake


High Falls

Levette Lake

Panorama Ridge

Ring Lake

Sea2Sky

Shannon Falls

The Chief

Taylor Meadows

The Lions

Upper Shannon
Garibaldi Park Wildlife & History


Plants of the Whistler Region is an excellent book that includes great pictures and descriptions of most trees you will find in Whistler. Small enough to fit in your pocket and comprehensive enough to identify most things you will encounter growing in the forests of Whistler. Along with conifer trees and broadleaf trees the book has chapters on flowers, berries, ferns and shrubs. You can find Plants of the Whistler Region on Amazon, the Whistler Library and at Armchair Books in Whistler Village. The author Collin Varner has a wonderful series of Plants of.. books on various regions beyond Whistler. Plants of Vancouver and the Lower Mainland, Plants of the Gulf and San Juan Islands and Southern Vancouver Island, and Plants of the West Coast Trail. In the last couple years he has started a new series of books. The Flora and Fauna of Coastal British Columbia and the Pacific Northwest and Edible and Medicinal Flora of the West Coast: British Columbia and the Pacific Northwest.  A Passion for Mountains by Kathryn Bridge is a fascinating look at Don and Phyllis Munday's prolific exploration of the mountains in BC.  Based out of Vancouver, they were dominant figures of the climbing community in the early 1900's.  In 1923 they visited their friend Neal Carter in Alta Lake(Whistler) and explored the mountains around the valley.. many for the first time!
**We participate in the Amazon Services LLC Associates Program and earn a small commission on purchases we link through to Amazon at no extra cost to you.  We only link to books and products we love and highly recommend.  Thanks for your support!**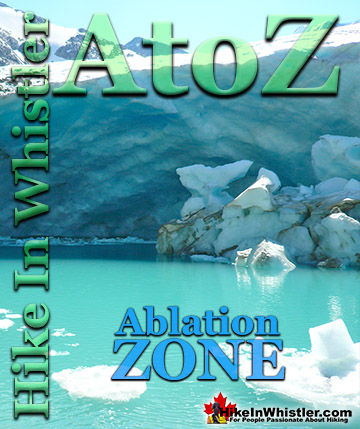 Ablation Zone: the lower altitude region of a glacier where there is a net loss of ice mass due to melting, sublimation, evaporation, ice calving or ...
Read more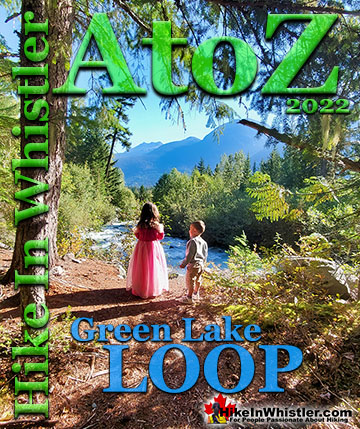 The Green Lake Loop is the original trail that runs around the back side of
Green Lake
.  Before the Sea to Sky Highway was cut through the valley in 1964, ...
Read more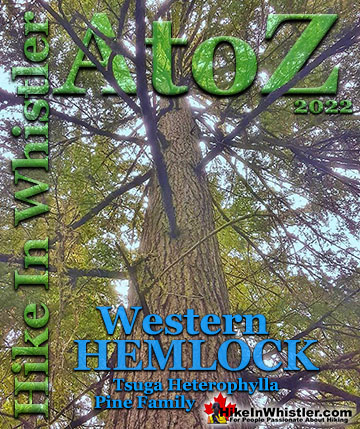 Western hemlock (tsuga heterophylla) is a large evergreen coniferous tree that is native to the west coast of North America. Unlike many other trees in ...
Read more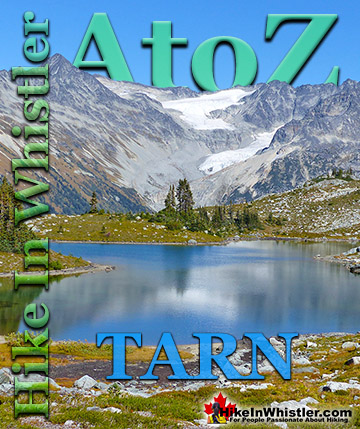 Tarn: a small alpine lake.  The word tarn originates from the Norse word tjorn which translates to English as pond.  In the United Kingdom, tarn is widely ...
Read more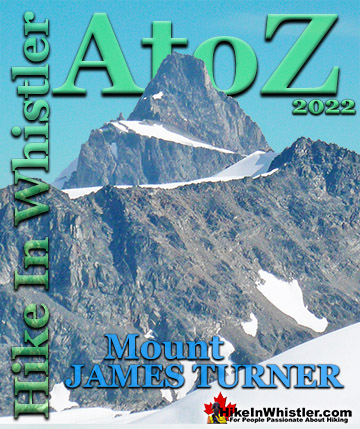 If you make it to the summit of
Wedge Mountain
you will notice off in the distance a beautifully symmetrical mountain that stands out among the rest.  ...
Read more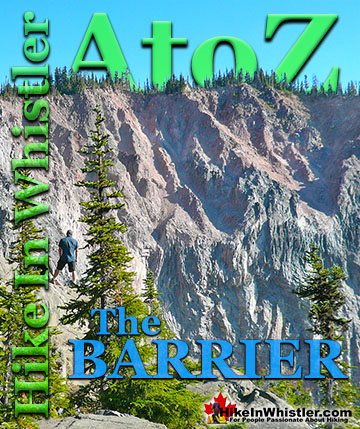 The Barrier formed as a result of huge lava flows from Clinker Peak on the west shoulder of Mount Price during the last ice age.  About thirteen thousand ...
Read more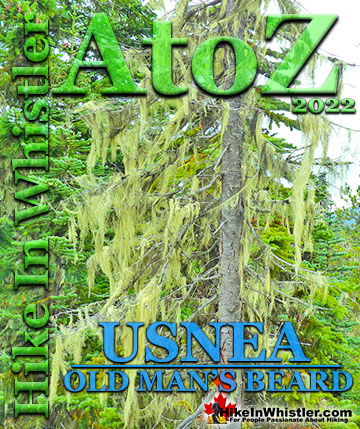 The pale green shub-like growths hanging from trees in the forests around Whistler is called usnea.  These bushy, coral-like fruticose lichens anchor to bark ...
Read more
Whistler & Garibaldi Hiking

Alexander Falls  

Ancient Cedars  

Black Tusk  

Blackcomb Mountain  

Brandywine Falls  

Brandywine Meadows  

Brew Lake  

Callaghan Lake  

Cheakamus Lake  

Cheakamus River  

Cirque Lake 

Flank Trail 

Garibaldi Lake 

Garibaldi Park 

Helm Creek  

Jane Lakes 

Joffre Lakes  

Keyhole Hot Springs  

Logger's Lake  

Madeley Lake  

Meager Hot Springs 

Nairn Falls  

Newt Lake 

Panorama Ridge 

Parkhurst Ghost Town 

Rainbow Falls  

Rainbow Lake 

Ring Lake  

Russet Lake  

Sea to Sky Trail 

Skookumchuck Hot Springs  

Sloquet Hot Springs 

Sproatt East 

Sproatt West  

Taylor Meadows  

Train Wreck  

Wedgemount Lake  

Whistler Mountain

January 

February 

March 

April 

May 

June 

July 

August 

September 

October 

November 

December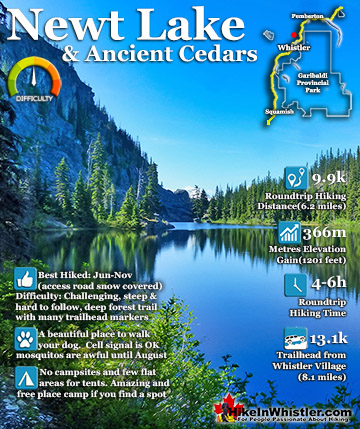 Newt Lake is beautiful little lake high up on the far side of Cougar Mountain near
Ancient Cedars
.  Its location is a wonderful mix of unexpected characteristics that combine to make it a gorgeous place to ...
Read more
Helm Creek is a cute, meandering creek that winds its way from beyond
Black Tusk
, down the valley to the wonderful campground that takes its name. From the Helm Creek campground, Helm Creek descends further ...
Read more
Panorama Ridge is easily one of the most amazing hikes in
Garibaldi Provincial Park
.  The 15 kilometre(9.3 mile) hike from the trailhead at
Rubble Creek
to Panorama Ridge takes you through beautiful and deep ...
Read more