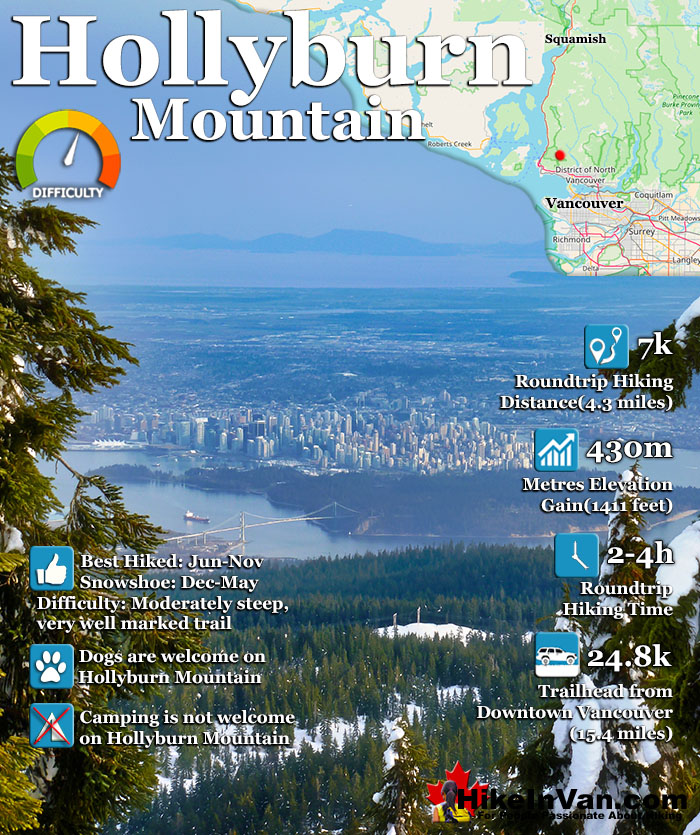 Hollyburn Mountain in Cypress Provincial Park, is an amazing hiking and snowshoeing trail. The Hollyburn trailhead is an astonishingly close, 30 minute drive from downtown Vancouver. The 30 minutes is quite something as well. From the always beautiful crossing of the Lions Gate Bridge, to the incredible views of Vancouver from the approach drive to Cypress Mountain and the Hollyburn Mountain trailhead.
Beautiful drive to get there

Stunning views at the summit

Some great views from the trail
Not too hard, kid friendly
Fun, free winter snowshoe trail

Dog friendly year-round

Many more trails in Cypress Park

Trail is almost always sun facing

One of the best Vancouver views

Snow persists well into June
Vancouver Hiking Trails

Black Mountain

Brunswick Mountain

Burnaby Lake

Burnaby Mountain

Coliseum Mountain

Crown Mountain

Cypress Falls

Deeks Peak

Deep Cove

Deer Lake

Dog Mountain

Goat Mountain

Goldie Lake

Grouse

Hollyburn Mountain 

Kitsilano Beaches

Lighthouse Park

Lynn Canyon

Lynn Peak

Mt Elsay

Mt Fromme

Mt Hanover

Mt Harvey

Mt Seymour

Mt Strachan

Mystery Lake

Pacific Spirit

Rice Lake

St Mark's

Stanley Park

The Lions

Unnecessary
You would almost expect that there would be various fees for parking, trail use, etc.  But the Hollyburn Mountain trail is completely free.  No charge for parking or trail use.  Also, dogs are welcome and you will likely be able to park within a few metres of the trailhead. As if it couldn't get better, it does... the trail is so well marked that it can easily be done after dark, as many do.  What a perfect escape from the city.  A perfect mountain escape to a towering mountain paradise far above the big city below.  The city lights are amazing.  From the lights of the Lions Gate Bridge, to the beautifully bright tankers, to the wondrously glowing Vancouver towers. This hike has it all.  Great views, easy hike, convenient times to use, and of course free.  Hiking or snowshoeing Hollyburn Mountain is yet another spectacular piece of the whole amazing Vancouver experience.  Hollyburn Mountain is easily done in a half day trip from Vancouver as it is quite close and quite a short hike/snowshoe, at only 7k roundtrip.  Go early for the amazing sunrise, or late in the day for the unbelievable sunset.  The Hollyburn Mountain trail is very well marked with light reflecting, neon orange, 6 foot tall marker poles, only a few metres apart most of the way.  Though the trail is a fairly constant uphill it is a relatively short trail.  Most make it to the summit of Hollyburn in an hour from the trailhead.
Coming down is quite a bit faster and you will see people using crazy carpets on the trail in the winter.  In the summer with no snow, your downward pace will be quite fast as compared to uphill.  If you plan to hike or snowshoe Hollyburn Mountain after dark, make sure you have a light and a backup light.  The trail marker poles only reflect light, so you could easily lose the trail without lights after dark.
The amazing views from the summit of Hollyburn Mountain include, the Lions Gate Bridge, Vancouver, West Vancouver, Howe Sound and Georgia Straight, the Lions, and quite a lot else.  Hollyburn Mountain is one of the highest around and the view is a panoramic 360.  The drive to and from Hollyburn Mountain is amazing. If you are not too excited about hiking or snowshoeing, the drive alone is well worth it.  There are a couple amazing places to stop on the drive up.  Both have a beautiful parking area perched on the edge of the mountain along the road.  Picnic tables and nice information boards to go with the amazing views.
Discover Hollyburn Mountain at HikeInVan.com

Best Whistler & Garibaldi Park Hiking Trails!
Whistler & Garibaldi Park Hiking by Month!
Explore BC Hiking Destinations!