May 8th, 2019: After crossing the bridge to Whistler Train Wreck you come to the Hidden Agenda car and sloping down to the edge overlooking Cheakamus River is the Prism Car.  The next wrecked boxcar you come to is the Mic Man car.  This train wreck turned canvas is the most painted car in all of Whistler Train Wreck.  It first came to life with brilliant colour back in 2011, when Kups painted a brilliantly surreal, cartoonish mural of a zombie-like man singing into a microphone.   

Whistler & Garibaldi Hiking

Alexander Falls  

Ancient Cedars  

Black Tusk  

Blackcomb Mountain  

Brandywine Falls  

Brandywine Meadows  

Brew Lake  

Callaghan Lake  

Cheakamus Lake  

Cheakamus River  

Cirque Lake 

Flank Trail 

Garibaldi Lake 

Garibaldi Park 

Helm Creek  

Jane Lakes 

Joffre Lakes  

Keyhole Hot Springs  

Logger's Lake  

Madeley Lake  

Meager Hot Springs 

Nairn Falls  

Newt Lake 

Panorama Ridge 

Parkhurst Ghost Town 

Rainbow Falls  

Rainbow Lake 

Ring Lake  

Russet Lake  

Sea to Sky Trail 

Skookumchuck Hot Springs  

Sloquet Hot Springs 

Sproatt East 

Sproatt West  

Taylor Meadows  

Train Wreck  

Wedgemount Lake  

Whistler Mountain

January 

February 

March 

April 

May 

June 

July 

August 

September 

October 

November 

December

Alexander Falls 

Brandywine Falls  

Cirque Falls  

Holloway Falls 

Keyhole Falls 

Nairn Falls 

Rainbow Falls 

Shannon Falls 

Train Wreck Falls 

Wedgemount Falls
He is wearing a mask over his head like an old school wrestler from the 70's would have worn.  On the forehead of the mask it appears to be a Canadian flag.  His zombie-like sideways stare can be seen through the eye holes and mouth/nose hole.  The mural covers the entire side of the train car and it seems likely that most or all of it was done by Kups.  No obvious "Kups" signature could be spotted, however along the end of the very mangled boxcar the mural seems to continue and there the Kups signature was located.  Brilliantly coloured and surreal in such an unusual, tranquil and hidden forest with seven mangled train boxcars scattered.  Whistler Train Wreck went from a curiously interesting, old train wreck site, to a brilliant collection of stunning murals during that one summer night in 2011.  Located on a particularly beautiful stretch of Cheakamus River, the Whistler Train Wreck is a collection of seven boxcars that were craned into the forest here after derailing 72 years ago.  Desperate to get the train tracks cleared after the boxcars jumped the rails and wedged in the rock cut nearby, a local logging company brought in a 35 tonne crane and yanked them into the forest.  The boxcars lay in the forest here as junk for decades until they were brought to life by local artists that turned the train wrecks into beautiful works of art.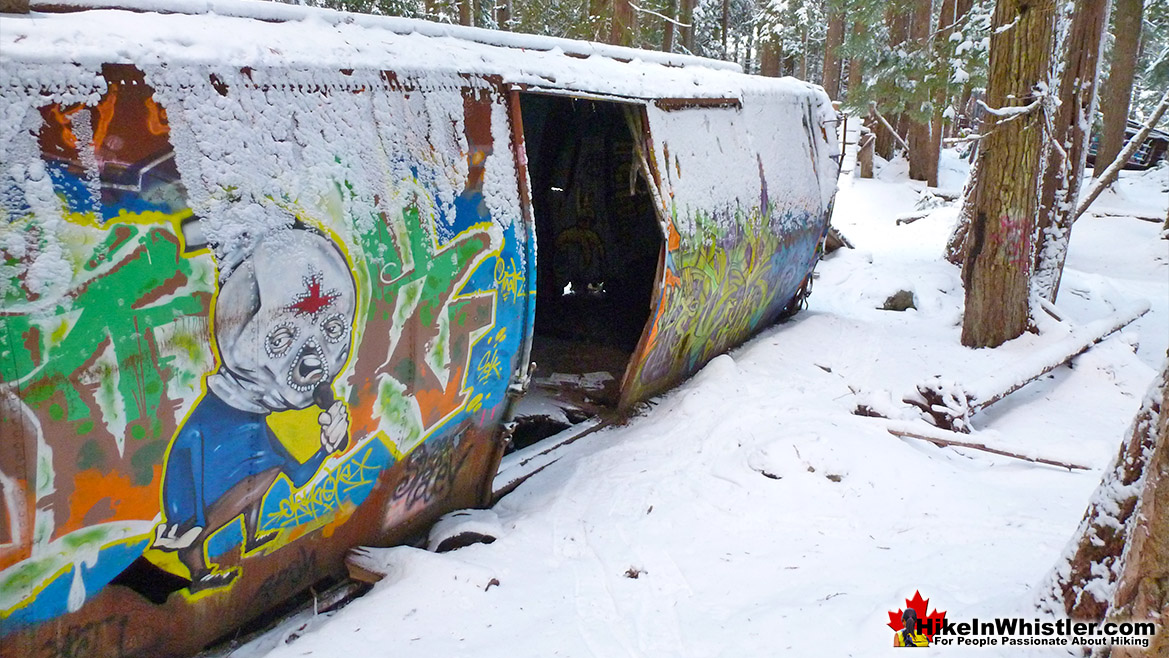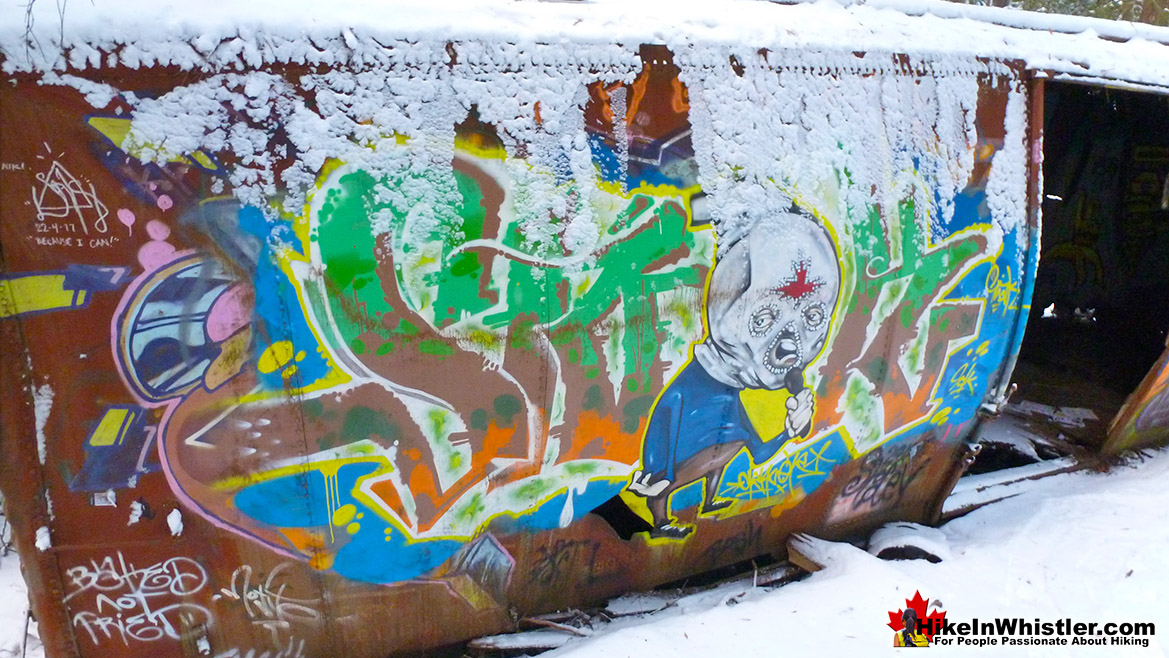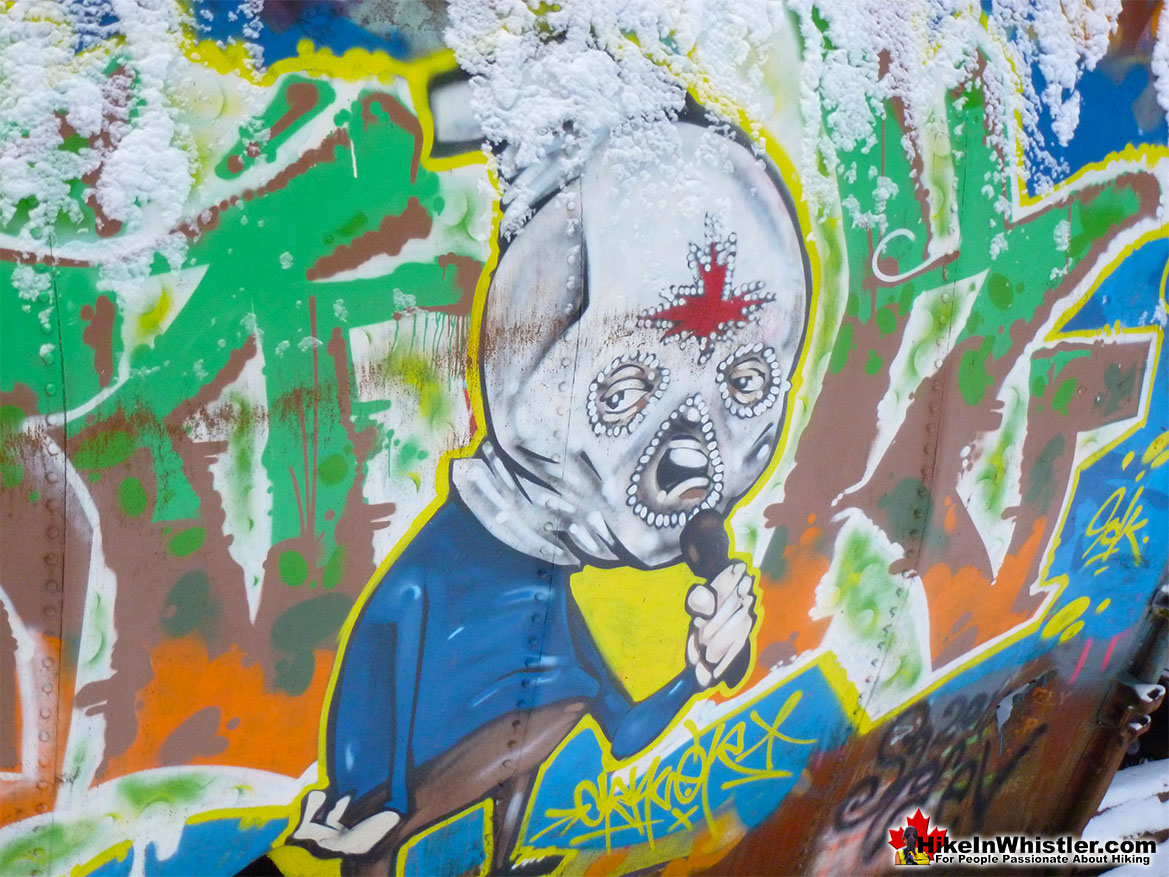 In 2012 and 2013, the surreal and beautiful Mic Man mural was painted over by random and not very impressive graffiti.  Turning this boxcar into an ugly mess of boring graffiti.  In 2014, another mural artist came along, painted the entire side of the boxcar a dull rust colour and then painted a beautifully cartoonish devil.  The mural stretched across the open door to the end of the car.  NL666 is written in the bottom corner and large graffiti letters engulf the devil character.  Due to the apparent popularity of this well positioned Whistler Train Wreck boxcar, the devil mural was soon buried in random graffiti.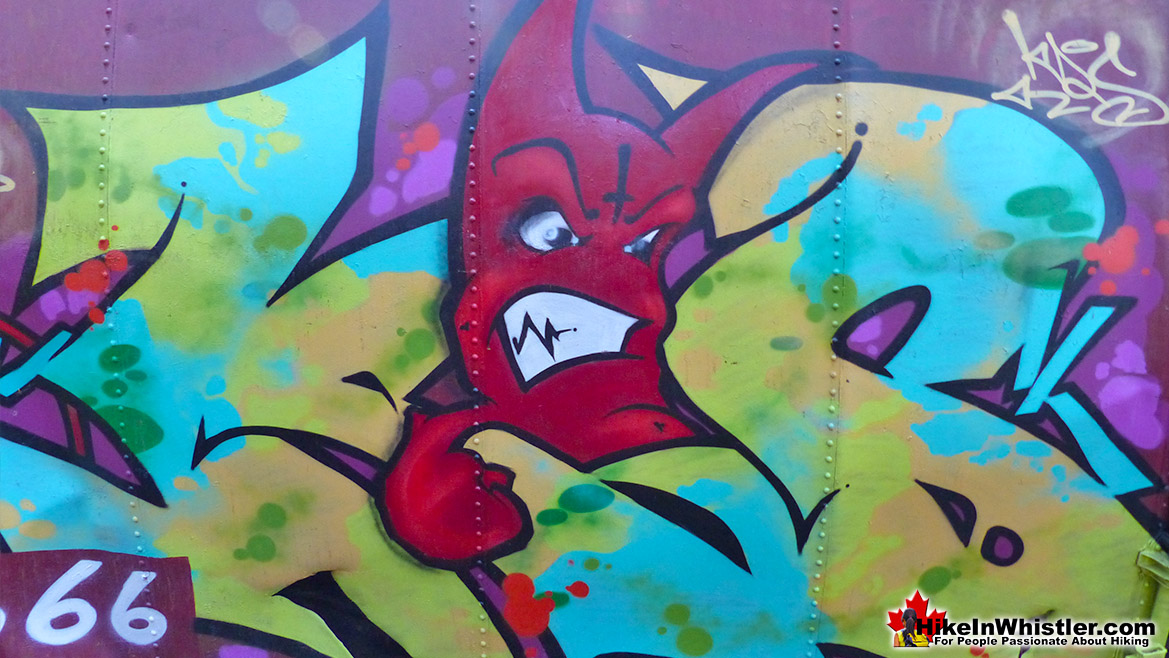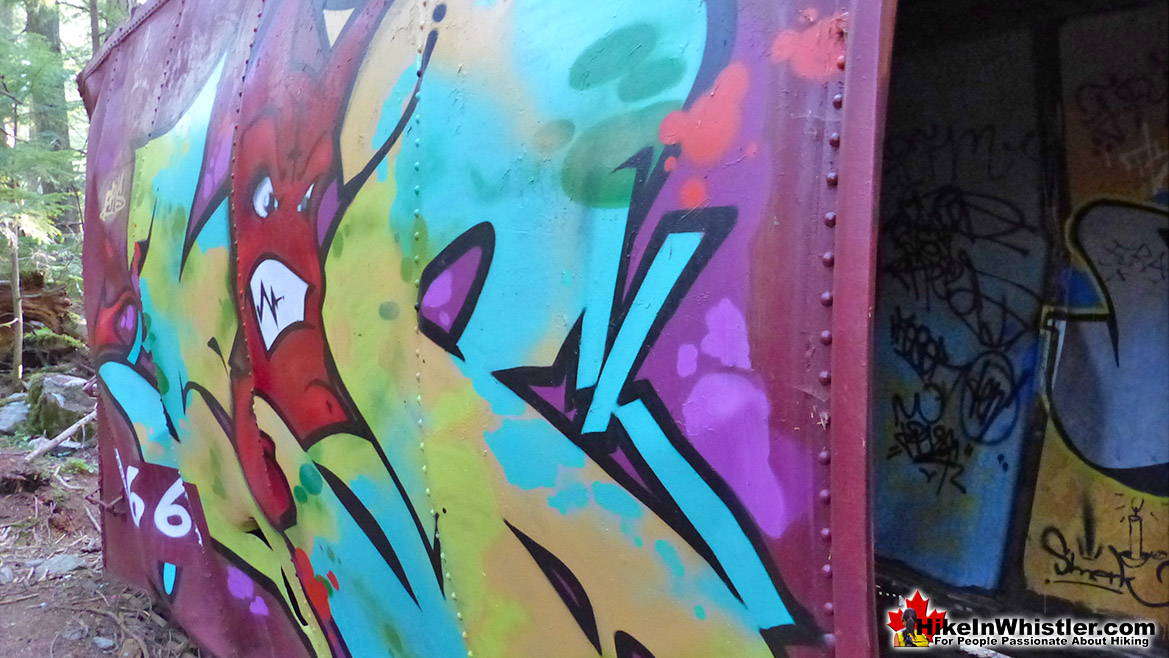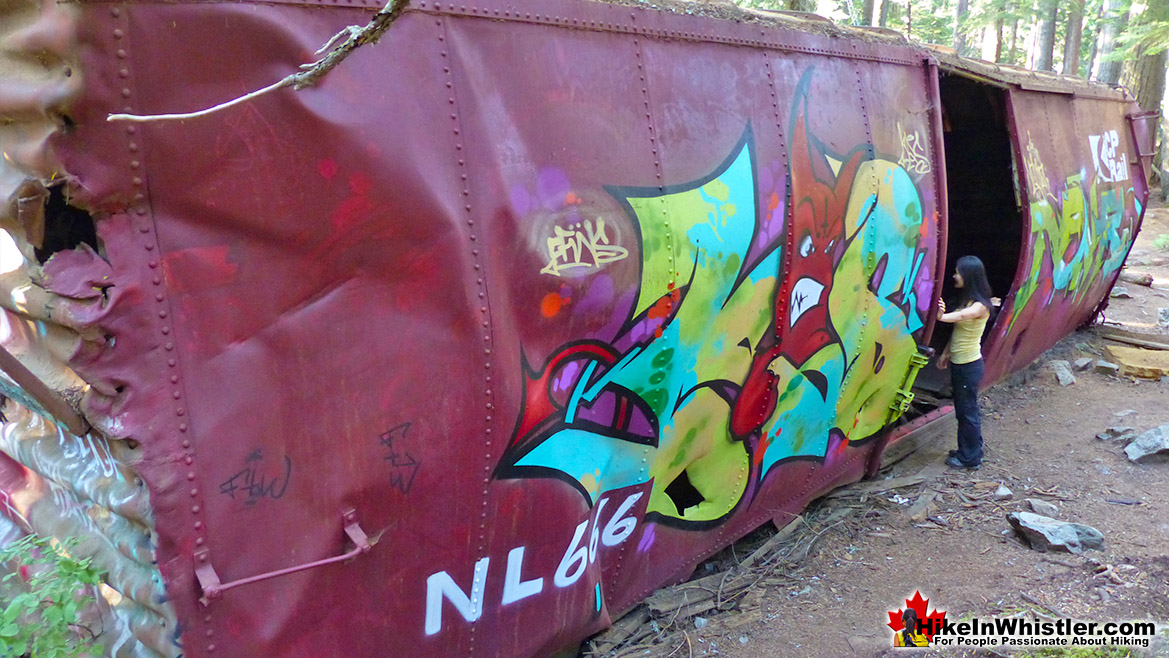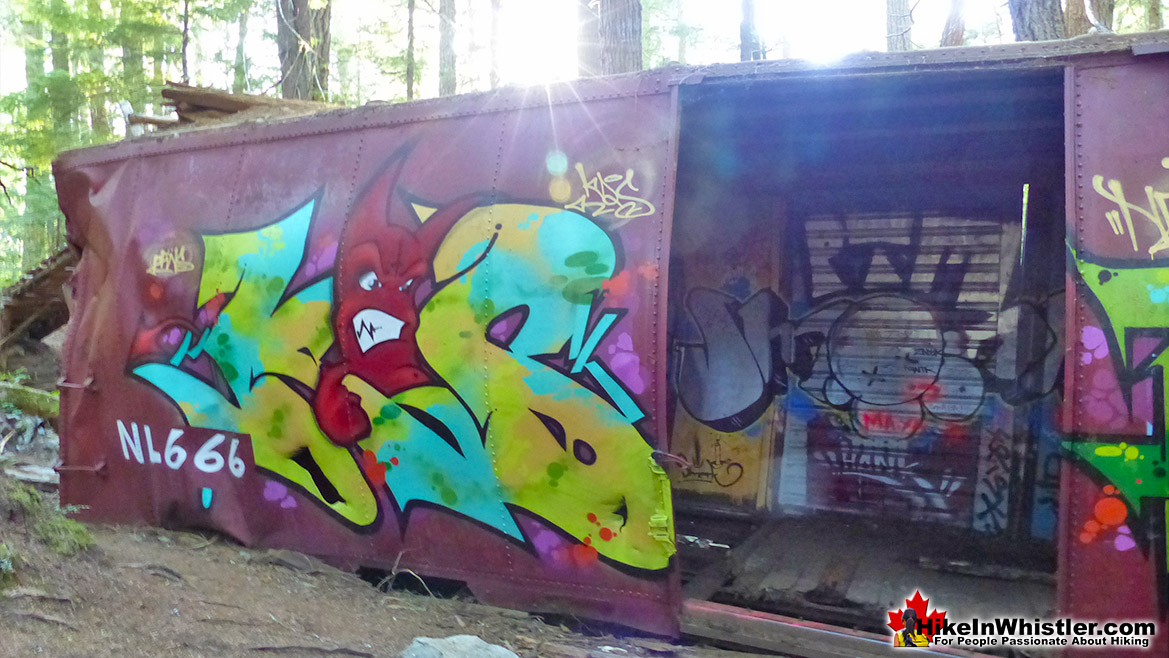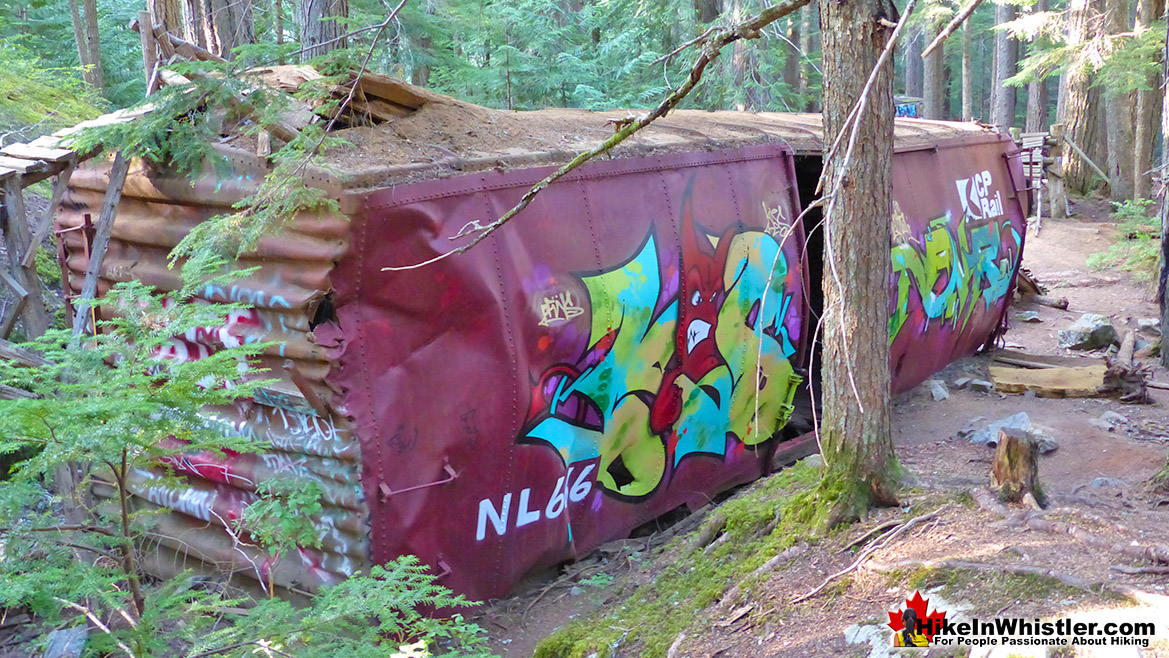 By 2017 the once striking Mic Man mural and vibrantly beautiful Devil mural were long gone.  A lot of layers of graffiti compete for space.  Interestingly, where the Mic Man once appeared with his wrestler-like mask, in 2017 now had another cartoonish, wrestler hood wearing character.  Just the head floating on the exact spot the Mic Man once was, or still is.. under several layers of paint that cover this ever-changing car since 2011.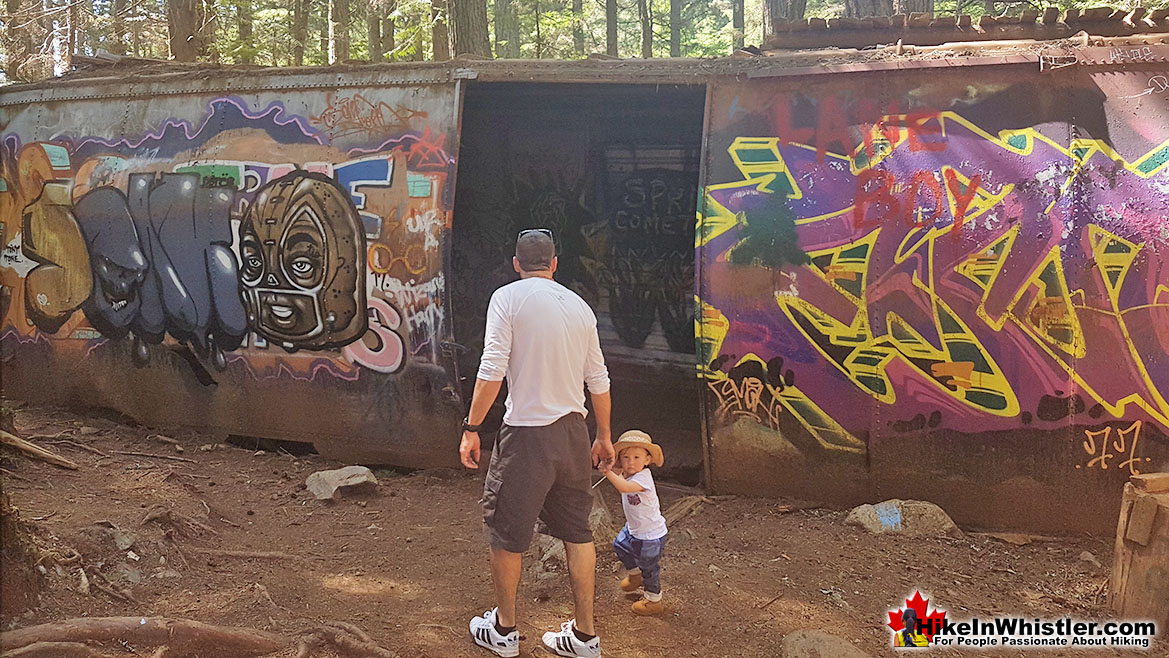 The new hooded man was soon covered over yet again by a messy collection of graffiti and on the right side of the open door, a striking and very large mural of graffiti-style letters, painted in a brilliant blue.  Whistler Train Wreck changes dramatically from year to year and often week to week.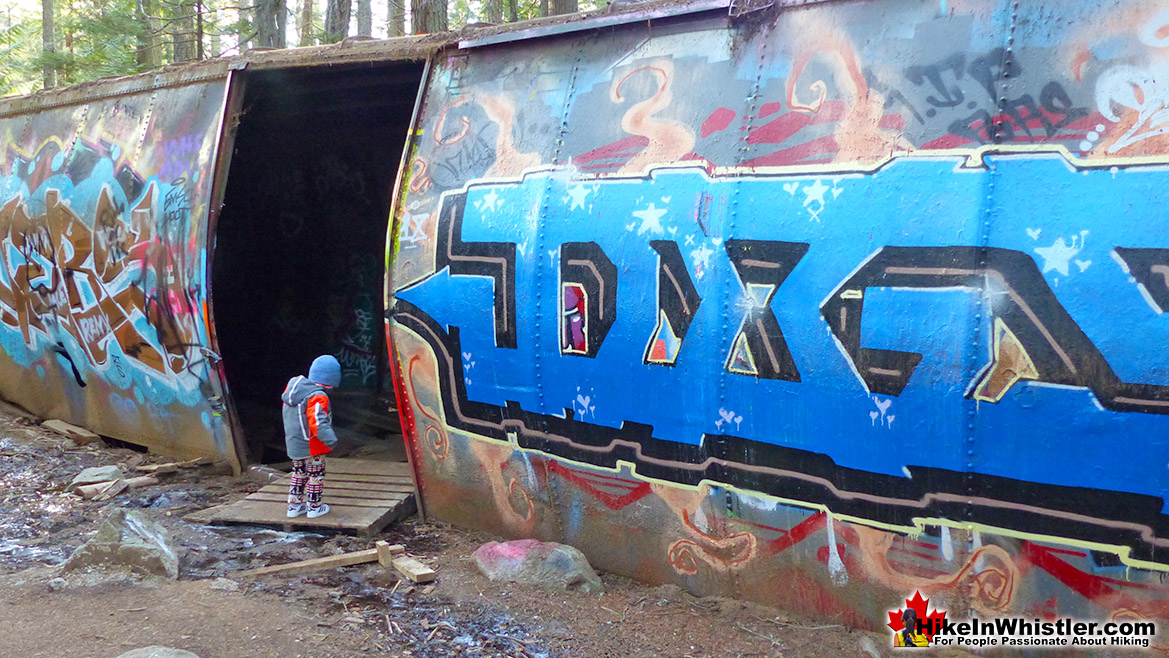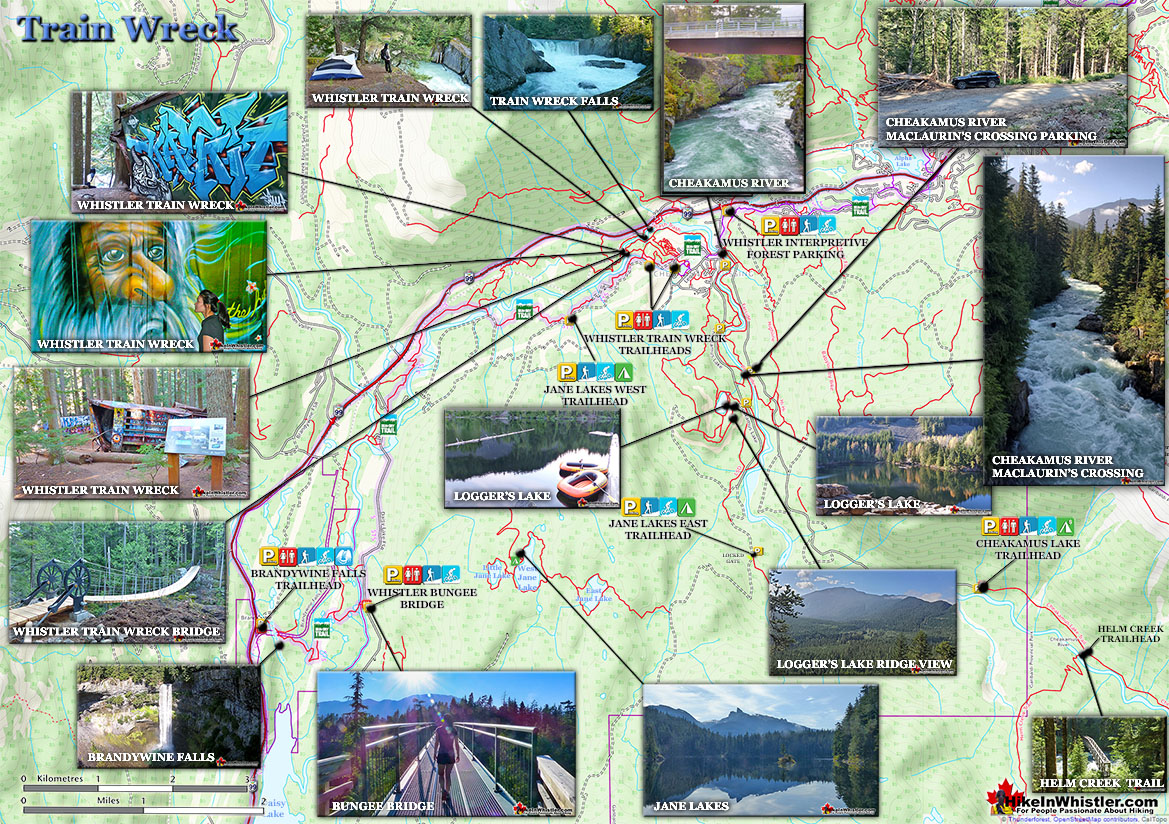 The Whistler Train Wreck bridge takes you across Cheakamus River and the first of seven wrecked train cars.  The first boxcar you come to has the wonderful Kups Hidden Agenda mural inside.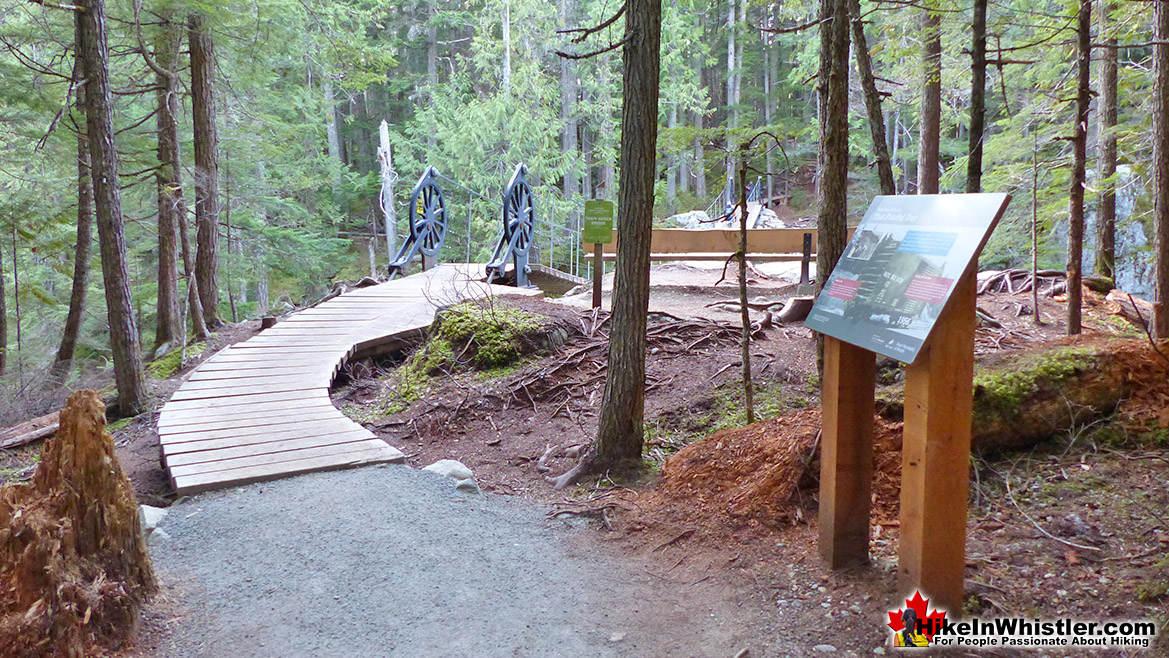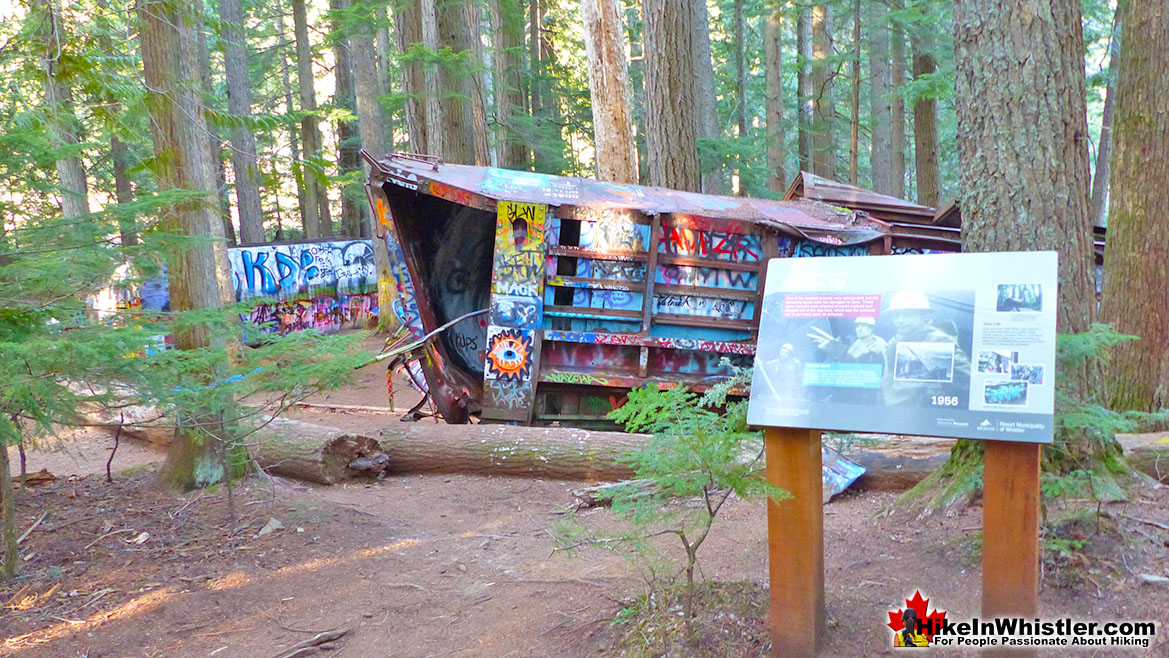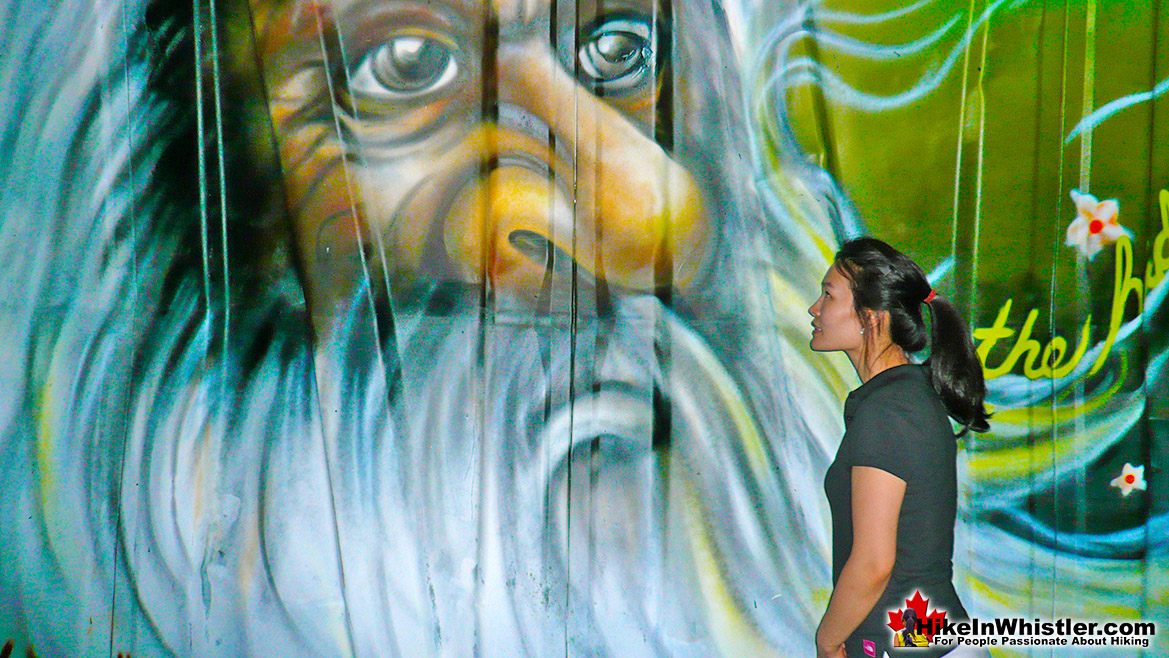 Whistler & Garibaldi Hiking

Alexander Falls  

Ancient Cedars  

Black Tusk  

Blackcomb Mountain  

Brandywine Falls  

Brandywine Meadows  

Brew Lake  

Callaghan Lake  

Cheakamus Lake  

Cheakamus River  

Cirque Lake 

Flank Trail 

Garibaldi Lake 

Garibaldi Park 

Helm Creek  

Jane Lakes 

Joffre Lakes  

Keyhole Hot Springs  

Logger's Lake  

Madeley Lake  

Meager Hot Springs 

Nairn Falls  

Newt Lake 

Panorama Ridge 

Parkhurst Ghost Town 

Rainbow Falls  

Rainbow Lake 

Ring Lake  

Russet Lake  

Sea to Sky Trail 

Skookumchuck Hot Springs  

Sloquet Hot Springs 

Sproatt East 

Sproatt West  

Taylor Meadows  

Train Wreck  

Wedgemount Lake  

Whistler Mountain

January 

February 

March 

April 

May 

June 

July 

August 

September 

October 

November 

December