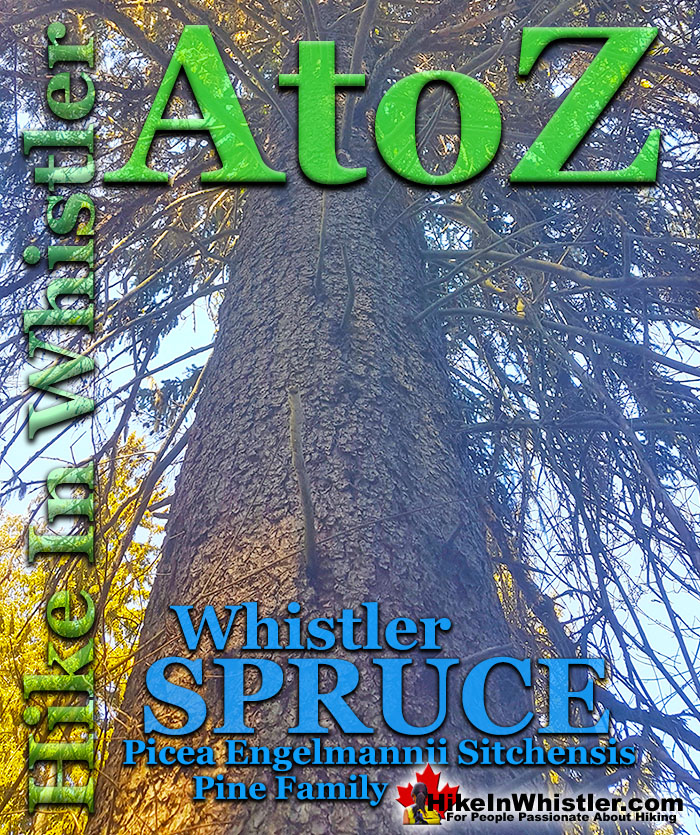 Whistler spruce is a hybrid of the Sitka spruce and the interior Engelmann spruce. Sitka spruce trees thrive in the rainforests of the Pacific Northwest along the West Coast of North America, whereas Engelmann spruce trees grow in the much drier interior. The Whistler spruce is a fast growing tree that gets impressively large very fast. Possibly the best place to get a good look at big Whistler spruce trees is along the Valley Trail at the end of Lorimer Road.
Whistler & Garibaldi Hiking

Alexander Falls  

Ancient Cedars  

Black Tusk  

Blackcomb Mountain  

Brandywine Falls  

Brandywine Meadows  

Brew Lake  

Callaghan Lake  

Cheakamus Lake  

Cheakamus River  

Cirque Lake 

Flank Trail 

Garibaldi Lake 

Garibaldi Park 

Helm Creek  

Jane Lakes 

Joffre Lakes  

Keyhole Hot Springs  

Logger's Lake  

Madeley Lake  

Meager Hot Springs 

Nairn Falls  

Newt Lake 

Panorama Ridge 

Parkhurst Ghost Town 

Rainbow Falls  

Rainbow Lake 

Ring Lake  

Russet Lake  

Sea to Sky Trail 

Skookumchuck Hot Springs  

Sloquet Hot Springs 

Sproatt East 

Sproatt West  

Taylor Meadows  

Train Wreck  

Wedgemount Lake  

Whistler Mountain

January 

February 

March 

April 

May 

June 

July 

August 

September 

October 

November 

December
Growing alongside the River of Golden Dreams in ideal conditions you will find some huge examples of the wonderfully large Whistler spruce. Possibly the biggest one in Whistler is found just before the bridge over the River of Golden Dreams on the right. Just a couple metres from the Valley Trail and next to the small side trail down to the water. It was recently cored by local tree expert Bob Brett and found to be over two centuries old. Brett notes in his excellent, Whistler's Old and Ancient Trees guide, that "size is not always a good predictor of age. Spruces grow very fast in moist, productive sites like this and can achieve huge sizes. Although almost 2 metres in diameter, this spruce is only 219 years old."  As Whistler spruce trees are a fairly recently classed hybrid of Sitka spruce and Engelmann spruce trees, extensive statistics on how big they can get, or how old they tend to live is not well known. Great stats, of course exist for Sitka spruce and Engelmann spruce. The Sitka spruce is the larger of the two and tends to grow close to 100 metres(300ft) tall and with a trunk diameter over 5 metres(16ft). The much smaller Engelmann spruce tends to grow in the range of 25-40 metres(82-130ft), with a trunk diameter that rarely exceeds 1.5 metres(4.9ft). One enormous Engelmann spruce was only recently discovered near Joffre Lakes Provincial Park and has a trunk diameter of 2.2 metres! Named the North Joffre Spruce it is found high up the valley on the opposite side of the highway from Joffre Lakes.  The longevity of both Sitka and Engelmann is roughly similar with known ages exceeding 700 years and in rare cases close to 1000 years.
How to Identify a Whistler Spruce
Identifying a Whistler spruce tree usually starts with a look at the bark which looks like thin, scaly flakes. Compared with other big trees in Whistler forests, the cornflake-like look to Whistler spruce bark looks very different to the vertical contours visible in western hemlock and Douglas-fir bark. These three types of big trees, along with the western redcedar dominate the forests in Whistler. Whistler spruce bark is very scaly, while western hemlock and coast Douglas-fir bark is furrowed in vertical sections.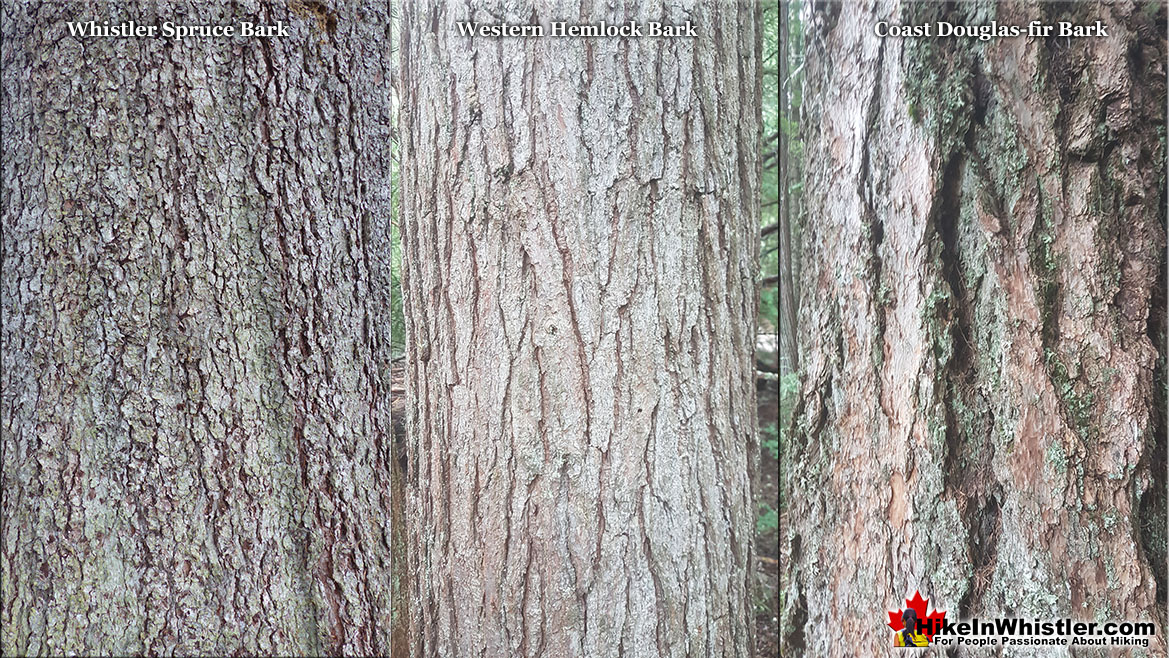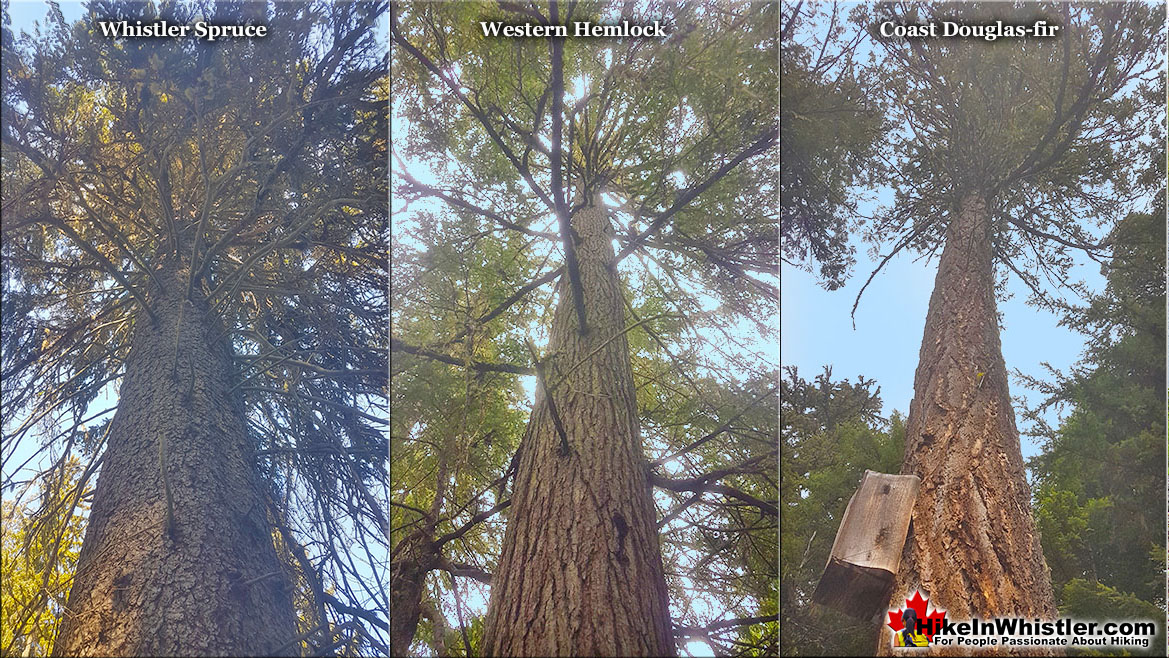 Whistler Spruce Cones
The cones of Whistler spruce trees are fairly small at just 4 or 5 centimetres long and are usually very numerous on the forest floor. The needles have one excellent identifiable feature if you look closely. Each need is attached to the twig by a small wooden peg. These remain attached to the twig long after the needled has separated and is a trait that all spruces share and readily distinguishes them from other similar trees in Whistler forests.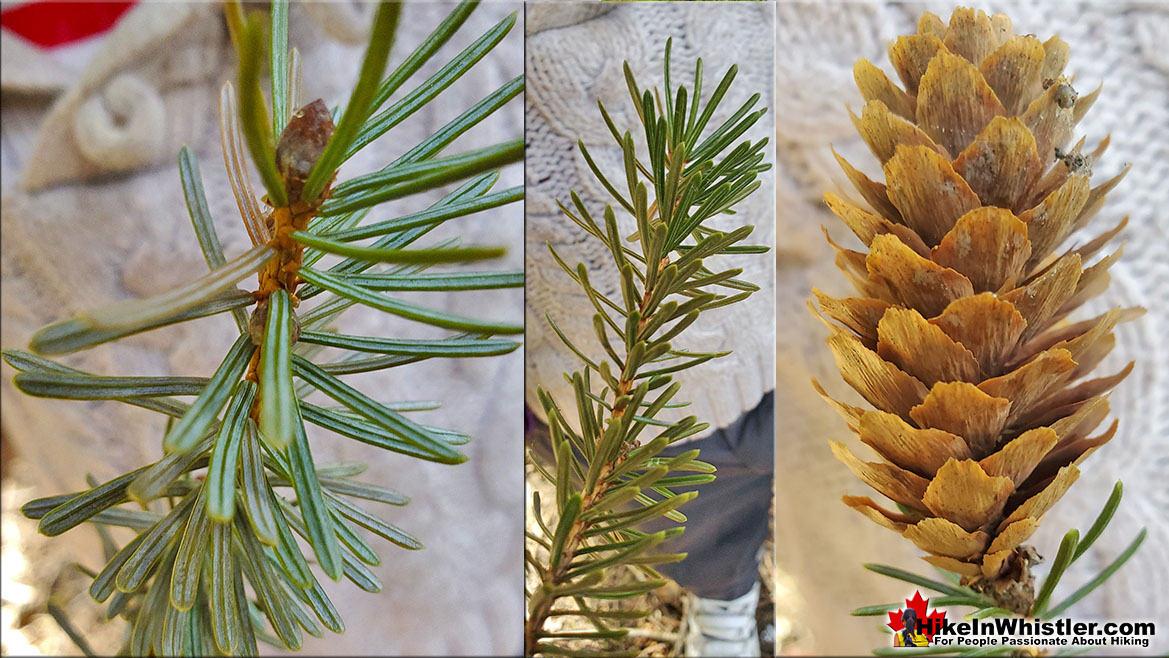 More Whistler & Garibaldi Park Hiking A to Z!

The Best Whistler & Garibaldi Park Hiking Trails!
Whistler & Garibaldi Park Best Hiking by Month!

Explore BC Hiking Destinations!